Welcome to our in-depth Bintelli golf cart reviews, where you'll explore the ins and outs of this popular golf cart brand. Bintelli Golf Carts are recognized for their superior-quality electric golf carts, suitable for both on-road and golf course usage.
Read on to learn more about the top models, distinct features, and pricing. This will equip you with the necessary knowledge to make an informed decision concerning a Bintelli golf cart.
Bintelli Golf Cart Models — Electric Golf Cart Review
The lineup of Bintelli golf carts is nothing short of impressive. They offer a range of models, each with its unique features and specifications to cater to various needs and preferences. Here are some of their standout models:
1. Bintelli Beyond Golf Cart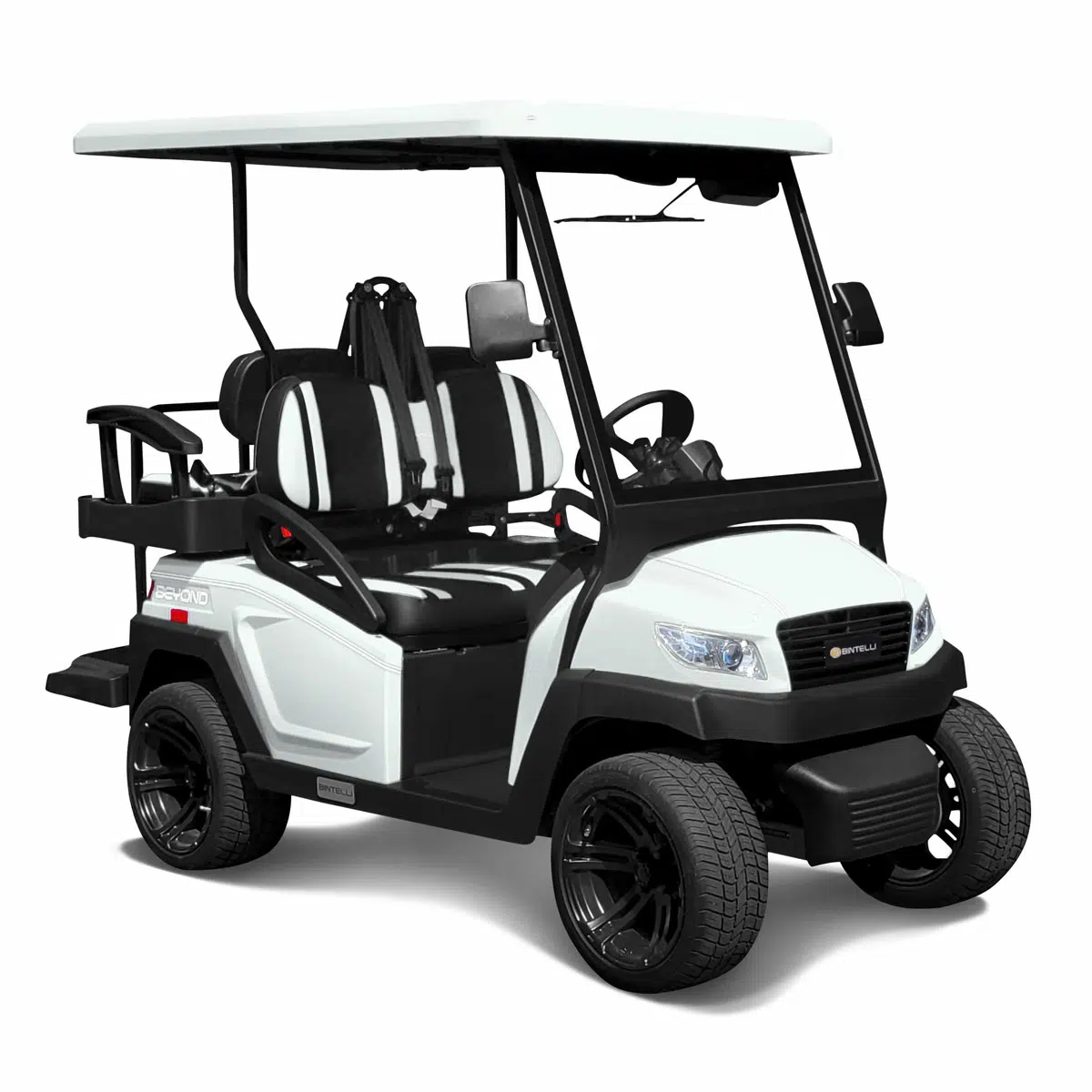 A shining example of Bintelli's dedication to delivering affordability without sacrificing quality. Equipped with a power windshield wiper, 23-inch tires, and two-tone seats, it promises a comfortable and stylish journey. This model is a robust precursor to the future offerings in the Bintelli line-up.
2. Bintelli Beyond TITANIUM 4pr LSV Golf Cart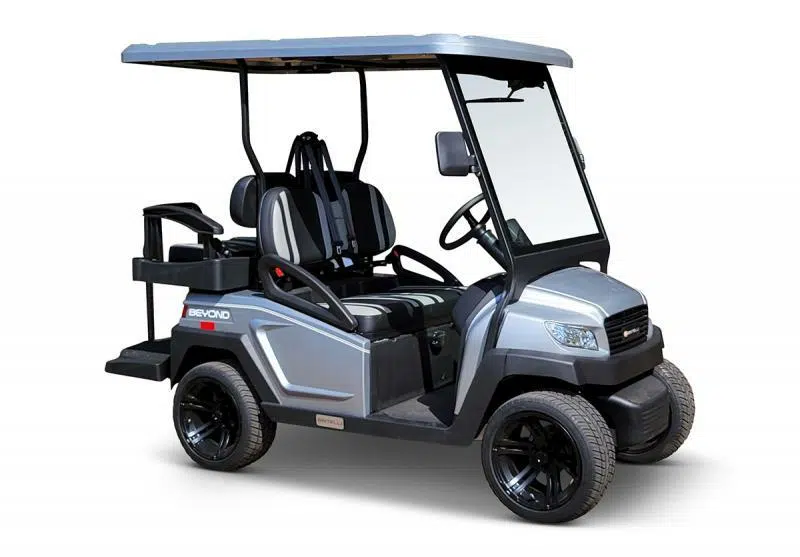 This model is a step up from the basic Beyond Golf Cart, offering advanced features and a more refined style. It is built for those who demand superior on-road performance and a higher level of luxury.
3. Bintelli Beyond 4pr Lifted Golf Cart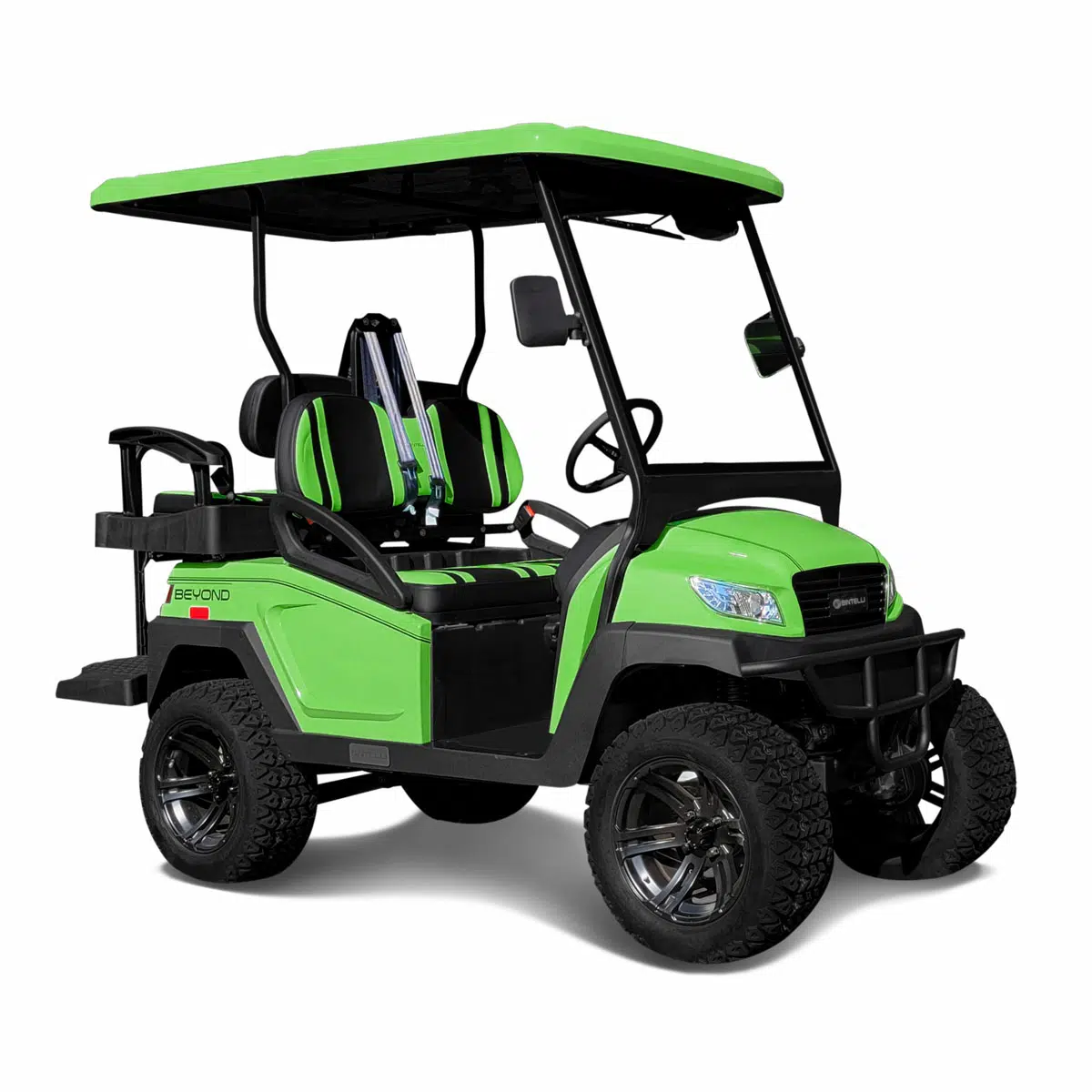 Off-road enthusiasts will find the HYDRO 4pr Lifted Golf Cart particularly appealing. With a lifted design, this model can handle uneven terrains, making it an excellent choice for adventurous golfers.
4. Bintelli Beyond 6pr Lifted Golf Cart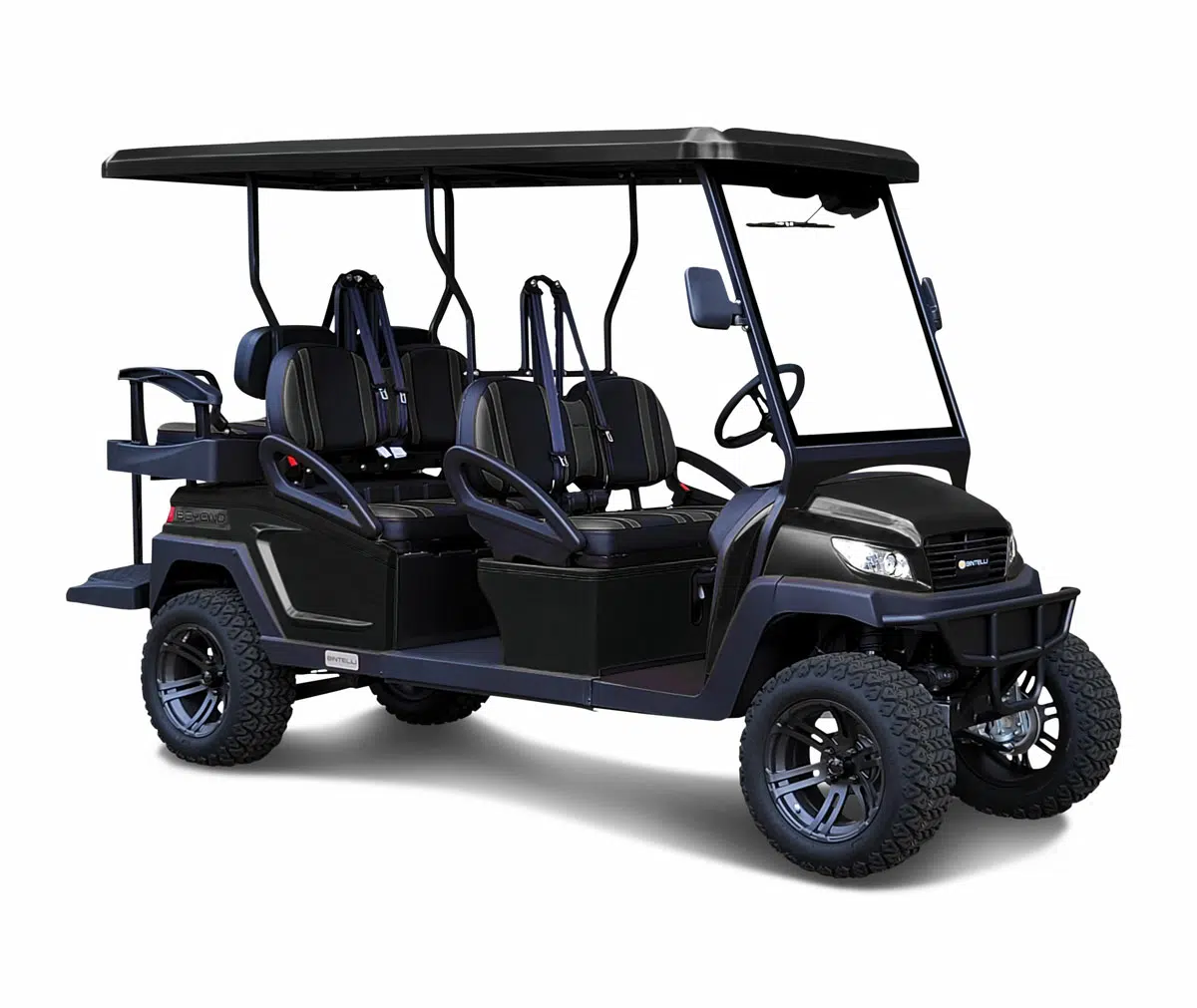 As a six-seater, this model offers spacious comfort for larger groups. The Candy Red color scheme adds a dash of vibrancy, making it an aesthetic standout.
Key Features of Bintelli Golf Carts — Bintelli Beyond Review
Each Bintelli golf cart comes packed with features that enhance the driving and ownership experience:
Superior Build Quality: Bintelli's golf carts are American-made on a Club Car refreshed aluminum chassis. Such a foundation guarantees longevity and dependability.
Powerful Performance: Each golf cart is powered by a solid 5kW (6.7HP) motor and a US-made controller, presenting an ideal mix of speed and power.
Safety Features: Every model has headlights, taillights, turn signals, VIN numbers, windshields with wipers, seatbelts, mirrors, and roof grab handles, ensuring each Bintelli golf cart is ready for the road.
Customizability: Bintelli allows customers to personalize their golf carts to their liking. This flexibility enhances the overall ownership experience, making each cart truly unique.
Speed: Depending on the model, Bintelli golf carts can reach speeds between 20-25 mph. This speed range makes these carts suitable for various environments, from golf courses to local neighborhoods.
Are Bintelli Golf Carts Any Good?
View this post on Instagram
A question that often arises among potential buyers is the quality of Bintelli golf carts. The answer is emphatically positive based on user feedback, expert reviews, and product details.
Bintelli Golf Carts are often lauded for their affordability in the market. What are the costs of the Bintelli golf carts? They start at $6,295 for a 2-seater and exceed $14,000 for a street-legal six-seater. These prices reflect a competitive balance between cost and quality, making Bintelli a viable alternative to some more expensive brands in the market.
However, as with any product, there are reported concerns. Some critics point to the imported bodywork components of Bintelli's electric vehicles as potential issues.
While these components may not affect the overall performance, they could influence perceptions of durability and long-term value. Nevertheless, Bintelli emphasizes that the core of their vehicles – the major electrical components – are sourced within the US, underscoring their commitment to domestic production.
Additionally, Bintelli offers a range of street-legal golf carts, providing versatility for users beyond the golf course. These models come equipped with various safety features, including headlights, taillights, turn signals, seatbelts, and mirrors, further enhancing their appeal.
Who Makes Bintelli Golf Carts?
View this post on Instagram
Bintelli Golf Carts is an integral part of Bintelli LLC, a brainchild of Justin Jackrel, established in 2005. Bintelli is revered for crafting top-tier electric vehicles, scooters, and bicycles.
Over time, they've broadened their horizon to include street-legal golf carts designed for optimal utility and performance.
Their unwavering focus on innovation, customer satisfaction, and eco-friendliness has secured Bintelli's reputation as a reliable and efficient electric vehicle manufacturer.
If you've been wondering whether golf carts have titles, we at Golfspan have a story for you!
Where are Bintelli Golf Carts Made?
Bintelli golf carts are manufactured in Charleston, South Carolina, USA. The company prides itself on its commitment to American-made quality and craftsmanship.
They source parts both locally and internationally, leaving no stone unturned in ensuring only the finest components are used in their golf carts.
By handling assembly and testing in-house, Bintelli upholds stringent quality control, which results in durable and reliable carts for its customers.
Why Trust Our Bintelli Golf Cart Reviews?
At GolfSpan, we're committed to offering our readers truthful, unbiased, and in-depth information.
As a PGA-certified instructor and golfer, I've spent decades riding in golf carts around golf courses and have looked at buying a golf cart myself. Then I took these experiences and meticulously researched Bintelli golf carts, incorporating customer feedback, professional insights, and product specs to deliver a trustworthy evaluation.
How Fast Is The Bintelli Golf Cart?
This 4pr golf cart is eager to get out in the sunshine on this beautiful day! https://t.co/FkHTTIA0tK
.
.#EV #ElectricVehicles #ElectricGolfCart #GolfCart #Powersports pic.twitter.com/E78XcjvRJL

— Bintelli (@Bintelli) April 24, 2018
Speed is no issue when you're aboard a Bintelli golf cart. These carts offer an average speed window of 20 to 25 miles per hour, varying with the model. It's a sweet spot between an exhilarating, breezy ride and safety.
Each model comes preset with a standard speed, but they're open to speed upgrades to fit your performance preference. Whether a leisurely cruise on the golf course or a quick spin around your local neighborhood, Bintelli golf carts promise an enjoyable and efficient experience. As for street legality, fret not.
Are Bintelli Golf Carts Street Legal?
If you're concerned about street legality, rest easy. Bintelli offers a range of best street-legal golf carts that come equipped with all necessary features to make them roadworthy. These include headlights, taillights, turn signals, seat belts, and mirrors.
Additionally, they meet the National Highway Traffic Safety Administration's standards for low-speed vehicles, ensuring you can confidently take them out on local roads. Remember, however, that the street legality of golf carts can vary by state and local laws, so always check the regulations in your area.
Where to Buy Used Bintelli Golf Carts for Sale
Hunting for a pre-owned Bintelli golf cart? There's a plethora of routes you can follow. Initiate your quest at Bintelli's official website, frequently flaunting various used models. But don't stop there! Bintelli's countrywide network of dealerships brims with options, many of them housing used carts.
Buying used doesn't mean gambling with quality. If you choose a reputable dealer, you're guaranteed a cart that's undergone meticulous maintenance and inspection prior to sale.
Another option is to look for used Bintelli golf carts on online marketplaces, but make sure to do your due diligence when purchasing from individual sellers.
You can check these online marketplaces to search for Bintelli Golf Carts:
Maintenance and Care for Bintelli Golf Carts
View this post on Instagram
Maintaining your Bintelli golf cart is integral to ensuring its longevity and optimal performance. Fortunately, Bintelli golf carts are designed with ease of maintenance in mind. Here are some key aspects to consider:
Battery Care
Bintelli golf carts are powered by Trojan T-105 batteries, known for their robustness and durability. To maximize their lifespan, it's recommended that you regularly check the water levels in each battery cell and top it up with distilled water as needed. Furthermore, ensure the batteries are fully charged before each use and avoid discharging them completely.
Tire Maintenance
Regularly inspect the tires for wear and tear and maintain the recommended tire pressure. Properly inflated tires extend the tire's life and enhance the cart's performance and efficiency.
Brake System
For your safety and the golf cart's performance, it's vital to regularly inspect the brake system. Look out for any unusual noises or a reduction in braking efficiency, which could signal the need for servicing or replacing the brake pads.
Regular Servicing
Like any vehicle, regular servicing of your Bintelli golf cart is critical. This includes oil checks, replacements, air filter inspections, and replacements as necessary. You'll also need to periodically examine the electrical system for potential wear or damage. Bintelli suggests an all-inclusive service yearly or after every 200 hours of operation – whichever occurs first.
Storage and Cleaning
For long-term storage, it's crucial to have your golf cart fully charged and spotlessly clean. The ideal storage location is cool and dry. Routine cleaning doesn't just preserve your cart's appearance but also aids in spotting any signs of damage or wear.
Bintelli Golf Cart Parts and Accessories
View this post on Instagram
Customizing your golf cart can add a touch of personal flair or even increase its functionality. Bintelli offers a wide range of golf cart parts and accessories that can be ordered directly from their headquarters.
These include everything from custom paint jobs and seat covers to cargo boxes and lift kits. If you fancy a bit of DIY, you can even order parts for repairs or upgrades. Bintelli's allegiance to customer gratification pledges that parts and accessories for sprucing up and maintaining your golf cart's peak performance are always within reach.
Bintelli Golf Cart Warranty
Bintelli leaves no stone unturned in delivering customer satisfaction on the warranty front. Every Bintelli Golf Cart is backed by a solid three-year limited parts warranty, echoing Bintelli's faith in its craftsmanship.
This encompassing warranty, covering a major chunk of parts and components, serves as an assurance for golf cart owners. Offering this warranty across all models amplifies their value proposition, pushing Bintelli Golf Carts into the spotlight for anyone scouting for a dependable, made-in-America golf cart.
Bintelli Golf Cart Dimensions
Talking dimensions, Bintelli golf carts measure 113" x 44.5″ x 79″ inches and boast a ground clearance of 4.5 inches. This makes them compact enough to navigate narrow paths yet spacious enough to accommodate passengers and carry equipment.
The ground clearance of 4.5 inches ensures the cart can easily navigate various terrains, while the overall size ensures it can fit in most standard garages.
The extended cargo bed, measuring 4.6′, provides ample space for carrying golf equipment or other necessities. These dimensions make the Bintelli golf cart an ideal choice for golfers, maintenance applications, or just general transportation within a community.
How to Choose the Right Bintelli Golf Cart for You
View this post on Instagram
Choosing the right golf cart depends largely on your specific needs and preferences. Bintelli offers various models, each designed with unique features and capabilities. Here are a few considerations to help you make an informed decision:
Intended Use
A basic model like the Bintelli Beyond Golf Cart may be sufficient if you plan to use your golf cart primarily for golfing. However, suppose you intend to use it for off-roading or neighborhood transportation. In that case, you may prefer a lifted model or one with advanced features like the Bintelli Beyond HYDRO 4pr Lifted Golf Cart or the Bintelli Beyond TITANIUM 4pr LSV Golf Cart.
Seating Capacity
Consider the number of passengers you typically transport. If you frequently travel with a larger group or family, a six-seater model like the Bintelli Beyond 6pr CANDY RED Lifted Golf Cart would be a suitable choice.
Terrain
Evaluate the type of terrain you'll mostly be driving on. For flat surfaces and paved roads, any golf cart model would suffice. However, if you tackle uneven or rugged terrains, a lifted model with larger tires like the Bintelli Beyond WHITE 4pr Lifted Golf Cart would be beneficial.
Budget
Your budget is another critical factor. Bintelli offers a range of golf carts at various price points, ensuring there's something for everyone. However, remember that higher-priced models generally come with additional features and enhanced capabilities.
Personal Preferences
Lastly, don't forget about your personal preferences. Bintelli doesn't believe in one-size-fits-all. They offer a myriad of customization options, from vibrant colors and seat covers to various accessories, enabling you to shape your golf cart to mirror your personality and style.
FAQs
What Type Of Battery Do Bintelli Golf Carts Use?
Bintelli golf carts utilize Trojan T-105 batteries, renowned for their robustness and durability. The batteries in Bintelli golf carts, designed to deliver a range of over 40 kilometers on a single charge, ensure your cart never run short of power.
This use of superior batteries highlights Bintelli's dedication to top-notch performance and reliability.
How Long Has Bintelli Golf Carts Been In Business?
Bintelli has been crafting golf carts for more than 22 years now. Stationed in Charleston, South Carolina, they're known for their top-tier, feature-rich electric vehicles.
Through the years, Bintelli has constructed a solid reputation based on their cutting-edge designs and unwavering commitment to quality. This has culminated in their golf carts consistently meeting the highest benchmarks of performance and dependability.
Who Owns Bintelli Golf Carts?
Bintelli Golf Carts is a division of Bintelli Electric Vehicles, a distinguished American corporation in North Carolina. Their wide-ranging portfolio of electric vehicles extends beyond golf carts to include mopeds, electric scooters, electric bicycles, and all-terrain vehicles.
Their steadfast commitment to innovation, quality, and customer satisfaction reverberates through each product they create, golf carts included. In fact, they are arguably the best street-legal golf cart around.
Conclusion:
Bintelli Golf Carts are a shining example of American craftsmanship, blending innovation, reliability, and performance into an affordable package. Based on our Bintelli golf cart reviews, we can say with certainty that the golf carts provide a comprehensive solution for those seeking a low-speed electric vehicle.
Whether on the golf course, in your neighborhood, or for maintenance tasks, Bintelli Golf Carts deliver top-notch performance and value. Their diverse model range and unwavering commitment to customer satisfaction make Bintelli Golf Carts a smart choice for prospective golf cart owners.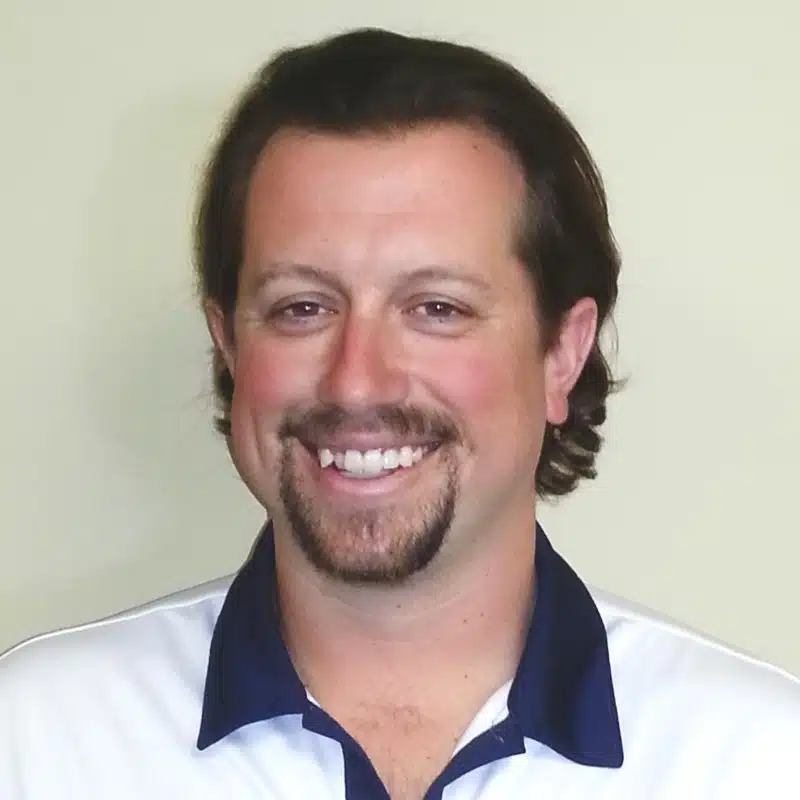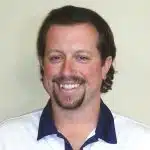 Clint became the Head Teaching Professional at one of Toronto's busiest golf academies and was featured on Canada's National Golf TV program, "Score Golf Canada," twice. He now tests and reviews golf equipment and gets to enjoy the game he loves whenever he wants while helping people lower their scores.