at a glance: Our Top 5 Picks for The Best Golf Carts
Golf carts are very trendy as a recreational vehicle providing hours of fun over short distances and are more environmentally friendly than normal cars.
They can be driven by children from the age of 13 upwards in certain states. They are also great for the elderly or others that can still play a round of golf but would have difficulty walking a course.
As per ANSI Standard z130.1, golf carts are generally used to move small numbers of passengers over short distances at speeds below 15 mph.
How To Choose a Golf Cart
There are two dominating propulsion methods used for golf carts namely Electrically propelled and Gas propelled.
The debate over which is the better shall continue for many decades and ultimately your preference will dictate the cart that will become part of your vehicle fleet.
Whichever you decide on, you'll want to make sure you have the right golf bag to suit.
Golf Cart Features To Consider
Quality Tires
Headlights
Canopy to protect you from the rain/sun
Cooler bag/trays to keep your beverages cold
Additional Storage Options for accessories
Windshields
GPS
Ball cleaners
Your Decision Should Include Factors Such As:
Price
Customization
Warranty
History
What Are The Different Types of Windshields Available?
The types of windscreens available to protect you come in the form of:
Acrylic
Pros – Inexpensive, very hard and difficult to scratch
Cons – Shatters easily on high impact
Impact-modified acrylic (mixed with rubber)
Pros – impact-resistant to prevent breaking easily.
Cons – less scratch-resistant
Polycarbonate
Pros – the Highest level of impact-resistance
 Cons – more prone to scratches even under cleaning procedures
Vinyl
Pros – Removable and cheap
Cons – Low impact resistance
Our Favorite:
Golf Cart Batteries
There are a wide variety of golf cart batteries available on the market to suit all conditions and requirements. There are 3 main types:
Flooded Lead Acid – FLA or "wet cell' batteries are not sealed and contain lead plates. When you replace the water, electrolytes lost during use will be replaced.
Gel Lead-Acid Batteries – GLA batteries can work even on rough terrain and are durable to the point that they will operate smoothly even when a crack appears in the outer protection. A thickening agent inside a sealed unit keeps the electrolytes still.
AGM Lead-Acid Batteries – This is an enhanced version of GLA batteries with a fiberglass separator to keep the electrolyte in place. They are highly vibration resistant, spill-proof and have proven to be more durable.
New vs Used Golf Carts
There are always pros and cons associated with the decision to purchase a new or used vehicle and it is no different when deciding to buy a golf cart.
Purchasing a new cart provides you with more peace of mind and a very high probability that it will work as designed.
The purchase of a used golf cart comes with certain risks that can be averted by doing some research. The biggest positive associated with purchasing a used cart is that you can save a lot of money.
How to Measure how Used a Second-Hand Cart Is
Most modern golf carts are fitted with some form of indication of the cart in the form of an amp-hour meter for electric carts or hour meter on gas carts.
Well-Maintained gas carts will require refitting somewhere between 5000 to 6000 hours and a similarly well-maintained electric cart should provide you with between 40000 and 50000 carefree amp-hours of use.
Buying a Used Golf Cart
When working on a budget this could provide you with the opportunity to enter the wonderful and exciting world of owning your own golf cart provided you do a thorough investigation.
Areas to enquire about are:
Do not hesitate to ask the owner as many questions as you can think of. He is trying to get rid of the cart and you are parting with some hard-earned cash
Should the cart have had owners before the current owner, delve into the history as far back as you can go to determine the maintenance and TLC that the cart received in the past
For electric carts look at the age and amp-hours of the battery
Parts availability and waiting times for parts
Available warranty
Confirm which accessories will be part of the deal
Check whether the price is negotiable
Test drive the cart and look out for any noises, leaks and how it handles.
Buying a New Golf Cart
Buying peace of mind is what you purchase when buying a new cart. The likelihood of something going wrong is far smaller than on a used golf cart.
Ensure that the cart history is available and that it was not involved in any accidents previously
Insist on a warranty as this will add to your peace of mind.
Ask for accessories or customization to be part of the deal
Electric vs Gas
Now that you have decided on whether to buy a new or a used golf cart, the next step is to decide on either a gas propelled or electrically propelled cart.
The first carts that came to market were based on the internal combustion engine and gas-powered. These had several negative connotations such as polluting the air and noise pollution. Along came the electric version of the golf cart and it addressed most of the downsides of their gas propelled counterparts.
Electric Golf Carts
Electric golf carts are low-maintenance vehicles and are versatile in the combination of batteries that can accommodate the usage type of the vehicle.
Besides, the electric golf carts are less noisy and more environmentally friendly than the gas versions. However, the cart may require extended charging time that could be inconvenient at the time and they are generally slower than the gas versions.
Gas Golf Carts
Gas propelled cars are normally faster and have more power than the electric equivalent. The higher power output and extra speed make the gas-powered cart more likely to be used on public roads.
There is no charging time and provided there is gas in the tank you can get in and go. Filling up is much quicker than charging. Just as the power output is higher, the noise and air pollution are also higher.
Performance comparison
Gas-powered golf carts can provide you with more distance and provide more power to climb hills. On most golf courses there is no major benefit to either option as electrical carts will easily cover the distance of a round of golf and only under extremely hilly conditions could it struggle to get to the top.
Golf Cart Maintenance
Gas-powered golf carts require more maintenance than electrical carts due to the number of moving parts and this adds to the cost of the maintenance. The following areas require regular maintenance on gas-powered carts:
Oil and filter changes
Spark plug replacement
Driver belt and starter belt change
Battery change
Clutch change
Starter brush change
Electric carts, in contrast, do not require that much maintenance other than the battery requiring regular charging and maintenance. Several batteries are sealed and therefore do not require checks on the water level and topping up.
Local vs International Manufacturers
Carts manufactured within the USA will ease access to spare parts and accessories. The three best-known manufacturers in the USA are Club Car, E-Z-Go and Yamaha.
Cars manufactured outside America could run into shortages of replacement parts resulting in extended downtime.
Upgrading a Golf Cart
Whether you need a rain cover enclosure or want some better LED lighting for early morning or dusk games, aftermarket accessories can help you make the most of your new golf cart.
Top 10 Best Golf Cart Reviews
Quick Overview: Our Top Picks for Best Golf Carts
This is a star on the golf course. The company was founded in 2005 in Denmark and has a subsidiary in the USA and sales companies in the UK and APAC region. They formed a partnership with Mercedes-Benz to develop a state-of-the-art golf cart and this resulted in the very uniquely styled GARIA.
A standard onboard touchpad with a 10.1-inch diagonal high resolution (2560 x 1600 pixels) provides information on the vehicle such as the speed, power consumption remaining range and controls for the lights, wipers and a multitude of other options.
In addition to the touchpad, there is a screen indicating the golf course layout, golfer's location, and scoring information. Connected to your phone via a hands-free Bluetooth connection you can listen to music on the integrated hi-fi speakers.
The cart includes LED headlamps for enhanced visibility during inclement weather and for those nights when you don't realize that darkness ascended over the course.
The Garia Golf Car's electric motor produces three kilowatts of power that can be boosted up to 11 kilowatts for short periods. The capacity of the lithium battery pack maximizes out at 10.24-kilowatt-hours. The battery can be charged back to full power in 6 hours.
European customers will be able to experience the maximum speed of 43 miles per hour but due to federal laws, US customers will only be allowed to experience a rather timid top end of 25 mph. This beast is stopped by front disk brakes.
You can expect to enjoy this luxury experience for a total of up to 50 miles.
The cart is fitted with 14 inches, 5 spoke wheels and black painted surfaces and t can turn in a tight circle of 17 feet.
A comfortable ride is ensured by a double-wishbone suspension and provide light, precise handling on all surfaces. With a permissible payload of over 1000 pounds, you are unlikely to be caught on the lighter end of the scale.
CLUB CAR
"The fleet golf gold Standard."
Since the founding of the company in 1958, Club Car has become one of the premium leading manufacturers of golf carts and have been seen on many golf courses and competitions around the world. The minimalistic design of the cart gathered many admirers over the decades.
The safety record is unmatched in the industry and the simplistic design provides a user-friendly cart with ample storage. Comfort, choice of colors and a track record of innovation makes this a premium brand that you can rely on.
The Club Car Precedent I3 comes with technology to promote smoothness and comfort and is available in gas power and electric power.
The information provided is based on the gas-powered option.
Specifications:
The widely loved cart comes with –
Single Cylinder Subaru EX40 404cc engine that provides 14 horsepower peaking at 15 miles per hour. The 4.6-gallon fuel tank will ensure that there is sufficient fuel for a round of golf.
The corrosion-free aluminum 18 x 8.5 tubeless tires provide optimal traction and comfort is provided for the 2 passengers via the independent leaf spring and hydraulic shocks in the front
Turning capability is provided through the SportDrive steering mechanism featuring a self-compensating double reduction helical rack and pinion mechanism.
Customizable to your preferences this is a cart that will provide you with excellent style and comfort on and off the course in either gas or electric options.
Specifications:
The comfortable stylish cart comes with –
A 4-cycle Subaru 404cc engine producing 14 horsepower topping out at 19 miles per hour.
The 6-gallon fuel tank provides ample fuel for an extended round allowing searches in the rough for your ball
Turning capability is provided through the SportDrive steering mechanism featuring a self-compensating double reduction helical rack and pinion mechanism.
Comfort is provided through independent A-arms with hydraulic shocks for the front suspension.
This golf cart comes with 18 x 8.5 tubeless tires made from corrosion-free aluminum material.
Specifications:
It comes equipped with a 4-cycle Subaru 404cc engine with a top speed of 15 mph and is steered by the SportDrive steering and suspension system. The 5.9 gallons fuel tank will ensure that you don't run out of fuel unless you have a horror of a round driving in a zigzag pattern looking for balls
The rust-proof, corrosion-resistant aluminum frame is wrapped into a 360-degree wraparound bumper
Rolling on 10-inch Champion alloy wheels and 205/50-10 Kenda Pro Tour tires cover the corrosion-free aluminum material wheels
Optional extras come in the form of additional accessories and customization is available regarding multiple features including colors
YAMAHA GOLF CARTS
Yamaha has been around for many years and they have been in the golf cart business since 1988.  Changes in the colors and body styling in recent years have made Yamaha very popular and this, as well as their performance, has led to many clubs adding them to their fleet of carts.
There are options of gas-powered as well as electric carts in the Yamaha stable providing a range of quality options to choose from.
The name says it all, this is a hauler to carry huge loads and minimal passengers.
Specifications:
Fitted with the low-emission Yamaha 357cc single-cylinder engine producing a maximum power output of 11.4 horsepower capable of a top speed of 15 mph
The 5.8-gallon fuel tank allows this cart to cover ample distances
It has been equipped with a high-quality air filter
Turning circle of at least 13.5 feet
It has been designed using mold-in polypropylene in a glacier color. Comfort is provided through the use of the fully independent Tru-Trak II automotive-style strut in the front and rear wheel suspension systems.
Turning ability is provided through the self-compensating, double reduction helical rack and pinion steering mechanism.
Seating capacity for 2 people is accompanied by a cargo bed of 70 x 47 x 7.8 inches
The Drive 2 golf cart from Yamaha offers luxury and reliability through its precise engineering and unmatched features. If you are looking to fit only 2 people max in a cart, this gasoline-powered multifunctional golf cart has been designed just for you.
Specifications:
The low-emission Yamaha 357 cc single-cylinder, 60-degree incline OHV engine is capable of reaching a top speed of 19 mph and climbing hills of an incline up to 15 degrees.
The 5.8 gallons fuel tank provides more than sufficient fuel to criss-cross the fairways with no concern that you will get stranded.
Passengers are wrapped up in a mold-in polypropylene structure.
Steering is done through the self-compensating double reduction helical rack and pinion steering mechanism creating a turning circle of at 9.5 feet. Ample comfort is provided in the front through the Tru-Trak II fully independent strut suspension system and QuieTech EFI suspension system with hydraulic shock absorbers at the back.
E-Z-GO
E-Z-GO has been a leading manufacturer of golf cars and personal transportation vehicles since 1954 and has a vast selection of cutting-edge technology golf carts. By combining gas and electric options, E-Z-GO has become a leader in hybrid technology in the golf cart industry.
Specifications:
The 4-cycle, 404cc low-emission engine is capable of producing 13.5 horsepower and carries up to 4 people and a load up a hill of 30 percent and has a top speed of 17 mph. The convertible rear seat allows the payload to increase to 800 pounds
The 5.8-gallon tank provides fuel for long-distance travel
This golf cart has ten 20 x 11 unidirectional trail tires
Steering is provided through the self-compensating rack and pinion steering mechanism
Comfort is provided through the leaf spring suspension system and hydraulic shock absorbers
Passengers are protected in a durable, welded tubular steel frame encased with the injection-molded TPO
For adventurous golfers reaching the far extreme limits of the golf course, this is an ideal cart.
Specifications:
It has a low-emission 4-cycle 401cc engine environmentally friendly engine producing the maximum power of 13.5 horsepower and reaching a top speed of 16 mph capable of carrying 6 people and has a load capacity of 1200 pounds
The 5.8-gallon capacity of the fuel tank will allow you to go and experience the far-out extremes of the golf course and maybe stray a little out of the confines of the course
The alloy wheel surrounded by 23 x 10.5 all-terrain tires will enable you to climb hills during your extreme searches for the probably lost ball
Steering is provided through the self-compensating rack and pinion steering mechanism while the leaf spring suspension system and hydraulic shock absorbers will keep you comfortable when traveling off the beaten track
A well-constructed tubular steel body wrapped in an injection-molded TPO provides the passengers with a comfortable and safe feeling
CUSHMAN
As probably one of the oldest companies in the industry Cushman has provided value for money vehicles for more than a century in multiple configurations to cater to pleasure and being a workhorse.
This versatile cart will allow you to enjoy your round of golf and then go home or work and haul some cargo around.
Specifications:
A 4-cycle, 401cc low-emission engine producing a 13.5 horsepower output and capable of carting 2 people around as well as a load capacity of 1200 pounds while being capable of reaching a top speed of 16 miles per hour
The cargo deck will accommodate a capacity of 20.9 square feet.
The tank with a capacity of 6 gallons will provide the fuel to haul cargo around even after a solid trip around the golf course.
Available in both gas and electric options, so you can choose as per your needs.
The welded steel frame with a DuraShield powder coating surrounded by the injection-molded TPO provides protection for the passengers.
Steering is provided via a self-compensating rack and pinion steering mechanism.
Comfort and carrying ability are provided through a leaf spring suspension system with hydraulic shock absorbers.
This is a very versatile cart providing good cargo and people carrying capacity.
Specifications:
A low-emission 4-cycle, 401cc engine capable of producing 13.5 horsepower power output that can carry up to 6 people and 1200 pounds. The 6-gallon fuel tank is enough for long haulage trips or a solid round of golf. Stopping power is provided through a mechanical, self-adjusting drum service brake on the rear wheel
Tires come in the form of 18 x 8.5 4-ply rated tires
Steering is provided through the self-compensating rack and pinion steering mechanism while comfort I provided through the leaf spring suspension system with hydraulic shock absorbers
The welded steel frame with a DuraShield powder coating surrounded by the injection-molded TPO provides protection for the passengers
Final thoughts
Many manufacturers have been in the market for several decades and have proven themselves to be reliable and continuously enhancing the technology available. There are several newer players to the industry and the entrance of the Gario luxury cart will surely bring some new energy into the sometimes-stale styling to be found on golf carts.
Our selection for the best available golf cart is the Club car Villager 2 for the versatility and variety that it offers.
Our best newcomer is the Gario that will turn many heads in the future and is sure to set standards that other manufacturers will aspire to.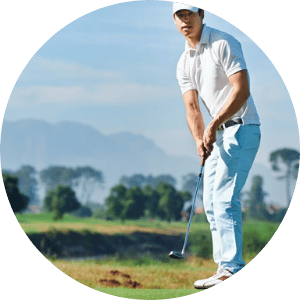 Nick Lomas is the founder of GolfSpan, an avid golfer, not quite a pro but has over 15-years of experience playing and coaching golfers from all over the world. His mission is to bring the golfing community a better experience then it comes to choosing the right golf gear, and finding the right set up for your game.