Golf carts have contributed positively to golf by speeding up the game tremendously. Although it takes exercise away from players, it makes for more comfortable intermissions between holes, encouraging friendly conversation to make golf more enjoyable.
Golf carts are very trendy as recreational vehicles, providing hours of fun over short distances, and are more environmentally friendly than cars.
They can be driven by children from the age of 13 upwards in certain states. They are also great for the elderly or others who can still play golf but struggle walking a course.
But golf carts aren't cheap, and you don't want to get a lemon.
Here are the best golf carts to buy online:
Here are the 8 best golf carts you can buy from a dealer:
To learn why each of these golf carts made our list, check out the reviews below. We have also provided a buying guide to help you fuel your decisions.
Featured Golf Carts To Buy Online
at a glance: Our Top 3 Picks for The Best Golf Carts To Buy Online
Ask A Golf Cart Mechanic
Do you have questions about your golf cart? Do you want help from an expert to solve your problem in just a few minutes? You can chat one-on-one with a small engine mechanic. Ask all your questions, and they can walk you through how to solve your problems.
You could figure out how to keep your golf cart running smoothly again in just a few minutes.
Why You Should Trust Us
Our team spends thousands of hours trying out and researching golf equipment to help you take your game to the next level. Here's our product review process.
How We Reviewed These Products
Golfspan only shares equipment and brands we trust.
I started Golfspan years ago after a 15-year career instructing and coaching golfers, and I meticulously researched and reviewed each of the products below. Following this, an editor combed through all of the information to ensure it reads well and is factual. We also regularly review our content as the market changes to bring you the latest in golfing gear.
For this post on the best golf carts, we considered the following criteria:
Value
Power
Speed
Distance
Reliability
Number of seats
Comfort
5 Best Golf Carts You Can Buy Online & Have Delivered to Your Door
You can now buy a high-quality golf cart and deliver it to your door in the USA. SaferWholesale.com is the best website for buying golf carts online and you can find some great deals.
Below you'll find our golf cart reviews and some of the best golf carts for the money. Check SaferWholesale.com's current deals for plenty more options.
Pros:
Comfortable ride
Heavy duty suspension
Huge pulling capacity
Expandable rear tray
Cons:
Rating: 4.8/5
If you go golfing with a sizeable group, the Cazador GVX represents a great golf cart as it seats six people. The powerful 400cc engine produces 25 hp which is comparatively more than most other models. It also features a 6.8-gallon fuel tank which is among the highest of all the carts we looked at.
You can drive this attractive golf cart in either two-wheel drive or four-wheel drive and it features both front and rear hydraulic disk brakes.
Specifications:
The 400cc 4-stroke liquid-cooled engine can be driven in both two-wheel drive and four-wheel drive.
A 6.8-gallon fuel tank will allow you to get through more than 18 holes before having to refill.
The comfortable seating allows 6 people to sit, and the rear bar can be extended for more storage.
Double wishbone front and rear suspension allow for an incredibly smooth ride, even over rough terrain.
Front and rear hydraulic disk brakes.
Ground Clearance of 11.8″.
Pros:
Excellent price for a brand-new cart
Seats 4
Reliable electric engine
Cons:
Low max speed
No bells and whistles
Rating: 4.6/5
This is an ideal cart for adventurous golfers who may also want to go hunting. While it doesn't seat six like the Cazador GVX, it does seat four, which is more than many other golf carts. It is also a very cheap buy, costing less than half of much of the competition. For these reasons, we consider it to be one of the best electric golf carts.
Specifications:
36v 1200w electric engine with a max speed of 10 mph.
Maximum load of 600 lb.
Single regenerative electromagnetic braking.
Steering is a helical rack and pinion steering mechanism.
Optional accessories are available to make the carts street-legal.
Pros:
Reasonable price
Fantastic suspension
Fast
Decent load capacity
Cons:
Low horsepower
The low ground clearance can sometimes be a hindrance outside of the golf course.
Rating: 4.5/5
Another one of our favorite affordable golf carts is the Massimo Buck 250. While it features a 200cc engine and 8.7 hp, it can reach speeds of up to 29.8 mph which was a bit of a shock to us. This makes it faster than the Evolution D3 which is more than twice the cost.
Yet where the Buck 250 really shines is in rough terrain. Its rugged build makes it perfect for traversing off-road. The front bumper is incredibly strong and will protect the unit against troublesome obstacles such as large rocks and logs.
Specifications:
4-stroke 200cc engine with plenty of power to traverse steep hills with a load on the back.
Cargo bed capacity of 441 lb.
Front and rear hydraulic disk brakes.
Side mirrors and headlights are standard inclusions, making these carts ready to be road registered.
Vehicle size (L X W X H): 92″ x 56″ x 72″.
Wheelbase of 66″.
Pros:
Good speed and distance
Reliable and energy-efficient
Convertible rear seat for additional loading capacity
Available in many different colors
Cons:
Limited customization available
Rating: 4.5/5
Next up we have another speed demon in the Evolution D3. It peaks at 25 mph and has a range of 40 miles which should be more than enough for most buyers. It also fully charges in 5-6 hours so you don't necessarily need to charge it overnight. In fact, it goes from 0-80% in just 2 hours which is pretty incredible.
Therefore, if you completely forget to charge it just a few hours before you plan to go on a round, the Evolution D3 will still soak up enough juice for your excursion. This makes it one of the most reliable golf carts you can buy.
Specifications:
The 4-cycle, 6.3Kw low-emission engine carries up to 4 people + equipment up a hill of 30 percent and has a top speed of 25 mph.
The 110Ah lithium battery provides power for long-distance travel.
4-wheel hydraulic disk brakes.
Multifunction dashboard with 9.7″ screen.
4-speaker Bluetooth audio with steering wheel controls.
Dimensions 60″ W x 119″ L x 77″ H.
Ground clearance of 6″.
Pros:
Good distance and speed
Reliable and energy-efficient engine
Huge flatbed for transporting goods
Cons:
2 seats
Has a cheaper look than most
Rating: 4.2/5
Our last pick if you are purchasing online is the Evolution Turfman 1000 Plus. It has a lower motor power than the Evolution D3 at 4 kW as opposed to 6.3 kW, but it is still a great golf cart in its own right. As it uses a lithium battery, no maintenance is required, and it features a large cargo box for transporting your goods. This measures 42″ x 65″ x 11″, with plenty of space for all your golfing gear.
Specifications:
It has a 48v environmentally friendly engine which produces a maximum of 6.3kW horsepower to help you reach speeds of 19 mph.
The load tray is of industry-leading size at 43″ x 65″ x 11″.
Alloy wheels surrounded by radial dot all-terrain tires.
Steering is provided through the self-compensating rack and pinion steering mechanism.
Leaf spring suspension system and hydraulic shock absorbers will keep you comfortable when traveling off-road.
Features a well-constructed tubular steel body wrapped in an injection-molded TPO.
Top 8 Best Golf Carts to Buy From a Dealer
Quick Overview: Our Top Picks for Best Golf Carts
This is a star on the golf course. The company was founded in 2005 in Denmark and has a subsidiary in the USA and sales companies in the UK and APAC region. They formed a partnership with Mercedes-Benz to develop a state-of-the-art golf cart, and this resulted in the uniquely styled Garia.
A standard onboard touchpad with a 10.1-inch diagonal high resolution (2560 x 1600 pixels) provides information on the vehicle, such as the speed, power consumption, remaining range, and controls for the lights, wipers, and many other options.
In addition to the touchpad, a screen indicates the golf course layout, the golfer's location, and scoring information. By connecting to your phone via a hands-free Bluetooth connection, you can listen to music on the integrated hi-fi speakers.
The cart includes LED headlamps for enhanced visibility during inclement weather and for those nights when you don't realize that darkness has ascended over the course.
The Garia Monaco golf car's electric motor produces three kilowatts of power that can be boosted up to 11 kilowatts for short periods. The capacity of the lithium battery pack maximizes out at 10.24 kilowatt-hours. The battery can be charged back to full power in 6 hours, meaning it only just misses out to the Evolution D3 in this regard.
European customers will be able to experience a maximum speed of 43 miles per hour. Still, due to federal laws, US customers will only be allowed to experience a rather timid top end of 25 mph. Nevertheless, the Garia represents the pinnacle of the golf carting world. As such, we feel it stands as the best electric golf cart right now.
Specifications:
Front disk brakes stop this beast.
Range of up to 50 miles.
The cart is fitted with 14-inch, 5-spoke wheels
Has a tight turning circle of 17 feet.
A double-wishbone suspension ensures a comfortable ride and provides light, precise handling on all surfaces.
With a permissible payload of over 1000 pounds, you are unlikely to be caught on the lighter end of the scale.
Not sure which golf cart is best for you? Ask your questions and get answers immediately in a 1-on-1 chat with a small engine mechanic.
The Club Car Tempo has the technology to promote smoothness and comfort and is available in gas and electric power. The information provided is based on the gas-powered option.
Since the company's founding in 1958, Club Car has produced some of the highest-rated golf carts the industry has ever seen. As a result, we expect you may have already seen carts from the brand on your local golf courses and in competitions worldwide. The minimalistic design of the cart gathered many admirers over the decades.
The safety record is unmatched in the industry, and the simplistic design provides a user-friendly cart with ample storage. Comfort, choice of colors, and a track record of innovation make this a premium brand that you can rely on.
Specifications:
The widely loved cart comes with:
429cc engine that provides 14 horsepower peaking at 15 miles per hour.
A 6-gallon fuel tank will ensure that there is sufficient fuel for a round of golf.
Tailor your drive to meet your needs. Choose between Comfort and Econo mode.
Weight-optimized suspension ensures you have a smooth and relaxing ride.
Customizable to your preferences, this cart will provide you with excellent style and comfort on and off the course in either gas or electric options. We are particularly fond of the electric lithium-ion version as it features a powerful motor and an electronic controller which helps to enhance performance across the board.
The battery is also maintenance-free and comes with six years of warranty so you can buy with confidence. It's one of the top-rated golf carts for a reason.
Specifications:
The comfortable stylish cart comes with:
A 4-cycle Subaru 404cc engine producing 14 horsepower topping out at 19 miles per hour.
The 6-gallon fuel tank provides ample fuel for an extended round, allowing searches in the rough for your ball
Turning capability is provided through the SportDrive steering mechanism featuring a self-compensating double reduction helical rack and pinion mechanism.
Comfort is provided through independent A-arms with hydraulic shocks for the front suspension.
18 x 8.5 tubeless tires made from corrosion-free aluminum material.
4. E-Z-GO Express S4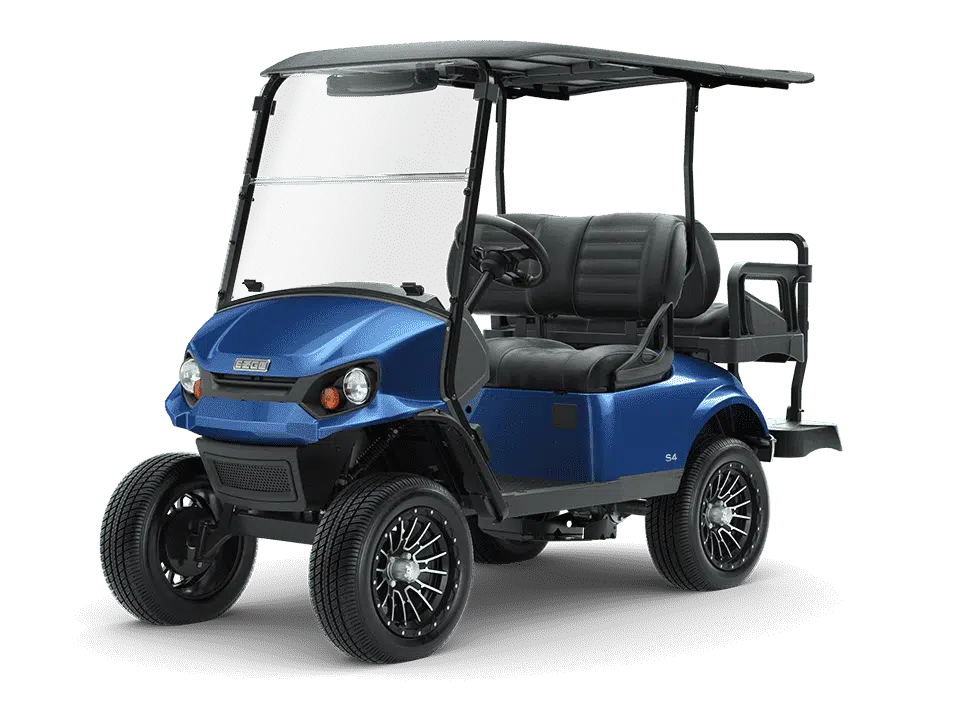 Pros:
Attractive design
Seats 4 people
Choose between gas or lithium
Top speed of 19 mph
Available in 9 attractive colors
Tire and wheel customization available
Batteries are maintenance-free and backed by 8 years of warranty
Cons:
Not all golfers will like the sporty design
Those who need six seats will have to look elsewhere
Rating: 4.5/5
For those who want to ditch the standard golf cart look and go for a more sporty option, the Express S4 by E-Z-GO represents the perfect buy. Featuring a luxurious interior and a newly designed modular canopy, it ticks all of the boxes for style. And when it comes to customization, it easily beats out much of the competition. Not only do you get to pick between 9 colors, but you can also customize your tires and wheels to complete the look.
What's more, you can choose how you want to power the cart. Choose either gas, which gives 13.5 hp or lithium, this brings 11.7 hp. Yet it doesn't end there. If you go the lithium route, you can opt for either a 2.2 single, a 4.2 twin, or a 6.2 triple lithium battery. We should also note that these ELiTE lithium batteries are backed by 8 years of warranty, which is unmatched. It's no wonder that the E-Z-GO Express S4 is one of the best-rated golf carts this year.
Specifications:
13.5 hp for the gas variant and 11.7 hp for the lithium variant
Maximum load of 800 lb
Fold down windshield
Modern LED headlights
Dual USB ports
Lots of storage space and plenty of legroom
The name says it all, this is a hauler to carry huge loads and minimal passengers. It's one of the best golf carts for personal use.
Yamaha has been around for many years, and they have been in the golf cart business since 1988. Changes in the colors and body styling in recent years have made Yamaha very popular, and this, as well as their performance, has led to many clubs adding them to their fleet of carts.
There are options for gas-powered and electric carts in the Yamaha stable, providing a range of quality options.
Specifications:
Fitted with the low-emission Yamaha 357cc single-cylinder engine, producing a maximum power output of 11.4 horsepower which is capable of a top speed of 15 mph.
The 5.8-gallon fuel tank allows this cart to cover ample distances.
It has been equipped with a high-quality air filter.
Turning circle of at least 13.5 feet.
It has been designed using mold-in polypropylene in a glacier color.
Comfort is provided through the use of the fully independent Tru-Trak II automotive-style strut in the front and rear wheel suspension systems.
The seating capacity for 2 people is accompanied by a cargo bed of 70 x 47 x 7.8 inches.
The Drive 2 golf cart from Yamaha offers luxury and reliability through its precise engineering and unmatched features. If you only go golfing with one other person, this golf cart could be a great fit. It's available as a gas-powered and electric-powered cart. The electric model is particularly popular as it features QuieTech EFI technology. Not only does it produce less harmful emissions, but it is also more fuel-efficient and much quieter than other gas-powered carts.
Specifications:
Low-emission Yamaha 357 cc single-cylinder, 60-degree incline OHV engine can reach a top speed of 19 mph
Can climb hills with an incline of up to 15 degrees.
QuieTech EFI technology.
The 5.8-gallon fuel tank provides enough fuel to crisscross the fairways without concern that you will get stranded.
Passengers are wrapped up in a mold-in polypropylene structure.
Steering is done through the self-compensating double reduction helical rack and pinion steering mechanism, creating a turning circle of 9.5 feet.
Tru-Trak II fully independent strut suspension system.
Hydraulic shock absorbers at the back.
This versatile cart will allow you to enjoy your round of golf and then go home or work all while transporting plenty of cargo.
As probably one of the oldest companies in the industry, Cushman has provided value-for-money vehicles for more than a century in multiple configurations to cater to all buyers.
Specifications:
A 4-cycle, 401cc low-emission engine producing a 13.5 horsepower.
Load capacity of 1200 pounds while being capable of reaching a top speed of 16 miles per hour.
The cargo deck will accommodate a capacity of 20.9 square feet.
The tank with a capacity of 6 gallons will provide the fuel to haul cargo around even after a solid trip around the golf course.
Available in both gas and electric options, so you can choose as per your needs.
The welded steel frame with a DuraShield powder coating surrounded by the injection-molded TPO protects passengers.
Self-compensating rack and pinion steering mechanism.
Comfort and carrying ability are provided through a leaf spring suspension system with hydraulic shock absorbers.
This is a very versatile cart providing good cargo and people-carrying capacity. With 13.5 horsepower, 6 seats, and a max load of 1,200 lbs, it's equipped to transport 5 of your friends and everyone's gear. However, if you go golfing with less than 4 people, you can flip the rear-facing seats to create a flat area to more conveniently store your gear.
You can pick it up with either an EFI gas engine or an ELiTE lithium battery. The latter comes with even more storage in the form of Insider bags that are located beneath the seats.
Specifications:
A low-emission 4-cycle, 401cc engine capable of producing 13.5 horsepower power output that can carry up to 6 people and 1200 pounds.
The 6-gallon fuel tank is enough for long haulage trips or a solid round of golf.
Stopping power is provided through a mechanical, self-adjusting drum service brake on the rear wheel
18 x 8.5 4-ply rated tires
Self-compensating rack and pinion steering mechanism
Leaf spring suspension system with hydraulic shock absorbers
Welded steel frame with a DuraShield powder coating surrounded by the injection-molded TPO.
How to Choose a Golf Cart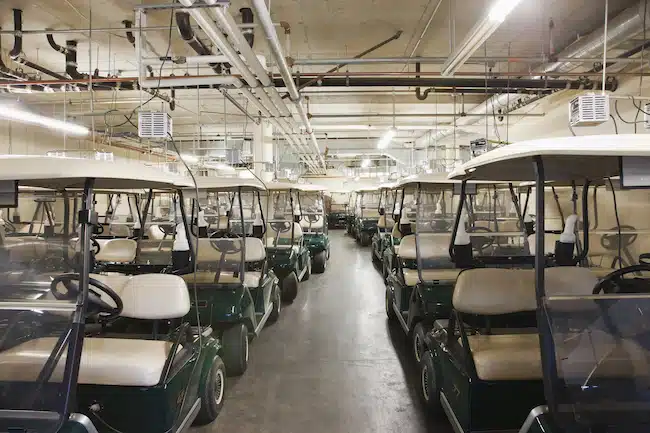 Two dominating propulsion methods are used for golf carts: Electric vs. gas.
The debate over which is the better shall continue for many decades, and ultimately your preference will dictate the cart that will become part of your vehicle fleet.
Whichever you decide on, you'll want to ensure you have the right golf bag to suit you.
Golf Cart Features to Consider
Quality Tires
Headlights
Canopy to protect you from the rain/sun
Cooler bag/trays to keep your beverages cold
Additional storage options for accessories
Windshields
GPS
Ball cleaners
Your Decision Should Include Factors Such As:
Price
Customization
Warranty
History
Golf Cart Batteries
A wide variety of golf cart batteries are available on the market to suit all conditions and requirements. There are 3 main types:
Flooded Lead Acid – FLA or "wet cell' batteries are not sealed and contain lead plates. When you replace the water, electrolytes lost during use will be replaced.
Gel Lead-Acid Batteries – GLA batteries can work even on rough terrain and are durable to the point that they will operate smoothly even when a crack appears in the outer protection. A thickening agent inside a sealed unit keeps the electrolytes still.
AGM Lead-Acid Batteries – This is an enhanced version of GLA batteries with a fiberglass separator to keep the electrolytes in place. They are highly vibration-resistant, spill-proof, and have proven to be more durable.
New vs. Used Golf Carts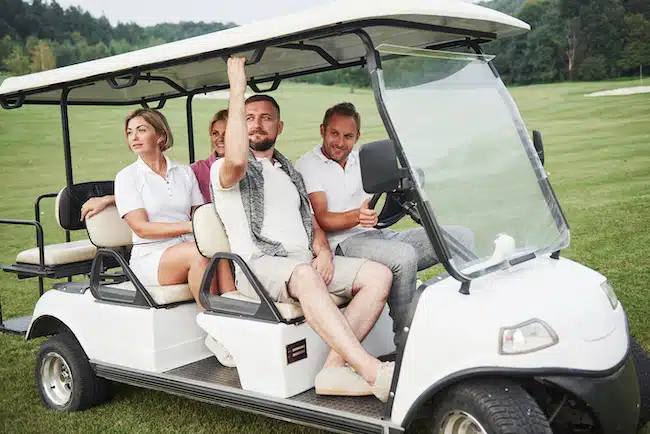 There are always pros and cons associated with purchasing a new or used vehicle, which is no different when deciding to buy a golf cart.
Purchasing a new cart gives you more peace of mind and a high probability that it will work as designed.
The purchase of a used golf cart comes with certain risks that can be averted by doing some research. The biggest positive of purchasing a used cart is saving a lot of money.
How to Measure How Used a Second-Hand Cart Is
Most modern golf carts are fitted with some form of indication of use. Usually in the form of an amp-hour meter for electric carts or an hour meter for gas carts.
Well-maintained gas carts will require refitting somewhere between 5,000 to 6,000 hours, and a similarly well-maintained electric cart should provide you with between 40,000 and 50,000 care-free amp-hours of use.
Buying a Used Golf Cart
When working on a budget, this could allow you to enter the wonderful and exciting world of owning your own golf cart, provided you do a thorough investigation.
What Areas To Enquire About?
Do not hesitate to ask the owner as many questions as possible. They are trying to get rid of the cart and you are parting with some hard-earned cash
Should the cart have had owners before the current owner, delve into the history as far back as you can go to determine the maintenance and TLC that the cart received in the past
For electric carts look at the age and amp hours of the battery
Parts availability and waiting times for parts
Available warranty
Confirm which accessories will be part of the deal
Check whether the price is negotiable
Test drive the cart and look out for any noises, leaks, and how it handles.
Buying a New Golf Cart
Buying peace of mind is what you purchase when buying a new cart. The likelihood of something going wrong is far smaller than on a used golf cart.
Ensure that the cart history is available and that it was not involved in any accidents previously
Insist on a warranty as this will add to your peace of mind.
Ask for accessories or customization to be part of the deal
Want to ask an expert mechanic a question about golf carts? Get an answer in a few minutes now!
Electric vs Gas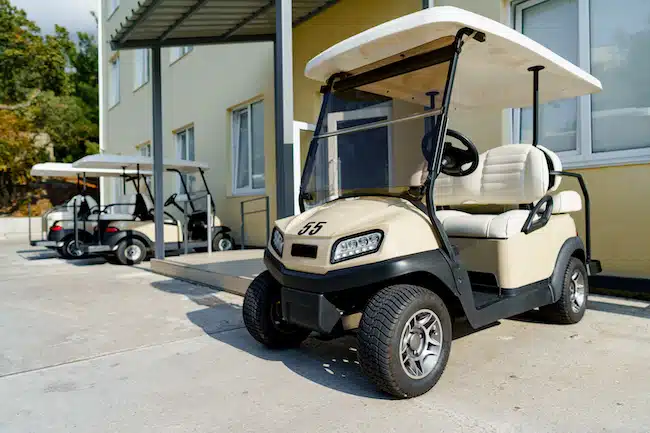 Now that you have decided whether to buy a new or a used golf cart, the next step is to decide on a gas or electrically-propelled cart.
The first carts that came to market were based on the internal combustion engine and gas-powered. These had several negative connotations such as polluting the air and noise pollution. Along came the electric version of the golf cart, which addressed most of the downsides of their gas-propelled counterparts.
Electric Golf Carts
Electric golf carts are low-maintenance vehicles and are versatile in the combination of batteries that can accommodate the usage type of the vehicle.
Besides, the electric golf carts are less noisy and more environmentally friendly than the gas versions. However, the cart may require extended charging time that could be inconvenient at the time and they are generally slower than the gas versions.
Gas Golf Carts
Gas-propelled cars are normally faster and have more power than the electric equivalent. The higher power output and extra speed make the gas-powered cart more likely to be used on public roads.
There is no charging time, provided gas is in the tank you can get in and go. Filling up is much quicker than charging. Just as the power output increases, the noise and air pollution are also higher.
Golf Cart Comparison for Performance
Gas-powered golf carts can provide you with more distance and provide more power to climb hills. On most golf courses, there is no major benefit to either option as electrical carts will easily cover the distance of a round of golf, and only under extremely hilly conditions could it struggle to get to the top.
Golf Cart Maintenance
Gas-powered golf carts require more maintenance than electrical carts due to the number of moving parts, which adds to the maintenance cost. The following areas require regular maintenance on gas-powered carts:
Oil and filter changes
Spark plug replacement
Driver belt and starter belt change
Battery change
Clutch change
Starter brush change
In contrast, electric carts do not require much maintenance other than the battery requiring regular charging and maintenance. Several batteries are sealed and therefore do not require checks on the water level and topping up.
Local vs. International Manufacturers
Carts manufactured within the USA will ease access to spare parts and accessories. The three best-known manufacturers in the USA are Club Car, E-Z-Go, and Yamaha.
Cars manufactured outside America could run into shortages of replacement parts resulting in extended downtime.
Upgrading a Golf Cart
If you want to have the coolest golf cart on the block, you may well want to consider doing some upgrades. Something as simple as a rain cover enclosure or improved LED lighting will go a long way to improving your cart. Aftermarket accessories can help you make those cool upgrades that your heart desires.
Final Thoughts
Many manufacturers have been in the market for several decades and have proven themselves to be reliable as they are continuously enhancing the technology available. There are several newer players in the industry, and the entrance of the Garia luxury cart will surely bring some new energy into the sometimes-stale styling found on golf carts.
Our selection for the best golf cart available online is the Cazodor GVX 6 Seater. Safer Wholesale has a solid selection of carts you can buy online. If this is your first golf cart and you have the time, head to your local dealer. Or check out Facebook groups, or Craigslist to get deals on used carts.
Similar Reads
Frequently Asked Questions
What Is the Best Golf Cart?
The Garia Monaco is the top golf cart in our opinion. Not only does it reach speeds of up to 43 mph and fully charge in six hours, but it also features handy information on its touchpad. You can check how the scores are looking, where you are, and the layout of the course.
Is a New or a Used Golf Cart a Better Purchase?
Used golf carts have the advantage of being more affordable, making them a great pick for first-time buyers. However, new golf carts have no existing wear and often come with a lengthy warranty period. Therefore, you can be certain of the cart's condition, and you get a guarantee that it will last for many years.
How Much Does Golf Cart Maintenance Cost?
Golf cart maintenance varies from around $500 to $2,000 annually, depending on the cart you buy. Older carts will incur greater costs as their parts are closer to needing replacing. Lead-acid batteries, for instance, cost around $1,000 to replace, lithium-ion batteries are even more, but they need changing far less often.
Are Golf Cart Warranties Transferable?
While you don't often see transferrable warranties for other goods, golf carts usually feature transferable warranties. However, this is not always the case. It's important to check with the distributor to be sure.
How Do You Take Care of a Golf Cart?
The easiest way is to get your golf cart serviced regularly. With respect to your own measures, don't let the batteries in the cart die, and keep them fully charged where possible. Also, routinely check the water level of lead-acid batteries to ensure the lead is submerged, you should also clean them if need be.
Nick Lomas is the founder of GolfSpan, an avid golfer, not quite a pro but has over 15-years of experience playing and coaching golfers from all over the world. His mission is to bring the golfing community a better experience then it comes to choosing the right golf gear, and finding the right set up for your game.