Golf cart financing can make owning your own golf cart a reality.
For a variation of credit scores, there are several options for financing. But which are the best golf cart financing options?
Here are your best options for golf cart financing:
However, there is much more to it, like how many lending options there are and what APR they offer.
We will also explore some things to need to bear in mind before buying a cart and some of the financial jargon you will need to get your head around.
Before we start, we must stress that if you cannot pay back the money do not take out the financial support. Only take out what you can afford to return.
Let's get into it!
The Top 3 Golf Cart Financing Options
Best Overall
Best for Long Term loans
Best Approval Rates
EZ-GO
Road Runner Financial
GolfCarts.com
Pros

Brilliant option for those wanting EZ-GO cart
Low APR
Lots of lender options
Transparent with interest rate

Has a loan calculator
Quick process
Good for those with low credit score

More than 99% approval rate
All in-house financing
Can be paid over six years
Sets you up to apply

Cons

More time-consuming than others

Maximum interest rate not specified

Not clear about interest rate

Accessibility
76
87
99
Cost
91
77
69
Time
72
85
74
Rating
4.5 Stars
4 Stars
3.5 Stars
Why You Should Trust Us
Our team spends thousands of hours trying out and researching golf equipment and ways to get golf equipment to help you take your game to the next level. Here's our product review process.
We're able to bring these reviews to you through the small commissions we earn if you buy through the links below.
How We Reviewed These Products
Golfspan only shares equipment and brands we trust.
I'm a passionate golfer and professional writer. To help you avoid wasting so much time watching several videos on this, I have checked out four reviews of the most popular brands for golf cart financing. Then, I compared reviewer opinions based on these criteria:
Accessibility – Are they accessible for those with good and bad credit scores?
Cost – How much will they cost you, and what is the interest rate?
Time – Will they enable a quick turnaround time?
After that, an editor reviewed and fact-checked this list. Finally, we conduct regular content audits to update and revise our reviews to ensure you receive the latest information.
7 Top Golf Cart Financing Company Reviews
1. EZ-GO – Best Overall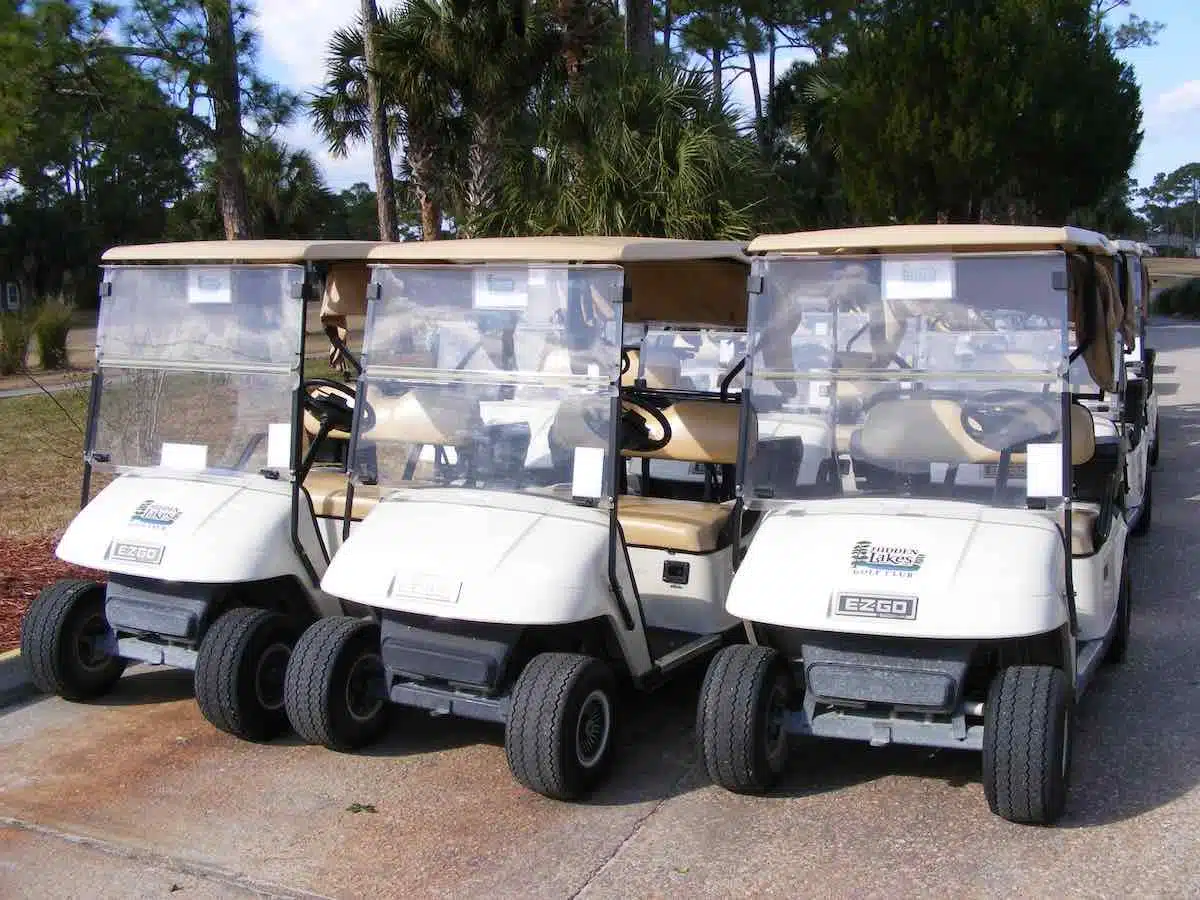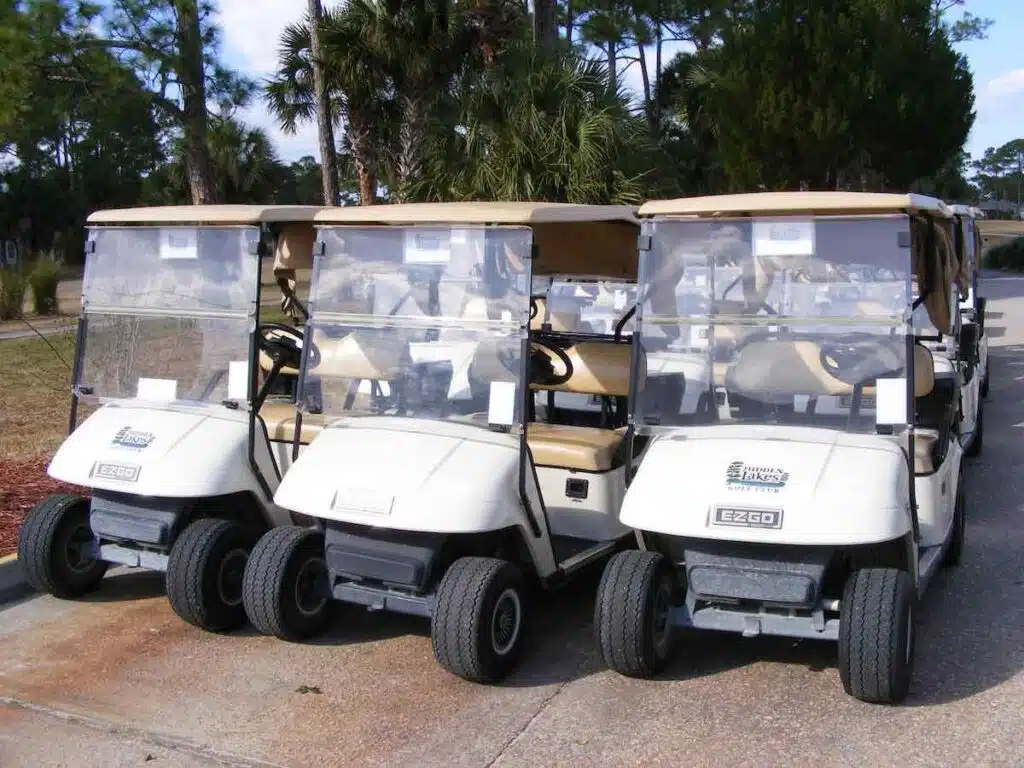 Pros
Brilliant option for those wanting EZ-GO cart
Low APR
Lots of lender options
Cons
EZ-GO is partnered with many different lenders to supply a golf cart loan.
Like Golf Carts Unlimited, they work with Sheffield Financial and Yard Card, but EZ-GO also works with Road Runner Financial and Freedom Road Financial.
As EZ-GO has partnered with them to sell their own vehicle, we feel it is the best option for those wanting a specific brand of cart – in this case, EZ-GO.
If you are committed to wanting one of the carts, scour through the options that offer between 0% – 3.99% interest. The latter figure is even for 60 months, too!
Yes, it will be a little more time-consuming comparing each of the lenders that EZ-GO works with and against other companies, but it will be worth it if you can get a good deal on the cart.
We have found this to be the best option for golf cart financing.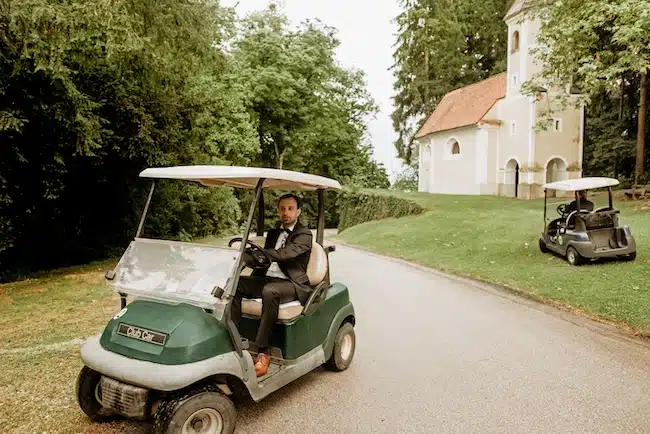 Pros
Good for lots of loan terms, especially long ones
Has a loan calculator
Quick process
Good for those with low credit score
Cons
Maximum interest rate not specified
Like Acorn Finance, Road Runner Financial also offers a calculator to work out a loan for a golf cart. This also has no impact on your credit score. After completing a quick application, you are supplied with a pre-qualified credit offer so you can assess your options in good time.
It displays the loan term options as 24, 36, 48, 60, and 72 months. 60 months is the most popular length for loan loans for golf carts on the site.
The lowest interest rate is 6.99%, though the maximum is unspecified. It can vary based on factors like the applicant, the make and model of the cart, and the cosigner.
My research found that Road Runner Financial supports those with a low credit score. They have offered coverage for those with a minimum credit score of 550 and also for those with little or no credit history. This means that those looking for no credit check golf cart financing and golf cart financing for bad credit could be in luck.
3. GolfCarts.com – Best for Approval Rate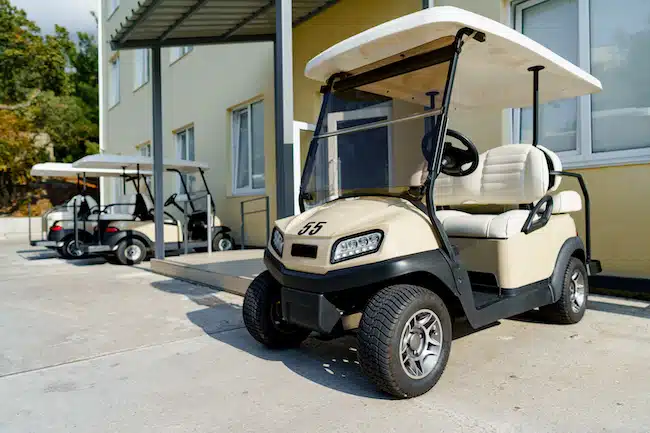 Pros
More than 99% approval rate
All in-house financing
Can be paid over six years
Cons
Not clear about interest rate
We found that GolfCarts.com has an almost perfect approval rate, meaning that whatever your credit score, you have a good chance of being approved.
It focuses on the in-house financing of golf carts. The bank financing option provides 3 – 12 months of SAC. There are up to 72-month terms, too, so it can be paid over some time.
It is worth noting that the website is unclear about the interest rate, so be sure to clarify this in your correspondence.
If you want an almost guaranteed way to finance a golf cart, try GolfCarts.com. We must stress there is no guaranteed golf cart financing option, though.
4. Club Car – Best for Low Financing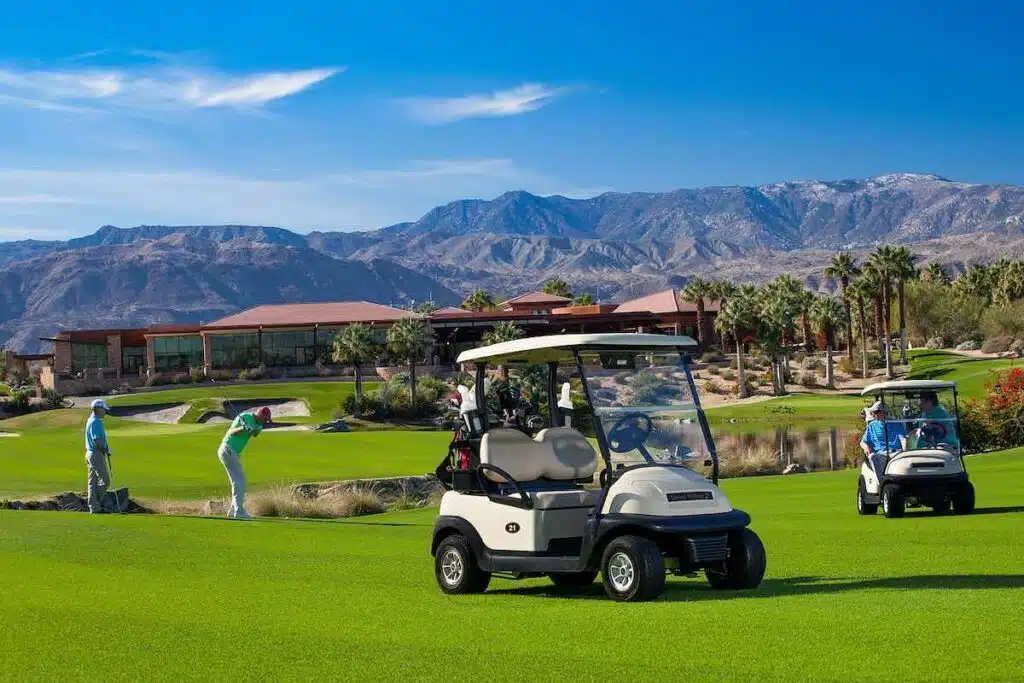 Pros
Good for those with good track records of paying back
Cons
May not be as sustainable with more expensive carts
For those looking for low financing options, this is your best bet. If you have sufficient funds and a good record but don't want to pay thousands of dollars for a golf cart in one go, this works well.
Club Car has several partners offering differing solutions. Earlier in 2023, Sheffield Financial had offered 0% financing for two years at 0.81% APR. However, this information has now been removed and states that there is a minimum purchase fee of $1,500 and a $125 origination fee.
Another partner, DLL, offers 2.99% on a fixed installment loan for two years.
Be careful how much you spend on the cart. If you go for a cart nearer the $20,000 mark, the percentage rate charged can add up over time.
Our analysis suggests that this is one of the best golf cart financing companies.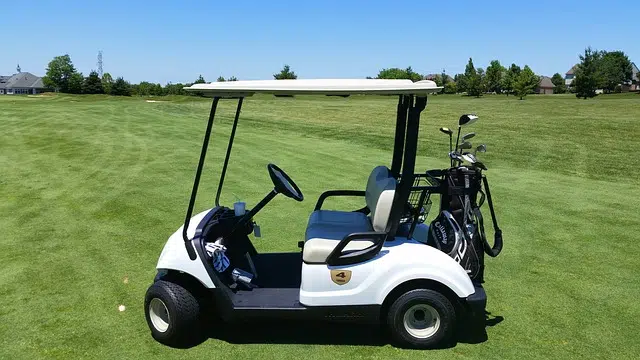 Pros
You get a personalized quote in 60 seconds
Won't impact credit score
Cons
My investigation revealed that Acorn Finance is great for those who want to scout the market and quickly determine what a quote may look like.
They have an online calculator that you can use and won't impact your credit score.
Lenders in Acon Finance's network offer an APR as low as 5.99%, which can rise to 36% with some lenders. Be sure to get a rate you can afford before committing.
Amounts lent can rise as high as $100,000 with one lender too.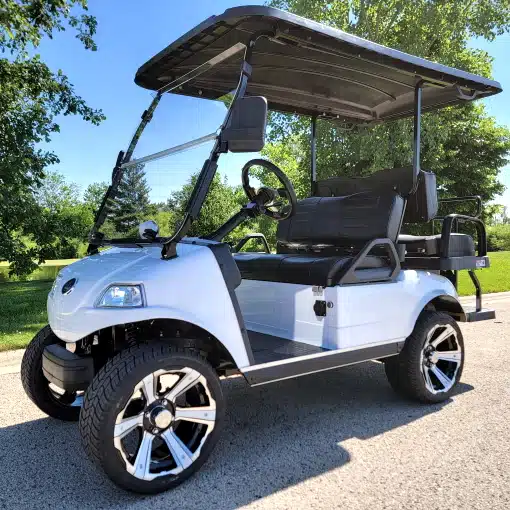 Pros
Lots of choices for used and new models
Some new models have 0% APR
Finance calculator
Cons
Must apply for a full quote
Golf Carts Unlimited works with both Yard Card and Sheffield Financial to offer a variety of choices.
$1,500 is the minimum amount you can finance. Interest ranges from 0% on some new models to 3.99% on used models with Yard Card.
Sheffield Financial offers interest rates of 0% on some new models to 13.99% on used models. This depends on the loan term, though for 60 months, it is 0%. However, for 36 months, the figure is significantly higher.
Our analysis indicates that Yard Card is more suitable for used models.
A finance calculator is on the site to work out the monthly payment and estimated vehicle price.
To get a quote, you must apply and the staff will be in touch.
It is worth reading through the terms and conditions and be mindful of charges as there is a $125 customer origination fee for each of the deals.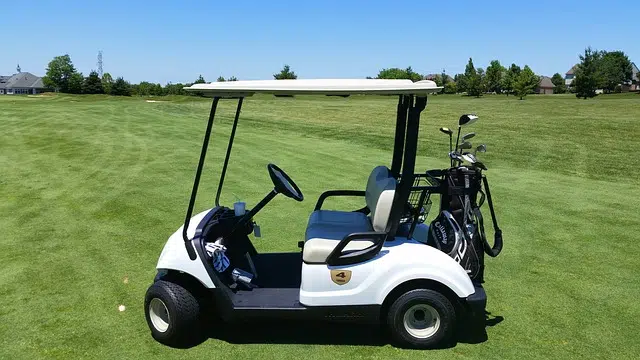 Pros
Cons
Have to apply to work out if you qualify
No APR information
The power sports enthusiasts at Ben Nelson Golf Cars offer two golf financing options to make golf cart payments through Sheffield Financial and Yard Card.
As per our expertise, as well as offering financing, the business also provides parts, services, and rentals. This makes it ideal for those golfers looking to use the business as a one-stop shop. Golf Carts Unlimited also offers this service.
You do have to apply to get a quote, though. There is no calculator or quick application online, so it may take longer to gauge how much you are looking to pay. Equally, there is no information about APR on the site either.
Things To Consider Before Buying A Golf Cart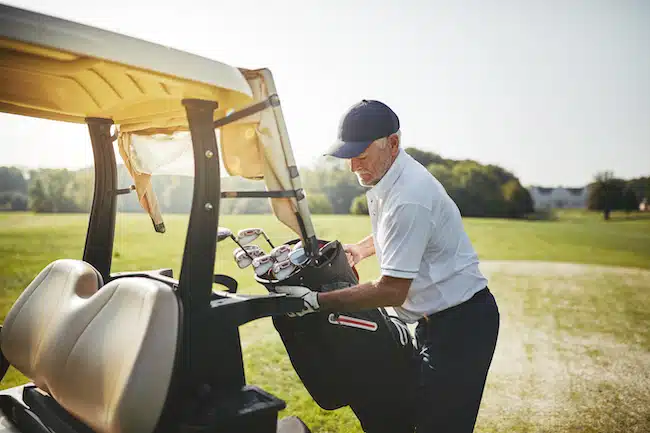 What You Will Use it For
Your choice of a specific golf cart should depend on how you use it. For example, if you want a cart for differing terrains and to go off-road, a choice like the Massimo Buck 250 is a great option. However, if you want a street legal golf cart for transporting the family around from place to place, you will like the Polaris Gem E2.
Price
Just like cars, there is a golf cart for most budgets within reason. If you are on a budget, you could be looking at around $5,000 – $6,000 for a good golf cart. However, if you want a top-of-the-range golf cart with modifications, you are looking at nearer $20,000. Choose a cart to fit your budget, and don't break the bank.
New or Second Hand
Whether you want a fresh golf cart or one that has been used before is something to be mindful of. Buying a used golf cart can knock thousands off the price, however, this can also mean there is a higher likelihood of wear and tear or potential issues that you could face. It is worth weighing up this dilemma before you purchase.
Important Golf Cart Financing Terms to Know
APR
APR stands for Annual Percentage Rate. It is the interest rate charged for a whole year.
Financing
Financing involves providing funds for purchases. By financing a golf cart, you are putting funds towards the purchase of a golf cart.
Credit Score
Golf cart financing with bad credit is not so easy. Your credit score is a figure given that represents the creditworthiness of someone. It is based on your credit history including factors like debt and history of repayment.
Customer Origination Fee
This is a figure charged by the lender as their compensation for processing the loan application.
Fixed Installment Loan
A fixed installment loan is a way of paying back a loan. The borrower must pay back a given amount of money in payments. This includes a part of the borrowed amount as well as interest.
FAQs
Can You Finance a Golf Cart?
Yes, you can finance a golf cart. You will need to complete a form and input details such as your loan, loan length, and personal details to apply for golf cart financing.
What Credit Score Is Needed For A Golf Cart?
The credit score needed for a golf cart varies from lender to lender. For example, Road Runner Financial would offer coverage with a minimum credit score of 550 and for those with little or no credit history.
With bad credit, golf cart financing is often harder. The better your credit score, the easier it will be.
Is It Hard To Get Approved For A Golf Cart?
When looking to get approved for golf cart financing, your credit score is very important. This often dictates how hard it is to get approved. Some financing companies are more lenient and others are stricter on what score you have to have.
An excellent credit score is considered 720 – 850, a good score is 680 – 719, an average score is 620 – 679, and a poor score is below 620.
Final Thoughts
Golf cart financing can help you get your hands on a great golf cart sooner. But you will want to find use one of the best golf cart financing companies, and secure a good rate.
EZ-GO is the best overall option for financing your golf cart. They're a top name and provide low rates. You can apply today to get an idea if it'll work for you.
Road Runner Financial and Club Car are two more another attractive options.
Investing in a golf cart is a big event and a process that should take time and be done with patience. Assess all the options and what works for you before deciding.
Additionally, read all the small print to ensure you aren't caught out or misled in the process.
Finally, remember to only finance a cart if you can afford to pay it back. No cart is worth risking your possessions for.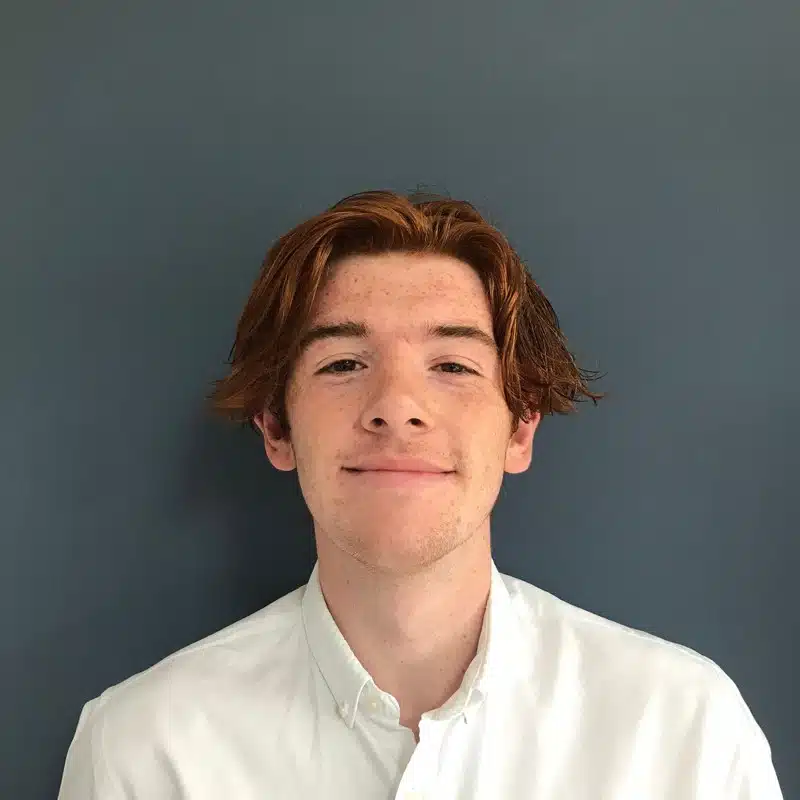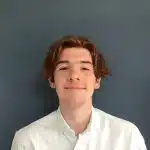 Jack was inspired by his Grandad Ron's golfing and grew up playing this great game. Now, he enjoys both playing and writing about it. He is also a big sports fan too. Jack is always looking for ways to find the edge on the course to share with readers.