"I prefer to walk," hasn't been in my vocabulary for a while, and I'm not alone. About 70% of rounds are played using a golf cart, according to the NGF. Golf carts are extremely convenient and enjoyable to use, not to mention they have multiple uses. However, owning a golf cart is a luxury and will require a couple of thousand dollars just for the initial buy.
So how much is a golf car? The average price is $9.4K, according to GoRollick. Used golf carts range from $2,000 to $5,000. Custom-made models can exceed $20,000, which may mean they are street-legal.
Let's fully answer this question and cover the specific features that could drive up the cost of your golf cart. Or what you could forgo to save some money. 
How Much Are New Golf Carts? ($4,000 – $15,000)
So, how much is a new golf cart? Admittedly the price quoted spans a relatively wide price range. But that's because many different models and brands are available. Another factor that makes the prices differ is the quality; some golf carts are simply in a different league than others. This is why new golf carts are typically sub-categorized as low-range, mid-range, and high-range.
You can get a basic new golf cart called a base model or an entry-level one, starting at around $5500. This is the most basic version you can get, with only the most necessary features. There are some cheaper ones that cost around $4000+, but you may have trouble ripping around the course in one of those.
The price increases the more you upgrade and customize it, and it might cost up to $20,000 to get all the bells and whistles.
Though you can purchase new golf carts from various sources, we recommend you go directly to the manufacturer online. It may cost a little extra, but you'll know that you're getting genuine, warrantied products from dependable dealers.
Pros: 
New carts are in perfect condition 

Most new carts come with a limited warranty. 

It's easier to obtain financing for a new golf cart.

You can set the specifications and accessories.
Cons:  
Rapid depreciation as soon as you drive them for the first time
Where To Buy New Golf Carts?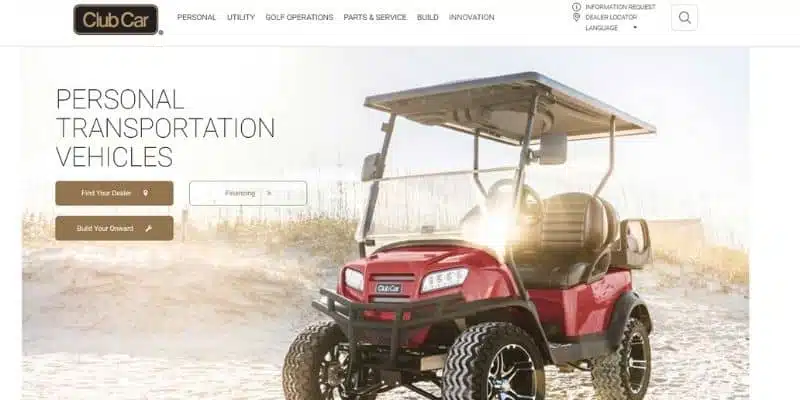 Club Car offers mid-range and high-range golf carts, with multiple dealerships spread across the US. Their prices are visible on their site, ranging between $6000 – $15000. 
Many of their carts are fully customizable, and the quality is second to none.  
Club Car is widely regarded as one of the leading golf cart manufacturers. They offer standard golf carts, street-legal carts, and some nifty-looking utility vehicles.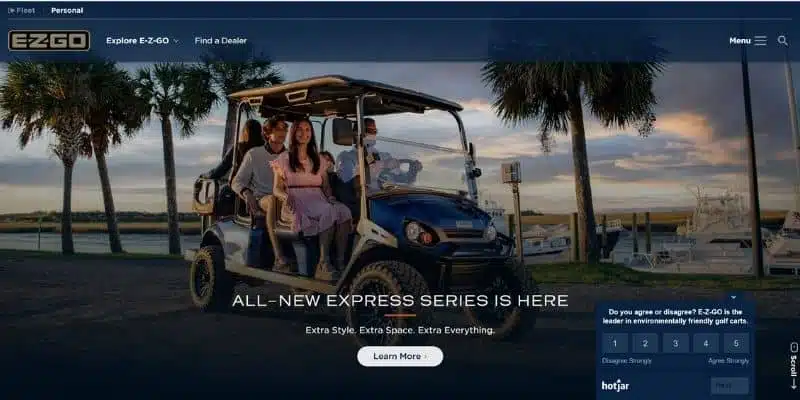 EZ-GO is another reputable golf cart manufacturer with prices that can fall between $5000 and $15000+. You can 'build' your ideal cart on the website and then use the dealer finder to locate the dealers nearest to you. You can then have your golf cart delivered right to your driveway.
An alternative to purchasing directly from the manufacturer is to use an online golf cart finder. Golf Cart Resource provides a nationwide service for finding all kinds of new and used golf carts. 
You can search by model, price, seating capacity, and location, with each listing containing all the necessary information. Seller contact details are also provided if you wish to find out more.
How Much Are Used Golf Carts? ($2,000 – $5,000)
Buying a golf cart second-hand is an excellent alternative to purchasing a brand-new one and can save you a lot of money. You can usually get a used golf cart for almost half its original price and as low as $2000.  
However, used golf carts come with a lot of inherent risks – there may be old and defective parts, outdated tech, scratches, etc. For this reason, you need to perform a detailed checkup, and you could secure yourself a great piece of kit at a fractional price.
Pros: 
Saving on the initial outlay 

It may be accessorized without adding to the price

There is more information about it from the previous user.
Cons: 
There may be hidden problems due to abuse by the previous owner

It may not come with a warranty.

Some parts may be worn out.
Tips for Buying Used Golf Carts
The risks are higher when you buy used golf carts online; therefore, do so with caution. Ideally, you want to inspect the cart for any problems when buying it. Important parts you'll want to check before your purchase are the batteries, engines, and tires. You should also look for any defects with the accessories and inspect the top of the cart for any breakages resulting in leaks.
When purchasing used golf carts online, consult the Golf Car Blue Book. Input the exact details of the cart, including the make, model, year, and condition; then, the blue book will calculate its estimated trade and wholesale value. If you suspect you're being ripped off, this is a terrific way of knowing for sure.
With all that in mind, let's look at some of the best places to buy used carts.
Where To Buy Used Golf Carts?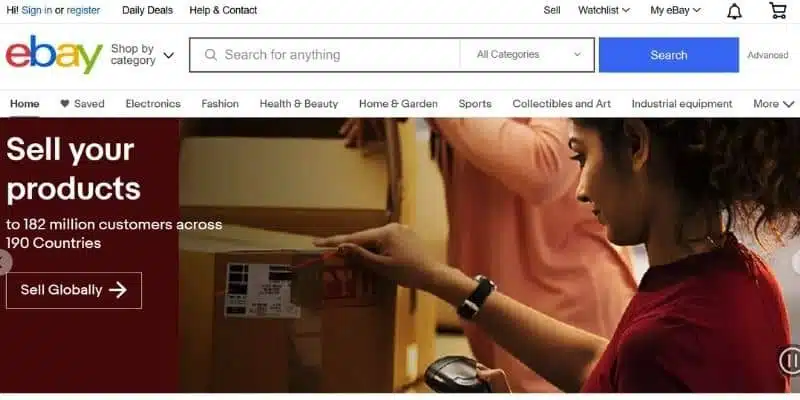 eBay is certainly one of the go-to platforms for buying used golf carts online. Each seller has a rating, so you can get a pretty good idea of who can and can't be trusted. eBay also makes it easy to search by seat capacity, type, make, and condition. It's a red-hot marketplace, with new listings being added practically every day – if you're quick, you've got a good chance of landing an excellent deal.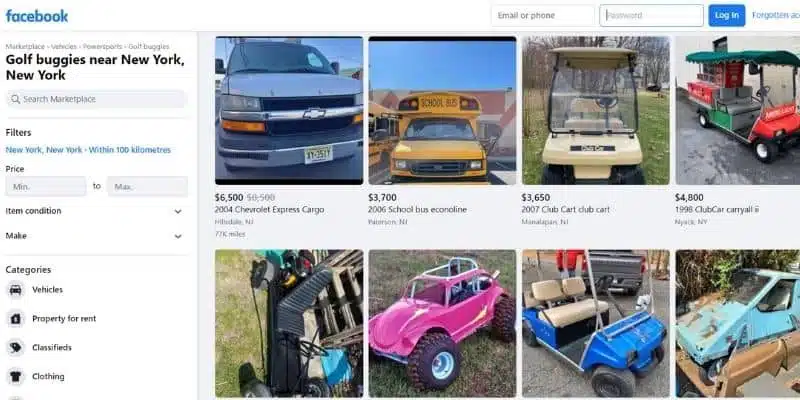 If it's a bargain you're after, Facebook Marketplace might be the best place to look. There are usually a bunch of listings on there that are less than $2,000. You can search for carts within a radius of your location and contact the sellers directly. Similar to eBay, each seller has a user-given rating.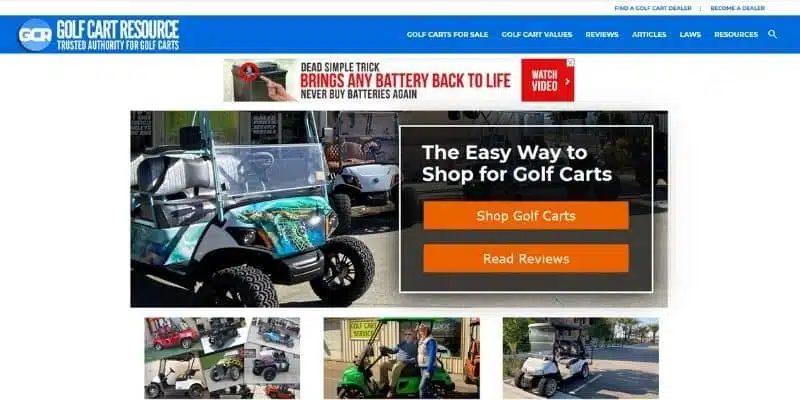 Golf Cart Resource has well over 1,000 used golf cart listings at the time of writing. You can filter this down through location, manufacturer, make, power type, year, seating capacity, and price range, meaning you should have no problems tracking down your ideal second-hand cart. 
The prices are generally higher than what you'd find on eBay or Facebook, but most of the listings are from registered dealers, meaning you can more or less count on them being reliable products. (Even so, purchase with caution!)
Cost of Different Golf Cart Sizes
Golf carts come in different seat numbers ranging from a 2-seater to an 8-seater and everywhere in between.
2-Seater
2-Seater golf carts are the smallest price golf carts. The cost of a brand new 2-seater ranges from $6000-$7000. As for a used one, well I once saw one Pisces at $840, so I guess there's no limit to how cheap it can be.
4- Seater
4-Seater golf carts are the standard versions you'll commonly find, especially for golf. Their price ranges from $7000 to $10,000.
6-Seater
A 6-Seater is rarer and will most likely be more expensive than the other-size golf carts. A brand new 6-seater will range from $10,000 to $15,000+. They are mostly used for commercial purposes in hotels, airports, stadiums, and game reserves.
Push Carts
A rose by any other name is still a rose, and so is a golf cart. Unlike the usual get-in-and-drive golf cart, a push cart doesn't help you avoid walking. It's still useful for carrying all your golf gear; if you get the electric ones, you might not even need to push them yourself. A push cart costs around $200-$500 on average and is a good choice for people who prefer to enjoy a stroll while they golf.
Street Legal Golf Carts ($8,000 – $14,000)
A street-legal golf cart is a cart that is designed for the road and has all the necessary safety requirements for public road use. They usually come fully equipped with headlights, tail lights, reflectors, turn signals, speedometers, mirrors, horns, fenders, windshields, seat belts, blinkers, and vehicle identification numbers (VIN), making them safe and legal to cruise around your neighborhood. Their speed is also usually increased from 15mph to a minimum of 20mph.
Thanks to their ease of use and environmental charm, many people rely on their golf carts for local transportation. You can convert your current golf cart to be street-legal or buy one outright. However, it costs an extra penny to buy and fit all the additional features, and you'll need a driver's license to use it on the road. If you're interested in one, you can research more about the best street legal golf carts.
Where To Buy Street Legal Golf Carts?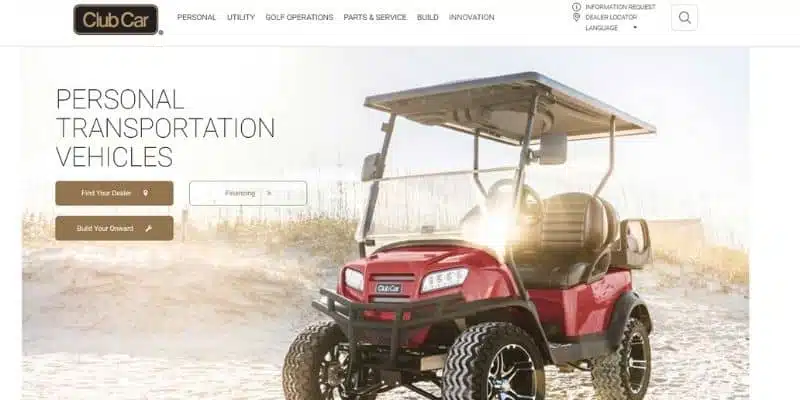 Buying directly from the manufacturer is by far the safest option, albeit the most expensive. Certain manufacturers, such as Club Car, have an entire section dedicated to street-legal cars on their website. Their street-legal carts start at around $10,000.
2.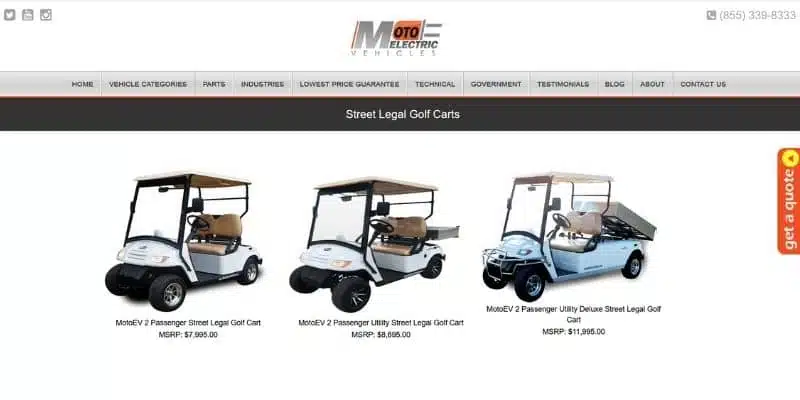 Based in Atlantic Beach, Florida, Moto Electric Vehicles has a very good selection of street legal golf carts, with prices as low as $8,000. All their carts come with a warranty, and they ship nationwide.
The Other Expenses of Owning a Golf Cart
Maintenance 
Maintenance is part of any vehicle's life cycle, whether it is gas-powered or electric. A golf cart must undergo maintenance at least once a year, costing from $100 up. Good maintenance will help your cart last longer
The most critical part you need to maintain is the battery. If you leave your cart for around two months, your battery might go flat. If you own a golf cart you will most likely spend quite a little on batteries. Although they usually last 4-6 years, when it comes to replacing it, you'll need more than one battery. They often come in packs of 4, 6, or 8. One battery costs about $150, so if you do the math, that's about $600- $1200.
Gas
If you are using a gas golf cart, you'll have to keep refilling it with gas once it runs out. Gas carts go for an average of 120 miles on a full tank of 5-6 gallons. On average, a golfer will only go for around 5 miles per game. The only problem is when you use the cart frequently for other purposes.
Lift kits
Lifting a golf cart is not necessary unless you prefer it. Lifting gives you an increased clearance on the underside of your cart, which is good for rough terrain. It also boosts up your speed a little. A lift kit costs around $250.  If you install it yourself, you could save up more money, but otherwise, it would cost you an extra $50-$100 an hour for installation.
The Cost of Other Golf Cart Upgrades
Sometimes you might need to do some touch-ups or get upgrades for your cart after you've bought it, depending on your needs. Some enhancements you can add are:
New paint jobs can increase the price by $200 or more.

Headlights can add between $100 and $200 to the price.

Custom alloy wheels can add as much as $600.

DVD players and radios could increase the cost by $100 or more. 

Three-sided safety enclosures can add upward of $200.

Kid-friendly seating is generally between $200 and $300.

Seatbelts, although not required on golf carts that are not street-legal, can cost around $100 per pair.
The Best Golf Cart Brands
Based on research and consumer feedback, the following brands stick out as the best golf cart brands:
Club Car

Yamaha

E-Z-Go

Garia

Cushman
These brands have produced some of the best golf carts in the market today.
Gas Vs Electric Golf Carts Prices
An electric golf cart is generally cheaper than a gas golf cart. Although their average price range is more or less the same at $5000- $10,000, a gas cart usually costs $700-$100 more than an electric golf cart.
A gas cart will also cost more on maintenance with servicing twice a year and an oil change at around $100 without any adjustments. If you're stuck on which one to get, check out our in-depth overview of the features of gas vs electric golf carts.
Frequently Asked Questions
What Are the Average Prices of Golf Carts?
The average golf cart price of new golf carts is approximately $9,000, depending on the model and accessories. Since prices range as low as $2,000 and as high as $20,000, this is also about the average price for all golf carts. 
Is Buying a Golf Cart Worth it?
You're probably worried about buying a golf cart for a couple of thousand dollars just to have it sit for most of the year. Surprise, you can use a golf cart for more than just golfing. They are enjoyable to use when running errands or taking a turn through your neighborhood. They are also used on large private grounds and warehouses. Its worth depends entirely on how you intend to use it.
As for regular golfers, saving $25 to $100 per day on golf cart costs will quickly add up and make buying a golf cart worth it.
How Much Is a 10-Year-Old Golf Cart Worth?
Ten-year-old street-legal golf carts can be found for around $5,000, while a standard golf cart normally sells for $2,000.
How Much Is a 4-Seater Golf Cart?
The average price of a 4-seater golf cart varies between $8,000 and $10,000.
How Long Do Golf Carts Last?
Golf carts have a long life span of 30 years or more, depending on the manufacturer and quality. For a one-time ride, you can usually get 15-25 miles out of an electric cart and 100-180 miles with a full gas cart. Find out more about how long golf carts last.
What Is the Cheapest Golf Cart?
The cheapest golf cart will almost always be a secondhand one. They can last decades with only minor upkeep and battery replacement, so don't be afraid to shop for a used golf cart.
Why Are Golf Carts So Expensive Right Now?
Supply and demand issues and inflation are currently affecting the price of golf carts. Production slowed while demand increased during the pandemic. The price will influence the price by the engine type, model year, accessories, tire quality, and warranty length.
Other actors that influence the price of golf carts Include:
Limited production number because of few manufacturers

Their purpose

The cost of quality building material

Shipping costs

Luxury upgrades
Do Golf Carts Hold Their Value?
While you're unlikely to get what you paid for it back, they hold their value much better than many other types of vehicles like cars and motorbikes. This is especially true if you buy second-hand.
Final Thoughts
Finding the right golf cart for your needs and price range can be tricky. Hopefully, now that you know the answer to the question, "How much is a golf cart?" You can go out and find the perfect one for your needs. 
Related Articles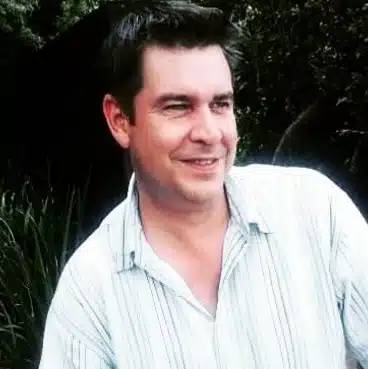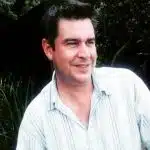 Charl is an avid golfer who studied marketing and advertising. He is fascinated by new technology in golf equipment and the mechanics of the perfect swing.