An electric golf cart can typically travel between 8 to 13 miles on one battery charge, although this depends on the model and configuration of the battery as well as the cart's voltage.
It is important to consider that the range you will gain per battery charge depends on whether a 2-seater or 4-seater is being powered, and how much luggage or weight is being carried.
One calculation is that a round of golf requires around 40 minutes of run time and if discharged at 56 amps, an average of two rounds is possible per charge.
Things to Consider When Buying a Golf Cart Battery
When to Replace Golf Cart Batteries
Identifying that your batteries require replacement is as important as performing proper maintenance on them.
Most manufacturers recommended replacement period is every 5 years but it could be an even shorter period between replacements for a multitude of reasons. However, with careful maintenance and care, you can extend the lifetime of the battery by as much as 10 years.
Even with the best care and maintenance, every battery will require replacement sooner or later and there are some signals to look out for to determine when that time has arrived.
Increased Charge Time
The time it takes to get a full charge into your battery will be an early signal that it is starting to meet the end of its lifetime. So if it's taking a long to get up to full juice, it's time for a switch.
Loss of Distance
A strong battery should provide you with a minimum of 7 miles on a full charge. As the battery weakens, the distance that you can travel will reduce. If you generally play 18 holes, it should be able to comfortably complete that distance. When the distance covered becomes problematic, it's time to start looking into the reasons and options available to extend the distance that you can cover every round.
Acceleration and Power
New carts with new batteries take off like a bat out of hell giving you and your passenger whiplash. Over time, as the battery wears off, the whiplash becomes less, and the bat loses a bit of impetus.
When your cart starts accelerating at the speed of a tortoise and struggles to get up the hill to a tee that is only slightly higher than the roof of your house, the signs are there that the battery needs replacing.
Physical Wear on the Battery
As soon as your battery starts growing bulges and oozing out acid like a baby's running nose during flu season, you know it is time to part ways with some hard-earned cash.
Voltmeter Test
Obviously, you don't have to wait for all the signs to appear, and possibly leave you at the clubhouse after a round.
Testing all the batteries on your cart regularly with a voltmeter will give you an early indication when your battery is starting a slow decline and provide time for putting away some of your golfing money to replace it when the time comes.
Product Name / Primary Rating

Pros

Product Image

Primary Button

High charge efficiency design

Compatibility with most chargers

Resistant to vibrations

Up to 750 charges and 200 rounds of golf

2-year full replacement warranty

Multiple-use batteries for solar & wind electric systems

Great value for money

Spill and vibration proof

Handles all terrains

Popular sealed lead acid battery

Maintenance-free

User-friendly

Minimal maintenance

Stellar customer service

Expected life cycle is 10 years

8-10-year lifetime

High performance even after repeated over discharges

No maintenance needed

Inexpensive

Long-lasting performance

Wide operating temperature range

What To Look Out for When Purchasing a Battery
Before we get into the detail of what battery you may require, it will be of great benefit to understand the terminology that we will bandy about further into the article.
A. Voltage
Batteries are available in 6, 8, and 12 volts. The voltage refers to the force used to create an electrical current or the strength of the battery.
What is The Voltage Requirement of My Cart?
If you are unsure about how to calculate your voltage requirement, the first place to start is looking at the manufacturer's requirement specification.
If that is not available, the second place to look at is the current battery configuration and calculate the requirements from there. To calculate the voltage requirements, count the number of acid holes on top of every battery, and multiply the number of acid holes by two to determine the voltage requirements.
The third option is to take it to the battery center to assist you in calculating the requirements.
To achieve the voltage needs, you will link the batteries in series via single connections between batteries. To achieve a series connection, you will connect the positive ports of the battery to the negative port of the next battery.
The voltage of the individual batteries connected will provide you with the combined total required. To connect the battery pack to the cart, you will connect the positive port of the first battery and the negative port of the last battery to the cart.
B. Amperage
The amperage of a battery measures its power capacity and determines how much power your battery will put out while your cart is running.
With this background knowledge, we now understand that the amperage availability is the driving force behind moving your cart. The higher the amperage available, the longer your batteries will last out on the course and the more power will be available to you.
Batteries display the amperage per hour on the battery as Ah. Other than the minimum requirement, you'll want to decide how much Ah works best for you. The higher the Ah, the more power it will provide per hour of use.
C. Battery Type/Model:
Golf cart batteries are classified into three different categories.
Flooded Lead Acid
FLA or "wet cell' batteries are not sealed and contain lead plates and are based on sulphuric acid. Replacing the water allows the battery to regenerate lost electrolytes.
Gel Lead-Acid Batteries
This is a sealed unit that utilizes a thickening agent to keep the electrolytes still. GLA batteries can take more punishment when used off the beaten track and can handle rough terrain. They will operate smoothly even when a crack appears in the outer protection.
AGM Lead-Acid Batteries
As an improvement on the GLA batteries, the AGM LA batteries are built with a fiberglass separator to keep the electrolyte in place. They are capable of resisting vibrations, spill-proof and can withstand rougher use and have proven to be more durable.
Connections and Terminals
Ensure that the number of connections and the thickness of the cables will provide the best efficiency for your power bank and will prevent overheating of the batteries.
D. Price/Budget
When starting your search for a battery it is important to set your budget and try everything possible to stay within its constraints. When setting your budget take into consideration that skimping on your purchase now, could cost you in the long term.
Prices are very competitive, and agents vie for your business. There is a great benefit to be had from doing research on the internet where you will get the best overall deal. Ensure that you compare all aspects involved such as the online prices, shipping costs, insurance, etc. to make sure that you get the most out of your money.
E. Warranty and Fine Print
The warranty issued by manufacturers and resellers is extremely important and there could be many hidden clauses that will invalidate the warranty. Take time and understand what conditions are stipulated as it could save a lot of frustration and money in the future.
Always read the fine print to ensure that you are not wasting hard-earned money and that you are will get the most out of your golf cart experience. Manufacturers that have a high level of trust in their product will in all probability provide you with a longer warranty and back it up with a replacement should something go awry.
F. Always Buy Unused Batteries
Unless you are forced by circumstances, it is never advisable to purchase batteries that are not new. Not only is this a short-term solution as your replacement period will most certainly be shorter, but you run the risk of defects that you cannot detect upon arrival and potentially a shortened or non-existent warranty period.
The best performing batteries are new, but if you have to purchase pre-owned, aim for no older than 6 months.
You will normally find a stamp on the metal part of the battery containing information about the manufacture of the battery. There should be a letter followed by a number.
The letter indicates the month of manufacture starting from A for January to L for December.
As the lifespan of a golf cart battery is unlikely to exceed 10 years, the number indicating the year will as a norm be within the last decade. A 2 will indicate that it was manufactured in 2012 and an 8 that it was manufactured in 2018.
G. Inspect for Any Damage
Whether you purchase a new or used battery it would be advisable to inspect it for damage. Ensure that there are no cracks, damage or burns that may cause the battery to fail sooner than expected. Dirt marks on new batteries could indicate that they were used and returned as defective.
H. Learn More About the Charger
The specifications of the charger must align with the requirements of the battery. Ensure that the size of the charger and power requirements are within the parameters of what you have available.
I. Weight
A heavy weight on the part of the battery will be more stable in your cart and there is a smaller chance of it falling out.
On the negative side, heavier batteries will add weight and may slow your travel slightly.
J. Determine the Battery's Life Cycle
The number of times that you can recharge your battery will determine how long it will last. Regular use of the cart for extended periods will require batteries that can last longer and recharge on more occasions.
K. Determine Dimensions
The physical dimensions of the battery must play an important part in your purchase. You don't want to get home and realize that they don't fit into the space allocated and have to ask for a replacement from the reseller.
The Best Golf Cart Batteries
1. Lifeline Marine AGM Battery GPL-31T
Premium Pick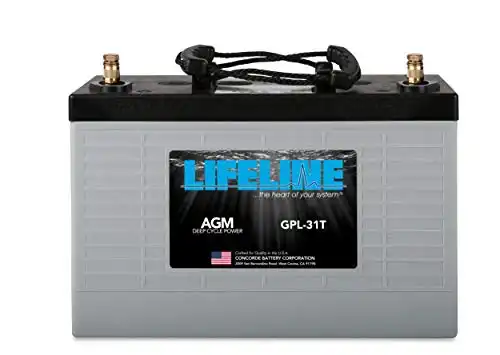 Lifeline Marine products are aimed at the marine product's market but are totally usable by the golfing community. The batteries are hand-made in the USA and approved by the US Coast Guard for use on US Military vehicles. This should inspire confidence in the product as the US Coast Guard requires rigorous testing and a thorough evaluation process before placing a product on the approved list.
This is a true deep-cycle battery that is highly competitive in the number of deep cycles that it can accommodate and is one of the leading, if not the leading battery in the number of charges it will go through. Lifeline Batteries are built to be extremely durable and will pass through 1000 cycles at 50% depth charges and provide a 750 cycle at 80% depth discharge.
It is compatible with most chargers available on the market as a result of the high-charge efficient design. Plus it is very easy to use making this an extremely desirable battery.
Leaks and damage are low on the list of concerns around as it uses AGM technology.
The 220Ah capacity at a 20-hour rate will enable extended travel opportunities so you never risk being stranded.
Lifeline has gained a lot of confidence in its product through the cooperation with the US Coast Guard and offers an industry-leading 5-year warranty.
Key Specifications:
Cycle life: – 750 cycles
Voltage: – 6 volts
Amperage: – 220Ah
Warranty: – 5-year warranty
Battery Type: – AGM battery
Measurements: – 10.28 inches long, 7.06 inches wide and 9.92 inches high
Weight: – 66 pounds
Our Verdict
This is a premium battery that is extremely versatile. Developed for marine applications and accepted by the US Coast Guard we find it to be very reliable.
Quality is a trademark, and the 5-year warranty shows that Lifeline strongly stands beside the resilience of its product.
2. Trojan T-105 Batteries
Most Popular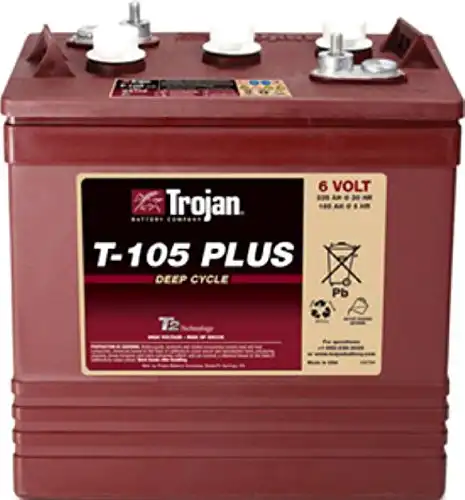 4 X TROJAN BATTERY T-105
Pros:
Up to 750 charges and 200 rounds of golf
Top-quality brand
2-year full replacement warranty
Lowest cost amp-per-hour battery on the market
Cons:
Requires relatively high maintenance e.g. watering and maintaining clean terminals for best results
View on Amazon

With a history spanning from the 1920s, Trojan is a highly admired brand in the golf cart battery manufacturing industry. Their batteries are known to be dependable and have excellent life cycles. They develop technology that sets them ahead of the pack, both users and experts alike have rated Trojan batteries as leaders in their respective categories.
The company is known for producing great deep cycle lead-acid batteries in particular. Most of the competition will agree that Trojan has set the bar high for everyone to aspire to. The batteries discharge at a slower speed enabling them to drive carts even on the longest days out on the course.
With a combination of quality, power and speed the Trojan battery packs should be one of the first brands you add to your list for evaluation.
Trojan T-105 6 Volt battery is a premium, flood leaded battery that is designed for cost-effectiveness, longevity, reliability, and performance. One of the biggest reasons for it topping the charts is its lifecycle. You can charge and discharge it 750 times which makes it among the best in the market today.
The deep cells on the T-105 will prevent early degrading from regular charging and are ideal for frequent high-power use.
Following a proper maintenance program, the T-105 batteries will enable you to enjoy many carefree, uninterrupted hours.
Dimensions:
The dimensions of the T-105 Trojan are approximately 10.3 inches long, 7.1 inches wide, and just over 10 inches high.
Discharge rates:
It has an impressive 225Ah at a 20-hour rate, offering 6-volt voltage for running small to medium-sized motors.
The rate of Discharge: 447 minutes @ 25 amps or 115 minutes @ 75 amps
With an estimate of 750 cycles providing power for more than 200 rounds of golf even at the maximum use of 75 amps, you will have to play a lot of golf to get the T-105 to give up on you.
Key Specifications:
Weight: – The T-105 weighs in at 62 pounds
Warranty: – One-year manufacturer's warranty
Voltage: – 6V
Battery type: – Flooded lead battery
Life Cycles: – 750 life cycles
Our Verdict
Expect top-quality batteries with great backup warranty and full replacement should you experience major problems during the warranty period.
This is a battery that can handle repeated charging without degradation due to the deep cells.
Finally, the brand has been around longer than most of us and still provides top-of-the-range batteries and backs up its promises. It would be a mistake to not at least consider this brand.
3. UPG UB12350 Battery
Durable Pick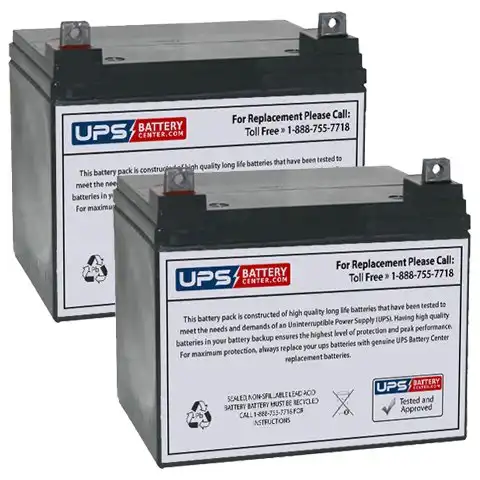 UPG Powering Innovations have been around since 1968 producing energy storage solutions to enhance their customers' quality of life and is one of the premium manufacturers of golf cart batteries.
The UPG UB12350 (Group U1) Battery is a powerful, state-of-the-art, sealed lead acid battery that is valve-regulated and available in 35Ah or 75Ah. It uses non-corrosive materials and a fixed fiberglass mat with an electrolyte fixed in place. Being a sealed unit makes it almost completely maintenance-free and as it is spill-proof you can use it in almost any rough or hilly terrain.
Key Specifications:
The UB12350 measures 7.68 inches long, 5.16 inches wide, and 7.13 inches in height.
Voltage: – 12v
Amperage Rating: – 35Ah
Battery type: – Flooded lead battery
Life cycles: – 600 life cycles
Warranty: – 1 year
Weight: – 23.15 pounds
Heavy-duty ABS Plastic shell makes it shatter-proof
Our Verdict
A strong, well-protected spill-proof, and vibration-proof battery that is built to withstand use on all terrains.
4. Expert Power 12330 Battery
Budget Pick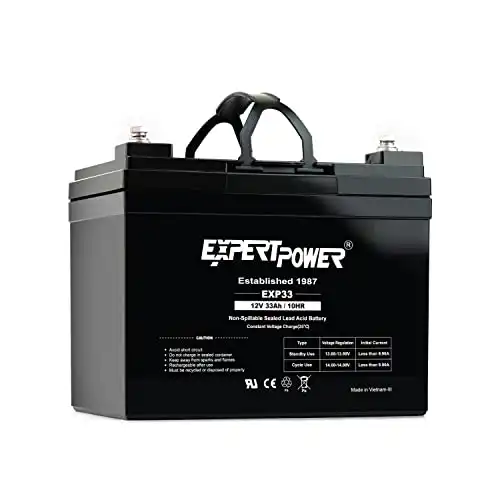 The Expert Power 12330 is one of the most affordable 12v golf cart batteries you can buy. It only marginally falls short of the UB 12350 in terms of amperage clocking in at 33Ah as opposed to 35Ah. It is also rather durable. With a shatterproof ABS plastic shell, the battery is well-protected, and its AGM technology provides a wide temperature range. This makes the Expert Power 12330 a great choice for tough conditions.
The DOD at 100% can run for a total of 260 cycles. However, to prolong its life, you can run the battery at 50% DOD which will raise the number of cycles to 500.
Key Specifications:
The Expert Power battery measures in at 7.72 inches long, 5.16 inches wide and 7.09 inches in height.
Voltage: – 12v
Amperage Rating: – 33Ah
Battery type: – Lead-acid battery
Life cycles: 500
Warranty: – 1 year
Weight: – 23.81 pounds
Shatterproof ABS Plastic build
Our Verdict
A tough battery at a very affordable price. Easy to recommend.
5. Ampere Time LiFePO4 Battery
Premium Option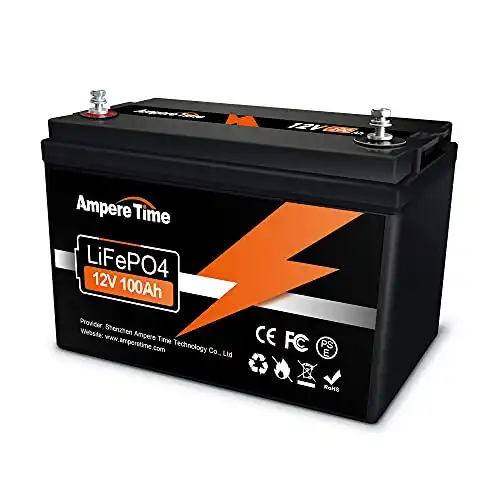 The Ampere Time LiFePo4 is the ideal battery for truly invested golf cart users. Although batteries last a long time, you still have to replace them more than you would like in most cases. This is why the LiFePo4 is such a great choice. With its lithium-phosphate battery, it lasts a staggering 4000 cycles, that's an estimated 10 years of use. This towers over ordinary golf cart batteries many times over which makes the high initial investment worth the money. Not only this but there are other advantages to going without an acid-based battery too. You can safely mount the battery in any position which is another welcome feature.
It is also built-in BMS which protects it from overcurrent, overcharge, over-discharge, and short circuits. Paired with a reliably high self-discharge rate, there is a lot to like about this battery.
Key Specifications:
The Ampere Time LiFePo4 battery measures 13 inches long, 6.82 inches wide, and 8.48 inches in height.
Voltage: – 12v
Amperage Rating: – 100Ah
Battery type: – Lithium-Phosphate battery
Life cycles: 4000
Warranty: – 5-years
Weight: – 24.25 pounds
Shatterproof ABS Plastic build
Our Verdict
With its many advantages over acid-based batteries, the Ampere Time LiFePo4 is a superior battery if you have the money to spend.
6. VMAXTANKS 6 Volt 225Ah AGM Battery
Great All-Around Choice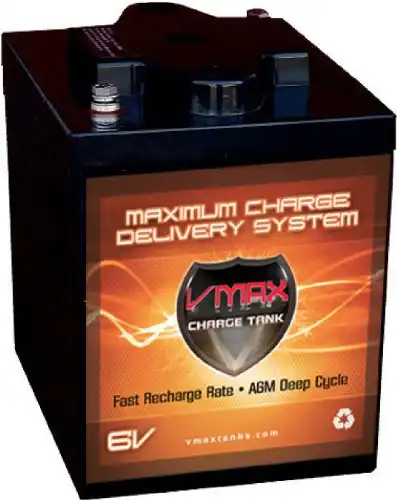 Pros:
8-10-year lifetime
High performance even after repeated over discharges
No maintenance needed
AGM technology contains electrolyte
Cons:
Slow to charge
Expensive
Heavy
This lead-acid battery by VMAXTANKS is also on the pricier side. But this price is rather warranted, at 225Ah, it is a powerhouse of a battery that holds a lot of charge. Of course, the downside of this is that it also takes a long time to charge itself. However, we certainly feel that it is worth the trade-off.
One of the main benefits of this battery is its maintenance-free design. You don't have to add water or check the electrolyte making it rather hassle-free. We also admire its longevity. The battery's performance remains high throughout its entire lifecycle even after repeated over discharges.
Key Specifications:
The Ampere Time LiFePo4 battery measures in at 9.5 inches long, 7.3 inches wide and 11 inches in height.
Voltage: – 6v
Amperage Rating: – 225Ah
Battery type: – Lead-acid battery
Warranty: – 1-year warranty
Weight: – 72 pounds
Our Verdict
A solid all-around battery. A touch heavy and on the pricey side, but hassle-free and reliable lifetime performance.
7. Mighty Max ML35-12 Battery
Great Value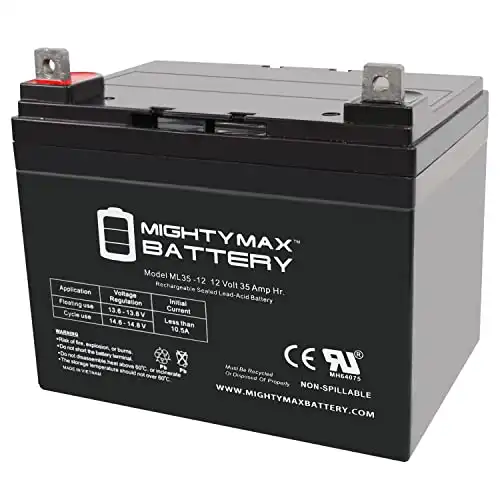 The Mighty Max ML35-12 provides a much cheaper maintenance-free alternative to the VMAXTANKS battery — no need to monitor electrolyte or water levels. However, due to its much more affordable price tag, it pales in comparison in amperage, rating 35Ah compared with 225Ah.
With its AGM technology, you can mount it at any angle, safe knowing that you will never be troubled by spills. It is also exceedingly robust and weighs just 23.15lbs making it the joint lightest battery we featured.
Key Specifications:
The Ampere Time LiFePo4 battery measures in at 7.68 inches long, 5.16 inches wide and 7.13 inches in height.
Voltage: – 12v
Amperage Rating: – 35Ah
Battery type: – Lead-acid battery
Life cycles: – ~300 life cycles
Warranty: – 1-year warranty
Weight: – 23.15 pounds
Our Verdict
While not the best battery on this list, it provides super value for money.
Final Thoughts
Golf cart batteries form an important part of your golfing equipment. And the number of cycles, power, and compatibility with the rest of your cart is of utter importance. 6 V Flooded Lead Acid batteries tend to be the most popular, and you will find these in the vast majority of carts.
Most Durable Golf Battery – Ampere Time LiFePO4
Most Versatile Golf Cart Battery – Lifeline Marine AGM Battery GPL-4CT
Best Value Golf Cart Battery – T-105 Specifications
Nick Lomas is the founder of GolfSpan, an avid golfer, not quite a pro but has over 15-years of experience playing and coaching golfers from all over the world. His mission is to bring the golfing community a better experience then it comes to choosing the right golf gear, and finding the right set up for your game.