Some people will prefer to wait for the halfway house to replenish their liquid intake but there is no harm in taking precautions and stock up with ice and liquids or the odd energy bar. Having the best golf bag with cooler will enhance your enjoyment and no doubt your performance.
For some of us being well organized and taking care of our playing companions requires larger cooler bags and the producers have not disappointed as there are bags that can accommodate any amount from 2 to 18 cans. You are hardly likely to consume more than 18 cans between the fourball over 9 or even 18 holes.
At a glance: Our Top 5 Picks for Best Golf Bag With Cooler
Golf Bags Coolers – What You Need One
The primary function of golf cooler bags is to keep your liquid refreshments chilled and enable you to remain hydrated no matter what the temperature is out on the course.
Having a cooler bag enables you to bring your own beverages from home thus saving money for not having to pay a premium for refreshments when you arrive at halfway house.
It is also critical to keep yourself hydrated during your round of golf.
Features To Consider When Purchasing a Cooler Golf Bag
Built-in
Several bag producers have incorporated the cooler bag into the larger bags in their range. This provides more convenience as you will not be required to purchase and carry 2 bags. However, this increases the volume of the bag substantially and may possibly create difficulty in loading it in the boot of your vehicle or on the golf cart.
Typically, these cooler bags are smaller and sufficient to carry drinks for a small group only. The cooler section must be easily removable to discharge the remaining ice and the water from the melted ice. To make this practical, producers have trimmed the dimensions of these bags and the wall thickness for insulation material is also lessened and the capacity to keep your refreshments cool for an extended period suffers
Add-on
Some golfers prefer an add-on cooler bag as this reduces the difficulty of loading it into the vehicle and the golf bags that do not contain the cooler bag are normally cheaper than one that includes the cooler bag. Besides, the cooler bag can then be utilized on other occasions rather than only on occasions where you would have your golf bag handy.
Being separated from the golf bag moreover permits the manufacturers to be more resourceful in the proportions and forms that they generate since they are not constrained by the size and nature of the golf bag.
Since the coolers are detached and functional away from the golf course, the wall thickness and insulation materials are less constrained and consequently, the cooling capacity improves considerably.
Golf Cart Coolers
The third category of cooler bags is larger and capable of hauling a larger load since they fit in the basket at the rear of the cart. These coolers are designed for events where there is a larger group of golfers that have to be catered for and is be able to hold 12 to 18 cans. The flexible cooler bag could face a reduced ice life as the flexible bags have less insulation and cooling capacity.
Stealth
Some golf courses have regulations in place to curb the use of cooler bags whilst out on the course as they want to compel golfers to use their amenities at increased prices and to boost their revenue. Under these circumstances, your cooler bag ought to be virtually indistinguishable to the club.
Cost-Effective
Your budget for the cooler bags ought to take into consideration the number of times that you will make use of it and the money you will save by bringing your own refreshments from home. Should the bag be detached and utilized in other instances your investment will be recouped more easily than a dedicated bag that is only used for golfing. Luckily the price of cooler bags is not excessive thus you are unlikely to miss out on the return on your investment.
Lightweight
Unless you are making use of a golf cart, the cooler bag should be produced from lightweight material. You are already increasing the load to your bag by adding the refreshments and taking a heavyweight cooler bag will render it virtually insufferable to carry the additional weight.
Compact
Keep the size of the cooler bag down to a convenient size. There is no need to take a colossal bag that will keep your refreshments cool for days when you will barely spend more than 5 hours on your excursion. Bear in mind that you may well need to keep the bag somewhat of a secret on courses where the club forbids the use of cooler bags.
Good Storage Capacity
Make certain that the cooler bag will provide the capacity to hold the number of cans that you consume for the duration of that you are out on the course. There is no necessity to acquire a cooler bag that can hold 12 beers when you only consume 4 in the course of your round. The extras will diminish the cooler bags' capability to keep the required 4 cool and are a pointless weight to haul with you.
Durability
As you are likely to use the cooler bag occasionally and you don't want to buy a new one every year, make sure that the cooler bag will be able to remain unused for long periods without losing their capability to keep your refreshments cool or perish in your garage.
Portability
Cooler bags that are not built into your bag should be portable and not cause too much aggravation when you walk during your round of golf. It is a safer bet to affix the cooler bag to your golf bag than taking 2 different bags that you must carry and operate at each stoppage.
Effective Cooling Capacity
The aim of the cooler bags is to keep your refreshments cool. You will be out in the heat of the day for 5 hours or more on a slow day so your cooler bag must be able to withstand the heat. It is also not necessary for the cooler bag to be able to keep the drinks cold for days therefore there is no need to overcompensate.

Quick Overview: Our Top Picks for Best Golf Bag With Cooler
Reviews of the Best Golf Bags with a Cooler
Athletico is a well known sports bag manufacturer based here in the US, offering handy accessories for a bunch of sports, from lacrosse, to skiing, to scuba diving. They strive for quality in everything they make, and their golf cooler bag makes no exception.
Storage capacity
The tote measures 16" tall, 6.3" wide, and 3" – easily enough space for six 12oz cans of soda or beer, or two bottles of wine, also leaving adequate space for ice.
In addition to the main storage, there's also an exterior zippered storage pocket – very handy for packing those extra little bits and bobs.
Design
This is a lightweight, conveniently compact cooler which is highly portable and very easy to hide away in your golf bag. The placement of the side pocket provides quick access to your drinks, causing minimal disturbance as you go about your round.
The material itself is durable, tear resistant, and water-resistant, utilising a thick foam insulation with silver PEVA lining. Not only is this built to last, but it's also there to provide superior amounts of insulation, keeping your drinks ice cold and oh so refreshing right until the 18th hole.
Taking this a step further, Athletico has clevelry sealed the seams of this bag with heat, making them superior to the conventional seams and stitches seen on other tote bags. When it comes to insulation, every tiny detail has a big impact; these heat sealed seams make a huge difference.
The bag also comes with a removable padded strap. This comes in handy any time you're using it separately from a golf bag, for instance for a picnic, a camp out, or another sporting event.
Verdict
A high quality, precisely measured, well designed golf cooler that should fit nicely into your golf bag, providing you easy access to a stack of your ice cold beverages. It's a touch more expensive than some, but the assurance of Athletico's commitment to quality is well worth the price tag.
Clicgear is a company that designs and manufactures high quality and innovative sports products at their factory Hong Kong. Although renowned for their pushcarts, they also produce many different accessories to fit their key product lines.
The Clicgear'sProActive Cooler Tube is no exception and as a simple and compact cooler bag, it is designed to fit seamlessly onto your Clicgear pushcart and works effectively in retaining the coolness required to quench your thirst.
Storage Capacity
2 X 12-ounce cans fit perfectly into the bag measuring 4.75″ x 11″ and weighing in at an extremely light 6.7 ounces and measuring 4.75 inches by 11 inches making it the smallest bag under review.
Design and Convenience
It is designed using watertight nylon and an insulated liner shaped in the format of a tube to facilitate the storing of both tins and bottles. Ice is inserted directly into the tube and as a result, it is in direct contact with the contents. Access to the interior is via a zipped lid on the top side of the tube.
On the outside, you will find 2 X mesh pockets, one on either side of the tube, for storage of smaller items.
Verdict
A well designed and crafted golf cooler bag from a reputable manufacturer that will not weigh you down with superfluous bulk and weight. This is ideal for someone that looks after his own needs and can replenish again at halfway house.
3. Caddy Daddy Golf Cooler
Pros:
Stealth – easy to hide inside your bag
Side zipper allows for easy access when hidden inside our golf bag.
Value for money
Adjustable shoulder strap and top handle for better portability
Ice pack comes as a standard
Leak-proof liner
Versatile for use outside of golf
Cons:
Only 5 cans will fit comfortably.
CaddyDaddy Golf has a stellar reputation for producing cutting edge products using top quality materials and golf coolers that keep beverages ice cold. The company has experienced incredible growth over the past years and continues to develop an assortment of top quality golf products.
Capacity
The Caddy Daddy is manufactured from Nylon, measures 16.1 x 6.3 x 2.4″, weighs in at 1 pound 8 ounces and caters for 5 cans with ample space to load ice. The compact size will make it easy to hide inside your bag if required. Ice will last between 3 and 5 hours.
Design
Designed to fit into most larger golf bags, the Caddy Daffy and has a heat-sealed liner to prevent leaks and comes with a reusable ice pack. Entry to the contents is via a side zipper making it easier to access the contents when the bag is concealed within a compartment of the main golf bag.
There is an adjustable and removable shoulder strap and a top handle to carry the bag. A further zipped pocket for storage of smaller items on the exterior rounds off the complete package.
Verdict
A good product from a well-respected manufacturer that will carry 5 cans comfortably and easy to hide inside our golf bag.
The Coleman Company was born after W.C. Coleman was ambling after another tough day peddling typewriters and he noticed a different type of lamplight in a drugstore window in Brockton, Alabama.
W.C. was afflicted with weak sight and was fascinated by this continuous white light that empowered him to read even the smallest font. Coleman saw promise in the new light, and this ultimately made his name synonymous with outdoor living.
Storage capacity
Though promoted as a 16 can capacity which can provide for you and friends.
Design and Convenience
The Coleman  cooler is made from a durable nylon fabric with a top zipper as well as a zipper on the flank for straightforward access to the contents.
Verdict
Coleman is a well-known manufacturer of outdoor peripherals and the sleeve is another in a long line of trusted products. It will keep your drinks cold even without ice for a full day if they are cold when loaded.
ProActive Sports Group is located adjacent to the Willamette River in the Pacific Northwest and has been supplying a vast collection of golf accessories and products for over 30 years.
Storage Capacity
The lightweight and compact ProActive fits precisely 6 X 12-ounce cans and is best suited to individual usage. When jam-packed to the hilt, the fit is very snug and there may well be inadequate room for ice. It is suggested that you do not exceed 5 cans.
Design & Convenience
Manufactured from incredibly durable polyester material it will certainly last a long time even with frequent use. Weighing in at approximately 8 ounces and measuring 14" X 4" X 3" with excellent insulating abilities it ought to keep your beverages cold for quite a few hours. The compact proportions make the Proactive cooler bag simple to conceal in your golf bag pockets.
Access to the stacked beverages is from the top and there is no side zipper design.
A top handle and modifiable shoulder strap add to the portability of the bag. The strap can be separated by disengaging the clips or affixing them to your golf bag.
Verdict
One of the best inexpensively priced cooler bags under review with a basic design, the Proactive is effective and versatile for individual use.
An unusual company that appeared on the shark tank and produces a cooler bag for the thirsty golfers.
Storage Capacity
The Caddyswag is capable of storing 6 x 12 oz cans, weighing 13 ounces and with dimensions of 19" X 8" will enable it to fit easily inside the compartment of a large bag.
Design and Convenience
Fabricated from lightweight but durable 300 x 600D polyester with a one-ounce PU layer and of dense, closed-cell foam lining to keep drinks cold. There is a standard issue of a reusable malleable gel pack as the bag tends to leak if you make use of normal ice. The slender shape fits neatly into the pocket of a golf bag
The modifiable shoulder strap also makes it handy to take it on other occasions.
Verdict
A sleek design that fits securely in your golf bag pocket and for use elsewhere than golf. Make sure that you make use of the ice packs supplied as it leaks when normal ice is used.
Most if not all golf cooler bags look pretty basic, so it's a refreshing change to have a soft-style cooler bag like the OGIO Chill, that you can tote around on picnics, at the beach or at a golf course that allows food and beverages. While not very stealthy, it fits great into golf cart baskets. The bag is available in either black or royal blue.
Design and Convenience
The OGIO is shaped like a squarish backpack, minus the straps. For a soft-shell bag, its main compartment has good insulation that will keep drinks frosty for hours on end. The compartment is accessed via zippers which open the top lid like a clamshell. The easy leak-proof lining takes care of spills while dual side beverage and accessory holders offer quick access to bottled drinks or items such as tees, golf balls, keys or your smartphone. There is also a front zippered pocket which is perfect for snacks. The cooler comes with a padded top grab handle but unfortunately lacks shoulder straps. It does, however, collapse down to a compact size for easy storage.
Storage Capacity
The OGIO is a small cooler that is well suited to solo users or small groups. At 8.7 by 6.4 by 11 inches, it fits around six to 12 units of 12-ounce cans, with room to spare for ice packs. It is also lightweight at 11.2 ounces.
The Intech golf cooler is a multi-storage bag that is comfortable to carry or attach to your golf bag or golf cart.
Storage Capacity
This bag is made for storage of more than liquid and other refreshments.
The main compartment can house up to ten 12-oz cans plus ice.
Other storage compartments are a zippered side pocket can hold your golf balls or other accessories, a protective front pocket large enough to store valuables and your smartphone, and the front of the cooler features a tee storage strap that can hold up to 6 tees.
Design and Convenience
The Intech golf cooler is designed for golfers that may be out in the heat of the day for an extended period. It will even enable you to bypass the halfway house with the number of refreshments that you can load into it.
This lightweight bag weighing in at a mere 1.6 pounds is manufactured from nylon and measures 12 inches wide, 9 inches deep, and 7 inches high
Verdict
It is a well-designed multi-purpose cooler bag that can store more than only your refreshments for the round of golf.
Being lightweight, you can carry it as a stand-alone bag, attach it to your golf bag, or even to your golf cart without it tiring you out.
The Intech golf cooler is the ideal answer for those who prefer their refreshments cold while having easy access to their valuables and other accessories in one bag.
Conclusion
There are numerous distinctive cooler bags offered on the market comprising of a variety of sizes that allow you to carry anything from 2 to 48 cans. We have targeted this piece at the smaller cooler bags available that will be more to the benefit of the individual to small groupings of golfers.
Cooler bags that will keep your refreshments cool for the duration of 18 holes and will retain the molten ice without leaking will be the safest bet to make certain that you get home dry and well-hydrated on the inside.
As more and more golf courses are exploring options to boost their revenues by banning the use of cooler bags, manufacturers have discovered imaginative ways to counter that by producing cooler bags smaller to fit in your golf bag and make them discreet.
Even though the Stealth is extremely fashionable with golfers the vulnerability of the stitching around the zippers is a concern and that prevents us from staying with the trendy vote.
Our vote for the best cooler bag goes to Coleman Can Cooler Sleeve since it will maintain the chilliness of your beverages even if you do not add ice to the sleeve.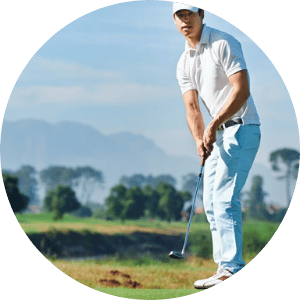 Nick Lomas is the founder of GolfSpan, an avid golfer, not quite a pro but has over 15-years of experience playing and coaching golfers from all over the world. His mission is to bring the golfing community a better experience then it comes to choosing the right golf gear, and finding the right set up for your game.