Golf bags come in a multitude of shapes, sizes, colors, and weights. The decision in choosing the bag most suitable for your circumstances purely depends on your requirements for what you carry with you during a round and whether you mostly walk the course carrying your bag or traverse the course on using mechanical assistance in the form of a golf cart.
Your golf bag must cater to almost any eventuality that you may encounter during a round of golf providing you with protection against the environment, supplementing your energy and keeping hydrated.
The two major categories of bags are stand bag or cart bags that would normally be used on a cart and secondly a carry bag that contains retractable legs to keep it in a semi-upright state.
You may encounter the need for a tour bag which basically stands on its own without fold-out legs but is also capable of being tied to the back of a cart. A relatively new type of bag that entered the market in the recent past is the hybrid bag that combines the best of both worlds.
At a glance: Our Top 5 Picks for Best Golf Bag For The Money
What To Look For In a Golf Bag
Summary
Making a final decision on the golf bag or bags to add to your golfing equipment collection could be a difficult decision and we will endeavor to lighten the load on your research by providing you with the most relevant information to make an informed decision.
Your decision on whether you negotiate the course mainly on foot or by cart will play a major role in the decision to buy your primary bag.
Local Club Rules
Most clubs have local and standard rules that apply to dress and equipment. Unless you have a very extreme bag, you should not encounter any problems with the club allowing your bag to be utilized. If in doubt it is highly recommended that you confirm with the pro shop or golf director before pitching at the club.
Tournament Rules
Competition rules may determine whether your bag will be accepted but it is unlikely that the standard bags available today will be rejected. It is always recommended to check and rather be safe than disqualified.
Small bags vs. Big bags
The decision on whether you should use a big or small bag is determined by your preferences and requirements of what you may need during your round.
Small Bags
Small bags are also known as Sunday or stand bags that are preferable when you stroll the 18 holes carrying your bag. Normally they are constructed of lightweight material and do not make provision for as many extras as stand bags.
These bags are unlikely to cater to the most selected clubs and leaving the less often used clubs at home. It is possible to force all of your clubs into these bags but would not be highly recommended as they are likely to encounter some damage and you would have tremendous difficulty in extracting your selected club during the round.
Big Bags
Big bags provide more storage and protection to your clubs and besides, allows you to carry additional apparel and equipment. This adds substantial weight and is not advisable should you wish to carry your bag unless you are in top physical condition.
Cart, Stand or Tour Bag
The decision on which bag you will extract your money from your wallet will be dictated by your circumstances and preferences. There are many pros and cons associated with the selection and you would be well-advised to be meticulous in your evaluation process.
Stand Bag
Stand Bags are set apart from other bags by the retractable legs that pop out on contact with the ground. It is of utmost importance that the quality of the legs and the mechanism controlling the legs are of high quality.
The popping legs enable the bag to stand at an angle providing convenient access to all your clubs and pockets containing all those important accessories, apparel, and refreshments.
They are suitable for golfers preferring to crisscross the course on foot carrying their own bags.
A word of caution on the stand bags is that since they are constructed of lightweight materials, they are more prone to damage, wear, and tear and breakdown. A good maintenance routine can extend the lifetime of the stand bag for many carefree and enjoyable yeas.
Cart Bags
Golfers that play most of their rounds using a mechanical device or cart that will remove the pain and agony of carrying your own bag will benefit from using cart bags. This will enable you to be well prepared for any eventuality as you can stack your bag with all the accessories and equipment that you may require, within the limits of the rules of golf though.
Space is less limited in a cart bag and the weight is not of a high concern therefore you can stack more accessories, apparel, and equipment into your bag. More pockets will enable you to add the extras that prepare you for those unforeseen events that you may encounter.
As weight and bulk are of lesser concern manufacturers have added more padding to cart bags to protect your equipment during those bumpy rides and excursions into the rough searching for the ball as a result of the odd errant shot.
Tour Bag
Mainly aimed at professional players these bags are also available to the main golfing market. They do come at a premium but are well worth it for the enthusiastic amateur golfers. In essence, it is a cart bag providing maximum storage capacity and can stand on its own in most weather conditions.
Hybrid bags
Hybrid golf bags are relatively new to the market and they come with similar balance and strength as most top tier stand bags and provide additional storage yet manage to restrict the weight.
Some come with an improved cart locking systems for the odd occasion when cart travel is required. The hybrid bag is unlikely to fall over when standing on uneven terrain even during windy conditions.
Factors To Consider When Choosing Your New Golf Bag
Weight
Your decision on whether you will be strolling around the course gaining some exercise could determine your decision to select a lightweight construction limiting your storage capacity. An empty stand bag could weigh as little as 2 pounds.
It is not uncommon to see the huge bags being carried around on the professional tours, but it must be understood that professionals do it for a living and have a caddy that is in top shape to move that bag all day long.
Weight will be of lesser concern when selecting a cart bag since you will be unlikely to be carrying it. Fully loaded cart bags could reach an impressive 40 pounds and not the best of partners to carry around in the unlikely event that your transportation breaks down during a round.
Storage
Storage in your bag is an important consideration as it can provide the storage that you may require for all those extras. Take care not to overload stand bags with storage pockets that will add unnecessary weight for you to drag around the course which could impact your round as you tire out.
Cart bags could have more pockets to cater for those accessories that you wouldn't take in a stand bag since the weight will be carried on the cart.
Full-Length Dividers
To protect your most precious assets, the golf clubs, full-length dividers are an absolute must. Half or even three-quarter length dividers can cause damage to your clubs and grips alike as you struggle to dislodge them and pull them out.
Putter Wells
Several manufacturers have added putter wells outside the confines of the inner storage where your clubs are stores. This provides more protection as your putter does not share the space with your clubs. It also makes it much easier to access your putter and return it into its position after a successful putt or to slam it into when you missed a 6-inch par putt.
Pockets size
Multiple pockets are nice to have to enable you to store accessories together yet away from others that can cause damage. Having larger pockets are crucial to enable you to store larger items such as your six-pack of beverages, or your rain apparel for the unexpected storms. Larger pockets will suit your needs better in the longer term.
Accessibility
Pockets that face the outer side or forward will make it much easier to access the content. If the pockets are not facing forward you could struggle and get highly frustrated.
Cooler Pocket
Keeping hydrated during a round is of utmost importance and a cool feature available on most bags nowadays is the cooler pocket. This enables you to store, and keep cool, the beverages for consumption during the round.
Valuables Pocket
Valuables that are predisposed to scratching should be stored in a velour-lined pocket. The silky smoothness of the velour will ensure that your valuables receive the most protection possible. You may require multiple velour-lined pockets if you have many items that scratch easily and you want to keep them apart while playing.
Rain Hood
The rain hood is an essential part of any bag as you are likely to encounter inclement weather at some stage during your round. The rain hood will keep most of the water out and keep your grips relatively dry.
See Through Pockets
A non-essential but nice to have option is the see-through pocket. This will enable you to see what's happening on your phone without having to pull it out for review to the frustration of your playing partners.
Bag Locking System
Cart bags require an efficient locking system to ensure that your clubs and valuables don't go flying when you make an unexpected turn to avoid a collision.
Durability
Investing in a bag could be an expensive exercise and not something you want to do on an annual basis. Areas to consider are:
Materials used for construction. Ensure that the materials used are of good quality and will not disintegrate after a couple of appearances in different weather conditions.
Stand bags are reliant on the efficient operation of the legs that keep them in position. Check the quality of the mechanism as well as the material used for the construction of the legs.
Cart bags are more prone to wearing out the padding on the opening where clubs are inserted and extracted. Ensure that the material used for the padding is durable and will be able to withstand extended use.
Looks
It may seem vain to expect that your bags look is important. However, many people will tell you that having good looking equipment will translate into better performance. Although everyone has a different style, steer away from mismatching color schemes or less than impressive exteriors.
It would be advantageous to look at the range of colors that the bag is available to ensure that you have a selection and are not forced into a specific color or color combination.
Quick Overview: Our Top Picks for Best Golf Bag For The Money
The 5 Best Golf Bags for the Money Reviews
After extensive research and evaluation based on these important factors, the following golf bags stood out for us as the best of the best golf bags  for the money:
The Callaway Org 14 Cart bag is probably one of the highest-rated and best bags available on the market. Although it's on the higher end of the price range, the value presented by the bag puts it high in the value for money category.
Specifications
Material: The bag is constructed from a blend of materials for the best quality and durability and is waterproof. It weighs in at a reasonable 5.6 pounds.
The cart bag and comes in 7 different color combination and options
Black/Titanium/Pink
Black/Titanium/White
Epic Flash
Navy/White/Red/USA Flag
Red/Black/Titanium
Titanium/Black/Red
White/Hunter Green/Neon Yellow
Protection for clubs is provided by 14 full-length dividers that will cater for the maximum number of clubs you can legally carry in your bag.
Storage comes in the form of 11 well-sized pockets that will fit almost anything. It even caters for 2 pens in the built-in dual pen holders.  Dual magnetic valuable pockets round off the storage
The long carry strap combined with two handles for carrying purposes makes the Org 14 comfortable to handle.
The price falls into the upper echelons but should not serve as a deterrent for this quality product.
Other than the 2 magnetic pockets for valuables, dual pen holders and the long strap for ease of carrying, other extras worth mentioning is the rain hood, Velcro strap for gloves, towel ring, umbrella divider and place for tees.
Some of the unique features to be found on the Org 14 are the holder for the magnetic range finders, beverage pockets also with magnetic closures and a bottle opener
Who's it for?
The Org 14 is suitable for golfers of all levels and capabilities. It provides all the storage and protection that anyone can ask for and comes in lightweight construction.
Verdict
This is a great cart bag that will take a lot of beating. In addition to all the standard features that you would expect there are loads of extras and unique features for it to be considered class-leading.
2. Sun Mountain C-130 Cart Bag
Pros:
Twelve color combinations
Matching rain hood included
New Smart Strap System locks down your clubs.
Full-length dividers run for clubs
Lightweight
Easily accessible pockets
Water-resistant valuables pocket
High-quality rain hood
Ten good-sized pockets
Cooler
Cons:
Price is on the upper end of the spectrum
Sun Mountain may not qualify as a premium golf equipment manufacturer, but they surely count in the premium category of golf bag manufacturers.
Quality and innovation combined with practicality for all levels of golfers have made them a favorite among many golfers. Being affordable ensures that Sun Mountain C-130 attracts a huge following and sparkles in the sales department.
The range cannot be described as bland as there are so many color combinations that you are extremely likely to find one that suits your eye.
Specifications
There are 11 color combinations available
Black
Navy
Black-Woodland-Camo
Cactus-Black-Inferno
Chili-Gunmetal
Gunmetal-Black-Red
Iron-Cement
Iron-Gunmetal-Gray-Lime
Navy-White-Red
Navy|Grey
Sage-Desert-Camo
Weighing in at 7 pounds it fits in the medium range weight category for premium cart bags.
There are 14 full-length dividers, one for every club as well as wells for your putter and driver.
Storage is provided via ten amply sized pockets that may be difficult to fill for anyone except the best-prepared golfer.
Three handles on the top of the bag and one at the bottom for assistance in lifting it into and out of the car eases the handling
The price is on the higher end of the spectrum but is to be expected for such a superb quality product.
Extras that stand out on this bag are the Smart Strap system, integrated putter well, forward-facing pockets, umbrella pocket, towel ring; rain cover.
Unique Features are the cooler pocket for beverages and a water-resistant pocket
Who's it for?
Beginners and more advanced level players will find this bag a good acquisition. It will provide ample space for anyone that goes out onto the course prepared for every eventuality
Verdict
Well designed and good layout of the pockets makes this a serious contender for one of the best bags available The Best Overall Cart Bag: Sun Mountain 2018 C-130 Golf Cart Bag the best cart bag 2018 2019 Best Bag for Elite Golfers
Callaway's HyperLite Zero stand bag is one of the lightest stand bags available weighing in at a mere 3 pounds. The lightweight durable rip-stop nylon fabric combined with the lightweight yet durable and stable carbon fiber legs enables Callaway to keep the weight to the minimum.
Your clubs are secure in the 4-way top with full-length dividers and access is quite easy.
Ample storage is provided by the 7 pockets that include a special sleeve reserved for your smartphone, a soft-lined valuables pocket, and a pocket, especially for your tees to ensure it doesn't damage any accessories. Access to the pockets is provided via larger zippers for increased durability.
It doesn't come with an insulated drinks pocket but that would have countered the purpose of the ultra-lightweight.
Carrying the lightweight bag is made comfortable with the padded OptiFit Comfort Strap design. You don't have to worry about your clubs falling out while you are walking since it includes the updated Callaway self-balancing X-Act Fit Strap System.
You can select either the Single Strap or the Double Strap Stand Bag
This is one of the best golf bags for comfortable lightweight carrying.
Specifications
The construction is a combination of mixed fabrics, a high-impact Polypropylene frame, and anti-flex walls. It is water-resistant and weighs in at 4.8 pounds.
The 2018 Ping Hoofer comes in a nice assortment of colors and color combinations:
Black
Graphite/Black/Canyon Copper
Navy/Graphite/White
White/Red/Black
There are only 4 dividers at the top and the two middle sections are full length dividing the bag into completely separated compartments
There are 7 pockets storage providing a total capacity of 20 liters which is more than ample and compares well compared to many bags containing 12 pockets and only has a capacity of 22 liters.
The cushioned hip and shoulder padding feature provides sufficient protection to make that lightweight comfortable on the shoulder.
Ping competed in the lower end of the price categories making it a favorite amongst stand bag enthusiasts
The SensorCool technology keeps the strap pads cool providing relief, especially in hot summer conditions.
The new strap connector makes it easy to swing the bag on, and it's fully adjustable too, so you can sit the shoulder pads just right.
Who's it for?
Beginners and golfers with lesser requirements for accessories in their bags will find this bag quite amenable to their requirements and workload.
Verdict
A lightweight bag with SensorCool technology to keep you cool on hot weather days. It will be hard to beat in the category that it competes in.
5. TaylorMade Flextech Crossover Stand Bag
Pros:
Premium build quality
Highly durable bag and stands
Dual-density strap has a nice feel
Large well-insulated water bottle pocket
Great TaylorMade looks
Sturdy in the wind
Extremely comfortable straps that relieve pressure off the shoulders
Microsuede water-resistant pocket
Cons:
Not for advanced players
Waterproof credentials could be better
Struggle to removable ball pocket
TaylorMade is a premium golf equipment manufacturer that has always produced quality equipment in bright and recognizable colors. The FlexTech Range does not disappoint in either the performance or looks departments.
Specifications
Premium materials are used in the construction of the FlexTech Crossover and it features a seam-sealed bag front for protection against moisture weighing in at the middleweight category at 6.5 pounds.
There are 6 color combinations available in true TaylorMade fashion
Black
Black/Blood Orange
Navy/Red/White
Navy/White
Silver/Gray/Blood Orange
Titanium/Blue
14 top dividers run right through to the bottom for awesome protection of your clubs.
Storage comes in the form of 10 pockets which includes 2 apparel and an isolated cooler pocket. There is also a valuables pocket lined with micro-suede
Ease of Handling: You will feel extreme comfort and convenience while walking the golf course with the TaylorMade 2019 FlexTech Crossover Stand Bag.
In the pricing department, the FlexTech Crossover stand bag is highly competitive in the mid-budget category.
Extras that can be found are:
Towel ring
Velcro glove patch
Integrated top lift handle
Lower lift-assist handle
Umbrella holder
Unique Features
Some of the unique features are the patented smooth release system, collapsible base system and the self-adjusting strap for a stable and comfortable carry
Who's it for
Beginners will find more benefits than advanced players who will require more high-end features.
Verdict
A very versatile bag without standing out in any category but will find many TaylorMade followers that will be keen to add this bag to their equipment range.
Golf Bag FAQ's
Are Golf Bags Waterproof?
Not all golf bags have waterproof exteriors but there are waterproofing sprays available that can assist to protect the exterior. For the protection of valuables, most manufacturers have added a waterproof lined pouch to protect your electronics and valuables from the liquid.
Add this requirement to your checklist if you demand the protection of your electronics. Alternatively, you can make your own protection by inserting your valuables into a plastic bag before placing it into the pocket.
What Are The Bets GolfBag Brands?
Golfers tend to have their favorite brand and stick to it for a long time before someone can convince them to try or move to another brand. The same goes for golf bags.
As with all equipment, there are two tiers of manufacturers the first being premier league manufacturers and the second being companies that specialize in golf bags that rival the quality produced by the premier brand names.
The best-known golf bag manufacturers are
Sun Mountain
Callaway
Nike
Titleist
Ping
TaylorMade
How To Care For Your Golf Bag?
Maintenance of your bag is as important as the durability of the bag. Keeping it clean by using the correct cleaning materials will extend its lifetime. Steer away from using chemicals or cleaning materials on your bag as they will negatively affect the fabric over time and cause early retirement.
Nylon bags can be cleaned with a little soap and warm water. Clean the affected areas with a soft rag and then wipe it clean with a wet towel or similar fabric.
Should I Buy a Cart Bag As Well As a Stand Bag?
It is not unusual for golfers to have both cart and stand bags. When you prefer to get exercise during a round of golf by walking and are invited to many golf days where speed is of the essence and you travel on a cart, it would be extremely beneficial to have the option of using either bag depending on the circumstances.
Final Thoughts
We have reviewed many golf bags in different categories, and it should provide you with a wide variety of options to choose from depending on your requirements.
The winning bag in our opinion can only be the Callaway Org 14 Golf Cart Bag as it offers all-round protection to the maximum of 14 clubs that you can carry in your bag. Ample storage is provided through the storage system consisting of 11 pockets. It will please even the best-prepared golfer that is accessorized to the hilt and is prepared for the unforeseen breakdown of the cart out on the course in terms of food and beverages.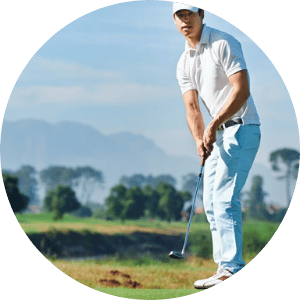 Nick Lomas is the founder of GolfSpan, an avid golfer, not quite a pro but has over 15-years of experience playing and coaching golfers from all over the world. His mission is to bring the golfing community a better experience then it comes to choosing the right golf gear, and finding the right set up for your game.