Hybrid golf clubs have become extremely popular by replacing long irons. But have you heard of hybrid golf bags? 
Most golf bags are categorized as stand or cart bags — depending on whether you like to ride or walk during your round.
But what if you like to ride and walk? Well, you need a hybrid golf bag. 
The 10 best hybrid golf bags are:
When buying a hybrid golf bag, there are a lot of decisions to make. Do you prefer a lighter golf bag or more storage space? How many dividers do you want? And what straps work best for you? 
In this in-depth review, you'll learn everything you need to know about the best hybrid golf bags in 2023.
Best Overall
Runner Up 
Best Budget Pick

Nike Golf Air Hybrid Bag

Datrek Lite Rider Pro Golf Cart Bag

Izzo Ultra Lite Stand Bag

Pros

Strap through design

14-way top divider with full-length dividers

Comfortable carry strap

Rubberized oversized putter well

Soft-grip lift-assist handles

Insulated cooler pocket

Cart strap pass-through system

Free personalization option

Reinforced dividers

Cons

Different colors have different pocket arrangements 

Expensive

Low-quality cover 

Stand is not sturdy

Material feels low quality

Price Score

90/100

85/100

100/100

Material

95/100

90/100

80/100

Stands

95/100

90/100

80/100

Dividers

100/100

95/100

99/100

Rating

4.5/5

4.7/5

4.6/5
What Is A Hybrid Golf Bag?
A hybrid golf bag can be strapped to a golf cart or carried on your shoulders using shoulder straps. 
Golfers that are minimalists with only the most needed accessories and enjoy walking in the fresh air while carrying their golf bags prefer to stand bags.
Cart bags are preferred by golfers that use trolleys or ride carts to speed up their rounds and have loads of accessories that require a vast amount of storage space.
Ideally, hybrid golf stand bags should have padded straps to reduce the strain on your shoulders and a cooler pocket to keep your refreshments cool while you are in the sun.
If you tend to walk when possible but use a cart when more hurried, a hybrid golf bag is ideal for you.
Why You Should Trust Us
Our team spends thousands of hours trying out and researching golf equipment to help you take your game to the next level. Here's our product review process.
We can bring these reviews to you through the small commissions we earn if you buy through the links below. 
How We Reviewed These Products
Golfspan only shares equipment and brands we trust. 
I considered these criteria for this hybrid golf bag review:
Cost
Comfort
Weight
Durability 
Practicality 
10 Best Hybrid Golf Bags
If you frequently swap between a cart bag and a stand bag, the Nike golf bag is ideal for you. I know a golfer at my local course that uses this bag, and it's definitely one of the best hybrid golf bags on the market. 
It offers a level of functionality, style, and durability that most hybrid golf bags simply cannot match up to. 
No need to move clubs between your bag and perhaps forget to move some accessories. Nike's versatile hybrid golf bag is easy on your shoulders, featuring adjustable Equaflex Max Air premium double straps that are comfortable and can be detached when using a cart.
I'm a big fan of 14-way bags like the Nike hybrid bag. The dividers offer maximum protection for all shafts, whether strapped to a cart or carried on your shoulders. 
Sufficient storage space is provided by the multiple accessory pockets, including an insulated pocket that helps keep food and beverages cold, a velour-covered valuables pocket, storage for golf balls and tees, and a large apparel pocket.
Its waterproof rain hood will ensure your golf clubs don't get wet in inclement weather. The bag is lightweight at 5.5 lbs which is lighter than most lightweight golf bags like the Izzo Ultra Lite as well. 
A delightful selection of colors includes black, white, and platinum. However, white color bags can get dirty quickly, so you might end up cleaning your bag every now and then.
Datrek Lite Rider is another one of the top hybrid golf bags that easily strap onto a cart using patented Top Lok bag-to-cart technology while presenting you with access to all pockets.
If I had to choose a carry bag, weight would be a crucial factor for me. I can't walk with a heavy bag for hours and expect to perform. 
Weighing in at a mere 5.2 pounds, the Datrek Lite Rider is lightweight enough to carry on your shoulders for 18 holes without fatigue. 
Carrying the bag for a short distance is made possible by two soft-grip lift-assist handles on the side of the top divider.
The only downside is that the bag has one strap and no cross strap. So, you might have to get an extra strap if you're more comfortable with two straps.
The 15-way divider with full-length dividers provides access and protection for 14 clubs and a separate putter well that can store jumbo grips. This is one feature that is lacking in golf bags – even the best ones, like the Nike Golf Air Hybrid bag, which is at the top of our list.
Storage is provided by 1 fleece-lined valuables pocket, 2 full-length garment pockets, 1 oversized insulated cooler pocket, and 1 ball pocket.
You can access your clubs in inclement weather via the dual zipper rain hood from the front and back.
Read More: If you just need a weekend bag, check out the in-depth review of Sunday golf bags.
Izzo Ultra Lite Stand Bag qualifies as a genuine hybrid golf bag with its kick-out legs providing the stand mechanism of a carry bag while it still offers the extra storage space required for cart bags.
Bags are made from heavy-duty nylon to present a visual appearance and durability.
To accommodate golfers that prefer walking, the bag remains lightweight at 3.2 pounds, and its kick-out standing legs provide the ideal angle to access your clubs. Now, if a lightweight bag is what you're looking for, this is a great option. 
But bags that are really lightweight have to compromise on one thing or another. And the Izzo bag feels less durable than other high-end options like the BagBoy hybrid bags. But that doesn't mean it's made of poor quality. The Izzo Ultra Lite bag is really well-made.  
The crossover-style straps spread the load to comfortably carry on the chest and shoulders. Something our previous pick lacked. 
A nice touch offered by Izzo Golf is the free personalization of your bag. Instructions are placed in the golf ball bag, and you will receive your personalized bag back in approximately two weeks.
This golf bag offers excellent organization through its 4-way top divider with full-length dividers allowing you to organize your clubs for easy access. I'd wish there were more dividers, but then we wouldn't have a bag at 3.2 pounds, either.
Storage is provided via seam-sealed pockets, including a weatherproof valuables pocket that's perfect for keeping your phone safe. It is available in a variety of color combinations.
Read more: Want more options for lightweight golf bags? Check out the full review.
Tangkula hybrid stand bags are made from lightweight polyester and feature a reinforced rubber bottom enabling them to stand upright with no problem, or you can use the kick-out legs to make them stand at an angle.
It's extremely lightweight, with a mere 3 ½ pounds, making it one of this market's best lightweight hybrid golf bags. They're not the lightest bags, and the Izzo Ultra Lite claims to be lighter, but these are more affordable and provide better value, in my opinion. 
Combine the lightweight with the X-style dual shoulder straps; this is one of the easiest bags to carry for 18 holes. I'd have to warn you, though, the dividers look narrow. So, fitting all your clubs might create a crowd in your bag. 
The minimal storage space adds to your ability to keep it lightweight but still provides sufficient space to qualify as a hybrid rather than a stand bag. 
In addition to the pockets mentioned above, the Tangkula Hybrid bag offers an insulated cooler pouch for beverages and other refreshments. I wouldn't mind a built-in chiller in my bag.
Lifting and carrying the golf bag for a short distance is made possible by the convenient front handle.
Rating: 4.6/5 
Bag Boy has a patented TOP-LOK system to securely attach the bag to a cart without sacrificing access to the 12 pockets containing your valuables and accessories.
Weighing in at around 9 ½ pounds, it's not the lightest bag on our list. But the sturdy legs provide a good angle to access your clubs. A separate oversized well can accommodate jumbo-gripped putters, providing more protection and easy access.
All clubs in the bag enjoy maximum protection with a 14-way organizer top, full-length individual dividers, and a matching rain hood.
The pockets comprise 1 fleece-lined pocket to store your valuable, 1 oversized apparel pocket, 1 ball storage pocket, 1 umbrella holder, and 2 mesh pockets.
Keeping your drinks cool is simple with the detachable Chiller Hybrid Igotcha sleeve that can store 4 12-ounce cans. Our BagBoy bag has a small built-in chiller, so if you find carrying a detachable chiller, you could opt for a bag with a built-in one. Though, they might not carry enough beverages.  
It's available in 4 color combinations: black/charcoal, black/charcoal/red, black/charcoal/lime, and black/charcoal/royal blue.
This might not be the most recognizable bag, but keep reading, and you'll see how it made it to our list. 
The Torrent 14 Hybrid golf bag is manufactured from 420 denier Nylon with a biodegradable technical thermo-plasticized coating on all exterior and interior surfaces. This ensures ensure that your clubs and accessories are protected from damp weather.
Furthermore, it aids in keeping the bag clean as you can wipe it down with a wet cloth. You'd know how annoying it can get if you've played golf in the rain. It's not something I enjoy, especially cleaning the clubs after the rain. 
So, if you're playing at a course where it rains often, you'd want to get a waterproof bag like this. The bag does have a high-end price even though it's not a recognized brand. 
Ample storage space is provided with the 8-pocket design that has a wider waterproof zipper with a hideaway slot and rubber U pull. 
Storage includes 1 large side apparel pocket, 1 insulated cooler pocket with rear drainage, 1 pocket for ball/ tee storage, 1 zippered scorecard pocket, 2 mid-sized pockets, and 2 deep velour-lined pockets for valuables.
Valuable pockets each come with a bungee, carabiner key clip, and a separator for glasses and cellphones.
Weighing 6.3 pounds makes it easy to carry on your shoulders using the removable Quick Clip shoulder straps.
Its cart bottom, strap channel, carbon fiber titanium legs, internal kickstand, and anti-slip feet are ideal for a cart or stand bag.
A 14-way top divider featuring full-length dividers caters to midsize grips and jumbo putters.
Access to your clubs is easy through a dual zipper rain hood that allows access from front and back.
Titleist is known for their dedication to tradition and for keeping the game of golf as pure as possible. While a hybrid golf bag may not be traditional, it sure is useful, and Titleist has designed one that doesn't stray too far from what a golf bag should look like.
A contemporary look doesn't keep this hybrid bag from having upgraded features. The legs are dual-purpose, designed to sit on push carts just as securely as a power cart. The little grooves keep your golf bag from twisting and turning and keep the bottom firmly planted on the pushcart.
The cart strap tunnel makes it easy to access all the eight pockets you have at your disposal when you ride. Those pockets include two coolers for your drinks, one for hot coffee and one for cold water.
The bag comes with soft and bulky straps, which are comfortable to wear. The problem comes when you try to strap the bag on the cart. The bulky straps can come in the way, which doesn't always keep it stable. Removing the straps is one way to tackle this, though. 
It weighs only 5.6 lbs., which isn't the lightest, but it's very light compared to other bags with this much storage. 
Even if you pack your bag with golf balls and cans of "soda," the tour-inspired cuff handles make it easy to lift this bag on or off any kind of cart.
Read more:
If you want to know more about the
best golf bag brands
, read the in-depth article. 
The Sun Mountain C-130S bag is a solid buy, offering 15 different divider pockets so that each of our clubs is kept safely in its rightful place. 
I particularly love that a separate putter tube fully covers the length of the putter, keeping it safe. 
There are also nine other pockets to keep everything from your rangefinder to your tees, so I no longer need to dig deep in the bag to find things. Everything is placed safely in its allocated place. 
The only thing that feels like a drawback for me is the weight of this bag. Most hybrid bags are lighter, making them easier to carry. This Sun Mountain golf bag weighs 9 pounds, making it a little more difficult to carry around. 
Although it fits perfectly onto the cart, the stands are sturdy enough to hold the bag still on the ground.
When it comes to good-looking golf bags, no one does it like Mizuno, and this 14-Way Hybrid bag is the prime example of that. But this Mizuno bag is more than just good looks, it comes with a dual shoulder strap and 14 divider pockets to store your clubs properly. 
A major plus for me is the wide profile legs that make the bag stand sturdily on the green, even the more slanted turfs. 
It's also extremely efficient as a hybrid bag as you can detach the straps easily from the quick-release clips and store them within one of the larger pockets.
The cooler pocket on the Mizuno BR-DX keeps your drinks cool for hours, which is an added bonus. 
Unfortunately, all good things come with a price; that's the only drawback of this bag. It's one of the most expensive hybrid bags on the market and may not fit into everyone's budget. But it's worth the investment if you can afford one of these. 
If you're a budget buyer or aren't married to golf brands, this hybrid golf bag by Big Max is an absolute steal. Big Max brings all the benefits of a higher-end golf bag minus the hefty price point. 
Surprisingly, the nylon fabric seems promising and holds on quite well. The 14 divider pockets are perfect for keeping each of your golf clubs safely tucked away in their rightful spots. 
The insulated cooler pocket also works great to keep your drinks cold for hours. Plus, it has many pockets for storing your other golfing essentials, such as umbrellas, scorecards, golf balls, and even your phone. 
Key Features To Consider In The Best Hybrid Golf Bags 2023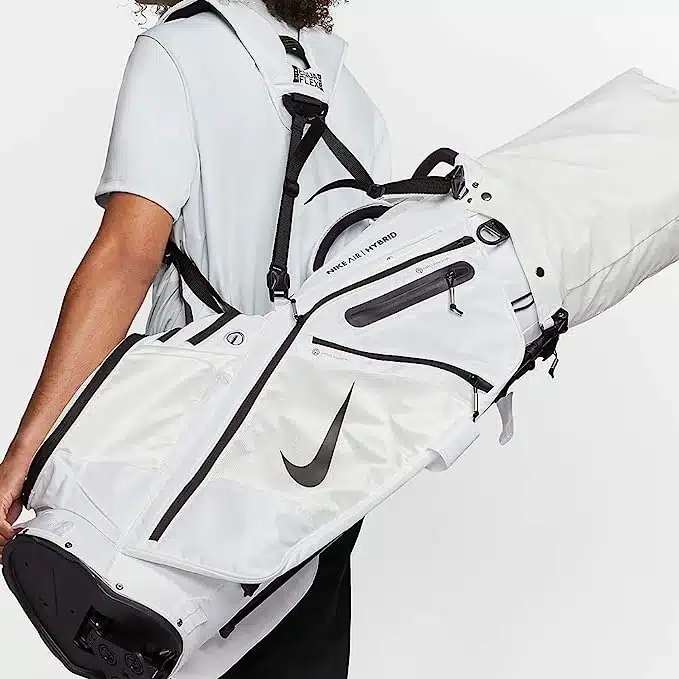 Legs
The type of legs will be important if you like to walk and ride. Choose the style and durability of your golf bag legs based on what kind of courses you play. Hilly courses require legs with bigger feet and a wider stance. 
If you plan only to use the legs when at the range or when in storage, you can get a bag with low-profile legs. You want them to be tucked in nicely when you're riding so they don't get snagged on anything, and allow your bag to be tightly fastened to the power cart.  
Straps
Walkers will appreciate a good strap, but that doesn't mean they are big and pillowy. Straps need to be convenient to take on and off. They also need to fit in the trunk of your car and stow nicely when you're riding. 
Many straps these days are made from a compound foam that is slender but also soft. You can opt for something thicker if you carry your bag a lot. But thicker will mean hotter, so if you play in high temperatures, ensure you have breathable straps to avoid discomfort. 
Pockets
This will be the most personal decision because it depends on what you normally bring to the golf course. Having many pockets is nice, but it also makes the bag bigger and, if you fill them, heavier as well. 
Those who play in less-than-perfect weather need ample space for a jacket, sweater, pants, gloves, etc. An insulated drink pocket will be a priority if you play in hot weather. Given how popular phones are these days, most bags have a 'valuables' pocket, but some are bigger than others. 
If you carry, you want to see which pockets are accessible while you're in motion. You don't have to stop and put your bag down whenever you want a sip of water. 
Dividers
If you're concerned about your babies' like we all are, get a bag with 'full-length' dividers. Just because a bag is sectioned off at the top doesn't mean those segments extend to the bottom. 
For players who use an oversized grip on their putter, you will need extra space in your bag to store it. Some bags, like the Datrek Lite Rider Pro Golf Cart Bag, have an enlarged putter sleeve to accommodate such grips. 
Weight
All the hybrid golf bags listed above are lightweight, with the heaviest still being under 10 lbs. This is a far cry from your grandfather's leather bag that he used to lug around the course. But if you prefer to walk, you might as well get the lightest bag you can to conserve energy. 
The Tangkula Hybrid Stand Golf Bag is only 3.5 lbs and one of the best hybrid stand bags. As long as you keep the contents to a minimum, this bag is perfect for those long summer days on the golf course.   
Read more:
Here's the full buyer's guide for a
minimalist golf bag
. 
FAQs
What Does A Hybrid Golf Bag Mean?
A hybrid golf bag is suited for both walking and riding. Players who like to carry will take advantage of a durable stand and comfortable shoulder straps. At the same time, players who ride will appreciate how the back snuggly fits on the back of a cart like a piece to a puzzle.
How Do You Load A Hybrid Golf Bag?
To load a hybrid golf bag, you should first identify the type of course and what the weather will be like. If it's a challenging course with lots of water and OB, you may want to load your hybrid golf bag with a few extra golf balls. If you expect rain, throw a few extra towels in there.
Are Hybrid Golf Bags Worth It?
Yes, hybrid bags are worth every penny because it's like getting two bags for the price of one. You'll be prepared for any round, whether you ride or walk. Hybrid bags are some of the lightest you can get, so even if you only use them for power carts, they are much easier to transport to and from the course.
Conclusion
Having the best golf bag for your requirements will give you all the necessities at your fingertips when you need them most.
Swapping between your stand bag and a cart bag, depending on the course you are playing, often leads to some of the necessities being left behind.
However, a hybrid golf bag will have sufficient storage space to carry everything you require. The lightweight and easy-to-carry shoulder system will ensure that the weight is evenly spread across your back and shoulders should you decide a walk is the best exercise for the course.
Nike's Golf Air Hybrid Bag provides ample premium features to be nominated as the best premium bag in this review, while Tangkula offers good value for money.
In the end, the best golf hybrid bag will be different for everyone. You'll need to make the choice depending on your requirements and preferences.
Nick Lomas is the founder of GolfSpan, an avid golfer, not quite a pro but has over 15-years of experience playing and coaching golfers from all over the world. His mission is to bring the golfing community a better experience then it comes to choosing the right golf gear, and finding the right set up for your game.