Hybrid is not a new concept to golf with hybrid clubs have become extremely popular replacing long irons.
Generally, golf bags are categorized as cart bags or stand bags that have push-out legs to keep the bag upright.
Cart bags are designed to strap onto a hand cart or power cart to be transported around the course. Although it has a strap, it is generally larger and heavier than stand bags and not ideal to be carried on your shoulders. They also tend to topple over quite easily when put upright.
Stand bags are similar in appearance to the cart bag but smaller and lighter. To keep it in a semi-upright position there are normally two legs that push out thus enabling you to stand the bag at an angle for easy access to your clubs.
At a glance: Our Top 6 Best Hybrid Golf Bags
So, what is a hybrid golf bag?
Hybrid golf bags can be strapped to a golf cart or carried on your shoulders using shoulder straps.
Golfers that are minimalists with only the most needed accessories and enjoy walking in the fresh air while carrying their bags prefer stand bags.
Cart bags are preferred by golfers that use trolleys or riding carts to speed up their rounds and have loads of accessories that require a vast amount of storage space.
Ideally, stand bags should have padded straps to reduce the strain on your shoulders as well as a cooler pocket to keep your refreshments cool while you are in the sun.
If you tend to walk when possible but use a cart when more hurried, a hybrid golf bag is ideal.
Best Hybrid Golf Bags
Quick Overview: Our Top Picks for 6 Best Hybrid Golf Bags
Some of the most suitable hybrid golf bags are:
If you frequently swap between a cart bag and a stand bag, the Nike golf bag is ideal for you. No need to move clubs between your bag and perhaps forget to move some accessories.
Nike's versatile bag is easy on your shoulders featuring adjustable Equaflex Max Air dual straps that are comfortable and can be detached when using a cart.
A 14-way top divider with full-length dividers offers maximum protection for all shafts whether it is strapped to a cart or carried on your shoulders.
Sufficient storage space is provided by the 14 pockets including an insulated pocket that helps keep food and beverages cold, a velour-covered valuables pocket, storage for golf balls and tees, and a large apparel pocket.
Its waterproof rain hood will ensure that your clubs don't get wet in inclement weather.
A delightful selection of colors includes black, white, and platinum.
2. Datrek Lite Rider Pro Golf Cart Bag
Pros
15-Way organizer top with full-length dividers
Rubberized oversized putter well
Soft-grip lift-assist handles
Insulated cooler pocket
Top-Lok technology to attach the bag to the cart
Seven zippered pockets
Easy-grip zipper pulls
Integrated umbrella holder
Matching rain hood with a dual access opening
Cons
Uses Top Lok system patented by Bag Boy
Datrek Lite Rider is a hybrid bag that easily straps onto a cart using patented Top Lok bag-to-cart technology while still presenting you with access to all pockets.
Weighing in at a mere 5.72 pounds it is lightweight enough to carry on your shoulders for 18 holes without getting fatigued.
The 15-way divider with full-length dividers provides access and protection for 14 clubs and a separate putter well that can store jumbo grips.
Carrying the bag for a short distance is made possible by two soft-grip lift-assist handles on the side of the top divider.
Storage is provided by 1 X fleece-lined valuables pocket, 2 X full-length garment pockets, 1 X oversized insulated cooler pocket, and 1 X ball pocket.
In inclement weather, you can access your clubs via the dual zipper rain hood from the front and back.
3. Bag Boy Golf Chiller Hybrid Stand Bag
Pros
Oversized putter well
14-way top divider top with full-length dividers
Durable Nylon reinforcement
Detachable cooler pouch
Lightweight at 9.5 pounds
Patented TOP-LOK Technology to attach the bag to carts
Ergonomic single shoulder strap with hidden cart strap sleeve
12 pockets offer ample storage
Cons
The carry strap could be aligned better
Bag Boy has a patented TOP LOK system to securely attach the bag to a cart without sacrificing access to the 12 pockets containing your valuables and accessories.
Weighing in at around 9 ½ pounds makes it easy to carry and the sturdy legs provide a good angle to access your clubs from. To provide more protection and easy access there is a separate oversized well that can accommodate jumbo gripped putters.
All clubs stored in the bag enjoy maximum protection with a 14-Way organizer top with full-length individual dividers and a matching rain hood.
The pockets comprise 1 X fleece-lined pocket to store your valuable, 1 X oversized apparel pocket, 1 X ball storage pocket, 1 X umbrella holder, 2 X mesh pockets.
Keeping your drinks cool is quite simple with the detachable Chiller Hybrid Igotcha sleeve that can store 4 X 12-ounce cans
It is available in 4 color combinations such as black/charcoal, black/charcoal/red, black/charcoal/lime, and black/charcoal/royal blue.
4. Tangkula Hybrid Stand and Carry Golf Bag
Pros
Durable design
Weighs in at a mere 3.5 pounds
Slim profile
Affordable
Backpack style shoulder straps
Streamlined pocket configuration
Includes an enclosed pouch for coolers
Available in blue or black
Water-resistant
Good, robust grab handle, sturdy
Cons
Can do with more storage
Would be better if it were waterproof
Kick out leg system requires improvement
Tangkula hybrid stand bags are made from lightweight polyester and feature a reinforced rubber bottom enabling it to stand upright with no problem or you can use the kick-out legs to make it stand at an angle.
Its extreme light weight of a mere 3 ½ pounds makes it one of the lightest bags in this category. Combine the lightweight with the X-style backpack straps, this is one of the easiest bags to carry for 18 holes.
Organizing your clubs requires a little more planning as the top only has a 3-way divider.
The lack of storage space adds to your ability to keep it lightweight but still provides sufficient space to qualify as a hybrid rather than a stand bag only. There are only 4 zipped pockets on this bag to store golf balls, extra apparel, and valuables.
In addition to the pockets mentioned above, the Tangkula Hybrid bag offers an insulated cooler pouch for beverages and other refreshments.
Lifting and carrying the bag for a short distance is made possible by the convenient front handle.
Izzo Versa stand bag qualifies as a true hybrid golf bag with its kick-out legs providing the stand mechanism of a carry bag while it still offers the extra storage space required for cart bags.
Bags are made from heavy-duty nylon to present a visual appearance as well as durability.
To accommodate golfers that prefer walking the bag remains lightweight at 6 pounds and its kick-out standing legs provide the ideal angle to access your clubs. The crossover "X"-style carrying strap spreads the load for a comfortable carry on the chest and shoulders.
A nice touch offered by Izzo Golf is the free personalization of your bag. Instructions are placed in the golf ball bag, and you will receive your personalized bag back in approximately 2 weeks.
Izzo Versa golf bag offers outstanding organization through its 11-way top divider with full-length dividers allowing you to organize your clubs for easy access.
Storage is provided via seam-sealed pockets including 2 X magnetic pockets, 1 X velour-lined water-resistant valuables pocket, 1 X metal towel loop with built-in bottle opener, 1 X Velcro glove holder, and 1 X insulated cooler pocket
It is available in a variety of color combinations such as blue/white, lime/white/gray, black/red/gray.
The Torrent 14 Hybrid golf bag is manufactured from 420 denier Nylon with a biodegradable technical thermo-plasticized coating on all exterior and interior surfaces. This ensures ensure that your clubs and accessories are protected from damp weather.
Furthermore, it aids in keeping the bag clean as you can wipe it down with a wet cloth.
Ample storage space is provided with the 8-pocket design that has a wider waterproof zipper with a hideaway slot and rubber U pull. Storage includes 1 X large side apparel pocket, 1 X insulated cooler pocket with rear drainage, 1 X pocket for ball/ tee storage, 1 X zippered scorecard pocket, 2 X mid-sized pockets, 2 X deep velour-lined pockets for valuables.
Valuable pockets each come with a bungee, carabiner key clip while they also have a separator for glasses and cellphones.
Weighing 6.3 pounds makes it easy to carry on your shoulders using the removable Quick Clip shoulder straps.
Its cart bottom, strap channel, premium carbon fiber titanium legs, internal kickstand, and anti-slip feet is ideal to use as a cart or a stand bag.
A 14-way top divider featuring full-length dividers caters to midsize grips and jumbo putters.
Access to your clubs is made easy through a dual zipper rain hood that allows access from front and back.
Conclusion
Having the best golf bag for your requirements will enable you to have all the necessities at your fingertips when you need them most.
Having to swap between your stand bag and a cart bag depending on the course you are playing often leads to some of the necessities being left behind.
However, with a hybrid golf bag, you will have sufficient storage space to carry everything that you may require. The lightweight and easy-to-carry shoulder system will ensure that the weight is evenly spread across your back and shoulders should you decide a walk is the best exercise for the course.
Nike's hybrid bag provides ample premium features to be nominated as the best premium bag in this review while Tangkula offers good value for money.
As a highly regarded bag manufacturer offering a patented system to keep your bag safe on a cart and its consistent improvement makes the Bag Boy Chiller hybrid golf bag the best hybrid golf bag in our opinion.
What is your opinion of the hybrid golf bag category? Add your comments in the comments section below.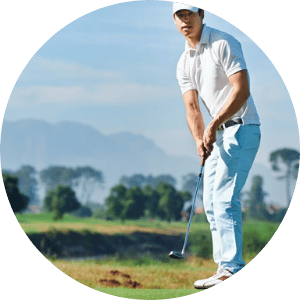 Nick Lomas is the founder of GolfSpan, an avid golfer, not quite a pro but has over 15-years of experience playing and coaching golfers from all over the world. His mission is to bring the golfing community a better experience then it comes to choosing the right golf gear, and finding the right set up for your game.