The minimalist golf bag is also called the Sunday golf bag. A minimalist golf bag is smaller, weighs significantly less than a standard bag, and has fewer pockets. These golf bags can be used for a quick game, or a trip to the driving range, a weekend getaway, or your normal 18 holes. They are designed to hold between 6-10 clubs and all of your basic golf essentials.
If you're a serious golfer use a full-size golf bag for your tournaments and a Sunday bag for your practice rounds. If yore, not a serious golfer, then the minimalist bag may be the only one you need. All golfers from pros to beginners will find value in having one, here we look at the best minimalist golf bag in this buyer's guide…
Why use a Minimalist Golf Bag?
All over the globe golfers are returning to the game or are starting to take up golf as a relaxation thus the market for golf equipment is booming at the moment. The Covert pandemic with its regulations forcing people to walk and not using their golf carts helped the golfing bag industry.
More people realize that walking provides more joy than driving even the lazy ones. Some golfers go to the extreme and lighten their load, for this reason, they do not carry all their clubs. They prefer lighter bags to have a more enjoyable walk than dragging or carrying a heavy bag. We witnessed the birth of minimalist golf bags what a great option for a relaxed game of golf.
Things to consider before buying a Minimalist Golf Bag
Storage Space
The Minimalist Golf Bag does not come with all the bells and whistles of a normal tour bag, the space is minimized to cut down on the weight. That's the idea of this type of bag. Some experts refer to this bag as a Sunday bag.
Straps and Stands
This bag was not made for pulling around on a lazy humanoid trolley, they are made for the serious afternoon quick 9 hole golfer thus the straps are an essential part of this bag. In my opinion, a stand is a plus as it will protect your clubs from getting wet and dirty.
Dividers
The number of dividers is limited thus selecting the clubs you will need for the round will be the determining factor of how your game experience will be for that day.
Functionality
Keep in mind the bending down after each shot will put some strain on your mussels and back but being a fit golfer it's considered a good exercise.
Let look at some of the best Minimalist golf bags available.
Pros
Built-In Carry Handle
Soft-lined valuables Valuable pouch
Dual flex stand system
Strap included
Frosty Pocket for a beverage
Waterproof Zippers
Full-Length Divider
Velcro Glove Holder
7 Tee Holders
31" Height
8 Different colors
Super lightweight
95 Lbs
Cons
Difficult sliding clubs in and out of the bag with 8 clubs with so little room
With 2 long drivers, the bag feels unbalanced
One of the great examples of a minimalist golf bag is the Loma Bag. This bag is designed to carry between 6-8 clubs, has a place to store cold beverages, and some golf essentials. This bag is stylishly designed and will turn heads on your next trip to the course. The weight of this bag is extremely lightweight. This bag is suited for all ages and sizes.
A built-in handle at the top of the bag comes in handy for carrying it short distances. A very handy kickstand leg was added as an essential luxury item. You have a place to keep your tees with a seven tee holder. It has Velcro strips for the use of keeping your golf gloves. If you feel the need to add a golf towel there are a few spots where you can clip it on.
Built-in carry handle
The built-in integrated grab handle isn't just a loop, but a vertical "umbrella" style handle. The Loma Company made sure that the handle is perfectly balanced it making the bag very easy to carry by the handle itself.
Valuable pouch
You always in the back of your mind keep wondering if my phone, key, and wallet will be secure in the bag. The soft-lined valuables pouch will protect any of your valuables.
Dual flex stand system
The dual flex stand system is a crucial part of this ultra-lightweight bag. It provides protection for your clubs and the need to lay your bag down every time you need to tee off. The mechanism to engage the legs extends below the base of the bag so the legs will deploy when you put your bag down upright.
Straps
The strap itself is made with additional shoulder padding. Most modern bags come with dual straps; there's no need for that on a bag like this.  There's no need for the full bag packers style of strapping for this bag.  The Loma Company made the straps in such a way that left or right-handed golfers can use this bag with their four attachment points instead of the normal two. To balance the bag with a single strap is easy.
Zippers, pockets, and material
Loma used heavy-duty plastic waterproof zippers that function well. Made from nylon the material texture gives it a nice look and feel. Cleaning is made easy with this material. The four pockets are well placed with some of the mesh and velour-lined pockets including an insulated frosty pocket for the cold ones.
The bag's sweet spot be six clubs, seven wood, seven and nine iron, approach and lob wedge, and putter.
Alternative Minimalist Bags
There are a few Sunday golf bags in the growing market, let's look at 3 more:
Orlimar Pitch and Putt Bag
Jef World of golf JR1256 Pitch & Putt
Callaway Double Strap Carry Pencil Bag 202
1. Orlimar Pitch and Putt
Pros
Durable carry handle
11 color schemes to choose from
Detachable strap
Ultra-lightweight construction
Two-compartment top
Cons
This bag provides the least amount of storage
The single pocket is too small for everything
The strap and handle will take the strain to carry too many clubs
It houses only 6 clubs with ease
Only one accessory pocket
Uncomfortable strap
No Padding On Strap
The Orlimar Pitch and putter is a small, lightweight bag and is easy to carry. Perfect for the beginner golfer or the golfer that enjoys a quick round of golf. The lightweight bag is suited for young and old and will put less stress on your body than a normal 14 club bag would.
Orlimar provided a large sturdy carry handle, and the shoulder straps allow straightforward carrying. The stiff construction of this bag can take a lot of damage. This bag comes with retractable legs that help it stand firm on the ground, preventing your clubs from getting dirty and wet.
This bag comes with two dividers for you to arrange your clubs in the right way. Orlimar offers this bag in 11 different color schemes to pick from. The Orlimar is a very affordable option if you want to move from an ordinary golf bag to a minimalist bag.
The JR1256 Pitch and Putt Sunday bag is a well-priced bag and super light made from Nylon and for the ages of 12 to 110 thus it's made for the everyday minimalist. As all the other makes out there it can hold up to 8 clubs but the chance you will either use 7 or even six clubs to ease the sticking together effect will add to your frustration trying to get a club out.
This bag comes with a stand that makes your club selection more comfortable. The carry sling straps on this bag are adjustable, are very comfortable, and works well
The curry handle attaches to the rim of the top to ease the carrying of the bag short distances.
The Zipper pocket holds up to 10 balls, has to be a bad day golfing when you lose 10 balls.
A corded bottle mounted on the front will provide you with some hydration.
The Carry Pencil Bag from Callaway is one of the new bags that comes with a clever manual release stand that enables you to keep your clubs dry and above ground when you put the bag. The stand is also good for those that struggle to reach down. This bag comes with full-length 3-way dividers that give you the ability to organize your clubs just how you prefer.
The water-resistant coating on the underside will protect your clubs from getting wet in the event of laying down your bag on wet grass. One of the 3 zip pockets goes most of the length of the bag. To minimize the fatigue Callaway introduced the double strap to evenly distribute the weight across your shoulders, Focusing on the game when you are tired is difficult and affects your game.
Final Thoughts
The problem is choosing the correct minimalist bag for this you have to decide if you want to up your game by using fewer clubs or enjoy the day out with a durable lightweight bag over your shoulder that's well-padded and even comes with a stand.
That's why for me, the Sunday Golf Loma bag is most definitely worth the price tag. For someone who will be using the bag weekly, for the extra expense, this Loma's additional functionality over traditional Sunday bags justifies it. The bag looks fantastic and is well-constructed.
With all the new and old brands coming to the party for improving the Sunday bags realizing that people are more health-conscious than a decade ago, Loma beat them with this luxurious product that fills all your needs for a quick game and still have the energy to enjoy the lovely views on the course.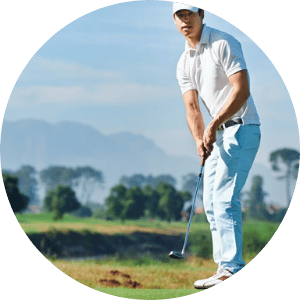 Nick Lomas is the founder of GolfSpan, an avid golfer, not quite a pro but has over 15-years of experience playing and coaching golfers from all over the world. His mission is to bring the golfing community a better experience then it comes to choosing the right golf gear, and finding the right set up for your game.