Our series on affordable rangefinder options continues. This time we are conducting an Aofar rangefinder review. So far, we have looked at golf rangefinders from Blue Tees, Boblov, and Leupold. But in this article, the attention turns to the Aofar GX-2S.
Throughout this post, we will examine the pros and cons of the GX-2S to see if you should consider adding it to your bag. Besides showcasing its innovative measurement features, the intention is to analyze accuracy, range, and magnification.
What Factors To Consider Before Buying a Rangefinder
Weight
Before you make a decision on a rangefinder, consider the weight of the device. If you carry your clubs, you will want a light, compact design to limit the additional weight. However, if you drive a cart, you can afford to acquire a heavier model.
Lighter rangefinder devices such as the Volvik V1 weigh 125-grams. However, heavier models like the Bushnell Pro XE hit the scale above 300-grams. The reason for the weight difference is that heavier devices often contain a magnet that enables you to mount it on your cart.
Magnet
Speaking of golf carts, if that is your preferred method of navigating the links, it is worth looking at rangefinders with a magnet. The magnet allows you to fasten the device to the frame of your vehicle. That means that you don't waste time taking it out of the case for every shot.
Accuracy
The accuracy of rangefinders varies between models, which is why you need to test or at the very least study the specs of your desired device. High-performing designs are accurate to the nearest 0.1 yards, while less flattering devices can be off by up to 5-yards.
Keep in mind that distance measuring devices become less accurate the further away your target is. For example, a rangefinder that is accurate to the nearest yard, inside 300-yards, will be off by 3-yards if you are 400-yards away from your target.
Waterproofing
If you live in an area with high rainfall, you will need a waterproof rangefinder. It must withstand a downpour.
Magnification
The magnification of a rangefinder enables it to zoom in to targets hundreds of yards away and give you an accurate measurement. Devices with reduced levels struggle to zoom in and focus on your target the further away you are.
Premium rangefinders that possess exceptional optics can include up to 7x magnification.
Pinseeker Technology
One of the advantages of rangefinders is that they help to accelerate the pace of play. However, when you cannot spot the target through your device, it causes a delay. That is where pin seeker technology excels.
How it works is that a laser actively searches for the pin, saving you the hassle. Once it locates the flagstick, it sends out faint vibrations to notify you.
Tournament Legal
While rangefinders are permitted in tournaments by the USGA, rule 4.3a outlaws certain features. These include the use of plays like distance features such as slope adjustment. Other functions that are prohibited include elements mode, speed measurement, and club recommendations.
If you are looking for a rangefinder with these features, you need to ensure that the device has a switch that allows you to disable them. Otherwise, you will earn yourself a two-stroke penalty and risk disqualification if it happens multiple times during a round.
Aofar Rangefinder Review
Pros
Flag lock reduces the delay to receive measurements
Accurate to within 1-yard of the actual distance
Super affordable
Slope mode
Power off automatically after 8-seconds
It provides measurements in yards and meters
Cons
You need to hold the slope switch for 10-seconds to activate or deactivate the mode
Factory batteries only last a few months before they need to be replaced
Some reads over 200 yards are significantly inaccurate
My past experiences with cheap rangefinders from Amazon led to dismal results. Either the features didn't perform as marketed, or the lifespan of the device was cut short.
However, reduced production costs have enabled brands like Aofar to offer quality, affordable alternatives to premium rangefinder products.
Priced at under $100, the Aofar GX-2S aims to give the average golfer on a shoestring budget the opportunity to benefit from innovative technology.
Obviously, paying less means there are some drawbacks, such as a maximum range of 600-yards. Furthermore, it can only detect the flag from 285-yards away. However, it can be forgiven at that price.
Furthermore, the GX-2S features 6x magnification, to speed up the device's ability to focus on a target and measure the distance. Plus, it includes flaglock technology, which helps the device locate the flag when trees and bushes are in your line of sight. Once it locks onto the flag, the device vibrates to confirm it has measured the distance.
The final features that stand out for me are its slope mode, waterproof ability, and lightweight design.
You cannot compare the Aofar GX-2S to a Bushnell rangefinder. But, as an affordable rangefinder, I think it is ideal for beginners, or golfers on a budget, looking for guidance more than precision.
Features & Benefits
6X Magnification
A few years ago, 6x magnification would only have appeared in premium rangefinders. But, now, you will be hard-pressed to find a device with anything less. The magnification feature enables your model to zoom in and focus on a target.
The Aofar FX-2S magnification enables you to measure the distance to the flag from 285-yards out. And, it measures the distance to trees that are a maximum of 415-yards away.
Flag Lock Technology
Similar to pin seeker technology used by their competitors, Aofar features flag lock technology. It actively scans for the flag and locks onto it, after which it vibrates to notify you that it has registered the yardage to the pin.
Slope Switch Technology
Slope Switch technology allows you to toggle the mode on and off to remain consistent with USGA rules. Simply, by toggling a button, your device becomes tournament legal or illegal.
Waterproofing
According to the World Atlas, Hawaii, Louisiana,, and Mississippi are the rainiest states in the USA. If you live in one of these states, the waterproofing of the Aofar GX-2S will keep your device intact, even in consistent rain.
Range
The maximum range of the GX-2S is 600 yards, which is less than you find in mid to premium-priced products. However, you will rarely need any distance measurements beyond that distance.
Despite a maximum range of 600-yards, the device can only measure flagsticks up to 285-yards out. And, it calculates the yardage to trees that are a maximum of 415-yards away.
Aofar GX-2S Rangefinder Alternatives
The Raythor Pro Gen S2 is another affordable laser rangefinder option that boasts a host of premium features, with accuracy that is 0.1 yards off.
Target Acquisition Technology can be activated from up to 180-yards away, which will seek out the flagstick. Plus, the Gen S2 locks onto the flag from 300-yards out. Once the laser locks onto the pin or your target, it will vibrate to notify you that it has yardage.
Furthermore, Raythor included adjustable slope technology, which helps to give you plays like distance on undulated golf courses. Since this function is not tournament legal, you can deactivate it at the click of a button.
Finally, the Pro Gen S2 offers a continuous scanning mode that provides you with the distances to targets and hazards in your line of sight.
If the Aofar GX-2S is too affordable for you. But you are not prepared to spend on a premium device. The Raythor Pro Gen S2 is worth looking into. This suits mid to high handicappers more than serious lower handicap players.
2. Mileseey Golf Rangefinder
Ending of our alternative options for the Aofar GX-2S is the Mileseey Golf Rangefinder. The Mileseey is another affordable option that is priced under $100 but is packed with premium features.
The total range of this device is 660-yards, with 6x magnification for enhanced optics. Inside 200-yards, the rangefinder is accurate to the nearest 0.3-yards. But between 200 to 600-yards it is slightly less accurate, with 0.5-yards off.
Mileseey equipped this device with a fast-scanning mode to rapidly detect the yardage to target zones and hazards in your line of sight. Plus, it factors in the gradient of slopes to optimize the accuracy of your measurement from any lie.
A unique feature of the Mileseey Golf Rangefinder is its ability to measure speed, which is not often found in premium products. This feature allows you to calculate the wind speed to factor it into your club and shot selection.
Finally, if they hadn't caught your attention yet. This incredibly affordable rangefinder is water and fog-proof to operate in any condition.
In conclusion, this is a rangefinder for mid to high handicap golfers who are on a budget but crave innovative features.
The compact TecTecTec VPRO 500S rangefinder delivers exceptional accuracy at a mid-price point that suits low to mid-handicappers. With 6x magnification, the VPro can provide accurate readings to the nearest yard, up to 540-yards away.
Added to the accuracy of this rangefinder is the speed at which it delivers yardages. Using continuous scan mode, you can rapidly receive the distances to hazards and targets in your line of sight.
Furthermore, TecTecTec included their advanced pin seeker technology to help you detect the flagstick among bushes and trees that are in your line of sight.
Finally, like most rangefinders these days, the VPro 500S includes slope mode, which factors the degree of the gradient between your ball and the target.
Although this rangefinder is not priced as low as the Aofar GX-2S, it is still affordable for the average golfer to acquire.
Final Thoughts
It is pleasing to see that we average golfers have more rangefinder options at our disposal than the previous choices of junk or expensive. Our Boblov Rangefinder review has taught us that cheap no longer equals bad.
Would I buy an Aofar GX-2S if I had the budget for a Bushnell Tour V5? Probably not. Do I see the value in Aofarrangefinder devices? Absolutely. They are not perfect, but they help the average golfer receive more accurate yardage, speed up play and save hundreds of dollars.
If you are looking for an affordable device with premium features. You can take a closer look at the Aofar GX-S2 here.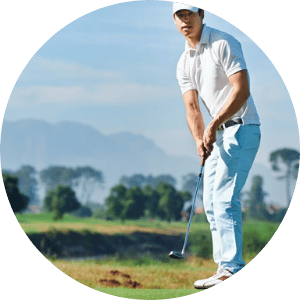 Nick Lomas is the founder of GolfSpan, an avid golfer, not quite a pro but has over 15-years of experience playing and coaching golfers from all over the world. His mission is to bring the golfing community a better experience then it comes to choosing the right golf gear, and finding the right set up for your game.