Rangefinders have revolutionized many sports where distance and accuracy play a big role and where it is difficult to accurately judge distance with the naked eye.
In golf, the accurate determination of the distance is a crucial part of determining which club will be utilized. To date caddies, yardage books, and the not-so-trusted yardage markers have been the go-to information sources. The rangefinder has become as much of a must-have piece of equipment as your clubs and ball.
At a glance: Our Top 5 Picks for Best Golf Rangefinders
What To Look For In a Rangefinder?
A rangefinder has a button that shoots a laser beam at your target which rebounds to a sensor and accurately determines the distance to the target. Accuracy varies between models but any model with accuracy less than a yard should be sufficient for most golfers.
Accuracy of picking out the flag from surrounds should also form a major part of your purchasing decision
Rangefinders are more accurate than the popular GPS units. GPS units are accurate to approximately 5 yards as opposed to the 1 yard from range finders.
The use of rangefinders should be allowed via a "local rule" but almost every non-PGA Tour tournament will allow the use of rangefinders.
Distance control is a major part of reducing your score and a range finder will surely assist you in achieving your goal. Range finders come in various price ranges and functionality. Chose the right rangefinder that suits your price range, distances, and ability.
Some criteria to keep in mind when selecting the right rangefinder for you.
Accuracy
The number one requirement for a rangefinder is pinpoint accuracy. The purpose of the rangefinder is to take the guesswork out of the game. The difference in accuracy in a GPS device and a rangefinder could easy be the difference between a birdie and a par putt.
Accuracy to the target is important and that includes targets other than the pin. You want to be able to measure the distance to a hazard accurately to ensure you have the correct club to either paly short or be able to cross the hazard with sufficient yardage.
The use of a rangefinder on the practice range will enable you to fine-tune your distances for every club as well as the different swing lengths for your shorter clubs.
When you consistently reach a distance with a club you can use the rangefinder to find the distances for ¾, ½, and ¼ swing shots.
Durability
After the ball, the rangefinder is possibly the most utilized piece of equipment in your bag. On average a golfer uses the rangefinder between 30 and 40 times per round of golf.
Protect your investment in your rangefinders by making sure it is protected in a case that can handle the conditions that you use it in. Every time it is taken out of its case it is at risk. They are sometimes left out on the seat of the cart, often dropped and used in rainy conditions.
Make sure that you chose a rangefinder that can handle all of this and continue to perform to the original standards. After all the investment you make is to have an assistant for a long time.
Battery Life
When selecting a rangefinder the battery life should be a major part of the selection process. Although battery life is very important, most range finders have a battery that lasts between 6 months to a year.
Firstly you want to be sure the battery will last long enough if you are caught in a slow field. There is nothing more frustrating feeling than spending a fortune on an assistant and not being able to use it for the full round as it ran out of steam.
The most often used CR2 batteries in rangefinders are quite expensive and having a backup pack is another unnecessary expense.
Your battery life is much affected by the many extra features on top of a selection of bright displays found on most rangefinders. If you are a frequent player that plays in the region of 30 rounds per annum, this will be a very important part of your decision-making process.
Value
There is a huge variety of range finders available to suit every course and player. It is important that you look at the value add that you will receive from the rangefinder.
Don't spend a fortune on a rangefinder if you have no idea what distance you hit specific clubs. Invest in a cheaper model that will provide you with the basics.
However, if you are dialed in and have toned your game where accuracy is of utmost importance, make sure that you do not skimp on features and buy a lower-cost model as you will not reap the benefits available from more advanced rangefinders.
Display/Optics
It is important that the rangefinders optics are of good quality. It will be extremely frustrating having spent a fortune on a rangefinder and you cannot see the target or the distance readout when you need it most.
The images must be crystal clear with no blurred lines. Look for a minimum of 5X magnification and focus adjustable options.
Furthermore, ensure that the yardage readouts stand out and are clearly visible in all conditions especially in bright sunshine.
Range
Rangefinders claim to be able to accurately identify targets at many hundreds of yards. However, if your long game is not that long, it is not important to identify the distance to the target from more than 200 yards.
Chose a rangefinder that has a 5X or 6X magnification setting to enable you to see those far away targets clearly.
Price
Make sure that the rangefinder you chose has the options available that you are comfortable to use and that suits your golf game and capability. There is no benefit in spending $400 when a $100 rangefinder will provide you with the features that you require.
Waterproof
If most of your golf is played in a rainy area it will be beneficial to invest in a waterproof model. You are investing in an assistant, make sure that your assistant is protected from the environment that you use it in.
Slope Measurement Capabilities
Rangefinders come with slope measuring capability although it's not available on all models. If you play most of your golf on rolling hills and dales, it would be beneficial to invest in a model with the slope measurement capability.
On the contrary, if most of your golf is played on flat courses you will not benefit from having this option available. The slope compensation feature comes at a price and is not legal for tournament play.
Quick Overview: Our Top Picks for Best Golf Rangefinders
Rangefinder Reviews & Ratings
1. Bushnell Tour V4 JOLT Golf Laser Rangefinder
Pros:
Protective skin and carrying case included
368 feet view at 1,000 yards
Accurate up to 1 yard of the field of view
Jolt feature when rangefinder picks up a reading
Cons:
Reviews claim some inconsistency in measurements
Lacking customer service according to reviews
No slope reading
Bushnell is one of the most trusted companies in the rangefinder industry and its reputation has improved with this amazing product.  Some of the features with this rangefinder make it stand out at its price point, like the jolting feature.
The price point is about exactly what you would expect for such a quality rangefinder that does not have a slope feature.  The great thing about this version is that without the slope rating it is legal in most tournaments.
The extra bells and whistles such as the nice carry bag and protective skin really do put the cherry on top.  The skin feels nice and gives golfers that extra grip on the product so that you can hold it more firmly to get your reading on the distance!
Editors Opinion
With an incredible ranking on Amazon and very positive reviews, this is one of those rangefinders that should be at the top of your list.
Check it out and see for yourself why this is one of the best golf rangefinders in the industry!
Callaway has entered the very competitive rangefinder market with its PRO 300 laser rangefinder. Although their first attempt, it is a very good product.
Golfers with bigger hands will appreciate the 300 Pro ease of use and easier to control. Golfers with smaller hands may find it a bit more uncomfortable to hold and aim.
The PRO 300 is accurate to 1 Yard as with many of its competitors. However, it has an innovative P.A.T. (Pin Acquisition Technology) to increase accuracy and locking the pin up to 300 yards away.
It has a sleek yet robust design that fits nicely in the hand.
The Callaway 300 Pro Golf Laser Rangefinder is definitely in the upper bracket for measuring value for money. The various additional features in true Callaway style is aimed at improving your skillset and overall enjoyment of the game.
It has a very clear LCD but it is not the best rangefinder when it comes to focusing in on targets on par 5 and extended par 3's. However, on the mid and shorter irons, you will have no problem with focus and pin seeker technology.
This rangefinder has an extended range of 1000 yards and a unique feature when locking in on a pin you will hear a chirping sound. This audible sound may be distracting for fellow golfers lining up for their shots.
The 300 PRO is priced very competitively and should have many followers looking at placing it in the bag. It is waterproof and fog-proof and very few of its competitors can compete with this.
The 300 PRO offers slope measurement and the basis of calculation on the 300 PRO differs slightly from competitors by applying 2 degrees in the calculation where most others use 3 degrees or more in the calculation.
This has not had any negative effect on the calculations and there are no complaints about the resulting distances provided.
Editors Opinion
Golfers with bigger hands requiring a total package will not be disappointed. You will not go wrong in putting the 300 PRO in your bag.
TecTecTec has developed its product and is fast making inroads into the features and users of the Bushnell product range.
There is still some work to be done to ensure that this ULT-X can compete as a serious contender to the major manufacturers when it comes to distance calculation.
Although the errors are marginal and will not have a major impact on the majority of golfers it is a concern for some. The lock-in time to identify the pin is also longer than most other rangefinders.
The display is clear and the graphics and menu options are clearly visible and easy to read. Distance is displayed in metric (meters) as well as yards. The crosshairs to the center of the display make identifying the pin easy.
The TecTecTec ULT-X Rangefinder uses a 6x magnification with the top end of the XLT-R is  1000 yards which is more than any golfer will ever require. It is accurate up to 1/3 of a yard up to 300 yards which in turn would cater to the vast majority of golfers.
The ULT-X is not at the top of the price range but doesn't come cheap either. Despite its relatively high price and despite the shortcomings identified it has quite a substantial following among golfers.
The ULT-X is waterproof and encased in a protective shell and is capable of supplying slope measurements as well as non-slope measurements. By pulling the faceplate at the front of the rangefinder forward it exposes a yellow strip to indicate that the slope calculation is activated disqualifying it from tournament use. Push the faceplate back and it is all legal again.
Editors Opinion
The TecTecTec ULT-X is reasonable value for money but has tough competitors in the market.
4. Nikon Coolshot 20 GII Golf Laser Rangefinder
Pros:
Measure up to 550 yards
6x amplification
​8-second uninterrupted scanning
​Extremely compact
​Can distinguish flagstick from background
Exceptionally sharp readout
Measure multiple targets at once
Lovely clean design
Swift readings
Cons:
No slope calculating feature
Nikon has been producing exceptional quality optical goods for more than 90 years and their equipment is appropriate for all sorts of outdoor adventures. This extensive record of involvement in engineering excellent optics, supported by modern-day computer design, results in optical systems that accomplish a perfect equilibrium of amplified light transmission and high resolution.
Accuracy
The Nikon Coolshot 20 can lock onto your target from as far out as 550 yards with an accuracy of +/- 1 yard and possesses a feature that can differentiate the flagstick from nearby undergrowth and other objects.
Technology
The Coolshot 20 picks up the flag astonishingly fast for a budget rangefinder.
Battery life
The CR-2 3V Lithium battery will provide power for a substantial number of rounds as it shuts down after roughly 8 seconds to save battery power and the capacity gauge on the display enables you to monitor this.
Ease of use
The thin shape lets you effortlessly slip it into a pocket between uses so you do not have to keep on reaching into your golf bag. The Coolshot 20 is astonishingly straightforward to operate as you only point it at your target and then depress the button to turn the rangefinder on and display the target in the crosshairs.
Verdict
A terrific creation at an inexpensive price providing all the accuracy you may require with a clear and crisp display. It locks in onto multiple targets in under 8 seconds. This should be on any golfers list of rangefinders to investigate.
5. BOBLOV 650-yard Golf Rangefinder
Pros:
Pinsensor technology makes it accurate up to plus/minus one yard
Lightweight at 5.9 ounces
Can be used up to 650 yards
Clear optics with 6X magnification
Comes standard with a carry case
The battery can be charged via a USB cable
Inbuilt battery life is estimated at 30 000 uses
Effortlessness use through an uncomplicated two-button procedure
3 distinct modes
Measurement in imperial and metric units
Waterproof
Value at an inexpensive price
Cons:
Takes 2-3 seconds to compute distances
Non-removable built-in battery
Tough to hold stable and gauge over lengthy distances
Shenzen Lvyouyou Technology Company manufactures and supplies high-quality outdoor equipment such as body cameras, hunting accessories, and golf rangefinders under the trademark of BOBLOV.
Accuracy
The Boblov with a 6X amplification is accurate up to +/-1 yard and can gauge distances up to 600 yards which is plentiful for any golfer considering that the world record drive is less than 500 yards. It can differentiate between hazards and pins for accurate readings to dangers.
Technology
This model comes with Pinsensor technology that delivers feedback via vibration to your hand when it is locked onto the target. If you find this overly distracting, you can turn it off making use of the toggle switch.
A third selection offered, other than the vibration on and off, is the speed option that we cannot fathom how it will be applied on a golf course. This option is more appropriate for moving sports such as horse racing, motorsports or even hunting.
Battery life
The inbuilt rechargeable battery can be charged using a USB cable and will not run out of power during a round of 18 holes.
Versatility
Distance readings are available in metric (meters) as well as imperial (yards) measurements and are effortlessly switched between the different methods.
With the speed mode incorporated, the Boblov is flexible and can be utilized outside the game of golf.
Ease of use
The lightweight rangefinder weighs in at 5.9 ounces making it effortless to work with one hand and simple to fit into your golf bag. Lightweight does not make it feeble and it is robust enough to withstand the odd drop that it will undoubtedly encounter out on the course.
Verdict
The Boblov is a comprehensive package that comes with Pinsensor technology vibration mode that enables golfers to reduce their handicap and improve scores. It is lightweight and precise to within 1 meter, effortless to use and conforms to the rules of golf.
Bozily Tech Co., Ltd is an integrated company with a team of around 50 research and development employees. The products are produced under strict conditions, centered on safety and practicality.
Accuracy
The Bozily VPro-X1 (SP) has a range up to 1000 yards with an accuracy of up to +/- 1 yard. The flag lock only works from 200 yards or closer to the target. Distances are available in yards and meters.
Technology
The Bozily comes with 4 scan modes that are general, golf, vertical/horizontal, and speed. Vertical/horizontal mode is more appropriate for hobbies such as mountain or rock climbing and the speed mode for bird watching, racing, and hunting.
Mode 1 is a general mode intended for distance and angle measurements with no slope detection while mode 2 is the golf mode that shows the slant and slope-adjusted distance to the flag. Switching to mode 1 is turning the slope detection off thus permitting it for competition use.
Battery life
The battery life leaves a lot to be desired, but it has a low battery indicator to warn you that it is running low
Verdict
The quality of the Bozily products is top-notch and demonstrates that there are more manufacturers than just the premier brands that deliver excellent golf gear. It offers nearly all of the incredible elements that the premier brands offer varying from slope computation to numerous scan modes and high amplification.
On the negative side, it lacks a stabilization system which is characteristic of the majority of range finders in its category and the battery does not last long particularly well.
7. GolfBuddy LR7 Laser Rangefinder w/Vibration
Pros:
Legal for tournament play
Vibration feature when it locks onto a pin
4 targeting modes for all your needs on the course
Water resistant
Automatically shuts off for extended battery life
Below market average price
Cons:
Some reviewers claim lack of consistency
Vibration feature not always accurate
GolfBuddy has done an incredible job with providing golfers with an affordable product that can get the job done on the golf course.
Nothing about this rangefinder is alarming to not buy for golfers shopping around, and the ratings and reviews do make it stand out as a perfect option for golfers that want their first rangefinder.
The bells and whistles like the 4 reading options make this GolfBuddy rangefinder an incredible option for players that need readings to a hazard, pins, and other objects on the course.
With a carrying case and lanyard included, you have everything you need here to dominate the golf course and get value from it.
Another huge plus is the long-lasting battery that is going to not die on you on the course in an unreasonable amount of time.
Editors Opinion
For the price, the GolfBuddy LR7 Laser Rangefinder with vibration is an excellent option to look into and see if it is exactly what you are looking for.
For easy access, we have even included a link for you to check it out.
8. Leupold Gx-4ia2 Rangefinder
Pros:
High Accuracy due to use of modern technology
Club Selector option
Highly durable and waterproof
Red OLED display assist in readability
Loaded with features
Cons:
Too many features can lead to information overload
Distracting Blinking Display
Expensive price
Struggle to lock onto a flagstick if there are too many similar objects in the background
The Leupold brand originated in 1907 and in 1947 built its first fog proof scope. From there the company expanded into industrial scopes, rangefinder and other types of sports optics.
The Leupold Gx-4ia2 rangefinder has a fog-resistant system which is beneficial for golfers that have to venture out in all different weather conditions and especially those early morning rounds.
Another great feature available on the Gx-4ia2 is the club selector system. The DNA engine and external weather conditions are combined to provide you with a recommendation for the club you should use. The Gx-4ia2 will always recommend a club when slope adjustment is selected.
The accuracy of the Gx04ia2 is enhanced by the use of Leupold's technology in their Digitally Enhanced Accuracy (DNA) engine and Pinhunter 2 Software. It is quick to lock into a target and to calculate the distance.
With 6X magnification up to 450 yards and accuracy to the pin is up to 1/10 of a yard calculated through the use of their Prism lock technology.
Leupold produces excellent products and there is no concern with the durability of the Gx-4ia. The rangefinder is sturdy and lightweight and many users have been using their Leupold rangefinders for many more than the average lifespan of 2 years for rangefinders.
The Leupold GX-4i comes with one CR-2 Lithium battery and the battery life is quite acceptable and unlikely to falter during a round of golf. You will find your remaining battery life in the viewfinder to warn you if the battery life is running low.
The Red OED with its slight green-tinted display is not easy to read when attempting to take distance measurements against either dark or bright backgrounds. It is difficult to lock onto the flagstick and distances blink rapidly as they are updated.
The Gx-4ia is waterproof and could be used during inclement rounds with no problem, and is capable of providing distances taking the slope into consideration.
Editors Opinion
The Leupold Gx-4ia is a reliable product without being at the top of the price range. There are some concerns with the display and the blinking distances as well as locking in on a target.
9. Tacklife MLR01 900 Yard Laser Rangefinder
Pros:
Measures up to a remarkable 900 yards
Sturdy and waterproof case
Effortless change between modes
Fast USB charging
Handy wrist strap
Durable carry case
Cons:
Not especially effective in picking up flagsticks
Not entirely impermeable
Some foud the instructions in the manual to be  unclear
Tacklife was established in 2015 with a group of 10 people full of enthusiasm aiming to produce valuable goods to encourage customers to live a more convenient and assured way of life.
Accuracy
The long-range laser rangefinder can assess up to 900 yards. It measures in meters and yards supplying measurements with an exactness of +/-1 yard. The 7X amplification is better than nearly all rival rangefinders in the same category.
Technology
There are four modes including range, speed, scanning and pin mode which can effortlessly be swapped between by the push of a button.
Battery life
The MLR01 900 uses an extremely effective and handy 750mah lithium battery that can be rejuvenated via USB that offers a battery that will last an adequate period for a complete round of golf.
Ease of use
The supreme advantage that you obtain from the MLR01 900 is its precision as it assures accuracy within +/-1 yard. The presentation of results appears considerably quicker than nearly all rivals in the classification. Results can be exhibited in meters or yards dependent on your preference.
Verdict
The MLR01 900 comes in a lightweight and solid shape and accuracy and clear displays. Its versatility makes it an excellent choice as it can be used for a diversity of other purposes such as hunting. Besides one of the adverse findings that it encounters struggles to pick up the flagstick, this is a rangefinder that a lot of golfers will not regret buying.
Final Thoughts
Rangefinders have become part and parcel of the golf game and have become a piece of the equipment that every golfer can benefit from. Accurate distance measurement plays a big role in club selection and bringing the handicap down.
There is a multitude of options available and your requirements will play a big role in making your ultimate selection. The type, of course, you play on a regular basis will also help determine whether a slope calculation or non-slop option is more applicable.
Summary of Ratings and Reviews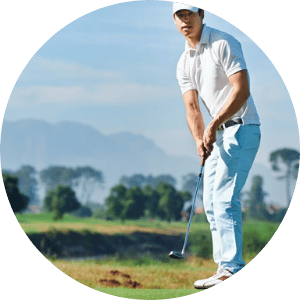 Nick Lomas is the founder of GolfSpan, an avid golfer, not quite a pro but has over 15-years of experience playing and coaching golfers from all over the world. His mission is to bring the golfing community a better experience then it comes to choosing the right golf gear, and finding the right set up for your game.