Sunburn, the most sadistic punishment a golfer can endure after a round of 18. Besides the immediate pain, sunburn expedites skin cancer. My recommendation is to look for a wide brim golf hat that gives your entire face and neck protection.
In this post, we take a look at the best wide brim golf hats to keep you burn-free.
At a glance: Our Top 6 Picks for Best Wide Brim Golf Hats
Factors To Consider Before Purchasing A Wide Brim Golf Hat
Style
There are a variety of wide-brim hat styles on the market, including hard, semi-hard, and soft. From my experience, soft brim hats fit better and cover your ears. But, they don't offer the circumference of protection that a hard or semi-hard brim would.
A semi or hard brim hat is a struggle to wear in the wind. The extra weight of the brim makes it susceptible to lifting off your head.
Moisture Wicking
The last thing you want is your forehead to be drenched in sweat. It is uncomfortable, off-putting, and one way to ruin a round of golf.
I always recommend looking for a hat fitted with a moisture-wicking sweatband. The band pushes moisture away from the interior to the exterior, keeping you cool and dry throughout your round.
The Best Wide Brim Golf Hats
Quick Overview: Our Top Picks for The Best Wide Brim Golf Hats
1. Titleist Men's Tour Aussie Bone/Black
Pros
Provides amplified sun protection (UPF 50)
Fitted with a cooling sweatband
Extracts sweat to the outer surface of the fabric
Increased breathability
Lightweight
Cons
Narrow brim
Not ideal for wearing in windy conditions
Size: One Size Fits All
Colors: Grey, White and Black
The Titleist Tour Aussie Mesh is a lightweight wide brim hat that protects your face and neck while keeping you cool. The hat is crafted from mesh and contains a moisture wicking sweatband that extracts sweat to the exterior of your hat.
The brim of the hat is a semi-hard design and has a UPF of 50. That means it prevents one in fifty rays from catching your skin. As far as fitted golf hats go, the Titleist Tour Aussie Mesh is well worth a look.
2. Waddaplaya Bucket Hats
Pros
Seamless fit around your head and ears
The soft brim enables you to fold it and store it in your bag
Holds well in windy conditions
The dry-fit fabric keeps your head cool in high temperatures
Reversible hat, wear your preferred side during the round
Cons
The funky designs may not be to the taste of the traditionalists
Sizes: M-L
Colors: Hummingbirdie, Birdies of Paradise, Köchenbolz, Surf n Turf, Flowa Playa, Tropic Thunder DayDream, Secret Garden, Bright Side of the Road
Most of this list has included the classic wide-brim hats. Therefore we needed to add something suitable for the Ian Poulters of the world. Waddaplaya bucket hats look trendy and keep the sun off of your skin.
These hats are designed by a South African living in Thailand. If anyone knows about harsh sun rays, it would be Matt from Waddaplaya. He has crafted these hats using DryFit fabric, meant to keep you cool in temperatures over 100 degrees Fahrenheit.
Finally, the hats are reversible, giving you two different designs in one hat. If the one is not doing it for you on the day, turn it inside out and keep going.
3. Stetson Gambler Seagrass Outdoorsman Hat
Pros
Thick brim measuring 3 1/4 inches
Adjustable band for the perfect fit
Ventilated weaves allow for airflow to cool your head down
UPF 50+ sun protection
Cons
You cannot fold the hat and store it in your golf bag
Sizes: S-M, L-XL
Colors: Natural, Seagrass
If ever you wanted to look like a young Clint Eastwood, now is your chance. The Stetson Outdoorsman is a true cowboy hat, built for long hard days in the sun.
The hat is crafted using straw, which blocks out the sun better than any other material. The weave construction provides slight gaps in the hat to allow air to breeze in. These gaps are not large enough for the sun's rays to pierce through.
4. Callaway Golf 2021 Bucket Hat
Pros
Sweatband has moisture-wicking qualities
The closure is adjustable for the perfect fit
Offers UPF 50 sun protection
You can use the bucket hat for multiple outdoor activities
Cons
The brim is thin
You can only dry clean this hat
Sizes: S-XL
Colors: Cream, Tan, Black
Callaway Golf Bucket hats adjust easily to offer you the perfect fitting hat. It is fitted with a sweatband that wicks away moisture from your forehead to the hat's exterior, keeping you dry throughout your round.
Callaway offers this hat in two sizes, small to medium and large to extra large. However, the adjustable closure enables larger heads to fit seamlessly into a bucket hat. If your head doesn't make it into the bucket hat, we have plenty more wide brim hats to show in this post.
5. Sunday Afternoons Havana Hat
Pros
Interior sweatband made from wicking fabric
Breathable qualities
Decent size brim measuring 2 1/4 inches
Provides UPF 50 sun protection
Cons
Slightly heavy to keep on your head for 18 holes
Material scratches your skin
The hat does not handle rain well.
Sizes: S-XL
Colors: Cream, Tan, Black
If you want a hat with a thick brim that offers breathable qualities, the Sunday Afternoons Havana Hat is worth a look. Keep in mind that the paper material of this hat will not hold in the rain. Luckily it is compact and easy to store in your bag.
6. Coolibar UPF 50+ Holden Packable Travel Fedora
Pros
It prevents 98% of UV rays from hitting your skin
Internal sweatband that wicks moisture away
UPF 50 + sun protection
The eyelets on the side of the hat's crown provide for enhanced airflow.
Wrinkle-resistant
Cons
Club shaft hits the brim on my follow-through because of the thickness of the brim.
Sizes: M-2XL
Colors: Fog, Khakhi
The Coolibar Fedora provides maximum sun protection to your neck, face, and ears while keeping you cool. It looks good and can be worn on the golf course or while sailing and fishing.
Final Thoughts
After looking at the best wide brim golf hats, which option is best for you? Do you play in windy conditions and need a hat that won't fly away? Is your head unable to fit into most hats?
Either way, I recommend a wide brim hat, whether it be a soft, hard, or bucket in design. It depends on your head and your preference. One thing is for sure, a wide brim hat will keep your neck, face, and ears more protected than a visor or cap.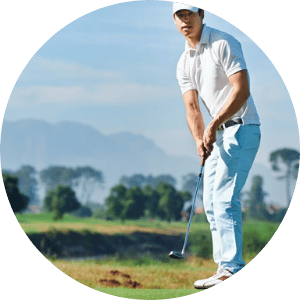 Nick Lomas is the founder of GolfSpan, an avid golfer, not quite a pro but has over 15-years of experience playing and coaching golfers from all over the world. His mission is to bring the golfing community a better experience then it comes to choosing the right golf gear, and finding the right set up for your game.