A mid-handicap is the most common score range for golfers. Are you a mid-handicapper? Or are you trying to become one?
So, what is a mid-handicap? A mid-handicap is a score of around 81 to 90 for 18 holes. This is an average score, and mid-handicappers have a handicap index between 9 and 18, so this means they shoot 9 to 18 over par for 18 holes. 
But there are actually 3 mid-handicapper categories, and you'll want to understand where you sit, so you can know how to improve. You could miss out on some low-hanging fruit opportunities to take a few strokes off your game.
Read on to learn more about the scores a mid-handicapper will shoot, the equipment they use, and provide tips on how you can become one.
What Is A Mid Handicap? 
The average handicap in golf of all US amateur males is 14.2. And according to the USGA handicapping statistics, more mid-handicapped male golfers exist than in any other segment—45% of handicapped players are here.
Mid-handicappers who play on a par 72 course will tend to shoot a mid-handicap score from the 80s to low 90s, meaning they play off anything from a 9 to an 18.
In other words, this isn't in the score of the scratch golfers.
Read next: Would a new driver help you lower your handicap? These are the best drivers for mid-handicappers.
Mid Handicap Categories
When diving deeper into the question, what is a mid handicap in golf, you have three levels to the golf mid-handicap range. Let's cover them.
Lower Mid Handicap
Lower mid handicaps play off a 10 to 12, and while they tend to shoot low 80s. But they will break into the 70s on a good day. If you fit into this category, it is worth reading a post I wrote about low handicaps. Or if you aspire to this category, it guides you on how to break into the single digits.
Middle Mid-Handicap
Players in this segment regularly reach the mid to high 80s handicap score. This is your community if you play off of a 13 to 16.
Higher Mid-Handicap
These golfers graduated from the beginner ranks and are starting to gain more consistency in their game. This is your place if you play off of a 16 to 18. Higher mid-handicap golfers shoot in the high 80s to mid-90s. The USGA considers anything over 95 a high handicap.
What Equipment Does a Mid-Handicapper Play With?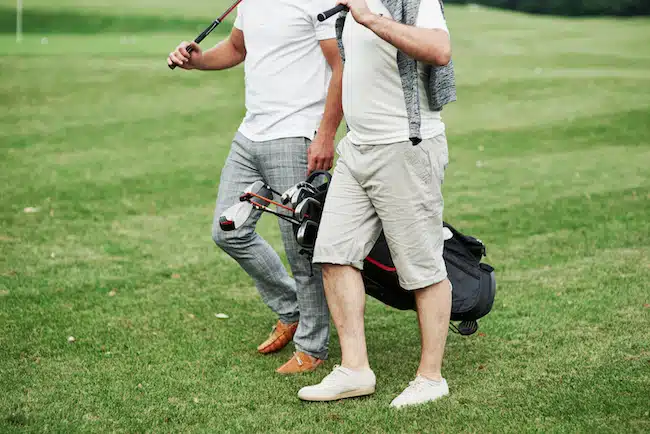 Now that we know what a mid handicapper is in golf let's look at the gear you can use. As we lower our handicaps, we become more confident in our striking ability. When we gain confidence, we want to try new shots and increase our distance and spin.
However, as a mid handicap, we are imperfect and still have the odd mishit.
Therefore, players in this handicap category should use equipment that offers performance and forgiveness. 
Drivers
If you are a mid handicapper, I recommend using a driver with 10.5 degrees or more of loft. Trying to keep the ball on the fairway is hard enough as if you don't need to be worrying about the launch and carry distance.
Irons
As a mid-handicap player, playing with blades at this point is not recommended. You should be using equipment that offers forgiveness and consistent distance.
Lower mid handicappers may feel ready to add players' distance golf irons to the bag based on their look, feel, and all-around performance. If this is the route you want, make sure you get fitted and choose the irons offering the topmost forgiveness.
I recommend that mid-handicappers stick to game improvement irons and cavity back irons. Having an enhanced sweet spot on the clubface delivers consistent distance even on mishits.
Wedges
Migher mid-handicappers may prefer a wedge with an optimized center of gravity to help you get under the ball on shots from up to 50 yards out.
Putters
Golfers have a variety of styles for putters to choose from. As a mid handicapper, I would stay clear of blade putters, as they were designed for superior players who can drain a putt on any green.
The mid to low handicapper may be attracted to peripheral weighted putters. These were built for the better putter, who still needs an element of forgiveness on the green.
Higher mid-handicappers should keep a mallet putter in the bag. I understand that they are chunky in appearance, but the forgiving design will aid your efforts to reduce dreaded three-putts.
Perhaps you would find it helpful to peruse our comprehensive guide on the best golf putters for individuals with a mid-level handicap.
Balls
At this stage of your golfing career, stick with forgiving balls. While balls like the Titleist Pro V1 and Taylormade TP5x are incredible to strike. The enhanced spin rpm of the ball can result in nasty hooks and slices. Those shots often result in lost balls, costing $4 a ball.
If you are looking for forgiveness off the tee and something that will save you some loot, I recommend balls with ionomer covers.
Best Golf Clubs for Mid Handicappers
Your drives could improve up to 50 yards from the club, and it also does a great deal for accuracy. It has a fast ball speed at about 4 mph faster than the top Titleist drivers, which helps with the ball spin, and you can get good control. When you go to take your swings, you will see it fly about as straight as you would want it to fly.
Pros
Great ball speed
Gets good distance
Flies straight
Cons
The Cobra Golf LTDx Max Men's Driver is good, but it remains forgiving enough for the mid-handicap golfers. You can hit this one consistently with a lower spin to get better forgiveness. Picking it up and striking the ball becomes an experience since the Cobra LTDx has a solid sound and feel. This ranks as one of the best drivers out there. After you swing the club, you will see a noticeable difference in the distance you can get.
Pros
Good forgiveness
Gives you extra distance
Has a great sound to it
Cons
Not only do these clubs look great, but they're easy to swing, and they have a crisp, clean striking point. You will see good distance and good accuracy. Swing the P790, you get a higher ball trajectory, and it comes with decent forgiveness to hit it well. You get good distance, and at the same time, you will get it more consistently.
Pros
Great forgiveness
Good distance on your shots
Easy to swing and good accuracy
Cons
More customization options when bought directly from TaylorMade
How Do Mid-Handicaps Perform?
Mid handicappers tend to drop strokes in and around the green. Their consistency has improved with their wood and iron shots, but they are let down with the odd duffed chip, toothed bunker shot, or three-putt.
This is how mid-handicappers perform from tee to green. If you'd like to learn more about golf handicaps in general, check out this guide.
Fairways In Regulation (F.I.R)
Mid-handicappers have a positive average when it comes to fairways in regulation. However, in challenging conditions, the ball can fly in all directions. To lower your handicap, you need to learn how to scramble, and mid-handicap players are skilled in this art.
Greens In Regulation (G.I.R)
Accuracy is a challenge for mid-handicap golfers, often resulting in wayward approach shots. This forces players to scramble for par rather than lining up a simple birdie putt.
Accuracy and more birdie chances are the best way for mid handicappers to lower their scores and knock on the door of the lower handicap category.
Distance Control
Distance control is still a work in progress for mid-handicappers. They are not yet confident that each club will go the same distance on every occasion.
This results in challenging birdie putts when you hit a green in regulation, leaving you at risk of under or overcooking your strike—giving you a tester for par. This is how three-putts happen.
If you are serious about improving your distance control, invest in a launch monitor that gives you insight into your distance with each club. That will improve your muscle memory and allow you to hit the same length every time.
Up and Downs
Mid handicaps do not get up and down as much as they should, dropping a few strokes every round. This is where you should be spending more of your time practicing.
Putts Per Round
This is another area where mid-handicaps drop unnecessary shots. The adrenaline of sticking your approach shot close drives the average mid handicapper to knock their birdie putt to the hole aggressively. This leaves you with a tricky par putt and can quickly turn into a bogey.
In the words of Bobby Locke, "you drive for show but putt for dough." That is why you need to spend more time on your putting game than anything else.
Tips on How to Move from a Mid to Low Handicapper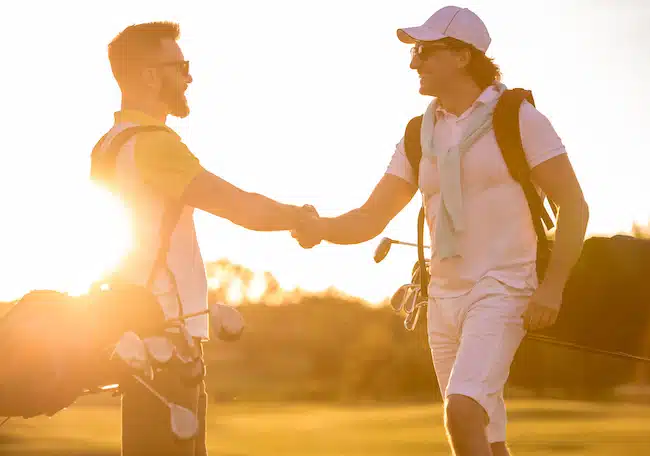 Tip #1: Take Fewer Penalty Shots
You must learn how to take the ball in play if you'd like to get a good golf handicap. Now, every golfer will take a bad shot from time to time, but you should understand when you made a mistake and adjust to improve your game. Doing this will take practice.
Tip #2: Practice Curving the Golf Ball
You must learn how to slice and hook the ball whenever the shot calls for it. You will see yourself taking better shots in this way. One of the best ways to make curve shots is to turn your hands in the same direction as your thumb and adjust the grip.
Tip #3: Improve Your Short Game
You want to take the time to practice your short game since most golf strokes happen within 100 yards. Those who don't practice could be losing out on a better golf score. You might do this by signing up to a 9-hole game instead of 18 holes.
Tip #4: Tune up Your Golf Gear
Evaluate your current golf set to see if it meets your needs. In some cases, buying a new set of golf clubs may make sense if they hold you back. Other times, you can replace bad grips on your golf clubs or clean the grooves from your clubs to make better shots.
Tip #5: Find the Golf Hitting Zone
You can make a big improvement to your golf game when you find your hitting zone. When you can hit with a steady swing in the hitting zone, you will see your score move from the mid-handicap to the low handicap range.
Final Thoughts
In answer to our question of, What is a mid handicap? To round up our comprehensive insight into the realm of mid-handicappers, it's worth noting that these players represent a significant portion of the golfing world. Their scores hover between the 80s and low 90s, and they sport a handicap index between 10 and 18. If this describes you, congratulations! You're a part of the golfing majority.
But as with all things golf, there's always room for improvement. The equipment choices can make a tangible difference in your game. Your club selection is crucial, from the advanced Taylormade Stealth Plus+ Driver to the reliable TaylorMade Golf P790 Irons. Remember, it's about using the best clubs and the right ones tailored to your skill level and game style.
The tips shared in the article should guide any mid-handicapper toward shaving off those few extra strokes. Whether it's mastering the art of curving the ball, focusing intently on the short game, or ensuring that your equipment is in tip-top shape, each aspect has its role in inching you closer to that elusive low handicap.
In essence, understanding what is a mid-handicap is more than just about scores and handicap ranges. It's about recognizing where you are in your golf journey and using the right tools and strategies to move forward. Whether you're striving to maintain your mid-handicap status or push through to the next level, the greens are yours for the taking. Keep swinging, keep learning, and most importantly, keep enjoying the game. ⛳🏌️‍♂️
Read more: If mid handicapper is the handicap category you fit into, the next step is to focus on breaking 80 consistently.