Plus, golf is a complex game requiring every crumb of assistance you can get. Even the best of the best have days where they cannot control their ball flight.
Did you know Tiger Woods shot a few rounds in the 80s as a professional golfer? Many golfers aspire to reach the milestone of breaking 90 and then 80 but struggle even though they spend hours on the driving range trying to sort out their swing and build confidence.
Acquiring a new set of clubs to replace the worn-out ones is not as easy as you may think. There are too many styles and set-ups to just walk into the pro shop and walk out with a set of clubs that suits your exact requirements. But don't worry. We have you covered.
Read on, as this article will provide you with sufficient information to remove the stress from the selection process and provide some tips on finding the most forgiving irons within your budget.
The Most Forgiving Golf Irons Are:
at a glance: Our Top 5 Picks for Most Forgiving Irons
What Qualifies As Forgiving Golf Clubs?
Although there are many definitions for game improvement irons, we will look at the sets of irons that can most help your game.
Irons that are cavity-backed and have an offset hosel to fight the slice are very common in the game improvement range. However, not all sets have the same characteristics. Several manufacturers have removed the 3-iron from their sets as it is a difficult club to master.
In addition to removing the 3-iron, you could easily remove the 4-iron and replace these two clubs with hybrids. They are easier to hit and far more forgiving than the standard 3-iron and 4-iron.
Are the Best Forgiving Irons Forged or Cast Irons?
You may have seen your favorite golfer strike the ball beautifully and work it in all directions. Then you find that they are playing with forged irons, and that's what you want! You arrive at the pro shop and find that the forged clubs are more expensive than the cast irons, and you get second thoughts.
Forged irons have a tremendous feeling when the ball strikes the face and produces excellent shots when struck on the sweet spot. Cast irons deliver a different feeling but can still produce excellent shots.
Let's look at the process required for both options and see what would suit you best.
Forged irons are manufactured from a single piece of pure metal.
Cast irons use a cheaper process of blending iron and other metals, then pouring them into a mold to cool down.
It's easy to see why the forged clubs are more expensive when you look at how they're made, but for most golfers, cast iron clubs do more than a fine job for your game.
Why Doesn't Every Golfer Play Forgiving Golf Irons?
The reason that the finest players employ muscle-back golf irons is to do with their feel, workability, and appearance. These irons carry limited offset and a reduced sweet spot requiring precise contact on every shot. One of many challenges is the off-center strikes that lead to a loss of distance and accuracy, which we could all do without.
LIV Golf player, Kevin Na, shared this view and sparked a debate in 2020 when he suggested blades are tough to play. He continued to champion the use of forgiving cavity back irons openly.
The downside of forgiving golf irons is that they often carry an offset profile with a robust moment of inertia (MOI) to prompt straighter shots. While this is great for accuracy, it restricts the ability to induce a draw or fade, eliminating an element of control that superior players demand.
Steel or Graphite Shaft?
Steel shafts are the most commonly used across all iron sets. Steel is strong and provides the flexibility to withstand even the highest swing speed creating more consistency. On the budget side, it is cheaper to produce.
Graphite shafts are more flexible and lightweight by nature. You will, in all probability, pay a much higher price for graphite. Yet, they can provide a little more distance, especially for those with a slow swing.
Quick Overview: Our Top Picks for Most Forgiving Irons
The Most Forgiving Irons Are:
1. Cleveland Launcher Turbo HB Irons – Best All Round
Pros
Confidence-inspiring look and feel
Magnificent launch angle
Forgiving and accurate
Magnificent looks with chrome finished face and black badge.
Well priced
Cons
Not ideal for some low-handicap golfers
Some players might not like the full hybrid concept
The Cleveland Launcher HB Irons highlight that the hybrid design is a good fit for forgiveness and kept the concept throughout the set. As the iron number increases and the loft increases, the head becomes slightly smaller, and the face takes on the appearance of an iron.
With the forgiveness promoted by the bulk and feel of the wood-like head, there is no sacrifice in distance.
Clubhead
The face of the clubs is manufactured from high-strength steel that produces excellent ball speed, and the Cleveland HB (HiBore) Crown creates a high launch without sacrificing distance.
Shaft
You can choose either the Dynamic Gold 98 Steel Shaft or the Miyazaki C.Kua Graphite Shaft; both work extremely well, depending on your swing speed.
Sound and Feel
You can expect a slightly hollow sound, but this will in no way distract your attention and detract from the awesome feeling provided through the clubface.
There is no complaint about the looks of the HB Launcher set of irons. The chrome finish clubface makes you feel comfortable hitting an iron, yet the black of the back will give you the confidence that you have the most forgiving club on the market in your hands.
Technology
The hollow construction created through hybrid technology combined with the increased flex in the thin face promotes high ball speed and, ultimately, the extra yards that every golfer yearns for. The hollow head not only generates extra distance but with the lower center of gravity, it delivers a better launch angle and more forgiveness.
Another benefit of using the hollow head is that the weight saved was moved to the perimeter, creating extra stability and a smaller dispersion in your shots.
Performance
You will benefit from the hybrid construction without sacrificing either distance or accuracy. This set will provide all the necessary forgiveness, even for complete newbies. You can select any club in your bag, even your 3-iron or 4-iron, and be confident that you will be able to play the required shot.
Verdict
Forgiveness, accuracy, and the looks to go with it make this a must-try set of clubs and should be high on your list of potentials to try out. It will be highly unlikely that you will get buyer's remorse after playing your first round with the Cleveland Launcher HB Irons. they are simply some of the most forgiving irons of all time.
For more highly forgiving golf clubs, bookmark our guide to the best super game improvement irons in 2023.
2. Wilson D9 Irons – Budget Pick
Pros
Affordable irons
Excellent forgiveness
Promotes a consistently high launch
Forgiving
Approach shots bite rapidly
Cons
The long irons carry strong lofts that slow swingers may find challenging to launch.
The shorter irons produce a low spin rate.
The Wilson D9 golf irons offer high handicappers an affordable set that includes a 5-iron through to a gap wedge. Besides their attractive price point, I found these forgiving irons produced consistently high ball flight, exceptional turf interaction, and a consistent strike.
While the broader sole design may deter mid and low-handicappers, beginners will welcome the perimeter weighting of each club head.
Clubhead
The D9 set carries wider soles, an undercut cavity design, and an undercut cavity design that resembles super game improvement irons.
Shaft
Wilson only offers the D9 irons in one stock shaft design, but you have three different flexes. The KBS Max Ultralite is the shaft of choice and is available in a uniflex, regular, and stiff construction.
Golfers with moderate swing speeds should perform best with the regular flex, while slower swingers should consider the uniflex option. Finally, players with faster club head speed may prefer the stiff flex design.
Sound and Feel
The D9 irons do not offer the crispest sound I have ever heard, but it is amplified, and you will know when you have struck it sweetly. In addition, I found the feel was pleasant for game improvement irons as it offered sparse feedback with the shorter irons and wedges.
However, the urethane padding positioned between the clubface and cavity restricted shocks on off-center strikes, which left my hands shielded and comfortable on all shorts.
Technology
The Urethane-filled Power holes are the most advanced technology in these irons, boosting the flexibility of the clubface for consistent golf ball speed. I also found the weight was well-distributed around the perimeter for an expanded sweet spot for increased forgiveness.
Finally, Wilson engineers positioned weight low and deep to generate high ball flight on all shots.
Performance
These super game improvement irons produced a combination of forgiveness, consistency, distance, and accuracy. A flexible clubface generated consistent ball velocity on all strikes, while the low CG encouraged a high launch.
Lastly, the perimeter weighting and wide soles improved your MOI to keep your clubface square at impact for straighter results.
Verdict
Overall, I find the Wilson D9 irons provide an ideal set for high handicappers and beginners seeking an affordable entry-level option. Combined with its affordable price is a consistent launch, forgiveness, distance, and accuracy.
Pros
Exceptional forgiveness
Promotes greater accuracy
Prompts rapid ball pace
Crisp turf interaction
Consistent mid to high launch
Cons
It carries a premium price tag
Limited stock shaft options
The Rogue ST Max OS Lite irons are the lightest, fastest irons in the newly released succession. I found the lightweight construction enabled me to generate accelerated club head speed on the downswing. In addition, these premium irons carried an enlarged sweet spot and prompted a high-flying golf ball.
I also find these clubs lower the impact of a right miss for right-handers to produce straighter golf shots.
Clubhead
I appreciate the forgiveness provided by the offset profile and wide soles, but they do hamper workability. In addition, the cavity back game improvement irons are equipped with 46 grams of tungsten, which lowers the CG, elevates stability, and widens the sweet spot.
Callaway engineers went overboard with A.I. during the design process, and I am glad they did. These high-end forgiving irons increase your coefficient of restitution (COR) and accelerate ball speed on strikes.
Shaft
Callaway offers the Rogue ST Max in two shaft options, which best suit slow and moderate swing speeds. Both shafts are manufactured by True Temper but work for different golfers.
In my experience, the Project X Cypher Black 50 Hb/Ir Graphite light flex shaft excels for the slowest golf swing speeds. Conversely, the Project X Cypher Black 60 Hb/Ir Graphite regular shaft works for moderate club head speeds.
Sound and Feel
The Callaway Rogue Max OS Lite provided a pure feel on all shots due to the patented-urethane-microspheres. I noticed the damped vibrations on off-center strikes and amplified the sound off the clubface.
Technology
These high-end irons are packed with game-improvement technology that may also impress Mark Zuckerberg. An A. I Optimized Face generates a high COR for a consistent spin, launch, and landing angle.
Next, a high-strength 450 A.I. designed Flash Face Cup increases the flex to maintain ball pace on all strikes. As a result, you produce dependable launch, flight, and carry distance. Finally, 46 grams of tungsten is positioned in the sole to enhance MOI for a broader sweet spot and stable clubhead.
Performance
Although I cannot fault the superior forgiveness of these irons, they are not the longest and do not fly as high as some irons on the list. However, they produce homogenous results to help you get airborne, stay straighter and land softer.
High handicappers will appreciate the increased offset of these irons, which helps you lower the impact of slices. I also noticed it helps slow swing speeds produce accelerated clubhead velocity, and the wider sole delivers clean turf interaction from any lie.
Verdict
The Callaway Rogue ST Max OS Lite set proved a consistent mid-to-high launch and increased leniency. A premium price tag will not suit every golfer. However, high-handicap players that struggle with accuracy should take them for a spin.
Find more forgiving Callaway irons in our robust guide to their most lenient golf clubs.
4. Cobra LTDX Iron Set – The Longest
Pros
They produce optimal ball speed on all strikes
High MOI design
Delivers a lower controlled flight
Forgiving
Delivers maximum distance
Cons
The strong lofted long irons may prove difficult for slow swingers to launch
Limited shaft options for slow swing speeds
Cobra released the LTDX irons earlier in 2023 and garnered my attention for their speed, stability, and overall distance. They offer superior forgiveness, but their lower ball flight is better geared toward mid-handicappers.
My tests revealed that its lightning-fast clubface and straighter flight generated the longest distance of the best-forgiving golf irons in 2023.
Shafts
The LTDX irons are available in two stock shaft choices, both manufactured by KBS. The KBS Tour 90 is constructed in a regular or stiff shaft option, best suited to moderate and higher swing speeds.
Conversely, the KBS PGI is offered in a stiff, regular and senior flex, with the latter ideal for slower swing speed and high handicappers.
Clubhead
Cobra engineers opted for the classic game improvement cavity back design with perimeter weighting to expand the sweet spot. However, it does present a reduced profile compared to its peers, which I enjoyed at address.
Technology
PWR-COR technology and a PWRshell Face Design combine forces to accelerate ball pace across an enlarged area. A steel core bar with polymer injected casing activates the PWR-COR technology and amplifies the face flex.
I also found the 8-gram toe weight bolstered the stability of the clubface at contact to keep it square.
Performance
I found the LTDX irons produced a solid combination of explosive ball velocity, straighter flight, and lower trajectory. The outcome was greater distance than its rivals and adequate accuracy to keep me in play.
Verdict
There is little doubt that the Cobra LTDX irons are the longest-forgiving irons 2023 has to offer. However, the lower ball flight and strong lofted long irons are best suited to mid-handicappers with moderate swing speeds.
5. TaylorMade M4 Irons
Pros
Consistent and accurate.
Loaded with technologies.
Super feel with a crunchy sound.
Can't ask for more forgiveness
Cons
The gap between irons may be too big.
Anytime golf equipment is discussed you will hear the name TaylorMade come up. This is a result of the company producing so many winners in irons, drivers, hybrids, and other clubs.
In our opinion, the M4 remains one of the most forgiving irons on the market.
Shafts
There are two options to select from when choosing the M4: the KBS Max B5 Steel Shafts and the Fujikura Atmos Red Graphite Shafts. Both are extremely flexible and supportive of the majority of swing speeds. A selection of regular and stiff Flex cater to a vast range of golfers.
The comfortable TM Dual Feel Grip rounds off the desirable feel of the M4.
Clubhead:
The powerful RIBCOR frame transfers maximum energy in your shots, leading to higher launch and extra forgiveness. Moreover, the TaylorMade engineers also optimize the speed pocket technology and face slots to produce the ultimate results.
You will always achieve much better ball speed and improved forgiveness with the high MOI design and a perfect mass distribution system.
There is not a lot you can say about the performance of the M4 other than "WOW"! It excels in every aspect, providing you with distance, accuracy, and forgiveness.
Verdict
It is a difficult club for other manufacturers to compete against and sets the standard in forgiveness and excellence. This is a club set that should move you up the ranks very quickly and you may not want to let go of it.
6. TaylorMade Stealth Irons – Best Feel
Pros
Easy launching irons
They promote an explosive ball pace
Eradicate vibrations on off-center hits
Optimal forgiveness
Produces a soft landing on approach.
Cons
Moderately expensive
Limited shaft options for slower swing speeds
The Stealth irons are the latest release from TaylorMade to complement their carbon wood driver series with the same name. The irons do not sport any carbon layers, but they still produce a soft feel on all shots and a flexible clubface for rampant ball zip.
In addition to their feel and ball speed, I felt the Stealth irons attained a solid apex prompting a rapid descent angle.
Shaft
You will find only two shaft options for the Stealth irons, KBS Max 85 MT and the Fujikura Ventus Red. The KBS shaft is only offered in a stiff flex, which I recommend for faster swingers.
Contrarily, the Fujikura Ventus Red is constructed in stiff, regular, and senior flex options for fast, moderate, and slow swing speeds.
Clubhead
TaylorMade employed their successful cap-back design on these irons, which amplifies flexibility for optimal pace on all strikes. I found that the clubface sported an enhanced sweet spot covering the most common impact points for the average golfer.
Finally, the engineers removed weight from the toe and repositioned it into the club's sole to produce higher launching shots.
Look and feel
TaylorMade aimed to pull off a forgiving forged iron that delivers the look and feel of any player's golf irons and the leniency of game improvement clubs.
I enjoyed a soft feel on most shots, which the mid and low handicappers would appreciate. Furthermore, the Echo Damping System drowns vibrations on off-center hits to shield your palms.
Technology
The core technology found in Stealth irons ranges from its Thru-Slot Speed Pocket and Echo Damping System to its Cap Back design and explosive clubface. I felt the Cap Back Design was integral in prompting a consistently high launch for optimal carry distance and a soft landing.
Next, the Thru-Slot Speed Pocket helped enhance the flexibility of the clubface for optimal velocity on all strikes. Finally, the Echo Damping System ensures a soft touch on all swings.
Performance
My tests with the Stealth irons highlighted a high-launching golf club that descended aggressively and landed rapidly. I felt it was easier to hold the green on approach shots, and I delivered undeviating ball speed for superior carry distance.
Besides their high launch and exceptional distance, the Echo Damping System protected my hands on off-center strikes.
Verdict
The TaylorMade Stealth irons are a moderately priced option for mid and high-handicappers seeking a high launch, soft landing, and maximum carry distance. In my experience, they are easy to swing, forgiving, and long to enhance your approach shots on the golf course.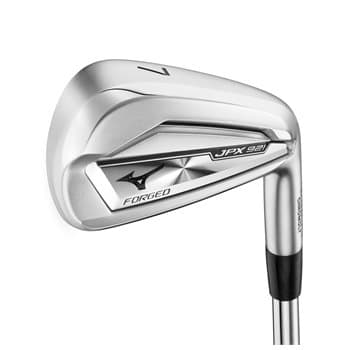 Pros
Thinnest cup face ever by Mizuno
Stratospheric high ball flight
Holding the greens will not be a concern
Consistency
Cons
High-handicap golfers could struggle
This truly forgiving iron generates speed and distance without sacrificing accuracy.
Shaft
Standard shafts on the JPX921 are the lightweight True Temper Project X LZ Shaft.
Clubhead
This is one of the few forgiving irons in the forged iron category. The Power Frame surrounding the head's perimeter provides rigidity where it requires the most enhancing forgiveness. The face is produced from Chromoly 4140M, only recently introduced into golf club manufacturing. This enabled the Mizuno engineers to create an ultra-thin face that lets the ball trampoline off the face and provide that extra distance.
Look and feel
Reduced vibrations from the urethane microspheres make this a club that generates a calming effect knowing that you will not experience a shock. This also helps in creating a smooth sound that will not send you to the nearest audiologist.
The clubhead is finished in Chrome with a Cavity Back Design. The hosel has an extra bend that enables you to perfectly angle your shots.
Technology
The 360-face cup and VFT (Variable Face Thickness) technologies aim to increase the ball speed.
The Chromoly 4140M construction is 15 percent stronger than the previously used and 17-4 pH stainless steel. Maximum distance is achieved through the super-thin face combined with the CORTECH multiple thickness design.
Performance
Should your shot end up short of the green it could only result from a mishit. This club will not drop a reasonably well-struck shot short of the green.
Accuracy, length, and consistency are what you can expect from the JPX 900.
Our Verdict
You will achieve great ball trajectory, forgiveness, and accuracy. This might be on the bubble as a forgiving iron but would stand you in good stead as your game improves.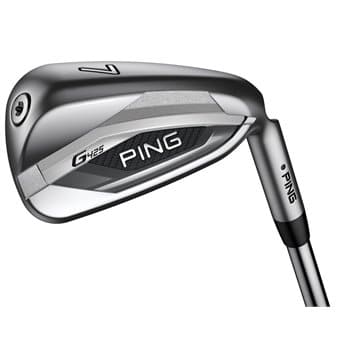 Pros
Explosive ball speed
Enhanced MOI
Water-repellent finish sheds water from the grooves
Soft feel
Crisp acoustics
Cons
Expensive compared to others on this list
The exposed tungsten toe screw is not the prettiest.
The Ping G425 irons are suitable for mid and high-handicappers searching for a high launch, amplified MOI, and a soft landing on approach.
Besides its performance, I appreciated the streamlined appearance of its shorter blade and the addition of a water-repellant Hydropearl Chrome finish. Its rapid ball speed and pleasant feel on all strikes stood out for me on a positive note.
Clubhead
I feel the G425 clubhead is attractive, thanks to its compact design and shorter heel-to-toe length compared to the G410. Ping engineers employed advanced face geometry to spread mass to the toe and hosel for perimeter weighting. As a result, you enjoy a wider sweet spot for ample forgiveness.
In addition, a tungsten toe-shaft weight balance boosts MOI to soften the outcome of a slice. Furthermore, its Variable Face Thickness design helped me maintain ball velocity across an expanded zone.
Shaft
The Ping G425 irons are accessible in one stock shaft construction with three flex profiles. The Ping AWT 2.0 is crafted in a regular, stiff, and extra stiff flex, making them most suitable for slow to faster swinging mid and high handicappers.
Sound and Feel
A Multi Cavity Badge eliminates vibrations and amplifies crisp acoustics. I enjoyed a soft, pleasant feel on all strikes and felt it is among the best-sounding game improvement irons in 2023.
Technology
I generated rampant ball speed with these irons, which is a credit to their metal wood style Variable Face Thickness. The design increased the area that prompts consistent velocity to ensure a consistent high launch, optimal carry distance, and a soft landing.
Next, a Tungsten toe-shaft weight balance raises MOI to help you deliver direct flight for improved accuracy.
Performance
The Ping G425 golf clubs are the easiest to hit irons in 2023, thanks to a low CG, explosive ball speed, and a high MOI. In addition, they offer mid and high-handicappers a superb feel off the clubface and crisp acoustics.
Verdict
Overall, these irons offer exceptional forgiveness to keep your ball airborne, straight, and long on the golf course. Finally, they also possess one of the most attractive game improvement profiles up for sale.
Why You Should Trust Us
Golfspan is independent and not pressured by manufacturers to recommend products. We were not paid for the reviews in this article. These irons were selected by our team, who have over 100 years of experience playing golf and thousands of hours reviewing products. We may earn an affiliate commission when you purchase something through our retail links.
What To Consider When Purchasing The Most Forgiving Golf Clubs?
Set Composition
Before you start looking for a set of the best forgiving golf clubs, think about your preferred composition. For example, are you comfortable hitting strong lofted long irons, or do you find hybrids easier to launch higher? I suggest high handicappers employ this tactic to make life easier for yourselves.
Once your long game is taken care of, think about your wedges. Most of the superior forgiving iron sets include a pitching wedge and a gap or sand wedge. If it does not incorporate a sand wedge, I suggest searching for one that does. On the other hand, you can acquire a sand wedge of your preference separately.
Shafts
Your swing speed provides the ultimate guide for the shaft flex that suits your game. Even though many options carry a regular flex shaft, this may be too stiff or flexible for you. For example, True Spec Golf suggests operating with a regular flex if your 6-iron clubhead speed is 75 to 83 mph.
However, when you clock in between 65 to 75 mph, the professionals recommend opting for a senior flex shaft. Finally, anything under 65 mph will enjoy significant success with a ladies' flex structure.
If your shafts are too stiff and heavy for your swing, you may lose clubhead speed and whip into the golf ball at contact. This challenge reduces ball velocity aid, launching your ball lower and causing a loss of carry and total distance.
Conversely, golfers swinging an extremely flexible shaft may notch up excess spin causing their ball to balloon and lose carry and total distance.
Ball Speed
Forgiving irons typically possess perimeter weighting, enlarging the sweet spot to maintain ball speed on all strikes. This prompts a consistent launch for prolific carry and total distance.
The smaller the sweet spot is, the harder it becomes for high handicappers to produce a sufficient coefficient of restitution (COR) at impact. When this occurs, your ball speed plummets, and the power of your launch is neutralized.
Launch
The final feature to consider is your preferred apex. Do you struggle to get your ball airborne and need high-launching irons? Or do you favor a lower flight for greater control? I find beginners, seniors, and high handicappers perform best with high-launching golf clubs.
These irons generally feature a low center of gravity (CG) for an effortless launch on every approach shot.
Most Forgiving Irons 2023 FAQ
What Are the Most Forgiving Irons?
The most forgiving irons are clubs that stay straight even if struck a little off-center. Our top pick is the Cleveland Launcher HB irons. If your budget is stretched, consider the Wilson D9 irons.
What Is the Easiest Iron to Hit?
The easiest irons to hit are the Ping G425 range because of their high launch, explosive ball speed, and enhanced MOI. Mid and high handicappers find these irons deliver consistent results on approach, and the high flight makes it easier to hold the green.
What Are the Longest and Most Forgiving Irons?
The Cobra LTDX are the longest and most forgiving irons in golf thanks to their exceptional face flex, rampant ball velocity, and controlled flight. I find the combination of PWR-COR technology and its PWRshell Face Design accelerates ball speed across an expansive area for consistent length.
What Are Forgiving Irons?
Forgiving irons are typically cavity-back golf clubs that sport an enhanced MOI and enlarged sweet spot. Simultaneously, these factors help the average golfer produce straighter, higher-iron shots that travel consistently long and land softly.
What Makes a Club More Forgiving?
Forgiving clubs have a much higher MOI, which stands for Moment Of Intertia. Essentially, it indicated how much resistance a clubhead has to twist. Golf manufacturers use several design features to increase MOI, such as perimeter weighting.
How Do You Know if Your Golf Clubs Are Forgiving?
Check the features of your set of clubs and check if they have high MOI. If you struggle to find this stat, try checking for features such as a large clubface, perimeter weighting, and a sizeable sweet spot.
How Will These Irons Affect My Ball Flight?
Most forgiving irons feature a low CG to encourage an easy, high launch for greater carry distance and a soft landing. This will help high handicappers get their ball in the air. The challenge is that the elevated ball flight is detrimental to fast swingers who may balloon their shots, losing distance and control.
What Are The Most Forgiving Golf Irons Of All Time?
My most forgiving golf irons are the Ping G425 irons, released in 2021. They produce the most consistent ball speed across the clubface, promote a frequent high launch, and generate a soft landing.
Naturally, it is tough to make a call on the most forgiving golf irons of all time, but this is my experience.
Conclusion
The forgiving iron market is exceptionally competitive, and all manufacturers are vying for your hard-earned dollars.
Yet, a few iron sets stand out and tend to be market leaders. Our best forgiving irons for 2023 are the Cleveland Launcher HB Irons. There are several reasons for this. The hybrid design of these irons makes them easy to play with and highly forgiving.
This is something that most golfers will appreciate, although better golfers might want a bit more playability. For the rest, they will give you confidence, and the forgiving design should result in greater accuracy and distance. They look good and are affordable.
All of the clubs in this review are among the most forgiving irons on the market, and none of them will let you down on the course. It will come down to personal preference and brand attachment for some golfers.
See Also:
Nick Lomas is the founder of GolfSpan, an avid golfer, not quite a pro but has over 15-years of experience playing and coaching golfers from all over the world. His mission is to bring the golfing community a better experience then it comes to choosing the right golf gear, and finding the right set up for your game.