Looking for a Srixon ZX4 Irons review? You've come to the right place.
The notable news is that Srixon has launched its latest game improvement irons, a product of innovative brilliance. Unlike other brands, Srixon consistently refines its clubs with subtle but significant enhancements rather than overwhelming golfers with flashy, often perplexing, features.
This review will focus on their ZX4 irons, one of the latest releases in Srixon's impressive repertoire.
Srixon ZX4 Irons Review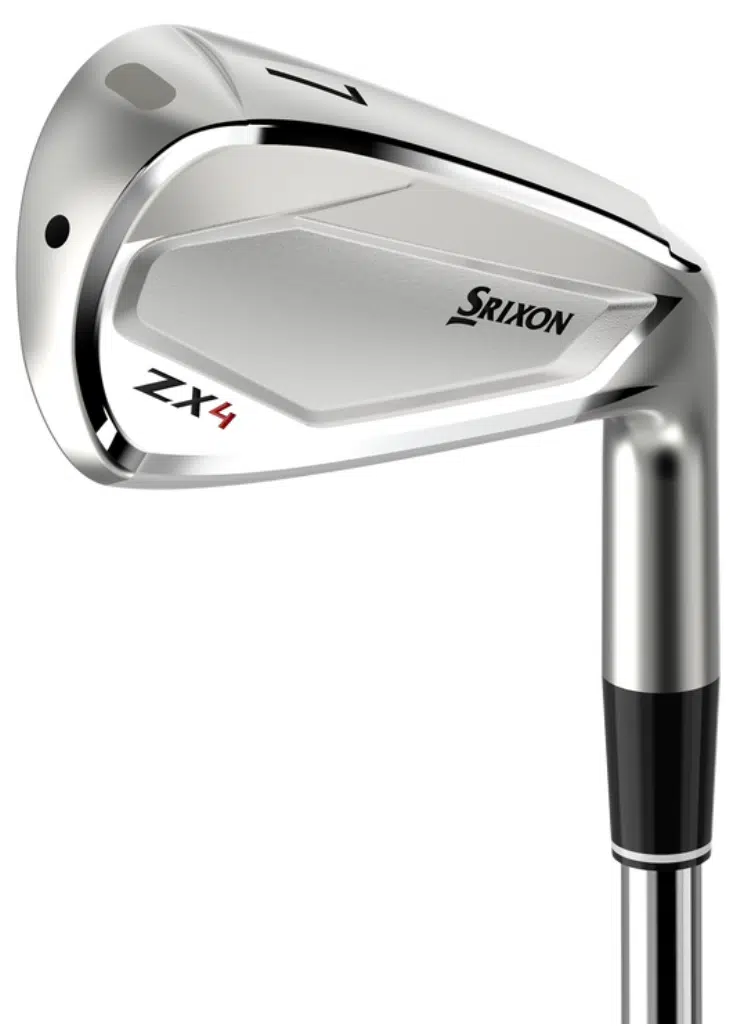 Pros
Distance and Forgiveness: The Srixon ZX4 irons deliver superior distance and forgiveness, thanks to their hollow body construction and high-strength steel face.
Adaptable Loft Options: The Srixon ZX4 provides golfers with various loft options, catering to diverse swing types and course conditions.
Consistent Speed: The ZX4 irons offer consistent ball speed across the face, allowing for improved distance and control in different scenarios.
Comfortable Feel: The V-sole grinds used in manufacturing these irons ensure a soft yet solid feel, much appreciated by golfers.
Cons
Price: The Srixon ZX4 irons have a higher price tag than some competitors, making them a premium selection.
Learning Curve: The range of loft options could be daunting for beginners, who may require some time to understand and select the best fit for their style.
Appearance: While some golfers appreciate the clean and classic design of the Srixon ZX4, others might prefer a more modern or edgy look.
Srixon ZX4 Review Rankings
| | |
| --- | --- |
| Category | Score |
| Appearance | 83 |
| Distance | 90 |
| Precision | 88 |
| Feel/Sound | 86 |
| Overall | 87 |
Srixon ZX4 Irons Verdict
The Srixon ZX4 irons are undeniably a remarkable set of golf clubs, perfect for golfers who seek to improve their long game.
When I tested them, they delivered excellent distance and consistency. They also instilled a sense of confidence when addressing the ball. As someone who sometimes struggles with iron play, this was incredibly reassuring.
If you are currently using an older model, contemplating an upgrade to the ZX4 could be beneficial due to the improved distance and feel.
Three shaft options are available – Steel, Graphite, and Custom. The differences aren't substantial but are designed to cater to different tastes and preferences.
The price tag for these irons might be higher, but considering the superior quality and performance, it's a justified expenditure. They are used by professionals such as Keegan Bradley and Hideki Matsuyama.
The ZX4 irons excel in all crucial areas – distance, speed consistency, durability, and feel. With a sleek and classic design, these irons stand up to any competitor, such as TaylorMade SIM2 Max Irons or Callaway Apex 21 Irons, in every aspect.
In conclusion, the Srixon ZX4 irons are among the best Srixon game improvement irons of 2023.
Who Are The Srixon ZX4 Irons For?
The Srixon ZX4 irons series is designed to cater to a diverse range of golfers, ensuring that each player finds the perfect fit for their game.
Ideal for players seeking distance and consistent speed, the Srixon ZX4 is excellent for golfers aiming to enhance their long game. Its adaptability makes it an excellent choice for various course conditions and golfer's preferences.
I tested and personally use the steel shaft version of these irons. As a mid-handicapper, I found that they perform exceptionally well in long fairway shots and off-tight lies. The Srixon ZX4 irons' handicap range is wide, making them suitable for various skill levels.
Which Srixon ZX4 Iron Is Best For You?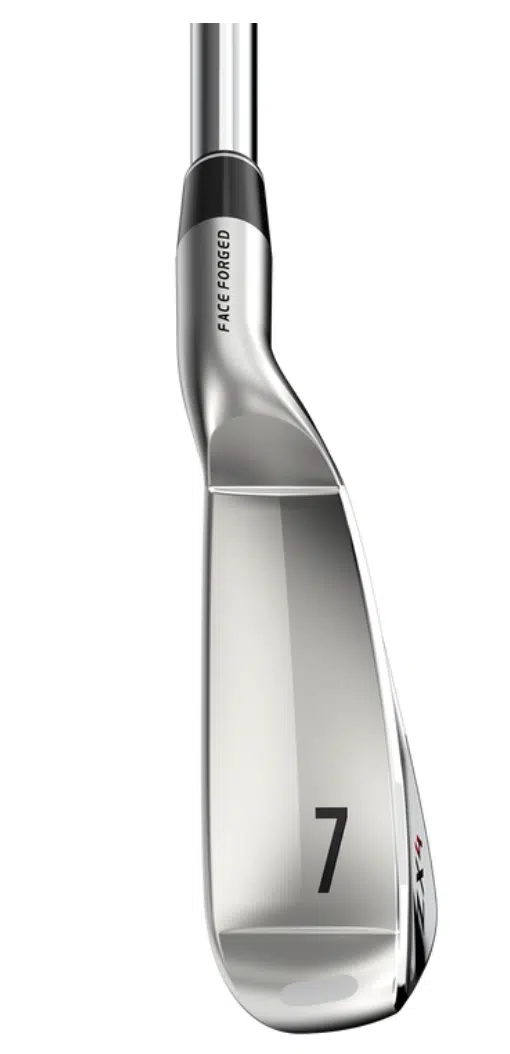 Now, let's delve into the specifics of the Srixon ZX4 irons – Steel and Graphite.
The Srixon ZX4 Steel offers exceptional speed, control, and stability, perfect for golfers who prefer a traditional feel and consistent performance.
The Srixon ZX4 Graphite, on the other hand, provides an extra boost of speed and distance, suited for golfers looking for an added edge in their long game. The lighter graphite shaft also aids in reducing fatigue, especially during long games.
The key takeaway is that choosing between steel and graphite shafts primarily depends on personal preference and playing style. Steel shafts typically offer more control, while graphite shafts could provide an additional boost in distance.
Srixon ZX4 Specs
Here's a table presenting the Srixon ZX4 Iron specs.
| | | | | | |
| --- | --- | --- | --- | --- | --- |
| Club | Loft | Lie | Offset | Length | Swing Weight |
| 4 iron | 21° | 60.5° | 4.4mm | 38.5″ | D2 |
| 5 iron | 23° | 61° | 4.2mm | 38″ | D2 |
| 6 iron | 25.5° | 61.5° | 4.0mm | 37.5″ | D2 |
| 7 iron | 28.5° | 62° | 3.7mm | 37″ | D2 |
| 8 iron | 33° | 62.5° | 3.5mm | 36.5″ | D2 |
| 9 iron | 38° | 63° | 3.2mm | 36″ | D2 |
| PW | 43° | 63.5° | 2.8mm | 35.5″ | D2 |
| AW | 49° | 63.5° | 2.3mm | 35.5″ | D3 |
Why You Should Trust Us
Our team spends thousands of hours trying out and researching golf equipment to help you take your game to the next level. Here's our product review process.
We're able to bring these reviews to you through the small commissions we earn if you buy through the links below.
How We Reviewed These Irons
Golfspan only shares equipment and brands we trust.
I've played golf for +20 years and am a professional writer about golf equipment. I meticulously researched each of the irons below. Following this, an editor combed through all the information to ensure it reads well and is factual. We also regularly review our content as the market changes to bring you the latest in golfing gear.
For this post on the ZX4 irons, I considered the following criteria:
Cost
Versatility
Precision
Feel
Spin
Srixon ZX4 Irons: Features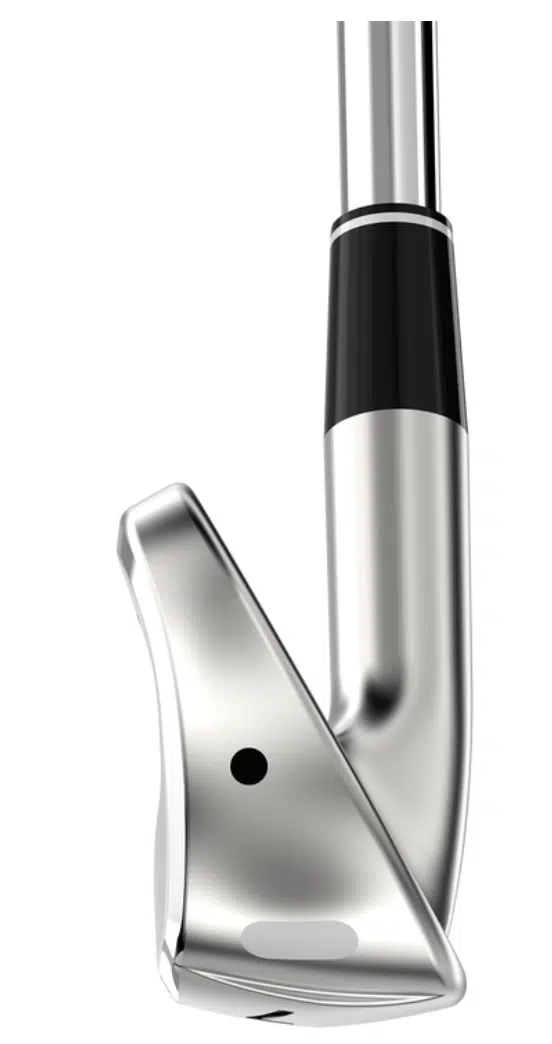 There's a lot to appreciate about Srixon's ZX4 Irons. They have innovative features and cutting-edge technology that distinguish them from many competitors. Srixon is owned by a Japanese company. Check out our list of the best Japanese golf clubs around.
Here's a closer look at some of the notable features of the ZX4 irons.
Main Frame Technology
One of the key features of the Srixon ZX4 Irons is the Main Frame Technology. This method involves a variable face thickness designed with high-strength steel, making the iron incredibly precise.
This results in an iron that offers improved ball speed and distance, often surpassing the capabilities of many standard irons.
V-Shaped Sole
Srixon's V-Shaped Sole is designed to reduce turf interaction, enabling the club to glide through the grass with minimal resistance.
These carefully crafted soles enhance control and consistency, improving accuracy, especially in challenging lies.
Progressive Grooves

The ZX4 irons feature progressive grooves throughout the different lofts. In the lower lofts, the grooves are narrower and deeper for maximum control, while in the higher lofts, the grooves are wider and shallower to maximize spin.
This adjustability helps golfers optimize their shot shape and achieve the desired ball flight.
Multi-Piece Construction
A significant feature of the Srixon ZX4 irons is the multi-piece construction. Each iron comprises a forged HT1770 Steel face, 431 Stainless Steel body, and Tungsten sole weight.
This construction not only contributes to the iron's pleasing aesthetics but also helps in providing a softer, more responsive feel upon contact. It delivers satisfying feedback that makes every shot feel pure.
Performance Comparison: Distance, Control, and Versatility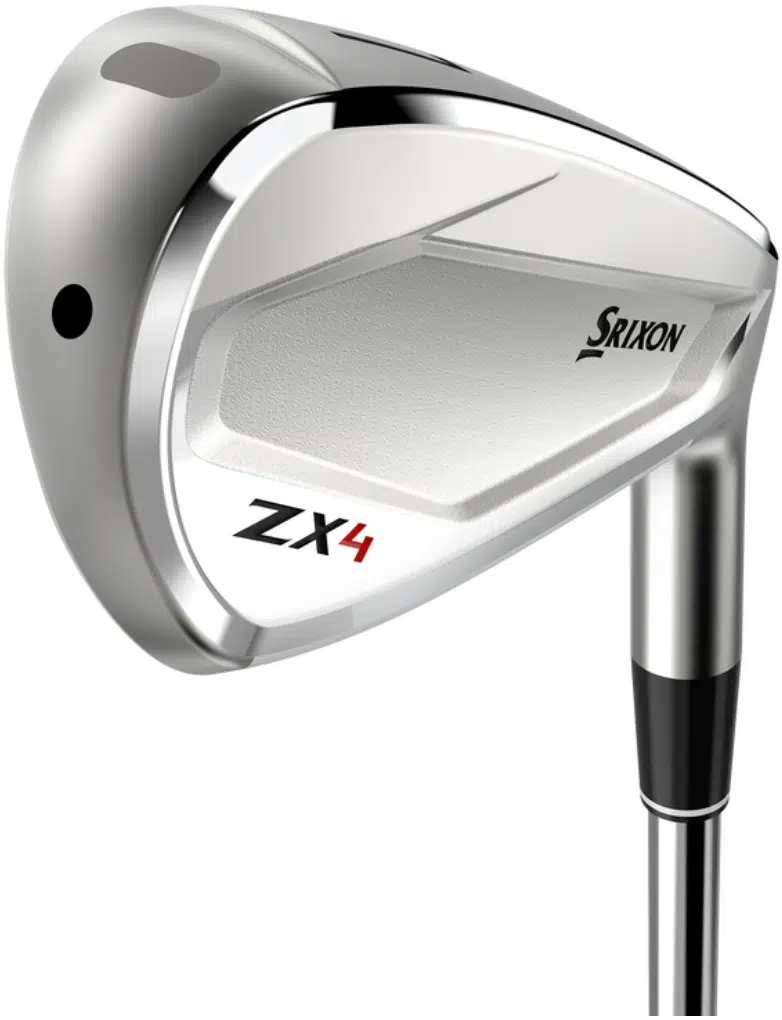 Having highlighted the key features of the Srixon ZX4 Irons, let's evaluate their performance in terms of distance, control, and versatility.
Distance
The Main Frame Technology and the precise multi-piece construction contribute to an increased ball speed, which is vital for achieving greater distance. The ZX4 irons are highly competitive in terms of distance performance, allowing golfers to confidently hit various shots.
Control
The ZX4 irons are renowned for their exceptional control, mainly due to the V-Shaped Sole and the progressive grooves. The consistent control upon contact adds to the game's enjoyment and aids in producing consistent shots.
Versatility
The ZX4 irons are highly versatile, with various lofts and shaft options available. This makes them adaptable to various conditions and swing types and an excellent choice for golfers who want to customize their irons to their game.
There is a distinction between irons that are best for longer-range iron play and those that perform well for mid-range shots.
What Makes Srixon ZX4 Irons Different From Others?
The Srixon ZX4 irons series includes two shaft options: the ZX4 Steel and ZX4 Graphite. Each shaft offers unique performance characteristics, allowing golfers to choose the one that suits their style and needs best.
ZX4 Steel
The ZX4 Steel offers a classic, reliable performance with the high durability of a steel shaft. It's a solid option for golfers who prefer a traditional feel and consistent performance.
ZX4 Graphite
The ZX4 Graphite delivers a lightweight, high-performance shaft that can boost your long game. This shaft option appeals to golfers who want to maximize their distance.
It's important to note that the choice between steel and graphite shafts largely depends on your personal preference and playing style. Steel shafts typically offer more control, while graphite shafts can provide an additional boost in distance.
Srixon ZX4 Alternatives
When comparing the Srixon ZX4 irons to other top competitors, like the Titleist T300, Callaway Mavrik, and TaylorMade SIM2 Max, the ZX4 irons distinguish themselves with their main frame technology and multi-piece construction. While each of these irons has unique features, the ZX4 irons stand out due to their blend of advanced technology and classic design.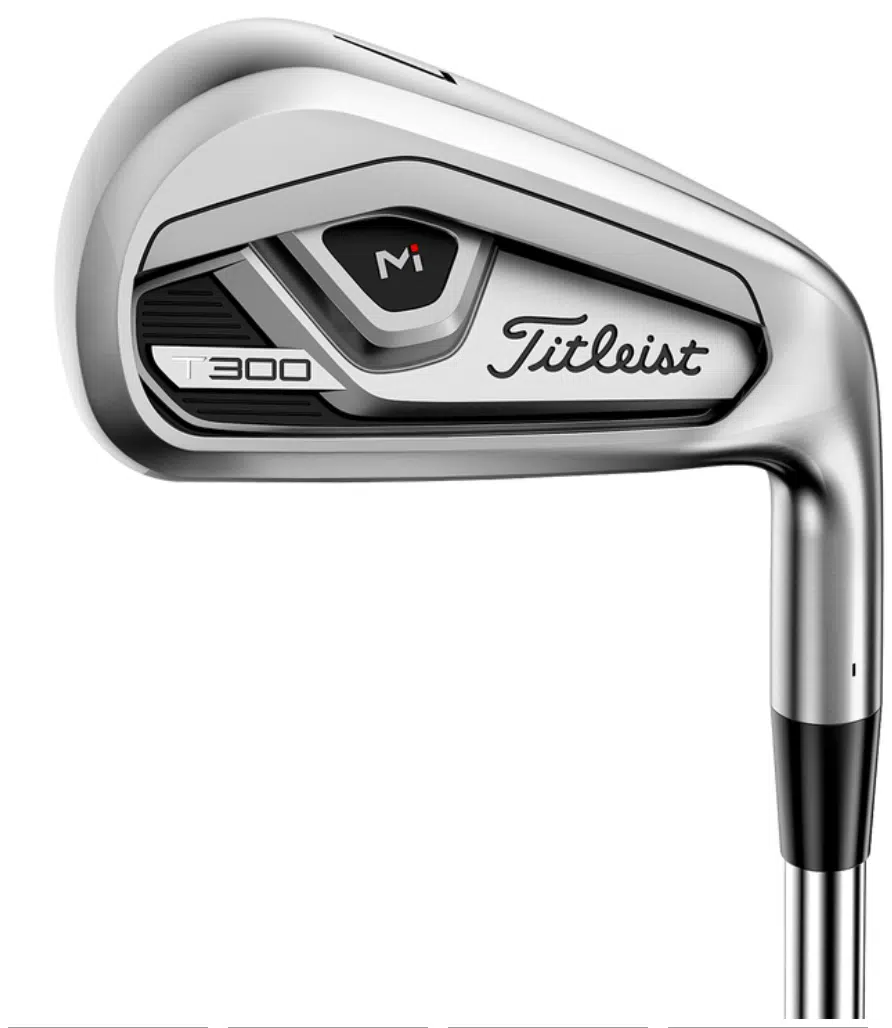 The T300 irons are renowned for their exceptional forgiveness and control, making them a top choice for many golfers. They feature a Max Impact technology to optimize speed, enhance feel, and improve distance and trajectory control. Though they are a popular option, the T300 irons may have a slightly higher price point than the Srixon ZX4 irons.
Read more: Titleist T300 Irons Review
The Callaway Mavrik irons are recognized for their outstanding distance, thanks to the Flash Face Cup technology and Tungsten Energy Core. They also have a wide range of loft and shaft options to suit various playing conditions and swing styles. However, they might not deliver the same level of soft feel that the ZX4 irons offer due to the different materials used in their construction.
Read more: Callaway Mavrik Irons Review
The TaylorMade SIM2 Max irons are a great option for players seeking maximum forgiveness and consistency. The Cap Back Design technology increases distance and forgiveness, while the Thru-Slot Speed Pocket maximizes ball speed. Despite their impressive features, some golfers might prefer the traditional design and softer feel of the Srixon ZX4 irons.
Each golfer's needs and preferences are different, so it's crucial to test out various irons to find the one that best fits your style and game. Whether you're focused on feel, distance, forgiveness, or a combination of these factors, plenty of high-quality alternatives exist.
Read more: TaylorMade SIM2 Irons Review
Srixon Irons Review: FAQs
When Did The Srixon ZX4 Irons Come Out?
The Srixon ZX4 irons were launched in February 2021. These irons represent an evolution of Srixon's highly successful ZX series. They were developed with extensive feedback from tour professionals, resulting in an iron set that offers exceptional forgiveness, distance, and feel. With the ZX4 series, Srixon aimed to blend a player's iron aesthetic with game improvement technology for superior consistency and performance.
How Does the Srixon ZX4 Compare?
The Srixon ZX4 irons are specifically designed to provide maximum forgiveness and distance, features typically sought by high-handicap golfers. They feature a hollow body design, a wide sole, and a thick topline that provides high launch and stability.
Compared to similar irons in this category, such as the TaylorMade SIM2 Max and the Callaway Big Bertha, the ZX4 irons excel in feel and looks. Despite their game improvement features, they maintain a look that is more reminiscent of a player's iron than a typical game improvement club. This gives golfers the best of both worlds – game improvement features with a more traditional aesthetic.
How about The Srixon ZX4 vs ZX5? Top line: the ZX5's will suit lower handicappers, while the ZX4's are designed to be more forgiving.
Do Srixon ZX4 Irons Rust?
No, the Srixon ZX4 irons are not designed to rust over time. They are made with a durable chrome finish that is resistant to wear and oxidation. However, like all golf clubs, they will wear with use and age, and proper care and maintenance can help extend their lifespan. If you prefer the look and feel of a rusty club, you might need to look at other brands that offer raw finishes.
Do Pros Play With Srixon Irons?
Yes, some professional golfers prefer to play with Srixon irons. Players on the PGA Tour and other professional tours use Srixon irons, including the ZX series. Srixon irons are known for their combination of feel, precision, and forgiveness, making them a popular choice among professionals and amateurs alike.
Final Thoughts
In conclusion, the Srixon ZX4 irons are outstanding clubs that compete with the best in the market regarding forgiveness and distance. Their innovative design, flexible customization options, and cutting-edge technologies make them a favored choice among golfers looking to improve their iron play.
These are the irons that I personally carry in my bag. Having tried many other options available in the market, I believe the remarkable control and feedback these irons provide truly sets them apart.
Let's be clear, any iron requires skill and practice to master. Nevertheless, I find my shots with the ZX4 irons, especially those tricky off-center ones, to be more manageable and predictable than other irons I've used.
We hope you enjoyed our review of the Srixon ZX4 irons. If you're searching for irons that offer exceptional forgiveness and the ability to hit long and straight shots, these are definitely the clubs for you.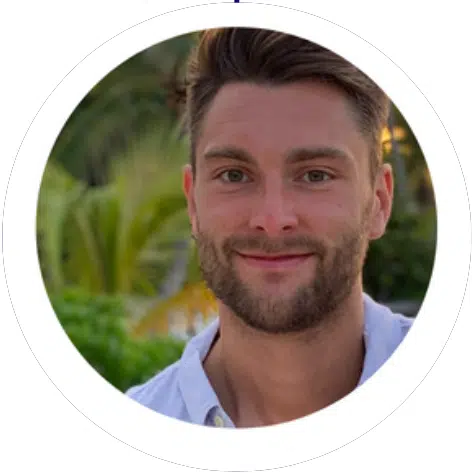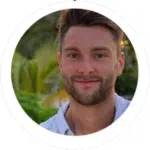 Sam has been playing golf for over 20 years and founded Impact Golfer. As a teenager, he discovered his love for the game using his grandad's clubs, including a wooden driver! As a golf obsessive, Sam plays whenever possible: regularly competing in matchplay with his friends and in tournaments at his local club. Fortunate to have a close friend who is a club pro– he has tested almost every type of equipment on the market (no freebies yet).