Building upon the success of the 2020 Callaway Mavrik irons and the 2019 Callaway Rogues, Callaway sought to combine the two for a new and improved iron set. That's precisely what we have here with the 2022 Mavrik irons.
They are a great set to buy for many players and are easy to use with high distance.
Stick around for our full Callaway Mavrik irons review to see if they are suited to you!
Mavrik Irons Review: Verdict
Fast, forgiving, and long, the Mavrik irons are a super buy whether you're a beginner or mid-handicapper. Their innovative use of AI technology has certainly caused a positive shift upon previous models. As such, we could see more manufacturers start to incorporate this technology.
Pros
Excellent distance
Highly forgiving
Super feeling
Suits a range of players
Cons
Performance Rankings
| | |
| --- | --- |
| Appearance | 63 |
| Distance | 92 |
| Forgiveness | 90 |
| Feel/sound | 84 |
| Overall | 87 |
Who Are These Clubs For?
While virtually any golfer can make great use of the Callaway Maverick irons, we feel that they are most suited to high to mid-handicappers, particularly mid-handicappers. They're easy to hit straight, highly forgiving, and produce very impressive distance.
While we think they are a good fit for high handicappers, absolute beginners may want more forgiveness. For this, you need to look no further than the Mavrik Max iron set.
Callaway Mavrik Irons: Specs
| | | | | |
| --- | --- | --- | --- | --- |
| Club | Loft | Lie | Offset | Length |
| 4 iron | 18° | 60.5° | 7.2 mm | 38.875" |
| 5 iron | 21° | 61.25° | 6.9 mm | 38.25" |
| 6 iron | 24° | 62° | 6.6 mm | 37.625" |
| 7 iron | 27° | 62.5° | 6.3 mm | 37" |
| 8 iron | 31.5° | 63° | 5.8 mm | 36.5" |
| 9 iron | 36° | 63.5° | 5.3 mm | 36" |
| PW | 41° | 64° | 4.8 mm | 35.75" |
| AW | 46° | 64° | 4.3 mm | 35.5" |
| GW | 51° | 64° | 3.7 mm | 35.25" |
| SW | 56° | 64° | 3.2 mm | 35" |
Callaway Mavrik Irons Review: Features
Let's proceed through each of the features in this Callaway Mavrik Irons set review, so you can get a sense for what it would be like to play with these clubs.
Appearance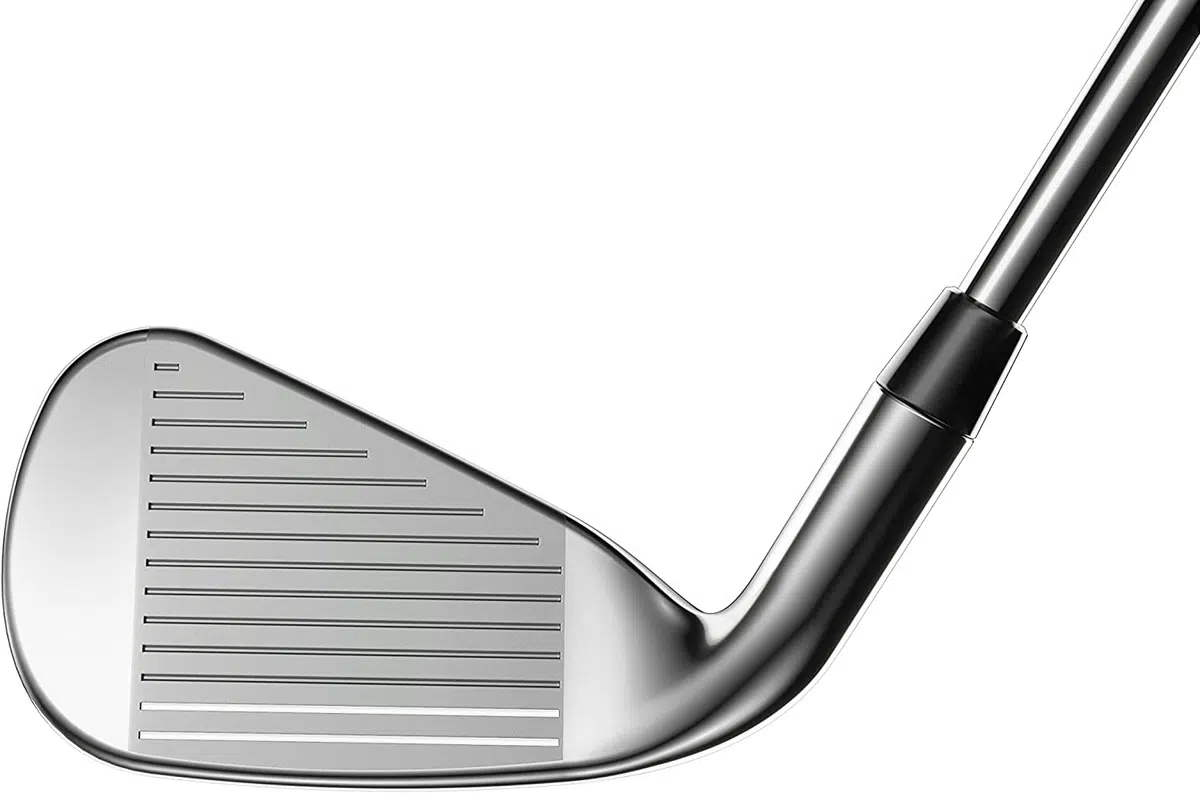 For many, the appearance will be one of the weaker areas for the Callaway Mavrik irons. While their head is not especially large, the topline is rather thick, which does hamper the appearance somewhat.
There is also a significant offset, so while the Mavrik irons won't be winning any awards in the appearance department, they certainly aren't the worst we have seen by a long shot.
Distance
There's no doubt that the 22 Mavrik irons were designed with distance in mind, and Callaway used AI to help them do it. Known as Flash Face Technology, each clubface's shape is optimized by AI to give maximum speed across every loft.
Speaking of lofts, the Callaway Mavriks irons' lofts are heavy, and you must know that going in. The result is that they deliver more distance, which is beneficial, but they can take some getting used to. They have less spin than most, so you'll get plenty of ball roll.
As you work your way down to the shorter irons, you'll notice a steady increase in spin with good speed preservation. Unfortunately, there are no grind options for the wedges to tailor turf interaction, but you could get an expert to grind yours for you if you really want to.
The Mavrik irons also make use of Callaway's 360 Face Cup tech. It's highly flexible, which helps to propel the ball forward, giving them among the best distance you can get from a set of irons.
Forgiveness
Let's get one thing straight. These Mavrik golf clubs are not game-improvement irons, so you will not quite be able to reach the absurdly high levels of forgiveness that these types of irons bring. However, they are not all that far off.
For starters, the clubfaces are still pretty large, which makes them easier to use. What's more, you get great distance even on off-center hits, so you don't need to be especially precise with your contact.
What does most of the work regarding forgiveness is the Tungsten Energy Core? This sees each club have a fine-tuned tungsten weight embedded in an optimal position for CG, not only for simpler launching but also to maintain excellent ball speed.
Feel/Sound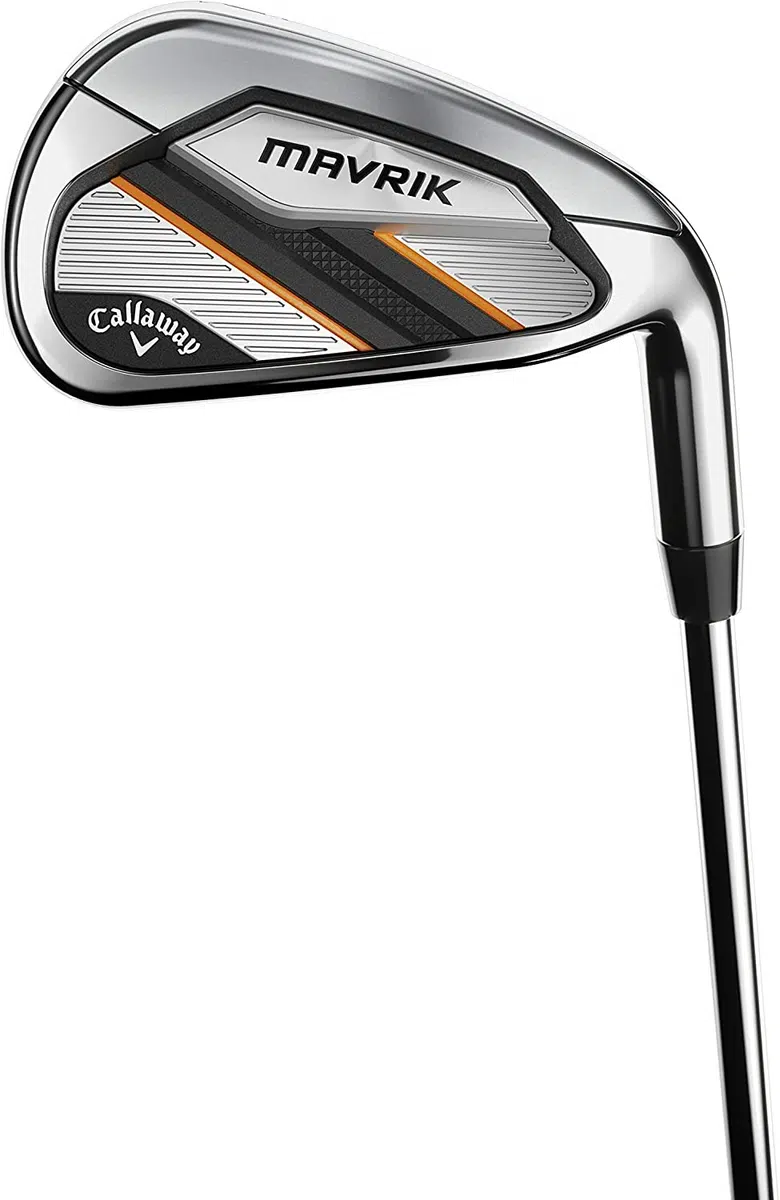 As mentioned earlier, the 22 Mavrik irons take inspiration from an older Callaway set: the Rogue irons. While these clubs were well-received by golf enthusiasts, they had a few issues: the feel. They didn't feel that comfortable to use, and off-center hits felt poor.
However, Callaway listened to the feedback and corrected their mistake with the 22 Mavrik irons. They did this by adapting the urethane microspheres. These microspheres are specifically placed to dampen unwanted vibration, and thanks to their soft feel, strokes feel much smoother.
Therefore if you're struggling with precision when striking the ball, the Mavrik irons could be a good shout. Off-center hits feel much better, but you still get enough feedback to know when you execute shots poorly.
As for sound, these irons are not particularly loud. Rather they just feel powerful.
Why You Should Trust Us
Golf Span is made up of a team of golfing experts who love to play and review products. As we are independent, we are not swayed by brands. Instead, our reviews are completely unbiased and our own honest thoughts. Rather than seeking revenue through brand deals, we earn small commissions if you purchase a product using one of our affiliate links.
Alternative Options
TaylorMade SIM 2 Max Irons
The TaylorMade SIM 2 Max irons are a little like the Callaway Mavrik Max irons. They have large clubfaces, thick toplines, and a big offset to prevent slicing. They're a little more forgiving than the Mavrik irons and deliver exceptional pace. The clubs use a Thru-Slot Speed Pocket and a smart sweet spot to give high-quality impacts and feeling across the most commonly struck positions on the clubface.
These iron are also high launching. With strategic CG placement, getting your balls airborne is no trouble at all, and there is a slight bias to help prevent right misses.
Callaway Rogue ST Max Irons
Given the older Rogue irons' popularity, it only felt natural to include the new and improved set. The Rogue ST Max irons replace the Mavrik Max irons and include much of the same tech from the A.I. Flash Face technology to the Tungsten Energy Cores. However, they are a little heavier than what we have previously seen. With tungsten cores up to 62g, they are 260% heavier than the Mavrik line. Even the lighter Rogue ST MAX OS Lite irons have up to 46g cores, making them 188% heavier than the Mavrik irons.
This increased weight gives them plenty of pace and helps you get the ball into the air fast. Even if you struggle with swing speed, the Rogue ST Max irons will help you get good distance, and if you're a big hitter, expect superb distances.
TaylorMade Stealth Irons
As the most expensive offering of our three alternatives, the TaylorMade Stealth Irons are probably the best of the three if you don't mind spending a few hundred bucks extra.
As the SIM 2 Max irons successor, they have a few benefits. Namely, the revolutionary cap back build has removed part of the toe to lower the CG. By positioning the CG up to 1 mm lower, these irons have higher launch angles and excellent stopping power. The loft is slightly higher than the Callaway Mavrik irons loft (1° more for the 7-irons).
Another improvement is accuracy. You'll notice a much tighter cluster when repeating the same shots, which is a big plus for beginner and more advanced players alike. The main issue to be aware of with these irons is that they have much lower spin than the previous model. So take that into account when approaching the green.
FAQs
What Handicap Are Mavrik Irons for?
The Mavrik irons are most suited to mid-handicappers. They are among the best sets of irons you can purchase with ample forgiveness and distance.
Are Callaway Mavrik Irons Good?
The Callaway Mavrik irons are exceptional golf clubs for the average golfer. They offer excellent distance, forgiveness, and improved feeling on older models. They are also reasonably priced, so they are well worth considering if you are looking for a set of irons.
Are Callaway Mavrik Irons Discontinued?
Callaway Mavrik irons have been discontinued, although they are still available for purchase from various sources. Interestingly, Rogue is still going strong. This is the line of irons that the 2022 Mavrik irons were based on.
Final Thoughts
That concludes our Callaway Mavrik irons review. These impressive irons represent a significant upgrade on the older Rogue irons set and are suitable for various golfers.
What impressed us most about the Mavrik irons was their forgiveness and distance. The inclusion of Flash Face Cup Technology and Tungsten Energy Cores predominantly achieved this. However, the improved feeling on these irons should not be ignored. The urethane microspheres give these clubs a great feel.