Callaway has produced golf equipment for professionals and amateurs since 1982. As we celebrate the 40th anniversary of the brand, I thought I would pay tribute to the Callaway family by reviewing the best Callaway irons for 2023.
Which of the best Callaway irons is right for you?
I tested various of the company's irons, new and old, to find the best performers. Ultimately, a mix of entry-level game improvement irons and unforgiven blades earned their rightful place on our list. Keep reading to find which Callaway golf irons are best suited to your swing in 2023.
If you are a high handicapper and demand forgiveness from your irons, read our post on the most forgiving Callaway irons.
The 3 Best Callaway Golf Irons
Best Overall
Best Budget
Most Forgiving
Mavrik
X Hot
Big Bertha B21
Pros

Produces rapid ball speed
Optimal launch and spin through the bag
Pleasant feel

They prompt high launch
Generate accelerated ball pace
Flexible clubface

Maximum forgiveness
High launch
Produces accelerated ball pace

Cons

The robust spin levels can aggravate hooks and slices
They do not produce the forgiveness of the Mavrik Max set

Older version
The higher launch can cause some golfers to balloon their shots.

Expensive for beginners irons
The high launch can cost you a few yards in windy conditions

Price Score
89.1
93.1
85.3
Accuracy
92.4
87.6
93.8
Distance
91.8
90.4
89.1
Forgiveness
92.9
90.1
95.5
Rating
4.5 Stars
4.5 Stars
4.5 Stars
Our Research Parameters
Golfspan is independent and not pressured by manufacturers. We were not paid for the reviews in this article. These Callaway irons were selected by our team, who have over 100 years of experience playing golf and thousands of hours reviewing products. We may earn affiliate commissions when you purchase products through our retail links.
The Best Callaway Iron Review For 2023
1. Mavrik – Overall Best Callaway Irons 2023
When you strike a golf ball with the Callaway Mavrik irons, you will experience explosive ball speed, optimal spin, and a high launch. These features were sufficient to catapult it into our top spot for Callaway irons in 2023.
A.I. sophisticated clubface architecture exists to accelerate ball velocity and deliver robust spin. I find that it generates minimal backspin on long iron shots, while the opposite is true with wedge hits.
Furthermore, the engineers employed custom tungsten weights to precisely position the CG in each clubhead. As a result, it enables you to create desirable launch and spin rates for each club. Which helps you produce the desired distance and control for each iron in your golf bag.
In addition, I found the urethane microspheres restricted vibrations on mishits. That provides a pleasant feel and crisp acoustics.
Ultimately, you will find that the fast long, and forgiving set of irons is ideal for the average golfer. Plus, since they were released in 2020, they have come down in price, making them a value-for-money acquisition.
Pros
Produces rapid ball speed
Optimal launch and spin through the bag
Pleasant feel
Forgiving
Crisp acoustics
Cons
The robust spin levels can aggravate hooks and slices
They do not produce the forgiveness of the Mavrik Max set
Rating: 4.5
2. X Hot – Best Budget Callaway Irons
The X Hot is another older version from Callaway that gives newer sets a run for their money. The company markets them as long, fast, and forgiving, and they proved their worth during testing. I would also add affordable to its title since it is listed at a few hundred dollars below the average price of a game improvement set.
I find that their undercut cavity back construction repositions the center of gravity (CG) low and deep. Additionally, this design boosts the flexibility of your clubface to initiate rapid ball velocity and a towering launch for increased carry distance.
In addition, the higher flight sends your golf ball on a controlled descent to stop rapidly on approach.
Supporting the undercut cavity back is a speed frame construction that boosts ball speed by as much as 3 mph., according to Callaway. In my experience, I only enjoyed an extra 0.5 mph on average, but I will take it.
Lastly, a wider sole construction is implemented to improve your turf interaction. Consequently, it helps your clubhead glide across the turf and strike the ball cleanly from any lie. Overall the X Hot irons are affordable, fast, forgiving, and long; everything a high handicapper could ask for.
Pros
They prompt high launch
Generate accelerated ball pace
Flexible clubface
Controlled descent encourages a soft landing
They produce maximum distance
Cons
Older version
The higher launch can cause some golfers to balloon their shots.
Rating: 4.5
3. Big Bertha B21 – Most Forgiving Callaway Irons
If it is forgiveness that you desire, the Big Bertha B21 set may hold the key. These high launching and consistent spinning irons ensure optimal performance through the bag for high handicappers. That is why they came through my test as the most forgiving Callaway irons this year.
An A.I.-designed Flash Face Cup works to accelerate the velocity of your golf ball on all shots. Whether you strike it out of the sweet spot or off-center, you produce adequate speed for increased distance.
Moreover, the Flash Face Cup is positioned to implement robust spin levels for optimal results. That means it reduces spin on long iron shots for maximum distance. Conversely, the shape of the clubface escalates spin on wedge and short iron strikes for improved greenside control.
I realized that the ball speed and spin robustness paired well with the iron's deep and low CG setup. This combination delivers a high-flying shot for uninterrupted flight and exceptional carry yards.
After my experience, I recommend that high handicappers struggling for forgiveness and airtime should test the B21 range.
Readers seeking a broader selection of forgiving irons should read our detailed guide. You will find options that produce straight flight and additional yards for improved results on approach.
Pros
Maximum forgiveness
High launch
Produces accelerated ball pace
Encourages a soft landing
Longer flight
Cons
Expensive for beginners irons
The high launch can cost you a few yards in windy conditions
Rating: 4.5
Golfers with a slower swing speed often struggle to amplify their coefficient of restitution (COR), resulting in a loss of power at impact.
Rogue ST Max OS irons stood out during testing as a speedy set of buttons that delivered a high launch and straight ball flight. Therefore, it offers improved distance and accuracy.
The engineers at Callaway crafted the Rogue ST Max OS irons with increased offset for straighter shots. The angle of the clubface helps you combat slice sidespin, encouraging direct flight and superior accuracy.
Wide soles support the offset profile of these irons, enhancing turf interaction to encourage clean contact from anywhere on the golf course. Furthermore, a high-strength 450 A.I.-designed Flash Face Cup explodes ball speed for maximum yards.
49 grams of tungsten appear in long and mid irons to bolster stability, lower the CG and expand the sweet spot. The increased stability enhances the golf club's moment of inertia (MOI) to keep it square through impact. Lastly, the lower CG encourages a high launch, while the sweet spot maximizes forgiveness.
Overall, the newly released Callaway Rogue ST Max OS irons deliver explosive ball velocity, optimal turf interaction, and improved distance. It is everything you could ask for from your irons, which is why it fetches a pretty penny.
Pros
Excellent turf interaction
Promotes straight shots
Generates explosive ball velocity
Stable at impact
Increased forgiveness
Cons
Limited workability
Moderately expensive for a high handicapper
Rating: 4.5
5. Apex DCB – Best Turf Interaction
Callaway touts the Apex DCB range as the most forgiving Apex irons they have ever produced. As a Forged 1025 Mild Carbon Steel construction, it garnered my attention for its hassle-free launch and advanced turf interaction.
Despite its forged design, Apex DCB irons carry a deep cavity back and expansive sole width. These features join forces to lower the CG and propel the ball high and far into the clouds.
Furthermore, the extended sole boosts your turf interaction to prevent the clubhead from burrowing into the earth.
Once more, Callaway inserted urethane microspheres beneath the club face. Their presence drowns out shocks from off-center strikes, ensuring a smooth feel on all shots. Additionally, the microspheres amplify the acoustics of each strike for a superior experience.
In conclusion, the Apex DCB irons offer an ideal opportunity to mid and high handicappers looking for forged irons. They offer the feel and sounds of a players iron and the forgiveness and consistency of game-improvement golf clubs.
Pros
Exceptional turf interaction
Dampens vibrations
Crisp acoustics
Easy launching irons
Forgiving
Cons
Expensive for mid and high handicappers
Certain golfers may find the wide sole design unattractive
Rating: 4.5
6. Rogue ST Pro – Best Callaway Clubs For Low Handicappers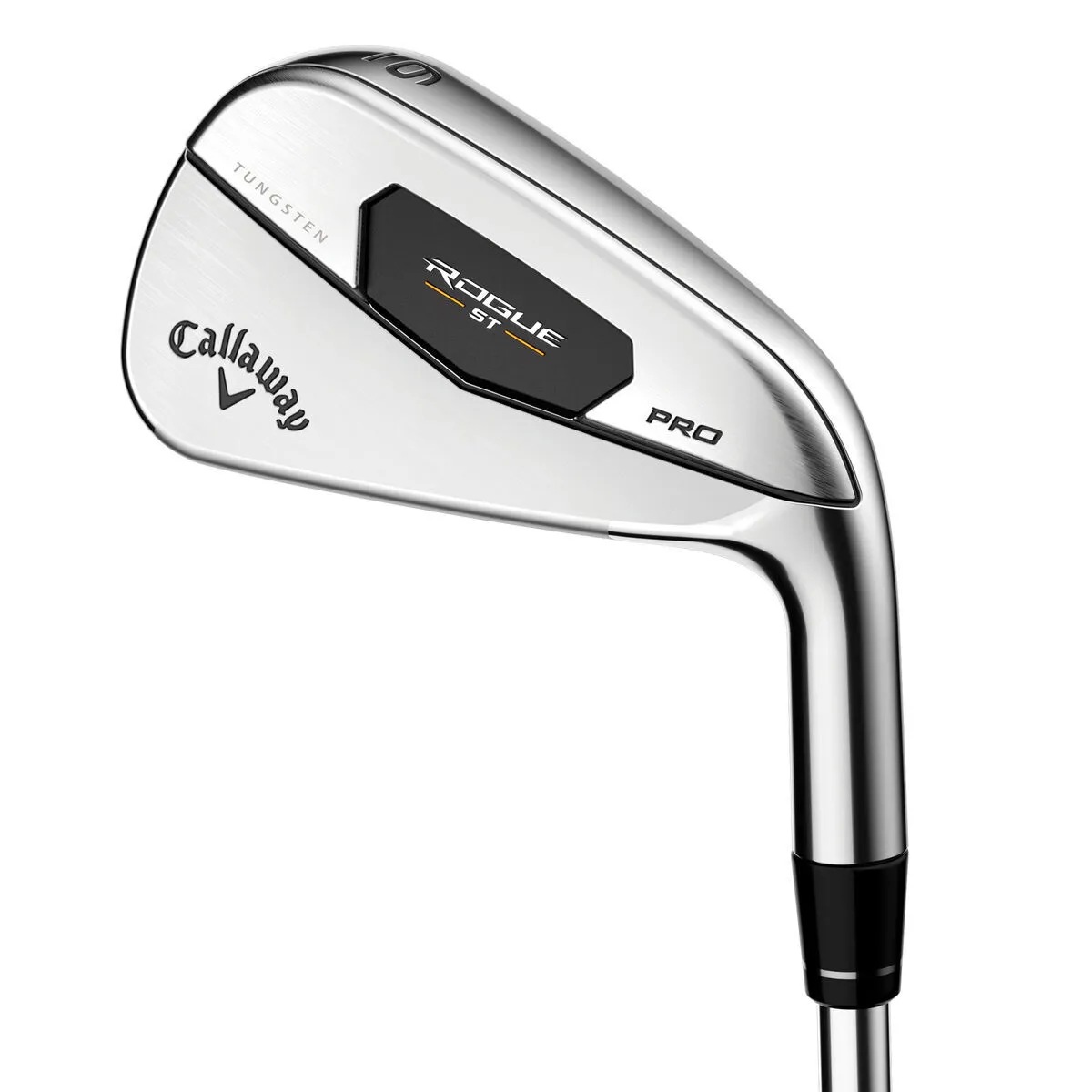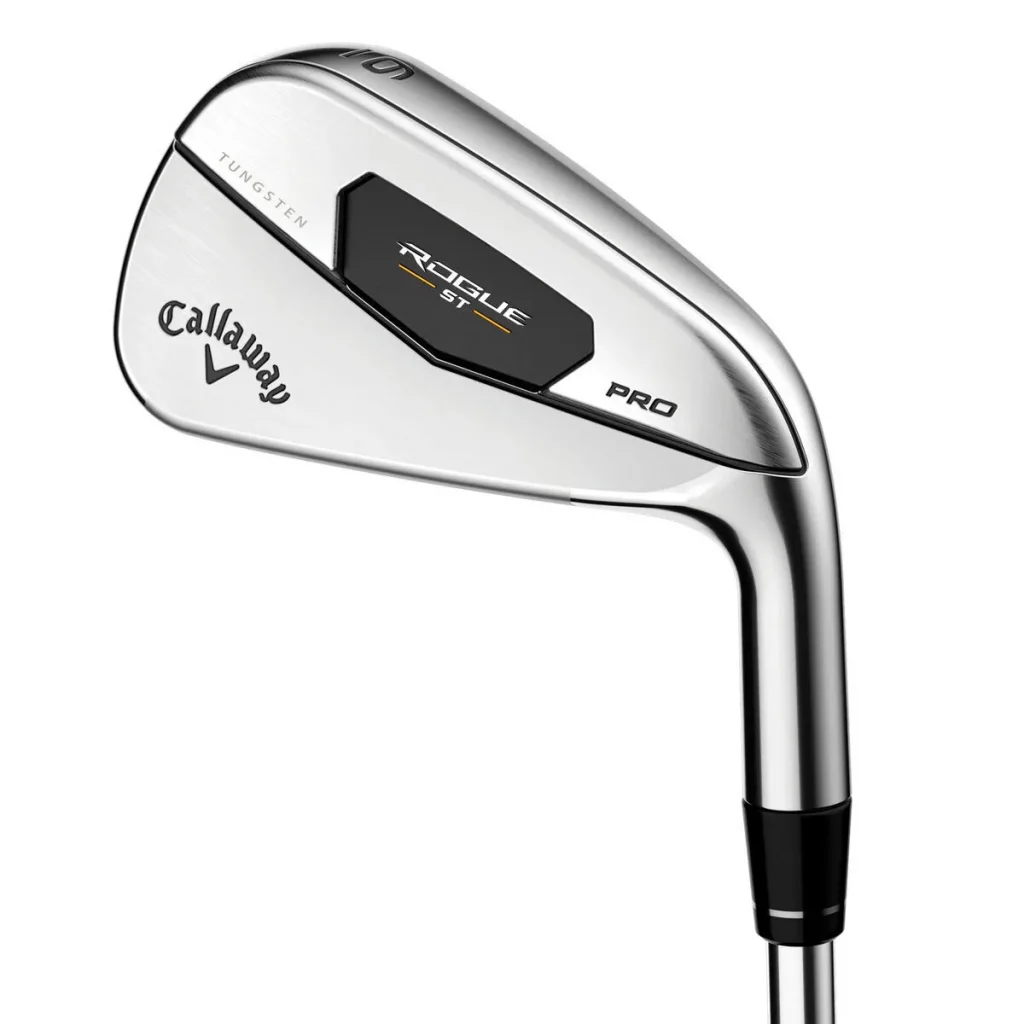 The Rogue ST Pro sports is a sexy players iron and hollow back, packed with game improvement technology for consistent results. Despite its clean players irons appearance, the ST Pro irons produce rapid ball speed, spin consistency, and a high launch.
However, these features do not impact the feel and acoustics of the range.
The stand-out feature for me was the 450 A.I. Face Cup. It elevated my ball speed and delivered optimal spin rates. Plus, the structure enhanced COR for a high, powerful launch and controlled descent. Therefore, you enjoy maximum carry distance and a soft landing.
Furthermore, Callaway inserted 48 grams of high-density tungsten into the hollow back to bolster the stability of the clubhead through impact. Additionally, the tungsten accelerates ball zip across the clubface for a high-flying shot.
Added to its superb launch and distance qualities is an exceptional feel. Urethane microspheres eradicate shocks from off-center strikes. They also feature to improve the feel of each iron for superior control.
Although the ST Pro irons feature game improvement technology, it offers reduced levels of forgiveness compared to the Big Bertha B21 range. In any case, they look good, feel soft and deliver optimal distance and spin results. For this reason, they are well placed to work for low handicappers, unwilling to sacrifice forgiveness.
Pros
Traditional players iron club heads
Accelerates ball speed
Produces consistent spin for optimal launch and landing
Encourages workable flight
Exceptional feel
Cons
Expensive
Reduced forgiveness
Rating: 4
7. Apex Pro – Best Callaway Irons For Pros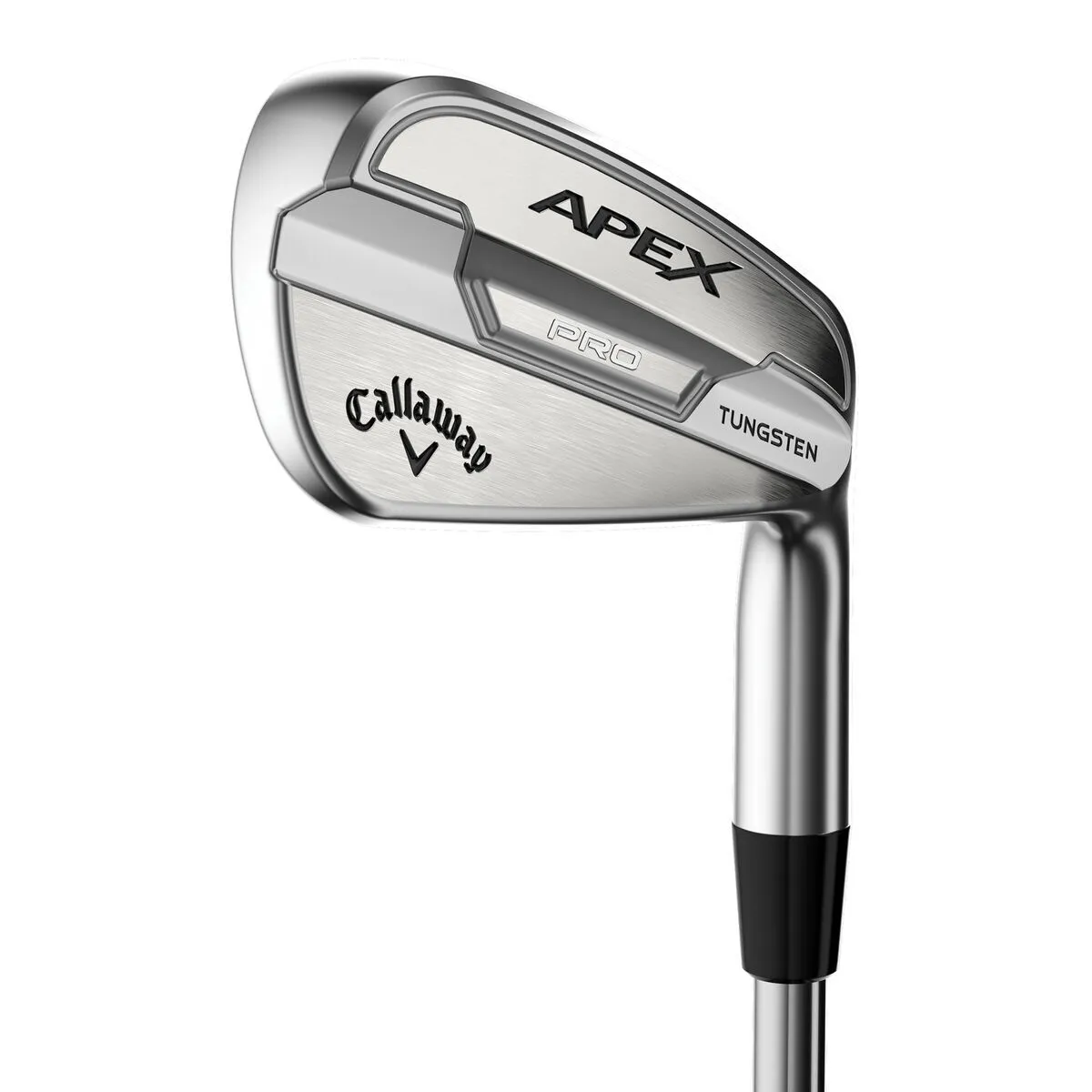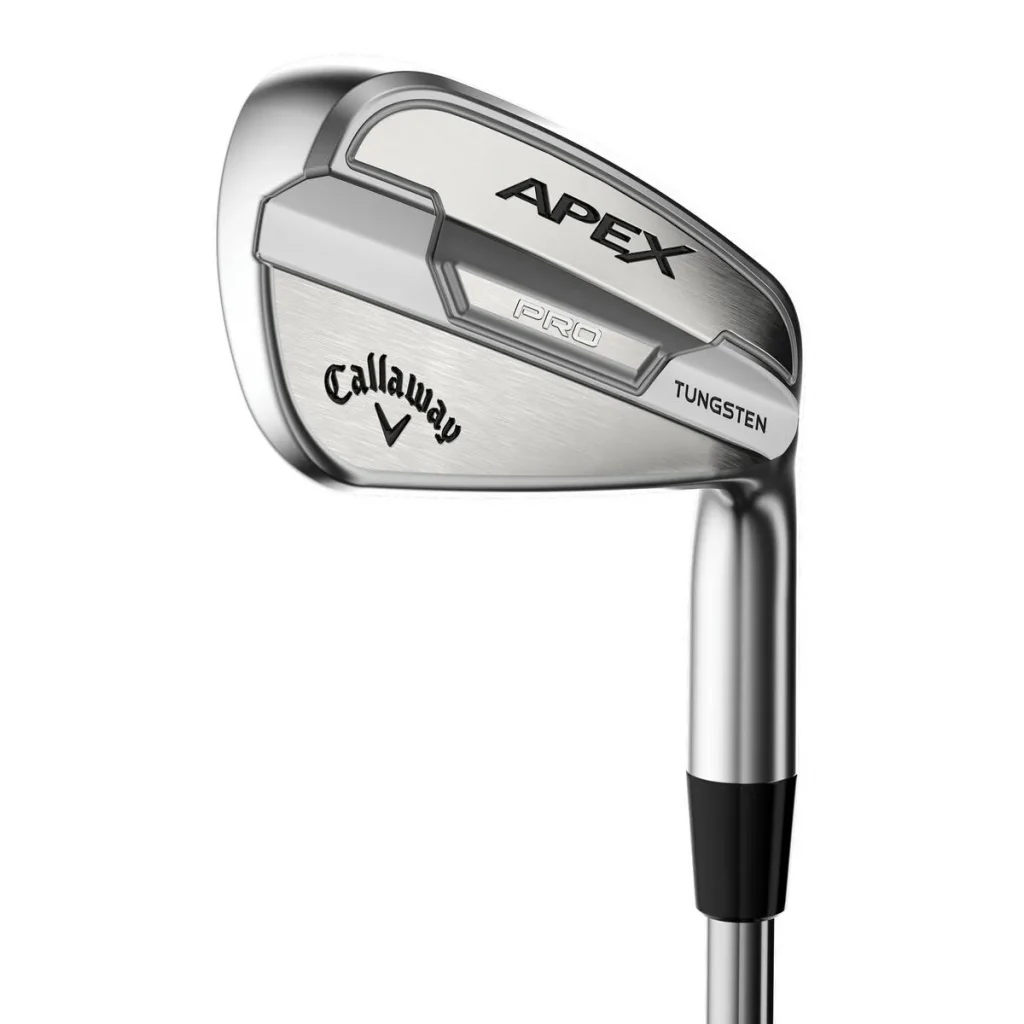 *Get 8% Off on GlobalGolf.com with Code: GOLFSPAN
After revealing our pick for low handicappers, this category is dedicated to the creme de la creme of the game. The Apex Pro irons are everything you would expect from a forged players iron. Its superior feel, acoustics, and workability seriously impressed me.
However, mishits led to catastrophic results.
The body of these irons is forged from 1025 carbon steel to deliver the quintessential feel expected from blade irons. In addition, the forging process amplifies the acoustics on each strike for a crisp sound at contact.
Moreover, each iron contains minimal offset and a narrow sole, enabling maximum workability on approach. This gives you the freedom to shape your ball from left to right, depending on the wind and layout of the hole.
90 grams of tungsten feature in each iron to produce the optimal launch and landing through the bag. Plus, the tungsten stabilizes the clubface at impact to maintain ball speed on off-center strikes. But it does not provide sufficient forgiveness for high handicappers to start swinging these beauties.
Callaway has created the modern players iron. Although they present the traditional look and feel provided by blades, they contain game improvement features. This means you enjoy optimal feel, workability, and an element of forgiveness, for greater consistency.
Pros
Traditional blade look
Crisp acoustics
Optimal feel
Exceptional workability
Stable clubface at impact
Cons
Insufficient forgiveness for mid and high handicappers
Expensive
Rating: 4.5
8. Rogue ST Max – Best Callaway Golf Clubs For Mid Handicappers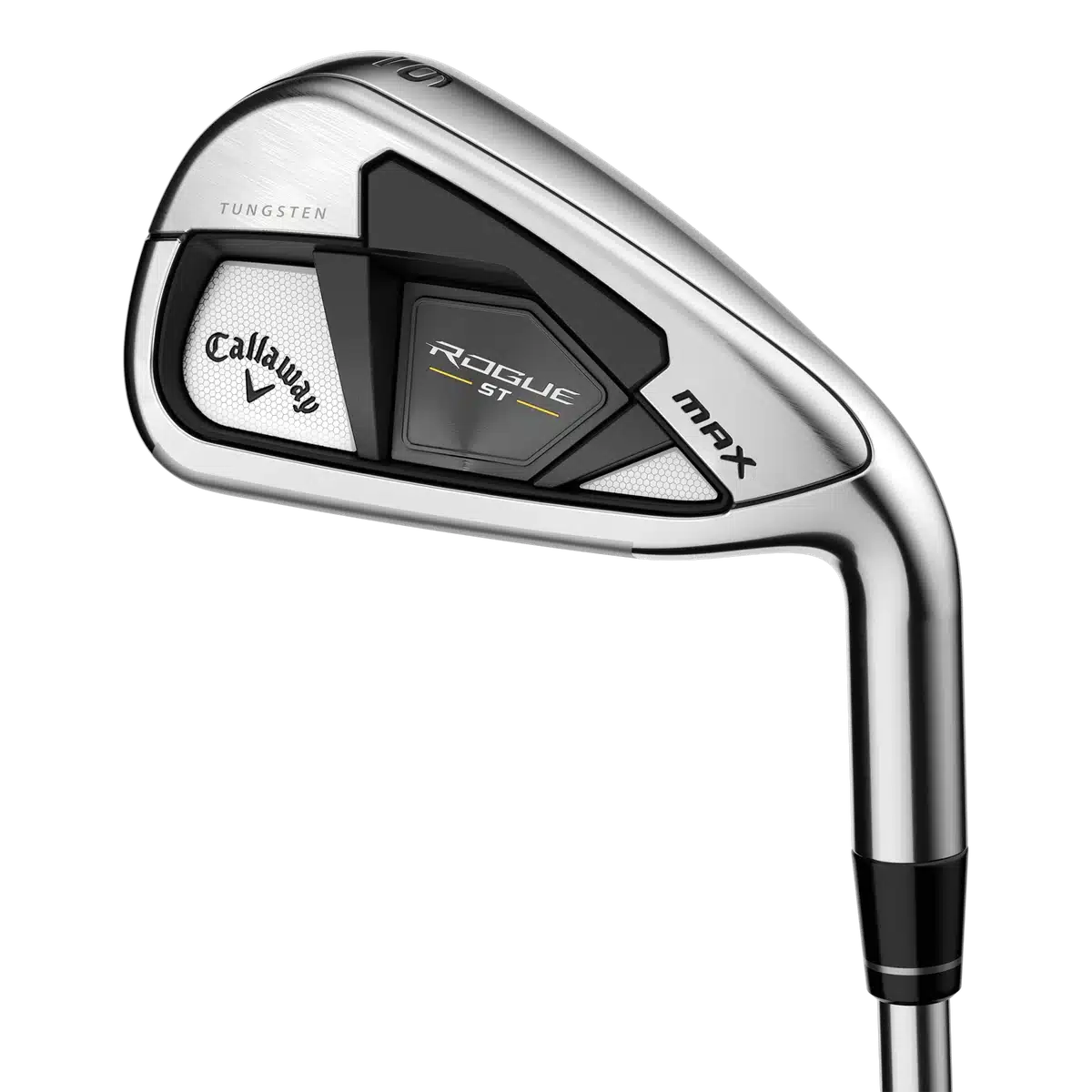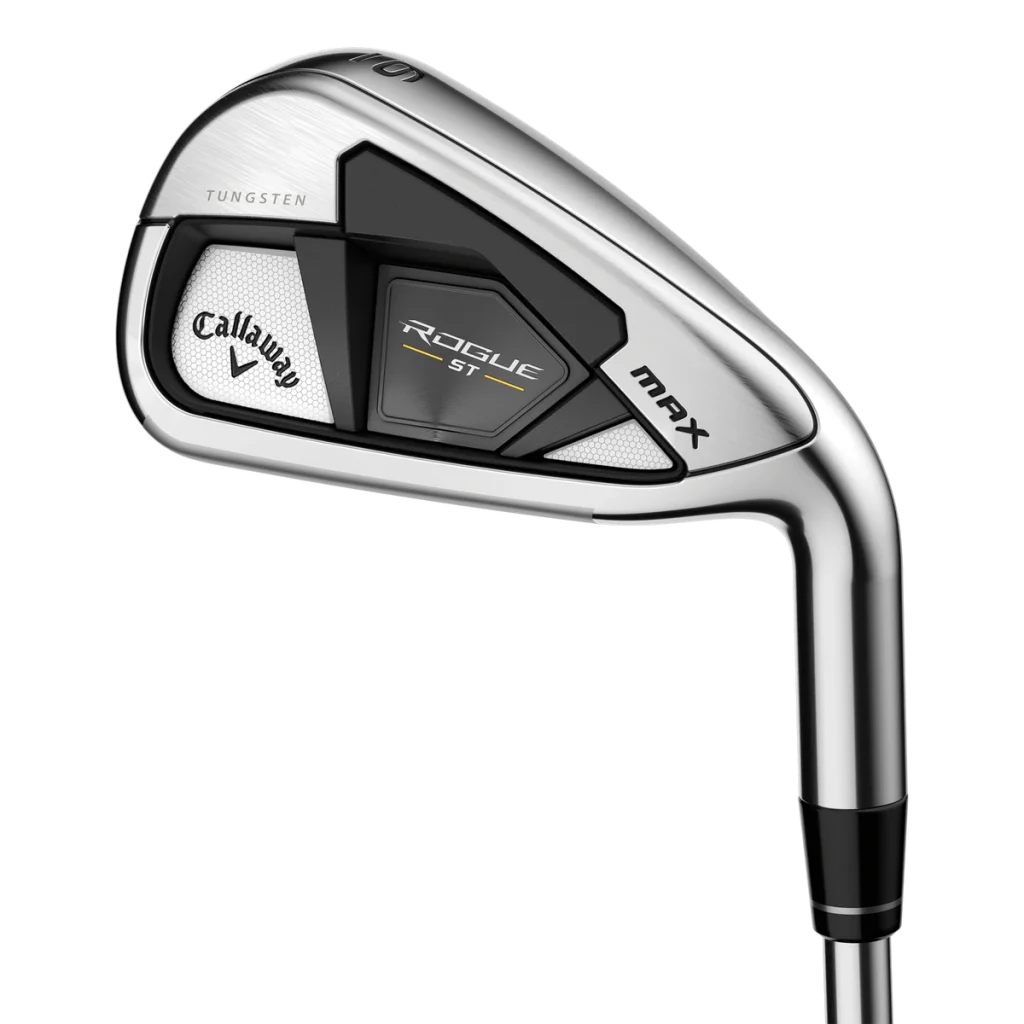 *Get 8% Off on GlobalGolf.com with Code: GOLFSPAN
The Rogue ST Max irons are among Callaway's latest products to hit the market. During testing, I found that these irons generated accelerated ball pace, optimized spin, and high launching shots. In addition, it provided ample forgiveness and a pure feel.
An A.I.-designed Flash Face Cup is crafted with high-strength 450 steel to promote uninterrupted velocity across the clubface. I also noticed that it optimizes backspin rpm with each iron to achieve the desired launch and descent angle. In consequence, you produce consistent carry distance and a soft landing.
62 grams of tungsten supports the high-strength face and provides perimeter weighting for a wider sweet spot. This means the club enhances stability on all strikes to maintain ball speed and reduce sidespin. As a result, you will prompt a high, straight shot.
Patented urethane microspheres are applied higher in the clubface. This intensifies acoustics and enhances the feel. The microspheres dampen vibrations on heel and toe mishits to protect your palms.
Overall, the Rogue ST Max range contains all the features of game improvement irons for mid-handicap golfers. They are forgiving, long, and consistent through the bag. Consequently, they provide optimal distance and accuracy without impeding the feeling of the irons.
Pros
Rapid ball velocity
High launch
Adequate spin from each iron
Dampens vibrations
Enlarged sweet spot
Cons
Expensive
Reduced workability
Rating: 3.5
9. Big Bertha Reva – Best Callaway Irons For Ladies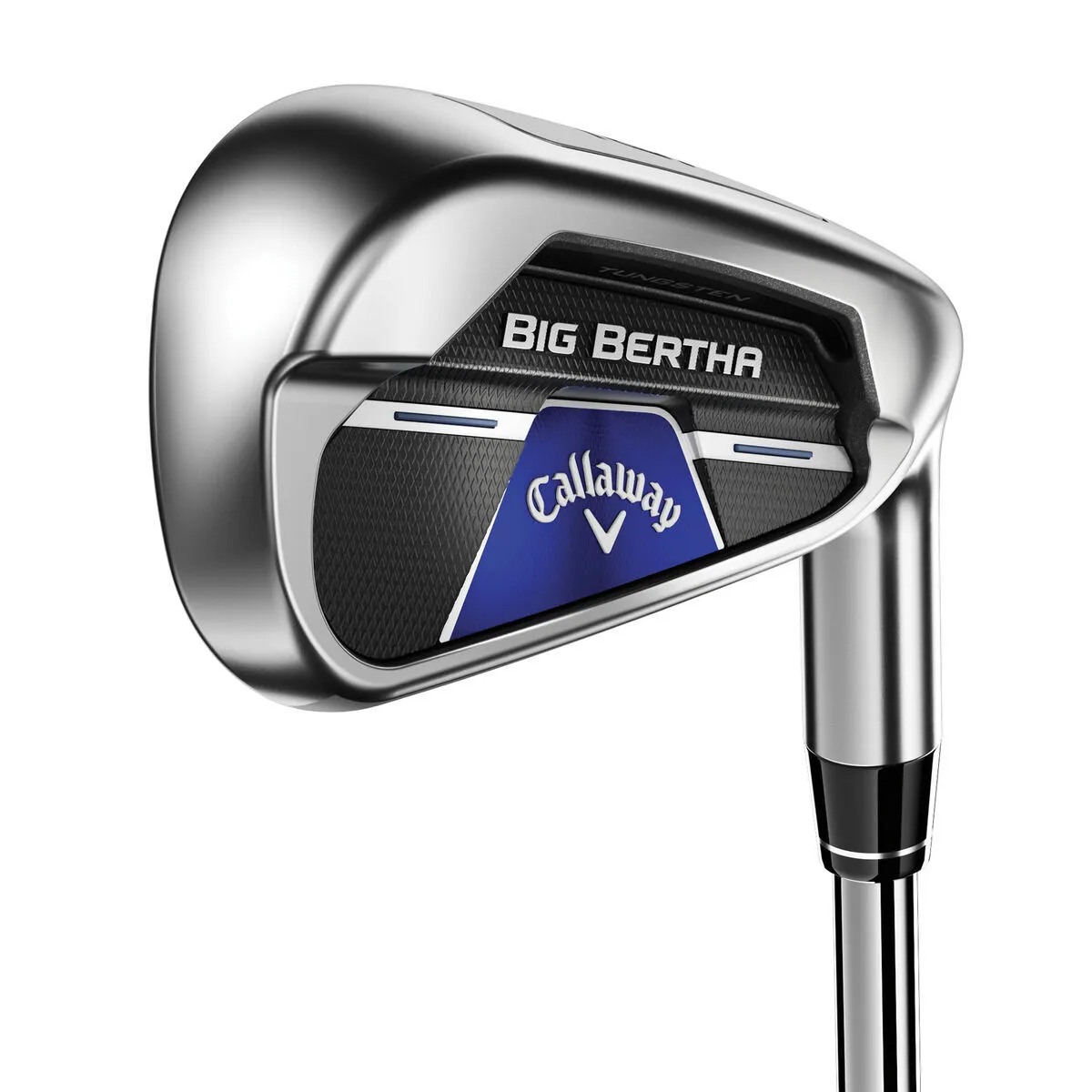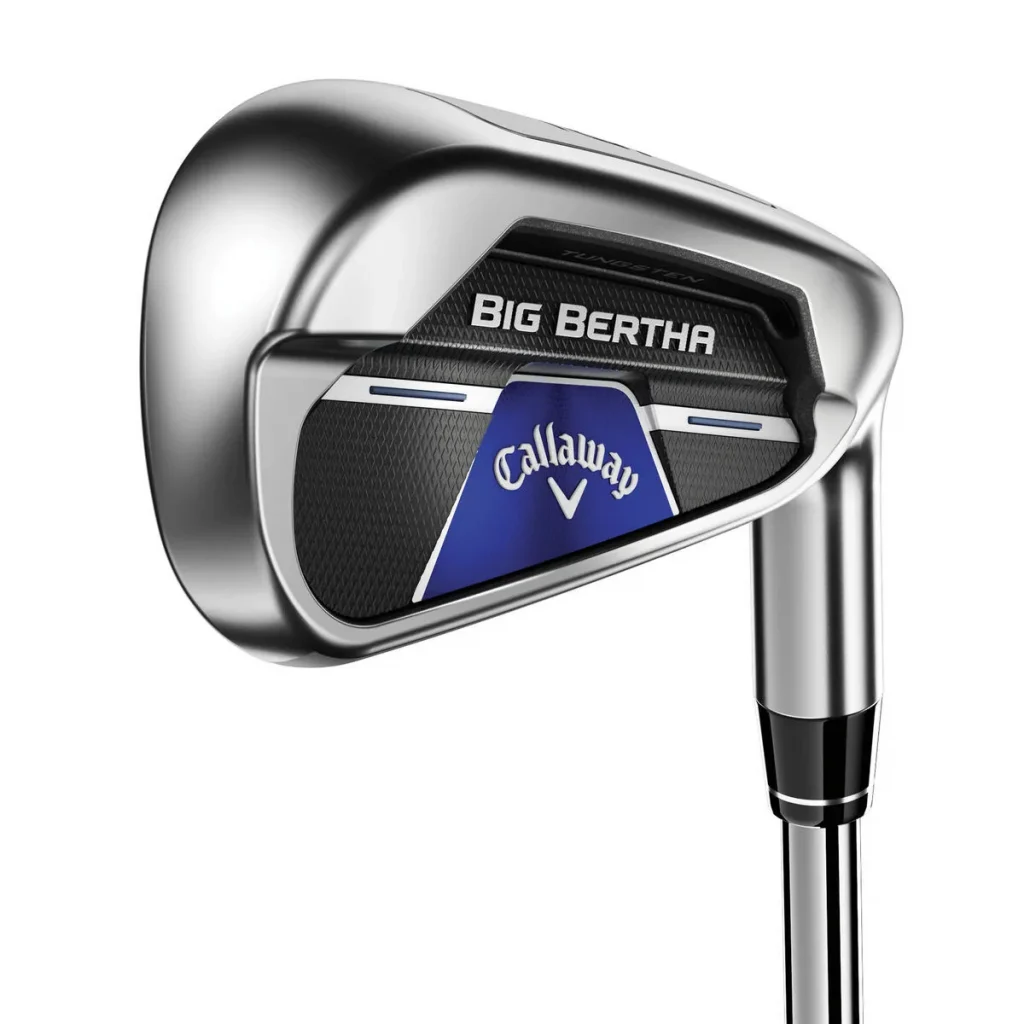 Ladies looking to improve their irons game need a set that is easy to launch, forgiving and long, like the Big Bertha Reva.
To compare apples with apples, I roped in a friend from my local course to handle this part of this test. As a 5-handicap, my buddy knows her way around the links.
Our idea was to find a moderately affordable set that is easy to launch, forgiving, and consistent. Plus, it had to be lighter to accelerate ball speed and energy transfer at impact. The Big Bertha Reva irons contain an A.I designed Flash Face Cup, which accelerates ball zip to maintain distance on all shots.
In addition, a Visible Tungsten Energy Core (VTEC) deepens CG to encourage a higher flying ball and a soft landing. The VTEC creates perimeter weighting to expand the sweet spot across the clubface. Lastly, the microspheres reduce shocks on mishits and generate a pleasant sound.
You'll find that the Big Bertha Reva irons are a breeze to launch and simplify your iron play. Their accelerated pace, soft feel, forgiveness, and high launch are everything you need for consistency on approach.
Pros
High launching
Delivers exceptional ball speed
Eradicated vibrations
Expanded sweet spot
Optimal spin
Cons
Minimal workability
The high launching construction can prompt some ladies to balloon their shots.
Rating: 3.5
10. Big Bertha – Best Looking Callaway Irons For High Handicappers
The final irons to make it onto our list of Callaway golf club reviews are the Big Bertha Smoked PVD poles. The chunky appearance of game improvement irons often provides an unappealing look at address. However, I found that the Smoked PVD finish improved the overall look at address and reduced glare.
On top of their attractive finish, these Big Bertha irons are equipped with a 360 Face Cup and suspended core construction. This partnership helped me boost ball speed and spin for a desirable launch and landing.
Additionally, Callaway employed urethane microspheres to improve the feel and sound of each shot. The pads eliminate shocks experienced on mishits to shelter your palms from an unpleasant feeling.
Ultimately the Big Bertha Smoked PVD irons are an appealing set of game improvement irons. They reduce glare, accelerate ball speed, and offer a forgiving and soft feel. This makes them a suitable option for mid to high handicappers who live in perpetual sunlight.
Pros
They reduce glare
Boost ball velocity
Forgiving
Soft feel at impact
Crisp acoustics
Cons
Expensive for game improvement irons
The Smoked PVD finish starts to wither rapidly
Rating: 3
What To Consider When Purchasing Callaway Irons
Budget
As you will see in the below list, Callaway iron sets range in price from $600 to more than $1500. If you need to save your pennies, I suggest considering an older model of game improvement irons, which will run closer to the $600 mark.
However, these golf clubs are incredibly forgiving and restrict workability. This makes them unsuitable for low handicappers. You must ready yourself to spend above $1200 if you demand workable players irons.
Once you have purchased your irons, you still need to account for golf balls, tees, a glove, green fees, and buckets of balls at the driving range. I advise average golfers to reduce costs on clubs where necessary, which allows you to invest more in coaching and practice, helping you lower your score.
Set Composition
What long irons are you looking to carry? Your fairway wood or hybrid choices impact the composition of your irons. If you struggle to consistently launch long irons such as your 4 or 5-iron, you should replace them with hybrids. This means that the strongest lofted iron in your set will be a 6.
However, if you are like me and prefer long irons, your 3 or 4-iron will be the lowest lofted iron in your golf bag.
Shafts
Stock iron sets acquired off the shelf may feature a regular flex stainless steel shaft designed for those with moderate swing speed. Golfers who struggle to get their ball airborne with these shafts should consider a seniors flex.
Besides the reduced apex on your shots, a stiffer shaft can cause you to leave the clubface open at impact, which creates left to right side spin, which leads to a slice.
Conversely, players who balloon their shots with these shafts should look to employ a stiff or extra stiff shaft. This reduces the spring of the clubhead into the ball at impact for increased ball speed and spin. As a result, you propel the ball along a lower trajectory.
Forgiveness
The average golfer requires optimal forgiveness to produce consistent shots. Without forgiveness, we create weak strikes, leading to a loss of yardage and accuracy.
That is why you want irons containing perimeter weighting, an expanded sweet spot, and low and deep CG. A combination that helps you consistently launch your ball high and long on all shots. Therefore, you produce superior results on approach.
When your golf clubs lack forgiveness, you lose ball speed, distance, and accuracy on off-center strikes.
Ball Speed
Golfers with a slower swing speed need all the assistance they can get at impact. Otherwise, they will deliver a lackluster COR causing a reduction in ball velocity, which prompts a weak shot and costs you precious yardage.
The solution to this is irons constructed with Flash Face Cup technology. This face architecture amplifies stability to deliver rapid zip on all strikes, ensuring that you produce ample distance on all shots.
FAQ
Which Callaway Irons Are Most Forgiving?
The most forgiving Callaway irons are the Big Bertha B21 range. Their A.I.-designed Flash Face Cup produces exceptional ball zip and spin robustness for a desirable launch and distance. In addition, their wider soles improve turf interaction for a clean strike from any lie on the golf course.
Do Any Pros Play Callaway Irons?
Yes, there are hosts of PGA and LPGA Tour Pros who play with Callaway irons. These players include Jon Rahm, Xander Schauffele, Sam Burns, Si Woo Kim, and Yuka Saso. The most popular irons among these players are the Apex TCB and X Forged Utility.
What Are The Easiest To Hit Callaway Irons?
From my experience, the Callaway Big Bertha B21 irons are the easiest to hit. They offer uninterrupted ball speed across the clubface and feature a low and deep CG. This combination helps you achieve a consistent, high launch for optimal carry distance and a soft landing.
What Callaway Irons Do Tour Players Use?
The most popular irons among the Callaway Tour pros are the Apex TCB, and X Forged Utility golf clubs. The average golfer has no business socializing with these traditional, forged players irons. Although they offer exceptional feel and workability, their forgiveness leaves much to be desired.
An alternative option for professionals to consider is the Callaway Apex Pro irons. Thanks to game improvement technology, they still offer minimal forgiveness, but it is elevated compared to the TCB range.
What Are the Best Callaway Irons for Low Handicappers?
The best Callaway irons for low handicappers are the Rogue ST Pro irons. These golf clubs provide blades' look, feel, and playability, along with an element of forgiveness. Therefore, you enjoy control and consistency in one set of irons.
Conclusion
Forty years after Callaway opened its doors, the company continues to produce golf equipment for all skill levels. Our review showed the immense diversity of their golf irons. Whether you are a pro or a beginner, you can find a set that suits your game.
While all ten sets of Callaway irons deserve their place on this list, I will end off with my three recommendations for the average golfer. The Mavrik is my best overall selection for 2023 given its reduced price, high launch, rapid ball speed, and additional yards.
In addition, golfers seeking to reduce their golf iron expenses should test the affordable Callaway X Hot set. Finally, if you desperately require forgiveness, the Big Bertha B21 irons will keep your ball flying for longer.
Those Callaway fans looking to learn more about their iron options should read over our detailed review of the Callaway Rogue X set.