The Callaway Paradym Irons were released early in 2023, and these irons are targeted towards mid-handicappers. As a passionate golfer and equipment enthusiast, I've had the opportunity to test and review many golf clubs over the years. But let me tell you, the Paradym Irons are something completely new and exciting.
Let's see if they can live up to the rich Callaway Irons' history in this Callaway Paradym Irons review.
Verdict: The Callaway Paradym Irons, with their AI-designed technology and other high-end features, offers an excellent blend of power, speed, and forgiveness. Despite a few drawbacks, such as a lower spin rate and a higher price tag, they are arguably one of the best Callaway Irons, particularly for mid-handicappers.
Any golf fan will want to understand the full picture to see if these irons should fit their game. Read on to learn the pros, cons, how I tested them, and a full review of all the Callaway Paradym Irons features.
I'll also compare them against the Paradym X Irons and cover who these irons are best for.
Let's dive into the Callaway Paradym Irons Review!
Callaway Paradym Irons Review: Pros & Cons
Pros
Utilizes AI-designed technology for a high-strength forged 455 face, enhancing power and speed.
Features a new hollow body design with Speed Frame construction, adding stiffness and support for improved performance.
Equipped with 67g of external and internal tungsten weights for better launch and speed, even on mis-hits.
Suited for golfers between 4 to 12 handicap-seeking players' distance iron with a premium forging.
Includes urethane microspheres to absorb unwanted vibrations, ensuring a softer feel and premium sound.
Cons
Comparatively expensive, with each club priced at £171 for steel shaft
The thick top line and wide sole might not appeal to some better players.
More suited for mid-handicappers, possibly not meeting the needs of higher or lower-handicap golfers.
[Click Here For More User Reviews]
Why Trust Us at GolfSpan?
At GolfSpan, we live and breathe golf. With our combined years of experience, deep understanding of the game, and a real passion for what we do, we provide our readers with well-rounded, honest, and detailed reviews.
We test the products we recommend, ensuring that we offer reliable advice so that you can trust our opinions are rooted in first-hand experience.
How Did I Test the Callaway Paradym Irons?
I spent hours on the golf course, meticulously testing the Callaway Paradym Irons. I hit numerous balls under different conditions to evaluate their performance from different lies.
Focusing on aspects like distance, forgiveness, accuracy, feel, and sound, I took detailed notes on every shot. I even compared the irons to other models and brands to gauge where the Paradym Irons stand.
Testing wasn't just about hitting the ball but understanding the complete experience these irons offer.
Features — Callaway Irons Reviews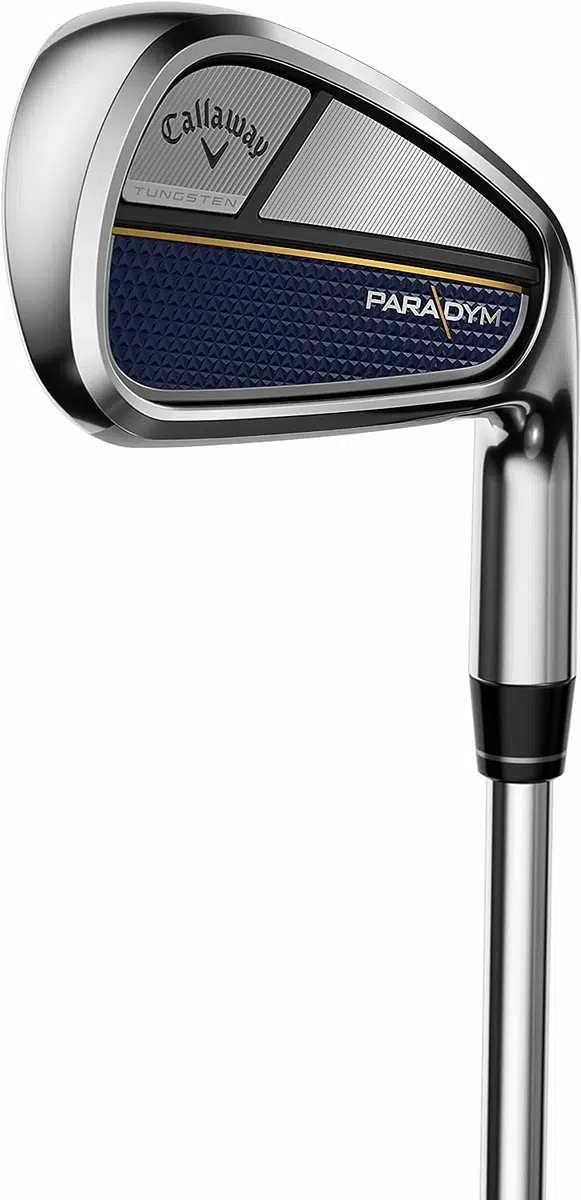 | | |
| --- | --- |
| Specification | Description |
| Target Audience | Mid-handicappers (4 to 12 handicap) |
| Construction | High-strength forged 455 face with AI-designed technology |
| Hollow Body Design | Speed Frame construction for added stiffness and support |
| Tungsten Weights | 67g of external and internal tungsten weights for better launch and speed on mis-hits |
| Distance | Average carry distance: 150 yards, total distance: 165 yards |
| Spin Rate | Lower spin rate (approximately 4830 rpm) |
| Aesthetics | Navy and gold color combination, back-cap design, and shiny satin finish |
| Price | $1,399 for the set |
Aesthetics
I've always been a sucker for a set of irons that scream class and sophistication, and let me tell you, the Callaway Paradigm Irons make an impact with their first impression. The navy and gold color combination gives them a luxurious feel – something you might see on a high-end sports car rather than your golf bag.
The back-cap design and shiny satin finish are the icing on the cake that brings out the player in you. It's like stepping into the shoes of a pro, ready to conquer the greens.
The Power of AI and Forged 455 Face
Now, it's not just about looks with these irons; they pack a serious punch too. Callaway has incorporated their AI-designed technology into the forged 455 face. I mean, we've seen the impressive results of AI in various fields, and now it's in golf, enhancing our game to a whole new level.
Every single face is uniquely optimized to provide more speed, higher launch, and consistent spin. I have seen these irons in action, and the power that comes off the face is simply stunning. It's almost as if the ball has a jet engine propelling it through the air.
Speed Frame Construction
These irons also feature a revolutionary hollow body design embedded with Speed Frame construction. Now, that might sound a bit too technical, but in layman's terms, this frame stiffens the club, offering better support to the forged 455 face cup.
It's kind of like having a world-class coach on your team, ensuring every stroke of yours delivers the optimal result.
Tungsten Weights: The Forgiveness Gurus
We all have those off days, don't we? Days when our swings don't seem to find the sweet spot. Well, Callaway has us covered. With 67g of external and internal tungsten weights in the Paradym Irons, your mis-hits are less disastrous.
The weights improve launch and speed on off-center strikes. It's like having a safety net, catching your mistakes before they cost you the game.
The Paradym Promise for Mid-Handicappers
These irons are aimed at golfers with a handicap between 4 to 12. While testing, they revealed an average carry distance of around 150 yards and a total distance of 165 yards. Yes, I know the spin rate at 4830 rpm seems a bit on the lower side, but the fiery nature of these clubs compensates for it, especially if you're a mid-handicap golfer looking to improve your strike.
Remember, it's not always about raw distance but the consistency, control, and overall game improvement these irons provide.
If you're looking to fine-tune your game, these irons are worth every penny. Speaking of pennies, these clubs are priced at £171 each for steel shaft – a reasonable price for an experience that can transform your game.
Expert Callaway Paradym Review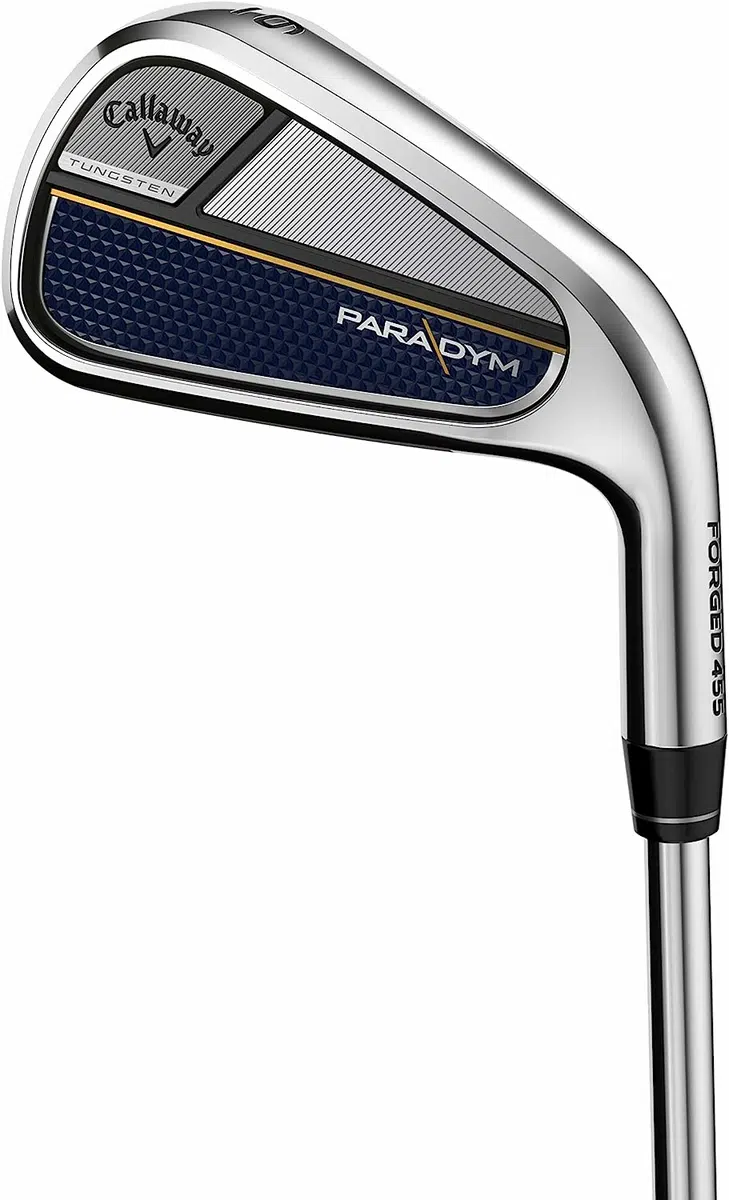 | | |
| --- | --- |
| Performance Aspect | Rating (Out of 100) |
| Distance | 92 |
| Accuracy | 87 |
| Forgiveness | 80 |
| Playability | 88 |
| Feel | 84 |
| Sound | 86 |
| Spin Control | 78 |
| Launch | 83 |
| Control | 89 |
| Overall Performance | 86 |
As an experienced golfer who's had the opportunity to swing many different irons over the years, I found that the Callaway Paradym Irons redefined my game. Each stroke with these clubs conveyed a level of precision and performance that is unparalleled.
Their deep, blue finish, comparable to the high-grade sheen of a luxury automobile, added an aura of elegance to these irons. Here's a more detailed account of my time with these extraordinary clubs on the course.
Distance
The Paradym Irons brought a new dimension to my long drives. The power these irons pack is quite extraordinary. Each swing I took sent the ball speeding through the air with a velocity that made my previous drives seem tame in comparison.
This surge in power can be attributed to the AI-aided design of the Forged 455 Face and Hollow Body design, combined with the Speed Frame construction. These technologies ensured maximum energy transfer from club to ball, launching it with a velocity that defied gravity.
Forgiveness
One of the standout features of these irons is their forgiveness. These irons offered a level of consistency that I found very reassuring. On the occasional imperfect swing when the ball struck near the center of the face, these irons maintained their resilience, still providing impressive speed and distance.
The hollow body design and the robust Speed Frame presented a safety net that proved to be a faithful ally, even when my swings weren't up to their usual standard.
Accuracy
Accuracy is a paramount factor for any golfer, and the Paradym Irons delivered on this front with impressive results. These irons allowed me to send my shots exactly where I envisioned, with a consistent trajectory that made target acquisition a breeze.
They showed a mild bias towards a draw or slight pull, which can be attributed to their moderate offset. For those looking to navigate the course with pinpoint precision, the Paradym Irons make for an invaluable asset.
Feel
The tactile feedback from the Callaway Paradym Irons was remarkable, providing clear information with each strike. These clubs seemed to speak directly to my hands, providing crucial insights about each shot. Even when my strikes didn't find the sweet spot, the feel of the irons remained pleasing and encouraging.
Their ability to provide robust feedback without being overly harsh was an asset that kept me swinging with confidence.
Sound
Often underestimated, the sound of a golf club can significantly influence a player's perception and confidence. The Paradym Irons hit the right notes here as well. They produced a crisp, clean sound upon impact that clearly indicates a well-executed stroke.
Even when my swings weren't perfect, the acoustics remained satisfying and consistent, helping maintain my confidence throughout the round.
Grip
Having tested the Callaway Paradym Irons, I can confidently say that their grip offers exceptional handling and comfort. Throughout my swings, the grip provided a secure and comfortable hold, allowing me to maintain full control.
The carefully crafted texture struck the perfect balance between tackiness and responsiveness, ensuring a confident feel regardless of the weather conditions.
Whether I applied a firm grip or a lighter touch, the Paradym Irons consistently delivered a reliable connection between my hands and the club, resulting in precise and consistent shots.
Price
Reflecting on my experience, I must acknowledge that the Callaway Paradym Irons come at a higher price point of around $1400 for the set. However, I found this price justified by their premium quality and advanced technology.
Compared to similar models like the TaylorMade P790, Mizuno 225, and Srixon ZX5 II, the Paradym Irons stood out with exceptional distance, forgiveness, and feel.
Difference Between Callaway Paradym and Paradym X Irons — Callaway Iron Comparison
The Paradym Irons have a more robust sibling, called Paradym X. Generally, both share the same features except that Paradym X Irons take a few elements up a notch.
While both irons share a common aesthetic of navy blue and gold accents, if we compare Callaway irons, the Paradym X stands out with their thick top line, substantial offset, and a face designed to be invitingly large without sharp edges.
The sound and feel of impact differ as well, characterized as a booming, crisp "snap" with the Paradym X, a stark contrast to the more muted impact sound of the Paradym Irons.
Performance-wise, the Paradym X Irons are a powerhouse. The same AI-designed Forged 455 Face, and Hollow Body design with Speed Frame construction are present here, but they deliver an even more exceptional speed and distance.
The Paradym Irons X trajectory is more robust, favoring a draw or small pull, and even mis-hits near the center of the face retain their speed and distance, offering a high level of forgiveness. This feature, along with their more apparent size, makes the Paradym X Irons an excellent choice for those who prioritize distance and ease of use in their irons.
While the Paradym and Paradym X Irons share a common DNA, the Paradym X Irons are arguably more forgiving and powerful, making them an excellent choice for golfers seeking distance and ease of use.
However, the Paradym Irons, with their compact 'player-like' design, hold their own appeal, especially for mid-range handicap golfers seeking a balance of power, launch, and a more refined shape.
Who Should Use Callaway Paradym And Paradym X Irons?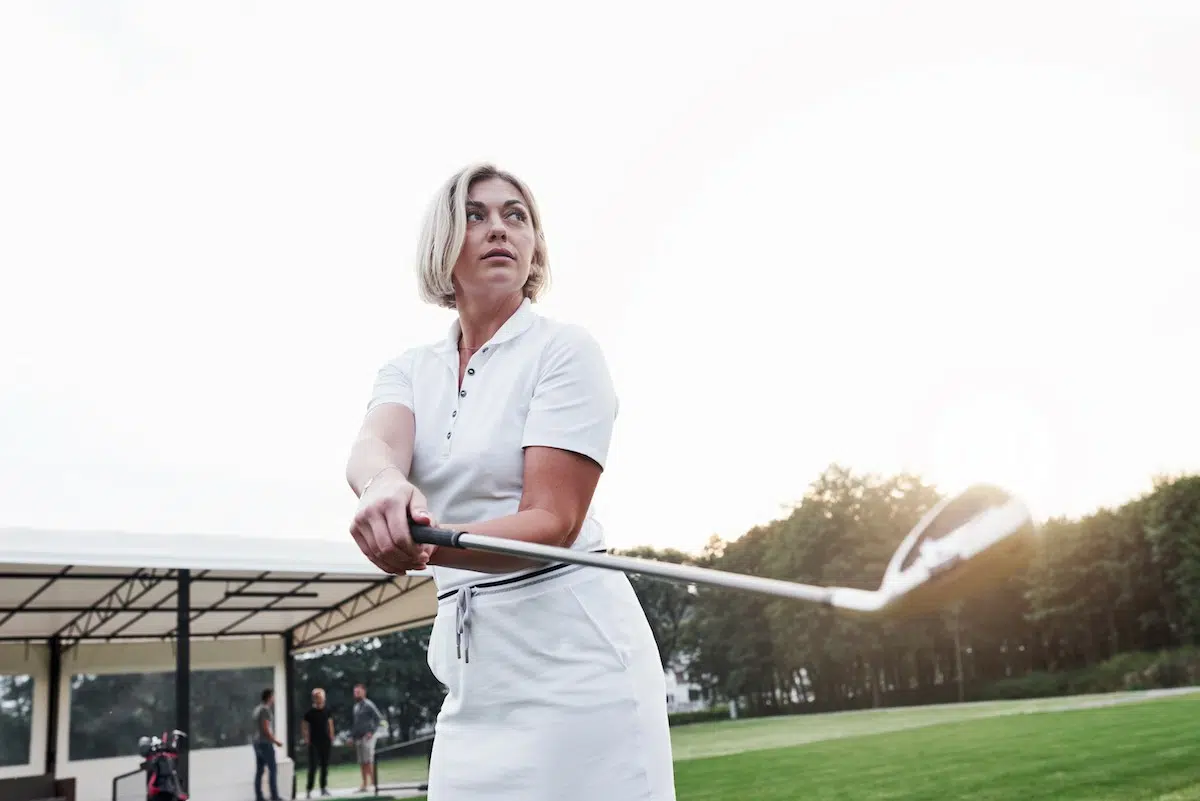 The Callaway Paradym X and Paradym Irons both cater to different sections of golfers, each designed with its own unique strengths.
The Callaway Paradym X Irons are best suited for golfers seeking extraordinary distance and forgiveness. The design factors in a large, welcoming face, a thick top line, and significant offset, fostering confidence and offering high-level forgiveness.
These irons are perfect for mid-to-high handicap golfers who yearn for a game-improvement club that combines distance and forgiveness without compromising on aesthetics.
However, the Paradym X Irons might not be the perfect match for low-handicap players or those seeking a more traditional, compact clubhead. The strong trajectory and lower spin may not fit the preference of players who value shot-shaping ability over outright distance.
On the other hand, the Callaway Paradym Irons are designed to bridge the gap between the distance benefits of a game-improvement iron and the feel and control of a player's iron. Their smaller, more refined shape makes them perfect for low to mid-handicap players (4 to 12 handicap) who crave more distance while retaining a premium, compact look and feel.
The Paradym Irons also delivers excellent speed, higher launch, and spin consistency. They might not be ideal for high-handicap golfers, as the compact head and focus on feel could be intimidating. Their low spin might also concern golfers who struggle with the launch.
Alternatives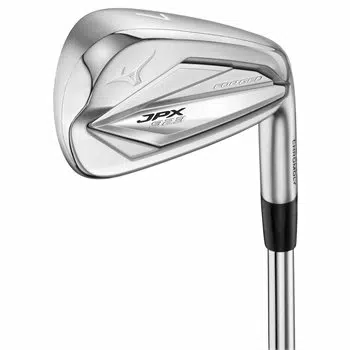 As a seasoned golfer, I find the Mizuno JPX923 Forged Iron a compelling alternative to the Callaway Paradym Iron. The Mizuno JPX923 is a compact, mid-sized cavity-backed club that delivers consistent carries and an exceptional feel. Its forged design gives it an attractive aesthetic and guarantees a superior feel, similar to the best blade irons on the market.
However, compared to the Paradym Iron, its lofts are stronger, which may not suit the better player. The Mizuno JPX923 stands out for its distance consistency, allowing for more aggressive approach shots. Its thinner top line could also appeal to those who prefer a more traditional iron design.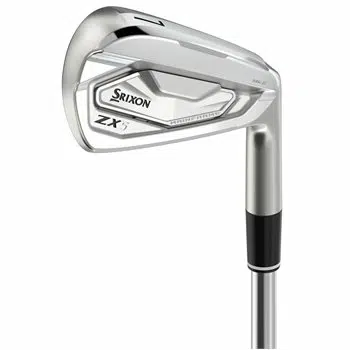 High-performing yet Compact Second in my list of alternatives to the Callaway Paradym Iron is the Srixon ZX5 MK II. I found the Srixon ZX5 MK II to be a significant upgrade from its predecessor, offering competitive distances and a high degree of forgiveness in approach, similar to the Paradym.
The club's compact aesthetic appeals to better players looking for a touch more leniency. The impact experience it produces is one of the best I've experienced with a compact mid-handicap iron, offering a soft touch but delivering a significant zing.
The con, however, lies in its limited gains over the prior model, but this might not be a major issue for those valuing its overall performance.
Broad Spectrum of Abilities Lastly, the Ping i525 Irons serves as an excellent alternative. This compact, distance-oriented iron combines the attributes of the G425 and the older i210 iron, offering distance, forgiveness, and feel in a slimline chassis. Just like the Paradym, it's designed for speed and power and can suit a wide range of golfing abilities.
I noticed that the i525 iron isn't especially easy to align, a potential downside for some golfers. However, for those who appreciate a classic-looking club coupled with modern performance, the Ping i525 could be the iron to go for.
Final Thoughts — Paradym Irons Review
Reflecting on my Callaway Paradym Irons review experience, I am genuinely impressed. They exude a perfect blend of power, sophistication, and forgiveness that made my golfing rounds more exhilarating than ever.
Even though the price might seem a bit steep, the performance and value it brings to your game is hard to dispute. Whether you are a seasoned golfer or an ambitious mid-handicapper, these irons can indeed usher your game into a new paradigm.
Thinking of making the switch? Check out the best deals on Callaway Paradym Irons on Amazon and Global Golf.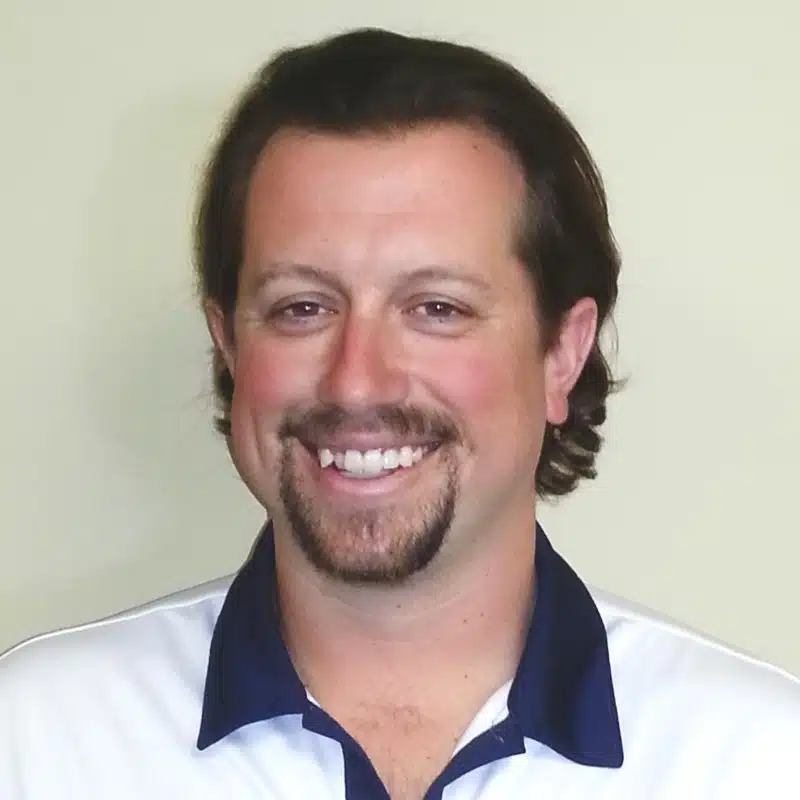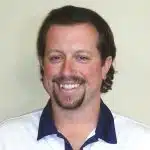 Clint became the Head Teaching Professional at one of Toronto's busiest golf academies and was featured on Canada's National Golf TV program, "Score Golf Canada," twice. He now tests and reviews golf equipment and gets to enjoy the game he loves whenever he wants while helping people lower their scores.