Wilson may not be the biggest name in golf products. Still, they have been consistently bringing out high-quality clubs since 1914. The D9 series is a testament to Wilson's commitment to providing excellent equipment at a much more affordable price than many of its competitors.
The D series of clubs has proven a popular choice amongst mid-handicap and beginner golfers for a long time. This is thanks to the extra distance and forgiveness you can squeeze out of these clubs.
The Wilson D9 Irons will add distance to your swing and its game-improvement qualities to keep you on the fairway. This should take a few strokes off your round. Plus, their price is in the middle of the range and will suit many high and mid-handicappers.
But they're not for every golfer, so in this review, we'll cover the pros and cons to see if this set will fit your game.
Wilson D9 Irons Review Overview
Great for Mid-to-High Handicappers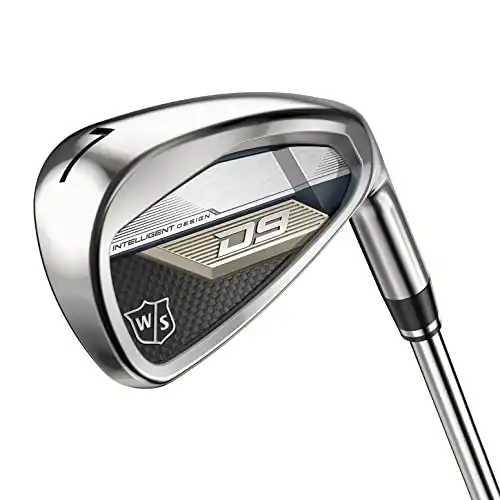 WILSON D9 Irons
Pros
The low center of gravity adds forgiveness
The clubface promotes greater distance
Great quality-to-cost ratio
Cons
High launch makes it difficult to play in windy conditions
View on Amazon

| | |
| --- | --- |
| Total Score | 83 |
| Star Rating | 4-stars |
| Distance | 88 |
| Forgiveness | 91 |
| Feel | 87 |
| Workability | 70 |
| Aesthetics | 89 |
| Price | 95 |
The D9 series supersede the D7 range, which will cover more in-depth later in this review, and they were already a beyond decent set of clubs. So, you'd be correct in assuming that the D9 is a worthy upgrade.
These are a game-improvement set of irons that border on super game improving. That means they provide optimal forgiveness but may detract from your overall game if you're looking for control and workability.
However, you can still achieve satisfying feedback from these irons, both in sound and physical  feeling. Not as much as a forged iron set, but still nothing to turn your nose up at, especially if you want the forgiveness.
They may not be the best fit for everyone, but they are still some of the best golf irons available. At least in their price range, which is the middle of the range.
The low center of gravity allows for a straight shot for off-center hits. And if you hit the ball well, you'll see those few extra yards of flight.
Now that we've discussed what kind of iron set the D9 series is let's look at how they work.
Wilson D9 Irons Features & Specs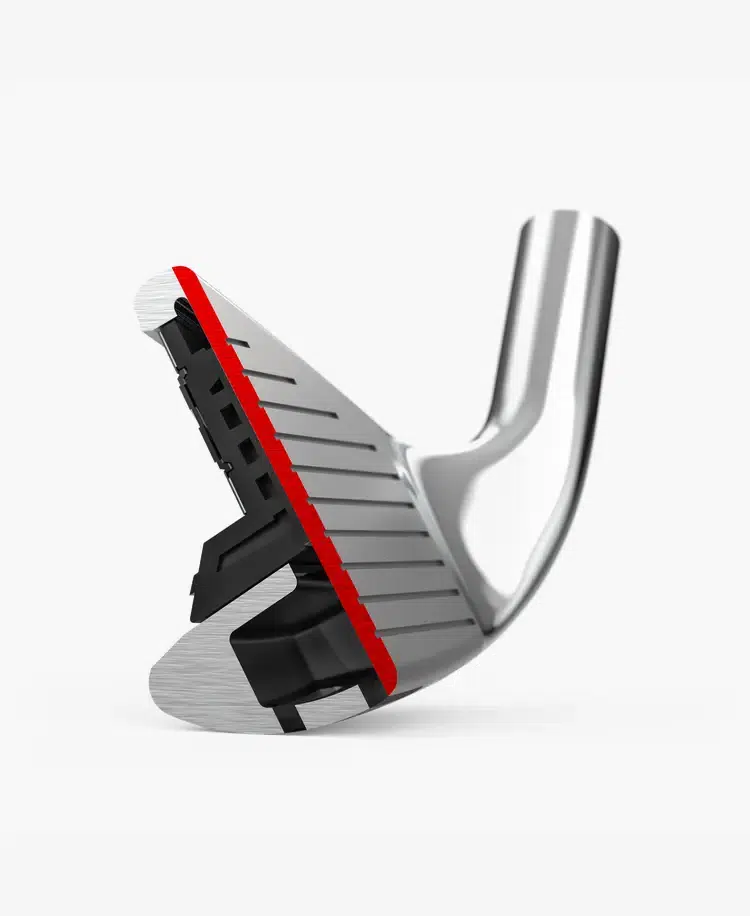 | | | | | | | | | | |
| --- | --- | --- | --- | --- | --- | --- | --- | --- | --- |
| CLUB | 4 Iron | 5 Iron | 6 Iron | 7 Iron | 8 Iron | 9 Iron | Pitching Wedge | Gap Wedge | Sand Wedge |
| HAND | RH/LH | RH/LH | RH/LH | RH/LH | RH/LH | RH/LH | RH/LH | RH/LH | RH/LH |
| LOFTS | 18 | 21 | 24 | 27 | 32 | 37 | 42 | 47 | 53 |
| LIE | 60 | 61 | 61.5 | 62 | 63 | 63.5 | 64 | 64 | 64 |
| LENGTH | 39 | 38.5 | 38 | 37.5 | 37 | 36.5 | 36 | 35.75 | 35.5 |
| BOUNCE | 2 | 2 | 2 | 3 | 5 | 6 | 6 | 6 | 6 |
| HOSEL OFFSET | 0.256 | 0.236 | 0.216 | 0.196 | 0.176 | 0.156 | 0.136 | 0.116 | 0.086 |
Higher Loft Than Their Predecessor
The loft on each D9 iron is 1° lower than the equivalent D7 series iron. But, when combined with the lower center of gravity, it still provides high ball flight. That means the landing angle for shots onto the green will be steeper and are less likely to roll off the green.
A Thin and Flexible Face for Fast Ball Speeds
The oversize head on the D9 irons has an unsupported and hair-thin face on them. This promotes fast ball speeds for longer shots. They've also removed any welds from the face that existed in the D7 series. They were inhibiting flexion and, therefore, ball speed.
Unique Power Hole Tech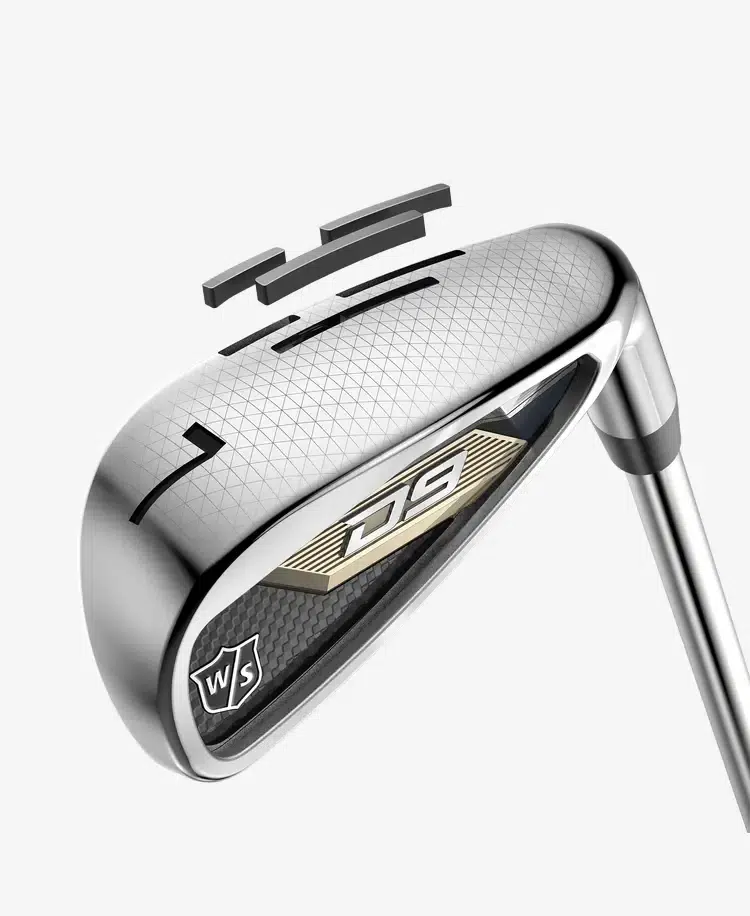 Accompanying the fast face, Wilson includes the second generation of their Power Hole tech into the D9 irons. This tech is a pocket arrangement on the bottom of the clubhead filled with polyurethane.
The idea is that these pockets allow more energy to transfer from the head through to the ball across the entire face through increased flex. That results in more speed, and, therefore, more launch.
Keep in mind that these pockets are visible on the club. So, if you don't want others to know that you're using game improvement irons, you may have to pick a different set.
Shaft Options
These Wilson irons come with either steel or graphite shafts.
The steel shafts weigh 80g and are manufactured by KBS. KBS specifically designed these UltraLite shafts for the D9 range, and they are the lightest of any steel shafts they make. They also have a longer tip section which assists in creating steeper ball flight.
The graphite shafts are MRC Tensei AV Silver, and you can get them in the following weights:
Stiff: 70g
Regular: 60g
Seniors: 55g
Grip
Whichever shaft option you choose, it will come with a Lamkin Genesis Crossline grip. These have a full-cord cotton weave with a soft surface that provides plenty of friction under different weather conditions.
AI Designed Club Heads
Wilson claims to have had 120 computers crunching numbers for weeks at a time to achieve maximum forgiveness and distance from these irons. They also wanted to design clubs that provide higher ball flight for low impact landing onto greens while maintaining straight lines.
Aesthetics
This point may split fans of the D9 series down the middle. The cavity-backed design looks great with the black and gold insert, but some may prefer a single-tone chrome look.
At address, the chunky head may frustrate some players as it becomes a little hard to line up your shots properly, especially in the rough.
The power hole inserts may also put some players off. While they are on the bottom of the club head and you can't see them when you take your shot, they are painfully obvious in the bag.
What Are the Lofts on the Wilson D9 Irons?
As we mentioned earlier, the lofts of the D9 series have not carried over from the D7 series, so if you're expecting the clubs to perform similarly to your existing D7 set, they will likely surprise you.
Some slow swinging players may have trouble finding the right distance due to the high lofts, so make sure you opt for a graphite seniors shaft if you know you have a slow swing speed.
The Wilson D9 irons lofts are as follows:
| | |
| --- | --- |
| 4 Iron | 18° |
| 5 Iron | 21° |
| 6 Iron | 24° |
| 7 Iron | 27° |
| 8 Iron | 32° |
| 9 Iron | 37° |
| Pitching Wedge | 42° |
| Gap Wedge | 47° |
| Sand Wedge | 53° |
What Type of Player Plays The Wilson D9 Irons?
Since D9 irons are game improvement irons, they suit mid to low handicappers. Social golfers will love the extra forgiveness and high launch to get them onto the green in as few strokes as possible.
The Wilson D9 Irons & Fairwoods/Hybrids Option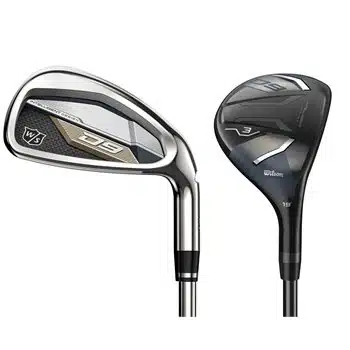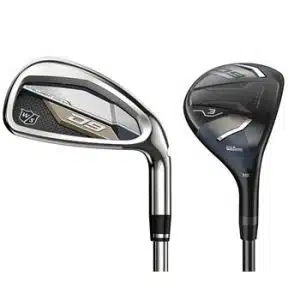 You can also get Wilson D9 drivers and fairway woods/hybrids. They offer much of the same forgiveness and distance capabilities as their irons counterparts and have similar tech. You could fill your bag with Wilson D9 clubs sans putter, leading to more consistency.
In fact, you can even buy a hybrid and iron set in one package. You'll save quite a bit of money by doing it this way. So, if you like the D9 irons, it's worth looking into picking up the woods as well.
Wilson D9 Forged Irons vs Wilson D9 Cast
The primary differences between these two clubs are look and feel. As with any forged clubs, the auditory and physical feedback is superior to the cast club heads.
The forged irons still have the same game improvement additions like the thin face, low center of gravity, and power hole inserts. But, they offer far more control over your shots. So, the forged iron version is a little better for more experienced golfers that still want a few extra yards and a little forgiveness.
The forged D9 irons are all chrome, so many golfers may also prefer the more traditional looks of the forged series.
Wilson Staff D9 Irons Review FAQs
Are Wilson D9 Irons Good for Beginners?
Yes, Wilson D9 irons are a good beginner's set of irons. However, others are even more forgiving. That may not necessarily be a good thing, though. Becoming too reliant on your club to correct flaws in your swing when you're starting could reinforce bad habits. So, the D9 series is a great middle ground.
Are Wilson D9 Better Than D7?
In short, yes, Wilson D9 irons are better than the D7 range. Golf technology improves quickly, and as such, the general rule is that the newer the club, the better it is. The D9 series is the direct replacement for the D7 series, ergo, the better club.
When Did Wilson D9 Irons Come Out?
The Wilson D9 irons were released in January 2021, and while you may find some Wilson D9 irons 2021 reviews, we've updated our review to compare it to the latest clubs for 2023.
Are Wilson D9 Irons Oversized?
Yes, the clubheads of Wilson D9 irons are oversized, similar to Ping G425 irons. This allows them to be extra forgiving and pair well with the Power Hole inserts to provide exceptional ball speed.
Are D9 Irons Forged?
You can get D9 irons in a cast design or forged. If you want the forged models, make sure when you buy them they say "Wilson Iron D9 Forged."
Wilson D9 Iron Review Alternatives
Not sold on the D9 irons? There's plenty on offer outside of some other Wilson clubs like the C300 irons. Check out these alternatives that target the same area of the market.
TaylorMade SIM Max 2 Irons
These are the perfect choice if you want a similar set of irons to the D9 series but from one of the big four golf brands. They cost a little more than the Wilson D9 clubs, but that's the premium you pay for the brand name.
The SIM Max 2 irons outperform the D9 irons a little in terms of forgiveness but are very similar in terms of distance. The flight path of the SIM Max is lower too, so you're more likely to roll off the green.
On the other hand, if your natural stroke favors a low-flight path, the SIM Max irons are an obvious choice.
The tech in the SIM Max irons is different from that of the D9 but achieves similar results. Both clubs rely on a low center of gravity. Still, the TaylorMade irons also rely on the following inclusions:
A Thru-slot speed pocket
Cap back design
Echo dampening system
Inverted cone technology
One could argue the SIM2 irons look a little better, too as you can't see the inserts on the bottom of the clubface, but that boils down to personal taste
Cleveland Golf Launcher Turbo HB Iron Set
The Cleveland Launcher irons do exactly what you'd infer from the name, launch. They are  super game-improvement style irons that frankly leave most of the competition in the dust when providing extra distance.
Although the Turbo HB irons' primary purpose is to provide distance, they also offer plenty of forgiveness. This is thanks primarily to two design choices:
The hot face that provides plenty of ball spin and speed
A hollow body construction with stabilizing ribs
Much like the D9 irons, the Cleveland Golf Launcher series relies on a low center of gravity to provide optimal launch.
If you'd consider a hybrid style set of irons an option, these are among the best, especially given their sub $1000 price tag for a set.
Callaway X HOT Iron Set – Big Brand on a Budget
You'll often find the Callway X HOT irons for under $500. At that price, they're a steal. While they lack some of the fancy tech in the slightly more expensive competition (like the Wilson D9), they are still plenty forgiving enough for most mid-handicap and low handicap golfers.
These share some features with the Wilson D9, like a cavity back design, a low center of gravity, and aesthetically pleasing inserts. But that's about where the direct comparisons end.
These aren't as forgiving and won't shoot as long as the others that we compared here. However, the bang for the buck you get with these clubs still makes them a viable choice.
Final Thoughts on the Wilson D9 Irons
The Wilson D9 irons are a sensible choice for any mid-handicap player that wants to take a few strokes away from their game. They also work well for beginners. They're forgiving enough to help you avoid a lot of the frustration that comes with learning a proper stroke.
These also offer decent control, considering they are game improvement irons. The forged series may even suit a player with a lower handicap. But, if you want full control over your shots, you're better off with a blade-style set of forged irons.
Read more: We reviewed all the best irons for beginners, which will give you other similar options.
Chris's love for golf is only rivaled by his wanderlust. A globetrotter at heart, He's played courses throughout Europe and Asia and at home in NSW, Australia. With a writing style as smooth as his golf swing, he'll help you find the right gear to match your skill level and style. You can connect with Chris on LinkedIn.