Introducing the remarkable Ping G425 irons, the successors to the beloved G410 range.
These irons cater to the average golfer, delivering optimal ball speed, high ball flight, and exceptional shot-stopping prowess. With a shorter blade, perimeter weighting, a speed-generating face, and the innovative Arccos Caddie Smart grips, the G425 sets a new standard, showing remarkable evolution within just two years.
Are the Ping G425 irons worth it? The PING G425 irons have meticulous engineering that ensures a superior moment of inertia (MOI), giving you a straighter flight and improved shot dispersion even on mis-hits. It's not just about forgiveness; the G425 boasts the fastest ball speed in the G-family, thanks to its Hyper 17-4 stainless steel face.
This series offers versatility with setup options for those aiming to either strengthen or increase the loft of their iron, making it a preferred choice for mid to high-handicappers seeking consistency. The Ping G425 irons are more than just clubs; they're your game improvement ally, promising a forgiving, accurate, and reasonably long shot every swing.
By skimming past this comprehensive review, you're missing out on a detailed exploration of how the Ping G425 irons could significantly upgrade your golfing experience, from its sleek aesthetics to its hydropearl finish performing brilliantly even in wet conditions.
Are they as forgiving as the Ping G425 fairway wood? If rapid ball speed, high flight, and greenside control appeal to you, the G425 irons are right up your alley. But, if forgiveness is your main priority, you may prefer to study our Ping G25 hybrids review.
Ping G425 Irons Review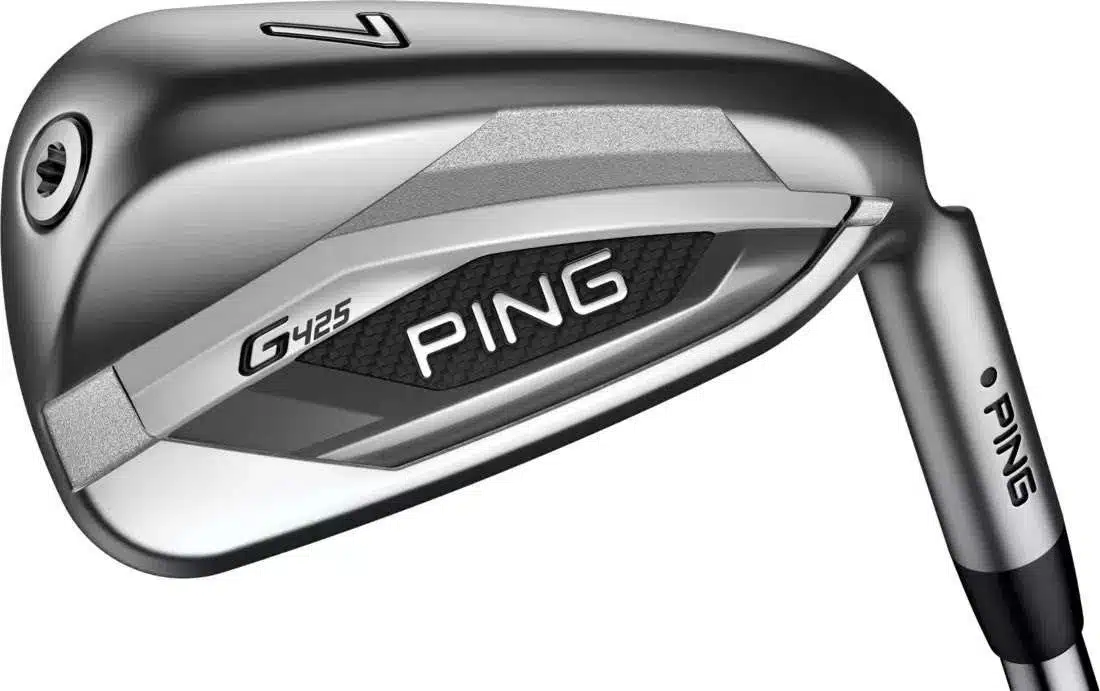 | | |
| --- | --- |
| Total Score | 86.7 |
| Star Rating | 4-stars |
| Distance | 88 |
| Forgiveness | 95 |
| Feel | 90 |
| Workability | 79 |
| Aesthetics | 84 |
| Price | 84 |
Pros
Produces faster ball-speed than any other iron in the G-range
Optimal forgiveness
Promotes a high ball flight for maximum carry-distance
Delivers impressive shot-stopping ability
Shorter blade length than the G410
Drowns out unwanted vibrations on off-center strikes
Cons
Moderately expensive
Reduced roll impacts your total distance
Restricts workability
The Ping G425 irons take over from the successful G410 range. It provides the average golfer with optimal ball speed, high ball flight, and full shot-stopping power.
Compared to its predecessor, I like that the G425 features a shorter blade, perimeter weighting, a speed-generating face, and Arccos Caddie Smart grips.
The engineers have made remarkable progress, considering that the Ping G425 irons release date came two years after the G410. Although the blade of the latest model is shorter, it offers a superior moment of inertia (MOI). That means that you enjoy the straighter flight for improved shot dispersion.
The latest addition to the G-series features superior forgiveness compared to its expanded perimeter weighting. As a result, in my testing, I enjoyed consistent accuracy and distance even on off-center strikes (which almost never happened, haha).
Furthermore, the company swapped the COR-Eye technology for a metal wood-style face. The Hyper 17-4 stainless steel face initiates the fastest ball speed in the G-family, producing high-flying shots for optimal carry distance.
Like the previous version, the G425 offers a Power Spec fitting option if you wish to strengthen the loft of your iron. However, unlike the G410, the latest version includes a Retro Spec setup for those seeking more loft on each iron.
Finally, the stock Ping G425 irons are fitted with Arccos Caddie Grips that contain sensors to record and analyze every shot. It helps you identify the strengths and weaknesses with each iron to improve your ball striking, distance, and accuracy.
Overall, the game improvement G425 irons are forgiving, accurate, and relatively long. That means they are ideal for mid to high-handicappers seeking consistency from their irons.
Ping G425 Irons Performance Review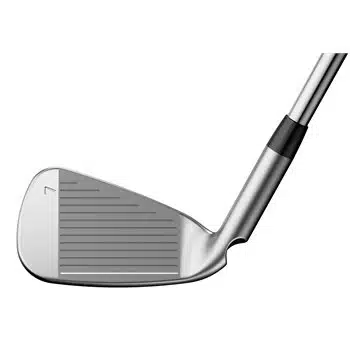 Look
Ping's engineers shortened the blade on the G425 irons compared to their predecessor, the G410 range. The Ping G425 set presents a compact and clean design for a pleasant view at address. Despite being game improvement irons, they are not overly chunky and appeal to mid and high handicappers.
Feel
Naturally, game improvement irons do not provide the crisp feel of blades at impact. However, these irons are as close as you get with this golf club style.
A three-piece multi-material badge features in the cavity of the irons. Its presence protects an expanded area of the face to drown out unwanted vibrations on mishits. Therefore, it provides a smooth feel on strikes across the face for a superior experience.
Spin
The optimal distance provided by these irons came at a price. The sacrifice was spin. The mid and lower irons did not spin to the level I desired. However, the high launching nature of these irons and the soft landings still provided sufficient control on approach. Therefore, I could live with the reduced spin levels.
Forgiveness
The distance and accuracy forgiveness of the Ping G425 irons is outstanding. The tungsten toe and hosel weights balance the clubface to increase its moment of inertia (M.O.I). That means the clubface resists twisting during your swing to remain square through impact. As a result, you produce straighter shots for improved accuracy.
Furthermore, a hyper 17-4 stainless steel clubface produces the fastest ball velocity recorded in the Ping G-series. The thin clubface helps you deliver a higher launching shot for maximum distance and improved shot-stopping qualities.
Finally, a top-rail undercut and cascading sole join forces to boost the flexibility of your clubface. That helps you impart consistent speed onto the ball, even on strikes low off the face. Therefore you maintain ball speed on strikes across the face for optimal distance and a soft landing on every shot.
Overall, Ping G425 irons help you hit the ball consistently straight and long, even when you do not catch the ball out of the sweet spot. Therefore, it is ideal for mid and high handicappers.
Ping G425 Iron Specs
Perimeter Weighting
To enhance the MOI of these irons, the engineers inserted a hosel weight and a tungsten toe screw. This design ensures that if you catch the ball off the heel or toe of the face, you still generate enough ball speed and spin to launch your shot high and long.
Speed-Generating Face
The biggest step-up in this edition of the G-series is 425's speed-generating face. It accelerates ball speed across an expanded area of the clubface to deliver a high launching shot and optimal carry distance.
Ping opted to employ a Hyper 17-4 stainless steel clubface, which induces a similar performance to a metal wood. These combinations generate a high ball flight and cause the ball to stop rapidly upon landing. While the latter feature is ideal for holding narrow greens, it is not suitable for optimizing total distance.
If you are losing distance due to a lack of ball speed, this feature is a valuable asset to have in your bag.
Multi-Material Badge
If you have ever mishit a blade iron, you understand the nasty vibrations that run up the shaft and engulf your hands. To avoid that happening, Ping inserted a multi-material badge in the cavity. It drowns out vibrations to enhance the feel and promotes a crisper sound at impact.
Stopping Power
Thanks to the high launching nature of the G425 irons, your ball enjoys optimal carry distance. However, it also leads to your ball landing softly and stopping rapidly. This feature is ideal when you need to hold compact greens on approach.
Streamlined Look,
The downside of game improvement irons is that they often sport oversized clubheads that make you feel like you have a sledgehammer in hand. Thankfully, Ping understands this and worked to produce a shorter blade than its predecessor.
Therefore, you enjoy a streamlined appearance that appeals to superior golfers, as well as high handicappers.
Hydropeal Finish
Those who live in high rainfall areas will appreciate the work of the Hydropearl finish. The G425's are coated with Hydropearl to repel moisture away from the grooves. As a result, the irons promote cleaner contact with the ball even in wet conditions.
Loft
There are three loft options available on the Ping G245 irons:
Standard
Power spec
Retro spec
The standard loft is what you can expect on the irons bought off the shelf. However, if you prefer stronger lofts, you can switch them out for the power spec option. Conversely, if you launch the standard irons low, think about the weaker retro spec lofts.
If we follow the advice of Jo Taylor at Golf Monthly, we see that the standard loft of these irons is in line with their competitors.
| | | | | | | | |
| --- | --- | --- | --- | --- | --- | --- | --- |
| Club | 4 | 5 | 6 | 7 | 8 | 9 | PW |
| Standard Loft | 20.5° | 23.5° | 26.5° | 30.0° | 34.5° | 39.5° | 44.5° |
| Power Spec Loft | 19.0° | 22.0° | 25.0° | 28.5° | 32.5° | 37.5° | 42.5° |
| Retro Spec Loft | 22.0° | 25.0° | 28.3° | 32.3° | 37.0° | 42.0° | 47.0° |
Shafts
There are two stock shaft options available with the G425 irons. These are the Ping AWT 2.0 steel and the Alta CB graphite construction.
The steel shaft construction suits those with fast to super fast swing speeds and produces superior trajectory control and feel. On the other hand, the CB graphite shaft works best for slower swingers looking to launch the ball higher.
Smart Grips
Capping off our reviews of Ping G425 irons features are the Arccos Caddie Smart grips. They contain sensors that track your swing with each club. As a result, it helps determine your distance with each club and what shot to play from where.
You will obtain membership to the app for the first year, but you will not pay for this going forward.
 

 

View this post on Instagram

 
G425 Irons FAQs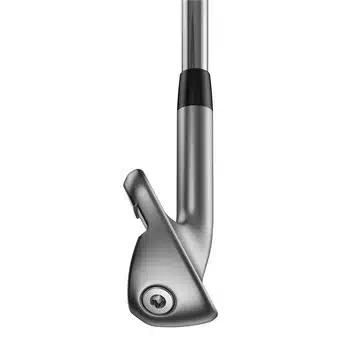 Are Ping G425 Irons Worth The Money?
Yes, the Ping G425 irons are worth the money. There are more affordable alternative options, but these irons are solid. They are easy to launch high and long and offer superior forgiveness and greenside control.
If you are a mid to high-handicap player looking to invest in a set of irons for the long run, you will find they deliver excellent value.
Do Any Pros Use Ping G425?
When you look at the list of Ping's LPGA and PGA Tour players, you will notice that none use the Ping G425 irons.
Louis Oosthuizen and Tony Finau use Blueprint irons, while Azahara Muñoz and Brooke Henderson play with i210 irons.
However, Muñoz plays with a G425 Max 5-wood and G425 hybrids.
Is Ping G425 Forgiving?
Yes, the Ping G425 irons, hybrids, and woods deliver maximum forgiveness for consistent distance and accuracy.
Who Uses Ping G425?
Muñoz uses the G425 fairway wood and hybrids, and Viktor Hovland uses the G425 LST driver. However, the irons are typically used by average golfers seeking optimal forgiveness.
What Degree Are Ping G425 Irons?
As I discussed earlier, the Ping G425 irons are available in three loft options, standard, power spec, and retro spec. The standard lofts of these irons are in line with the average. However, the power spec enables you to strengthen the loft of each iron, while the retro spec allows you to weaken it.
What Year Did Ping G425 Irons Come Out?
The Ping G425 irons release date was January 11, 2021, in the United Kingdom. However, the clubs hit stores in the United States on February 4 of that year.
Who Should Use G425 Irons?
Based on their game improvement technology, consistent ball speed, and improved accuracy, mid and high handicappers should use these irons.
Is Ping Coming Out With New Irons In 2023?
The only irons that Ping has released in 2022 are their i525 set. These irons are built for lower handicappers seeking performance in a player's irons. These clubs offer minimal forgiveness but exceptional feel and control. They've yet to announce the 2023 models.
Can Ping G425 Irons Be Adjusted?
Ping G425 irons are offered in Power Spec and Retro Spec lofts. Power spec provided strengthened lofts which in turn give you a club extra. For example, the strengthened loft of a 5-iron brings it on par with a 4-iron.
Conversely, Retro Spec weakens the standard loft of an iron. Therefore, a 5-iron may play like a 6 because it carries less loft. 
The Power and Retro Spec loft options are custom-designed configurations and cannot be adjusted like a fairway wood or driver.
Alternative Options To Ping G425 Irons
The purpose of the Callaway Mavrik Max irons is to forgive and travel far. It features an oversized head profile compared to the standard, with low and deep CG, prompting a high launch.
Callaway employed artificial intelligence (A.I.) to enhance the speed and spin produced by each loft. Lower irons generate less spin to maximize distance, whereas low irons deliver increased spin rpm.
Furthermore, adding a Flash Face Cup increases the flex of the face, prompting superior release at impact. Plus, urethane microspheres are added to minimize harsh vibrations on off-center strikes for a smooth feel and improved acoustics.
In conclusion, the Callaway Mavrik Max irons perform optimally throughout the bag. They produce rapid ball speed, superior spin, and are forgiving. As a result, they are ideal for mid to high-handicap golfers.
TaylorMade SIM 2 Max irons offer the average golfer an affordable alternative to the Ping G425 irons. The engineers added Speed Bridge Technology to deliver stability at impact for superior MOI, feel, and ball speed.
Moreover, the irons feature an Echo Damping system across the face to provide a superb feel. The Damping System rids the club of harsh shocks felt on off-center strikes and produces a pleasant sound.
In addition, Inverted Cone Technology (ICT) features in each iron. It works to expand the sweet spot of the club. The technology restricts sidespin, which causes hooks and slices to deliver straight ball flight. As a result, you enjoy improved shot dispersion.
ICT collaborates with the ultra-thin 1.5-millimeter clubface to produce explosive ball speed and a straighter flight. Therefore you gain increased yards and accuracy.
Finally, the SIM 2 Max irons include TaylorMade's patented Speed Pocket. It increases their flexibility, helping to generate rapid ball speed and spin on low-face strikes. That means you experience a high launch and consistently long shots, even on mishits.
In summary, the SIM 2 Max is another long, forgiving iron set built for high and mid-handicap golfers.
If you desire distance over spin, the Radspeed irons are worth taking a closer look at. Cobra has approached these irons with a focus on weighting.
10 grams of weight is placed in the toe, while 3 grams find itself in the heel. This combination stabilizes the club to deliver explosive ball speed, low spin, and optimal distance. Plus, the toe weight centers the CG to increase forgiveness on off-center strikes.
Furthermore, the Radspeed irons feature a Forged Pwrshell face crafted from thin stainless steel. The Pwrshell generates extra flex around the sweet spot of the face increasing ball speed. That produces a higher launch and additional yards.
Finally, a 3D-printed medallion is inserted into the cavity of these irons to reduce clubhead weight and improve feel. Plus, like the G425 irons, the stock grips are Arccos Caddie, enabling you to analyze each shot.
Overall, the Radspeed irons are all about distance. While they offer forgiveness and spin, they are not in the Ping G425 irons league.
Final Thoughts On Our G425 Iron Review
There you have it that concludes my Ping G425 irons review.
As you can see, this set maximizes ball speed, deliver a high launch, and stop rapidly on the green. It manages to produce this performance without sacrificing forgiveness, making it suitable for mid and high handicappers.
If you demand additional yards, these irons may not help your cause. Since they fly high, they land soft, ideal for holding compact greens. However, it is not suitable for gaining extra roll.
Therefore, if you are in the market for high launching, quick stopping, and forgiving irons, check out the current price on the Ping G425 irons.
Related Posts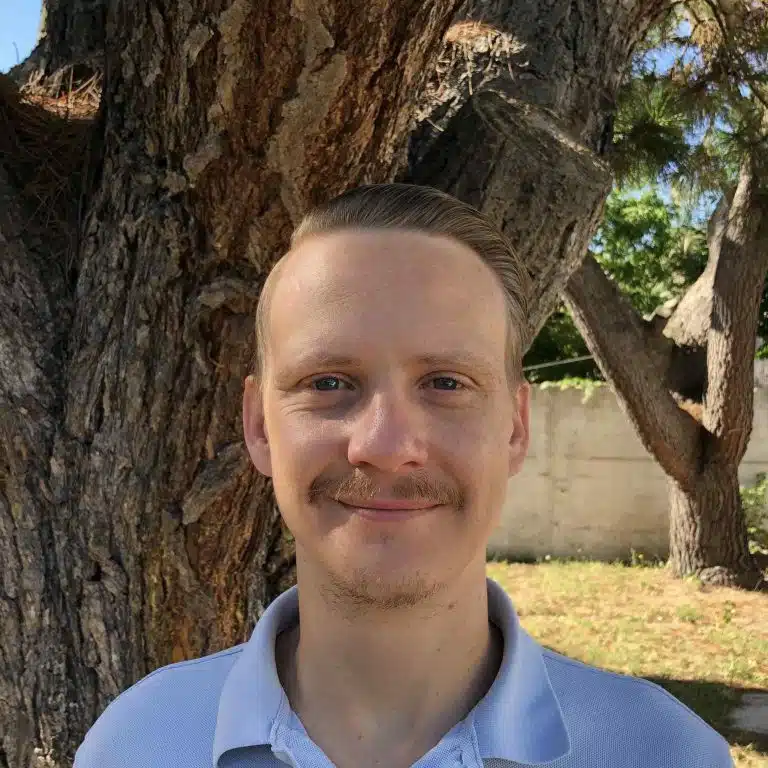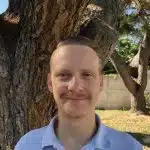 Matt is a seasoned golf equipment writer and sports fanatic. He holds a Postgraduate in Sports Marketing and has played golf for over 28 years.