Creating a wide arc enables you to generate more swing speed and thus create more ball speed and carry distance. While golfers of all sizes and shapes can play a quality game, it does not hurt to be tall. That is, provided you have the best golf clubs for tall people.
Tall players have an advantage since they can create a wider arc than shorter golfers. However, if you cannot control the swing and create a center impact on the clubface, all the advantage is lost.

At a glance: Our Picks for Best Golf Clubs for Tall People
There is no set industry standard used in the manufacturing of "standard" equipment that is sold off the shelf. However, male golfers measuring in at 5 feet 9 inches and women golfers measuring in at 5 feet 7 inches are most likely to find off the shelf golf clubs ideal.
Male golfers that are taller than 6 feet will in all probability experience some difficulty playing with a set of standard length clubs. Women's driver shafts are between 1 ½ inches and 2 inches shorter than men's driver shafts. This length differential is proportionately employed to all the shafts.
The total height of the golfer is not the only criteria in determining the length of the clubs that you should use. The ratio of leg length vs upper body length, arm length, and other factors play a significant role.
The distance between your wrists and the ground is the ultimate determining factor. This distance is measured in your normal position with your arms hanging stress-free from your shoulder,
Custom fitting can be rather expensive and not always an option for taller golfers. Buying a set that caters specifically for taller golfers then becomes the only affordable option. Although affordable, many of the sets aimed at taller players are from lesser-known brands that may lack the R&D and development offered by the major brands.
Shortening or lengthening the golf shaft is a possible solution to the problem. However, this creates its own challenges changing the characteristics of the shaft.
To increase the length of the club you could replace the existing shaft with a new shaft, or alternatively, add extenders to your existing shafts. The option selected will have to create different challenges. To see more information on the effect, look at Tom Wishon's "The Golfsmith Practical Clubfitting Program" guide.
Extenders will change the flex and kick point characteristics of the shaft. The amount of change in the flex is unpredictable and will impinge on the precision of the club by lowering the kick point of the shaft.
To keep the original characteristics of the shaft you could replace it.
Best Golf Club Sets For Tall People
Quick Overview: Our Top Picks for Best golf clubs for tall people
Aspire is not a premium brand but offers a good looking set of clubs aimed at an experienced golfer that is taller than average. Build quality is of a high standard.
It is a complete set with all clubs one inch taller than standard making it suitable for golfers between 6 feet and 6 feet 6 inches.
Woods come standard with Regular flex graphite shafts. Irons and wedges come with regular flex stepped rifle steel shafts.
One of the outstanding features of the set is that it includes three hybrid clubs as well as a sand wedge.
Oversized cavity-backed irons add forgiveness, feel, and accuracy.
To complete the set there is a face-balanced putter and stand bag.
The set consists of
460cc Ti driver,
#3 Wood,
#3, #4, and #5 Hybrids.
#6, #7, #8, #9, PW, and ,SW
Face Balanced Easy Alignment Putter
Automatic Stand & Dual Strap Golf Bag
2. Callaway Strata Ultimate
Pros
Great value for money
Complete set
The lightweight forged driver is forgiving
Extremely durable
Includes putter and golf bag
Cons
Callaway is a premium brand that supplies the extremely popular Strata Ultimate set containing most of Callaway's innovative technology.
The Strata range offers increased distance without sacrificing forgiveness thus aiding you to build maximum confidence for beginners and mid-handicap golfers.
A full set consists of a full complement of woods, hybrid, irons, and putter to provide optimal coverage on the course. It is available as a 12-piece set, 14-piece, or a 16-piece set. The 12-piece set doe does not include headcovers which form part of the 14-piece set (2 headcovers) and the 16-piece set (4 headcovers).
Although it does not cater specifically to taller golfers it is easily modifiable and it has become extremely popular among golfers including taller men.
The set consists of
12 degree 460cc titanium driver
15 ½ degree 3-wood
#4 (22 degree) and #5 (18 degree) hybrids
#6, #7, #8, #9, and PW
SW
Face milled putter
Carry bag
Optional – headcovers are available in the 14-piece and 16-piece sets
Another brand that is making its way into this niche market is Precise. They offer an M5 range, not to be confused with TaylorMade's M5, designed for tall golfers between 6 feet and 6 feet 6 inches with an additional 1 inch added to all shafts.
Precise M5 is offered in both standard and extra length clubs.
Woods come standard with graphite shaft, while the stainless steel irons and wedges come standard with True Temper Shafts. There is an offset on the driver hosel for increased forgiveness.
The outstanding feature in this set is the amazing aiming mechanism putter on the putter head.
The set consists of
460cc Driver,
#3 wood,
#4 (21 degree) hybrid,
#5, # 6, #7, #8, #9, and PW
Putter
Stand Bag
Three headcovers
Pinemeadow is a relatively minor player in the golf industry that is working its way into contention by producing quality clubs. Although named extremely similar, the PGX set is not to be confused with the premium PXG golf clubs that compete in the premium club category.
The PGX set is comparable with the Wilson Ultra set of clubs.
This set comprises of 9 clubs including woods that have predominantly white clubheads with a black alignment marker. At first sight, it resembles the TaylorMade RBZ drivers that ruled the roost a few years ago.
460cc driver with10.5-degrees of loft
3-Wood with 15-degrees of loft
4-hybrid with 23-degrees of loft
Set of 5 cast iron cavity back irons varying from a 5-iron to a 9-iron
Pitching wedge
All shafts are manufactured using lightweight graphite and come in regular flex.
Rounding the set off neatly are the headcovers for the driver, 3-wood, and hybrid.
Wilson Golf has been active in the golf industry for an extended period and has built a reputation for supplying top quality golf equipment to all golfers from amateur through professionals.
The Wilson Golf Profile SGI Complete set with its additional one-inch length is aimed at golfers measuring 6 feet and taller.
Offering quality and affordability makes the Profile Complete an exciting option in this niche market.
This is an ideal set for taller golfers that want to get into golf or high handicap golfers.
The set can be purchased as a complete set or as individual clubs.
A complete set consists of
5 degree 460cc driver
PW
SW
Heel-toe putter
Stand bag
In addition to the quality and price combination, the other outstanding feature of this set is the variety of color combinations.
Red/Black
Black/Maroon
Black/Yellow
Blue
Gray/Red
Gray/Yellow
Grey/Black
Cobra's complete set offers wide coverage for tall golfers in a similar vein to the Cleveland Launcher set.
Drivers have an offset and coms in 2 loft options with 10.5 degrees for the regular driver and 11.5-degrees for the Lite options.
Fairway woods come in a 16-degree 3-wood and a 2-degree 5-wood.
Making it a truly complete set is the 2 hybrid clubs in 22-degree 4-hybrid and a 25-degree 5-hybrid replacing the long irons.
Irons come with strong lofts to provide that extra bit of distance and you can select either graphite or steel shafts.
A set is not complete without a putter and the Cobra F-max offers a 3-degree blade putter with a 34 ¼ inch shaft.
Rounding the set off neatly is a full-feature black cart bag with a blue Cobra logo.
7. Prosimmon Golf X9 V2 (Currently Out Of Stock, Will Update Soon)
Pros
Stiff shaft available
Stand golf bag with seven full-length compartments
Cons
Prosimmon is a relatively new golfing equipment company that offers custom equipment ideally suited to Australian conditions. Clubs are built using components from premium brands.
The X9 V2 is aimed at tall golfers with a range of swing speeds in mind. This is one of the few sets aimed at the taller golfer that offers a stiff shaft as an option.
Woods come standard with graphite shafts and the cavity-backed stainless steel irons and wedges come standard with steel shafts.
It is a near-complete set, but it lacks a sand wedge, putter, and a bag which are all standard with most of the competitors.
The outstanding feature of the Prosimmon Golf X9 V2 is the availability of a stiff shaft option.
The set consists of
5 degree 460cc titanium matrix driver
#3 wood
#3 and #4 hybrids
#5, #6, #7, #8, #9, and PW
Cart bag with 7-way full-length dividers
Final Thoughts
Ultimately club selection is a very personal choice. Many golfers select purely on the brand used by their favorite golfer or a friend.
This article is aimed at providing you with options available for taller golfers and ways to have a set fitted. Although custom fitting is an option, it comes with a hefty price tag that may not be affordable to everyone. We recommend that you have a fitting with your professional golfer if it is affordable.
There are a few options available from brands that entered this niche market such as Precise, Prosimmon, and Palm Springs as well as some of the premium established brands.
The Palm Springs Visa set, Precise M5, Aspire Pro X all have an extra one-inch length over standard lengths while Wilson Golf Profile SGI is designed with tall golfers in mind.
Strong competition in this niche market will lead to future enhancements and quality improvement. Although not specifically designed with the extra one-inch length, the Callaway Strata Ultimate complete golf set offers great value at a competitive price. It has gained popularity amongst a wide range of golfers and may even allow a little extra in the budget for extensions to the shaft.
Please add feedback on your preference in the comments section below.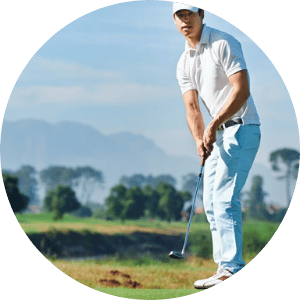 Nick Lomas is the founder of GolfSpan, an avid golfer, not quite a pro but has over 15-years of experience playing and coaching golfers from all over the world. His mission is to bring the golfing community a better experience then it comes to choosing the right golf gear, and finding the right set up for your game.