Callaway X Hot irons have been released since 2013, and even nowadays, you still see them in every other mid-high handicapper's bag and maybe in some even low handicaps. Since I was curious, I took a look at them. And here's my Callaway X Hot Irons review.
Now, why are the Callaway X Hot irons so highly regarded?
The Callaway X Hot Iron Set is a great option for mid to high handicappers looking for forgiveness and distance. The irons have a deep undercut cavity design, which provides a low center of gravity for higher launch and greater distance. They have proved themselves as reliable golf iron sets for many golfers.
Without the right set of irons, your game won't get better. You may find it hard to hit the ball straight, and your shots may not be as accurate as you'd like. Like all of us amateurs, you could also use more forgiveness and distance from your irons set.
Can a Callaway X Hot Iron set be a reliable option, and are the X Hot irons among the best Callaway irons? Continue reading to find out.
Pros
Deep undercut cavity design lowers the center of gravity for a higher launch angle
Speed Frame Face creates more ball speed for increased distance
A large sweet spot makes it easier to hit the ball straight
More affordable than other iron sets
Great for high to mid handicappers
Cons
Not as forgiving as some other game improvement irons
Not as much workability as some other irons
Some golfers may prefer a more traditional look and feel
Let me tell you my conclusions from reviewing the Callaway X Hot Irons before we get into the details of how I reached my conclusion.
The Callaway X Hot Irons are advertised as game-improvement irons designed to help golfers hit the ball straighter and farther. I discovered that these irons have a deep undercut cavity design that lowers the center of gravity and helps promote a higher launch angle. They also feature a Speed Frame Face that helps create more ball speed for increased distance.
These Callaway X irons are ideal for high handicappers who would love a larger sweet spot producing less spin and more accuracy from off-center shots.
| | |
| --- | --- |
| Category | Rating |
| Overall | 88.5 |
| Star Rating | 4.4 out of 5 |
| Distance | 95 |
| Forgiveness | 90 |
| Feel | 85 |
| Workability | 80 |
| Aesthetics | 90 |
| Price | 91 |
Things to Consider When Buying The Callaway X Hot Irons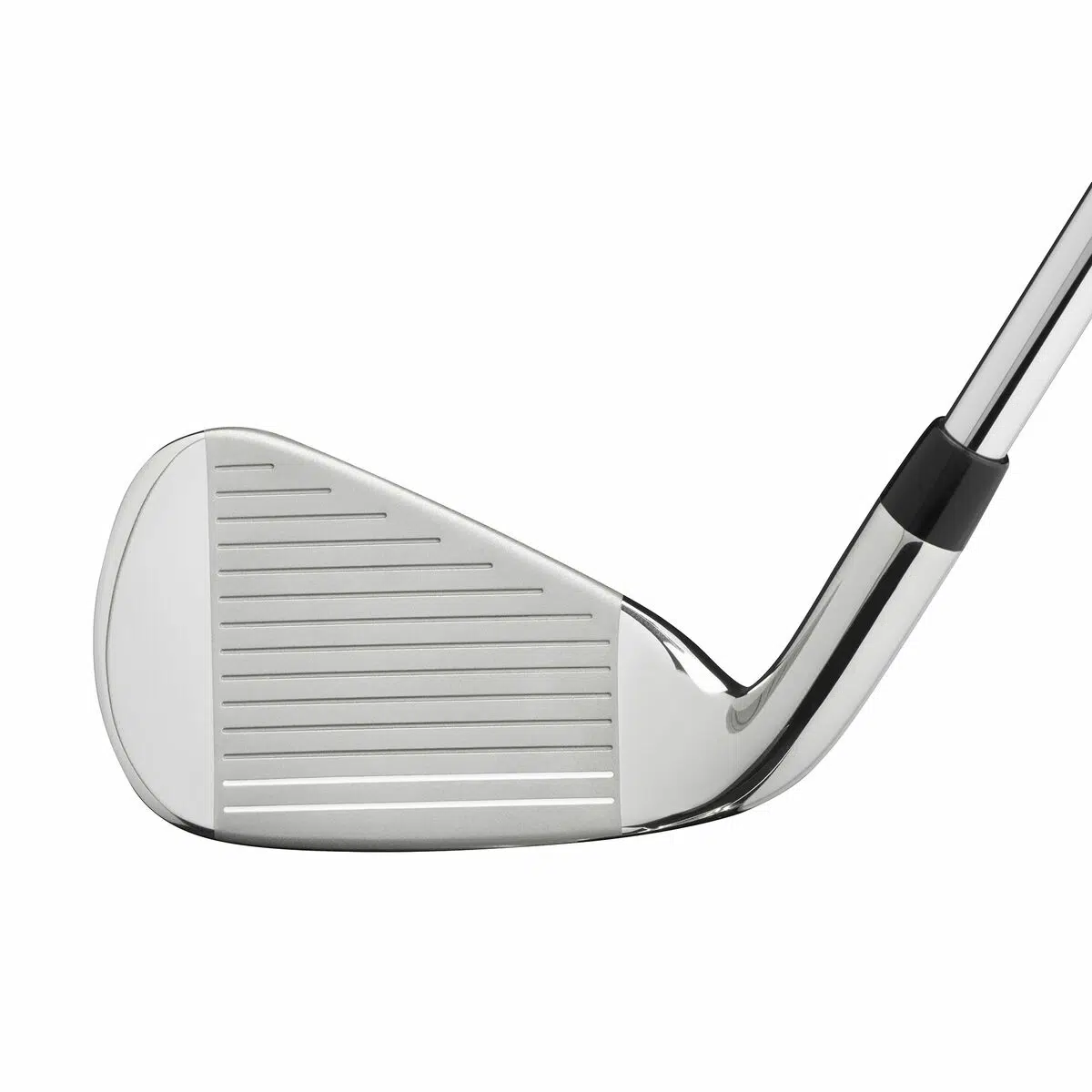 If you're purchasing this Callaway X hot sets, consider a few things before making your final decision.
First and foremost, it's important to determine your skill level and playing style. The X Hot irons are forgiving and designed to help golfers hit straighter shots.
I'd recommend these clubs to a high-handicap golfer, so if you're a single-digit handicapper, you'd want to check out irons like the Apex pro or players distance.
It's also important to consider what you want your irons to look like sitting behind the ball. How you feel about your clubhead will give you the confidence you want.
Additionally, you should consider your budget, as the X Hot irons can cost a bit, and you might be able to find cheaper ones if you're just a beginner.
Lastly, trying out the clubs before buying is always a good idea to ensure they feel comfortable and suit your needs.
If you like what you hear, check out the Callaway X Hot Irons here.
Why You Should Trust Us
Our team spends thousands of hours trying out and researching golf equipment to help you take your game to the next level. Here's our product review process.
We can bring these reviews to you through the small commissions we earn if you buy through the links below.
How I Reviewed The Callaway X Hot Irons
I'm a golfer of many years and a professional writer. I thoroughly researched and evaluated the Callaway X Hot irons, comparing them against similar irons I've used.
Then an editor reviewed and fact-checked the list.
This is what I considered while reviewing these irons:
Cost: The Callaway X Hot irons are game improvement irons. Considering the prices of other game improvement irons in competition, I gave the X hot irons my own value for money.
Distance: While testing the X hot irons, I focused on the distance of my shots and gave them a rating regarding the results.
Forgiveness: Game improvement irons are known to be more forgiving, so I intentionally hit some mishits with the X hot irons to see how forgiving they are.
Feel, Appearance & Sound: Sleek irons with a great feel and sound are a bonus. So, I rated the X hot irons based on their appearance and feel.
Launch & Accuracy: Higher launch angles and more accuracy are what every golfer wants in their irons. I rated the Callaway X Hot irons based on their launch and accuracy.
Callaway X Hot Irons Review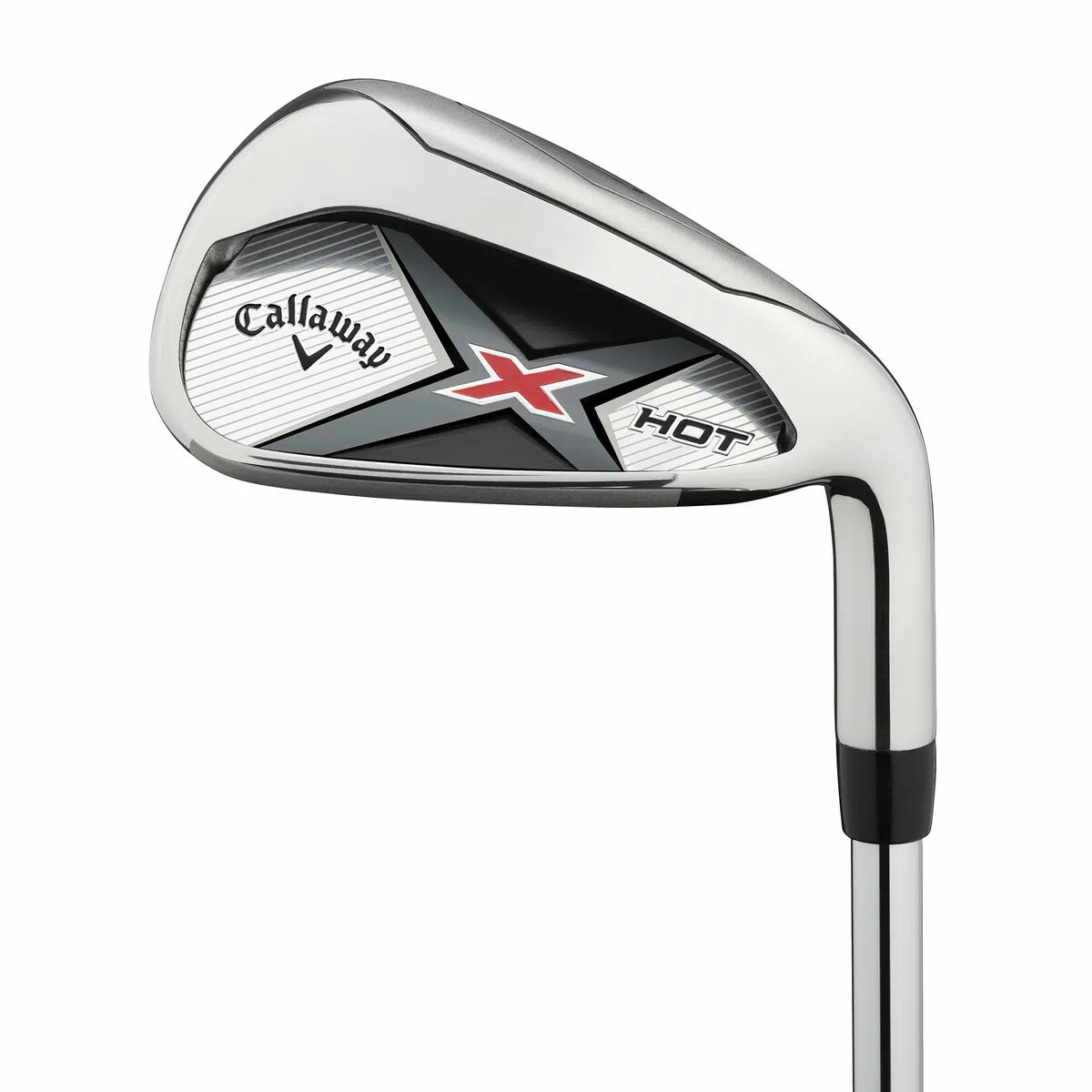 The Callaway X Hot irons were released by Callaway in 2013. These irons quickly became one of the hottest game improvement irons on the market.
These good-looking irons have reliably stayed in people's bags for long. Callaway has got something figured out. The Callaway X was so popular that Callaway released A Callaway X Hot 2 in 2014.
I researched and tested these golf clubs for you to make a more informed decision when buying golf clubs.
Callaway X Hot Irons Benefits
According to my research, the Callaway X Hot Irons are a great set of irons that excel in:
Distance
Forgiveness
Accuracy
Launch
Feel/look
Sound
They're ideal for golfers who want to improve their game by hitting shots that go further and straighter while also having a classic look and feel.
Overall, I recommend the X Hot irons to any golfer who wants to take their game to the next level, especially to high-handicapper golfers.
Let's go further into the specifics.
1. Distance
The Callaway X Hot irons are built for distance. I noticed the hot face technology and deep undercut cavity design give these irons a lot of pop, and shots off the face would fly high and far. (Sounds like great news, finally, no?)
I believe you'd notice a significant increase in distance compared to other irons in the competition, which would greatly impact your approach shots. You should gain anywhere between 5-10 yards on each iron.
2. Forgiveness
The X Hot Irons perform by their banner. The irons are forgiving, and I can't deny that.
The forgiveness in these irons comes from the progressive offset on the irons, a deep undercut cavity, and a larger sweet spot.
So I believe that even if you don't hit your shots too cleanly or consistently, the ball would still travel a decent distance, even on off-center hits.
This forgiveness definitely helps with accuracy, making you hit more GIRs and improve accuracy on the green.
However, I wouldn't call them the most forgiving Callaway irons. While these were forgiving, there are certainly more forgiving irons available.
So, if you're looking for forgiveness in your golf clubs, here are Callaway's most forgiving irons.
3. Accuracy
The X Hot irons are designed to be forgiving and accurate. This quality was the first thing I noticed while reviewing the irons.
The Variable Face Thickness technology helps you hit shots in the direction you intend, and with the forgiveness combined, your mis-hits should considerably be less.
These irons also have a good amount of spin, which helps to stop the ball on the green. I noticed them to have more accuracy than forgiving, but that could just be me.
4. Launch
The X Hot irons have a deep undercut cavity that shifts the weight from the back of the club head to under the head.
Now this is great for a higher launch on your shots. A higher flight helps you stop quickly on the green and roll less.
In my evaluation, the off-center shots are still high enough to produce decent and comparatively good results.
This quality will help golfers who struggle with getting the ball airborne, as the high launch makes it easier to get shots up in the air.
5. Feel/Look
I first noticed the classy look of these irons when I started reviewing them.
The irons have a slightly thicker topline, and I personally don't like the thicker topline, but most golfers prefer a thicker topline because it boosts your confidence.
They also have a good feel – solid yet soft feel at impact. The feedback was good.
The back of the club head is made of multiple materials like aluminum and thermoplastic polyurethane, which delivers a soft feel at impact. However, the feedback might sometimes be hard to distinguish due to Callaway's effort to widen the sweet spot.
6. Sound
The X Hot irons have a muted sound at impact, appealing to some golfers who don't like the loud, metallic sound that some irons produce.
It's a solid yet soft sound that's pleasing to the ear. Sound can be important for better golfers when they choose golf clubs.
Callaway X Hot Irons — Who Are They Best For?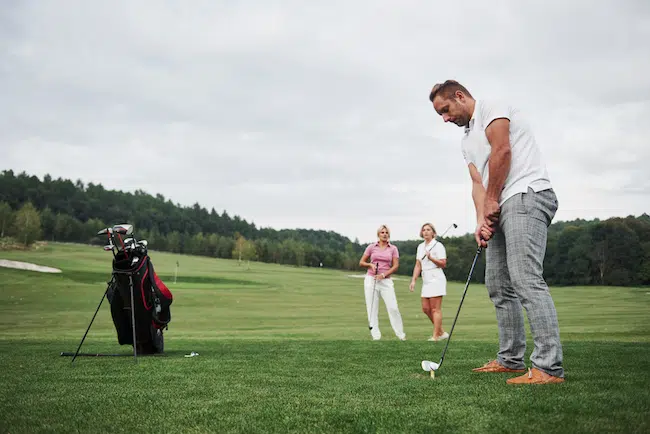 I would recommend the Callaway X Hot irons to mid-to-high handicappers looking for a set of irons that can offer forgiveness and distance.
The Callaway X Hot irons are perfect for golfers who enjoy a game-improvement set that does not compromise on the feel and look of the clubs.
These irons have a sleek and modern design that appeals to golfers of all levels. They also provide a soft and solid feel on impact, thanks to the multi-material construction and the use of a high-strength steel face.
These irons have a large sweet spot and a perimeter weighting system that helps to maintain stability and reduce twisting on off-center hits.
Combining the deep undercut cavity and stabilizing arch creates a high MOI (Moment of Inertia), which helps keep the ball straight on mis-hits.
Exactly everything a mid-high handicapper is looking for in their game.
Callaway X Hot Irons — Features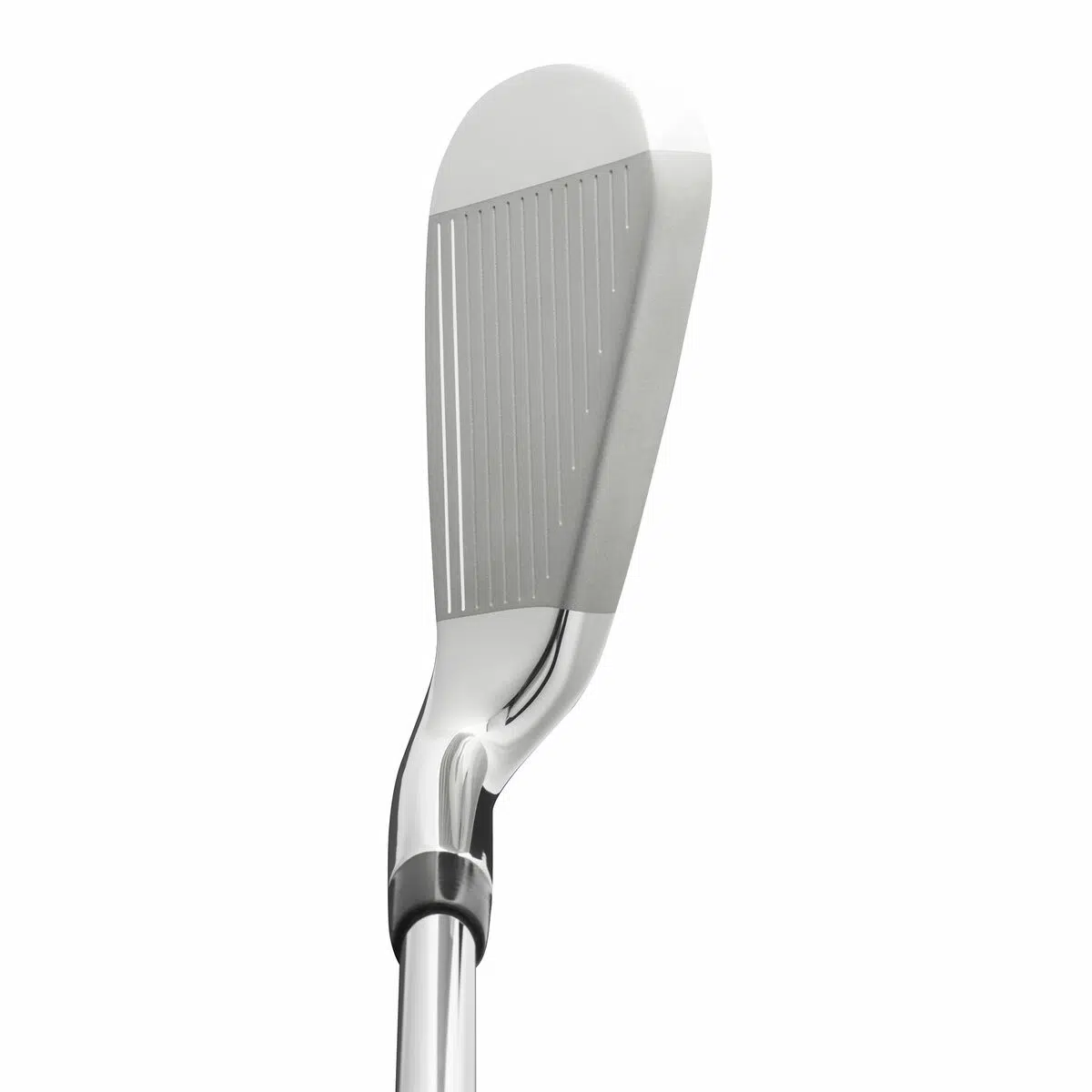 Following are the mechanical features incorporated in the golf clubs for enhanced production:
1. Speed Frame Face
The Speed Frame Face technology creates a larger sweet spot, which helps produce faster ball speeds and more consistent distance, even on off-center hits.
This feature is doing wonders for high-handicap golfers. The face of the club has been reduced to minimum thickness to produce off the face.
2. Deep Undercut Cavity
The Deep Undercut Cavity technology removes weight from the back of the club head and places it low and deep in the clubhead.
This design produces a higher launch angle and a more forgiving ball flight.
3. Feel Management Technology
The Feel Management Technology is a multi-material medallion system that fine-tune each iron's sound and feel.
This technology enhances the player's feedback and helps create a consistent feel throughout the set. Golfers of all skill levels would prefer this feature.
4. Stabilizing Arch
The Stabilizing Arch technology reinforces the clubface and provides added stability at impact, which helps golfers achieve more consistent ball speeds and better distance control.
5. VFT Face Technology
Variable Face Thickness technology creates more consistent ball speeds across the face of the club, providing better distance control and accuracy.
Face thickness is optimized at different locations on the club so golfers can get the maximum out of their clubs when mishits are in the common areas.
6. Progressive Offset
The offset of the clubhead increases as the club number increases, providing more forgiveness and reducing the chances of a slice.
This is one of this sets major game improvement features. This shows that the clubs are made to do one thing: provide forgiveness.
7. Multi-Material Medallion
The medallion on the back of the club head is made of aluminum and thermoplastic polyurethane, which helps reduce vibration and enhance the club's feel.
Callaway X Hot Irons Specifications
The following list of Callaway X Hot irons specs was obtained from Callaway's Official Store.
Club
3
4
5
6
7
8
9
PW
AW
Loft
19°
22°
25°
28°
32°
36°
40°
45°
50°
Lie
60.5°
61.25°
62°
62.5°
63°
63.5°
64°
64°
64°
Offset
0.165″
0.150″
0.135″
0.120″
0.105″
0.090″
0.080″
0.065″
0.065″
Length
39.00″
38.50″
38.00″
37.50″
37.00″
36.50″
36.00″
35.75″
35.50″
Swing Weight
D1
D1
D1
D1
D1
D1
D1
D1
D1
Shaft
True Temper Speed Step 85 Steel, Project X Velocity Graphite
Grip
Callaway Universal
Callaway X Hot Irons Alternatives
Now let's take a look at some of the golf clubs the Callaway X Hot Irons closely resemble. But before we begin, a much-needed comparison is drawn up between the two models of X Hot irons.
Check out our Review for Callaway X-20 irons for another option.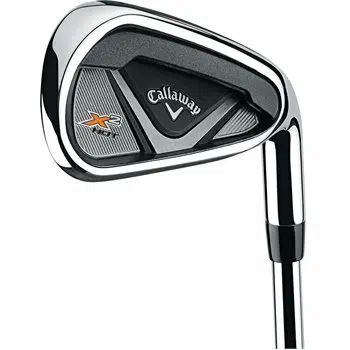 Although the two models do not have a lot of difference in their performance on the golf course, they do have some different technical features.
One significant difference is in the face technology used in each set. The X Hot Irons feature Callaway's Inverted Cone technology, which creates a larger sweet spot for added forgiveness and distance.
The X Hot 2 Irons also use the Inverted Cone technology with a new design that optimizes ball speed across the face.
Both iron sets are great options for players looking for distance, forgiveness, and accuracy.
The X Hot Irons may be a better choice for those seeking a more classic look and feel, while the X Hot 2 Irons are ideal for players looking for added ball speed and distance.
[Cta-button for X hot 2 irons]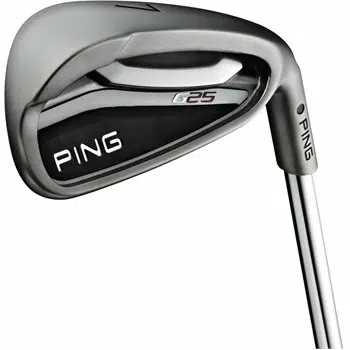 The Ping G25 irons are popular among golfers due to their game improvement features and classic design.
Here is a list of the pros and cons associated with the Ping G25 irons:
Pros
Improved accuracy
Higher launch and playability
A larger sweet spot for more consistent ball striking
Durable construction and high-quality materials
Cons
Slightly larger clubhead size
May not provide as much distance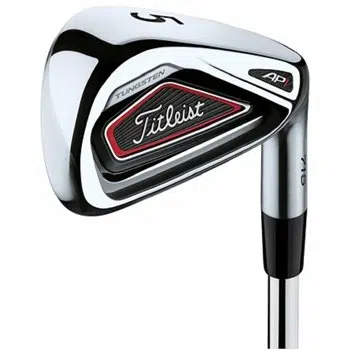 The Titleist AP1 irons are known for their superior performance, featuring a multi-material construction that delivers impressive distance, forgiveness, and control. They are a  reliable set of irons to improve your game.
Here are some pros and cons of the Titleist AP1 irons:
Pros
Excellent forgiveness and distance
Sleek design
A classic feel
Cons
Less workable than others
The thicker topline and larger sole can be off-putting
FAQs
What Year Did Callaway X Hot Irons Come Out? 
The Callaway X Hot Irons were released in 2013, quickly gaining popularity among golfers of all levels due to their distance, forgiveness, and overall performance made Callaway released a second model, X Hot 2 Irons, in 2014.
Are Callaway Irons Good for Beginners?
Some Callaway irons are great for beginners. The X Hot irons are known for their forgiving nature. Beginners can gain confidence and swing with more freedom to hit straighter and longer shots. Increased forgiveness in off-center shots can help in better results from mis-hits.
Final Thoughts
I am convinced that these irons are worth the buzz, and I hope this Callaway X Hot irons review helped you get a better idea of them too.
The combination of distance, forgiveness, and accuracy makes them a great fit for mid-to-high handicap golfers, and they're affordable for most.
The X Hot Irons are worth considering if you're a beginner looking for an iron set to help you with your game. Experienced players can also take advantage of the distance and accuracy.
If you're looking for a set of irons to help you hit longer, straighter shots without breaking the bank, give Callaway X Hot irons a try and see for yourself.

As a skilled golfer and wordsmith, Abdulmoiz brings a fresh and engaging voice to the golfing world. Whether he's on the course or at the keyboard, he strives to improve and inspires others to do the same.