The TaylorMade RBZ Speedlite came out in 2021. The question is, is it the ideal set for mid-handicapped golfers? Should beginners buy it? How good are they? Here's my TaylorMade RBZ Speedlite review!
The TaylorMade RBZ Speedlite is a 12-club golf set with impressive clubs ideal for high to mid-handicap golfers because of their strong launch and forgiving properties. The club set consists of a driver, 3 and 5 fairway wood, 4 and 5 hybrids, 6-9 irons, a pitching, a sand wedge, and a putter.
Purchasing golf clubs can be an important decision, both in the sense of how much you spend and the clubs you select. It might take a lot of work to determine where to begin considering all the available options.
In this article, I'll cover the features, benefits, and drawbacks of the RocketBallz set so you can decide if they're worth purchasing.
Overview of the TaylorMade RBZ SpeedLite Golf Clubs
The RBZ Speedlite is an 11 or 13-piece golf set with decent clubs appropriate for high to mid-handicappers.
The TaylorMade RBZ clubs are priced higher because of their quality and performance. I can't complain about one club's poor performance in this complete set. The irons are designed with forgiveness in mind, the wedges have high launches and good spin, the putter has a great feel, and the woods and hybrids are fairly easy to hit.
You rarely find a set that has all decent clubs. But again, this set costs more than a beginner would be willing to pay for. If you have the budget and are high to mid-handicapper, this set will benefit your golf.
What's Included In the TaylorMade RBZ SpeedLite 13-Piece Set?
The RBZ Speedlite comes closer to a complete set than other beginner sets available on the market because it has more clubs. Other than these, only Cobra sets have this many clubs.
The full set includes:
Driver
3 Wood
5 Wood
4 Hybrid
5 Hybrid
6 iron
7 iron
8 iron
9 iron
Pitching Wedge
Sand Wedge
Putter
Golf Bag and Headcovers
Pros
The package contains all the clubs you'll need to get started.
High-quality clubs with an aesthetic look.
Forgiving woods and irons.
Head covers for woods, hybrids, and putter.
Great feel on the mallet putter.
The golf bag appears quite stylish.
Cons
Unlike SIM2 drivers, the driver is less forgiving.
The bag doesn't have a stand.
More expensive than average sets.
Not the best choice for low-handicapped golfers.
Key Metrics to Consider
When considering the TaylorMade RBZ SpeedLite golf club, there are several key metrics or factors to take into account:
Note: All ratings are out of 100.
| | |
| --- | --- |
| Overall | 85 |
| Star Rating | 4.6 out of 5 |
| Distance | 85 |
| Forgiveness | 85 |
| Feel | 80 |
| Workability | 85 |
| Aesthetics | 90 |
| Price | 80 |
Verdict
The TaylorMade RBZ SpeedLite set is a premium golf club set with everything to get you golfing. The clubs are quite forgiving and high-quality for mid to high-handicappers.
My favorite from the set is the sand wedge and the mallet putter. The irons, hybrids, and woods reflect TaylorMade quality and are ideal for the average golfer.
The only drawback to this package is the price, but if you're serious about improving your game, it's absolutely worth the investment.
Who They're Best For?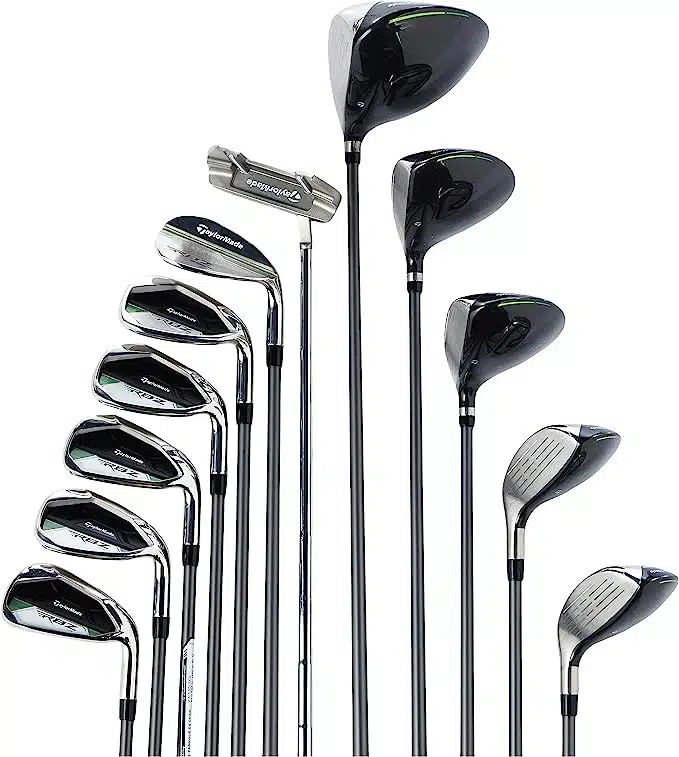 The TaylorMade RBZ SpeedLite is not for everyone. Here's the ideal golfer for the RBZ SpeedLite:
Beginners and intermediate golfers with mid to high handicaps: The RBZ SpeedLite is a premium option if you're relatively new to golf or are still honing your techniques. It's quite forgiving but does compromise on shot-shaping and distance.
Players with medium to slow swing speeds: Don't worry if your swing isn't the fastest in the world. You can find clubs like the RBZ SpeedLite that help you gain distance with slower swings. It's made to propel the ball higher and with less spin, giving you greater distance.
Golfers seeking distance and forgiveness: Everyone enjoys hitting the ball far, right? The RBZ SpeedLite offers incredible distance for a new golfer. And even if you don't always reach the sweet spot, the thicker topline is designed to be forgiving enough to still provide positive outcomes.
If you're an experienced player, I won't recommend this set. You might be losing distance and compromise on shot-shaping. Instead, check out these irons for low-handicappers.
Things to Consider Before Buying The RBZ Clubs
View this post on Instagram

Let's talk about what you want to consider before purchasing these irons.
Your Budget
The RBZ SpeedLite is on the higher end for a golf club set. These are high-quality clubs, so they cost more than most sets in its category.
I'd recommend these clubs if you've got deep pockets. Otherwise, here are some golf sets under $300.
Your Golf Skill
TaylorMade designed the RBZ golf clubs for beginner to intermediate golfers. If you're breaking 100 consistently, these clubs will benefit you.
However, I didn't find this set suitable for the experienced golfer. Although, if you could take one club to your bag from this set, I'd recommend you get the putter. You'll enjoy the soft feel to it.
Customization and Personal Fit
If you want to use the RBZ SpeedLite, consider having a custom fit. The standard shaft and fitting might not be for everyone, and you could lose a couple of yards.
A qualified club fitter can look at your swing, compile information, and suggest the ideal specs for your need.
On TaylorMade's official website, you can locate authorized fitting places nearby.
Your Current Set
The RBZ SpeedLite golf club set was launched in 2021, featuring the latest technology and designs.
If you've got an older set of clubs and are considering buying a new one, I'd highly advise you to give the RBZ SpeedLite a shot. If your clubs aren't older than 2018, you can stick with them for a while.
Why You Should Trust Us
Our team spends thousands of hours trying out and researching golf equipment to help you take your game to the next level. Here's our product review process.
We can bring these reviews to you through the small commissions we earn if you buy through the links below.
How We Reviewed These Products
Golfspan only shares equipment and brands we trust.
I'm an experienced golfer and writer who thoroughly researched and evaluated the below-mentioned RBZ set. Then an editor reviewed and fact-checked the list. Finally, we conduct regular content audits to update and revise our reviews to ensure you receive the latest information.
I considered these criteria to review these clubs:
Cost
Distance
Forgiveness
Feel, Appearance & Sound
Launch & Accuracy
Overall Performance
TaylorMade RBZ Speedlite Review
There are several checkboxes to tick if you want to buy a set of golf clubs. I evaluated the RBZ SpeedLite set to see if it's worth your money.
Let's get into this TaylorMade RBZ SpeedLite set review.
Feel & Appearance
First off, every golfer wants beautiful clubs, regardless of their skill. TaylorMade has a strong reputation regarding the appearance of its golf equipment.
The RBZ is no exception. The green touch on the clubs and designs is one of my favorites on thicker topline irons. They look fantastic because of the grey finish and a tiny flash of green.
The other side of the bag has a sand wedge and putter, which are more compact and have a more elegant, high-quality appearance.
Forgiveness
TaylorMade seemed to focus a lot on forgiveness for this set. I evaluated the set, and in my RBZ SpeedLite review, I could tell that the primary focus was forgiveness.
The clubs, especially the irons, were forgiving on most off-center shots. I'd have to credit the advanced perimeter weighting for its increased forgiveness.
I found the driver slightly less forgiving than other models, such as the TaylorMade SIM 2.
One feature that appealed to me is the hybrid's spacious appearance at the address, which makes it much more forgiving.
Launch, Accuracy, & Distance
The RBZ irons have their weight around the sole of the irons, which develops a lower CG (center of gravity).
The lower CG helps you gain a higher launch but a lower spin. The face of the irons has a consistently solid feel.
Regarding accuracy, the RBZ delivers a straight flight and stability. They're accurate as long as you don't go shot shaping.
I found the distance on these clubs to be slightly above average in my experience. The distance on these clubs is more than enough for the everyday golfer because you're getting a lot of forgiveness.
Sound
I found the impact sound a little louder than other TaylorMade models, such as the SIM 2. The sound did catch me by surprise because I wasn't expecting it to be that loud for clubs with a lower CG, but it wasn't an unpleasant sound. Slightly high-pitched and louder than most.
Breakdown of the TaylorMade RBZ SpeedLite Set
The RBZ set has 13 pieces. Let's break them down in this TaylorMade RBZ review and discuss each club briefly.
Driver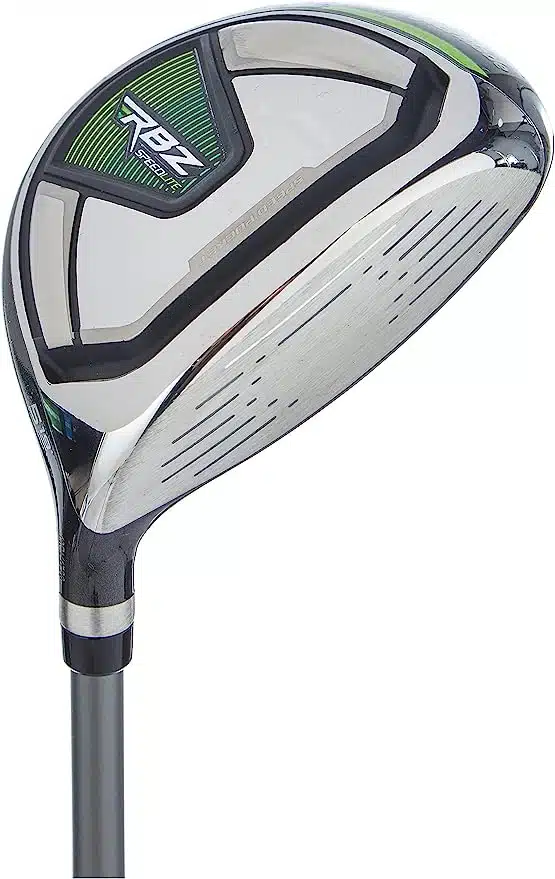 The RBZ driver is a lightweight driver with a good amount of distance. It looks fast and has an aerodynamic shape.
The 460cc titanium head encourages faster swing speeds. The loft is adjusted at 10.5 degrees, and a lightweight 50g RBZ shaft is included.
Although the driver is decent, I'd replace it if I were getting this set. If you're a beginner, you can work with this, but as an intermediate golfer, you'd want a more versatile driver like the SIM 2 or Ping G430.
Fairway Woods
This set's fairway woods are made with excellent launch and forgiveness in mind. The 3-wood and 5-wood both offer great results and are quite simple to hit.
I know a lot of golfers that struggle with hitting fairway woods, but hitting these shouldn't be a problem because of the low CG and high launch properties.
The loft of the 3-wood is 15 degrees, and the 5-wood is 19 degrees.
Rescue Clubs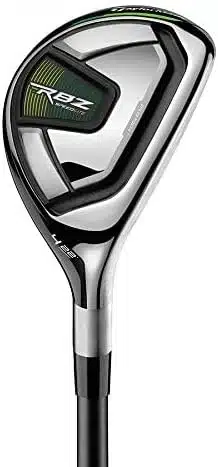 The rescue or hybrid clubs of the RocketBallz set are one of my favorites. They're easy to hit, and give you confidence on setup.
The Versatile Sole Design is designed to help you effortlessly get the ball airborne, and the 21-degree 4-Hybrid and the 24-degree 5-Hybrid have impressive forgiveness.
Irons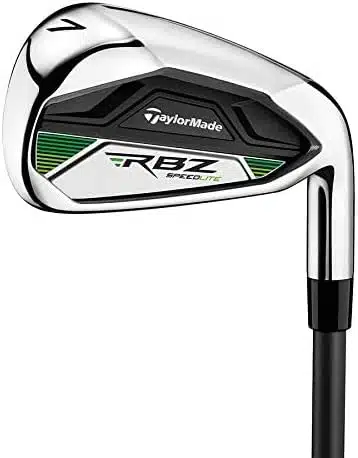 I must admit that the TaylorMade RBZ SpeedLite club set's irons look fantastic and feel quite sturdy.
When a stroke is off-center, the improved perimeter weighting offers more leniency, and the Speed Pocket design makes it easier to push the ball.
The set consists of a sand wedge, a pitching wedge, and six to nine irons. These cavity-back irons have a lovely, high-ball trajectory and are quite forgiving.
Putter
If I could keep one club from this set, it would be this putter. It's a lightweight mallet putter that feels incredibly soft. The Pure Roll technology and 45-degree grooves deliver a nice forward roll.
It's got a good balance and simple alignment features. The design resembles the TaylorMade Spider putter, which I'm a big fan of.
The RBZ putter may feel light for some players, but it still performs admirably and has a soft touch.
Sand & Pitching Wedge

The sand and pitching wedge of the RBZ set to have a classic design. They've got high-volume grooves and good enough spin for intermediate players.
They're designed to launch the ball high and increase accuracy around the green.
TaylorMade RBZ SpeedLite Specs
Club
Driver
3 Fairway
5 Fairway
4 Rescue
5 Rescue
6
7
8
9
PW
SW
Putter
Lofts
10.5°
15°
19°
22°
25°
27°
31°
36°
41°
46°
55°
3°
Length
45.25″
43.25″
42.00″
40.00″
39.

50″

37.875″
37.25″
36.75″
36.25″
35.75″
35.25″
34.50″
Hand
RH/LH
RH/LH
RH/LH
RH/LH
RH/LH
RH/LH
RH/LH
RH/LH
RH/LH
RH/LH
RH/LH
RH/LH
Swinging Weight
D0
D0
D0
D0
D0
D0
D0
D0
D0
D0
D0
D8
11 piece set?
YES
YES
X
YES
X
YES
YES
YES
YES
YES
YES
YES
Note: All these specs were taken from the Taylormade website.
Alternative Options
If you find the TaylorMade RBZ SpeedLite out of your budget or doesn't ring your bell, here are two alternate options.
If the RBZ set is out of your budget, the Cobra Fly XL golf set is a great alternative. It's cheaper and has similar features to the RBZ set.
The Cobra Fly XL has a draw bias, so this can be a good option if your shots tend to fly to the right.
Pros
Good feel
Large sweet spot
Great for golfers struggling with a fade-bias
Forgiving irons
High-quality bag
Cons
Woods lack distance
No sand wedge
The Callaway Strata is one of the best beginner golf sets. It was my first golf set purchase and is ideal for beginners.
It's super budget-friendly and has everything you need to attend the course. Although it won't have the same results as the RBZ, you can still break 90 with it comfortably.
Pros
Budget-friendly
Great for beginners
Lightweight bag
Hybrids are easy to hit
Forgiving irons and driver
Cons
Irons may be too heavy for some
Not for experienced golfers
FAQs
How Good Are the TaylorMade RBZ?
The TaylorMade RBZ SpeedLite golf clubs are great for beginner or intermediate players. These clubs offer a great deal of forgiveness, a decent distance, and a high-quality build. The RBZ are overall excellent clubs for the everyday golfer.
Is TaylorMade RBZ Good for Beginners?
The clubs are excellent for beginning and intermediate players because of their forgiveness and strong launch qualities. They're designed for beginners and intermediate players. The handicap range for RBZ would be 10-18.
What Year Did the TaylorMade RBZ Come Out?
The TaylroMade RBZ SpeedLite was launched in 2021. TaylorMade released the first generation RocketBallz Woods in late 2011. The next year, they were followed by the RBZ Stage 2TM, driver, fairway metal, and hybrid.
What Does TaylorMade RBZ Stand For?
The RBZ stands for RocketBallz. The RBZ line was introduced by TaylorMade in 2011 along with R11 and Burner. Later they released the RocketBladez as well.
Final Thoughts
I hope you better understand the RBZ clubs after this TaylorMade RBZ 13-piece SpeedLite set review.
In short, this 13-piece set has everything for you to get golfing. The set has a premium price which is justified because of its performance and quality.
The RBZ set is ideal for high to mid-handicappers or the average golfer with deep pockets looking to improve their golf.

As a skilled golfer and wordsmith, Abdulmoiz brings a fresh and engaging voice to the golfing world. Whether he's on the course or at the keyboard, he strives to improve and inspires others to do the same.