A launch monitor is a great way to learn about your golf game and play with fascinating statistics. This Bushnell Launch Pro review will help you decide if it would be useful for you and is worth the money.
The Bushnell Launch Pro is a portable launch monitor with tour-level accuracy for indoor/outdoor use. It tracks clubhead speed, ball speed, launch angle, and more. The touchscreen shows real-time data and lets users save/analyze shots. But it's pricey, and you need a subscription to access all features.
Without the right launch monitor, you'll be missing out on valuable data that can take your game to the next level. However, an inaccurate launch monitor can create a false sense of your golf shots and hurt your performance. Even an inaccuracy of 5 yards is considered a lot of error. Plus, launch monitors aren't cheap.
I've found a launch monitor to help my golf game immensely and enjoyed testing the Bushnell. It's not for everyone and you may be able to get by with a cheaper model. However, it's not as expensive as the top models so it may be a good compromise.
Let's look closer at the Bushnell Launch Pro Monitor.
Overview of the Bushnell Launch Pro Monitor
The Bushnell Launch Pro monitor was released in late 2021 with a steep price, yet tons of features and added accuracy when compared to portable launch monitors. The monitor is compact, has three cameras, and has a touch screen that adds to its beautiful design.
The Bushnell Launch Pro will be a great choice if you want to purchase a launch monitor to improve your game and beat your buddies. You'll understand so much about your ball flight and golf swing because of the shot-tracking ability in its software.
However, for more technical golfers with experience in dealing with the mechanics of a golf shot, the Bushnell launch pro might not offer the extra details required, such as the smash factor.
In my review of the Bushnell Launch Pro, I researched everything there's to know about the device and covered user issues. Here are the pros and cons from my experience:
Pros
The Bushnell Launch Monitor compares to home simulators yet is a fraction of the cost
It has a more compact & smaller design than previous releases
It has WiFi connectivity, a USB port, and a LAN port
Provides more accuracy than some of its competitors in the same price range
Includes three cameras for increased accuracy
Useful touch screen
Cons
Many golfers can purchase a portable launch monitor at a 10x discount and get many of the features
It might not provide as many technical details as some other alternatives
Sometimes delays in showing shot results
Some might not find it easy to use initially.
Key Metrics to Consider
Here's how I rated the Bushnell golf monitor.
| | |
| --- | --- |
| Appearance | 88 |
| Accuracy | 96 |
| Technical Features | 85 |
| Software | 90 |
| Ease of use | 80 |
| Overall | 87 |
Verdict
The Bushnell Pro is an accurate solution offering complete golf shot information to ambitious golfers that you can use indoors and outdoors. You can also play a lot of simulated courses using the FSX software on a pc and a simulator.
The Bushnell Launch Pro is better than cheaper flight scopes as it gives you more modifiable options in the software and higher accuracy on shots. Club and ball information covered in the Bushnell Launch Pro exceeds that of most portable launch monitors.
You can use it outdoors to assess your numbers and see how the ball reacts in real time to different numbers. Indoors you can also use it for checking numbers if you're specifically working on impact and swing changes. You can use a simulator to see shot shapes or play many courses (including the highly-recognized courses).
The Bushnell Launch Pro can improve the golf experience in your life. It gives you wide opportunities for indoor golf (which would've been great for recent covid times). Indoors it can be used to play courses with friends or to work on your game like you would use it outdoors. Either way, it's an excellent affordable option for a golf enthusiast.
Who Should Get The Bushnell Launch Pro?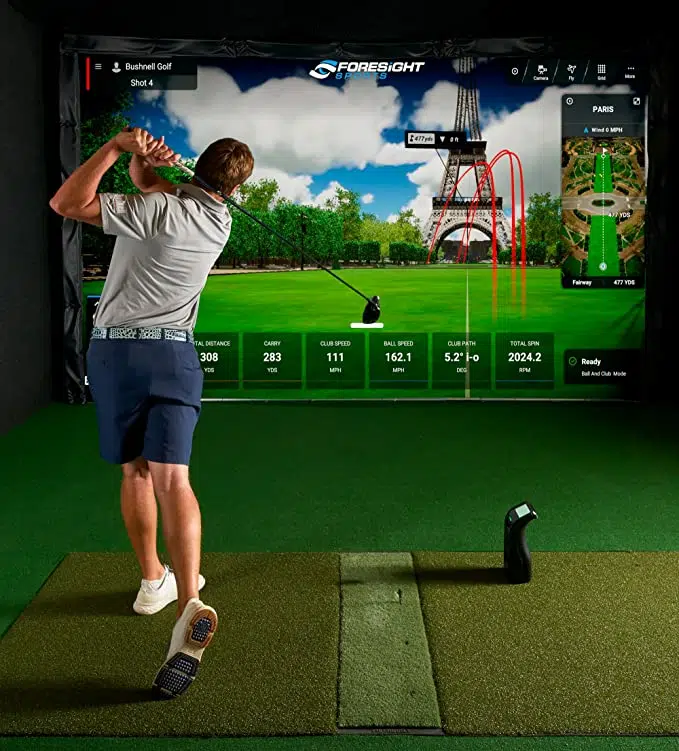 The Bushnell Launch Pro is best for low and medium-handicap golfers. It provides you with the right information about your golf shots, including swing speed, carry distance, launch angle, spin, and more. This information will help you tweak your swing to be able to practice your specific weaknesses and drop shots off your game.
If you've not worked with a launch monitor or are somewhat of a perfectionist, you want to know everything about your golf shot. A launch monitor like the one Bushnell offers can do wonders for you.
Things to Consider Before Buying The Bushnell Launch Pro
Here's what I'd suggest you consider before buying the Bushnell Golf Launch Monitor.
Budget: Even though the Bushnell Launch Pro price is less than its competitors, it still costs a lot. Compare the specific stats you need and see if a more budget-friendly monitor will work for you.
Requirements: If you want to buy a monitor for fun, you can find cheaper launch monitors with basic features. The Bushnell Launch Pro is designed with more features, so keep reading to find out if they align with your requirements.
Your Golf Skill: You might not need a high-end monitor just starting out with golf. If you've got your swing together, and want to take your game to the next level, consider buying the Bushnell Launch Pro Launch Monitor.
Why You Should Trust Us
Our team spends thousands of hours trying out and researching golf equipment to help you take your game to the next level. Here's our product review process.
We can bring these reviews to you through the small commissions we earn if you buy through the links below.
How I Reviewed These Products
Golfspan only shares equipment and brands we trust.
I'm an experienced golfer and writer who thoroughly researched and evaluated the Bushnell monitor shared below. Then an editor reviewed and fact-checked the list. Finally, we conduct regular content audits to update and revise our reviews to ensure you receive the latest information.
I considered these criteria for this Bushnell Launch Monitor review:
Cost
Accuracy
Technical Features
Software
Ease of Use
Bushnell Launch Pro Review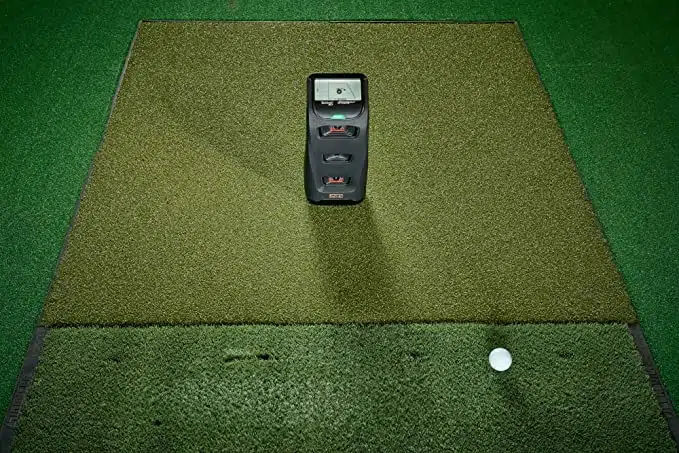 The Bushnell Launch Pro has taken over the market because of its accuracy, wide range of features, and relatively affordable price tag. By no means is the Bushnell monitor cheap, but it's considerably less when you compare it with its home simulator competitors.
My research on the product was based on whether or not the Bushnell Pro is worth the cheaper price tag.
Feedback from the Bushnell Launch Pro is displayed in terms of numbers and degrees. These data points are gathered using three cameras on the Bushnell Launch Pro, which records motion pictures at a high rate. It then uses this information to calculate data.
Let me share my observations on the launch monitor in different sectors:
How Easy Is The Bushnell Launch Pro To Setup & Use?
The Bushnell Launch Monitor is easy to use and set up. All you need is to place the Bushnell Launch Pro parallel to your target line so the camera's pointed toward you. Then, you only need to push the blue button and start hitting shots.
You could bring it to a range or local course or hit balls in your backyard and get access to accurate data that your buddies will be jealous of.
However, some golfers struggled to set up and use the monitor because of the software technicalities. But I was able to get a hold of it after a couple of uses.
Download the Bushnell Launch Pro app from the play store and register yourself. Configure the app and connect with the Launch Monitor using Bluetooth. Hit some practice shots and see if you like the results.
Compared to complex systems, the Bushnell Pro is relatively easy to set up and configure. However, some caution may be taken when setting up the launch monitor. But the readings might be off if it's not parallel to your setup.
What Data Can You Get From The Bushnell Launch Pro?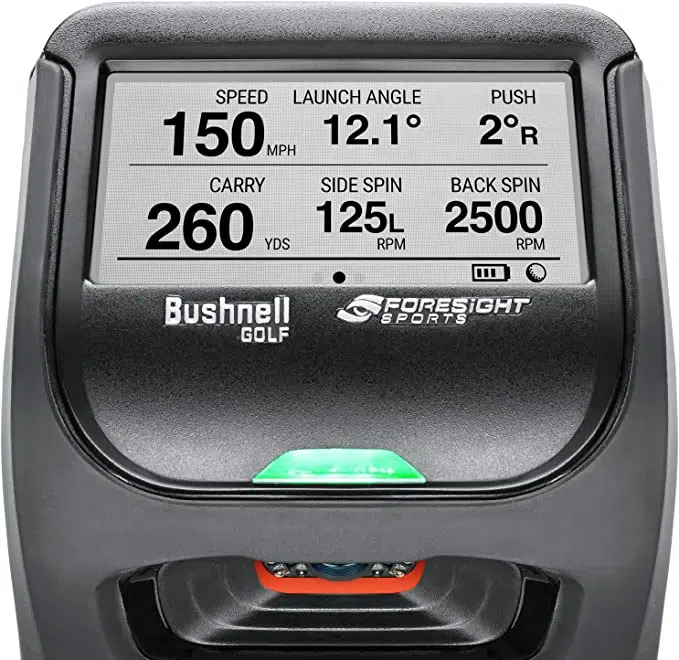 Let's discuss the data points a Bushnell launch pro presents. Data points can be divided into two categories:
Ball Data
Club Data
These features are not common in more budget-friendly flight scope monitors. The Bushnell Launch Pro feedback consists of many uncommon club data points in low-level flight scope monitors. These data points might not be required for average golfers, but these numbers are a big deal for elite golfers and golf instructors.
Ball Data
1. Carry Distance
This number is displayed in yards or meters, depending on how you configure it. It displays the carry distance of the golf ball on your shot. How it calculates that?
I don't know, I wasn't going to get into the maths of it all. However, it has been tested by various users to provide accurate results.
One thing I know is that the information provided by Bushnell Launch Pro is much more accurate than cheaper and portable launch monitors. The portable ones provide good carry distance too but can be inaccurate most of the time by a few yards.
2. Ball Speed
Ball speed is how fast the ball travels off the club face. It's represented in KPH (kilometer per hour) or MPH (miles per hour).
Long hitters on the tour average more than 120 kph. It would be interesting for you to see how fast you're swinging.
3. Total Spin
Spin is created from friction between the golf club and the ball at impact. In sports terms, the ball backspins; that's why it comes back on the green when the pros hit it.
Hitting ideal spin rate numbers on your shot is the number one thing pros work to ensure their good shots provide consistent results.
Spin is measured in rpm (revolutions per minute); knowing this insight can help you get better around the green.
Most portable and cheaper launch monitors lack this feature. Some might measure spin, but then they'd lack another insight.
4. Vertical Launch Angle
The vertical launch angle refers to the angle the ball makes relative to the horizon of the ball. Simply put, it tells you how high the ball releases from the club face.
It's represented as the angle (degrees) between the ball launch and the center line of the golf ball.
5. Horizontal Launch Angle
Horizontal angle is also represented in degrees. This data point represents how much the ball deviates from the intended target line. This tells you the direction the ball releases.
6. Spin Tilt Axis
A positive spin axis represents the ball to the right (a slice or a fade), and a negative spin axis means your ball is curving to the left (a draw or a hook). Higher the value, the more the spin.
7. Backspin
Since total spin refers to the total spin of the golf ball irrelative to the axis on which the ball is spinning. Backspin refers to the rotation rate on an axis perpendicular & vertical to the target line.
8. Side spin
Side spin refers to the amount of left or right spin on the golf ball generated at impact.
Club Data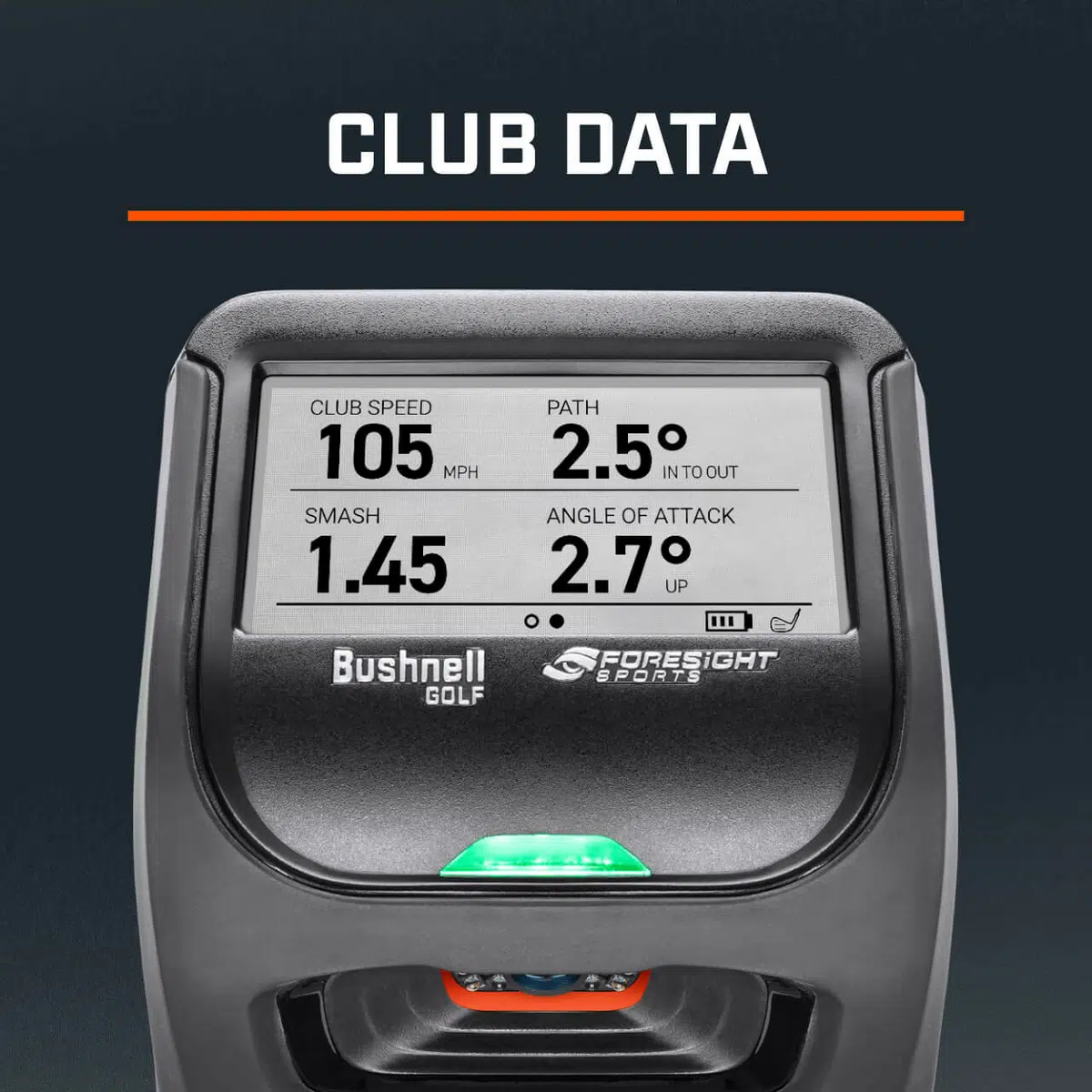 1. Clubhead Speed
This one is clear. It's presented in kph. It's the speed of your golf club during impact. The clubhead speed for professional golfers is above 110 kph. However, good amateurs have swing speeds between 100 to 110 kph.
2. Smash Factor
The smash factor represents the energy transferred from the golf club to the golf ball. Mathematically, it's represented as ball speed divided by clubhead speed.
A smash factor of 1.5 is considered the optimal energy transfer from a golf club to the golf ball.
I've seen some cheaper launch monitors include this feature, but then I've heard a lot of users complain that it's inconsistent. But, I'm confident that the Bushnell Launch Pro is consistent and accurate in these terms.
3. Club Path
This represents the angle of the club traveling relative to the target line. This is an important data point for golfers and my personal favorite feature of the launch monitor.
The club path defines your golf swing and its tendencies. Once you have a visual representation of the swing path, you can then focus on improving your swing where its required.
4. Angle of Attack
The angle of attack refers to the angle the clubface makes relative to the center line of the golf ball.
With irons, we want the angle of attack to be negative as we are hitting down on the golf ball. However, with a driver, it should be the other way around.
You can see your angle of attack on each shot with the Launch Pro and improve where it's required.
Software Options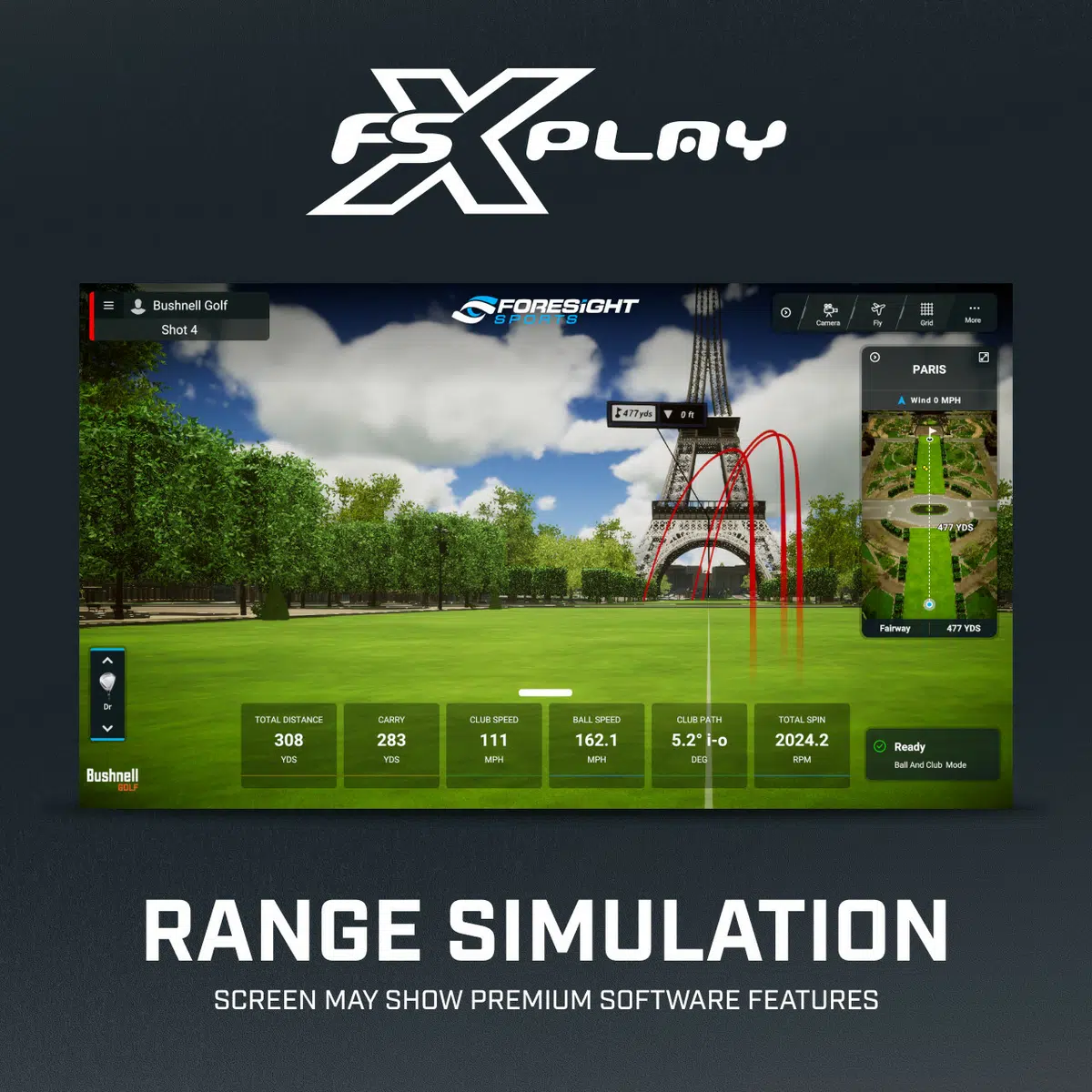 Bushnell Pro can be used indoors and outdoors.
When discussing indoors, we can use a simulator or just a net and a pc to get shot trails and other exciting features like playing entire courses. This concept is a child of modern golf.
Foresight FSX Play Software
It's the latest software developed by Foresight. It offers shot simulation and displays numbers. You can also play a bunch of courses. I was delighted to see the better graphic quality with the FSX Play Software.
Depending on your subscription, you get different options in the software.
Following are the subscription plans offered by the Foresight FSX Play software after registering on FSX Live. I thought it was a great software for simulating shots, whether it was just shot tracers or I was playing a course.
Some people might find the simulated courses to lack some easy-to-access settings. The accuracy is better than competitors in the same price range.
You'll have to purchase a subscription to use the Bushnell software. This software can help you better study your numbers and golf shots using simulations and shot tracers.
However, purchasing a package for all ball and club data options might sound like too much work for some golfers.
Basic: The basic plan is worth around $250 yearly. However, the basic plan is free for the first year.
Silver: The silver plan is worth around $500 per year. Along with everything from the basic package, you can play five simulated golf courses. You could have a great time playing pebble beach on the simulator.
Gold: In a gold subscription, you get ten golf courses. A gold subscription is worth around $700 a year.
Golf courses can be purchased separately for a one-time fee between $175 to $225.
Alternative Options
While you get a considerable technical advantage from the Bushnell Launch Monitor in the given price range in terms of accuracy and durability, I found the following options to be close competitors of the Bushnell Pro in terms of utility and price:
The Flightscope Mevo+ offers utility to a different clientele than the Bushnell Launch Pro. This is not to say one is better, but an assessment based on their ideal usage.
Mevo+ is great for a portable and smart solution to your minimal ball and club performance needs. It can be used in a professional setup, but it does not provide the accessibility for studying the swing as Bushnell Launch Pro does.
Pros
Portable and handy
It can be used on the range and indoors without using a pc.
You are interested in paying a one-time price for all features delivered.
Cons
Not as accurate as its competitors
It might not be the best option for a serious high-end golf professional.
Skytrak is the most affordable camera-based launch monitor if money is an issue. It provides many ball data points and is preferred for indoor use. But cannot be compared to Bushnell regarding the number of data points and accuracy. However, it does have a tempting price tag of under $2k.
Pros
You get multiple software options
You get all the ball data points
It is portable to move
Easy to setup
Cons
It is ideal for indoor but not outdoor work.
It does not give any club data.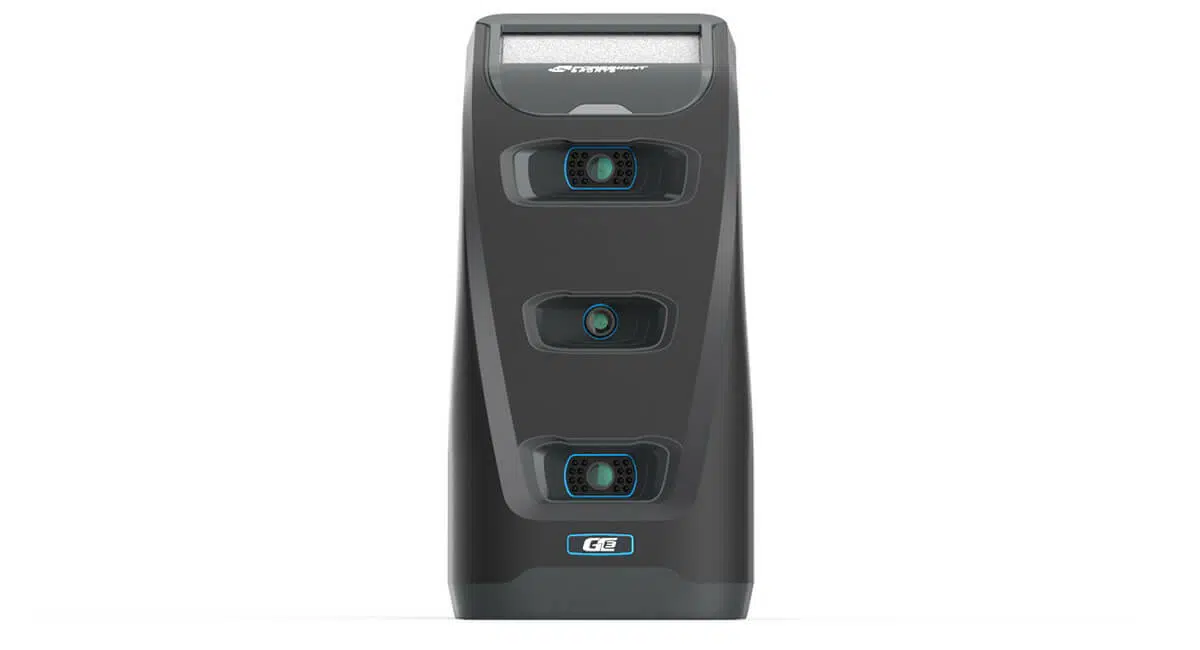 The Foresight GC3 is the closest competitor to the Bushnell Launch Pro. It provides the same features and design and doesn't require a subscription.
The total price of the Foresight GC3 includes the FSX Play and ten courses, just like the gold subscription.
If the subscription bothers you, take a look. This option is worth a look.
Pros
Same features as the Bushnell Launch Monitor, including higher accuracy.
No subscription is required.
Sleek design
Cons
FAQs
Do You Need WiFi for Bushnell Launch Pro?
You must connect the Bushnell Launch Pro Monitor with WiFi once every 45 days. It connects with the software on a PC. You can use the readings on the device without WiFi and connect with your phone using Bluetooth. You need WiFi to connect with a PC to see shot trails indoors & outdoors.
Can You Putt on The Bushnell Launch Pro?
You can putt on the Bushnell Launch Pro. However, it does not have all the data points necessary to assess the quality of the strike on a putt. Metrics include impact location loft/lie, face angle, and closure rate. Bushnell does not have a designated putting mode.
Is the Bushnell Launch Monitor Accurate?
The Bushnell Launch Monitor is more accurate than many launch monitors on the market. Its accuracy can be compared to a Foresight GC3 Launch Monitor, which is almost twice the price of a Bushnell Launch Pro. However, the display rate may sometimes be delayed after hitting the shot.
When Did Bushnell Launch Pro Come Out?
Bushnell Launch Pro came out in late 2021. Because of its price point and advertised features, people rushed to the stores to buy the monitor. Bushnell Launch Pro lived up to the hype because of its accuracy, software, and practicality in a lesser price tag.
What Computer Do I Need to Run the Bushnell Launch Pro?
You'll need a good PC to run the Bushnell Launch Pro Monitor. It should have a graphics card with at least 2GB of video memory and 8GB of RAM or more (16GB is preferred.). At a minimum, an 8th Generation Intel Core i5 processor; you'll need internet connectivity to play online and download software.
How Much Space Is Needed for the Bushnell Launch Pro?
Look for a secluded place at least 10 feet wide and 15 feet long; the wall should be 8-10 feet high. The Bushnell Launch Pro is recommended to be at least 12 feet away from the net for optimal results. You must be cautious about playing indoors because a fast-swinging club can be dangerous around valuable items.
Do You Need a Subscription To Use the Bushnell Launch Pro With GSPro?
You need a subscription to use GSPro. They offer different subscription plans to assist your need which are compensated fairly. The Bushnell Launch Pro can only be ideally utilized indoors with the software and its subscription.
Final Thoughts
The Bushnell Launch Pro review concludes that a monitor is a great tool for all levels of golfers. However, it's designed to provide maximum performance to golf coaches, swing instructors, and professional golfers on the high spectrum of the curve.
I personally found the Bushnell Pro to be an accurate tool for measuring the performance characteristics of the ball and club.
Its functionality is comparable with its more expensive counterparts and better than similar price range launch monitors. I found it easy to set up and use. The software was fun to use, and I would enjoy playing courses worldwide, and I'm sure you'll do as well.
Now if you're a golfer with time to improve your swings and cash in your bank, I'd highly recommend you buy the Bushnell Launch Pro Monitor.

As a skilled golfer and wordsmith, Abdulmoiz brings a fresh and engaging voice to the golfing world. Whether he's on the course or at the keyboard, he strives to improve and inspires others to do the same.