Golf simulators have become increasingly popular enabling golfers to improve their golf even during the winter season and inclement weather.
Without a quality projector, you will not reap all the benefits available from a golf simulator. Sub-standard projectors produce low-quality images that can spoil the experience.
Quality projectors will enable you to play some of the most renowned golf courses while displaying the intricacies in high definition.
The most prominent projector brands are Epson, ViewSonic, and BenQ each offering a wide variety of projectors to cater to nearly everyone's requirements.
Although some packages include a projector as standard, many do not. To complete your golf simulator setup it is important to understand the various components of a projector and what to evaluate in your search.
At a glance: Our Top 14 Picks for Best Projectors for Golf Simulator
Key Requirements
To assess the various projectors available there are some specific areas to consider in your selection process.
HDMI Connectivity
For the best quality images, you will require a quality HDMI port on the projector. Most projectors available on the market come standard with the port but check before your purchase.
Additional ports, such as USB and VGA, will make the projector more versatile and enable you to connect it to almost any device.
Contrast Ratio
The contrast ratio distinguishes between the brightest and the darkest parts of the image. The higher the contrast ratio, the more powerful your viewing experience.
Lumens
Lumens can be defined as: "a unit of luminous flux in the International System of Units, that is equal to the amount of light given out through a solid angle by a source of one-candela intensity radiating equally in all directions."
The brightness of the images projected on the screen is affected by the ambient lighting. The brightness of the images projected by your projector is specified by the number of Lumens.
A brightly lit room requires more lumens than a room that is less brightly lit. Dark rooms require a minimum of 2,000 lumens however projectors with 3,000 lumens or more are highly recommended.
Throw Ratio
The placement of the projector is an important factor to ensure that you get the optimal image projected onto the screen. Incorrect placement of the projector can result in shadows in the images. If the projector is not above you or slightly behind the ball, it will tend to throw shadows.
The distance is calculated based on the width of the screen which is measured diagonally across the screen and not from side to side.
The throw ratio is calculated by dividing the distance between the screen and the projector by the width of your screen. The smaller the throw ratio, the larger the image a projector will produce at a shorter throw distance.
A ratio between 0.3:1 and 1:1 will produce the optimum image. A 10 feet widescreen will produce the best results if the projector is placed somewhere between 3 feet and 10 feet away. Remember to ensure that the distance will allow you to swing the longest club without touching the screen.
For optimal results is highly recommended that you purchase a short-throw projector as it can produce a large image from a short distance away without generating shadows.
Resolution
High definition is defined as projectors offering 1920 x 1080 pixels while Ultra High Definition (UHD) commonly referred to as 4K TV consists of 3840 x 2160 pixels. 4K refers to the number of horizontal pixels.
Match the resolution to the resolution of the device that you are using to generate the images. The projector cannot enhance the resolution of an image.
Aspect Ratio
Aspect ratio is defined as the shape of the image on the screen or the ratio between the width and height of the image.
The three most frequently used aspect ratios are:
4:3 (XGA & SXGA)
Every 4 pixels of width will be matched by 3 pixels in height
The image will be in a near square shape
The lowest resolution available is 1024 x 768 pixels
Lowest cost option
16:10 (WXGA & WUXGA)
Every 16 pixels of width will be matched by 10 pixels in height for a more rectangular picture
This produces a higher resolution of 1280 x 800 pixels
More expensive than XGA & SXGA
16:9 (standard HDTV, 1080p)
Every 16 pixels of width will be matched by 9 pixels in height for a more rectangular picture
Produces the highest resolution of 1920 x 1080 pixels
Quick Overview: Our Top Picks for The Best Projectors for Golf Simulator
When using a projector in a room with limited depth a short-throw projector is ideal. However, if you have sufficient space and depth in your room, a standard throw projector will provide ample detail onscreen to enable you to have a magnificent golfing experience
One of the best standard throw projectors that you can mount on the ceiling is manufactured by prominent Panasonic Corporation renowned for its electronics.
The Panasonic PT-VZ580U has a throw ratio of 1.09-1.77:1 that requires between 10 and 20 feet between the projector and the screen.
It provides ornate details with its 16000:1 contrast ratio and 3LCD image generation technology that can be connected using HDMI, VGA, and RCA inputs. In addition to the contrast ratio, Panasonic's Daylight View Basic proprietary technology assists in generating a sharper image with finer details.
Further refinement of the contrast and sharpness of the picture is added by the use of Panasonic WUXGA 1920 x 1200resolution rendering a sharper and cleaner image than an HD display with 1080p (1920 x 1080).
The display is further enhanced by the 5000 lumens brightness you get with the Panasonic PT-VZ580U WUXGA Projector.
Image quality is protected against distortion by the lens shift function to counter the distance it requires from the screen. Moreover, you can set corner, vertical, and horizontal keystone correction for image adjustment at different angles for the perfect viewing angle regardless of your screen position.
Mercifully, you will not have to compete with the hum of a projector as it operates at a mere 29 dB
You will be able to enjoy your simulator experience for a couple of years due to the 7000 hours of lamp life and the projectors ECO management function.
Pros
Great picture quality
Only 16.67ms input lag and microsecond DMD response time
Little to no motion blur or image lag
Vertical keystone correction
3000 lumens for high brightness
5W built-in stereo speakers
LumiExpert technology
1080p performance
Received the prestigious "Best Projector for Gaming – High Ground Gaming 2020"
Cons
The BenQ TH671ST is a 1080p short-throw projector ideally suited to gaming due to its ultra-fast low input lag and refresh rate. It matches the max output of a PS4 Pro and Xbox One X thus producing images without motion blur.
It is not only ideal for gaming but suited as a golf simulator.
The compact dimensions of 11.65 inches x 4.60 inches x 9.50 inches and lightweight 5.9 pounds makes it extremely portable.
Initial installation and setup are straightforward and you are guided through a glut of customization settings.
Although it is on the upper end of the price scale, it comes with a high 1080p resolution and offers an accurate 92% Rec. 70 color image thus offering value for money.
Brightness is provided through 3000 lumens and a high native contrast ratio.
A throw ratio between 0.69 and 0.83 enables you to project a 100-inch image from 5 feet away up to 300 yards deep making it ideal for long shots required for a golf simulator.
Around the clock customer support is provided via the US-based customer support.
A three-year limited parts and labor warranty comes as standard.
You can connect to media players, PCs, Macs, gaming consoles, and other smart gadgets via USB, HDMI.
LumiExpert technology identifies ambient light conditions and automatically adjusts brightness for the clearest image.
Vertical keystone technology corrects the image in the case of off-center projector placement.
Epson is a world-renowned manufacturer of electronic products including projectors.
The EX3260 is a portable SVGA projector with 3,300 lumens of equal color and white brightness.
Initial installation and subsequent setup are rather straightforward and can be completed within minutes.
Connectivity is provided via an HDMI port that enables you to connect to most modern laptops or computers.
Picture quality is not competitive with most other projectors as it only offers SVGA at 800 pixels X 600 pixels resolution.
A robust lamp has an expected life of 10,000 hours.
The Optoma EH200ST is a HD display 1080p (1920 x 1080) resolution.
Offering a 0.49:1 throw ratio will enable you to generate a 100-inch image from a distance of 3.5 feet from the simulator screen.
With 3000 lumens the projector can operate in bright light while still projecting a bright image. It's like playing golf on your preferred course, only without inclement weather affecting your round.
The high contrast ratio of 20,000:1 produces authentic images of brighter white & ultra-rich blacks.
Connectivity is provided by an HDMI port enabling you to connect to any source with HDMI capability.
In addition to the HDMI connectivity, you have access to MHL (Mobile High-Definition Link) enabling you to project the display of your mobile device.
Additional technology includes DLP technology that creates sharp, bright, and colorful images as well as BrilliantColor multi-color processing technology for exceptional contrast ratios.
Sources such as Blu-ray players and gaming consoles that support 3D will enable you to see 3D images.
It is frequently used by the most influential golf simulator studios such as SwingBay. The standard aspect ratio of 4:3 fits perfectly with the SwingBay Golf simulator enclosure and screen.
Installation and setup are straightforward, and you will be ready to play golf within minutes. For installation, you can either mount it to the ceiling or the floor.
Sound is provided through an exceptional integrated 10W speaker system.
BenQ Projectors are a popular choice for golf simulators. The MW632ST is a lightweight short-throw projector making it extremely portable.
The 3200 lumens produce crisp high-resolution images that can be viewed from almost any angle.
A turf-covered projector can be mounted either on the floor or the ceiling.
Floor Mount Enclosure fits most projectors.
The ceiling Mount is highly adjustable for swift and easy assembly while keeping the wires out of the swing area.
It generates images at WXGA 1280 x 800 resolution, 16:10 aspect ratio, a 0.9:1 throw ratio, and a contrast ratio of 13000:1 with pixel fill factor for clear text and images.
Connectivity is provided by 2 HDMI ports for outstanding audio and video quality. Audio is delivered via the built-in 10W speakers.
The vertical keystone function aligns the image when the projector is placed off-center.
The ViewSonic PS501X falls into the budget category of the ViewSonic range of projectors.
It produces 3500 lumens for a bright image, has a native XGA 1024 x 768 resolution, and a throw ratio of 0.61 thus enabling you to project large images in small rooms.
ViewSonic's proprietary SuperColor Technology provides a wide color range through its dynamic lamp control and a 6-segment color wheel. The SuperEco feature provides a lamp life of up to 15,000 hours.
Connectivity is via an HDMI input port and a powered USB A port.
Optoma EH412ST is one of the highest-rated offerings in the Optoma range of golf simulator projectors.
It produces a remarkable 4000 lumens making it one of the highest-rated in this category. You should not have any problems using this projector no matter how bright your room is. In addition to the high number of lumens, the projector has an imposing 50,000:1 contrast ratio to produce radiant images.
Its short-throw capability of 0.5:1 makes it ideal for golf simulators. It can generate an image of 152 inches from 5.5 feet away.
The projector produces full HD 1080p (1920 x 1080) images but is also able to connect to 4K UHD input sources.
sRGB and Rec. 709 color profile offers saturated colors which are standard for international HDTV.
Connectivity to your mobile devices is offered via a Mobile High-Definition Link (MHL). Furthermore, it can connect via HDMI and VGA.
Sound is provided via a quality integrated 10-watt speaker.
Power saving and reduction in maintenance are ensured through the use of an automatic power-off timer.
A durable 15,000-hour lamp life reduces the maintenance requirements considerably.
The Optoma UHD30 True 4K UHD Gaming Projector is another excellent projector from Optoma that is ideal for gaming including a golf simulator.
It offers true 4K ultra HD with 8.3 million distinct addressable on-screen pixels.
Ultra-fast 240Hz gaming projector provides sophisticated blur-free visuals and unmatched silkiness. Combined with Optoma's Enhanced Gaming Mode it produces a lag-free gaming experience at 16ms response time at HD and 26ms at 4K UHD.
UltraDetail technology generates images at a higher frame rate while retaining its excellent sharpness.
HDR and HLG compatibility creates a subtle balance between the darker and the deeper black levels for advanced imagery.
Another projector in the Optoma range is the Optoma HD28HDR 1080p Home Theater Projector. This is the first 4k projector for a golf simulator.
Although it is competitively priced, this projector operates with advanced dynamic range video.
The 3600 lumens create one of the brightest displays available on the market. Brightness combined with the ultra-high contrast ratio of 50,000:1 generates crisp and clear images in even the brightest rooms. HDR10 technology assists in generating brighter and deeper black and white levels for a superior and colorful viewing experience.
Enhanced gaming mode generates a lightning-fast response time of 16ms, at a refresh rate of 120Hz. This offers an improved image of shadows and dark scenes for improved visibility of the looming impediments.
Dynamic black technology provides enhanced depth in images by smoothing out lamp output for increased contrast and a thorough viewing experience.
The ViewSonic is a short-throw projector that is extremely portable and it can project 120 inches from 8 feet 2 inches away with 3200 lumens brightness.
An aspect ratio of 4:3.
PJD5353LS can be an ideal option for you to use in education and elegant business grounds for its developed features, adjustable connectivity options, and It will specially fit a SwingBay golf simulator screen and enclosure.
ViewSonic's SuperColor technology will give you a wide range of colors through its dynamic lamp control and a 6-segment color wheel.
Setup is rather easy and can be completed within a couple of hours if installed onto the ceiling.
The versatility of the projector enables you to use it for a golf simulator, to watch movies or gaming.
Its flexible connectivity enables you to connect to most media players, PCs, Macs, and mobile devices.
The ViewSonic PG800HD is an HD projector with 1920 x 1080 resolution and 5000 lumens of brightness.
The quality of the images produced by the PG800HD makes it perfect for commercial use.
Flexibility ensures that the installation is straightforward irrespective of the area available for installation. It is also extremely versatile and can be used in any commercial, or home, environment for a variety of functions.
Peace of mind is provided via a 3-year limited part and labor warranty and a year of lamp coverage.
Connectivity is offered via a VGA cable or it can be linked to a network.
The EH460ST is a digital short throw HD projector with 1080p (1920×1080) resolution and no downscaling or compression. Crystal clear images are produced through the 0.5:1 short throw projection lens.
The short-throw lens enables you to set the projector up for use in smaller spaces without the loss in clarity and quality of the images.
MHL connectivity allows you to project larger images onto a larger display from your mobile device.
A feature that stands out is the auto power off. This is ideal if you have to suddenly leave the area where the projector is installed. The timer can be pre-set at a number of minutes for auto power off to initiate if there is no action on the screen. The auto-off feature will work well if you fall asleep while watching movies.
The Optoma GT1080 Darbee is one of the most affordable projectors in the Optoma range.
Although affordable it still offers great value for money with its 3,000 lumens.
Digital Light Processing (DLP) technology offers a digital projection with high contrast, excellent response time, good pixel structure, and nearly no color degradation. Its amazing colors generates crystal clear images to produce an authentic experience.
It's compatible with nearly any source that can generate 3D content such as 3D Blu-ray players, 3D broadcasting, and gaming consoles.
Connectivity is provided through an HDMI port, VGA port, and a composite connector. You will be able to control multiple HDMI-CEC capable devices through the HDMI link using a single remote control.
Vava is another one of the lesser-known brands that produce quality projectors for golf simulators.
Although marketed as a home theatre projector, it works well when used in a golf simulation project.
The compact design and ultra-short throw projector make it ideal for use in confined spaces. Its ultra-short throw projector can generate a 100-inch image while positioned only 7.2 inches away from the screen. This could be problematic as it may interfere with your swing. Fortunately, it will still produce quality images from 80 inches to 150 inches away.
Brightness is provided by 2500 ANSI lumens that make this more suitable for darker rooms.
HDR 10 technology and 4K resolution provide a richer and vibrant contrast with fuller color saturation.
A contrast ratio of 3000:1 is on the lower end of the spectrum.
Its durability is reinforced as it can deliver up to 25,000 hours of maintenance-free operations.
Stereo sound is provided through the ALPD 3.0 art technology with built-in 60W stereo surround speakers,
Final Thoughts
Golf simulators are extremely popular and affordable thus enabling golfers to install them at home as well as creating business opportunities.
The projector is a key component of a golf simulator and selecting the best one for your setup is critical.
Short throw projectors are the best suited for golf simulators due to their ability to create large images from a short distance.
The projectors reviewed in this article all have their unique features thus enabling you to set your selection criteria and assess each projector.
Our preferred option is the Optoma EH200ST for its all-round use of technology to provide you with a vivid image from a short distance.
Use the information provided wisely when selecting your projector.
Please add your comments and experiences in the comments section below.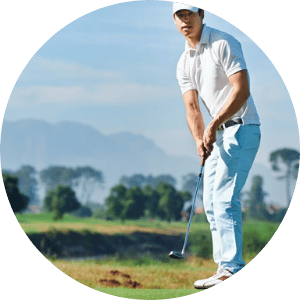 Nick Lomas is the founder of GolfSpan, an avid golfer, not quite a pro but has over 15-years of experience playing and coaching golfers from all over the world. His mission is to bring the golfing community a better experience then it comes to choosing the right golf gear, and finding the right set up for your game.