The cost of a golf simulator comprises several components, including a projector, hitting mat, impact screen, launch monitor, and side hitting nets. You can acquire them in a package, purchase the individual components, and combine them into a customized golf simulator bundle.
So, how much is a golf simulator? You can find budget models for under $1000, and while the launch monitor won't be great, many players start small and build up. Around $5000 is when the models start looking high-quality. If you have a larger budget, high-end models can cost $10,000 or more, but come in a package with everything that will last you and your family for years. 
In this review, we'll cover models across a range of prices and point you in the direction of the winners, so you can avoid the losers.
How Much Does A Golf Simulator Cost?
We divide the golf simulators into 3 price ranges identifying the best in every category. Keep this in mind when looking at indoor golf simulators. 
Entry-Level Golf Simulators Range Between $799 – $5,000
Entry-level golf simulators often use a catching net and TV instead of a screen and projector. Buying a budget-friendly, entry-level golf simulator will let you try it out. Still, you will probably want to buy a higher-quality golf simulator bundle later because these simulators don't offer much in the way of quality. You won't receive the full experience with them as you would with a higher-tier simulator.  
If you want a projector and screen, we recommend looking at the options in the next price tier.
Mid-Cost Golf Simulators Range Between $5,000 – $10,000
These will include a quality projector and screen with a superior quality launch monitor. The quality of the screen and projector leads to an increase in prices. The display and accuracy quality is noticeable. The mid-level home golf simulator often includes an enclosure to place the screen in.
High-Cost Golf Simulators Range From $10,000 Upwards
These are the best golf simulators. You will get a full package complete with computers and an authentic, immersive experience. It will provide loads of fun for you and the family, and you can even partake in international competitions. This is the best commercial golf simulator that can be found.
What Factors Determine A Golf Simulator's Cost?
Several components go into creating a great indoor golf simulation environment. Some are a necessity, and some are optional.
| Product | Cost | Required |
| --- | --- | --- |
| Launch Monitor | $299 to $30,000+ | Yes |
| Simulator Software | $0 to $3,000 | Yes |
| Golf Hitting Mat | $300 to $1,000 | Yes |
| Golf Net/Screen Enclosure | $400 to $4,000 | Yes |
| Simulator Projector | $300 to $7,000 | No |
| Total | $1,299 to $45,000 | |
Read more: If you're curious

how golf simulators work
, check out our full article.
1. Launch Monitor Cost – $299 to $30,000+
A vital component in the indoor golf simulator cost is the launch monitor. The launch monitor delivers a variety of data points to trace your swing, contact data, and ball flight. 
The budget models only provide basic data points, and the higher-end devices will display the ball trajectory on the screen, which is ideal for home golf simulators.
The launch monitor can acquire data from the beginning of your backswing through to the conclusion. It will deliver valuable specifics of the impact between the club head and the golf ball. Launch monitors are usually positioned at floor height near the golfer for exact readings at impact. 
Data points measured by launch monitors vary but should include ball data and swing data.
Our Top Recommendations Include:
2. Golf Simulator Software Costs – $0 to $3,000
Most golf simulator packages include their basic software in the purchase price, but upgrades or subscriptions are often available at additional costs. It is not a given that the software will be compatible with all the launch monitors; therefore, it is recommended that you check the compatibility before you conclude the purchase.
It is advisable to purchase the software on a subscription basis to ensure that you get regular updates to the software and courses. Subscriptions for the first year are often included in the purchase price.
The Top-Rated Software Available on the Market Today Is:
3. Golf Hitting Mat – $300 to $1,000
Golf hitting mats are the surface area on which you place your ball for every shot and can increase the overall cost of a golf simulator between $300 and $1,000. We would advise steering away from the cheap and lower-quality materials if you intend to use them regularly. Instead, invest in a premium hitting mat that will provide you with a realistic simulation of the surface you will encounter on the golf course. Home golf simulators try their best to mimic the course. 
This will provide a more authentic feel, more steadiness, and less opportunity to injure yourself.
High-end simulator packages offer multi-surface golf hitting mats, including fairway, rough, and sand. As technology grows, so does the quality of the hitting mats. There are hitting mats available that will simulate slopes on the course and tee our ball up for you at the perfect height every time.
Our Top Golf Mat Recommendations Are:
4. Golf Net or Screen Enclosure – $400 to $4,000
As explained earlier, the lower-end golf simulators use a hitting net and link the launch monitor to your TV. This is the least expensive route but does not provide the highest quality experience. We recommend looking at a net that returns your ball to your feet if you decide on this route.
The more desirable way is to find a great screen and projector. This can increase the cost but will enhance the experience tremendously. The projector and screen combination is normally included in the package price of golf simulators but can be purchased separately.
For individual purchases, it would be interesting to look at the following:
5. Golf Simulator Projector – $300 to $7,000
The projector is key for a top-quality high-definition display of the golf course and ball trajectory. The top-end projectors will provide you with unequaled experience, and it will feel and sound like you are out in nature walking on the golf course.
Best Projectors for Golf Simulators
6. Accessories
To run the software effectively, the low-end models may require using your computer, while the top-end packages already include the computer hardware in the purchase price.
If it is not included, look at purchasing:
A gaming PC that would sell for approximately $700

Alternatively, you can purchase an iPad for iOS compatible systems at approximately $700

HDMI Cables to connect your device and projector at a minimal cost
Entry-Level Affordable Golf Simulators
Many golfers start in this category by buying and linking individual components. This can cause compatibility problems and take more time, but it could save you thousands of dollars. 
At these prices, it is also difficult to find a quality projector and screen, but we've picked our favorite options, which can start you on your way to bigger and better solutions down the road.
You will need to look further down in the higher-priced options for a one-stop solution provider. 
OptiShot 2 Home Golf Simulator Package
This is the most budget-friendly solution! It includes the OptiShot 2 software solution, a net enclosure, and a hitting mat. Affordability is key and it provides everything required to practice your golf swing while having fun with friends and family. This is an optometric launch monitor that tracks the golf ball from impact for a short distance and then uses the data points to calculate distance, ball trajectory, and other key data points.
Furthermore, this home golf simulator offers a facility to set environmental factors such as wind and temperature to mimic the outdoor environment. Home golf simulators in general try to do that with a virtual driving range.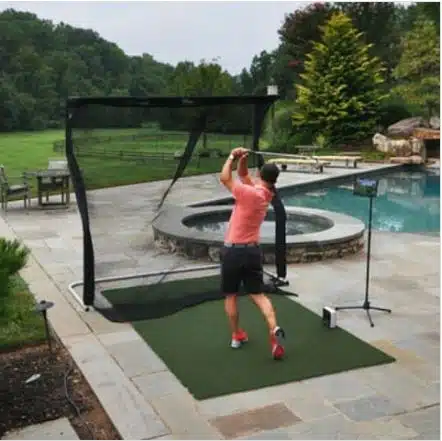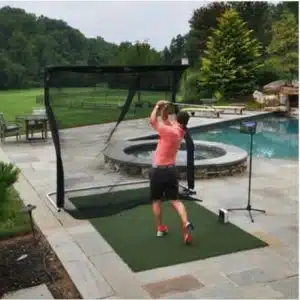 This is a fantastic entry-level package providing you with accurate tracking at a reduced price since it excludes the screen and projector. Included in the package is a golf hitting mat and a net that returns the balls to you after impact. It is straightforward to set up, and this can be done in less than 30 minutes.
Mid-Cost Golf Simulators (Value)
Once you have outgrown the golfing net and TV experience or your budget caters for a more advanced system, you can move into the mid-level market.
This is a highly contested market as many equipment manufacturers have worked for years to make the golf simulator affordable without sacrificing too much of the quality experience offered by the top-end golf simulator choices.
The accuracy of the data fed back is high, and the number of data points measured is acceptable to provide you with the information that you need to improve on your golf.
Including the projector and screen in this level makes a big difference since you can now display a golf course or practice ground in the background while hitting golf balls at it and display the data on the screen.
You may not have the authentic feeling that is provided by the top-end golf simulator brands, but you will be able to have fun and improve your swing at the same time. All of this while you are indoors and protected from the bad weather.
Some of the most prominent golf simulators in this category are: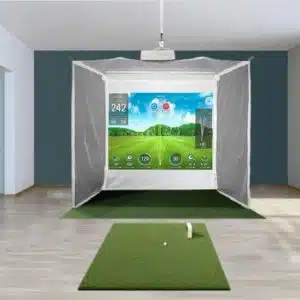 This is an excellent golf simulator available through Rain or Shine Golf and it provides you with a full enclosure that you can retract after you have completed your session to open up space.
This can be done with one click of a button. This is an excellent (and affordable) simulator package with a full enclosure and screen. It is arguably one of the best sources for golf simulator equipment out there today.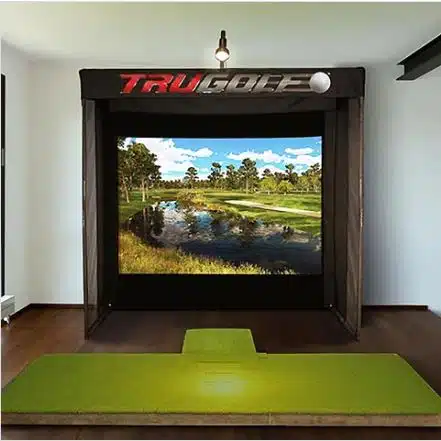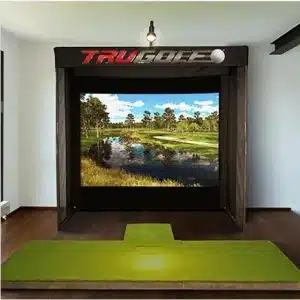 This is the entry-level package into the TruGolf range. The price of the Vista 8 is right at the top-end of the category and provides top-end features and functions. High-definition images displayed on the tensioned screen that removes all creases provide a magnificent view and excellent experience.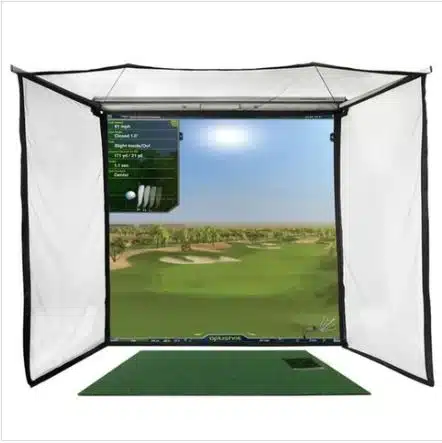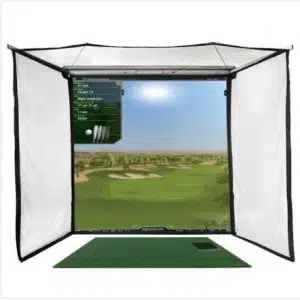 This is the top package in the Golf-In-A-Box range and competes well on price when compared to golf simulators that provide a similar golfing experience. It offers a comprehensive package including the enclosure, screen, and projector.
The accuracy of data will enhance your golfing experience and allow you to improve your game even in the toughest weather conditions.
Purchasing a top-end golf simulator will enable you to experience indoor golfing in such detail that you may feel that you are in nature walking the golf course.
The equipment, software, and imagery quality is exceptional, and many new technologies are built into the best golf simulators.
For an authentic experience, some golf simulators provide sloping and undulating greens to make the game more realistic, exciting, and challenging.
If budget is not an issue, you could spend up to $100,000 on the best packages. $10,000 is enough to get you an amazing golf simulator,  which will provide fun for family and friends. With some, you can even compete in tournaments at no extra cost.
Some of the most prominent golf simulators in this category are: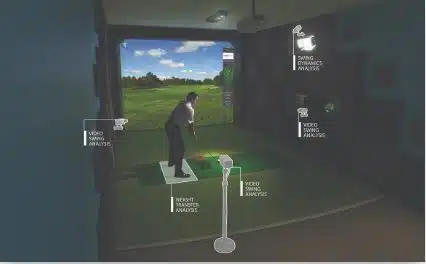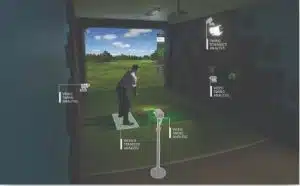 HD Golf offers one of the most authentic experiences that you can get on a simulator. It is easy to set up and take down and provides extremely accurate data points.
Computer Vision Technology (CVT) provides authentic photo capabilities to capture the essence of the highly renowned golf courses in high definition. The authentic atmosphere is built from high-resolution images and satellite data.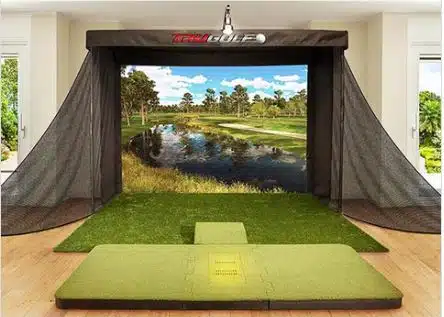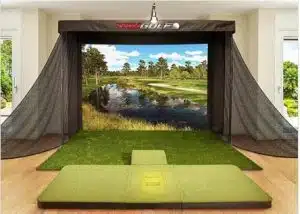 TruGolf is a highly regarded player in the golf simulators arena, and they have a team of revered designers who have created the best golfing experience for you. The TruGolf Vista 12 is a leader in the TruGolf range, providing high-definition images and superior swing analysis.
FAQs
How Much Does It Cost To Get a Golf Simulator Installed?
To set up a golf simulator can set you back anywhere between $1,000 and $70,000. However, most high-end models include the installation fees in the purchase price. Be sure to check what your system comes with for the price that you pay. We understand that this is a wide range.
Are Golf Simulators Worth It?
Golf simulators enable you to improve your golf skills by providing a range of data points about your game that may cause you to lose strokes. It provides hours of fun with your friends and family in the comfort of your home. Access world-renowned golf courses like Magnolia National and St. Andrews.
Can You Watch TV on a Golf Simulator?
You can spool any service and display it on your simulator screen by linking a computer to your projector. This will allow you to watch any movie or TV program in the comfort of your home on a large screen.
Is Simulator Golf Easier?
Playing golf on a simulator removes all the environmental difficulties and conditions. Although you can set the environmental factors on some simulators to feel the effect of the wind, you cannot simulate the severe roughness that you may experience in real life. Some hitting mats offer various surfaces to hit from to get you closer to hitting from the rough.
How Much Does a Full Size Golf Simulator Cost?
You can expect a full-size golf simulator to cost you anywhere from $1,000 to $25,000 depending on the make and model. The wide range of costs give you different options that suit the needs of every golfer. 
How Much Does a DIY Golf Simulator Cost?
To make a quality DIY setup, you can expect to pay around $4,500. Using a lower-priced launch monitor, you could do this for under $3,000. Making your own homemade setup will vary from one to the next. 
Is a Golf Simulator Worth the Money?
Golf simulators especially have use as a way to develop your golf game during times where you can't. The cost can be significant, but it lets you hone your golf skills at all times. 
What Is My Home Golf Simulator Going To Cost Me?
You can find the least-expensive golf simulator package options for less than $1000. These can be a way to get started and allow you to see if golfing indoors will work for you. If you have $5000, you can find a good quality golf simulator, one you will probably be happy with for years. 
The best golf simulators will provide tremendous fun, irrespective of the package you decide on. You can set them up in the garage. 
The best golf simulator package choices have become more affordable as manufacturers move into the lower end of the market, and the quality of the data points is very high for the home golf simulator.
There are many components included in a comprehensive golf simulator setup. It is advisable to purchase a package deal rather than spend time and money and complete the setup trial and error.
Our

entry-level

winner is the

SkyTrak Budget Simulator Package

, which

 provides all the components required for setting up a golf simulator at an extremely affordable price.

Our

mid-level

winner is the

TruGolf Vista 8

, which

 provides many top-end features, quality, and an authentic experience.

Our

high-end

winner is the

High Definition Golf Simulator

for the diversity that it offers and the technology incorporated into the system
Set your budget and stick to it with your golf simulator setup. Happy indoor golfing!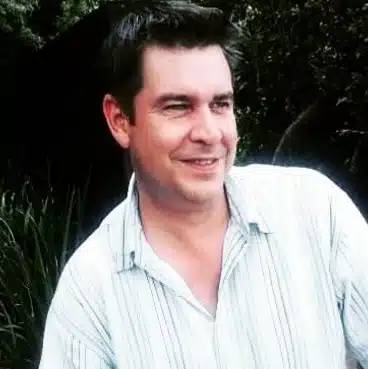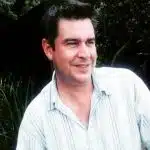 Charl is an avid golfer who studied marketing and advertising. He is fascinated by new technology in golf equipment and the mechanics of the perfect swing.