We look at where to buy a used SkyTrak golf simulator to save you a bit of money on the purchase as SkyTrak is regarded as one of the leading premium golf simulators and can cost upward of $7,000 new.
Since they have been available for a substantial period, the used market is experiencing significant growth and this is making golf simulators available and affordable to the average golfer. The big question though is where to buy a used SkyTrak golf simulator.
At a glance: Our Top 4 Places To Buy a Used SkyTrak
The purpose of this piece is not to do a review on the SkyTrak golf simulator but rather to identify places where you can buy a used SkyTrak. Before we address the merchants, we will give you a brief overview of the abilities and accessories that you can expect to get with your SkyTrak golf simulator
SkyTrak is a photometric launch monitor that makes use of cameras to create high-speed images to calculate the following instantly after the golf ball and clubface made contact.
Ball speed
Launch angle
Spin rate
Although impact information is calculated from images taken by the high-speed cameras, the SkyTrak software will calculate the ball flight, the clubhead speed, angle of descent, carry distance, roll, total distance, and offline deviation.
The initial installation of the screen and the electronic equipment is rather cumbersome and can take a few hours but once it is in place the SkyTrak golf simulator is straightforward.
SkyTrak takes all the guesswork out of every shot by shining a red dot on the area where you have to place the golf ball for optimal measurements. Once you have completed your swing hitting the ball from the indicated area, SkyTrak will instantly display your swing information and ball flight.
SkyTrak comes with an impressive array of software to assist you in improving your golf swing.
The standard 3 software plans available with SkyTrak consist of a Basic Practice Range Plan, Game Improvement Plan, and the Tee Off (WGT) Plan.
Basic Practice Range Plan
This software plan is compatible with PC's and iPad and consists of the following components and there are no annual fees to remain registered
1 X SkyTrak Launch Monitor
1 X USB Cable
1 X SkyTrak Companion App
Warranty Activation, Registration & Updates
3D Practice Range with Shot Tracer
Ball Performance Data
Shot Replay
Game Improvement Plan
This plan  is also compatible with PC's and iPad and comes with a 1-year subscription to the Game Improvement Plan software
The package consists of:
Everything in the Basic Practice Range Plan
SkyTrak Protective Case
Longest Drive Competition
Closest to the Pin Contests
Target Practice
Skills Assessments
Custom weather and course condition settings
5 Camera Views
Bag Mapping for Club Fitting
Progress Tracking, Charts, & Graphs via SkyGolf 360 Mobile App
Tee Off (WGT) Plan
Pros:
You can play your shots off artificial mats
The app provides a fantastic user experience
Environmental factors like wind and temperature can be set for more precise computations
Cons:
The golf ball and the launch monitor has to be at the same level
The app on mobile phones are not as accurate as on an iPad or computer
Advanced features require an annual subscription
This plan is only compatible with the iPad and comes with a 1-year subscription to WGT Play & Improve Plan.
The package consists of:
Everything in the Game Improvement Plan
WGT (World Golf Tour) Full Course Play on 11 World Class Golf Courses
Full SkyTrak WGT Course List
WGT Closest to the Hole Challenges
Now that we understand what the SkyTrak launch monitor can do and what you can expect when purchasing a used unit, let us look at where you can buy a used SkyTrak.
Places to Buy a Used SkyTrak Golf Simulator.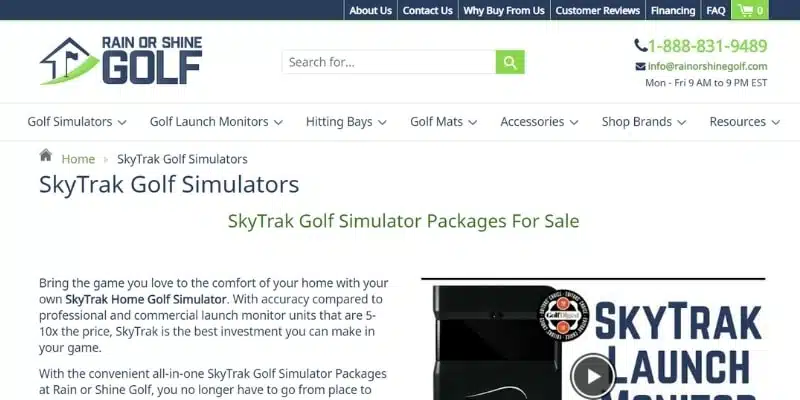 Rain or Shine Golf is an online trading platform where you can buy almost any golf equipment that is available from reputable manufacturers.
Customer service, top quality products, and the best prices are their top priorities. All the equipment that they display on their website comes with the required information to make your choice uncomplicated.
The customer service team are all golfers that will be able to best assist you if you need advice on any piece of equipment.
In their pursuit of being the best online golf trading company, they are constantly coming up with  innovative ideas such as:
Price Match Guarantee
Rain or Shine Golf has strategic partnerships with the brands that they sell on their website and is in a position to offer the best prices. They will refund you the difference if you can find the same equipment at a lower price.  For more information, see the price match guarantee page.
Free Shipping
Shipping to all US states except for Alaska and Hawaii is free.
100% Safe & Secure Ordering
The website is secured with SSL encryption and is safe to buy on. All your information including credit card detail is secure and well protected.
Volume Discounts
Rain or Shine Golf will offer discounts for bulk orders.
Authorized Dealer
All equipment sold on their website is backed by the full manufacturer warranties as they have authorized dealer status. If there is any equipment where the authorized dealership is not in place it will not be offered on the website.
Financing
Rain or Shine Golf is one of the very few online traders that offer you flexible payment terms for orders over $299. This can be done by selecting the "Pay over time with Bread" option at checkout.
SkyTrak Golf Simulator Packages For Sale
There are many packages available for SkyTrak Golf Simulator available from Rain or Shine golf. This makes it affordable to a golfer with almost any budget constraint. They will be able to advise you on the package that will best suit the space you have available and your budget.
There are 3 premium packages available that include:
SkyTrak Launch monitor and software package
Country club elite or Fiberbuilt hitting mat
Landing turf pad
1080P HD short throw projector
Projector ceiling mount
25 foot 1080P HDMI cable
SkyTrak SwingBay Golf Simulator Studio
At the time of writing this, it is on offer at a discounted price of  $7,499 and it requires a minimum room size of 9 feet high x 12 feet wide x 16 feet deep.
Compact Golf Simulator Studio is available at $6,599 requires a minimum room size of 9 feet high x 10 feet wide x 12 feet deep. It is ideal for rooms with less than 12′ of width.
SkyTrak Retractable Golf Simulator Studio is available at $6,099 requires a minimum room size of 9 feet high x 10 feet wide x 12 feet deep making it ideal for garages or multi-purpose space.
These packages may not suit all budgets or available space. To accommodate more golfers Rain or Shine golf has put together an additional package and you can buy the SkyTrak Launch Monitor for less than $5,000 on the SkyTrak Practice package or the SkyTrak Budget Packages.
SkyTrak Budget Package comes in at $4,699 and requires a minimum room size of 8 feet high x 10 feet wide x 12 feet deep
SkyTrak Practice Package comes in at $3,399 and requires a minimum room size of 8 feet high x 10 feet wide x 12 feet deep making it the most affordable SkyTrak package that includes a projector
If none of the aforementioned packages suit your budget, you can purchase the SkyTrak Golf Launch Monitor without any other components is available for $1,995 and the SkyTrak metal protective Case for $149.95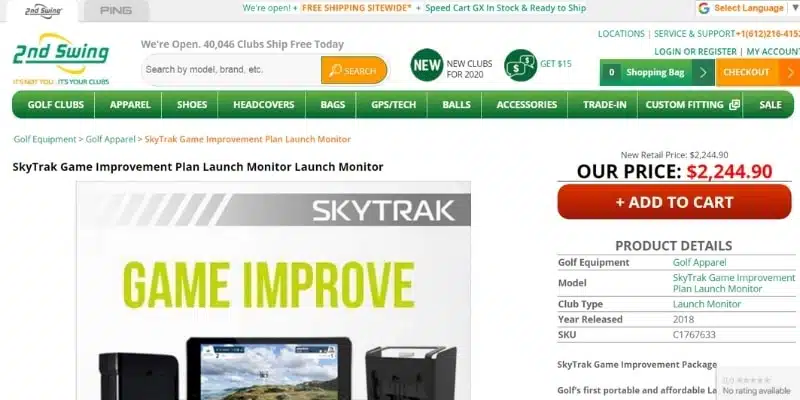 2nd Swing started in 2006 trading golf clubs and during the Masters week of 2007 it opened up for business in Minnesota.
It is straightforward easy to navigate the website and they offer a 30-day guarantee on all equipment that they sell. Although they started out trading golf clubs they have expanded into trading all golf equipment including SkyTrak Golf Simulators.
SkyTrak Game Improvement Plan launch monitor is available at $2,244 and includes
SkyTrak Launch Monitor
SkyTrak protective case
SkyTrak Companion App
USB Charging Cable
Game improvement software
SkyTrak Home Series package launch monitor comes in at $3,138 and includes
SkyTrak launch monitor with protective metal case
Premium quality and rugged durability turf mat that is 6 feet wide x 6 feet long
Hitting net that automatically returns the ball to the golfer.
Play and improve package that includes
World Golf Tour (WGT) for iOS only
Full Course Play on 10 WGT world-renowned golf courses
Skills Assessment.
Bag Mapping
Green View
Fairway Practice
Shot Optimizer
SkyTrak Personal Launch Monitor is available at only $1,995 and comes with the following in the box:
SkyTrak Unit
SkyTrak Companion App
USB Charging Cable
SkyTrak Tee Off Package launch monitor comes in at $2,344 and comes with the following in the box:
SkyTrak launch monitor
SkyTrak Protective metal case
SkyTrak Companion App
Play and improve package
USB Charging Cable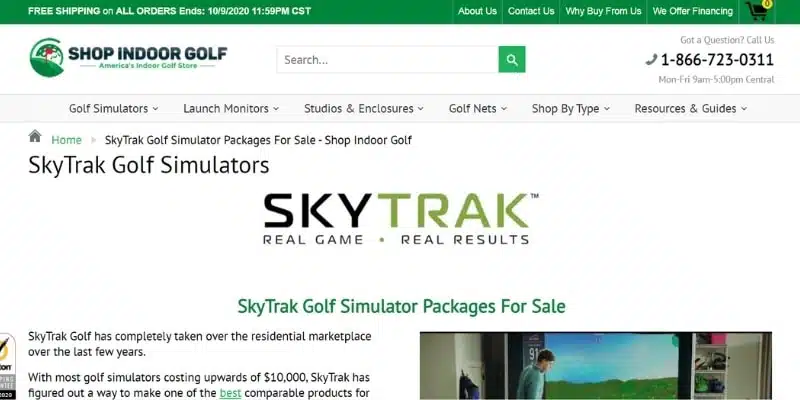 Budget-friendly packages under $5000
What's Included:
SkyTrak Golf Launch Monitor
SkyTrak Golf App
SkyTrak Basic Driving Range
USB Cable
Compatible with iOS, Android, and PC
Compatible with multiple simulator software options
Rechargeable Battery Provides up to 5 hours of continuous use
Training Package $3,399.99
The SkyTrak Training package is perfect for those that do not need all the bells and whistles.
It includes the
SkyTrak launch monitor
SkyTrak protective metal case
Training software
Golf mat
Golf net with side barrier netting.
Single components
SkyTrak Standalone Launch Monitor $1,995.00
SkyTrak Golf Metal Protective Case $149.95
Shop Indoor Golf is an online platform based in Dallas that provides golf equipment to individuals and business solutions.
Premium packages below $8000 include:
SkyTrak Launch Monitor
SkyTrak Metal Protective Case
Simulation Software
Enclosure & Screen
HD 1080P Projector
Golf Hitting Mat
Side Barrier Netting
Projector Shield or Mount
25 feet HDMI Cable & Lightning Cable Adapter
Landing Pad Turf (SIG10 & SIG12)
SkyTrak SIG12 Golf Simulator $7,899.99 Shop Indoor Golf's largest and highest premium
SkyTrak SIG12 Golf Simulator
12 feet widescreen
The image fills 100% of the screen
SkyTrak SIG10 Golf Simulator $7,499.99 Shop Indoor Golf's most popular SkyTrak package
SkyTrak SIG10 golf simulator
10 feet wide Screen
The image fills in 100% of the screen
Requires 9 feet high ceilings
SkyTrak SIG8 Golf Simulator package $6,499.99 Shop Indoor Golf's package for smaller rooms
SkyTrak SIG8 Golf Simulator
8 feet wide Screen
Image Does Not Fill in 100% of Screen
SkyTrak Golf Simulator Flex Space package with retractable screen $5,799.99
Designed for those that do not have a dedicated space for their simulator setup.
The retractable screen that can be put down while in use and retracted back up when not in use.
This SkyTrak package only requires 8 feet ceilings.
Quality Products
Only quality products from manufacturers in good standing in the golfing community are sold by Shop Indoor Golf. To ensure that the equipment is of good quality Shop Indoor Golf test out the rage from the manufacturers before placing them in store
Customer Service
Customer service is provided via live chat, phone, or email.
Lowest prices
Shop Indoor Golf has agreements in place with all manufacturers and is confident that they can supply the equipment at the lowest possible price. They offer a price match guarantee on any quote for an identical piece of equipment from a competitor
Free Shipping
Free shipping is offered on all purchases irrespective of the value of the sale. Deliveries to 48 states excluding Alaska and Hawaii.
Returns
There is a 30-Day Returns or Exchange Policy irrespective of the reason for the return. All you have to do is pay for the shipping costs to return the purchase.
Below are some of the SkyTrak packages that they have on offer and it includes something for everyone.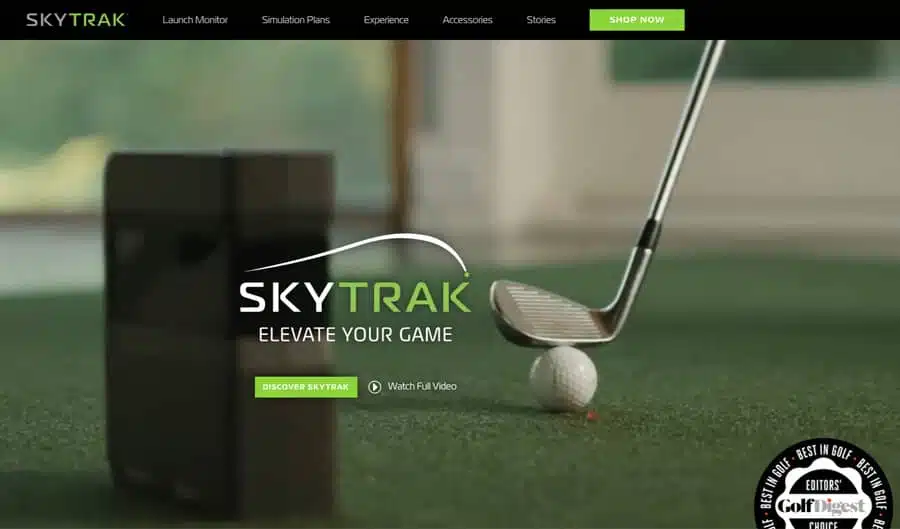 SkyTrak is the manufacturer of the SkyTrak launch monitor and the golf simulator packages and offers certified pre-owned packages. There are very few resellers that can compete with them in the used golf simulator market.
Certified Pre-Owned
Certified Pre-Owned SkyTrak equipment has been used previously but must pass SkyTrak's stringent refurbishment process before being offered for sale.  A Certified Pre-Owned SkyTrak offers a fully-functional launch monitor at a substantially lower price and comes with a 90-Day Limited Warranty.
Returns
SkyTrak will accept returns and credit your account. The amount credited will exclude shipping costs. The conditions are set out below. If a return is accepted that does not meet these guidelines, a 20% restocking fee will apply
Must be within 30 days of your original purchase
Items must be in the original packaging
Must include all parts and components
Be free of damage
Payment Plan
SkyTrak Golf offers an affordable Deferred Interest payment plan with Fortiva Retail Credit.
Shipping
SkyTrak Golf offers free UPS ground shipping and all deliveries require a signature upon delivery.
Registration
Upon receipt of the package, it is advisable to register the SkyTrak to activate your warranty and for security reasons in case of loss or theft.  The registration will also ensure that you receive updates and bug fixes as needed.
They offer the following plans on SkyTrak' s certified pre-owned equipment:
SkyTrak Basic Practice Certified Pre-Owned Plan is available at $1,695.00
The Basic practice plan allows golfers to practice hitting balls with any club anytime. The feedback received is highly accurate and provides information related to the ball flight in a brilliant 3D environment.
The information provided will enable you to find your weaknesses and to work on your ball-striking, shot-shape, launch angle, carry distance, and spin rate.
3D Practice Range with Shot Tracer
The 3D shot tracer will provide a better view of your ball flight than what you can experience with the naked eye on a golf range.
Ball Performance Data
The following information will be made available instantaneously after every shot:
Ball flight data in a visual representation
Measured ball speed
Measured launch angle
Measured backspin
Measured side spin
Measured side angle (deviation from target line)
Calculated clubhead speed
Calculated carry distance
Calculated deviation distance from the target line
Calculated total distance including roll
First Person Camera View with Shot Tracer
The ball flight that is displayed is from the first-person view as you would see it striking the ball, the same view as you would see it on the golf range, just better and clearer.
Shot Replay
There is a replay button to replay that awesome drive that you have just sent into orbit or identify what went wrong and why it did not go into orbit.
SkyTrak Golf also offers the following packages:
SkyTrak Game Improvement Package at $2,244.90
SkyTrak Launch Monitor
Game Improvement Plan
SkyTrak Metal Protective Case
SkyTrak Tee Off Package with Play & Improve Plan and Metal Case at $2344.90
SkyTrak Launch Monitor
Play & Improve Plan
SkyTrak Metal Protective Case
SkyTrak Simulation Cage Game Improve Package at $6,588.90
SkyTrak Simulation Cage
SkyTrak Launch Monitor
Game Improvement Plan (1 Year)
SkyTrak Metal Case
Range Servant DURA Golf Mat
UPS Ground Shipping & Handling $315.00 (allow 3-5 days) added at checkout
Final Thoughts
SkyTrak has made the launch monitors and golf simulators affordable and fun for golfers. As access to newer technologies grows, so does the availability of pre-owned or used equipment at affordable prices.
Several online suppliers will offer you a variety of packages to suit your requirements.
Our preferred option is the Rain or Shine Golf platform for their superior attention to detail in every aspect of your experience. There will always be an experienced and knowledgeable golfer that will assist you with any question and their website is easy to navigate.
They offer a wide range of packages that should suit any space and budgetary constraints.
Happy golfing in your environment with your SkyTrak.
Nick Lomas is the founder of GolfSpan, an avid golfer, not quite a pro but has over 15-years of experience playing and coaching golfers from all over the world. His mission is to bring the golfing community a better experience then it comes to choosing the right golf gear, and finding the right set up for your game.