Being a golf caddy is an incredible job if you love being on the golf course and being involved in the game of golf.
It can be even more special if you are caddying for an incredible player.
If you're wondering if you want to be a caddy or not in the future. Then, it is a fair question to wonder: How much do caddies make? 
PGA Tour caddies can earn between $238,000 and $502,000. Professional caddies earn between 5 and 10% of their golfer's winnings, which can vary significantly. Amateur caddies at country clubs start at $20 per hour and can go as high as $75 per hour, not including tips. 
But earnings can vary wildly from course to course and golfer to golfer. Read on to learn everything you need to know. 
Country Club Caddy Earnings
A popular job for junior golfers is to be a caddy at a local golf course. Nowadays, most public golf courses do not have a caddy program, but most country clubs do have caddy services.
The job is not only for junior golfers because it can be a great job for all ages and whoever wants to get their foot in the door in the caddying space.
How much does a golf caddy get paid? A golf caddy at a country club makes around $30 per hour on average. It could be more like $50 or $75 an hour to make for a lucrative professional caddy salary!
How Much Do LPGA Caddies Make?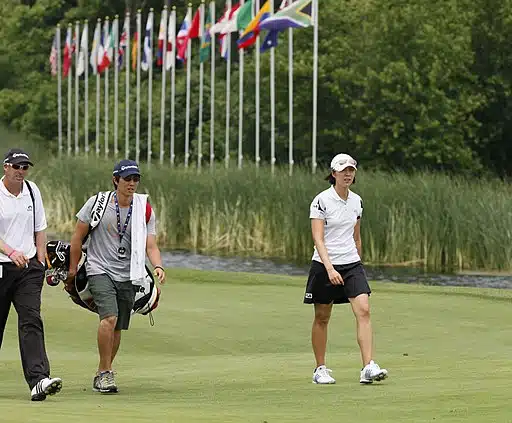 LPGA caddies make a weekly base salary of around $1,200. More importantly, caddies make around 7 to 8% of their golfers' winnings. In 2022, the purse for the USGA was $10 million, so the caddy of the winning golfer would pocket at least $700,000. 
But the problem is that the money caddies get for their base salary is used to cover expenses such as travel and stay, so sometimes caddies can lose money if a player is unsuccessful.
It can also be tough on the LPGA side because the pay is not nearly as high as the PGA, so they typically have a higher caddy percentage. But some tournaments are increasing their purses. 
A typical LPGA caddy could easily double their salary if their golfer is one of the most successful players on the Tour. 
How Much Do PGA Tour Caddies Make?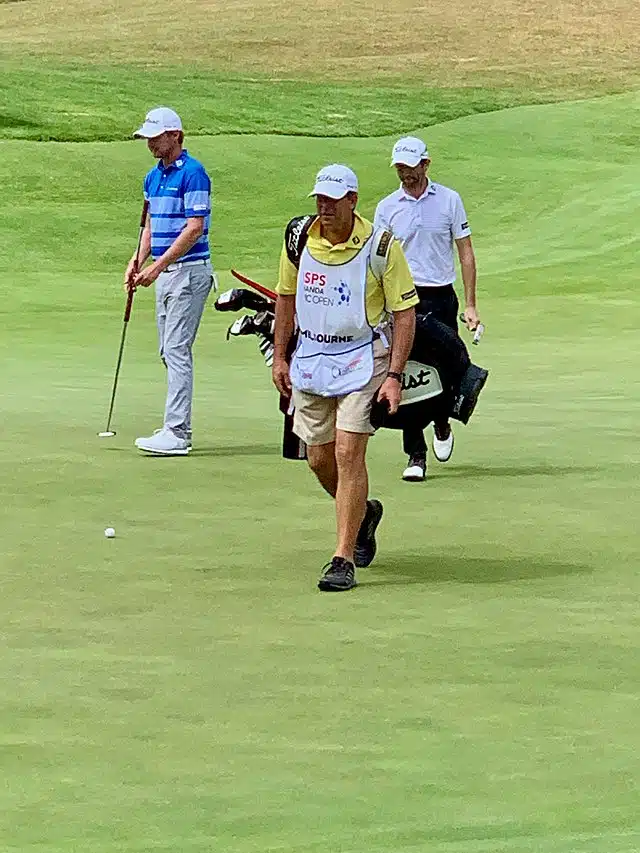 How much do PGA caddies make? Like the LPGA, PGA Tour golfers give their caddies a weekly pay of around $2,000. The pay can fluctuate because there is no rule for caddy pay. Some might be more, and some are less.
On top of the weekly salary, a percentage is also given. What percentage do caddies make? PGA Tour caddies usually have an agreement in the 5% to 10% range of the golfer's winnings on top of the caddie's salary. 
If you're wondering how much PGA tour caddies make, a golf caddy can make a lot of money if they are caddying for a successful golfer. 
A $1,000,000 win would mean $100,000 in a caddy's pocket if they have a generous rate in their contract.
There are reports that some of the most successful caddies on the PGA Tour have made well over a million dollars in a year, which is one answer to the question: how much do caddies make on the PGA Tour?
To put this into perspective, Tiger Woods, the richest golfer in the world, paid his caddie Joe LaCava $5.4 million on the 2018 PGA Tour. Caddies make extra earnings when they partner with brands. Caddies that work for big golf names like Tiger Woods, Rory McIlroy, and Phil Mickelson earn a potential of $200,000 in endorsements. 
Jimmy Johnson is the richest golf caddie and earns an annual salary of $502,851. 
How Do the Pros Select a Caddie?
Every PGA and LPGA Tour Pro has their own preferences for caddies, and they will choose a caddie with that criteria. First, the pros often look for those dedicated to caddying well. They will look for experience as a caddie. 
Joe LaCava, for example, has caddied for 67 years. Jimmy Johnson has caddied for 26 years since 1996. Working for other PGA or LPGA Tour Pros may float them to the top of the list. 
In some cases, it has more to do with knowing them well. Rory McIlroy's caddie, Harry Diamond, is the best friend of McIlroy. In another example, Phil Mickelson's caddie, Tim Mickelson, is the younger brother of Phil. 
Sometimes how the pros choose a caddie may appear nonsensical. Seve Ballesteros chooses his caddies for being British. Peter Colman and Dave Musgrove show you two examples of brother caddies he chose. 
If you want to know how to get a job as a caddie for a pro, you may want to dedicate yourself to the art and pick some promising amateurs. Many caddies who do work for the pros built a strong relationship with them when they were just amateurs. 
Time and Education Requirements to Become a Caddie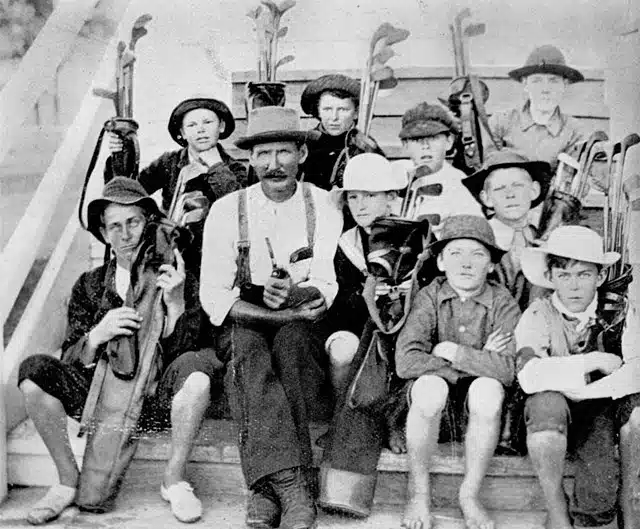 You don't need special education to caddie in golf. An estimated 79.1% of caddies earned their bachelor's degree, and 4.2% of golf caddies earned a master's degree. Many may have a bachelor's degree, but even someone with a GED can become a caddie. 
They do not place education requirements on the profession. Caddies must immerse themselves in all aspects of golf to learn the trade. They need to make connections with people at the country clubs. Most caddies can expect seasonal work. 
The Professional Caddies Association (PCA) offers training and apprenticeship programs for those interested. You learn the basics of the trade at your own pace. How long it takes to learn depends on you. Once you learn the basics, you must continually hone your skills. Many dedicated caddies spend a lifetime doing this. 
Which Caddies Make the Most?
How much does a PGA caddie make? Jimmy Johnson earned the most in 2020 at $502,851. In second place, Jonathan Jakovac made $486,825; in third place, Austin Johnson earned $472,600. This demonstrates how high your earnings can go when you work for PGA or LPGA Tour Pros, but I wouldn't consider that the average. 
This shows the higher end, but not all caddies working on the PGA Tour earn that much. On the lower end, Damien Lopez earned $238,800, and Sam Pinfold earned $240,000. How much a caddie earns will greatly vary.
How much do golf caddies make? An amateur caddie will start at $20 per hour, but even amateur caddies can earn $250 to $300 for 10 hours of work. On the lower end, you might earn $45,000 per year as an amateur caddie. On the upper tiers of the pay scale, you could earn $90,000 per year.
What are the Duties of a Caddie?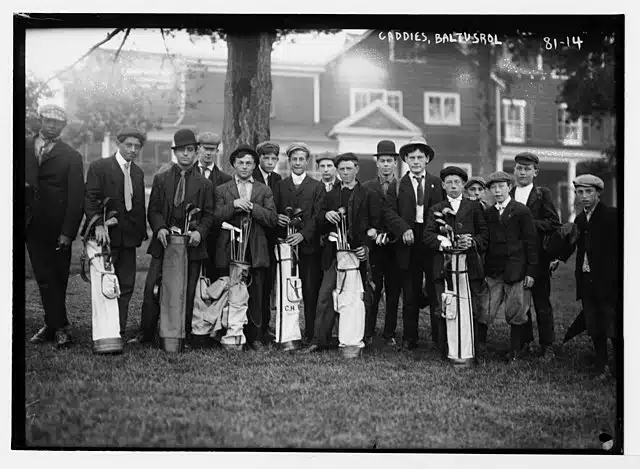 Great caddies must take responsibility for several things on the golf course, including:
Cleaning clubs and equipment

Understanding the golf course

Handing clubs to golfer

Knowing the distance to the green

Raking the sandtrap and the bunker

Tracking the ball and its distance

Advising about the club needed

Removing pin from golf hole and place it back in 
An excellent caddie will understand all the duties highlighted above. But their responsibilities go above and beyond carrying around a bag of golf clubs. 
As a caddie, you may need to wear a uniform, but most golf clubs require appropriate dress at the least, such as dress slacks and a golf shirt. 
Throughout the game of golf, caddies must stay professional at all times. They must know where to stand to remain out of the way and remain silent as the golfer takes his shot. You must remain alert to where your shadow falls. Don't let it block the putting line. 
Great caddies will encourage golfers who played a bad game. The only shot that matters is the next one. These are all the duties that a caddie earns a salary for. 
FAQs
Who Is the Highest Paid Caddie on the PGA Tour?
Jimmy Johnson is the highest-paid caddie on the PGA Tour, earning around $502,851 annually. His base salary started at $120,000 per year, but he had an overall payout of $502,851.
How Much Does Tiger Woods Pay His Caddie?
Tiger Woods's caddie, Joe LaCava, started caddying for Woods in 2011, earning around 10% of Woods's earnings on top of a base salary. How much he earns may vary, and no one knows how much, but LaCava has an estimated net worth of $1 to $2 million, which should give you an idea. 
Do Caddies Get Paid if Player Misses the Cut?
Because a caddie must cover his expenses like travel, food, car, and hotel, caddies still earn a wage if the player misses the cut. Along with a base salary, they earn 10 percent on top of the base salary from the player's winnings if he wins.  
Do Caddies Pay Their Own Expenses?
Caddies fall under the self-employed classification, and as an independent contractor, they must pay for their own expenses like travel, car, hotel, and food. This marks out most circumstances, but PGA Tour Pros will pay the expenses of their caddies. However, this isn't common. 
Nick Lomas is the founder of GolfSpan, an avid golfer, not quite a pro but has over 15-years of experience playing and coaching golfers from all over the world. His mission is to bring the golfing community a better experience then it comes to choosing the right golf gear, and finding the right set up for your game.