Wondering where to buy golf clubs? The golf equipment markets are growing at a rapid pace and a good portion of the sales are being done online. This pushed many traditional golf retailers to set up easy-to-use websites aside from their brick-and-mortar models. 
In our search for the best online golf stores, we came across a number of interesting statistics.
The increase in the number of tech-savvy golfers has risen tremendously over the last decade and research carried out by the National Golf Foundation shows that 37% of golfers bought golf-related merchandise online in 2019, increasing from 35% in 2018. 
In the category of Adult Core Golfers, who play eight or more rounds a year, the number rises to 49% of golfers that made at least one golf-related purchase.
Amazon sold golf equipment to 57% of golfers and 58% to core golfers while only 45% of golfers and 47% of core golfers bought golf merchandise at an online golf-specialty store.
In this article, I will look at some of the best golf stores online and some of the lesser-known, to offer you an opportunity to compare what's available.
The Best Online Golf Stores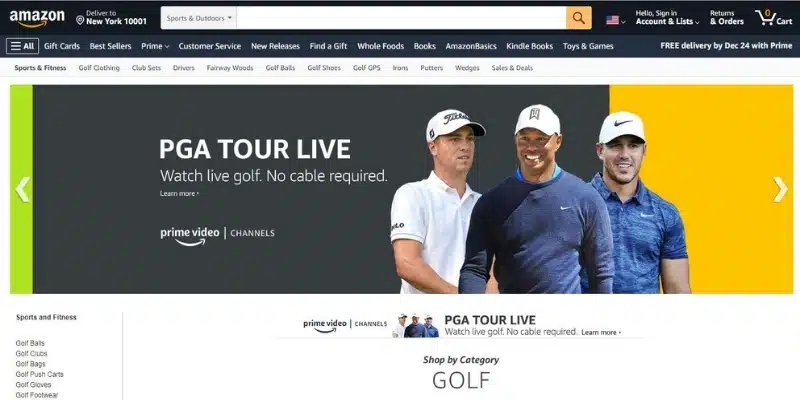 As you can see from the introduction, more than half of golfers that have made an online purchase have bought something from Amazon, thus it is an automatic inclusion on any list of online retailers.
Due to its position in the online retail space and the number of clients, Amazon built a reputation for reliability and efficiency making it the best online golf shop.
In addition, you can find many reviews on the product that you are purchasing and the seller.
Amazon Golf carries products from nearly all of the premium brands such as TaylorMade, Bag Boy, Bridgestone, Callaway, Titleist, and Puma.
Some of the categories listed on Amazon include:
Golf balls

Golf clubs

Stand and cart bags

Golf gloves

Swing trainers

Golf shoes

Golf hats

Golf clothing

Rangefinders, golf smartwatches, and GPS units
Shipping products is one of Amazon's strengths which is one reason it is the best place to buy golf clubs online.
The standard Amazon returns policy applies to golf equipment. Some retailers may have specific returns policies in place.
Reasons to buy at Amazon Golf
Amazon is the largest online retailer in golfing equipment selling nearly any brand.

The large customer base enables Amazon to offer the most competitive prices.

Delivery is available worldwide.

Shipping costs are some of the lowest on offer.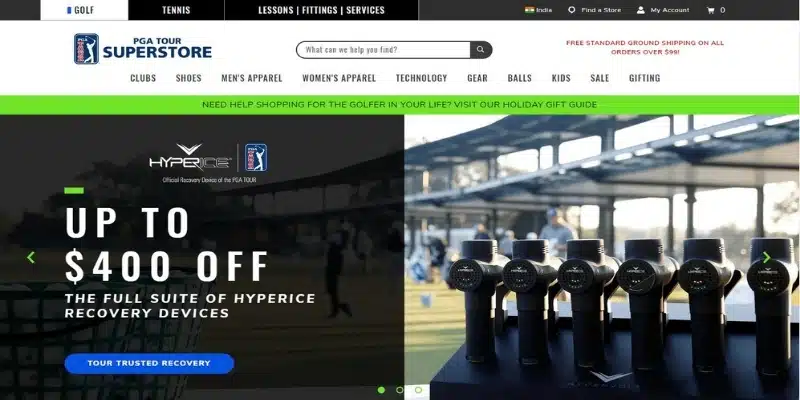 The PGA Tour Superstore is part of the Blank Family of Businesses representing several brands like the Atlanta Falcons, Atlanta United FC, AMB Group, and the PGA Tour.
The website is not aimed solely at golfers as a wide range of tennis equipment is available, making it one of the best golf stores.
In addition to the sales aspect, the website offers a wide range of services such as club fitting, ball fitting, and many more. It is not linked to specific brands like the Ben Hogan and Callaway stores so you will have plenty of options.
The website offers a wide range of products, including drivers, woods, irons, putters, and other accessories. Whether you want to purchase new equipment or previously used, it's all available at a click of a button.
You can even trade in your old clubs for an e-card that can only be used for purchases from the website. Shipping is available from the store, and you can complete your purchase online and pick up your order in-store.
It offers a 90-day money-back guarantee for club purchases. For other purchases, a 30-day money-back guarantee is being offered.
The PGA Tour Superstore accepts various forms of payment, including credit cards, debit cards, and PayPal. Finance can be arranged through Quadpay to split your online purchase into 4 interest-free payments
Reasons to buy at PGA Tour Superstore
Sells golf clubs and other sports equipment.

Fitting services are available for your clubs, ball, and more.

90-day return policy on golf clubs.

30-day return policy on non-club purchases.

Variety of payment options, including Quadpay offering an option to pay over 4 months.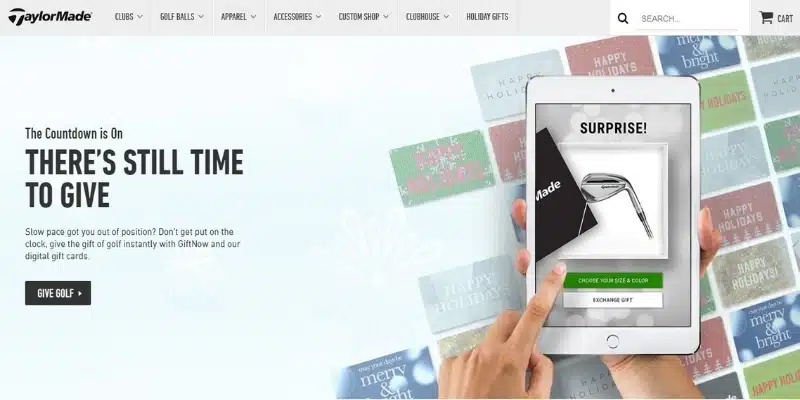 TaylorMade Golf is another premium golf equipment brand with an online store that sells directly to the public.
TaylorMade was founded in California during the spring of 1979 by Gary Adams. The company was operated from an old TV assembly plant with three employees, including Gary.
The only product made by TaylorMade at that stage was an innovative 12-degree driver cast of stainless steel.
Today the website offers a range of products, including woods, irons, wedges, putters, golf balls, accessories, and apparel.
It also offers a custom fitting shop to guide you to the best solution for your golf game. Shipping from the TaylorMade store is only possible to addresses within the United States.
Clubs can be returned within 30 days after purchase if you are not completely satisfied, provided that the clubs are unused. Custom-built and personalized items will not be accepted as returns.
Trading your old clubs in on a new set is possible. TaylorMade will accept trade-ins of clubs from more than 40 brands.
Finance can be arranged through Klarna on payment plans ranging from 6 to 24 months or 4 interest-free installments.
Reasons to buy at TaylorMade
Sells TaylorMade woods, irons, wedges, putters, and golf balls. 

Golf accessories and apparel are also available for purchase.

30-day returns policy on unused clubs (except for custom-fitted clubs).

Custom fitting is available.

Delivers across the US.

Trade-in option for more than 40 brands.

Finance option using Klarna offers a 4-month interest-free option and plans ranging from 6 to 24 months.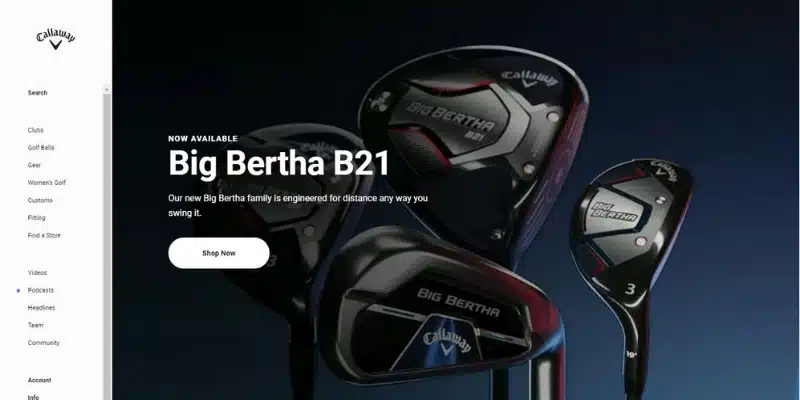 Callaway is a premium golf equipment manufacturer used on all professional golf tours.
The stable of brands includes:
Odyssey putters

Ogio golf bags

Callaway apparel

TravisMatthew men's sportswear

Jack Wolfskin outdoor products
There are a set of shipping options available with some of the most popular shipping service providers such as FedEx, United Parcel Service (UPS), and U.S. Postal Service (USPS).
Callaway Golf will accept returns within 30 days of shipment for a full refund or a Gift Card. This excludes the shipping cost incurred.
To qualify for a refund, the items must not have been hit, played, or used. Refunds will be done in the same format as your original payment method.
A "TRADE-IN! TRADE UP!" Program allows you to trade in your old clubs, even from other major brands, for credit toward purchasing new clubs.
Reasons to buy at Callaway Golf
Callaway Golf online store sells an exhaustive range of Callaway golf clubs, Odyssey putters, Ogio golf bags, and Callaway apparel.

A variety of shipping options are available, enabling you to select the courier that meets your needs.

30-day return policy with (terms and conditions apply).

The "TRADE-IN! TRADE UP!" Program can reduce the purchase price of your replacement clubs.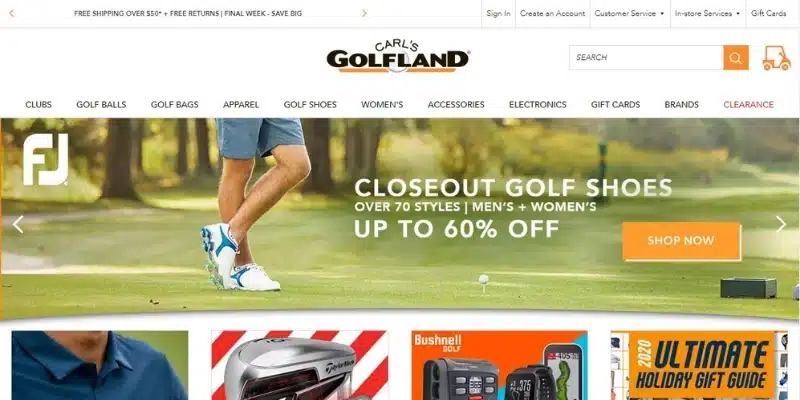 In 1958, Carl Rose and his wife Donna opened their first driving range, Carl's Golfland, near Pontiac, Michigan.
This expanded into a 43,000-square foot Bloomfield Hills location, plus a 15-acre, world-class practice facility. By 2000, Carl's added a second location at the St. John's Golf and Conference Center in Plymouth.
The website offers access to various golf clubs, golf balls, golf bags, golf apparel and shoes, accessories, and electronics.
All major golf brands and loads of lesser-known brands are available.
Orders below $50 are charged a $5.99 shipping fee, while orders above $50 are exempt from shipping fees. If you live within the United States and are not completely satisfied with your purchase, you can return it within 30 days of purchase at no cost for a full refund.
Trade-ins are accepted based on the value received from the 2nd Swing value guide.
Reasons to buy at Carl's Golf Land
Carl's Golf Land offers all major brands and some new brands.

No delivery fee on orders over $50. 

30-day refund policy for customers in the US.

Trade-ins accepted.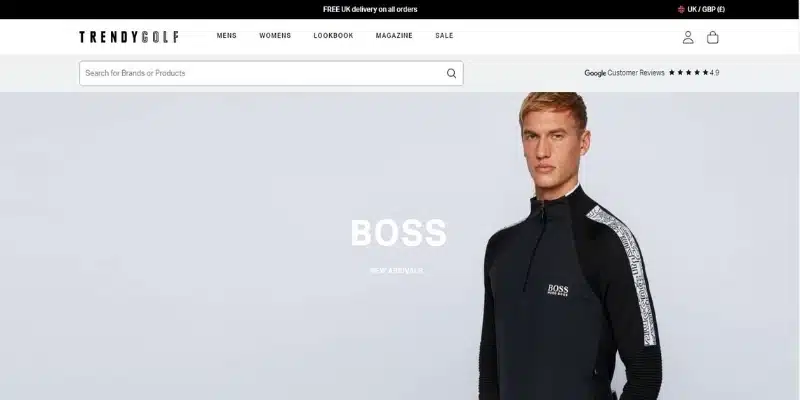 Trendy Golf was started in January 2004 when the founders noticed a new style hitting the PGA and European Tour fairways. Their first thought was to purchase the same style outfits but could not find the apparel for sale anywhere.
This sparked the idea of setting up an online trendy golf apparel retailer.
The company is not just aimed at the fashionable golfer; it offers the latest designs from the trendiest designers around the globe.
They have been going since 2004 and have offices in the UK and USA.
You can shop for men's and women's apparel in the brands mentioned below. BOSS and Adidas are only available for men.
Lindeberg

Boss

Nike

Adidas

G/Fore

Puma

RLX Ralph Lauren
All items must be returned with the polythene bag, all tags attached, in a state that it can be resold. Shipping can be arranged for any country around the world.
Reasons to buy at Trendy Golf
Sells some of the trendiest golf apparel brands.

Shipping is offered globally.

Returns policy provides that items must be in a condition to be resold.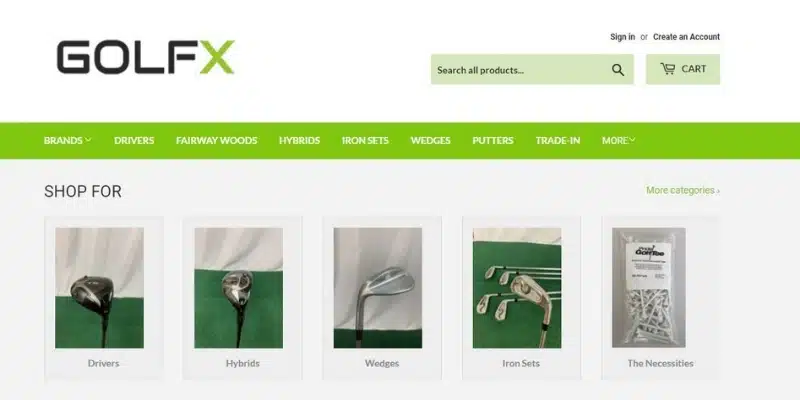 GolfX started in 2013 as The Golf Stand, a mobile golf shop at local driving ranges in Massachusetts.
This enabled golfers to sell their old clubs and purchase their new golf clubs from any variety of clubs from our mobile selection.
The mobile platform was launched in 2014, bringing the experience gained from the traveling store to the mobile platform. The expansion was inevitable, and in late 2016, GolfX opened up an indoor golf center in Massachusetts.
ShopGolfX.com was launched in early 2017, bringing all products and services GolfX offers onto the internet. They have all of their inventory for sale on ShopGolfX.com.
The online store is dedicated to selling golfing equipment from more than 12 brands covering all clubs from drivers to putters. Trades worth $100 qualify for free shipping, and trades less than $100 shipping only costs you $5!
Reasons to buy at Golfx
More than 12 golfing brands on offer.

Free shipping cost on orders exceeding $100.

Trades below $100 are only $5.

Trade between golfers encouraged.
FAQs
How do you get the best deal on golf clubs?
Amazon has a dedicated golf section with parameters to select the brand, golf balls, type of club, price, and more thus providing a straightforward way to return a list of the most relevant deals.
Amazon also provides an option to look at the best deals for the day by clicking on "Today's Deals".
Scrolling through the returned items Amazon will indicate their best choice and which items are their best sellers.
Callaway allows you to search for any specials that they are running at the time.
Carl's Golf Land provides a button to view all their Clearance Sale items. You can also search for best buys and specials
TaylorMade, PGA Superstore, and Trendy Golf are similarly providing a button to see their sales specials.
Amazon is the leading online retail store offering the widest selection of products. The selection criteria to reduce the number of items makes it the easiest online store to get the best deals.
What is the best month to buy golf clubs?
September is the best time to buy used golf clubs because it is the end of the season when golfers sell off their equipment. This means you can get some deals!
Retailers with stock from the previous season often have substantial discounts in the fall season.
Manufacturers generally release their new ranges towards the end of the year or early in the new year. Clubs released late in the year are ideal for presents over the festive season.
Final Thoughts
The expanding golf retail market has lured many online retailers into selling new and used equipment online.
You can find any golf club, golf apparel, or accessory representing any golf brand online.
Amazon is the largest online retailer of golf equipment and has a tremendous reputation for its efficiency and information on the product you are searching for. Many golfers will continue to use this website as they are purchasing other products from it as well.
The most versatile golf store online is the PGA Tour Superstore. It offers nearly all the brands available on the market today. Not only can you purchase your clubs at the store, but you can also have an online fitting to get the most suited golf clubs to improve your game.
Specialty stores such as Callaway, Ben Hogan, and TaylorMade are ideal for purchasing a brand name directly from the manufacturers to ensure that you get authentic equipment.
Happy shopping!!
Related Articles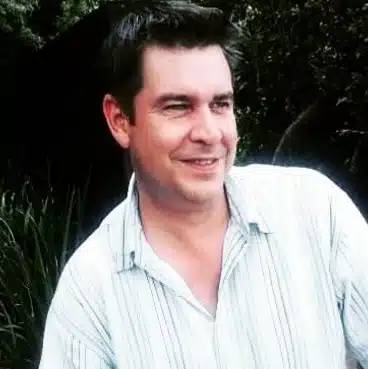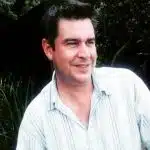 Charl is an avid golfer who studied marketing and advertising. He is fascinated by new technology in golf equipment and the mechanics of the perfect swing.