To do this many golf forums have sprung up and become available discussing all topics related to golf, the equipment, and even the virtual game of golf. This virtual game can be enjoyed from the comfort of your home and it will allow you to compete with other golfers from various countries and continents.
The golf forums have enabled you to increase your knowledge of golf but also to share your vast knowledge with other members of the forums. To let sanity prevail you will find that many of the forums have strict criteria for the use of their platforms and will not tolerate any bad behavior and unacceptable language.
Enjoy this piece by looking at the various forums covering everything from pure discussion forums to reviews of equipment and specializing in specific areas of golf.
The 10 Best Golfing Forums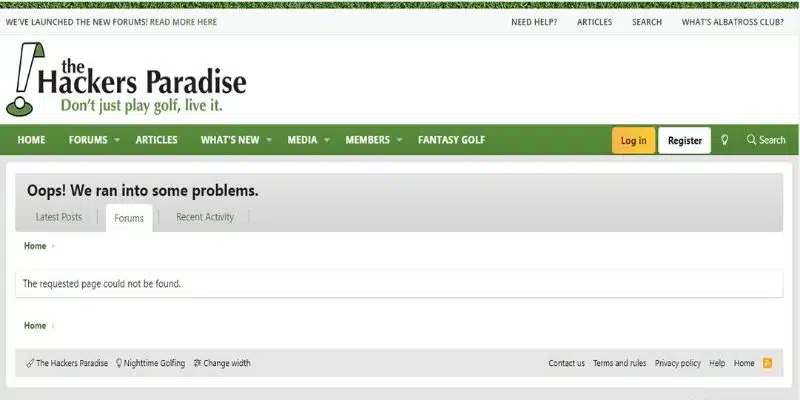 Hackers Paradise is one of the highest-rated golfing forums available to discuss and broaden your golfing knowledge. The subscribers to the forum are extremely active ensuring that there is always new content to read and discuss with golfers from across the globe.
You have access to read an existing article posted on the site, new posts, new media articles, best comments, new media comments, and more.
On the forum, you can add new posts and search the forums for specific content and there is a specific area providing access to media-related articles and comments.
The various forums that are already in existence cover areas such as course reviews, training methods, equipment, and a marketplace to swap or sell equipment.
There is ample opportunity to win prizes by participating in contests on Hackers Paradise. Joining the Buzzfantasygolf.com fantasy leagues from the main forum page is a simple process and can be completed in approximately 1 minute.
To participate in all features, you have to register as a member of the platform, but it also enables guests to participate in some discussions.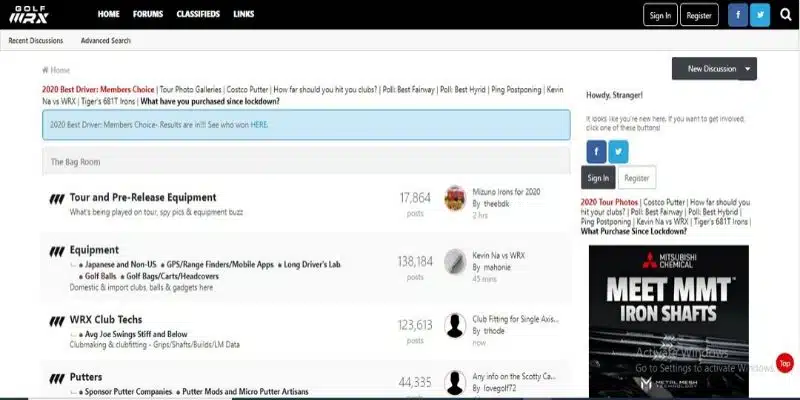 The amount and variety of content available on GolfWRX make it arguably the biggest and best online golf forum available on the internet.
You can receive information about the professional tours, equipment, and instruction. The content comes in the form of articles written by journalists, videos that provides the visual stimulation and explanation of the articles, and podcasts. The articles revolve mostly around the latest information on players and golf courses, and when the tour eventually resumes, the latest tournaments.
The discussion around golf equipment spans quite a wide variety of subjects ranging from the latest releases, maintenance of golf equipment, storage of golf equipment, and what is in the bag (WITB) looking at the contents of the golf bags of several professional golfers.
Instruction articles and videos cover every aspect of the game including how you can assist your loved ones in getting better at golf.
A variety of forums enable you to join discussions on everything golf-related from tour events, equipment to general golf talk. There should be a forum to capture the imagination of every member of the forum irrespective of their participation in golf.
Lastly, there is a classified section where you can trade golf equipment and accessories between members or even purchase from the GolfWRX official store.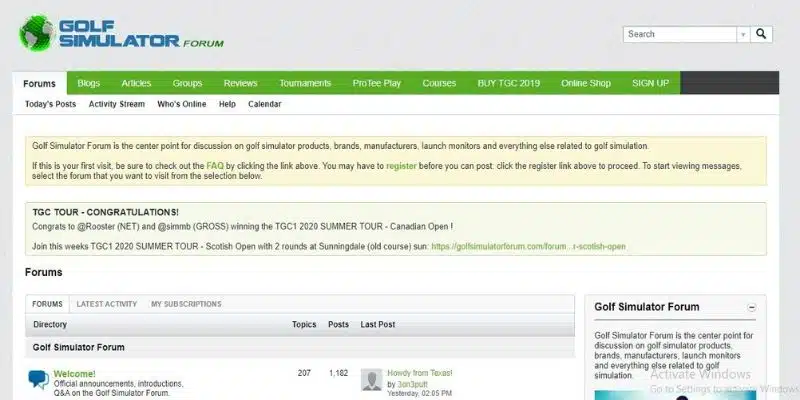 Golf simulators have grown in popularity and affordability and a lot of golfers have invested in simulators to improve their game at home and provide hours of fun for family and friends. The Golf Simulator Forum provides a huge variety of discussions and video content on the different golf simulators available.
Many reviews are highlighting the benefits of simulators, the pros, and the cons of each one.
To increase the excitement of using this forum it provides access to an international tour program for players to compete on their simulators. The Golf Club ™ presents an opportunity to partake in Golf Simulator Tours, Challenges and Tournaments.
All aspects of owning, maintaining, and purchasing a golf simulator are discussed on the various forums to provide you with the information to make an informed decision when purchasing a simulator
The online shop enables you to view and purchase equipment related to golf simulators.
This forum is aimed and serves all golfers interested in golf simulators. It is dedicated to simulators and provides and efficient forum.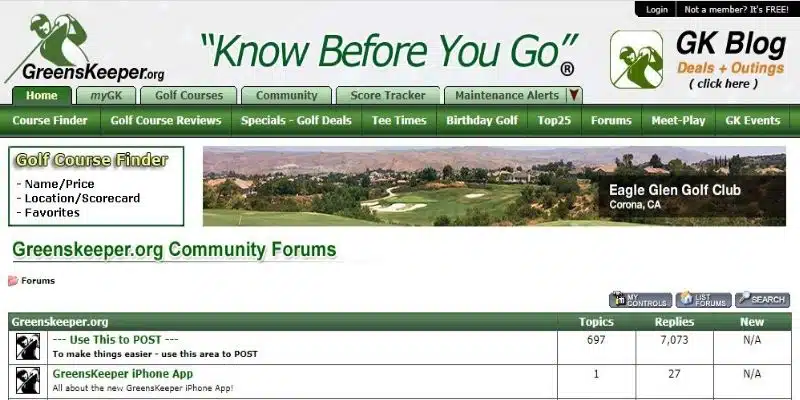 Greens Keeper is an online social network community where golfers can become members at no cost. It publishes reviews on golf courses in the USA regularly and provides tips and techniques on the maintenance of golf courses. You can view all the courses that are scheduled for maintenance before you decide on the course that you want to book a tee time for.
You can book tee-times on the system and there is an option to create a meet-and-play opportunity to book time on a golf course where you can meet other members of the forum thus creating new friendships.
Golfers provide regular updates on the latest course that they have played, and the members are ranked according to the number of reviews that they have posted. The current top reviewer submitted more than 1,500 reviews.
The Greens Keeper Score Tracker provides you with a tool to track your golf statistics for detailed analysis. It provides information on your current index which averages 10 of the last 20 rounds that you have played, or 50% of your scores if you have not played 20+ rounds.
It also provides information on your monthly index, 12-month index, and many more. Included in the statistics are the % of fairways hit, % of green in regulations, sand saves, and average putts per hole. This is good information for improving your game and to ensure that you work in the right areas during practice.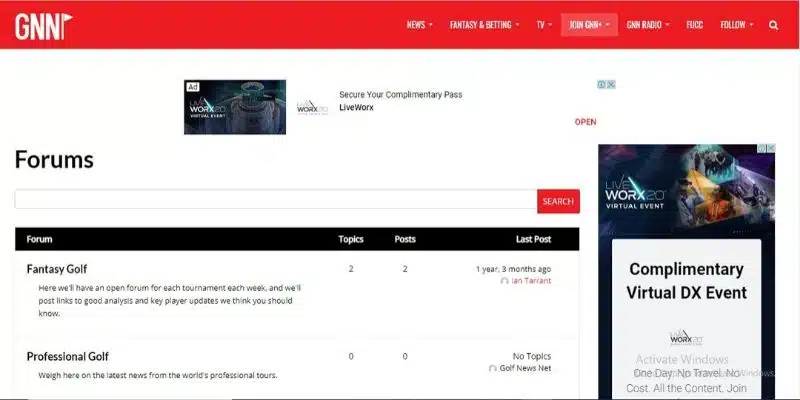 The Golf News Net forum provides online content and discussion of the international tours like the PGA, LPGA, European tour, and other major tours. Discussions range from what is happening on the various tours, detailed analysis of tournaments, equipment reviews, and the impact of the Coronavirus and politics on golf.
Although the basic forum is free, there is a GNN+ version that you have to subscribe to and pay an annual fee. In return for the fee, you will have access to the various membership forums that are not available on the free version.
Following in the footsteps of many other sports there is now a Fantasy league and betting available to subscribers to the GNN+ forum.
You can gain access to 3 TV channels Roku TV, Apple TV, and Amazon Fire TV from the forum as well as GNN radio.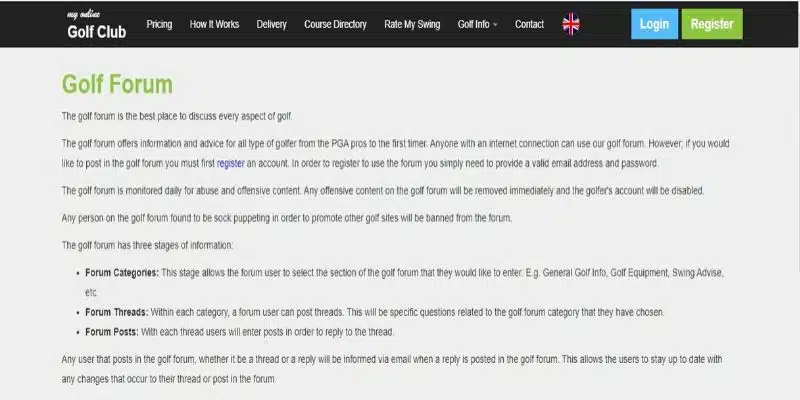 If you are looking for an online golf handicap solution providing you with extensive coverage on the calculation of your handicap, course ratings, and many more golf forums. Unfortunately, some features require you to subscribe and pay a membership fee.
The Standard membership is free, and you can submit an unlimited number of scorecards, have access to the free golf handicap calculator and track your handicap online.
The Advanced membership is a paid subscription and provides all the features that are available on the standard subscription but besides you can print tour handicap certificate. Premium membership is also a subscription service and provides all the features of the advanced subscription plan plus a professional handicap card.
The handicap cards are required at some international golf courses and the certificate and professional card issued by My Online Golf Forum are accepted internationally.
To date more than 1.6 million scorecards have been saved on the forum of 188,000 members, 54,000+ certificates issued and 63,000+ courses reviewed.
When planning to play in a competition you can view the scorecard for the various tees online and members can add information related to golf courses not on the system.
Posting videos of your swing online enables members on the forum to view and rate your swing.
In addition to the main features, the forum provides information on a variety of subjects such as average distance per club, golf scoring methods, penalty shots, and much more.
My Online Golf Forum prohibits the use of obscene, abusive, or defamatory language and any content that encourages racial discrimination or terrorism in their aim to create a friendly and cooperative forum.
The My Golf Spy platform is an established forum that is frequented by thousands of golf lovers from across the globe and provides an abundance of information and topics for discussion.
The defined Moral Codes places restrictions on the use of the forum to ensure that people can co-exist harmoniously. You are not allowed to use abusive language, express political views, discuss religion or race issues and personal attacks are prohibited.
You can purchase a variety of gear and accessories from the online store to support the forum. It is furthermore possible for small businesses to advertise their equipment online and My Golf Spy will assist in building their brand.
Many official reviews are published on the forum and is available to members only. Unofficial reviews are available to guests as well as members and are not generally released by equipment manufacturers as official product reviews.
An interesting concept is the ability for members to test out equipment and having their reviews published. This enables members to write a full review of a product or any content required to be published.
Forums cover a multitude of topics including equipment discussions, what is happening on the various tours, course reviews, and travel.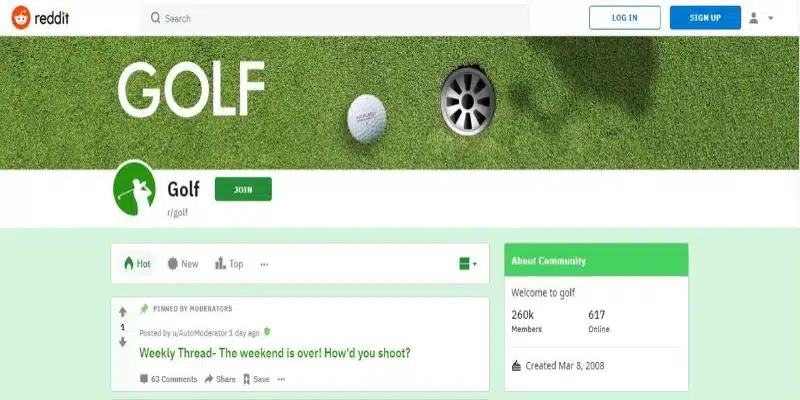 The Golf Subreddit forms part of the world-famous Reddit platform is and is dedicated to discussions related to all aspects of golf.
Becoming a member of the Golf Subreddit platform will benefit you as the community currently consists of more than 260,000 subscribers. They share all the golf-related information that you may need.
To ensure that the user experience remains welcoming and enjoyable, the platform does not allow for any abusive behavior or use of inappropriate language. This allows for a better experience and a higher standard of interaction between members. The rules that members must abide by are spelled out in the forum and no solicitation spamming or political discussions are allowed.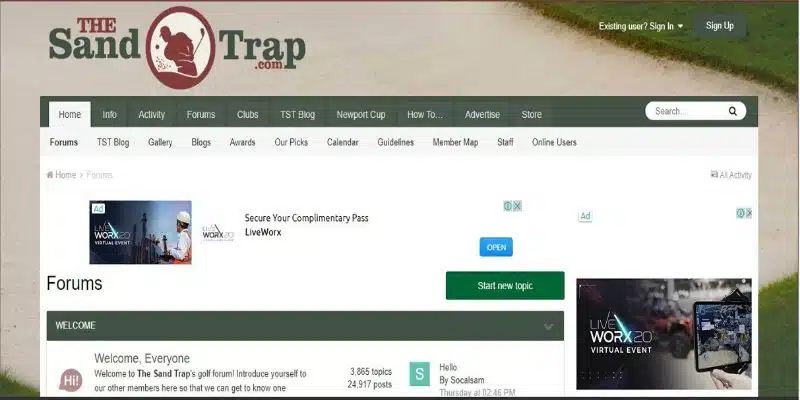 Golfing forums have grown in popularity over the last couple of years as internet access has become available to more people. One of the fastest-growing forums is The Sand Trap and it is quite easy to see why this is happening.
The forum offers a vast array of information related to the site and instruction and it even includes a tab for modern instruction methods. There are a variety of forums where you can discuss topics such as golf courses, instruction, your thoughts on the golf swing, and equipment.
The Newport Cup is a bi-annual Ryder cup styled tournament hosted by The Sand Trap that was revived in 2015 after being dormant for a few years after the 2008 tournament. The tournament aims to create friendship between the members of the forum.
The blog on The Sand Trap provides a review on equipment, accessories, golf course, and many more topics. It enables you to provide comments on the topic that was reviewed.
New articles and discussions are added 365 days a year thus there is never a shortage of material to pique your interest.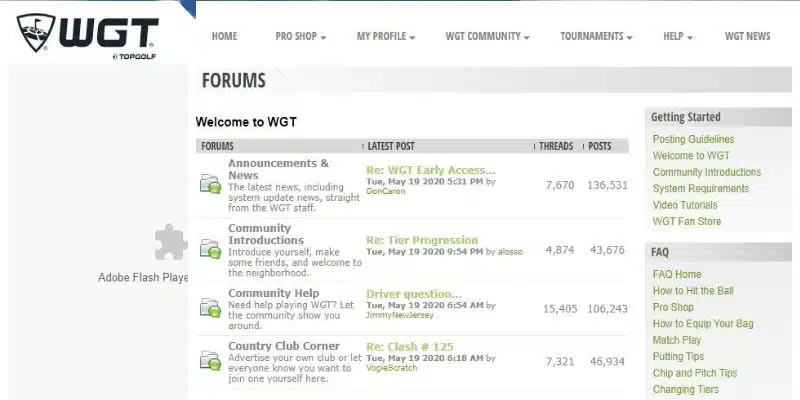 Golfers that have looked into the purchase of a golf simulator would be familiar with the WGT name and their top-rated 3D software. Many a golfer has had hours of fun playing the various world-renowned courses on the web, PC, Mac, or your favorite iOS / Android mobile device.
WGT offers international tournaments that you can participate in from the comfort of your home and allocates prize money to every tournament. This international series includes pre-qualification rounds and world rankings. All of this can be tracked and viewed on the online forum.
Purchasing clubs, balls, apparel, and other accessories from the virtual pro shop is simple and adds much fun to your experience. There is no real-life trading of equipment on this virtual platform.
The community is made up of members, virtual golfers, virtual country clubs, and the virtual golf courses that are based on world-renowned courses. The forum enables you to replay shots, view holes-in-one, and to stream, the tournaments live using Twitch.
Verdict
There are a lot of forums that we have not discussed in this piece and it will take a book to look at all of the options that are available on the internet. Many new forums are created when some disgruntled members decide that they can do it better or see an opportunity for a specialized forum.
Some immensely popular forums started in other areas of golf such as WGT that has now expanded into a fully-fledged forum. Specialization is also possible as can be seen with the Golf Simulator forum that specializes in everything related to golf simulators.
In our opinion, the Hackers Paradise presents the best all-round value and will keep you entertained for hours while providing you with the most up-to-date and relevant golfing information.
Nick Lomas is the founder of GolfSpan, an avid golfer, not quite a pro but has over 15-years of experience playing and coaching golfers from all over the world. His mission is to bring the golfing community a better experience then it comes to choosing the right golf gear, and finding the right set up for your game.