There are a couple of reasons you'd want to ship your golf clubs. Either you're playing away from home, perhaps internationally, or you've sold your clubs and need to get them to the buyer.
But taking your golf bag along for your travels can be cumbersome and cause delays waiting for it at the terminal. That's if it was not misplaced by the airline. This could put a major downer on an otherwise exciting experience.
In addition, since the 2nd hand golf club market is so big, most courier companies are willing to advise you on how to ship your clubs, nationally or internationally. Some shipping services specialize in this niche market.
Here is an easy guide on how to ship golf clubs:
Decide on a courier service to use and schedule ahead of time.
Prepare the packaging for the courier and bubble wrap your clubs.
Arrange the collection of your clubs days before departure.
Notify the destination that clubs have been shipped and when they will arrive.
When shipping your clubs, there are more details to consider, so read on for more about costs, if you need insurance, and tracking your clubs.
How To Ship Golf Clubs: 4 Steps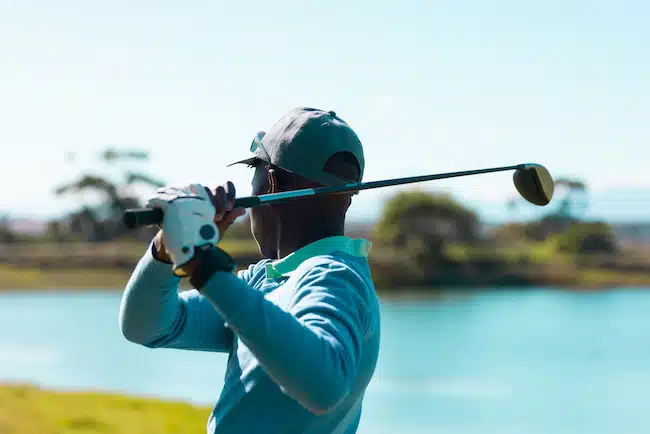 1. Finding and Scheduling The Courier Service
Searching for the best courier service for shipping your golf clubs can be a long and arduous task. Most of the major courier service companies will ship your golf clubs. Still, some specialized companies can do it cheaper due to bulk discounts that they have negotiated with the major courier services.
The specialized companies have a more in-depth knowledge of the process required to collect and deliver your golf clubs efficiently. Furthermore, they know how to replace your clubs in the unfortunate case that the clubs disappear.
Find a shipping service with a website that is easy to navigate and will supply all the information you require.
Although most courier companies deliver your golf clubs on time, there may be times when unexpected delays occur. Send your golf clubs off on holiday a few days before you leave to avoid unnecessary stress when you arrive at your destination.
Some of the companies most frequently used for shipping golf clubs are:
2. Prepare The Packaging
To prepare the package, you will require some information about your golf clubs to determine what size box you will have to purchase and the best way for how to package golf clubs for shipping. Some courier companies will not accept the normal golf travel bag on its own but will accept it if it is sealed within a golf club shipping box.
As golf club shipping has become increasingly popular, many manufacturers of golf boxes have designed and manufactured specialized boxes for transporting golf clubs.
How To Pack Golf Clubs for Shipping
The longest club in your bag would be your driver, and the average length of the shaft ranges from 43 inches to 45 inches, so ensure that the box is high enough to cater to the shaft and the clubhead.
Before placing your clubs in the box, it is advisable to wrap the club in bubble wrap and cover the club heads of your woods and hybrids in additional bubble wrap.
Tie your clubs tightly with some polystyrene packing chips between them to avoid scuffing and moving between them.
Add 2 inches of packaging materials like chips or bubble wrap at the bottom of the shipping box for extra protection.
Place the clubs into the box leaving approximately 2 inches between the clubs and the inner edge of the box to protect your clubs from any impact on the box.
Place the documentation on the side of the box containing all the information and destination. The courier services company normally supplies this.
Close the box and seal it with packaging tape in both vertical and horizontal directions taking additional care to protect the corners of the boxes. If you must cover the shipping instructions, make sure you use transparent packaging tape.
3. Collection of Golf Clubs
Arrange with the courier company to collect your golf clubs 3 to 5 days before your departure to ensure that you have the best chance of having them available when you arrive at the destination.
4. Deliver The Clubs To The Destination
Notify the destination where you have shipped your clubs and the date they can expect to receive them. Check whether any storage fees will be required for the period from delivery until you arrive.
Now you know the most effective and best way to ship golf clubs. This video also explains how to ship golf clubs very well.
How Much Does It Cost to Ship Golf Clubs?
Due to the rapid rise in demand, the costs have been reduced to make it more affordable for the average golfer to ship their clubs. Although not cheap, it is more affordable now than ever before.
The following table is based on a journey from New York to Los Angeles to show the golf club shipping cost of couriers like FedEx and Luggage Free.
| | |
| --- | --- |
| Courier | Shipping Costs ($) |
| Luggage Free | 89.99 |
| FedEx | 108.17 |
| UPS | 100.42 |
| Send My Bag | 96 |
| My Baggage | 147.75 |
| Ship Sticks | 79.99 |
| USPS | 53.38 |
Airlines & Baggage Fees
Fees for checking in baggage are big business for airlines and companies that run airports. The annual revenue generated by this runs at approximately $5 billion. You can sometimes pay more for adding additional baggage, such as a golf bag, than the price charged by courier companies.
The extra costs do not stop at the airline, though. There are taxi companies that charge additional for large baggage.
Depending on the airline that you are using, taking your golf clubs with you could be cost-effective. Southwest Airlines will allow your golf bag to be checked as part of your allowable baggage if it is one of the two allowable bags.
On the other hand, American Airlines will charge a $150 fee for bags exceeding 51 pounds. This applies to each leg of your trip. Thus, a return trip could easily cost $300. United Airlines will add your bag to your allowance but charges a hefty overweight charge.
Be sure to understand the conditions of the airline that you are traveling on. The rules differ from one airline to the next.
Prices ranging from as low as $39.99 up to $499 are common, but it depends on your requirements and how soon you want the clubs delivered.
The information provided is based on experience, but you should obtain a quote before making your final decision. Remember that the cheapest price is not always the best option.
Should You Be Insured When Mailing Golf Clubs?
Just in case something unexpected happens to your golf clubs, it is always helpful to be insured to cover your losses. Be mindful that some couriers charge extra for insurance. Some do offer it as part of the deal, though.
Ship Sticks provides $1,000 of complimentary insurance on all golf bag shipments, and Luggage Free provides $500 at no extra cost.
The Difference Between Shipping Golf Clubs Domestically or Internationally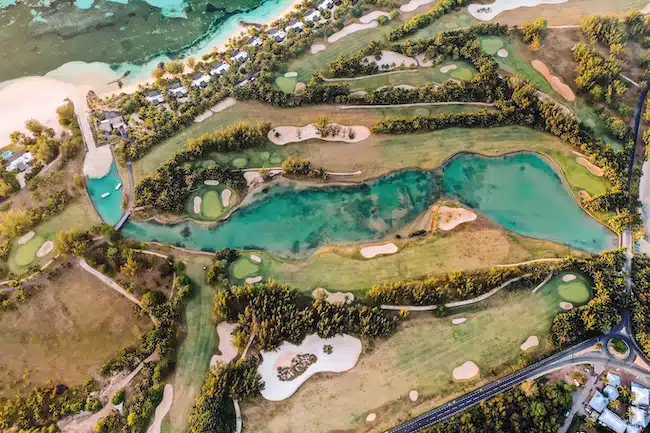 The key difference between shipping golf bags domestically and internationally is the price. Using Luggage Free as an example, shipping from New York to Los Angeles costs $89.99. If you go much further afield to London, the figure starts at $259.99 instead.
International deliveries can also take a couple of extra days in some cases too.
The cheapest way to ship golf clubs is to just move them between states rather than countries, but the viability of that depends on your golf trip and your circumstances.
How To Track Your Golf Club Shipment
Most couriers will provide you with a tracking number, or you can view your order status by inputting your details. This shipping label will allow you to see where your clubs are up to. You are often also notified when your package arrives at its end destination.
Final Thoughts
Traveling with your golf bag as part of your baggage will detract from your travel experience and could easily cause delays at the airport while you have to wait for the airline to unload your golf clubs. This is often the last item offloaded. The best option might depend on your destination and budget.
Many specialized courier services can deliver a great service and ensure that your clubs are safe and ready for you to start playing as soon as you arrive at your destination. Hopefully, now you know how to ship golf clubs in the best and most effective way.
Do your research and look at references from golfers that have used the service. The cheapest way for shipping your golf clubs is not always the best, and you do not want to arrive at your destination and wait for your clubs to be delivered.
FAQs
How Heavy Is a Full Set of Golf Clubs?
A full set of golf clubs in a bag weighs in at around 30 lbs or 13.6 kilos. Going off the average golf club weight being 0.73 lbs, this means that 14 clubs weigh 10.22 lbs. Add in a golf bag, your golf balls, and whatever additions you have, and you are looking at around 30 lbs.
Does UPS Ship Boxes for Golf Clubs?
Yes, UPS does ship golf clubs in boxes. The cost varies depending on whether you wish for ground shipping, 3-day select shipping, second-day air shipping, or next-day air shipping. If you are just shipping between states, though, you are looking at a cost of around $100.
What Is the Cheapest Way to Ship Golf Clubs?
The cheapest way to ship golf clubs is by keeping them to relatively short distances. When considering which courier will have the best price, USPS is the best value by quite a distance. For example, the ground shipping of a bag from New York to Los Angeles is just over $50.
Does USPS Have Boxes to Ship Golf Clubs?
The United States Postal service (USPS) provides free priority mail packaging so you can ship your golf clubs. Depending on your longest club length, you may need to use two boxes together as the tube length comes to 38 inches.
How Do I Ship a Single Golf Club?
A handy way to ship out a single club is to keep the box you received it in and use that. If you get rid of it, golf club shops often have empty boxes they can supply. Ensure the club is wrapped in bubble wrap and add 2 inches of packaging chips or bubble wrap at the bottom of the box, limiting the chance of the club being damaged.
Nick Lomas is the founder of GolfSpan, an avid golfer, not quite a pro but has over 15-years of experience playing and coaching golfers from all over the world. His mission is to bring the golfing community a better experience then it comes to choosing the right golf gear, and finding the right set up for your game.