In this piece, we will look at apps that specifically track your golfing stats. Should an app have other functionality available we will indicate as such but will generally restrict the review to the stats side of the app.
This list is not a complete list of the apps available but we will only review some of the apps that we found to be fair value and offer a good user experience.
Top Golf Stat Apps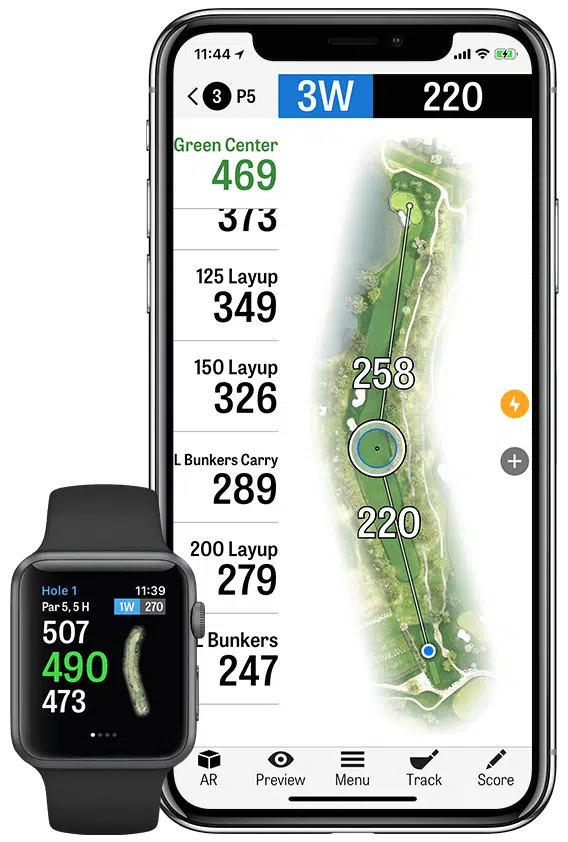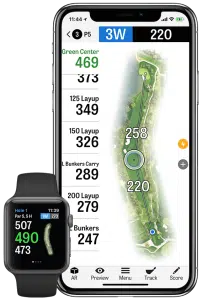 Pros:
Massive database of 40,000 courses
Accurate distances for up to 30 targets per hole
Simple, intuitive interface
Excellent scorecards and detailed statistics
Extremely well-designed statistics tracking, both on the iPhone and online
Cons:
It is the most expensive app in this category
Shot tracking could be a bit easier and include a position, not just distance.
Heavy battery usage, but can be mitigated by putting the phone into sleep mode between shots
Steep learning curve
Golfshot is a product of Shotzoom Software and is recognized internationally as possibly the best golf statistics app. The app is well designed, and the stats and graphics components are world-class.
If a call interrupts your round of golf while using Golf Shot, the app will return to the place in the app where you were before the call.
The app is compatible with Android, Apple, Apple Watch, and Android Wear which makes it highly versatile.
Cost and Plans:
On the cost side, there are 2 options available:
The free version provides you with a sizable number of features including the GPS facility to see distances from tee to green. The distances are shown to the front, middle, and back of the green.
You can add the clubs in your bag to the app and track your distances per club after every shot.
Stats on 5 to 20 previous rounds are available at any time.
The Pro membership comes at a cost of $29.99 which is high in comparison with similar apps. This is a once-off cost and not an annual fee. Upgrades and bug fixes are included in this fee.
The Pro subscription provides more functionality and you can select distances to hazards and the green.
The app uses the statistics gathered to provide a recommendation on the club that you should select.
There are other stats available such as games, leaderboards, and many other features.
Your stats are used to calculate an auto-handicap. This feature can be turned on or off.
Courses:
Shotzoom claims to have more than 40,000 golf courses on its app.
To achieve accurate stats the accuracy of the mapped course must be of the absolute best quality. Golfshot has shown to be accurate within 4 yards of distance markers on the golf course.
Ease of Use:
Opening the app provides you with menu options to select from:
Locate courses near you and displays the course and distance from your current location. You can browse courses elsewhere.
At the course, you can select the tee box, add up to 4 names of golfers in your group.
Record of all statistics related to previous rounds
Golfshot automatically calculates the following stats based on your scoring and course selection
Greens in regulation
sand saves
scrambling percentages
The app allows you to add the number of putts for the other golfers in your group.
Data is presented in pie charts for everyone in the group.
Upon completion of the round, the app automatically emails the scorecard to you indicating fairways hit and the number of putts.
Maintain your account details and club details
Auto-Advance:
Golfshot does not auto advance to the next hole
Other Features:
The augmented reality view in Golfscape is available as an in-app purchase for $9.99 and you can access it directly within the standard Golfshot GPS screen.
As with almost any app these days, you will have a Golfshot profile and access to the Golfshot Community where you can connect with friends.
Conclusion
Golfshot is a well-designed app that is easy to use and provides detailed stats to enable you to pinpoint areas of your game that needs improvement. The number of rounds kept online will highlight the areas where you have improved.
Golfshot is rated as the Best Overall golf app with its outstanding scoring, stats, and graphics features. In our opinion, it provides the best value for money despite being the most expensive app.
Swing by Swing is a golf technology and media company that was founded in 2010 and headquartered in Hartford, CT, and rebranded as Uswing. The app remains SwingbySwing. They have developed and operate top-rated mobile apps across GPS, scorecards, instruction, social interaction, and ball tracking.
Swing by Swing is a solid free rangefinder with satellite images that provide stats and scoring options.
Cost and Plans:
The free version of Swing by Swing is based on a GPS providing you with distances to the green, a digital scorecard for all courses available on the app, free stats, instruction, and handicap profile
There is a first level upgrade that comes at $3.99 per month or $23.99 per annum. This offers a digital-caddie experience showing you the current wind speed, elevation, the distance that the hole is playing in the current conditions, enhanced scorecard, stats, shot tracking, and club recommendations.
The Premium subscription comes at $14.99 per month or $99.99 per annum. It provides golfers with Looper option benefits, instruction information, and one personalized online lesson per month.
Premium Plus Subscription
Premium Plus subscription comes at $24.99 per month or $199.99 per annum. This includes everything on the lower option plus 5 personalized lessons per month.
Courses:
Nearly all courses in the world are available on the app. If the course is not available as yet you can add it and amend a course if it is outdated.
Ease of Use:
The app is straightforward to subscribe to and selecting a course is simple.
Starting a Round:
You can start at any hole or move onto any other hole if you skip some holes during the round.
Auto-Advance:
Swing by Swing will auto-advance between holes.
Scoring:
Basic scoring can be entered for every hole showing the score for the hole and the number of putts. Enhanced scoring with options to enter whether you incurred any penalty strokes, hit the fairway, greens in regulation, and played from sand can only be done on the premium option
Statistics:
The app is not extraordinarily strong on stats and the Premium subscriptions provide more information than the free version
Conclusion
Swing by Swing is a well-designed app providing great GPS functionality but is hardly competitive in the stats area.
18 Birdies is a well-designed detail-oriented smartphone app that won the Golf Aficionado Best App category in 2017
Cost and Plans:
The free version offers high-quality GPS functionality with views of the course and accurate distances to any point that you select.
This does not provide access to all of the powerful stats available on the app
The premium subscription comes at $4.99 per month or $49.99 per annum and offers access to real-time course conditions (wind speed/direction, elevation, temperature, etc.), club recommendations, fun side games, and more.
It also includes more advanced stats, more advanced GPS, and some other features.
Ease of Use:
Opening the app gives you access to a live newsfeed of other golfers sharing their golfing experiences.
At the bottom of the screen is a navigation bar enabling you to select the following options:
Feed
Community
Play
Profile
Dreamgames
You can add details of the clubs in your bag, the brand, loft, and distance that you expect to hit the ball.
This enables the app to make recommendations on the club to use in the prevailing conditions on the golf course.
Starting a Aound:
Starting a round is straightforward and the Play icon at the bottom of the screen initiates the process of selecting the course and the hole that you will be starting on.
Scoring:
The scoring section enables you to capture and track stats on
Fairways hit
Greens in regulation
Putts
The scorecard,
Notes for each hole
The tracking of a shot is a manual process where you have to tap the Track Shot icon after hitting your shot and the End Tracking icon when you arrive at your ball.
Details of the club used, quality of shot, power, shape, and lie will be displayed on the screen.
Statistics:
Stats that can be tracked are:
Fairways hit
Greens in regulation
Putts
Chips
Bunker shots
Penalties
Conclusion
18birdies is straightforward and simple to use. You can load details of your clubs and distances to enable the app to recommend a club for every shot.
Stats provided are good and the detail is well presented.
Hole19 is a golfing app that offers a GPS rangefinder, digital scorecard, performance stats tracking, tee times, find discounts, and book a round of golf.
Cost and Plans
The free option enables you to use the application but only offers limited tracking and stats functionality
Premium Subscription (Premium Lite and Premium)
The premium subscription comes at $7.49 per month or $49.99 per annum. This features distance tracking, more advanced stats, auto-advance on holes, and Android Wear support.
Courses:
The app supports over 40,000 golf courses and there is a rating guide as well.
Ease of Use:
The app is well designed and has an easy to use interface. There is an instruction video when you start with the app to introduce you to the functionality.
Starting a Round:
Starting a round is straightforward. You open the app, select the course you are playing at, select how you want to do the scoring, add other golfers, and download the course.
Auto-Advance:
Auto-advance to the next hole is provided on the premium subscription
Scoring:
Scoring can be done by inputting the score, GPS only, or shot-by-shot.
The scoring option enables you to capture
Total strokes
Putts
Sand shots
Penalties
Fairways
Green in regulation
Sand saves
Conclusion
Hole19 is a high-quality golf app available on Apple and Android mobile devices, including watches.
TheGrint is an app designed to track your stats and handicap. The handicap tracker is free and calculates a valid USGA handicap that is accepted by all registered USGA golf clubs.
There is GPS functionality built-in as with all of the reviewed apps. The detail provided by the GPS is accurate and goes a long way towards providing accurate stats.
Cost and Plans:
The free option provides access to the USGA handicap system.
To get all the features of the Grint, it will cost you just $19.99 a year.
Courses:
Nearly all of the golf courses around the world is available on the app. If a course is not available, it can be loaded within 10 working days.
Ease of Use:
The user interface is well designed, and your finger should be slightly below the icon that you want to select. This makes it much easier for you to see which icon you are selecting, and it is not hidden behind your fingertip.
Starting a Round:
On the homepage, you will see your current handicap, scoring average, average putts per round, and greens in regulation.  You can navigate away from the homepage to the following features
USGA compliant handicap
GPS
Track scoring
Picture scorecard
Track on-course stats
Track friends' stats
See live scoring
Scoring:
A nice feature that TheGrint app offers is the scorecard picture feature. You take a picture of your paper-based scorecard and it will turn it into a digital version that is stored within the app.
Comparing your score against other users of the app can be done in real-time via a live leaderboard. This adds to the fun and excitement.
You can even compare your live scores to others using the app via a live leaderboard feature. The app can track complex stats from iron accuracy to average GIR percentage.
The app stores your performance on each hole in the following categories
Putts
Tee accuracy: directional and shank
Hazards: greenside bunker, fairway bunker, out of bounds, water hazard, and drop or other.
Statistics:
You will have access to an expanded scorecard at the end of the round. This will show the following information:
Score and highlights deviations from par
Putts per hole
Greens in regulation
Fairway accuracy and where you have missed it to determine your predominant miss.
Penalty or hazard strokes.
Front 9
Back 9
Course Average
Your score compared to the course average and overall average
On the website you can overlay information on your Greens in Regulation, Putting, Driving Accuracy, etc to determine trends over the last few rounds.
The "Check your Stats" feature on the app provides information on:
Your trending handicap
Scoring: Average score, best and worst rounds.
Average on Par 3's, Par 4's & Par 5's
Putting Stats: Putts per round, best and worst rounds
GIR, 1 Putt/Round
Driving Accuracy
Breakdown of your GIR by Par of hole
Irons Accuracy
Penalties
Scrambling Statistics
Performance Trends
Conclusion
TheGrint is a very impressive app that provides loads of functionality to keep stats available and well presented.
It is one of the top apps but offers little for free. You have to subscribe to access the best features.
Final Thoughts
There are many golfing apps specifically designed to track your scores and provide statistics. All of them come with a GPS feature to follow you around the course and highlight where hazards are. We have not gone into a lot of detail on the features that are not related to scoring and stats.
The app that stood out for us is the Golfshot app. It is well designed and offers a comprehensive set of stats without losing out on the other functionality. Many of the features are available on the free plan although some still require you to subscribe.
Nick Lomas is the founder of GolfSpan, an avid golfer, not quite a pro but has over 15-years of experience playing and coaching golfers from all over the world. His mission is to bring the golfing community a better experience then it comes to choosing the right golf gear, and finding the right set up for your game.