The Trackman launch monitor is used by 700 professionals on tour. According to Geoff Ogilvy, "it is almost compulsory" to have one.
However, hot on their heels is Foresight sports with their GCQuad launch monitor. Their device is used for testing by brands such as Titleist, Callaway, and Taylormade. Given the status of both launch monitors, I decided to review the GCQuad vs Trackman devices.
GCQuad vs Trackman Review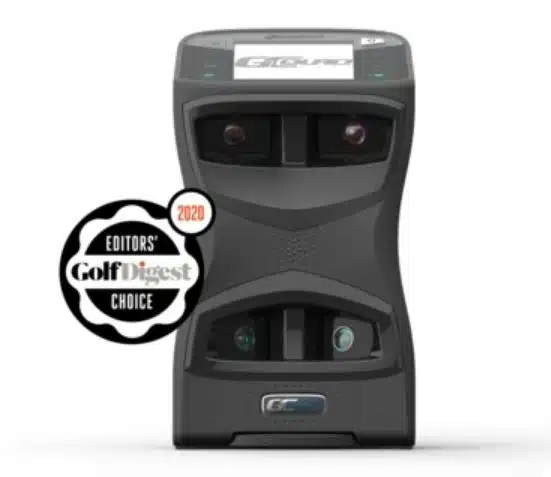 Pros
No calibration is needed. Place the device on the ground and start striking.
Superb accuracy.
Shot data provided in real-time.
4 camera angles record the strike area delivering accurate data on the impact and result of your shot.
Cons
It is an expensive device for the average golfer.
It is easy to move around. But at 7.5 pounds, it is too heavy to carry in your bag for 18 holes.
An alignment stick is necessary to detect targets in an outdoor environment.
Foresight's GCQuad incorporates advanced imaging technology and lightning-fast processing power. That enables the device to deliver precise and detailed launch statistics.
Its accuracy has made it the preferred launch monitor of brands such as Titleist, Taylormade, Callaway, Ping, and Cleveland. Furthermore, it is trusted by Rickie Fowler and Bryson DeChambeau. If there is one golfer who knows about data it is DeChambeau.
The GCQuad gives you insight into your ball speed, launch angle, distance offline, backspin, carry, and total yardage. For an extra fee, they also offer analysis on your putting stroke. Since this is where most of us tend to drop shots, I fully endorse putting aides.
GCQuad Features and Benefits
The four cameras on the GCQuad monitor the striking zone from different perspectives. As a result, the launch monitor provides a multitude of data on the impact and launch of your shot.
I have provided a list of the features of the GCQuad and how they may benefit your golf game.
Data
The Foresight GCQuad uses precise photometric measurements to view the area of impact clearly to provide accurate results. The device is placed square with a side-on view of the strike zone, enabling an obstructed view of the impact zone.
Data points that the GCQuad cover includes:
Ball Data
Ball speed
Ball launch angle
Azimuth or The Internal horizontal angle comparative to the target
Total ball backspin rpm
Spin tilt axis. This determines the angle at which your ball came off the clubface.
Club Data
Club speed
Impact Point
Angle of attack
Club path
Delivered face angle records whether you struck the ball with an open, square, or closed clubface.
Delivered lie angle captures the degrees of your clubface relative to the surface.
Impact loft
Closure rate
The quantity of data that the GCQuad gathers is phenomenal. It is no wonder why it is recognized as the most accurate launch monitor in its category.
The detail that is accounted for, will help you identify areas of weakness you didn't know existed. That is why this is ideal for a coach or professional golfer.
Cameras
The GCQuad uses four cameras that analyze the impact zone of your shots from a side-on angle. The reason this device can measure so many data points is thanks to the four cameras.
Indoor/Outdoor Setup
The GCQuad is designed to be used in indoor and outdoor environments. In an indoor setting, the device does not need to be calibrated. Place it facing you, side-on, and start hitting.
However, if you take the device onto the course or range, you will need an alignment stick. That helps the launch monitor adapt to the angle of the ground to give you more accurate measurements.
Weight
The GCQuad is a portable device. However, it weighs 7.5 pounds, which is a fair amount to carry over 18 holes.
Price
I am often asked, what is the GCQuad price? The answer is a substantial amount. It is a premium product commonly used by tour pros and golf coaches because of the level of detail that it provides.
It is a decent investment for the average golfer to make. But, if you have the capital, you will not regret the decision.
Add Ons
While I did mention that the GCQuad analyzes clubhead data. You will need to make an additional purchase if you are to enjoy these benefits. Another noteworthy add on, is the essential putting analysis.
The putting analysis feature, helps you improve your putting stroke. Over time it will help to reduce your putts and strokes per round.
Warranty
The quality of the Foresight GCQuad is unquestionable. However, if it does give you any trouble, you are covered by a 2-year warranty.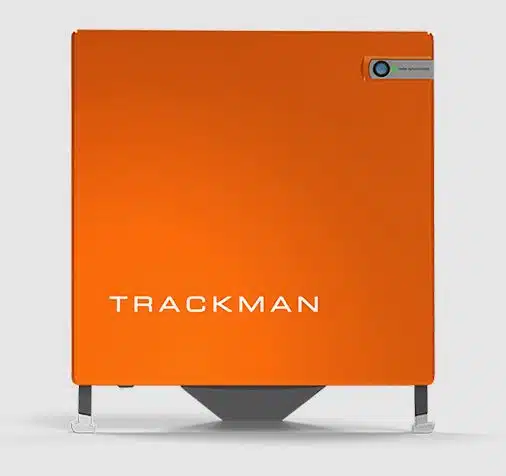 Pros
Measures the clubhead's exact point of impact with the ball.
Dual radar technology locks one sensor onto the ball and another onto the clubhead.
Accuracy
Data is conveniently displayed on your smartphone or tablet
Cons
Software lags slightly when displaying shot data
Needs to be adjusted before using outdoors
Expensive
It is a big device to transport around the course
It requires sufficient space between the golf hitting mat and the screen or net, for indoor use. Otherwise, the accuracy is questionable.
Personally, I have found laser launch monitors to be more accurate than their radar counterparts. However, the Trackman has found a solution to this problem.
Radar technology is often set up directly behind the golfer. That reduces its view of the strike zone. As a result, insufficient data is calculated, and results are inaccurate. So, Trackman decided two radars would solve the problem.
One radar locks onto your clubhead and analyses its every move before, during, and after impact. The second radar focuses on your ball and analyzes the ball's reaction at impact, in-flight, and upon landing.
There is a reason why Dustin Johnson, Jason Day, Jordan Spieth, and Tiger Woods use Trackman in practice. The detailed data that it offers into your shots allows you to identify every element that impacts your ball striking.
Trackman 4 Features and Benefits
The Trackman 4 is top of range launch monitor technology, and it has the price tag to prove it.
If you have deep pockets and want the most sophisticated insight into your golf shots then keep reading. I have compiled a list of features that 700 tour pros find beneficial, but does it work for you?
Data
The dual radar system on the Trackman 4 enables the device to detect clubhead and ball related data.
Here is a list of the data points that this launch monitor accounts for:
Ball Data
Ball speed
Carry
Launch angle
Smash factor
Spin rate
Club Data
Club path
Face angle
Dynamic loft
Attack angle
Club Speed
As we can see, the data measured by the Trackman is on par with the GCQuad.
Dual Radar
In past experiences, radar launch monitors have not been as accurate as the camera setup. However, the Trackman 4 is equipped with a doppler radar system. They analyze the actions of your clubhead and ball at impact, providing maximum insight on your strikes.
Indoor/Outdoor Setup
Unlike the GCQuad, the Trackman requires a little bit of work before you can start smashing some balls. If you are going to be using the launch monitor outside. You need to adjust the device to factor in its angle on the turf.
When setting up, make sure that that launch monitor is 8-12 feet away from the hitting mat. If you are planning on setting it up in an indoor studio, you must allow for a minimum of 13 feet between the hitting mat and the impact screen. That setup enables the launch monitor to accurately detect carry and total distance. If you set the mat up too close to the screen, your data will be inaccurate.
Weight
Even though the Trackman is lighter than the GCQuad, it still weighs 6.2 pounds. Since I generally carry my bag around 18 holes, I do not need any additional weight. Adding the weight of the Trackman to that of your clubs, golf balls, refreshments, rain gear and a sandbag, equals back-breaking stuff.
However, if you use a golf cart to get you through a round, then you shouldn't have any trouble with the weight of the Trackman.
Price
The Trackman is a high-priced item, and based on its features, that is for a very good reason. It is targeted at professionals and coaches who require every insight possible. I am yet to find an amateur golfer using this launch monitor.
GCQuad vs Trackman – Benefits
You will struggle to find two launch monitors that offer the level of detailed data analysis as the GCQuad and Trackman devices. With great function comes a substantial price tag for both devices, which requires a significant investment. It is for this reason that both the GCQuad and Trackman are targetted towards golf manufacturers, professionals and coaches. Basically, people whose livelihoods depend on accurate shot information.
Both launch monitors offer a similar level of detail, and therefore if the average golfer was going to go with a premium product, I would suggest the more affordable option. That being, the GCQuad which is roughly 45% cheaper than the Trackman.
Verdict
In terms of benefits, they are equal, but in terms of value for those benefits, GCQuad wins hands down.
GCQuad vs Trackman 4 Accuracy
If I had to write an article comparing every data point of the GCQuad vs Trackman, you would be in front of your screen for eternity, and never get any golf in. So instead, I will focus on the key points that most average golfers care about. I am referring to spin, ball speed, launch angle, carry and total distance.
Ball Speed
GCQuad Ball Speed Readings
Driver – 159.1 mph
7-iron – 124 mph
Sand Wedge – 88mph
I had no complaints about the feedback from the GCQuad regarding ball speed. From driver through to wedge, these were on par with my past averages.
Trackman Ball Speed Readings
Driver – 162.1 mph
7-iron – 127 mph
Sand Wedge – 88.5 mph
The ball speed readings from the Trackman were slightly higher than the GCQuad's. I would say they were marginally closer to my exact speed.
Overall, both of these devices delivered millimetric accuracy through the bag. Often, when I conduct launch monitor tests, the readings on longer shots can be off the mark, due to faster swing and impact speeds.
Backspin
GCQuad Backspin RPM
Driver – 2500 rpm
7-iron – 6200 rpm
56 Degree Wedge – 11,000 rpm
The backspin rpm from my drives to wedge shots was on point compared to my past results. I had no problems in this area with the GCQuad.
Trackman 4  Backspin RPM
Driver – 2510 rpm
7-iron – 6100 rpm
56 Degree Wedge – 10,900 rpm
The accuracy of the Trackman 4 is almost identical to the results displayed by the GCQuad. Therefore, I am satisfied with the accuracy of this launch monitor
Launch Angle
GCQuad Launch Angle
Driver – 12.8 degrees
7-iron – 19 degrees
Sand Wedge – 30.5 degrees
The launch angle readings from the GCQuad were exactly what I would expect with my driver, 7-iron and sand wedge. Once again proving the accurate nature of the Foresight device.
Trackman 4 Launch Angle
Driver – 12.7 degrees
7-iron – 18.8 degrees
Sand Wedge – 30.3 degrees
Once more, we see how close these devices are in terms of accuracy. The Trackman showed my launch angles being minutely lower the GCQuad did. However since there was only an average difference of 0.17 degrees, it is too tight to declare either launch monitor the winner.
Carry Distance
GCQuad Carry Distance
Driver – 286 yards
7-iron – 176 yards
Sand Wedge – 99 yards
The carry distance measurements I got from the GCQuad were pretty much what I would expect with all three clubs. It furthered my confidence in the GCQuad's ability.
Trackman Carry Distance
Driver – 285 yards
7-iron – 178 yards
Sand Wedge – 98 yards
There is not much to separate the GCQuad and theTrackman 4 when it comes to carry. Depending on the conditions I am playing in, that is the kind of carry I would expect.
Total Distance
GCQuad Total Distance
Driver – 304 yards
7-iron – 190 yards
Sand Wedge – 99 yards
Of course my total distance will vary depending on the course and weather conditions. However, those are definitely the numbers I expect to see.
Trackman Total Distance
Driver – 304 yards
7-iron – 188 yards
Sand Wedge – 98 yards
There is little to separate both these launch monitors in terms of total distance. The readings are close to my previous averages, in terms of total distance.
Verdict on Data and Accuracy
It was refreshing to test two launch monitors that were comparatively accurate. The last launch monitor review I did was of the GCQuad vs Skytrak. The SkyTrak readings were off on my drives and long and mid-iron shots. However, with the GCQuad vs the Trackman I cannot separate them in terms of accuracy. Therefore, this round is a tie.
I also recently conducted a test of the SkyTrak vs Trackman launch monitor, to see how a more affordable device compares to the top of the range.
The GCQuad vs Trackman 4 Price
If you are on a budget, then neither of these devices were built for you. These are two premium products created with coaches, professionals and golf equipment manufacturers in mind. The GCQuad is the more affordable of the two, fetching upwards of $10,000 depending on the features you opt for.
Now, take the price of the GCQuad and multiply it by two, because that's what a Trackman will set you back. Again, the price depends on all the features and accessories that you opt for, but that gives you a ballpark figure.
Verdict on Price
As a result, based on price I give this round to the GCQuad. It is more affordable, and as accurate as the Trackman. If neither of these devices is in your budget, the SkyTrak launch monitor may be an option for you.
Final Thoughts
Foresight and Trackman have developed two exceptional launch monitor products, which are incomparable in terms of accuracy. I do think that investing $10,000 plus in a launch monitor setup, makes more financial sense for a golf coach or professional, than it does for the average golfer.
But, for the purposes of our GCQuad vs Trackman test, I declare the Foresight GCquad the winner. It is well cheaper than the Trackman, but delivers the same level of accuracy. If you have the funds available for a GCQuad you can check it out here.
Related Articles
Nick Lomas is the founder of GolfSpan, an avid golfer, not quite a pro but has over 15-years of experience playing and coaching golfers from all over the world. His mission is to bring the golfing community a better experience then it comes to choosing the right golf gear, and finding the right set up for your game.