Having a golf cart provides easy mobility around the course. There have been summer days when I wouldn't have made it around the course without one. Don't even get me started on playing in an unexpected downpour.
Owning your own cart is best as people mistreat hire carts, and they become unreliable over time. However, owning your own adds several other tasks, such as maintenance, as the cart can get damaged due to weather and other conditions.
To protect your cart from weather damage or keep it safe when not in use, you should buy one of the best golf cart covers that fit your cart. This article will cover five of the best picks for golf cart covers and what you need to consider when purchasing a golf cart cover.
Featured Products
| | | |
| --- | --- | --- |
| Product Name | Category | Link |
| 1. Classic Accessories Fairway Golf Cart Deluxe Enclosure | Best Overall | Amazon |
| 2. KISEER 4 Passenger 400D Waterproof Golf Cart Cover | Best Budget | Amazon |
| 3. Bondvast Driving Enclosure Cover | Best for 4 Seaters | Amazon |
| 4. 10L0L 2-Passenger Golf Cart Driving Enclosures | Most Snug Fit | Amazon |
| 5. Formosa Deluxe 4 Seater Golf Cart Cover | Easiest to Use | Amazon |
Things to Consider When Buying Golf Cart Covers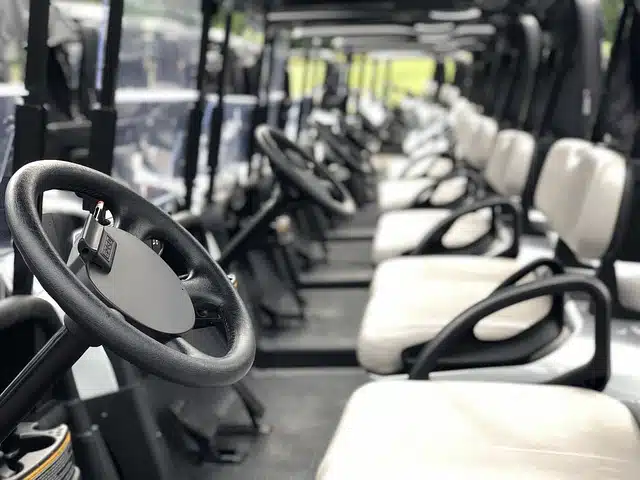 When looking for covers for golf carts, there are several options. Here are a few things to look for to help you pick the perfect golf cart cover.
Good Fabric Quality
The quality and the type of fabric used to make the covers are essential. Durability and longevity are at the top of this list of reasons why you need decent materials.
Some of the best materials to look out for when choosing a golf cart cover or enclosure are:
Heavy-duty polyester – it's stretchy, resistant to tears, and weatherproof. Look for anything 600D and above.
PVC coating – provides water-resistance
Sometimes water can seep through the zippers, so make sure the zippers have fold-over covers for the most water-tight cover possible.
Great Fit
The fit of the golf cart cover is just as important as the cover's fabric. A great fit ensures that dust and moisture won't get in as quickly through small gaps.
Having a great fit also makes your golf cart look top-notch, so ensure to find one specific to your cart's model and make.
The most important measurement to get the right fit is usually the roof measurement.
If the cover is too small for the roof, it often prevents the cover from reaching under the cart to cover the whole thing.
If it's too big for the roof, the fit becomes baggy and susceptible to flying off in a storm or letting in moisture from early morning condensation, which is a breeding ground for mold.
Ease of Installation
Nobody likes to walk around their vehicle multiple times to ensure that the cover sits correctly. Most people lose interest in putting the cover on if it takes too much work.
This ties into the previous point. Ensuring that your golf cart's outdoor cover won't slide off from one side while fixing the other will help you take care of your cart.
Generally speaking, it will be easier to install if you have a cart cover with large zippers. It allows you to pull the cover over with the zipper undone and zip it into a snug fit.
A single rear zipper is best for overnight covers as you can still get to the gear in the back of the cart without taking the whole cover off. Undercarriage elastic straps also make it a breeze to attach these types of golf cart covers.
Best Golf Cart Covers for 2023
Here are our golf cart cover reviews to see which best fits you and your cart.
1. Classic Accessories Fairway Golf Cart Deluxe Enclosure – The Best Golf Cart Cover
Key Features:
Available in 3 different fits
Removable doors
Quick zip-off windshield
Pros:
Three-year warranty
Ultra-clear window
Shrink and stretch proof Gardelle material
Cons:
More expensive than some of our other top picks
It can get hot inside with 4 people in the cart
These carts are ahead of the competition as they have some of the easiest to install and remove parts. The windshield and doors zip off easily. The doors also have rip and grip functionality, so you can just tuck them away during a game if the weather improves.
The windows are also so clear and easy to clean that you may forget you even have a screen on the cart.
These covers are a piece of cake to take off and put into its carry case. Yet, tough enough to leave on in between rounds. So, you can choose if you want to take it off or leave it on.
This is hands down the best golf cart enclosure that won't cost an arm and a leg. It's a must-have golf cart accessory for any serious golfer.
2. KISEER 4-Passenger 400D Waterproof Golf Cart Cover – Best Budget Option
Key Features:
Single rear zipper for ease-of-use
High strength polyester fiber
Water-resistant PVC coating
Suitable for 80" roofs
11 x 48 x 66 inch (L x W x H)
Pros:
Adjustable hem and velcro buckle to prevent slippage
Easy slide-on design
Cons:
The zipper is prone to coming undone.
Not ideal for long and heavy rain
This club car golf cart cover by KISEER is made from highly durable polyester fiber with a PVC coating that enhances water resistance. You'll need to note that it's water-resistant, not waterproof. You can't leave your cart out in a storm with this cover and expect it to be completely dry.
However, this is an excellent budget cart cover, primarily for its tiny price tag. It's super easy to put on and take off and keeps the elements off your cart. These covers are ideal if your cart has to be outside but is still undercover.
The adjustable cord on the bottom makes it usable even if it's not the perfect fit for your cart. It allows the cover to wrap around the bottom and stay secure even in windy conditions.
3. Bondvast Driving Enclosure Cover
Key Features
Strong custom zipper
Fits up to 58" roofs
Super tough YKK zipper
Pros:
Customizable weather protection
Ample clear sections let plenty of light into the cart
Cons:
The newly updated zippers on the current model of these golf cart driving enclosures have double-stitched hems, which make them strong. This is pretty important, and with the huge number of zippers, you'll be using them often.
The extra zippers also allow for a very snug fit on certain carts, but you'll need to make sure it's right for your golf cart. For example, it won't fit an EZGO 2Five. They have several models listed in their product description, so just double-check.
The material is thick enough to keep you warm during winter golf games. And, since there are so many zip-off sections, there's no reason you couldn't leave this enclosure on for the summer months too.
4. 10L0L 2-Passenger Golf Cart Driving Enclosures
Key Features:
Side mirror & taillight openings
58" 2 person cart fit
Water-repellent Oxford cloth material with PVC coating
For carts with roof measuring: 148cm/58in in length, 92cm/36in width and 148cm/58in
Pros:
Snug fit on many popular cart models
One of the best-looking golf enclosures on the market
Cons:
Difficult installation
Small rear access window
This golf cart cover by 10L0L has a great build and uses high-quality materials for 2-passenger golf carts. It uses a unique water-repellant material, and you can easily store the zip-off windshield in the front pocket.
It's not as durable as our other driving enclosure top picks, but it is significantly cheaper. So, it's a good option for those that only wish to use it while playing. But, it's not tough enough to stay on the cart during storage and survive for long periods.
This is also a very snug fit, which allows it to look great on and makes it a little harder to install than some others. Again, roof size is important. Ensure your cart matches the dimensions mentioned above to ensure this cover fits your cart.
The small rear access window is not ideal for those who like to take their clubs out of the cart on the fairway. Yet, it works fine to take one club out at a time.
5. Formosa Deluxe 4-Seater Golf Cart Cover
Key Features:
Double-top stitch for durability
For 80 roof carts
Cover measurements of 112-inch L x 48-inch W x 66-inch H
Double Polyurethane undercoating for water resistance
Pros:
Quality 300D heavy-duty polyester (not common in this price range)
Rear zipper access
Vented design allows condensation to escape
Cons:
Open back design can let water into larger cart models
This Formosa golf cart cover is made from heavy-duty polyester, which makes it the perfect winter golf cart cover. It uses double polyurethane undercoating to make the surface waterproof.
It also has air vents on both sides for better airflow, allowing condensation to escape and prevent mold from taking hold.
This is the best option for a quick "chuck on" golf cart cover for 4 seaters. It has ample space and has grommets and an elasticized cord to allow quick and secure attachment.
Frequently Asked Questions

Should You Cover Your Golf Cart?
It's essential to have a cover for your golf cart to protect it from bad weather conditions, dust accumulation, moisture build-up, or accidental scratches from passersby.
How Do You Measure for a Golf Cart Cover?
You can measure your golf cart by measuring from left to right across the length of the cart. Do the same for the width and height. Add a few inches for margin of error to ensure that the cover you buy fits your cart.
Can You Leave a Golf Cart in the Rain?
Although carts can be left out in the rain, it's not recommended to do so as the water can seep through and damage components. Yet, if you forget to put on the cover once in a while, you should be fine.
Final Thoughts
Any of our picks for the best golf cart covers could be the perfect choice for your particular cart. Get your tape measure out and find one that fits perfectly.
If you're looking for an enclosure cover, don't go past the Classic Accessories Fairway Golf Cart Deluxe Enclosure, it's the most durable and easy to use.