Since all club manufacturers make hybrids now, it can be confusing to determine the differences between them. More importantly, figuring out which will help you shoot your best scores is tough.
As a passionate golfer with an 11 handicap, I can say that hybrids were a big help in dropping my scores.
There's no doubt that the invention of the hybrid has made golf less frustrating, but that's only if you get the right one for you and your game.
Here are the best hybrid golf clubs:
Use these hybrid golf club reviews to make an informed decision and cut through all the BS. Companies will always promise increased distance and more forgiveness, but you have to take that with a grain of salt.
The fact is the best hybrid golf clubs are all different and will benefit golfers differently. Here are the best hybrids that will provide speed, launch, and spin with an easy-to-hit head shape.
Top 3 Hybrids
In-Depth Hybrid Golf Club Reviews 
Read on for detailed and researched golf hybrid club reviews. This should give you an excellent sense of the strengths and weaknesses of each club so you can easily decide and start lowering your scores sooner.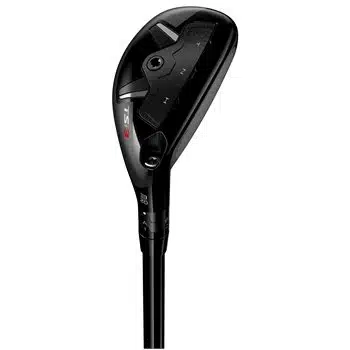 Lofts Available: 18° and 20°
Distance Rating: 91.5
Forgiveness Rating: 83.0
Accuracy Rating: 94.5
Best For: Low-Handicaps
Pros
Compact clubhead
Deep and thin face for forgiveness
Adjustable hosel to affect lie and loft
Adjustable sliding weight to affect ball flight
Classic and simple look at address
Great for players who prefer long irons
Cons
Unsurprisingly, a Titleist club takes the top spot on this best hybrid clubs of 2023 list. Titleist has a long history of making premium golf clubs, and hybrids are no exception.
This is the 'players model' when compared to the TSi2. This new version is more compact and offers a low-profile look at address. Low-handicap and skilled players will appreciate this as it allows for more club head control.
The club face takes on a square shape to add forgiveness to such a small club head. It's great for attacking greens from good lies rather than rescuing you from hairy lies.
While you may turn your nose up at only being offered two lofts, the adjustability more than makes up for it. Add or subtract loft by choosing one of the 16 lofts and lie angle options. This helps experienced players prepare better for different courses.
You can also adjust your ball flight with the sliding track weight on the sole. If you tend to fade the ball too much, slide the weight to the heel side to speed up the toe through impact. This will help you square the face and hit less threatened fades. Do the opposite if your miss is a hook.
[Check Prices & See User Reviews]
Lofts Available: 18°, 20°, 23°, 25°, and 26°
Distance Rating: 96
Forgiveness Rating: 92.5
Accuracy Rating: 81
Best For: Mid-High Handicappers
Pros
Jailbreak technology helps create more distance
Flashface technology provides forgiveness
High toe makes hitting from various lies much easier
Modern look at address
Slight offset in the hosel
Cons
Tough to work the ball in both directions
No adjustability features
By definition, a hybrid is a combination of an iron and a wood. Callaway has found an excellent balance between the two with the Rogue ST Max hybrid.
This has the look and feel of an iron but the power and forgiveness of a wood. Starting with the patented jailbreak technology that resides behind the clubface. These two titanium bars add strength to the face for explosive distance.
This is the same technology you find in Callaway drivers and what makes them so long. They moved the bars further from the face to control the distance in the hybrid. This helps balance the club and increase your launch angles and ball speeds from almost any lie.
A higher face also contributes to forgiveness out of tough lies. This is what makes this hybrid so versatile and a great addition to almost any golfer's bag.
The sharp look is due to a matte black crown and a slight offset in the hosel. This should not worry you if you draw the ball; it's very subtle and should not be used to cure slices but merely to help keep the face square for longer through impact.
[Check Prices & See User Reviews]
Lofts Available: 19°, 22°, 25°, 28°, and 31°
Distance Rating: 90.0
Forgiveness Rating: 91.0
Accuracy Rating: 88.0
Best For: Slow Swing Speeds
Pros
Thru-Slot Speed Pocket for distance on off-center strikes
Carbon fiber crown
Twist face technology for added forgiveness
V-Steel sole improves turf interaction
All black look is stylish
Cons
Very similar to previous SIM 2 model
TaylorMade is a pioneer in the hybrid industry, and I always look forward to what they offer. This hybrid did not disappoint, but I'm not sure it's the breakthrough we all hoped it would be.
Many features can be found in its previous model, the SIM 2. The bright side is that we get a lightweight crown made from carbon fiber and an optimized face that uses TM's twist face technology.
Both are great for players looking to generate more distance without increasing their swing speed. Because of its variable thickness, the face will add distance to all your shots, including the off-center ones.
Great distance is also generated by the Thru-Slot Speed Pocket, which is also present in the previous SIM 2. This feature has been a part of all TaylorMade woods for many years now, and that's because it works. It's TaylorMade's answer to Callaway's Jailbreak technology.
The major difference is the look and shape. It lives up to its name by being more stealthy and less boxy compared to the SIM 2. The all-black, two-tone carbon crown is also very distinguished and makes you feel like an assassin looking to gun down flag sticks from anywhere on the course.
[Check Prices & See User Reviews]
Lofts Available: 19°, 21°, 24°, and 27°
Distance Rating: 92
Forgiveness Rating: 92.5
Accuracy Rating: 83.5
Best For: Low-Mid Handicappers
Pros
Improved Jailbreak technology
Re-positioned tungsten weight for best launch angle results
Flash face technology
Compact head for easy shot shape manipulation
Adjustable loft and lie angles
Cons
Toe is very high for a player's hybrid
Bulky look at address
Callaway is primarily known for helping high-handicappers become low-handicappers. Recently, they have been offering mid-low handicappers some viable options to help them as well.
The Apex 21 is one of the best hybrid clubs for experienced players that no one knows about yet. Everyone loves the Rogue and Big Bertha line of hybrids, but the Apex deserves to be in the conversation just as much.
It uses an updated version of Callaway's Jailbreak Technology by making hybrid-specific changes. The bars are more spread out and shaped like blades, thinner but broader than traditional bars.
This is great for a hybrid because it makes the face more consistent and helps correct off-center hits from thick rough. They also stiffen the body vertically without adding too much weight, which also contributes to forgiveness.
Saving this weight allows the designers to strategically position tungsten weighting to increase launch angle based on which hybrid you are using. Each one has a different tungsten weight to optimize launch angles and increase the power you get from the lower part of the club face.
Use this hybrid and its adjustable loft to gain full control over your ball flight and be able to manipulate the trajectory.
[Check Prices & See User Reviews]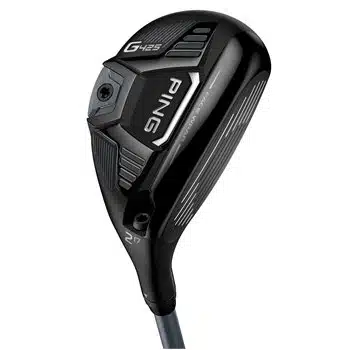 Lofts Available: 17°, 19°, 22°, 26°, 30°, and 34°
Distance Rating: 79
Forgiveness Rating: 88.5
Accuracy Rating: 95
Best For: Replacing Long Irons
Pros
Shallow club face for more consistency
Wrap face design increases distance
Available in a wide range of lofts
Excellent replacement for long irons
Sleek matte black design
Low-profile construction
Cons
Not good for fairway wood replacement
If we're talking about game-improvement clubs or any equipment meant to be forgiving, then PING is always involved. They have the tech that so many mid-high handicappers can benefit from, but this hybrid will even benefit low-handicappers in certain situations.
The beauty of this easy-to-hit hybrid is its head shape design. It looks like the original hybrids that implemented a shallow face and low-profile design. This helps them to cut through grass and create lift from lies that other irons and woods can't.
A shallow face also increases your consistency because of the disparity between low on the face and high on the face. It's very short from top to bottom, so your strikes will land closer to the sweet spot every time.
This could be your answer for those who are worried about their hybrid feeling too much like a fairway wood. Its compact head, shallow face, and wide range of loft selections will easily help you replace your 3, 4, or 5 iron.
Despite its commitment to traditional hybrid design, the face itself uses up-to-date technology. The wrapped face extends around the top and bottom slightly to increase flex in the face. This helps to keep pace with the distance that other hybrids offer.
While not the longest hybrid on the market, it's still one of the best for hitting greens and getting out of questionable lies.
[Check Prices & See User Reviews]
Lofts Available: 19°, 22°, and 25°
Distance Rating: 94
Forgiveness Rating: 89
Accuracy Rating: 78
Best For: Replacing Fairway Woods
Pros
Larger mass for more forgiveness
Stylish white and blue accents
Affordable price
Similar features to the new Stealth model
Carbon crown, twist face, and V-Steel sole are all the same
Cons
No offset
No adjustability
I've already mentioned that the TaylorMade Stealth Hybrid is very similar to the SIM 2 models. They have similar technology but differ in looks and price. Check out this incredible alternative if you weren't completely sold on the Stealth.
The SIM 2 MAX is a superior hybrid to the SIM 2. It's slightly larger to help with forgiveness and distance but not too large to hinder ball striking from various lies.
Many agree that this is more pleasing to the eye than Stealth. An all-black finish looks great, but it's also a safe and easy choice. SIM 2 MAX with accents of white and blue make this hybrid pop. Having a club you're excited to look at and show off helps with confidence, and you can never have too much of that when golfing.
The similarities between this and the Stealth are plentiful. They share the same crown, face, and sole. These core features make it hard to justify the price of the newer Stealth model.
If you like the look of the white-on-black crown contrast, then I recommend this hybrid. Otherwise, you can go for the Stealth; either way, ensure you are comfortable over the ball so you can focus on the shot at hand and not your equipment.
[Check Prices & See User Reviews]
Lofts Available: 19°, 21°, and 24°
Distance Rating: 81
Forgiveness Rating: 86
Accuracy Rating: 95.5
Best For: Inconsistent Swings
Pros
Same shaft length as a 7-iron for more control
PWR-COR tungsten insert increases power through impact
Baffler rails prevent you from digging
Helps produce consistent and controllable swing tempo
Cons
May take some getting used to
Cobra is always on the cutting edge of game-improvement technology, and this is one of the best rescue clubs providing evidence that they are not slowing down any time soon. Breaking the mold of how a traditional hybrid is made, this one is the same length as a standard 7-iron.
The idea here is that you'll be able to control your swing a lot more. With more control comes more consistency, and we all know that consistency will produce lower scores.
The length negatively affects your distance, and to make up for it, Cobra has added tungsten weight to the lower half, up near the face, called PWR-COR. This helps increase distance and reduce backspin, so your ball carries further with a penetrating ball flight.
This added weight also helps you control your swing tempo. It naturally creates a pendulum motion to improve your consistency.
Another unique feature of this hybrid is the baffler rails on the sole. These are specifically designed to get you out of many kinds of lies. They encourage the club head to glide through the turf and prevent it from digging in too deep.
[Check Prices & See User Reviews]
Why You Should Trust Us
Our team spends thousands of hours trying out and researching golf equipment to help you take your game to the next level. Here's our product review process.
We can bring these reviews to you through the small commissions we earn if you buy through the links below. 
How We Reviewed These Products
Golfspan only shares equipment and brands we trust. 
I'm an experienced golfer of 28 years and thoroughly researched and evaluated the products shared below. Then an editor reviewed and fact-checked the list. Finally, we conduct regular content audits to update and revise our reviews to ensure you receive the latest information. 
To select these hybrids, we considered these criteria:
Cost
Launch
Speed
Spin
Feel
Distance
Accuracy
What To Consider Before Purchasing Hybrid Golf Clubs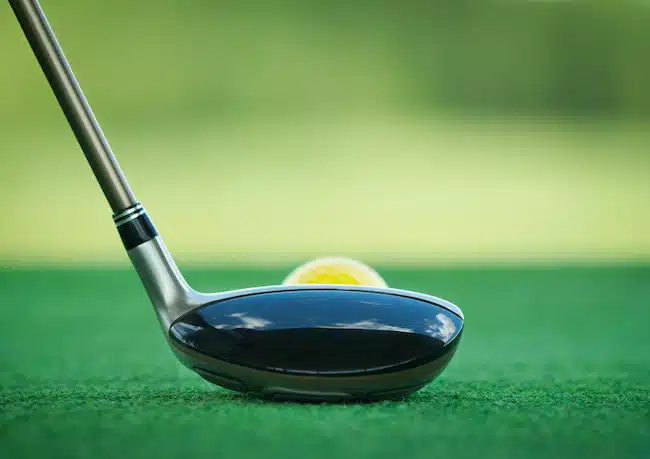 Purchasing one of the best golf hybrids of 2023 is more challenging than you think. Many variables are at play, and if you're not careful, you could make things very difficult for yourself if you choose the wrong one.
Loft
When choosing hybrid golf clubs, the first step is identifying the ideal lofts for your game. To do this, look at your weakest lofted fairway wood and work up from there. If you only have a 15-degree 3-wood, your strongest lofted hybrid should be 18 or 19 degrees.
Any lofts weaker than this will leave a distance gap in your game. For example, if you hit your 3-wood 220 yards and a 21-degree hybrid 200 yards, you are missing 20 yards from your game.
That means that if you are 210 yards from your target, you must hit a soft 3-wood or force a 21-degree hybrid. Once you have figured that out, you must assess your irons' situation.
Those with a 25-degree 5-iron may need to include a 21 or 22-degree hybrid. Without this club, you will have a distance gap.
Shaft
The shaft you select for your hybrid impacts your launch, spin, and accuracy. This is especially true when buying women's hybrids or hybrids for seniors. When you use a too-stiff shaft for your swing speed, you may struggle to consistently launch your shot and get your clubface square at impact.
Conversely, if your shaft is too flexible for your swing, you may generate excess spin and balloon your shots.
Golf Magazine research shows that players with swing speeds above 105 mph are suited to extra stiff shafts. Furthermore, swing speeds between 97 and 104 mph function better with a stiff shaft. However, 84 to 96-mph swing speeds are best for a regular flex.
Consider a senior flex shaft if your swing speed is below 84 mph. Should that still be too stiff, look at the highly flexible ladies' shaft to produce higher ball speeds.
Turf Interaction
For optimal performance, a hybrid needs superb turf interaction. This feature helps the clubhead glide across the turf to promote a clean strike from any lie on the course. Even if you are in the rough, the clubhead makes its way to the ball and delivers a high, powerful launch.
Manufacturers achieve this with precise sole geometry that propels the club head through the turf rather than digging into the dirt.
Landing
Since many amateurs use hybrids in place of long irons, the ball must produce a soft landing on the green. The low center of gravity (CG) promotes a high launching shot, with a controlled descent for a soft landing.
Ensure that your hybrid produces these results. Otherwise, you will have minimal control on long approach strikes and par 3 tee shots. Therefore, your ball may roll off the green.
FAQs
Who Makes The Best Hybrid Golf Clubs in 2023?
The best hybrid golf club of 2023 is the Titleist TSi3 Hybrid. It offers a nice balance between accuracy and distance. Players can easily work the ball left or right with the sliding weight track and adjust lofts with the specialized hosel. Hit this hybrid out of the rough just as easily as the fairway.
What Hybrid Do Most Golfers Use?
Most golfers use a 3-hybrid to replace either their 3-iron or their 5-wood. Although this is hard to measure since there are so many types of hybrids, and their versatility is such that they can be used to replace many other clubs that golfers use.
What Is The Difference Between A Hybrid And A Fairway Wood?
The difference between a hybrid and a fairway wood is primarily size. A fairway wood is much larger, volume-wise, than a hybrid. This change in design means that fairway woods will go farther and produce more roll upon landing. It also means they cannot be hit as high as a hybrid, so holding greens can be a problem with fairway woods.
What Is The Difference Between A Hybrid And A Rescue Club?
The difference between a hybrid and a rescue club is nil. The term 'rescue club' was coined by TaylorMade way back when they first introduced their hybrids. Initially, it was marketed as a club that was easy to hit out of the rough from far distances. These days, hybrids are more versatile than that, and TM uses the term 'rescue clubs' less and less.
How Many Hybrid Clubs Should I Carry?
If you carry a 4 and 5-iron, I suggest carrying no more than one hybrid. You will want a club that bridges the distance gap between your fairway woods and long irons. Those who don't carry long irons may require at least two hybrids to compensate for distance gaps.
How Often Should I Buy A New Hybrid?
You only need to buy a new hybrid if you change your other clubs and, more specifically, the lofts of those clubs. Your hybrid loft should match accordingly to the clubs around it and the rest of the set. If you're younger, you will need to buy a new hybrid after significant growth spurts.
Conclusion
Hybrids are a forgiving, high-launching golf club that helps all golfers stay straight and long. Those struggling with accuracy, launch, and distance in your long game, should test a hybrid.
Here at GolfSpan, we do not hand out participation trophies; only one club is the winner. The top performer out of the best hybrid golf clubs in 2023 is the Titleist TSi3. Its distance, forgiveness, and turf interaction make it an ideal companion for low-mid handicappers. If you need help to hit straight long shots, you should look into the Titleist TSi3 line of hybrids.
Those who prefer more options should read our guide on the best hybrid golf clubs for high handicappers.