In this post, we take a look at products tested from Wisconsin-based Two Guys With Balls in our Two Guys With Balls Review. Let's see how their used golf balls perform.
Premium quality golf balls are an incredible creation and are attractive to golfers across the board. However, given their higher price tag and the average golfer's tendency to donate balls back to The Gods, these balls are not a viable option for most.
The solution to this conundrum comes in the form of used golf balls. That way, you can play with the best golf ball brands and not break the bank.
Introduction To Two Guys With Balls
At first, it was used golf balls that I was interested in. But, when I saw their tongue-in-cheek name, Two Guys With Balls instantly had my attention. In essence, the business was started by two average golfers to serve the needs of the rest of us average golfers.
They were also tired of throwing money away every time they hosted a $4 urethane-covered ball into the woods. So, they set out to rectify this problem by foraging golf balls, polishing them up, and giving them the white round objects a new lease on life.
The golf balls that they source range from practically new Pro V1s to Srixon Soft Feel balls with a few imperfections.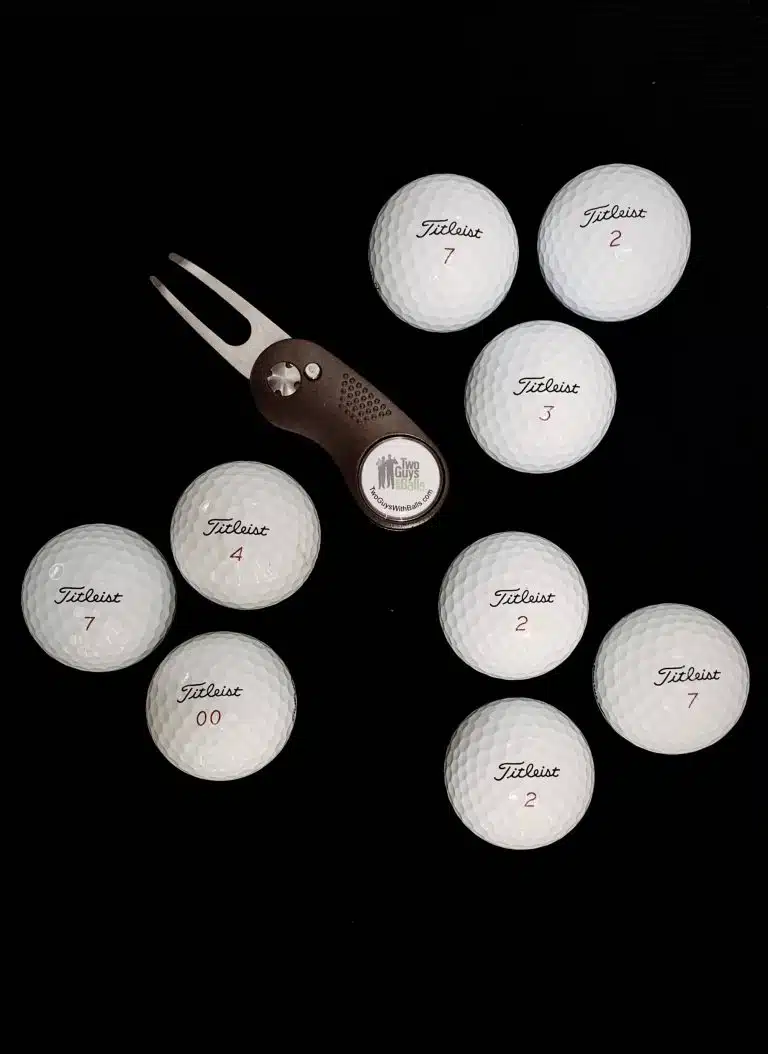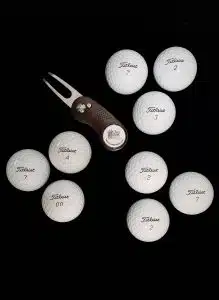 Ball Grading Scale
The company uses a straightforward method to grade their balls, ideal for the average golfer who is not interested in long-wounded marketing jargon. Balls are divided into three categories, eagle, birdie par.
Eagle
As you can imagine, the eagle-grade balls are their premium options. These balls have very few blemishes if any, and still contain the oil from when it was packaged into its original sleeve. The poor golfers who lost these balls did so in record time.
Eagle grade balls are meant to deliver the same flight and overall performance that you would get from a new golf ball. If you are a lower handicap golfer, this is the grade of ball that you want to stick with.
Birdie
Birdie-grade balls are still in good shape, although they contain more scuffs than you would find on the eagle quality balls. However, they perform as they should. Birdie balls are better suited to mid and higher handicap players who aren't concerned about the appearance and feel of the ball.
Par
Par balls do contain noticeable blemishes and discoloration, but it does not impact the performance of your golf ball. These are the most affordable of the three grades of golf balls and are handy for beginners who need quantity over appearance and quality.
Golf Ball Brands
Two Guys With Balls offers a wide variety of different golf ball brands to choose from. Titleist, Callaway, TaylorMade, Srixon, and Vice are but a few of the brands you can choose from on their online store.
Purchasing Procedure
Two Guys With Balls offers a simple process for you to acquire as many golf balls as you need. When you head over to twoguyswithballs.com, you will be greeted with a wide selection of golf ball options. The featured products are on the landing page. But if you prefer, you can shop by your preferred brand.
Once you have found your desired golf brand, you need to select the grade of the balls. As I mentioned earlier, the three grade options are eagle, birdie, and par. In my case, I opted for a dozen of each grade so that we could conduct a thorough test.
Upon selecting the grade and quantity of balls, add them to your cart and then click the pop-up cart button at the bottom right of the page. Fill out your shipping and payment details, and your balls will be en route.
Customer Service
It is worth commending the Two Guys With Balls team for their outstanding customer service. They kept in constant contact to ensure I had received my order. I received a notification when the balls went out, and then another two checking in to see if I had received my order.
Due to the ongoing pandemic, the postal service was a bit delayed in getting the order to me, but that was out of the control of Two Guys With Balls. They did everything they needed to get my order to me and were helpful and professional at all times.
Rewards and Offers
Besides giving golf balls a new lease on life, the online retailer offers several loyalty rewards. If you happen to be a retiree, veteran, or active serving member of the military, you will be eligible for a 10% discount on your purchase.
Furthermore, for every $1 that you spend on the site, you will receive 10 points. 500 points are equal to one dollar in real money.
Finally, Two Guys With Balls prides themselves on their unbeatable pricing for used golf balls. So much so that if you find that the same product is sold by another reputable retailer for less. They will give it to you for 10% less than what was offered by their competitor.
Eagle vs Birdie vs Par Grade Balls
Now that you are more acquainted with Two Guys With Balls, it is time to look at how their balls performed out on the course. I have given feedback on four factors that are vital to consider when purchasing golf balls. These are the look and feel, performance, durability, and price.
Having played with Pro V1x for over a decade, I thought it made the most sense to stick with the brand for this test.
Look and Feel
I am sure that it comes as no surprise that the higher grade eagle golf balls look and feel the best. They contained minimal blemishes and were still as oily as a new ball coming out the sleeve for the first time. Furthermore, the feel of the ball at impact against the clubface is smooth, and at times, I didn't even feel it hit the clubface.
The birdie balls were a close second to the eagle grade, as they too were in good condition. Although there was a slight discoloration, which is natural over time, you cannot argue when you pay $1.75 for a Pro V1x.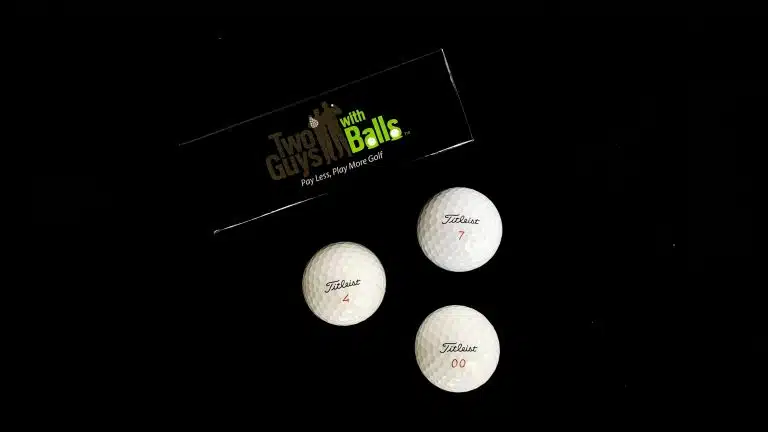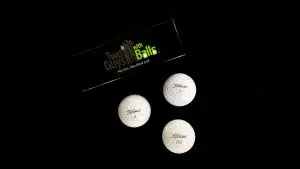 The par balls were more worn on the surface, as they had noticeable scuff marks and were discolored.
Performance
While you may be able to determine the grade of the balls by their look and feel, it becomes more challenging to differentiate them in terms of performance. I have broken down the performance of the balls from tee to green.
Off The Tee
I enjoyed a moderate level of spin on my drives with all these balls. During the test, I bombed 5 drives with an eagle, birdie, and par ball. My average carry with the eagle ball was 270 yards. While my average total distance was 273 yards.
The birdie ball delivered similar results with the exact same average carry as the eagle ball, but with a total distance of 272 yards. Finally, the par ball only carried 260 yards, but it ran for 10 yards more, giving me an average total distance of 270 yards.
From The Fairway
I tested the performance of each ball from the fairway by hitting five 6-iron shots. The eagle ball carried an average of 162 yards and delivered a total distance of 164 yards. The spin levels were as high as I would typically experience with a new Pro V1x. This was corroborated by the minor 2 yards of roll that I received.
The birdie grade ball provided an average carry of 163 yards and rolled only 1 yard further to give me a total distance of 164 yards. Equal to that of the superior eagle-grade ball.
Finally, the par grade ball continued to roll further than the other two balls. Overall, I managed to carry 156 yards, leading to a total of 162 yards.
There is no doubt that the eagle and birdie grade balls offer superior bite into the green, ideal for target golf.
Around The Green
When it came to chips, pitches, and bunker shots, the eagle balls were the star of the show. I was able to get the ball up close to the pin and stop it quickly. This proved that the shot-stopping ability of a new Pro V1x lives on in the used version of the ball.
For the most part, the birdie grade ball performed on a par with the superior eagle option when it came to spin and control around the green. However, the par grade balls struggle to bite as quickly as their birdie and eagle counterparts.
On The Green
The eagle and birdie grade balls delivered a smooth feel off the putter face and provided a true roll. These qualities would be welcomed by any low handicap golfer. The par quality golf balls delivered a clicking sound at impact, which could be from scuff marks and imperfections which have worn away the soft urethane cover.
Durability
After testing the balls, I played nine holes with the three different grades. The eagle grade golf balls offer the durability you would expect from a new sleeve of Pro V1x golf balls, while the birdie grade seemed to hold its shape and form over nine holes.
I noticed that the par grade balls started to wear slightly more than their original form, but only after the 6th hole.
Price
Although used golf balls carry several advantages, their biggest drawcard is the affordability of the balls. A dozen eagle-grade Pro V1 X balls run you a mere $29.99 per dozen, compared to the $50 you pay for a new box on Titleist's website.
Birdie grade balls will set you back $20.99 per dozen, while they only ask for $16.99 for 12 par balls.
As you can see, their prices are incredibly affordable and offer an excellent alternative for those of us that want premium quality balls but don't have deep pockets.
Final Thoughts
So, after going through the process of purchasing balls on twoguyswithballs.com and testing their eagle, birdie, and par grade balls, The question remains, are used balls any good, and should you try Two Guys With Balls? My suggestion is yes, and yes.
The quality of their eagle and birdie balls is exceptional. They perform the way a new ball does and are an affordable alternative to a brand new box. Low handicappers may extract more value from eagle-grade balls. However, I recommend mid to high handicappers use their birdie grade balls.
If you want to save on your Pro V1 or Pro V1X addiction, you can save some loot by purchasing them here.
Related Articles
Nick Lomas is the founder of GolfSpan, an avid golfer, not quite a pro but has over 15-years of experience playing and coaching golfers from all over the world. His mission is to bring the golfing community a better experience then it comes to choosing the right golf gear, and finding the right set up for your game.