Growing up in a subtropical climate, an umbrella was vital to getting me through a round of golf. If it wasn't above 95-degrees, there were torrential downpours that I needed to overcome. Based on my experience with bumbershoots, I am unveiling the best golf umbrella for 2023.
Aside from the best overall pick for this year, I have included the best golf umbrellas from each category winner. These include the best umbrellas for wind, rain, and sun protection.
The 3 Top Golf Umbrellas For 2023
 

Best Overall
Best Budget
Best For Sun And Rain

 

Callaway Golf Tour Authentic Double Canopy

TaylorMade Single Canopy

ACElken Automatic Open

Pros

Durable, lightweight umbrella

UV protection

Comfortable, ergonomic handle

Affordable

Water-resistant

Comfortable ergonomic grip

SPF 50+ protection

Well priced

Automatic open function

Water-resistant material

Large canopy

Cons

Moderately expensive

Only available in a single color

Only available in one color

Minimal alternative sizes offered

It does not offer the option of a 54-inch canopy

Short life span

Price Score

88.8

95.3

92.3

Material

90.2

86.8

90.5

Rain Protection

94.6

90.4

90.6

Wind Protection

93.1

88.2

89.6

Sun Protection

93.1

88.9

95.4

Rating

4.5 Stars

4.5 Stars

4.5 Stars
Why You Should Trust Us
Our team spends thousands of hours trying out and researching golf equipment to help you take your game to the next level. Here's our product review process.
We can bring these reviews to you through the small commissions we earn if you buy through the links below. 
How We Reviewed These Products
Golfspan only shares equipment and brands we trust. 
I'm an experienced golfer of 28 years and I thoroughly researched and evaluated the products shared below. Then an editor reviewed and fact-checked the list. Finally, we conduct regular content audits to update and revise our reviews to ensure you receive the latest information. 
To select these umbrellas, we considered these criteria:
Cost
Durability
Comfort
Water resistance
Wind resistance
UV protection
Colors
The 14 Best Golf Umbrellas for 2023
Pros
Durable, lightweight umbrella

UV protection

Comfortable, ergonomic handle

Automatic push button to open

Wind-resistant
Cons
Moderately expensive

Only available in a single color
Size: 68 inches
The Callaway Tour Authentic Double Canopy claims top honors in our 2023 best golf umbrella reviews. It combines a durable, lightweight fiberglass shaft to withstand high winds and a sun-protective coating for optimal coverage.
A 68-inch double canopy offered superb protection in the sun and rain, and the material proved highly durable. Its robust fiberglass shaft is paired with innovative ventilation holes, prompting the wind to flow through to prevent buckling.
Next, the UV 50+ coating effectively shielded my delicate skin from harsh rays. It makes itself a worthy candidate for players demanding maximum protection from the sun for 18 holes of golf.
Besides its protective qualities, the durable Tour Authentic Double Canopy provides a comfortable hold on the brolly. Its ergonomic non-slip handle made it easy to control and hold for extended periods.
Lastly, the automatic push button allowed me to deploy the umbrella rapidly and without hassle.
Rating: 4.5
Pros
Affordable

Water-resistant

Comfortable ergonomic grip

Stylish design

60-inch arc
Cons
Only available in one color

Minimal alternative sizes offered
Size: 60 inches
Golfers on a budget can enjoy shelter in wet conditions with the black TaylorMade Single Canopy umbrella. It beats the other affordable top-rated golf umbrellas for its comfortable grip, stylish look, and water resistance.
My favorite feature of this golf umbrella is the extremely comfortable handle, crafted from rubber. The ergonomic sport-grip design provides superior traction in the wet and a pleasant hold as you walk between shots.
A release button is positioned above the handle, which makes it convenient to release the canopy without getting my hands in the way.
The water-resistant nylon material repels raindrops as they land to keep you dry in the rain. However, extended exposure to the downpour can cause water to penetrate the canopy and start dripping onto you.
The biggest downside of a single canopy umbrella is its struggle in high winds. If the shaft is not durable, the canopy caves. However, the TaylorMade design holds up surprisingly well.
Rating: 4.5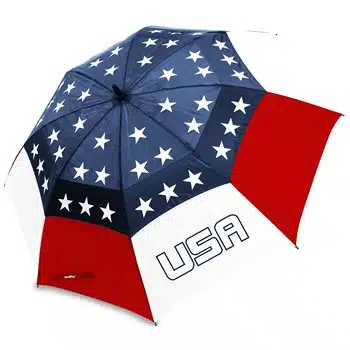 Pros
Optimal wind resistance

Durable fiberglass shaft and ribs

Non-slip grip

Protects from the sun

Affordable
Cons
The 62-inch arch is smaller than other designs

No alternative patterns or colors
Size: 62 inches
The wind is the reason I rarely use an umbrella. Growing up, I operated with multiple steel rib and shaft umbrellas, and when the breeze gained speed, the umbrella would give way. The Bag Boy USA Wind Vent showed me that umbrellas can hold in the wind while protecting your eyes from oncoming debris.
A vent system is applied to the double canopy design, encouraging airflow through the umbrella without inverting it. A reinforced fiberglass shaft, hub, and ribs prevent inversion, adding to its stability.
Bag Boy is confident the umbrella can sustain winds as high as 70 mph, but I advise playing golf in those conditions. Besides its exceptional wind-resistant capabilities, I found the material offers water resistance and sun protection.
I appreciated the cushioning of the non-slip ergonomic grip, which proved comfy and enhanced my control of the umbrella in gale-force gusts. Lastly, the umbrellas feature the USA flag, perfect for a patriot. However, some golfers may desire a more simple design with fewer patterns.
Rating: 4.1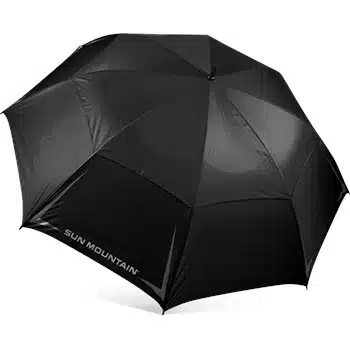 Pros
Built to fit Sun Mountain push carts

Wind resistant

Highly durable ribs and shaft

Moderately affordable

Shields from UV rays
Cons
No wider arched designs

The colored canopies offer less sun UPF protection compared to the silver design.
Size: 62 & 68 inches
The challenge with wider arched golf umbrellas is their inability to fit in push cart umbrella holders. The Sun Mountain 68-inch construction is built to slide seamlessly into the umbrella holders on the brand's push carts, separating it from your golf clubs.
The UV Manual tall golf umbrella for pushcart owners reaches 40 inches tall when fully extended. I find it allowed me to lift it higher over my head, creating an expanded shade zone. In addition, it carries a windproof spring construction to prevent inversion in high gusts.
Adding to its wind-resistant abilities is its double canopy design, which allows air to filter through without applying excess pressure on the ribs. Plus, the fiberglass ribs and shaft resist the wind effectively and remain stable in action.
Sun Mountain crafts the UV Manual umbrellas in many colors and patterns to suit every taste. Remember that the silver design delivers UPF60+, while the remaining options are reduced to UPF30+.
Lastly, a rubber-covered slip-resistant handle gave me maximum traction in the heat and rain, enabling me to maintain control of the umbrella. 
Rating: 4
Pros
Water-resistant
Durable frame
Wind resistant
Automatic open function
1-year guarantee
Cons
Its performance in gale force winds remains to be seen.
Sizes: 47, 54, 62, & 68 inches
The G4Free Automatic Open umbrella is a great product for 2023. It features an SPF 50+ canopy that is also water-resistant and has a durable fiberglass frame.
SPF 50+ protection shields your skin from 98% of type B ultraviolet (UVB) rays to lower your risk of sunburn when out on the links.
If the weather turns and your glorious day shifts to rain, the 210T pongee fabric provides water resistance to keep you and your clubs dry. Plus, the tough fabric keeps you sheltered, even in hail.
Additionally, the combination of a sturdy fiberglass frame and double canopy increases the umbrella's durability. In windy conditions, the flexible nature of the frame lowers the risk of damage. G4Free suggests that the umbrella is practically windproof. However, in gale force conditions, it may meet its match.
Finally, this gamp opens automatically to shelter you instantly and comes with a one-year warranty.
In conclusion, this G4Free Automatic Open umbrella covers you in all conditions and is priced moderately for the features. Therefore it is well suited to golfers who have the luxury of playing in rain, wind, or shine.
Rating: 4.5
6. Cleveland CG – Best Double Canopy Golf Umbrella
Pros
Enhanced wind resistance

Comfortable handle

Simple design

Water-resistant

Moderately affordable
Cons
It is only available in one color

Minimal alternative sizes
Size: 62 inches
The Cleveland CG Black umbrella carries a simple design and a moderate price but ticks all the boxes for a quality double canopy design. Its 62-inch arch sports an exceptionally comfortable handle and an efficient wind-venting design.
Cleveland engineers applied a nifty wind-venting internal cord design, preventing the umbrella from inverting. Instead, the wind flows through the interior to keep you cool on a warm day, leaving the ribs unscathed.
In addition, a molded handle offered ample grip in all conditions, producing a slip-proof performance to combat rain and sweat. Besides its impeccable performance, it features a simplistic design. A plain black background boosts the  "Cleveland Golf" font printed in white.
Lastly, the nylon material proved waterproof and shed light raindrops from the canopy to keep me dry in the rain.
Rating: 3.5
7. G4Free Heavy Duty – Best Budget Large Golf Umbrella
Pros
Affordable
Water-resistant
SPF 50+ protection
Wind resistant
Opens rapidly
Cons
Sizes: 54, 62, & 68 inches
Budget umbrellas and low-priced golf bumbershoots are two different stories. Golf umbrellas are wider and offer more diverse protection. The G4Free Extra Large design is our top pick for the best budget large golf umbrella.
Like our best overall pick for 2023, this design features SPF 50+ and water-resistant material, combined with a solid fiberglass frame. The SPF 50+ fabric blocks out 98% of UVB rays, making it a force to be reckoned with in sunny conditions.
Conversely, the design team employed 210T pongee material to ensure optimal water resistance in the wet. Although this umbrella is supposedly wind-resistant, it does struggle in extremely windy conditions.
In addition, it features an automatic opener to bring you immediate protection and a one-year guarantee.
This G4Free Heavy Duty umbrella protects you in all conditions and is highly affordable. As a result, it best suits those golfers looking for maximum protection on a budget.
Rating: 4.5
Pros
SPF 50+ protection
Well Priced
Automatic open function
Water-resistant material
Large canopy
Cons
It does not offer the option of a 54-inch canopy
Short life span
Sizes: 62 & 68 inches
Those who have the fortune of playing in sunny weather need a golf umbrella with optimal UV protection. The ACElken Automatic Open tops our lists as the best umbrella for sun protection, thanks to its SPF 50+ material.
The employment of Pongee 210T micro-weave fabric works to block out 98% of the sun's rays and resists the build-up of water.
Furthermore, a double canopy combines with a fiberglass frame to increase the umbrella's strength. That helps it resist caving in high winds.
An automatic open function gets the canopy up and running fast for increased comfort. Plus, the company offers a lifetime replacement guarantee.
This umbrella handles well in wind, rain, and snow. However, it truly thrives in the sun. As a result, this suits golfers who play in sunny conditions more than anything else.
Rating: 4.5
9. Ping Single Canopy – Best Single Canopy Golf Umbrella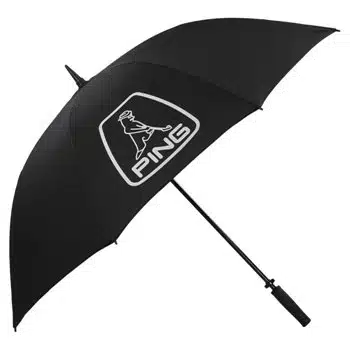 Pros
62-inch arch

Waterproof material

Optimal UV protection

Comfortable foam handle

Simple release deployment button
Cons
Expensive for a single-canopy umbrella

Only available in one color
Size: 62 inches
Single canopies struggle to resist high winds for extended periods compared to their double canopy peers. However, the Ping Single Canopy performed better than others in the category and offered waterproof material.
The umbrella extends 62 inches to offer ample coverage to players and their golf clubs. That is handy when caught in a downpour and wish to protect your bag, shafts, and grips from getting wet.
Staying on topic, Ping applied highly waterproof fabric that absorbs moisture and traps it. This prevents water from trickling down onto you and your equipment. However, torrential rain can defeat the waterproof material and eventually breach the barrier.
The material also shielded my skin from the sun, keeping me burn-free. Despite applying sunscreen to my pasty skin and using an umbrella, I often walk off the links with a mild sunburn. However, the Ping Single Canopy ensured protection throughout my round.
Finally, the comfortable foam handle on the single canopy umbrella increased my control for stability in windy conditions.
Rating: 4.5
Pros
Optimal durability
SPF 50+ material
Rainproof
Windproof
Auto open button
Cons
Sizes: 54, 62, & 68 inches
There is nothing more annoying than playing golf in the rain. I paid my dues as a junior playing in rain-plagued tournaments. To beat the wet, you need a rainproof umbrella that handles the forces of nature.
The Gonex Extra Large umbrella ticks all the boxes. It is durable, rainproof, windproof, and offers SPF 50+. No matter the forecast, this umbrella keeps you dry and comfortable.
Its rainproof qualities stop water from seeping through the material and drenching your hair and clothes. In addition, the durable frame pairs with 8-reinforced ribs to prevent the umbrella from flipping up and breaking in the wind.
Lastly, an automatic open button is included to get the canopy up and cover you in minimal time.
As far as umbrellas go, this is a premium product and best caters to those golfers with spare capital lying around. It also makes sense for golfers who live in high rainfall areas and are bound to get wet on the course.
Rating: 4
Pros
Wind resistant design
Affordable
It does not conduct lightning
Automatic opening
Lightweight, fast dry material.
Cons
The material can only handle light rain before water leaks through.
Sizes: 54, 62, & 68 inches
High winds are what put me off from using an umbrella. In my 28-years of playing this game, I have broken countless bumbershoots in high wind. The sight of the canopy flipping up and damaged ribs is why I gave up on these products for years.
Fortunately, products like the Bagail Double Canopy sport a strong frame, preventing you from suffering the same fate. For that reason, it claims the top spot as the best golf umbrella for wind.
190T pongee is the fabric of choice for this product offering a lightweight and quick-dry design. However, in heavy rain, the water eventually bypasses the resistance. Causing it to drip onto you.
Despite the shortcoming of the fabric, the flexible fiberglass frame resists snapping to keep the umbrella in shape. Plus, the construction encourages wind to pass through the canopy, reducing pressure on the ribs and fabric.
Ultimately, this umbrella is well crafted for windy conditions and suits those living in areas with constant wind.
Rating: 3.5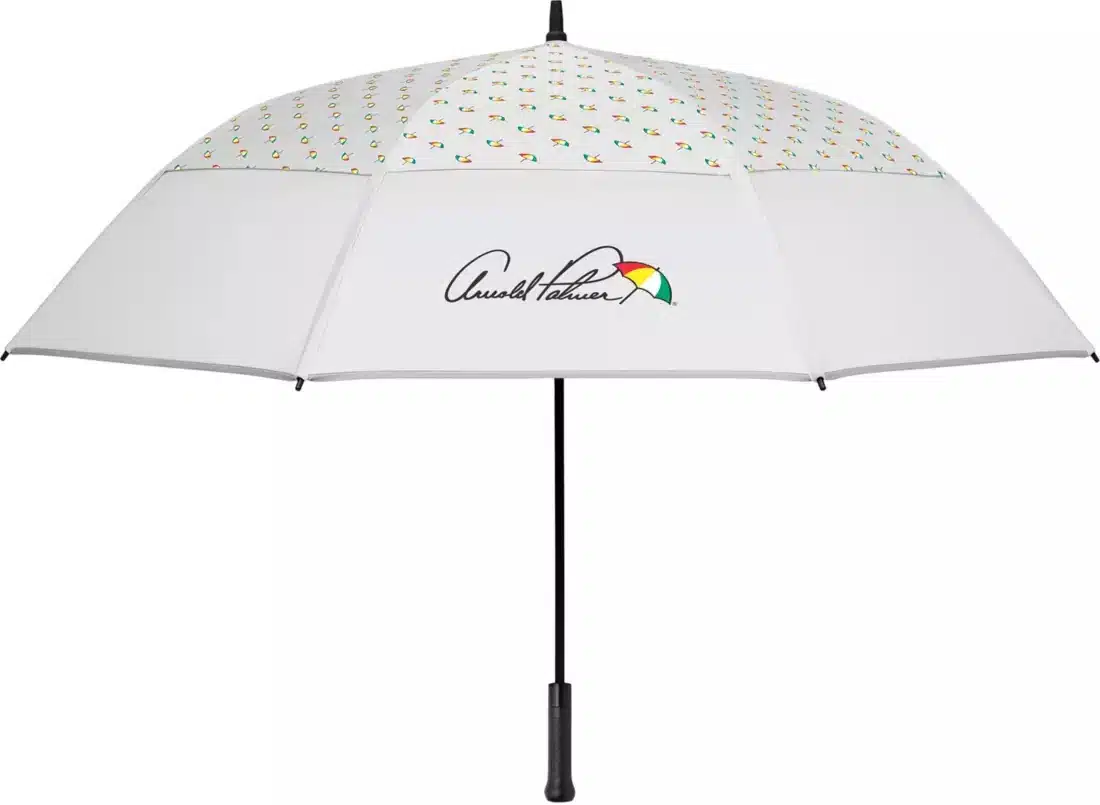 Pros
UPF 50+ sun protection

Water repellent material

Sustains wind speed up to 55 mph

Durable construction

Premium quality
Cons
Expensive golf umbrella

It does not fit in the umbrella holder on golf push carts
Sizes: 62 & 68 inches
The Weatherman Classic Arnold Palmer umbrella is a high-end design built for golfers demanding maximum protection from the sun, or wind and rain. Its double canopy design features a robust fiberglass shaft and a silicone-coated rib for optimal shielding from wind, rain, and UV rays.
Off the bat, the Classic Arnold Palmer remained untouched in high wind, keeping its shape to protect me. I only experienced 20 mph winds, but I believe it can take on higher speeds, as Weatherman suggests.
Next, it offered maximum shielding from UV rays, thanks to its UPF 50+ barrier. I appreciate this protection as my skin roasts rapidly, and the umbrella with Arnie's name keeps me burn-free on the golf course.
Its water-repellent material also delivered a quality performance wielding off raindrops to keep me dry in heavy rain. Lastly, Weatherman installed mesh pockets on the unit to store valuables during your round.
Rating: 4.5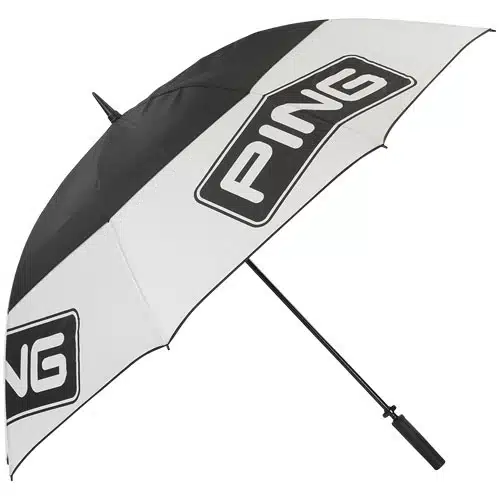 Pros
Waterproof material

Shields against sun rays

Wind resistant

Comfortable handle

68-inch arch
Cons
Moderately expensive

Only available in one color
Size: 68 inches
Ping engineers constructed the Tour umbrella to withstand copious quantities of water hitting its durable material. It stood out during testing as a good golf umbrella for players who operate in high-rainfall areas.
Besides its impressive waterproof qualities, the umbrella sports Ping's famed logo and a dual black and white canopy. It's a simple look that stands out and is enhanced by the 68-inch arch, wide enough to fit two adults.
In addition, the canopy material is efficient in blocking UV rays and protecting your skin from the sun. Despite favoring it for wet conditions, it proved it holds its own against the big fiery ball in the sky.
The Ping Tour umbrella continued to surprise when it exhibited its skills against the wind. It flowed through the umbrella without collapsing the structure and shielding my eyes from flying dirt, grass, and debris.
The Tour umbrella carries a foam handle, which is comfortable, ergonomic, and optimizes grip.
Rating: 4.3
14. Haas-Jordan Ladies – Best Golf Windproof Umbrella For Ladies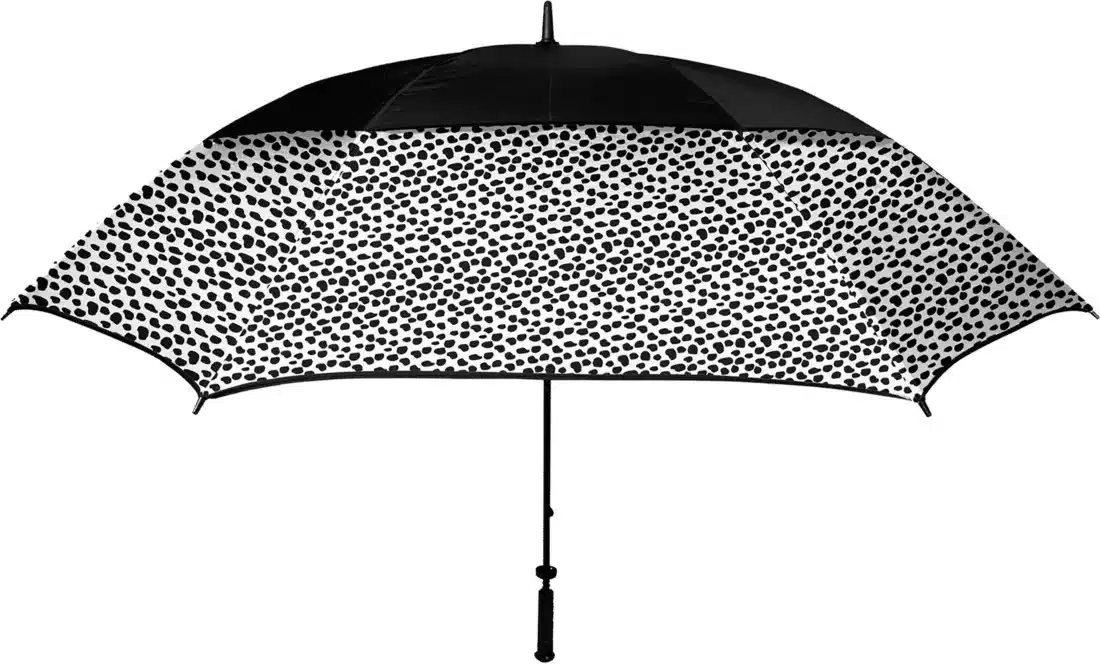 Pros
Stylish patterns

62-inch arch

Comfortable grip

Wind resistant

Affordable
Cons
Minimal alternative sizes

Only available in two colors
Size: 62 inches
We conclude our best golf umbrella review with the best umbrella for ladies. The Hass-Jordan Ladies Gold Umbrella offers two stylish designs and a comfortable grip for a pleasant experience in all weather.
My love for vintage attire attracts me to the plaid. However, my wife and her friends leaned toward the speckled dot design. Aesthetics aside, the Haas-Jordan construction means business with a robust shaft, ribs, and 8 vents around the canopy.
The strategically placed vents promote airflow through the umbrella, which breaks the gusts and protects the structure. In addition, its complete fiberglass construction was unmoved by the force of the wind.
Lastly, the 62-inch design offers sufficient coverage to you and your golf clubs and restricts exposure to sun rays.
Rating: 3.4
What Can I Use Golf Umbrellas For?
Sun
I recommend using an umbrella on hot days to reduce direct exposure to UV rays. I have learned the hard way, with multiple intense sunburn experiences and a recent telling-off by my dermatologist.
Many premium golf umbrellas are equipped with UV 50+ material or canopy coating to restrict sun rays. Deploying an umbrella for the round saves you from excruciating pain the following day and lowers your risk of onsetting skin diseases.
Rain
Golfers commonly use umbrellas when the rain starts bucketing down to keep apparel, grips, and valuables dry. Umbrellas with ergonomic grips and non-slip handles offer the best performance in the wet, ensuring stability and control of the umbrella.
In addition, golfers living in high rainfall areas should consider a brolly with waterproof material to withstand copious quantities of water. You can prepare for the most challenging conditions by learning about the best golf rain gear.
Wind
Finally, the best golf umbrellas handle smoothly in the wind without inverting and buckling the ribs. Golfers use umbrellas in the wind to protect their eyes and face from dust, debris, and other substances being flung about by the wind.
If you are prone to playing golf in high winds, I recommend looking at double-canopy umbrellas with wind vents. These brollies are designed to break the force of the wind and push it through the interior without inverting.
Another solution to protect your eyes is to wear a pair of the best golf sunglasses. Read our informative review to learn more.
What Should I Look For In A Golf Umbrella?
Weather Conditions
Your first task is to factor in the weather conditions you typically play in. In my case, I needed an umbrella for all seasons. One minute there were blue skies and roasting sun, the next moment, I might be trapped in a torrential downpour.
If you live in a high rainfall area, consider a design with an outer and inner canopy. The double layer of protection prevents water from breaching the material and soaking you.
Conversely, if you live in a warm climate, you might consider an extended second canopy to enhance UV protection.
In addition, those who live in windy surroundings need a highly wind-resistant option to avoid buckling to the breeze.
Material
There are two components of an umbrella, and the materials are vital to its performance. These are the stem and the canopy. From my experience, fiberglass stems are far superior and hold up well in heavy winds.
Then, you turn your attention to the canopy materials. You need a fabric that does not absorb water. The three materials used for canopies are nylon, polyester, and pongee. These materials can be stitched tightly to prevent any gaps for water to seep through.
These days canopies are often crafted from Pongee. The combination of silk and cotton makes it durable and enables it to dry quickly.
What Size Golf Umbrella Is Best?
The size of an umbrella refers to the radius of the canopy. Golf umbrellas are larger than other designs, offering maximum protection to you, your clubs, and your caddie. The smallest umbrella is generally 54-inches. Medium-sized options are a 62 is a 68-inch umbrella.
A 72-inch structure is typically the largest you will find. Remember that the wider your umbrella is, the heavier it weighs.
You could use a compact golf umbrella, but it does not provide the shelter that you enjoy from broader canopies. Therefore, a 68 or 72-inch umbrella is typically best for maximum coverage.
Weight
Golf umbrellas alone are not heavy, as they range from 1.3 to just over 2-pounds. However, you need to add the weight of your umbrella to your bag, clubs, apparel, and refreshments. Golf Magazine suggests that the total weight of your bag should never exceed more than 20% of your body weight.
For example, if you are a 170-pound golfer, your bag should not weigh more than 34-pounds.
Golf Umbrellas FAQs
What Is The Strongest Golf Umbrella?
The strongest golf umbrella is the Gonex Extra Large. It is windproof, rainproof and features a durable fiberglass frame with reinforced ribs.
What Is The Best Size For A Golf Umbrella?
A 62-inch golf umbrella is the best size. It provides ample cover from the rain, wind, and sun. Plus, it is light enough to not make a significant impact on the total weight of your golf bag.
What's The Difference Between A Single And Double Canopy Umbrella?
A single canopy contains one layer of material over the frame, while a double canopy provides two layers. The latter is often more durable and able to withstand the elements.
What Umbrella Does Tiger Woods Use?
Tiger Woods uses a 62-inch Nike Golf Windsheer hybrid umbrella.
Are Golf Umbrellas Waterproof?
The material of most golf umbrellas is water-resistant. However, the precise stitching of the fabric leaves no gaps for water to penetrate.
Do You Really Need A Golf Umbrella?
I spent years not using a golf umbrella because I found it difficult for them to stay intact in high winds. Therefore, you do not need an umbrella. However, having one improves the comfort of your round by keeping you sheltered from the sun and rain.
As a result, it is worthwhile having one in your bag.
How Do I Stop My Golf Umbrella From Blowing Away?
If you have a caddie, this is a simple fix. Hand your umbrella to your assistant in between shots. Those without a caddie can place the umbrella handle in one of your club compartments to keep it stable while swinging.
Final Thoughts
Whether there is rain or shine, you should have no problem keeping yourself sheltered from the elements with the best golf umbrellas for 2023. 
I did omit two categories, starting with the best compact golf umbrella, because I feel every golfer needs sufficient coverage to protect clubs, clothing, and valuables. Conversely, I also left out large golf umbrellas because these expansive canopies are not worth it for an average golfer.
That leads me to the overall best golf umbrella for 2023, the Callaway Golf Tour Authentic Double Canopy. It offered exceptional wind resistance, UV protection, water resistance, and a comfortable handle.