In 2020 golf sales increased by 12% from the previous year, driven predominantly by young people. Research outfit Small Vehicle Resource predicts that sales will grow by 20% more in 2021.
The new golf cart owner is looking to customize it. To turn it into a luxury, leisure vehicle. A far cry from those driven by our grandfathers. In this post, we are looking at the ten best golf cart accessories to help you pimp your ride, like the ones in this Bleacher Report.
From windshields to headlights and stripes to battery monitors, you will learn about the extras you can add to your vehicle.
Factors To Consider Before Purchasing Golf Cart Accessories
Is the Accessory Compatible With My Cart
Before you rush off to purchase new accessories, you must check if they will be compatible with your cart. If you are unsure, check with your local golf cart dealer. They will also happily help you fit it for a few extra greenbacks.
How Do I Make My Cart Street Legal?
Besides a minimum speed of 20mph, your cart requires various accessories to pass as street legal.
According to North Carolina-based J's Golf Carts, you will need to add head and taillights, turn signals, rearview and side mirrors, a windshield, seatbelts, and parking brake. Not to mention approved tires and a horn.
Once your vehicle is kitted out. You need to undertake the administration process to legally register the cart.
What Are The Best Golf Cart Accessories For Wet Weather
If you live in an area with high rainfall, it is worth fitting your golf cart with a windshield and windscreen wipers.
What Are The Best Golf Cart Accessories For Warm Weather
Golfers who play in warm climates may appreciate more luxurious accessories like a cooling system, such as Fresair. The downside of installing one of these systems is that you need to cut a hole in your roof. That could void any warranty from the cart manufacturer.
The Best Golf Cart Accessories That You Can Own
Golf Cart Air Conditioning System
While golf is best enjoyed in warmer conditions, the game becomes unplayable in high temperatures. Even if you have a cart, the heat will get to you. That is why I am a fan of golf cart air conditioners. Keeping cool in between shots will provide a more pleasant experience out on the course.
The downside to an air conditioner is that it does increase the rate at which your battery drains. Fresair has created a cooling system that only drains 10 Amps per hour at full blast.
Windshield
A windshield provides multiple benefits and is worth thinking about for your cart. WIndshields protect you from the wind, sun, rain, and bugs to enhance the enjoyability of your round in any condition.
I recommend fitting the windshield with wipers. Otherwise, you will have to look out the side of the cart to see where you are going in the rain. If you intend on making your cart street legal, it is mandatory to install a windshield.
If you are looking for a better idea of the windshield options available to you, you can view them here.
Mirrors
Standard golf carts are not fitted with mirrors, which is why it is advisable to add them to your vehicle. Side mirrors will help you turn and reverse safely, without damaging your cart or someone's body part.
Side mirrors are super affordable, and there are numerous designs at your disposal, as you see here.
Trailer
Although this is not an accessory that goes on your carriage, it is handy to help you move it around. If you frequently play different courses or like to take your cart on vacation, a trailer is necessary.
Light Kits
If the sole purpose of your cart is to use it on a golf course during the day, then you may not see the value of a light kit. However, if you wish to make your cart street legal or intend to drive it around your neighborhood at night. You are going to need a light kit.
To optimize your view at night and neutralize the effects on other drivers or pedestrians. Halogen or LED bulbs are recommended.
Those who are currently shopping for golf cart light kits can compare various options on this page.
Obviously, tires are the least glamorous but most essential accessory for your golf cart. Having spares on hand is always a good idea to reduce any downtime due to a busted wheel or punctured tire. In terms of value for money, you can pick up a set of four Antego Tires for an affordable price, ensuring you are always prepared.
It is unlikely that you will need to modify the height and stability of your cart to get around the golf course. However, it does give you the option to use your vehicle for other purposes such as hunting.If you are considering a lift kit, make sure that it works with your cart, as many products are compatible with only one cart brand. For example, this lift from Rhox only works on Club Car carts.
A cover is another necessary accessory for your golf cart. Whenever you are not using it, it helps cover it up, protecting it from the elements. Especially if it is parked outdoors. In this case, you need a waterproof cover to keep the cart dry through storms. A cover prevents dust from getting onto the seats and bodywork of the cart. Plus, it prevents rust and other corrosion that a cart endures when exposed. I use the Explore Land Universal Waterproof cover, which is durable, affordable, and consistent. If this sounds appealing, you can learn more about it here.
Knowing when to charge your cart can be challenging, especially for first-time owners. That is why it is handy to install a charge meter that lets you know how much battery life you have before the next charge. That saves you from charging the cart too early or running it down excessively.If a charge meter is appealing to you, I recommend looking into the Qiilu battery indicator. It is easy to understand, hassle-free to set up, and is an affordable product.
Skins and Decals
Once you have all the accessories that you desire, the final step is to apply the design of your choice. If you are happy with a generic design you can purchase the skin and decals online. However, if you have something more personal in mind, you can approach a graphic artist to design your setup.
Final Thoughts
Numerous products on the market can help you protect and pimp your golf cart. However, we focused on the most practical options. Our list of the ten best golf cart accessories is designed to help you optimize your vehicle's performance.
In conclusion, a golf cart no longer needs to look and feel dull. The market is packed with accessories, and you can design your vehicle the way you see fit.
Based on the accessories that we covered, which ones stood out for you? Do you see value in the air conditioning system, or would a charge meter make life easier for you? Maybe you would enjoy your cart more if it had a windshield?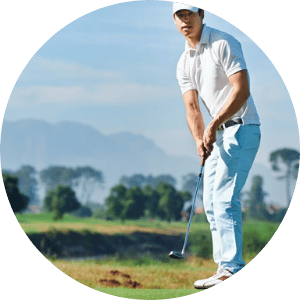 Nick Lomas is the founder of GolfSpan, an avid golfer, not quite a pro but has over 15-years of experience playing and coaching golfers from all over the world. His mission is to bring the golfing community a better experience then it comes to choosing the right golf gear, and finding the right set up for your game.