Golf is changing much quicker in recent years, and one of those changes is the pace of play. Many golfers agree that slow play hurts the game and makes for an unenjoyable experience. To solve that, the personalized golf scooter is here.
Allowing everyone to travel to their ball individually is the one thing that current golf carts can't compete with. You will have more time to figure out your yardage, select your club, and thus lower your scores.
Thankfully, these vehicles are more readily available than ever, and you may have already seen some of them zooming around your local course already. They offer the same comforts as the classic golf cart but with more customizable options and, of course, more speed.
More speed means playing more holes and making the most of those precious daylight hours. Take a step into the future and select one of the best golf scooters from below to start playing more golf than you ever thought possible.
Featured Top 3
A Quick Guide To Buying Golf Scooters
This is new territory for all of us. Only recently were we able to get our hands on these fantastic new products, and just like anything else, there is a small adjustment period. Take note of these factors to make your transition to a golf scooter smooth as silk.
Number Of Wheels
Start by deciding on how your golf scooter will be built. This has a significant effect on balance as well as appearance. The more wheels, the easier it will stand on its own.
Two-wheeled motorcycle golf carts can be tricky to park on uneven ground, but they are nimble and can fit through smaller spaces. They are also easier to transport should you wish to travel with them.
Three wheels offer more support when parking but may cause issues when driving on uneven ground. Drivers must be careful not to tip when taking sharp turns, but three-wheeled trike-style golf scooters are some of the coolest looking out there.
Four wheels are the ultimate in stability. This design stands on its own when parked and is the most versatile when it comes to navigating uneven surfaces. They also offer the least impact on the golf course since the weight is spread out over four tires instead of three or two.
Accessories
Ensure you're getting the most from your golf scooter by considering what is being offered. These little things will make a big difference when you're out on the golf course.
Cooler
Scorecard & pencil holder
Sand & seed bottle
Headlight
Cup holder
Phone holder
Storage for sweaters etc.
Battery Power
All golf scooters chosen for this list provide adequate power to last longer than 18 holes at a minimum; many will last much longer. Having said that, you should consider what type you normally play.
Those in mountainous regions with drastic elevation changes will drain the battery quicker than those who play on desert courses.
Your quantity of play will also factor into the decision. If you want to play 36 a day, choose a battery that can keep up with you. Check to see if you can get a second battery for your afternoon round to change out if you exhaust the first battery in the morning.
Price
As always, price plays a pivotal role in any decision we make. These golf scooters range from a couple of thousand dollars to many thousands of dollars. Before pushing the 'Buy Now' button, ensure you know exactly what all the taxes and service fees are involved.
It will also benefit you to read up on warranty and service options should something go wrong with your golf scooter. This could save you lots of money in the long run since the cost of golf carts can be very pricey.
Lastly, be sure to include shipping costs. When dealing with such large items, shipping costs can easily soar into the thousands. Be very clear on how the seller is planning to deliver your golf scooter before forking over any dough.
In-Depth Golf Scooter Reviews
Not all motorized golf scooters are created equal. While we tried to stick to two-wheeled options, some of the other products were really impressive and are worth mentioning.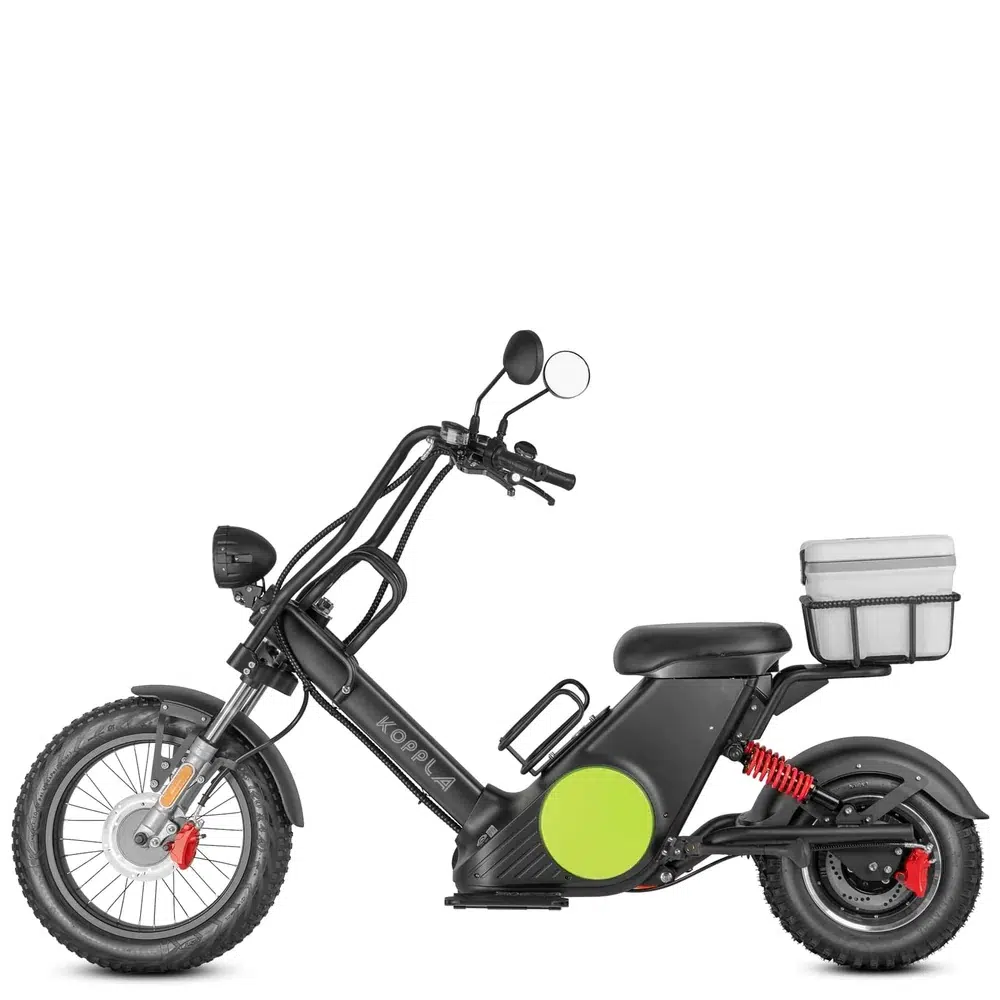 Pros
Durable construction
Powerful battery
Fat tire design for traction and stability
Comfortable seating
Includes headlight, cooler, and saddlebag
Sturdy kickstand
Cons
Golf bag may hinder view when driving
Rating: 5/5 Stars
Number of Wheels: 2
Bag Location: Front
Battery Power: 25Ah
Battery Longevity: 36+ holes
Top Speed: 27 mph
Sit Or Stand: Sit
I know this isn't a traditional "scooter," but it checks all the same boxes more efficiently and reliably. Its heavy-duty construction means you'll have this for a long time, and it's ready for any course conditions you can throw at it.
The fat tire design provides excellent grip and balance. Despite only having two wheels, it's surprisingly stable. Parking it with the sturdy kickstand is no problem, even with the added weight of your golf bag.
It's a comfortable seating position that allows you to relax while driving. It also serves off the course as well for hunting or surfing trips or just to get around town.
Under The Hood
Having one of the most powerful batteries is another excellent feature of this golf cart motorcycle. It will take you 40 miles on one charge, so it's ready for some hilly courses.
The powerful motor provides 2000W and 140Nm of torque to get you up any hill on any golf course. The max speed is listed as 27 mph, but we recommend not exceeding 20 mph, It's faster than you think.
The chassis is built more like a dirtbike with a durable foundation to house the 60V battery, which is also easily interchangeable. The sturdy chassis also supports a premium suspension system to glide down fairways without spilling your coffee.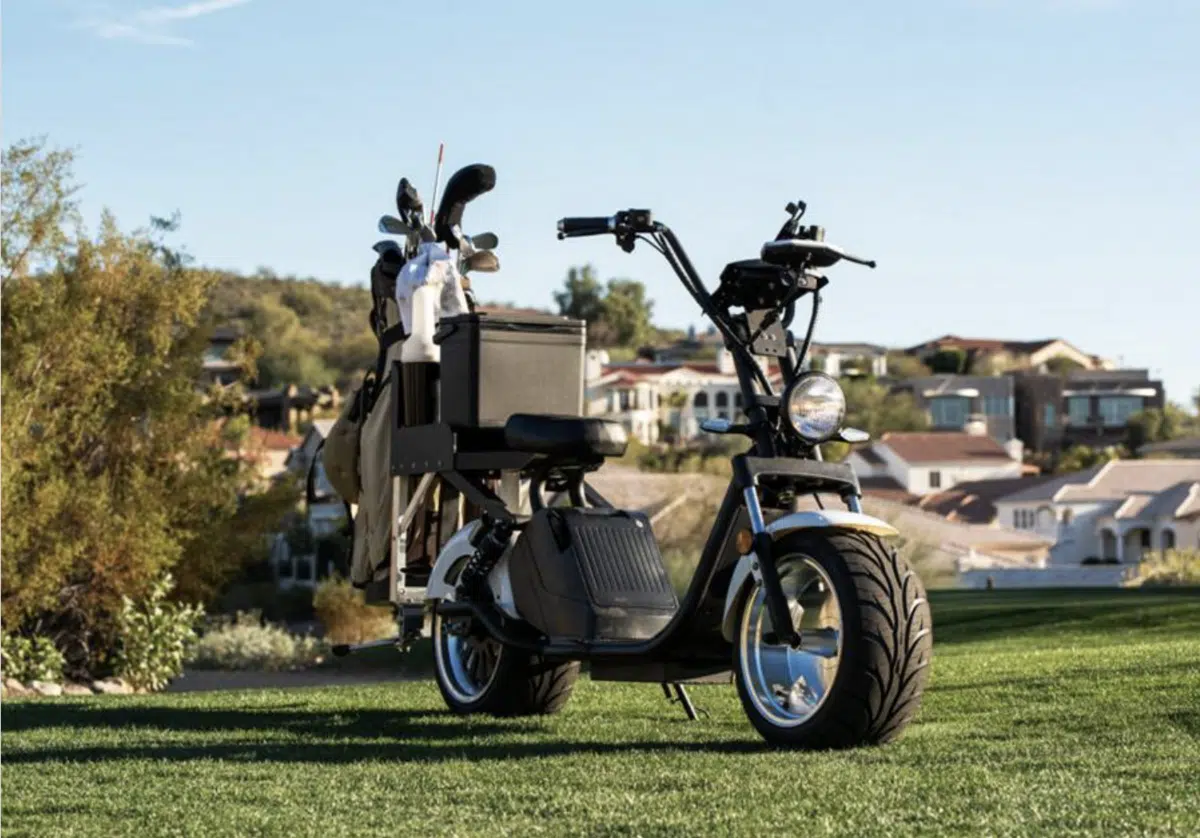 Pros
Rear-loaded golf bag
Fat tires design for balance and grip
Includes many golf-centric add-ons
Available in different colors
Quick swap battery change for optimal use
Cons
Not as stable as the Koppla Swift
Rating: 4.5/5 Stars
Number of Wheels: 2
Bag Location: Rear
Battery Power: 20Ah
Battery Longevity: 18+ holes
Top Speed: 15 mph
Sit Or Stand: Sit
Here's one that's a little closer to what a scooter should look like. This takes inspiration from classic European scooters or mopeds, as it allows you to sit comfortably while still being able to enter and exit easily.
The fat tire design is perfect for golf courses because it provides stability on uneven ground and can absorb shock on any unsuspected rough terrain.
This looks similar to the first entry, but the bag's location is the big difference; it's secured on the back. This makes it much easier to see while driving but does throw off the center of gravity a bit.
It also comes prepared for golf, specifically with its custom holders for a sand & seed bottle, drink, cooler, scorecard, pencil, and tee holders.
Under The Hood
For a golf scooter that only weighs 190 lbs, you get a lot of power. The waterproofed motor boasts a 3000W motor and 63V lithium-ion battery. This combination should get you going fast, but it's limited to 15 mph, probably a good thing.
The extra power can easily support one rider up to 300 lbs. plus a golf bag and whatever you can fit in the included cooler attachment. This one does take a bit longer to charge, needing 6-8 hours for a full top-up, but the powerful batteries are interchangeable, and each should be adequate for 36 holes.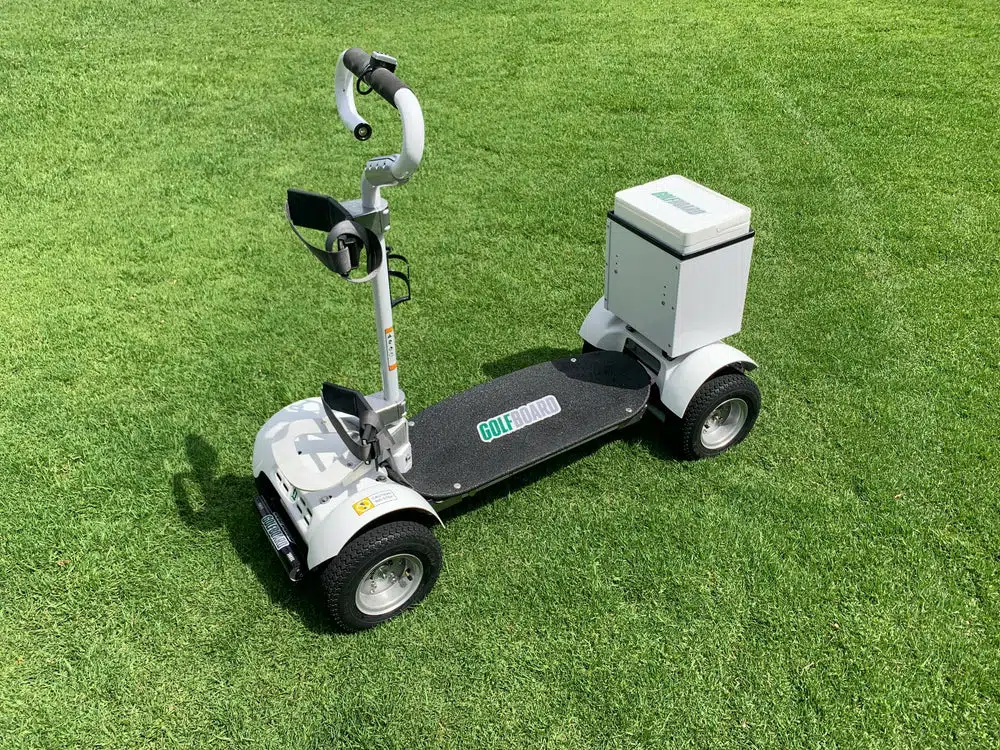 Pros
4-wheel design provides maximum stability
Unique "spring deck" offers balance and excitement
Heavy-duty chassis easily supports a rider, their bag, and the powerful batteries
Includes cooler and sand & seed bottle
Increase battery power from previous models
Cons
Minimal accessories (e.g., no cup/scorecard holder, etc.)
No headlight
Rating: 4/5 Stars
Number of Wheels: 4
Bag Location: Front
Battery Specs: 29.5Ah
Battery Longevity: 27 holes
Top Speed: 14 mph
Sit Or Stand: Stand
You may have already seen this electric golf bike on your newsfeed, as it has become quite popular recently. With players such as Bubba Watson seen using it, people are starting to embrace the idea that traditional golf carts might not last much longer.
This stand-only golf course scooter is by far the most stable out of all the golf scooters. It has an insanely low center of gravity, so there is virtually no chance of it tipping over.
The platform is affixed with flexible spring plates to absorb shock and also allow you to lean into turns. While these aren't for racing, they sure are fun to rip around on.
With the special tires, you don't have to worry about causing any damage. All of these golf cart scooters are made for the course, but this one seems to glide above the grass—which greenskeepers love.
Under The Hood
This is the V1.3 PRO, and we want to be clear on that because this one offers 48% more power than its predecessor, the V1.1. Their website can sometimes be a bit confusing, but the Pro version is the best option.
It also offers a higher clearance than the older models, which allows it to go a lot more places on the course. Even if you have a run-in with some rough terrain, servicing this golf scooter is made easy with external circuit breakers.
All of this research and development means you can travel at speeds up to 14 mph. This may not sound like a lot, but when you're standing, it's a whole different feeling. They have given us a wider wheelbase on the PRO version as well to improve balance and keep us safer.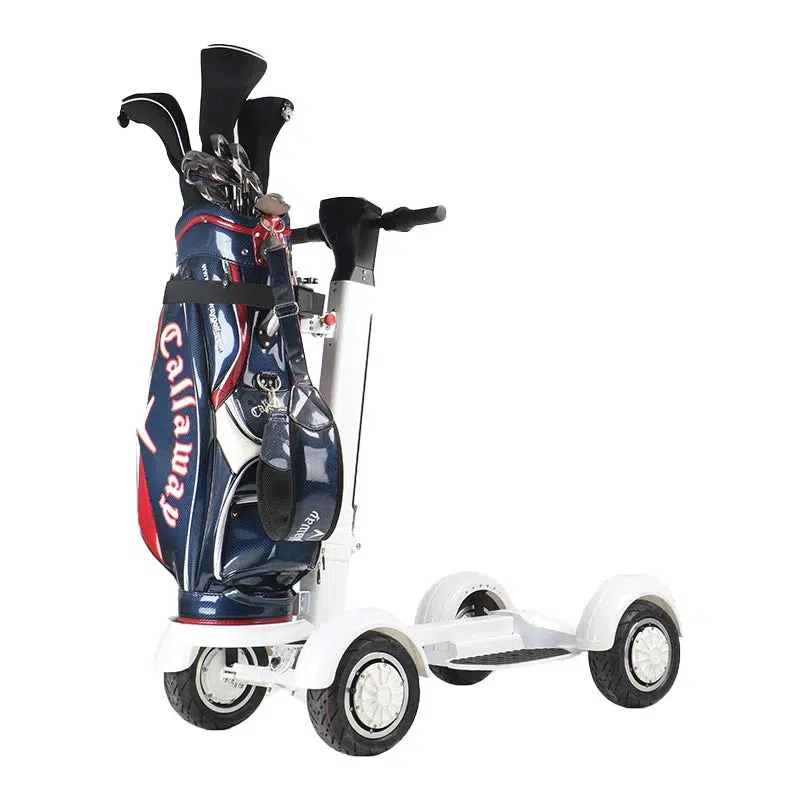 Pros
Stable and simple operation
Four wheels make getting on and off very easy
Folds up for easy transporting
LCD display screen keeps you updated on battery life, distance, and speed
Cons
Weaker battery may not be suitable for hilly courses
Rating: 3.5/5 Stars
Number of Wheels: 4
Bag Location: Front
Battery Specs: 30Ah
Battery Longevity: 27+ holes
Top Speed: 10 mph
Sit Or Stand: Stand
If the Golfboard is a little too "gnarly" for you, check out the simplified GSC Tourer. It takes many of the same elements that the previous golf electric scooter has but in a less extreme version.
The platform is stable and does not move with the motion of the golf cart scooter. It rides very similarly to how a traditional scooter would drive. However, it still capitalizes on the stableness of having four wheels.
It also comes at a much lower price than the more famous Golfboard.
This is a new product and is only starting to show up in the US. You can be one of the first to own what could be the next generation of the electric scooter golf cart.
Many golfers prefer the stand-up option to get as close to walking without risking any health issues. This cart also folds down into a compact size for easy transportation from one golf course to the next.
Under The Hood
This golf scooter is smaller than some of the others because it's made to fold up and fit in your SUV. It weighs only 80 lbs. being made from heat-treated aircraft aluminum. The majority of the weight comes from the dual motors that each produce 1000W of power.
The max speed here is only 10 mph, and you can count on 27 holes from one battery. But it's easily changed, so you can keep playing.
Unfortunately, the charging time is still quite long for these smaller batteries, and you will need 5-6 hours for a full charge. Always remember to charge them at night, and you'll never be caught without power.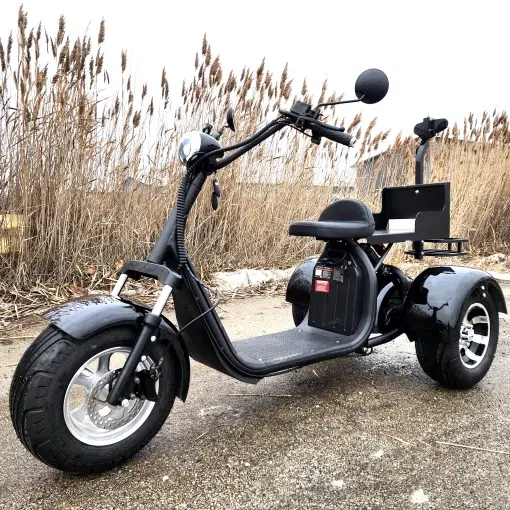 Pros
Tricycle design for maximum balance on flat ground
Plush seat is super comfortable
Rear bag mount for clear view of where you're going
Fat tires provide balance and reduce wear and tear on the course
Available in different colors
Cons
Not very stable on side hills
Rating: 4/5 Stars
Number of Wheels: 3
Bag Location: Rear
Battery Specs: 12Ah
Battery Longevity: 36+ holes
Top Speed: 15mph
Sit Or Stand: Sit
For those who want to be more comfortable out on the links, you need more than two wheels and a seat. This golf scooter cart has a unique 'tricycle' design that offers an efficient and laid-back vibe.
Starting from the ground up, the fat tires provide excellent traction across many different types of course conditions. This style of tire also takes great care of the course and imparts much less psi on the grass than other golf scooters.
Enjoy your day on the course with a large and plush triangle-shaped seat. This ain't no bicycle seat; it's made to be sat in for hours at a time, so go ahead and play that second 18.
Under The Hood
This 2000W motor gives a lot of power so you can play fast if you want to. It's fueled by a large 60V lithium battery that will last you for 36 holes. It also powers the LCD instruments that tell you your speed and battery status.
The construction allows for much more clearance than your average golf scooter and it has independent suspension for a smooth ride. The disk brakes are also outfitted in the front and back which are needed with a scooter this powerful.
Even the storage area on the back is built from thick gage metal to safely transport your golf bag with room to fit a small cooler as well.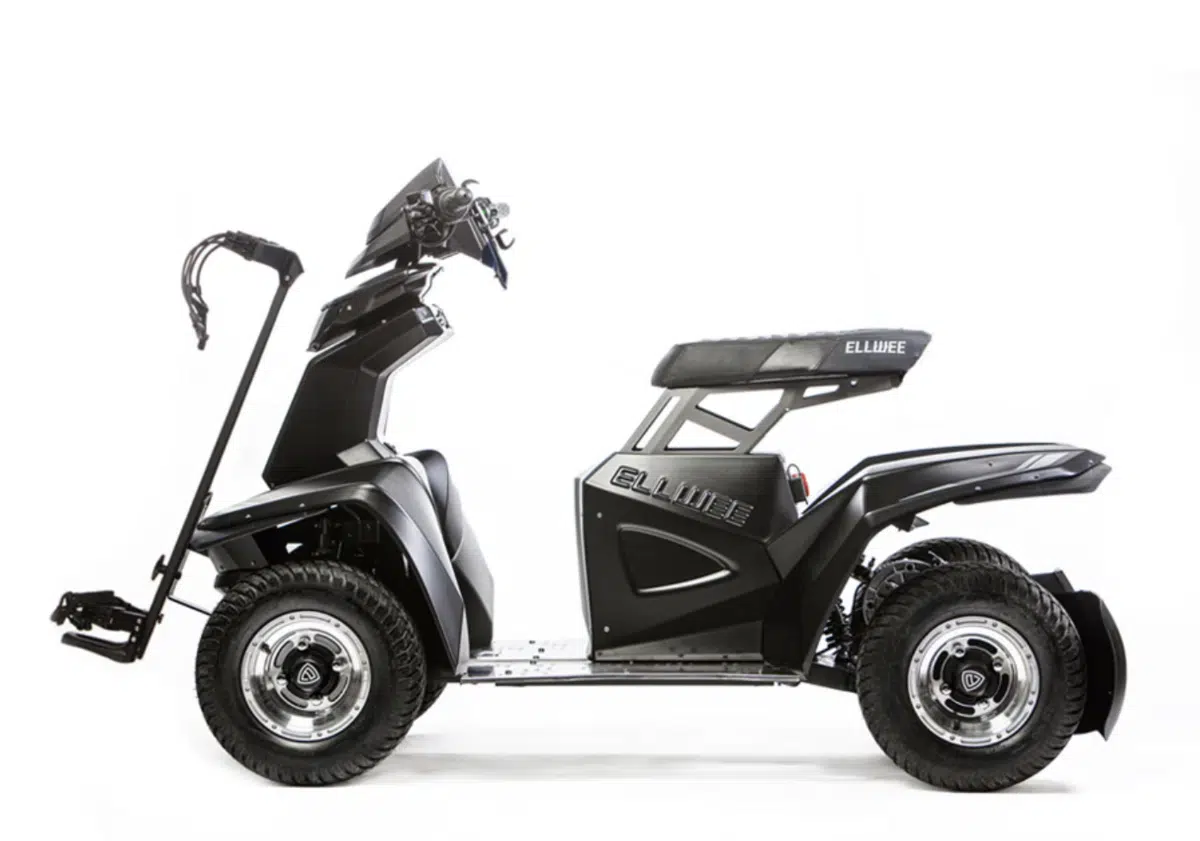 Pros
Ultra-stable with four-wheel design
Sit comfortably on thick padded seat
Longest-lasting battery life
Look modern and futuristic
Cons
Double the charging time of any other golf motor scooter
Not really a scooter
Rating: 4.5/5 Stars
Number of Wheels: 4
Bag Location: Front
Battery Specs: 63Ah
Battery Longevity: 72+ holes
Top Speed: 11 mph
Sit Or Stand: Sit
Three wheels still not enough stability for you? Just add a fourth wheel, and you'll be more stable than a cruise ship. While this may look like an ATV, it's specifically made to tread lightly on even the most prestigious fairways.
This golf scooter looks rugged, but the tires are specially designed to be gentle on pristine fairways. They are smaller and require only half the PSI of regular golf carts. Plus, it's outfitted with a patent-pending axle with an independent suspension and anti-spin system to reduce wear on the grass.
The battery is equally impressive. It's enormous and lasts for a long time. This ensures that no matter how much you want to play in a day, you won't have to recharge or fuss around with changing batteries.
Under The Hood
The 48V battery powers its 1500W motor, which is a little less than others, but because of its unique design and lighter wheels, it can still reach speeds over 10 mph with 5600 rpm.
A huge bonus of a smaller motor is that it charges with any normal wall outlet. This makes it easy for quick top-up charges but slows the charging process. A full charge will require 8 hours of uninterrupted charging.
The construction of these is a well-thought-out modular process that streamlines the build within the factory. This is great news for replacement parts if repairs are even needed. It also makes it easier to ship anywhere in the country.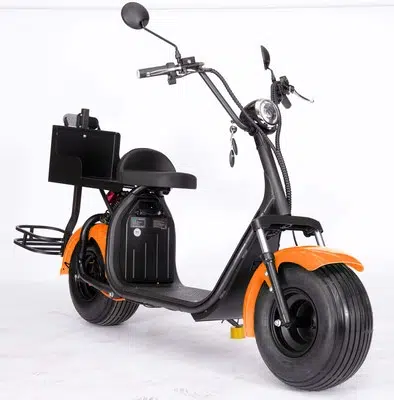 Pros
Simple design and operation
Stable and spacious foot platform
Includes many add-ons
Fat tire design for balance and
Cons
Small stature may not suit larger body types
Rating: 4.5/5 Stars
Number of Wheels: 2
Bag Location: Rear
Battery Specs: 20Ah
Battery Longevity: 36 holes
Top Speed: 28 mph
Sit Or Stand: Sit
Let's get back to scooters. This motorcycle-style golf cart is perfect for anyone looking for the bare necessities. It utilizes the popular fat tire design that helps give it balance without causing any damage to the grass.
Simplicity is key here, as you only get what you need to travel comfortably around the course. The seat and platform are small but serve their purpose nicely. You can mount and dismount easily, and the wide kickstand keeps this golf motorcycle upright when parked.
It has some amazing add-ons, including a scorecard holder, LED display screen, smartphone holder, and a headlight for rounds that carry over into the darkness.
Under The Hood
The simplicity of this golf scooter has made it a very quick one. If you want speed this may be a good choice for you because it only weighs 143 lbs. but carries a 2000W motor. This allows it to reach speeds up to 28 mph!
Using a 60V battery also means you can maintain those speeds all day. Assuming you're not playing a mountain course, this golf scooter easily makes it 36 holes and in record time.
It also has professional features such as front and rear disk brakes, which are crucial when dealing with this much power. The independent front and rear suspension are excellent at absorbing bumps while you cruise along on the large 8" wheels.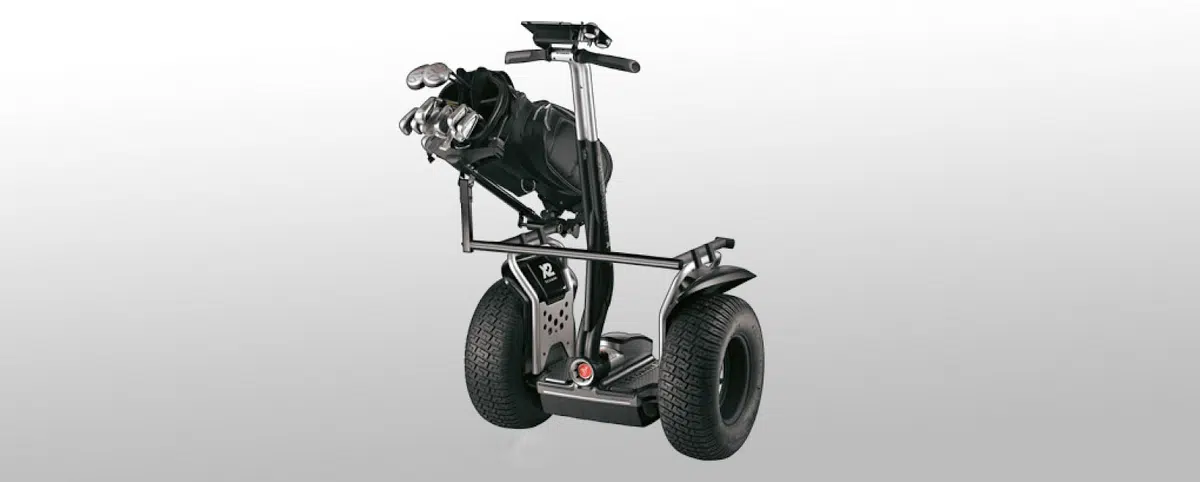 Pros
Very nimble and easy to handle
Includes golf-specific add-ons
Large tires are great for traction and protecting the golf course
Golf bag rack is removable, so that you can use this around town as well
Cons
Takes a bit of getting used to
No cooler
Rating: 4/5 Stars
Number of Wheels: 2
Bag Location: Side
Battery Specs: 20Ah
Battery Longevity: Up to 36 holes
Top Speed: 12.5 mph
Sit Or Stand: Stand
One of the originators of single-ride transportation, Segway offers golf adaptations to their industry-leading vehicles. While this isn't traditional, it's still one of the best electric golf scooters.
It operates intuitively like other Segway models, where you must lean in whichever direction you wish to go. This may take a bit of getting used to, but after a short while, it's effortless and very fun.
Your golf bag mounts on the side and is angled perfectly to remove clubs when stopped. The handlebars are there to support your golf game just as much as your balance. They come equipped with a scorecard, pencil, and tee holder.
The best part about this is its small footprint, despite having big tires. Because it takes up such little space, it's easy to maneuver in tight spaces. With these oversized tires, you can easily go up and down hills and over questionable surfaces.
Under The Hood
This functions very differently from the others on this list due to its size and design. It's smaller and thus does not need as much power. It weighs roughly 100 lbs. And with the large wheels, it can efficiently cover a lot of ground.
It still carries a 73V lithium iron phosphate battery which is a lot of power for a golf scooter this size. This is why it can last for 36 holes on a single charge. It's also easy to charge because it fits into any normal 110V wall socket.
If you're curious to check out other ebike options, Viribus is one of our partners. You can find plenty of bikes with power assist to get to and from the course in style.
Why You Should Trust Us
Golfspan is independent and not pressured by manufacturers to recommend products. We were not paid for the reviews in this article. Our team has over 100 years of golf experience, has spent thousands of hours reviewing golf equipment, and has hand-picked these scooters. We may earn an affiliate commission when you purchase something through our retail links.
FAQ
What Is A Golf Scooter?
A golf scooter is a personal vehicle explicitly made to be used on a golf course during play. Typically, they will hold one rider and one golf bag. The tires should be specially outfitted to be on a golf course to maintain the integrity of the grass. Golf scooters usually come with some golf add-ons as well, including scorecard holders, coolers, and many more options.
Are Golf Scooters Allowed On All Courses?
Yes, golf scooters are allowed on all golf courses unless otherwise stated. They are built with the rigors of playing golf in mind. To be sure, simply call the pro shop and ask them if you can bring your own golf scooter and inform them that it will not cause any damage to the course while helping you keep up with the pace of play.
Can You Use A Golf Scooter Off The Golf Course?
Yes, you can use a golf scooter off the golf course. This is why many of them have headlights. Although not "street-legal" or gas-powered, they are great for getting around a campground or any type of large property.
How Fast Are Golf Scooters?
Golf scooters travel at speeds between 10 and 30 mph. Many fall on the lower end of that scale as there is no need to go too fast on the golf course.
Conclusion
In the great debate regarding pace of play and searching for new ways to speed up the game, golf scooters are one of the solutions. They allow players to go straight to their ball without detaching past their playing partners' shot first.
The Koppla Swift Motorcycle Golf Cart is the most versatile and well-built golf motorcycle cart on the market right now. While this is a very modern version of a "scooter," it serves its purpose well and is made with high-quality material and craftsmanship.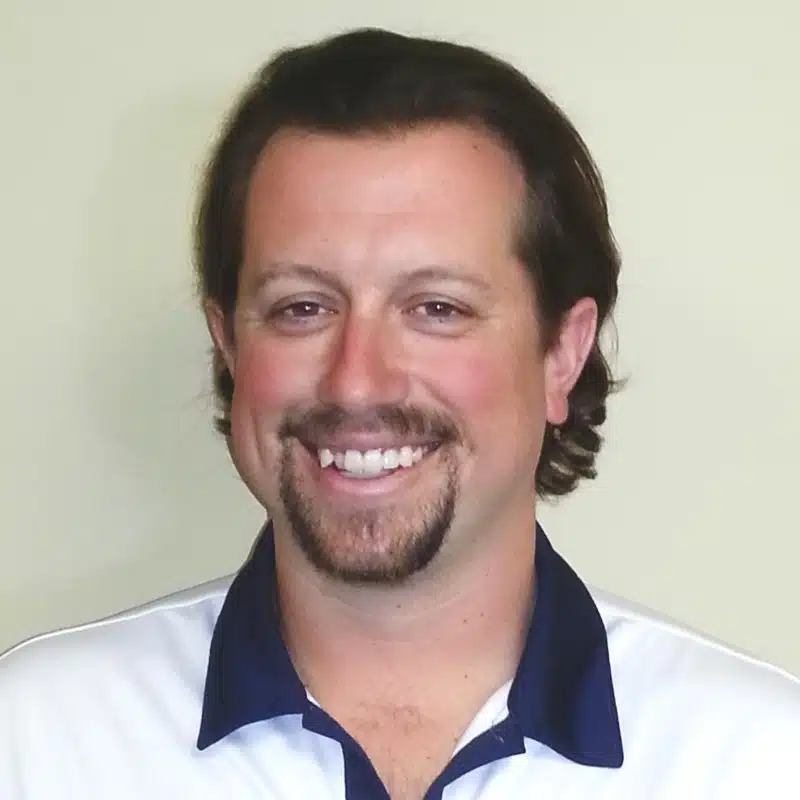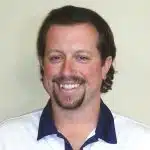 Clint became the Head Teaching Professional at one of Toronto's busiest golf academies and was featured on Canada's National Golf TV program, "Score Golf Canada," twice. He now tests and reviews golf equipment and gets to enjoy the game he loves whenever he wants while helping people lower their scores.