The stress of lugging a bag may ultimately have an effect on your back and trigger medical complications. A pushcart can minimize the effort and improve your round.
For that reason, manufacturers have launched push and pull trolleys. To provide an even greater advantage some manufacturers have now begun electrifying their trolleys to allow golfers to get the most out of a round particularly on undulating courses.
at a glance: Our Top 5 Picks for Electric Golf Push Carts
Since the advent of electric golf carts, golfers have been able to revel in a more tranquil environment as they have more energy to expend. Choosing the one that befits all your desires and reflects your individuality will be quite demanding therefore you have to choose wisely.
What to Consider in Your Buying Decision
Electric golf trolleys come in various models and ranges. In order to assist you to make an informed selection, we will furnish you with information on the most essential factors to take into consideration and pitfalls to look out for.
To initiate movement on your electric trolley, you merely have to push the relevant button to move ahead or back. Some of the more sophisticated trolleys can travel forward for a set distance without you holding the button down.
Several more sophisticated trolleys can be operated remotely with a remote control or even via an app that can be downloaded to your cell phone. The remote control can move the trolley in every single direction that a human can, Forward, Right, Backward, Left and all directions in between. The advantage of the remote action is that you can leave your trolley in a position while searching for your ball and then command it to meet you along the way when you eventually find your way back to the fairway
Some golf courses have regulations forbidding the use of electric trolleys so it's prudent to confirm with the pro shop before playing at a new course.
Another point to take into consideration is whether the manufacturer has local representation to ensure that finding spare parts is considerably easier.
Advantages of Electric Golf Trolleys:
The powerful electric motors can handle slopes
Sturdier than manual trolleys
Usually have more features
Decreases energy outflow
Disadvantages of Electric Golf Trolleys:
Much more expensive
Batteries may have to be charged before use
Quick Overview: Our Top Picks for Best Electric Golf Push Carts
Tips to Contemplate When Purchasing The Best Golf Pushcart
Accessories
Accessorizing your trolley can be oodles of fun but also turn out to be incredibly pricey, so maintain your rationality and keep your eyes on your budget when adding all the trimmings to your trolley
Many of the electronic golf trolleys come standard with cup and drinks holders to store your beverages and make certain that you remain hydrated for the duration of your round. This is virtually a non-negotiable accessory in the present climate.
Other accessories that ought to be available on many trolleys are, space for your scorecard and to store your golf balls for quick access when you are unfortunate enough to lose a ball out on the course. What is a game of golf without seeing what your score was?
Staying with the climate theme, ensure that there is room to store your umbrella and rain covers.
Once you have included the essentials as explained above, you can now investigate the more sophisticated features that will shortly be in such high demand that manufacturers will include them as standard features.
Although it is often frowned upon, it is a reality of modern life that people must stay in contact with the office and their cell phones are their key communication when out of the office. Trolleys are now including not only phone holders or cradles to store your cell phone but have added USB ports to charge your phone. Thus, if you are one of the doomed ones that must permanently be accessible, this is something that will be indispensable to your purchase
Many manufacturers have now incorporated advanced braking systems to safeguard against runaway trolleys when parked on a slope.
With the remote control, electric trolleys becoming commonplace manufacturers have added variable speed control to ensure that trolleys do not run ahead of their owners down slopes and can also be controlled from a distance. Besides, they have built-in displays to inform the golfer of the speed at which the cart is traveling, the distance traveled and the battery life remaining.
Finally, there are now opportunities for golfers to tailor their trolleys and include practically any accessory you may crave and personalize the trolley in the color and design of your choice
Adjusting Handle Height
To shield your back, which is one of the most important motivations for purchasing the electric trolley, make certain that the handle is either at the appropriate elevation for you to push or adjustable to suit your height.
Flexible handles will provide more flexibility when you maneuver up and down slopes. Look for a trolley that lets you control the brakes from the handle and have a flexible handle to safeguard your wrists from bending to keep your trolley aligned.
Battery and Charge
Battery life ought to be one of your critical selection criteria as acquiring a standby battery or replacement battery can be costly and you do not want to get stuck out on the course with a flat battery and lose the benefit of having an electric trolley. Electric trolleys are driven by small batteries that need a charge all through a power outlet after each round. You ought to get 2-5 seasons out of the battery subject to the number of rounds you play annually.
It will be imperative to understand the time that it takes to charge your batteries to cater for the unexpected invitation to a golf day and you have not been able to recharge the batteries since your weekend game.
To comprehend the constraints of the batteries you need to know the various types of batteries that are available to electric carts. We will not go into detail on the batteries as numerous articles describe the types in detail.
The two most commonly used batteries are sealed lead acid-based batteries that were the first type in use and the newer technology of Lithium-ion batteries. The Lithium-ion batteries are far more expensive than Lead Acid based batteries, but they will endure many more charge cycles thereby lowering the cost per charge cycle.
Lead Acid-Based Batteries
Lead-acid batteries were the first on the market and are offered on a large scale. They are generally larger and heavier than the Lithium-ion batteries. These batteries will deliver an extended charge life and will thus need less charging cycles than Lithium-ion batteries.
A 12V 35Ah SLA acid-based battery used on a trolley with two motors will last for roughly 27 holes per charge and have an overall lifetime of somewhere between 150 and 200 charge cycles.
Lithium-Ion Batteries
This is fairly new and more progressive developing technology that is environmentally friendly, due to the lack of lead in the battery, which can be utilized on golf trolleys. Lithium-ion batteries create substantially more energy in reduced space while saving weight.
Lithium-ion batteries can function at extremely disparate temperatures as it does not freeze and can likewise endure high temperatures.
Lithium batteries can be recharged in roughly 2 hours and will last between 27 holes and 36 holes dependent on the voltage with an overall lifetime of between 300 and 1000 charge cycles.
When substituting your lead acid based battery with a Lithium-ion battery, check with the manufacturer for a retrofit kit and ensure that you preserve the balance of your trolley as their sizes differ and it could upset the balance of the trolley.
Material
There are usually three types of materials that are used in the manufacture of electric golf carts.
Steel
Steel is the most durable option, but it is also the heaviest. Consider the strength and durability of all of these materials before deciding which one is best for you
Aluminum
Aluminum is the lightest material of the 3 being used and will make it seem like the trolley is almost hovering around the golf course. Sadly, as it is so soft, it tends to dent easily.
Titanium
Titanium is fairly new to the market. As it is exceptionally lightweight it is attractive for manufacturers to use but it is also particularly strong. It is the ideal combination of the strength of steel and the lightweight feel of aluminum. The rugged construction makes it perfect for the undulating terrain found on golf courses. Titanium may conceivably cost more than the other materials, but the overall benefits outweigh the costs.
Portability
You will in all probability have to load your trolley into the back of your vehicle at some stage, whether it is to go to your local club, except if you live on your preferred golf course, or to an alternative golf club as most golfers take pleasure in playing on a variety of courses.
For this reason, the trolley needs to be lightweight and able to fold up into a compact size to fit into the back of your vehicle together with your golf bag. Establish the dimensions of the place where you will load the trolley before deciding on the trolley that you want to make your own.
Speed Control
Regulating the pace of your golf trolley is as valuable as the capability to navigate it into all directions. When playing on a course with severe slopes, you want to speed it up on rising slopes and slow it down on downhills.
Some golf trolleys on the market adapt their speed to the golfers and essentially pursues the golfer whether he speeds up or slows down
Service
The golf trolley comprises moving parts and it will require services in the future to maintain it in good working order. Establish whether there are restrictions coupled with the warranty on having it serviced at a distributor or if it is possible to service it yourself.
Weight
Weight will play a role in the transferability of your golf trolley as you will have to lift it up to the position in the back of your vehicle. Electric golf trolleys will protect you from the surplus weight when traveling between holes so that will not be a challenge.
Wheels
Most golf trolleys have airless wheels to avoid punctures while you are out enjoying your round of golf. Imagine losing the air from your wheel when out in the remotest area of your course and having to carry the trolley back to the clubhouse.
There are choices of the number of wheels that you want on your golf trolley, each one with its benefits and drawbacks.
2-wheelers
There was a time when the 2-wheeled variety of golf trolleys ruled the roost and golfers favored them from their stability, hard rubber tires and the low battery consumption.
3-Wheelers
V-shaped 3-wheelers have one wheel in the front and two in the rear. The front-wheel can be static or able to rotate for more flexibility and produce a smaller turning circle. A lone front wheel is simpler to steer than 2 front wheels and the V shape makes it easier to access all landscapes.
One adverse side effect is that 3 wheelers tend to become top-heavy and easily topple over when it is fully laden.
4-Wheelers
4-wheelers are steadier and less susceptible to toppling over regardless of the load as a consequence of having 2 wheels in the front provided that the load is balanced and not disproportionate.
Replacement of the wheels in case of a mishap can be done by yourself but it is highly advocated that you acquire the substitute directly from the supplier.
Our top 5 Electric Golf Push Carts
Electronic golf carts are a great assistance to many golfers who enjoy walking the course and taking in the scenery rather than driving a mobile cart.
The MGI Zip X 5 is an exceptional cart with features that make for an easy, relaxing, and controlled round of golf.
Downhill speed control and an electronic park brake assist in playing at a steady pace.
No manual adjustment is necessary and the effective park brake is activated by pressing a button.
A click-and-go lithium battery system drives the powerful 230-watt motor and can achieve in excess of 18-holes on a charge.
Checking out the distance walked per round is achieved with the resettable odometer.
A swiveling and lockable front wheel plus the all-terrain rear wheels make for a smooth ride.
Stability is enhanced with the fully foldable rear 4th wheel.
At the end of the round, the innovative Zip fold three-wheel design makes storage easy.
Verdict
The MGI X 5 Electric Golf Caddy is a worthwhile purchase and if looked after, will give the golfer many trouble-free rounds.
The controlled distance function will take a bit of practice.
The option to concentrate on your game rather than chasing a runaway cart will improve the scorecard.
2. 3 Wheel Golf Push Cart
Pros:
Lightweight lithium battery
Assortment of colors
Wonderful stability
Use of any golf bag
Bluetooth technology is impressive.
It is very easy to operate.
The futuristic design followed all the way through to the wheels
Superlative turning radius
Follow-me option is astounding
Cons:
The following-me mode can be challenging to activate.
The remote encounters operational problems.
Rather large when folded
Only accessible to the well-heeled golfer
Stand bags not advocated
This is undoubtedly one of the best electric golf trolleys available and stands out from the crowd with its ultramodern shape. Engineers had free reign to deliver a model that will turn heads and comprise all the accessories that you can wish for. The one drawback is that it will almost certainly just end up with golfers that have no limitation on their budget resources.
In making the X9 more desirable, it is available in a choice of metallic black, metallic silver, and pearlescent white. Folding it up into a compact size suitable for most vehicles is achieved effortlessly.
There is no dearth of features and accessories on this golf trolley and it comes standard with a ball holder, scorecard holder, and cell phone holder.
You will not find any apprehensions raised involving the stability of the X9 as it can effortlessly navigate most landscapes. The higher rear wheels keep it vertical and moving rapidly on slopes.
Adding to its elegant appeal, the wheels have lost 30% of their bulk and appears to have small hub caps reminiscent of a sports car.
Power is provided by the 12-volt lithium-ion battery that ought to last for around 36 holes on a flat course before requiring a full charge. There is a standard 2-year warranty on the battery.
Interaction with the golf trolley from a distance is conducted via a Bluetooth handset. That brings us to the best feature available on the X9 – The Bluetooth Follow-Me technology.
The Follow-Me is akin to having a caddy following you and bringing your golf trolley to you anywhere you are. The X9 follows 6 feet behind you when setting up in this mode irrespective of whether it is up or down the slope. The X9 has multiple speed options to keep up with the speed of the golfer. There are 2 antennas on the X9 to establish 2 zones, 1 active and 1 neutral zone. With the remote handset within the neutral zone, the golf trolley will remain motionless but once the handset moves outside of the neutral zone the X9 will follow the golfer and adapt its speed to remain within the 6-foot range. To prevent pointless movement while you are attempting to play your shot and the handset leaving the neutral range, it will be sensible to leave your remote on the cradle designed for it on your trolley else it will follow you.
The trolley can be set to exclusively respond to directions issued by the remote and not to follow you. This will be ideal for the times that you have to go hunting for your ball in the deep rough. The trolley can move in any direction required when controlled from a distance.
Verdict
The X9 is the best golf trolley that we assessed and has incredible characteristics. The incredible design and follow-me functionality put this high on the list of must-haves.
3. Bat-Caddy X3R Remote Control Cart
Pros:
Remote control with a range of 80-120 yards
Also has manual control if you prefer that
Has a cruise control setting
Timed forward advance setting that can be 10, 20, 30 yards
Strong and long-lasting battery for extended usage
Easy to understand and control
Brand name of the industry
Cons:
A bit expensive for a remote-control cart
Some product malfunction according to reviews
Bat-Caddy is an incredible brand name in the remote-control cart industry, and it shows with products like these.
Apart from random reviews about malfunctions from shipping, this cart has stellar reviews that rant and rave about how this is an amazing product. The market for remote control carts on the golf course is exploding because of how great products like this are.
Some of the rationale to buy a remote-control cart is absolutely justified because it is such a luxury. This remote-control cart is going to make the golf course paradise when you do not even need to push your cart anymore.
Verdict
With all of the social proof like the Bat-Caddy X3R Remote Control Cart has, it is hard to pass up on it. Check out the link we have included and see if it is what you have been looking for!
4. CaddyTrek R2 Smart Robotic Electric Golf Cart
Pros:
Lightweight and compact
The technology is easy to access.
Straightforward follow-me mode.
Best in a straight line
Solid and durable wheels
Moves at the golfers' pace
Cons:
It is expensive
Wheels tend to slip before gripping on steep slopes.
High energy use
The folding design could be simpler
The remote reaction can be unpredictable
The R2's lightweight aluminum frame is designed to track you on in a straight line with the ability to traverse rough terrain and comes with a gyroscope to create an extremely stable golf trolley. The gyroscope will assist the R2 to move in a straight line even when facing some rocky or rough terrain. The larger rear wheels promote grip and the retractable 5th wheel ensures that it will not be tipping over as it negotiates undulating terrain.
It is designed to fold easily into a compact size that will fit into the rear of most vehicles with minimal effort.
The 250-watt dual motors are powered by an incredibly reliable 24v Lithium-ion battery that ought to last for at least 27 holes before a recharge is needed.
To keep the trolley static, you can leave the handset on the trolley and, when you wish, enable the hands-free follow-me mode. Clip the handset to your belt and this will allow the golf trolley to follow you by  2-3 paces behind and match your tempo as you stroll, brakes when necessary and go along with you everywhere you go.
The golf trolley can stay ahead of you or follow your subject to your preference. To circumvent the golf trolley following you when you want it to stay stationary, you can either put the handset on the trolley or toggle out of the following mode.
The range for operating the remote control is 100 feet and you can turn the golf trolley into any direction. It is similarly possible to switch over to manual mode and operate the golf trolley without using the remote control if the battery runs out of power.
Verdict
Strong and sturdy construction with the perfect combination of wheels to traverse difficult terrain moving in a straight line. The follow-me and remote control add flexibility to the use but there have been a few complaints regarding the reliability of the remote control and the durability of the battery.
The heavy-duty aluminum frame construction is made to last.
Equipped with upper and lower brackets with elastic straps to secure the bag to the cart.
A bag holder sits at the rear of the cart for easy access and storage of valuables and extra gear in case of inclement weather.
The maximum weight carrying capacity is 33lbs.
An ergonomic padded height adjustable handle for multiple pushing positions and to accommodate users of all heights.
Another good feature is the easily accessible built-in rechargeable battery and uniform PCB board for up and downhill control.
A 3,28 ft power cable is supplied and 5 hours are required for a full recharge.
Different size front and rear wheels give the cart a forward tilt which enhances stability.
A simple foot brake system for the rear wheel prevents the cart from rolling away whilst playing a shot.
Finally, the compact foldable design enhances a quick fold/unfold for hassle-free storage and transportation.
Verdict
The simplicity of the SereneLife 3-wheel electric pushcart will make it a favorite for senior players and other golfers.
It offers the best of both worlds and allows the golfer to concentrate on the game at hand.
Final Thoughts
Electric golf trolleys are available in many configurations catering for every budget and accessory requirement. If you are willing to invest heavily in your golf trolley, It could feel like you have a caddy carrying your bag and you don't have to be concerned about the whereabouts of your clubs.
We evaluated several golf trolleys in a variety of categories and prices. They all provide for a spot in the spectrum and feel that we have provided ample information for golfers to choose a trolley that fits their budget yet has ample features available to them.
In our opinion, the Stewart Golf X9 Follow Electric Cart stands out by providing all the functionality that a golfer can wish for with very little in the way of drawbacks.  It is a stylish option with good functionality. The technology is impressive and it works well for most golfers.
Consider your personal needs and budget in order to determine the best golf pushcart for your needs.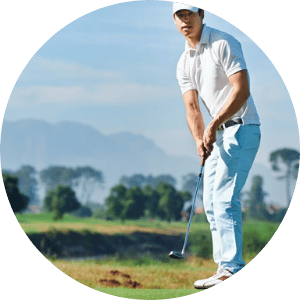 Nick Lomas is the founder of GolfSpan, an avid golfer, not quite a pro but has over 15-years of experience playing and coaching golfers from all over the world. His mission is to bring the golfing community a better experience then it comes to choosing the right golf gear, and finding the right set up for your game.