A round of golf can be a great workout, but carrying your clubs around can add a little too much strain. Sure, you could use a club car to get around instead, but it's not quite the same as walking around the course. The ideal middle ground is getting the best electric golf push cart you can afford.
Electric golf push carts come in a variety of forms, from those that drive themselves to remote-controlled variants to motor-assisted push carts. As you could expect with many types on offer, the cost of battery-powered golf push carts can also swing from budget-friendly to bank balance breaking.
But, never fear. We have collected, tested, and reviewed 9 of the best so you can find the perfect one for your needs.
The best electric golf push carts in 2023 are: 
Why You Should Trust Us
Our team spends thousands of hours trying out and researching golf equipment to help you take your game to the next level. Here's our product review process.
We can bring these reviews to you through the small commissions we earn if you buy through the links below.
How We Reviewed These Products
Golfspan only shares equipment and brands we trust.
An experienced golfer from our team thoroughly researched and evaluated the products we shared below. Then an editor reviewed and fact-checked the list. Finally, we conduct regular content audits to update and revise our reviews to ensure you receive the latest information.
To select these push carts, we considered the following criteria:
Price
Ease of use
Battery
Maneuverability
Size/weight
Stability
Durability
The 9 Best Electric Golf Push Carts for 2023
1. CaddyTrek R2 Smart Robotic Electric Golf Cart — The Best Overall
Key Features:
Automatic golf push cart

250w dual motors

Phone, scorecard, cup, and umbrella holders
Pros:
Easily switches between march and follow modes (in front or behind the user)

The motor is whisper quiet

Airless, all-terrain tires don't need replacing often

Smooth turns

Soft stops
Cons:
Expensive

Bulky

Has difficulty with steep terrain
The R2 is the top-of-the-line automatic golf push cart from CaddyTrek. As such, it comes with a premium price tag. But you'll notice all of the small touches that make this cart shine brighter than its immediate competition.
One of the best things about these carts is their quiet and smooth operation. You'll be able to chat with your friends in between shots without raising your voice at all. 
The stopping and starting on this model are so slick that you'll never have to worry about anything in your golf bag getting damaged from the shaking that comes from abrupt movements. The tough all-terrain tires also make light work of walking through the rough (not that you ever don't land on the fairway).
One aspect of this model that we love is that it is an electric golf push cart that follows you or leads in front. We found that it follows a little better than it leads, but it's nice to have the choice either way. You also have the option to operate it by remote control.
With a battery that can last up to 27 holes, this is likely the best electric push cart for a full golf day. Only the MGI Zip X1, MGI Zip Navigator, and Cart-Tek GRi-1500Li V2 last longer.
2. MGI Zip X1 Electric Golf Caddie — Best Budget Option
Key Features:
Fixed front wheel

Variable speed settings

230w single motor
Pros:
Lasts for 36 holes

Foldable fourth wheel for extra stability

Great price

Folds into a small package

Easy-to-read battery indicator

Replaceable battery for longer rounds of golf
Cons:
The fixed front wheel can sometimes cause problems with navigation

No remote
No downhill speed control
No brake
The MGI Zip X1 comes in well under $1000, even at its full price. If you're lucky, you'll find one on sale for closer to $500. That makes it the cheapest golf cart on this list by some margin. The closest affordable model is the Alphard Club Booster V2 E-Wheels cart, which is over $100 more expensive. 
These carts perform everything you need from a motorized cart but lack some premium features you may find on more expensive models. Yet, you may not need those features — the absence of a remote being a good example. 
Having a robotic cart that automatically follows you is nice, but is it necessary? Despite having to still physically push this cart, we found that the 230w motor does most of the work, so you can save your energy for actually playing golf. You also have variable speed control at your fingertips. So you can choose a leisurely walking pace if you'd like or ramp it up to a light jog. 
The foldable extra fourth wheel is a welcome addition to these carts, providing extra stability over rough terrain or hills. You'll want to have it swiveled up in most cases as it negatively impacts maneuverability, especially with the fixed front wheel. But you can easily pop it down when you need to. 
These motorized push cart golf systems are a steal at their sale price and are perfect for dipping your toes into the experience of owning an electric cart before upgrading to a more expensive model in the coming years.
Key Features:
Hands-free or remote navigation

Aluminum frame

Two 90w motors

Battery rated for 27 holes

Work best with

cart golf bags
Pros:
Folds down into a tiny package

Durable

Handle-based settings to avoid having to use a remote

Plenty of additional storage

Powerful handbrake

Easily adjusted
Cons:
Less powerful motors than similarly priced competition

Has a tendency to veer

Fixed front and rear wheels make navigation less smooth (but more stable)
As golfers, we might not like to admit that image can impact what we buy for the golf course. Yet, there's no denying that brand awareness exists in the industry. For those of you rocking a Callaway golf bag, irons, driver, putter, and even clothes, do we have the electric golf push cart for you!
With big brand appeal and price comes top quality too. This is a truly great motorized walking golf cart. Its aluminum construction makes it one of the lightest electric carts. It also allows the Traverse carts to fold into a tiny package for transport.
Although the motors are much less powerful than some other electric carts in the same price bracket, such as the CaddyTrek R2 and MGI Zip X1, the lightweight design makes it hardly noticeable. We found that the only time the difference was clear was when the motors had to work a little harder on steep hills (especially in wet conditions). But if you can handle a tiny amount of extra noise, this shouldn't bother you.
These are great all-around performers and are an excellent choice for those that want an easy-to-transport, premium, and sturdy electric cart.
Key Features:
Dual 230w motors

Swivel double front lockable wheel

Single contact point wheels

Gyroscope tracker
Pros:
Incredible stability

Massive battery

Automatic downhill control

Agile and smooth turning

Intuitive distance tracking
Cons:
Pricey

The large battery makes it heavy

Plastic construction

Not compatible with all bags
The MGI Zip Navigator was a hot contender for our overall best electric golf cart. The only thing that pushed the CaddyTrek R2 in front was the superior construction materials. Still, there are some things that the Zip Navigator does better, so don't write it off just yet.
These motorized golf carts' main advantage over most of the competition is the epic battery life. If you can push yourself to play 36 holes of golf, then the Zip Navigator is the perfect digital caddy for you.
Even if you just play a standard 18 holes, it's good to know you can take your time. You could stop for lunch after the 9th hole and accidentally leave the cart powered on, and you'll still have enough battery to finish your round.
A second standout feature of these carts is how it glides through the course, no matter the terrain. The swivel double front wheels with the gyroscope tracker keep your clubs safe from unexpected uneven ground, like unfilled divots.
A potential problem with auto-follow mode electric golf push carts is that they can get out of control when rolling down steep hills, only to spill the entire contents of your golf bag when they reach a flat surface. Yet when using the MGI Zip Navigator, we had no such problem due to the built-in downhill speed control. Couple that with its sturdy brake system, and you've got yourself a reliable push cart for any hill.
There's also plenty of extra storage on the Zip Navigator and more than enough power in the motors to push the extra weight.
Overall, this is a high-quality product that justifies its high price tag, and it's a perfect choice for those whose regular course is long and has many hills.
5. Batcaddy X4R Sport — Best Remote Control Functionality
Key Features: 
Remote control style electric caddy

Twin 200w motors

Single-direction front wheel
Pros:
Built-in seat

⅔ the price of premium electric push carts

Easy to operate remote with substantial distance response

Light enough to free-wheel with the easily removable battery pack

USB charging port

Sturdy construction

Also available with a lead acid battery
Cons:
No auto-follow mode robotic function

The single-direction front wheel impacts maneuverability

Can fall over if slopes are uneven
Tends to roll
You'll notice that the Batcaddy X4R Sport shares many similarities with the flagship products offered by other manufacturers, such as twin motors, a long-life battery, and accessory slots. For most users, that should be enough for a cruisy round of golf. 
But there is one major element missing, AI control. If you can forgo the auto-follow mode robotic functions, this electric golf push cart provides just as many other features to make the X4R an appealing option. This is especially true, considering its price tag compared to robotic carts.
I enjoyed using it more than I thought I would and didn't miss the AI functionality. However, I encountered one issue: the cart can fall over if the left or right side is elevated more than the other. Yet I don't see this as a particularly big issue. I simply adjusted my route as needed going forward, and after getting a feel for the cart, I haven't had an issue since.
Something else I noticed while using the cart was that while it has a soft stop like the CaddyTrek R2, it sometimes doesn't stop completely. It can gradually edge forward, so make sure you don't position it next to any hazards.
Another benefit of these carts is that you can easily remove the battery for a round with an unassisted cart. This may seem like an obvious inclusion, but many electric push golf carts on the market can't do this without considerable effort.
To boil it down, these are a good fit for those that want a premium cart but don't need any AI functionality included.
6. Alphard Club Booster V2 E-Wheels — Upgrade Your Existing Cart
Key Features:
Clip-in motorized wheels for non-electric carts

Double 130w brushless motors

Remote or app operated
Pros:
Saves you money if you already have a decent push cart

Weatherproof

Hill descent control

Wheelie bars and parking brake

Six-axis gyroscope for a smooth ride

Quiet motors
Cons:
There's the risk of getting the wrong clips for your cart

Limited maneuverability

Requires effort to install
If you've spent a decent chunk of money on one of the best manual push carts, and there's nothing wrong with it, wouldn't it be better to upgrade your existing cart than buy a completely new one? The Alphard Booster V2 does just that.
These e-wheels easily clip into every major manufacturer's non-electric golf cart rear wheel sections. Just be careful to choose the right clips when buying the Club Booster V2 wheels for your cart.
One potential reason to avoid this option is if your existing push cart is a little haggard. In our opinion, these don't save you enough money to justify not opting for a brand new, fully electric push cart if your manual one is in a sorry state. Still, they are much cheaper than many of the options out there and work surprisingly well.
In our experience, the motors are powerful enough to get your golf bag up steep hills, and the hill descent control will safely bring your cart back down again. The six-axis gyroscope also helps maintain fluid motion across rough terrain on the course. If you pair these with a high-quality cart, they're one of the safest options on the market.
Besides the effort of installing, we found the main issue with the Alphard Club Booster V2 is its maneuverability. You need an electric walking golf cart with a swiveling front wheel. If you don't, turning is a challenge, which is pretty damn important.
So we'd only recommend picking this up if you have such a traditional push cart. For these golfers, we feel purchasing the Alphard Club Booster V2 makes a lot more sense than needlessly sinking in hundreds more dollars into a regular electric push cart.
7. MGI Zip X5 — Great All-Around Cart
Key Features:
Controlled distance style electric caddy

Single 230w motor

Lockable swiveling front wheel
Pros:
Strong electric park brake

Odometers for tracking distance

Downhill speed control

Velvety smooth carry

Foldable

Retractable fourth wheel
Cons:
Plastic body sections

Single motor

Fairly noisy
This is the third MGI Zip push cart to make it into our top picks. That's because MGI makes undeniably quality products. 
The X5 is the second top-of-the-range offering in the Zipline of push carts. They offer much of what makes the Navigator great but at a much more reasonable price.
One of the great features of the X5 is the automatic downhill speed control that protects your cart from potential tips. The stabilizing fourth wheel is an important addition not often found on mid-range electric push carts.
You can also track the distance to the pin and your longest drive. Plus, it tracks the overall walking distance covered during the round with the built-in odometer functions. 
The single motor lets the X5 down compared to the more expensive Navigator. It will have a slightly tougher (and noisier) time. The battery type is also much smaller in the X5. It's rated for 18 holes instead of 36.
If those two things don't bother you, you could save yourself a substantial chunk of cash by opting for the X5 over the Navigator. It's also not that much more expensive than the X1 but has many more features.
8. Cart-Tek GRi-1500Li V2 Electric Golf Push Cart
Key Features:
Remote control style electric cart

Twin 24v high torque batteries
Pros:
Battery life lasts for 36 rounds
Very stable

Slope control

Easy to fold

Excellent remote capabilities

One-year warranty on the cart and two years warranty on the battery
Cons:
Overpriced

No way to check battery life while in use

Doesn't offer anything extra when compared to less expensive models
While it's true that the Cart-Tek GRI-1500Li V2 is overpriced, there's a lot to like about this electric cart. Its standout feature is its battery life which matches the MGI Zip X1 and MGI Zip Navigator. The powerful 24v twin lithium batteries supply enough juice to get you through a staggering 36 rounds of golf.
We have to say, this surprised us as we were expecting considerably less. So it's nice to know that you are not obligated to charge this electric golf trolley after every single round of golf. If you forget, no biggy, you can still play golf.
We also found that the unit is very easy to fit in the trunk of your car. It folds conveniently, and the batteries are nice and easy to remove, which is another plus.
Stability is also an area it shines. This contrasts with the likes of the Batcaddy X4R Sport, which can fall over a little too easily. Even if you play on a particularly hilly course, we are fairly confident you shouldn't experience any issues.
As far as negatives go, besides the price, the main problem with this cart is that there is no way to ascertain how much charge the unit has while out on the course. Clearly, this is a bit of an oversight. Fortunately, the beefy battery life helps make up for this drawback somewhat, but it's still something you should be aware of before purchasing.
9. Cart-Tek Yellowstone Electric Golf Caddie
Pros
Great value for money
The battery recharges to full in approximately four hours
Remote control range is up to 120 yards
You can use manual controls on the handle
Timed forward advance setting options of 10, 20, 30 yards
Long-life battery
Cons
Noisy on very steep hills
Specs
Max speed: 7.5km/h
Motor: 2x 240w brushless
Battery: 29v 8.8Ah Lithium
Cart-Tek is a highly rated electric golf cart industry brand with a wide range of excellent products.
The Yellowstone remote golf push cart is mid-range and has been refined over the last decade while it remains one of the best-selling remote-controlled electric golf carts on the market.
Although Cart-Tek has similar products available, such as the GRI 1500 range, the Yellowstone remains competitive and popular.
The Cart-Tek Yellowstone uses an aerospace aluminum alloy "S-Frame" design for aesthetic appeal while being durable and lightweight.
The multi-functional remote has standard directional controls, a timed advance feature, brake/stop functions, and an on/off button and can be operated from as far as 120 yards away.
The T-shaped handle features An LED screen displaying speed and battery charge indicators. Furthermore, the handle offers manual functionality to control the speed, switch it on or off, and a time advance function allowing the cart to move forward for 10, 20, or 30 yards.
In addition to the functionality, Cart-Tek made the electronic controller box waterproof in a sealed plastic compartment in addition to the functionality.
Power supply to the electric motor is available as a standard powerful 35Ah sealed lead acid battery or with an ultra-light, long-lasting lithium battery.
The lightweight and compact body is based on three wheels but also has a retractable fourth wheel for support.
Why You Should Buy an Electric Push Cart
We imagine many of you reading are on the fence about buying an electric push cart, so this section is to help you decide whether purchasing one is the right move for you.
The main reason to pick one up is that it enhances your golf experience without breaking the bank. Carrying around a heavy bag all day is very taxing, and unless you are young and fit, you'll feel very fatigued come the close of 18 rounds.
And yet, while electric push carts are fairly expensive, they often pale compared to regular golf carts. They are also much easier to store as they fold compactly.
Electric push carts are also fairly environmentally friendly as they don't produce harmful greenhouse gases. This makes them a better option than golf carts which run on gas.
Electric Push Cart Buying Guide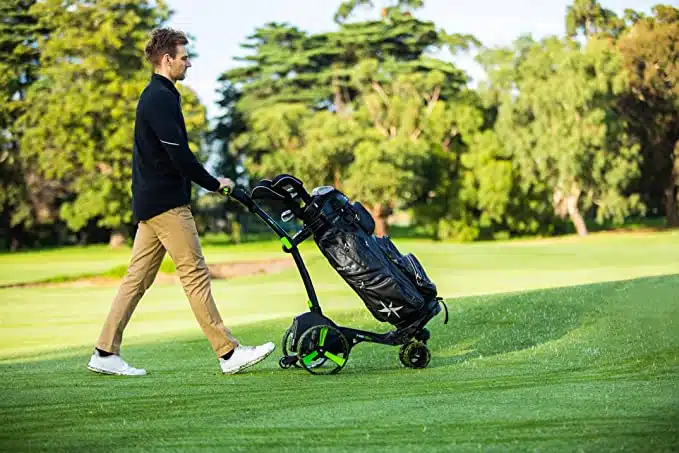 Price
Before you venture out searching for your perfect electric push cart, it's first important to set a budget. There's no denying these carts are fairly expensive luxury items, so things can quickly get out of hand if you don't set a price before searching.
In this post, we've tried to provide the best-motorized golf push carts at various price points. These prices vary from around $700 to $1,550.
Maneuverability
Given that the whole point of a golf push cart is to carry your gear, it must be maneuverable to go where you need it to go. And golf push carts vary quite a bit in this area. If maneuverability is high on your list of demands, we advise picking up a golf cart with a flexible front wheel.
This will make it far easier for the cart to turn. Also, check out reviews to see how well each model steers. Select electric push golf carts can have a tough time keeping straight, which is a bit of a pain.
Battery Life
Golf is not a brief sporting activity, so you must ensure your electric golf trolley has the juice to get you through all 18 holes. Otherwise, you'll be back to pushing! Fortunately, all of the golf carts we have covered will tackle 18 holes without issue, but some go beyond that.
The best electric push carts will last for 36 holes, meaning you're not left high and dry if you forget to charge your cart after a round.
Size/weight
Size is important in many ways. It determines how much room you have for all your gear, influences mobility, physical appeal, and whether you can easily store it in your trunk. In reality, most golf push carts fold well for this purpose, but some are better than others.
In regards to weight, a light electric golf push cart is usually a sign of poor materials, and such carts are prone to falling over. Given you shouldn't need to push an electric golf push cart (provided you remember to charge it!), we recommend not worrying too much about weight, and going for heavy models if they fit the bill.
Durability
Given push electric golf carts are so pricey, you'll want one that will last. Generally speaking, we recommend avoiding cheap materials like plastic and instead opting for aluminum as it is more resilient. Also, consider investing in a cart with a decent warranty period. Not only does this ensure you are covered, but it is also a sign of good durability as the seller is happy to stand behind their product.
Stability
Hilly courses can be tough to tackle, so you want a quality golf push cart for the job. Avoid models that are too light or too narrow, as these are both signs of instability.
Assembling an Electric Golf Push Cart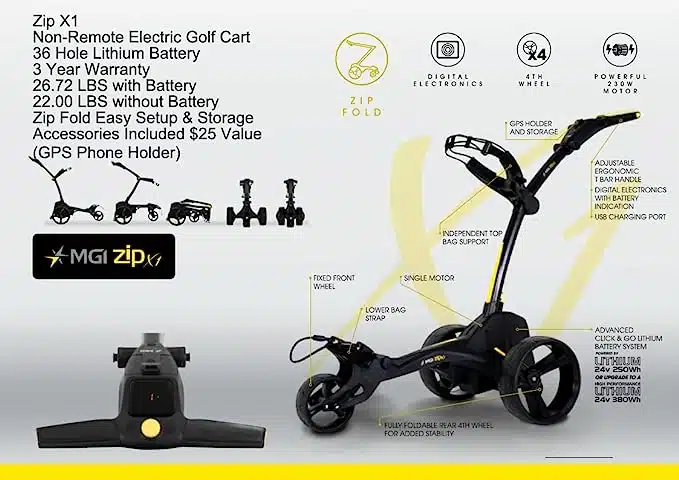 You'll likely have to do a little assembly when you order your push cart. Some foldable carts like the MGI Zip line will come assembled and folded for you. You may just have to put the battery in.
On the other hand, some electric golf carts will come with instructions to set them up. You may also have to pull parts off and reassemble them for transport. If that's the case, the parts are usually easy to remove and install.
In terms of the Alphard Club Booster, you'll need to get the right clips and pull off the rear wheels from your old cart first.
Charging a Battery Powered Golf Push Cart
Each push cart will have different charge requirements, but a good rule of thumb is to charge the battery the night before a round of golf. Charge until the battery indicator says it's full, then disconnect the charger. 
Some models allow you to take the battery out to charge it. Others will require you to take the entire cart to a power source to charge the battery.
Golf Motorized Push Carts Frequently Asked Questions
If you're still unsure which electric push golf cart is best for you, check out these frequently asked questions.
Who Makes the Best Electric Golf Push Cart?
The best cross-price spectrum electric golf push carts are those in the MGI Zip range. You'll be sure to find one among their selection that is perfect for you. But, our favorite overall is the CaddyTrek R2.
Are Electric Golf Push Carts Worth It?
Electric golf push carts are worth it because they can save you a few strokes off your overall score for a round of golf. This is especially true if you're a little unfit. 
The extra strain of carrying your bag or using a manual push cart during a walking game of golf causes you to be more exhausted by the time you get to the back 9. Therefore, you'll be more likely to have a bad swing.
How Many Wheels Are on the Best Electric Golf Push Carts?
The best golf push carts have three wheels. But, you also need to consider if the third wheel should swivel or not. It's a good idea to get one that can swivel but also locks. A foldable fourth wheel also adds stability for rough courses.
How Easy Is It to Assemble an Electric Golf Push Cart?
Most manufacturers make it very easy to assemble their electric push carts. The most you will need is a hex key or screwdriver and maybe a wrench. They will usually come at least partly assembled, especially the foldable models.
Can You Push a Dead Electric Golf Cart?
In most cases, you can push a dead electric golf cart. Although when some go dead, they automatically turn the electric brake on. Usually, this is a malfunction, so you can take it up with the manufacturer if your cart is still under warranty. 
You should also note that the weight of the battery makes them harder to push than a standard push cart.
How Often Should You Charge an Electric Golf Cart?
When you don't use the cart for a long time, you should still charge it once a month to maintain battery life. When using it often, charge it the night before a round of golf and unplug the charger once the battery indicator says the battery is fully charged.
How Much Do Replacement Batteries Cost?
Replacement electric push cart batteries cost anywhere from around $150 to over $500. Sourcing these can be difficult — we recommend checking out the manufacturer's website.
Choosing the Best Electric Golf Caddy for You
With so many quality options available, getting lost in the details is easy. Truth be told, you'd likely be happy with any of the top picks in our list of the best electric golf push carts, but our most solid recommendation is the CaddyTrek R2. 
It has an incredibly smooth ride, a decent battery life, powerful dual motors, and AI tech that allows it to automatically follow you or drive in front of you.
Nick Lomas is the founder of GolfSpan, an avid golfer, not quite a pro but has over 15-years of experience playing and coaching golfers from all over the world. His mission is to bring the golfing community a better experience then it comes to choosing the right golf gear, and finding the right set up for your game.