With golf courses getting longer to counteract the distance that golfers hit the golf ball and the constant increase in summer temperatures, carrying your bag becomes a cumbersome task.
Push and pull carts have increased in popularity as they take the stress off your back allowing you to play better golf. According to research done by Dr. Wolkodoff carrying a bag can cost you up to 2 shots per round.
To make it even easier on you, some of the better carts are motorized and can be controlled via remote control. No longer do you have to walk to the cart; you summons it to where you want it to be.
Not to fear though, it will not overrule your commands as you can still use it in manual mode when you so wish or when the battery stops operating at the most awkward times.
Although electric golf carts are rather expensive denting your budget by a couple of hundred dollars more than a pushcart, it offers so much more flexibility and control over your cart from a distance.
A wisely selected electric golf cart with a remote will add to your enjoyment of golf for an extended period and save on the cost of hiring a caddy to carry your bag.
When searching for a remote control golf cart, there are some features that you should consider selecting the best one for your needs.
At a glance: Our Top 7 Best Remote Control Golf Cart
Our Research Parameters 
Golfspan is independent and not pressured by manufacturers to recommend products. We were not paid for the reviews in this article. These remote-controlled golf carts were selected by our team, who have over 100 years of experience playing golf and thousands of hours reviewing products. We may earn an affiliate commission when you purchase something through our retail links.
Quick Overview: Our Top Picks for 7 Best Remote Control Golf Cart
The Best Remote Golf Cart – Reviews
1. NovaCaddy S2R Remote Control Electric Golf Trolley Cart
Pros
Use with remote or manual
Long battery life
Comes with an umbrella holder
Easy to operate
Durable and high-quality brand
Removable 4th wheel
Fairly priced
Cons
Not as powerful as more expensive models
Specs
Max speed: 8km/h
Motor: 2x 200w brushless
Max Load: 40kg
Battery: 14v 20Ah Lithium
Although it is one of the more expensive electric carts on the market it is an investment that is well worth considering.
Nova Caddy carts are renowned for their durability and their ability to traverse any terrain. Adding remote control to the features of the wide range of push and pull carts adds to the popularity of the Nova Caddy S2R remote cart
Powered by a high-quality 9-volt lithium-ion battery that provides exceptional durability that will not require replacement for the first few years. Should you have the unfortunate and unlikely experience of the Nova Caddy cart losing battery power, it can easily be operated in manual mode.
Securing your bag to the cart is a simple process with the footprint at the bottom and strap at the top of the cart.
Additional features include an umbrella holder on the T-shaped handle.
Stability is assured due to the extremely reliable frame and wheels.
2. Caddytrek R2 Smart Robotic Electric Golf Cart Bag Caddy
Pros
Stable base
Hands-free operation
Follows a golfer around
Remote and manual modes
The best follow golf cart for hilly courses
Cons
Battery life could be better
The upper end of the pricing spectrum
Specs
Max speed: 9km/h
Motor: 2x 250w
Max Load: 50kg
Caddytrek R2 Smart Robotic performs exactly as the name indicates, Smart. As one of the most advanced golf push carts ever made it follows you around and can be operated totally hands-free.
It can follow you or move ahead of you as you traverse the golf course.
If you want an electric cart that follows you without you having to direct it all the time via remote control, the R2 Smart Robotic should be on your list. However, it can be slightly overwhelming having a cart following you every step of the way.
Should it become too much to handle watching the cart following you, you can change it to a remote control golf trolley. It does not lack the speed or power to get around the course and traverse the slopes of your local course.
It is a 3-wheel construction with a single swiveling wheel in the front is driven by dual 250 Watt motors that supply sufficient power up any hill while operating quietly.
3. Cart-Tek Yellowstone Electric Golf Caddie
Pros
Great value for money
The battery recharges to full in approximately four hours
Remote control range is up to 120 yards
You can use manual controls on the handle
Timed forward advance setting options of 10, 20, 30 yards
Long-life battery
Cons
Noisy on very steep hills
Specs
Max speed: 7.5km/h
Motor: 2x 240w brushless
Battery: 29v 8.8Ah Lithium
Cart-Tek is a highly rated brand in the electric golf cart industry with quite a wide range of excellent products.
The Yellowstone remote golf push cart is mid-range and has been refined over the last decade while it remains one of the best-selling remote-control electric golf carts on the market.
Although Cart-Tek has similar products available such as the GRI 1500 range, the Yellowstone remains competitive and popular.
The Cart-Tek Yellowstone uses an aerospace aluminum alloy "S-Frame" design for aesthetic appeal while being durable and lightweight.
The multi-functional remote has the standard directional controls, a timed advance feature, brake/stop functions, and an on/off button and can be operated from as far as 120 yards away.
An LED screen that displays speed and battery charge indicators feature on the T-shaped handle. Furthermore, the handle offers manual functionality to control the speed, switch it on or off, and a time advance function allowing the cart to move forward for 10,20, or 30 yards.
In addition to the functionality, Cart-Tek made the electronic controller box waterproof by housing it in a sealed plastic compartment.
Power supply to the electric motor is available as a standard powerful 35Ah sealed lead acid battery or with an ultra-light, long-lasting lithium battery.
The lightweight and compact body is based on three wheels but also has a retractable fourth wheel for support.
One of the biggest golf brands competing on quality rather than price is Callaway.  Their electric golf caddy is no exception. You can rest assured that the same dedication that goes into any other piece of Callaway equipment is included in the Callaway Traverse. As such, this is the best remote golf caddy from a big brand.
Callaway's Traverse Remote Electric cart offers the performance you would expect at a good price but may lack some of the features offered by some competitors.
A lightweight aluminum frame folds easily into a compact size for ease of transport and storage.
The adjustable handle allows golfers of any height or body type to push it without causing any damage to their hands or wrists.
Golf bags are secured to the cart with elastic straps to prevent them from falling off on hilly courses or windy conditions.
Its high-torque dual-motor design offers two DC motors rated at 24V and 90W. to keep the sound down on the golf course the motor housing and gearbox are sealed.
Powered by a 25.2V lithium-ion battery enables you to play up to 27 holes on a single charge. Recharging the battery fully only takes around 6 hours and it can be recharged 800 times before it needs replacement.
The variable speed feature allows you to set the speed to be in line with your pace to keep the cart close at all times. If it does get away from you the remote enables you to control the cart up to 75 yards away from you.
These carts offer plenty of options and accessories for the technologically minded golfer.
The timed advance function allows you to set the time that it moves before it automatically stops without you having to activate it using the remote control. This is ideal when walking along a long fairway that is straight with no obstacles or hazards. But that's nothing compared to these carts simply following you through GPS. You just have it set with your phone or other GPS enabled device and the cart will follow you around the course!
Its sturdy construction and long battery life will endure the rigors of playing in a 36-hole competition before it requires a recharge. The Tubular 200W noiseless motor is driven by a 12V X2 Lithium 14.4V/20AH rechargeable battery that can be recharged approximately 400 times before replacement.
The 3-wheel construction features airless rubber wheels that easily glide across the surface.
It provides ample features for the tech fundi that will make your day a lot more pleasant.
Accessories include a seat, a scorecard holder, and an umbrella holder.
6. Cart Tek GRi-1500Li V2 Electric Golf Caddy
Pros
Programmable
Turning force adjustment can be set to accommodate the lay of the terrain
The quick "free-wheel mode" option allows for operation without a battery
Weatherproof ECU housing
Electronic tracking
Enclosed gearbox
24-volt lithium-ion battery
Cons
Specs
Weight: 31lb
Charging cycles: 500
Battery: 24v 10 Ah Lithium-ion
The V2 version of the GRi-1500Li builds on the legacy built by the first version based on a rugged, sleek design. Functional and comfortable design, as well as the remote control, has been improved while Slope Control technology was added, and the wheels with redesigned with billet aluminum hubs.
To keep the weight. As low as possible the GRi-1500Li features an aviation-grade 6061 aluminum frame weighing in at a mere 21 pounds without sacrificing durability.
Two high torque motors are hidden inside the axle tube to provide 24V. it is powered by a 10Ah lithium-ion battery that can be recharged in approximately 4 hours to last 36 holes. The battery can be recharged approximately 500 cycles before needing replacing.
Improved functionality on the newly designed remote control allows for it to be programmable with a wireless pairing function and a magnetic mount.
Four pre-set factory speed settings allow you to set the speed that you require.
Traversing uneven terrain is made simple with an adjustable handle that can be set between 37 ½ and 46 inches in height″.
Features include a scorecard holder, umbrella holder, and large drink holder.
MGI offers a durable aluminum frame construction that can carry up to 33 pounds.
Its ergonomic height adjustable handle caters to golfers of all heights. The handle has space to place your golf ball, a drinks holder, attach an umbrella, and keep your scorecard.
To store your valuables safely MGI added a bag holder at the back of the cart near the handle for easy access.
Attaching your bag securely is made possible through upper and lower brackets and an elastic strap system.
Power is supplied by a built-in rechargeable battery and uniform PCB board for up and downhill control. The battery can be recharged fully in approximately 5 hours.
Three airless wheels feature a smaller front wheel providing a slight forward tilt.
Securing the cart in a stationary position is made simple using a foot brake system for the rear wheel thus preventing the cart from rolling away while you are out in the fairway playing a shot.
Its fold design enables the cart to fold up into a compact shape for easy storage that requires minimum space.
The Best Remote Control Golf Cart 2022 Buyer's Guide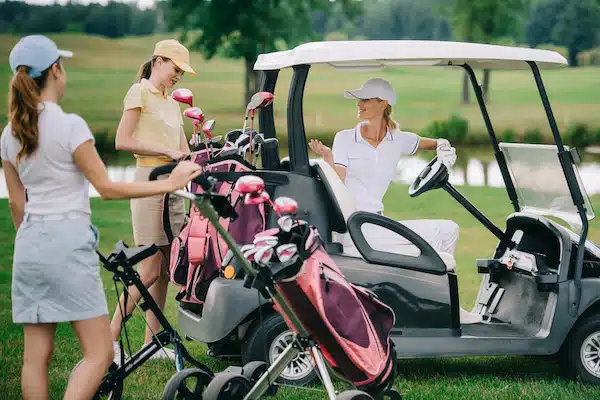 We had the luxury of testing each remote golf caddy over an 18-hole round but you may not have that luxury. Yet, there are some things you can look out for in the pro-shop or online to make your decision easier.
Price
A key selection factor in any purchase is the price. A quality electric cart is no exception to the rule, and you can easily pay well into the 1000 dollar bracket if your budget allows it. Fortunately, there are a substantial number of carts that come in below $1,500.
Your needs, want and budget will determine what you can get to make your life easier on the course.
It is quite evident that the more features the cart has and the more durable the cart are, the more you are likely to pay for it.
Remote Capabilities, Quality, and Ease of Use
Most remotes offer a variety of basic features such as steering your cart in all directions. Some of the better cart remotes offer
A reverse option allows you to back the cart up without having to change direction
Automatic shut off to save the battery on the remote if not used for a set period
A maximum distance cut-out range to prevent it from running away if you are too far from the cart
Tracking adjustment
Easy charging and storage
For ease of operation, the remote should fit comfortably in your hand with buttons that are easy to press and simple to operate.
Size and Weight
Everyone wants a cart to be portable and easy to fit in their vehicles. Long-term storage during the winter season must require minimum space.
The same applies to electric carts. Since it has a battery taking up more space it is important to look at the space available in your vehicle and in your garage where you will store the cart.
Having a battery added to your cart adds additional weight therefore you have to ensure that it does not become too heavy to pick up into your vehicle.
Battery Type
Another crucial element of an electric cart is the battery that it comes with. Although you can still manually operate the cart if the battery dies, it defeats the objective of having an electric cart if the battery dies while you are out on the course.
The most commonly used batteries are the Sealed Lead Acid (SLA) or a Lithium-Ion (Li-ion) battery each with its pros and cons.
SLA batteries are cheaper, heavier, and larger than a Li-ion batteries producing the same power. A benefit of the extra weight is that it adds some stability to the cart. However, the extra weight drains more power, and therefore the Li-ion batteries last longer.
Other areas of a battery to consider is the voltage (V) and amp-hours (Ah). SLA batteries tend to produce less voltage but more Ah.
Electric golf arts require sufficient Ah to perform reliably on hilly courses and more Ah to function longer.
Features & Accessories
Features to look out for on a cart that will make your life a lot easier on the course are:
Drink holder
Umbrella holder
Scorecard holders
Rain covers
Removable seats
Cell phone or GPS holders
Clip or storage compartment for the remote
GPS navigation to display the distance to green
Adjustable Handle Height
To protect your back from having to bend or stretch too much it is advisable that you select an electric cart with an adjustable handle to suit your height.
Adjustable handles will enable you to cope better on an undulating course while protecting your wrist from bending too much
Material
The type of material used in the construction will determine how durable and lightweight your cart is. Most commonly manufacturers of golf carts use steel, aluminum, or titanium.
Steel
Steel is the cheapest, strongest, and heaviest of the three options. If it's the durability that you are after and want to protect your budget, this is the option for you.
Aluminum
Aluminum is the lightest material of the 3 options but is not quite as strong as the alternatives. It is prone to dent when it comes in contact with some trees or other hazards.
Titanium
Titanium is a relatively new material used in golf but is quickly gaining traction and popularity. Similar to aluminum, titanium is lightweight but has the strength associated with steel. Unfortunately, you will have to cough up some extra dollars for the privilege of having a cart that is lightweight and durable.
Speed Control
Controlling the speed of the golf cart to move at the same pace as you are critical if you want the ultimate control over its movements.
Some trolleys move faster or slower depending on the slope of the course to adjust to the possible speed that you are walking at.
Look for a remote that can adjust the speed to keep up with your movement rather than you having to adjust your speed to keep up with the cart.
Wheels
Having the right number and quality of wheels on your cart will make it easier to maneuver and get up hills.
There are options of 2 wheels, 3 wheels, and 4 wheels, either airless or with air.
Airless wheels will avoid punctures to ensure that you do not have to change or fix your wheels during a round while wheels with air tend to be easier to push.
2-Wheelers
This used to be the only option available in the early days of golf carts. Fortunately, progress in design has enabled manufacturers to improve.
2 wheelers have no front wheel thus they will not roll away from you when stationed.
3-Wheelers
3-wheelers have two wheels in the back and one in the center front. It is generally a V-shape V. The front wheel can be either static or it can rotate for increased maneuverability.
These carts tend to be top-heavy and easily topple over on slopes or in windy conditions.
4-Wheelers
This is the most stable configuration with 2 wheels at the back and 2 wheels in the front enabling you to balance the load over a wider area.
Now that we have looked at the most frequently required features of electric carts, let's look at some of the best in the business.
The Best Remote Control Golf Caddy FAQ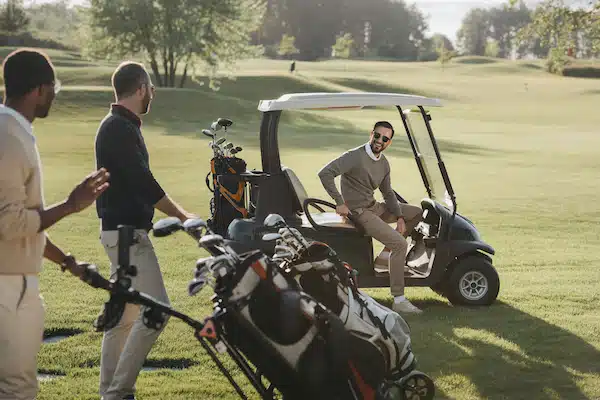 How Much Is an Electric Powered Golf Cart?
A remote-controlled golf caddy that follows you will set you back anywhere from around $900 to $2000.
Can a Remote Control Golf Cart Work in Manual Mode?
Yes, a remote-controlled golf caddy can be used manually, but it will be heavier than a non-electric golf cart so could be a little more taxing to pull around the course.
Are Remote Controls Distracting While Playing Golf?
They can be if you're playing with others and they are fiddling with their cart while you're taking your shot. But, when you're in control, you can use the remote to stop your cart from moving before your shot. It should only take a few seconds.
Are Remote Control Golf Carts Worth It?
They are a great middle-ground for golfers that have trouble carrying to pushing their clubs around but still want to walk rather than use a club car. if that sounds like you, they're worth every penny. You may be better off shopping for one of the best golf carts if you'd rather drive around the course.
Can You Use a Remote Control Golf Cart When It's Raining?
Yes, you can. The electrical components of any decent remote control golf bag cart should be waterproof.
Final Thoughts
The advancement in technology has made it possible for manufacturers to provide electric carts that can be controlled remotely thus enabling you to enjoy your golf. Summonsing your cart to your position creates the feeling of having a caddy carrying your bag.
The wide range of features available on the electric carts does add to the price but it is worth having it available when needed.
Although many carts will meet your needs, we are of the opinion that the NovaCaddy S2R Remote Control Golf Cart offers the best combination of technology, features, battery life, and value for money.
Related Articles