A push cart is ideal for you if you prefer to walk while playing golf. It's better than carrying your bag and cheaper than getting a cart every time you play. However, choosing the right one is difficult with so many push carts.
Is the Bag Boy Nitron Push Cart worth it? The piston technology has made the Nitron Push Cart a product worth buying. The auto-open feature reduces the time and effort required to set up the cart. It has a scorecard console and an umbrella holder integrated into the assembly and has a close-packed folded position to assist with easy traveling and packing.
If you don't find the right way to carry your clubs, you could spend unnecessary money and effort managing your way around your clubs. Not owning a push cart and carrying a bag on your shoulder on every round could cause you to lose a few strokes due to fatigue or even cause back problems.
I'll cover the following topics in this Nitron Push Cart Review:
Pros and Cons
Key Metrics
Who is it best for?
Five reasons to buy the Nitron Push cart
Nitron's Features and Benefits
How does the Nitron compare to Bag Boy's other popular push carts?
Alternatives to the Bag Boy Nitron
So, why should you get the Bag Boy Nitron push cart? Let me review this great piece of equipment for you.
Bag Boy Nitron Push Cart Review: Verdict
Its auto-open technology uses a reliable mechanism to perform efficiently for longer periods and can save you unnecessary effort and concern. It also has a spacious console on top and a compact folded position for easy traveling and storage.
The Nitron push cart solves general push cart pain points using an innovative design and mechanical mechanisms of the highest quality, proving itself to be a great alternative to electric push carts.
Pros
 Easy to open technology.
Compact in size when folded.
Top Lok technology for golf bags.
The brake uses a mounted handle.
Lightweight.
Cons
Wheels are not as premium as compared to other trolleys on the market.
The design doesn't feel sturdy and reliable.
Key Metrics Table to Consider
Here's a table that summarizes the key metrics of the BagBoy Nitron push cart:
| | |
| --- | --- |
| Total Score | 95 |
| Star Rating | 4 stars |
| Quality | 90 |
| Features | 94 |
| Weight | 93 |
| Durability | 90 |
| Aesthetics | 91 |
| Price | 88 |
BagBoy Nitron Push Cart Review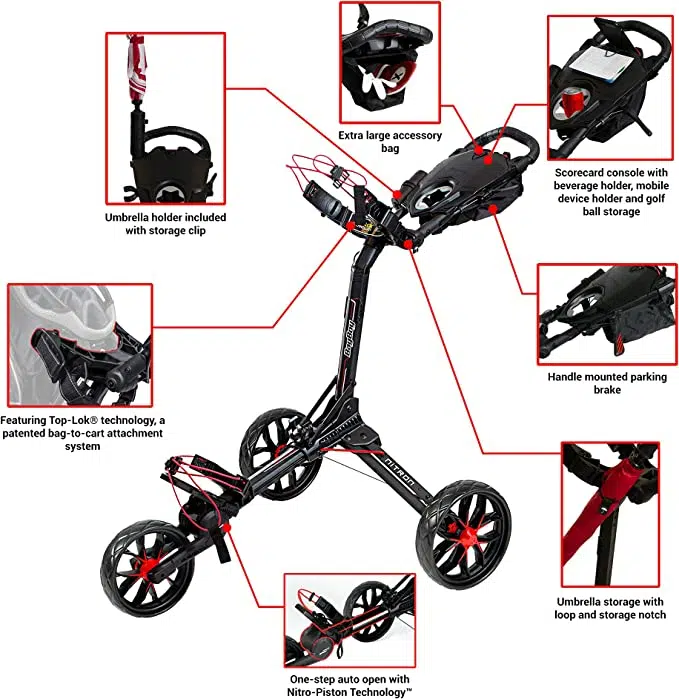 Bag Boy released the Nitron Push Cart during the 2019 PGA show. Since its release, the Bag Boy Push Cart reviews have been splendid. The new version of BagBoy differed from its predecessors in, first and foremost, the name. Secondly, it offered new features and mechanisms.
The new Nitron model by BagBoy adopted these features to cater to clientele pain point issues.
Who's The Bag Boy Nitron Push Cart For?
The Bag Boy Nitron auto-open push cart is ideal for golfers who don't want to spend the extra money on an electric pushcart and who play regularly enough that it makes sense to invest in a pushcart that will last for years.
Using a push cart will help you better concentrate on your round as it will help you save energy throughout as compared to carrying your bag on your own shoulder. On a long, hot day, conserving energy and reducing fatigue can be the number one reason behind a good or a bad round.
Read more: Best Golf Push Carts Review
Why You Should Trust Us
Our team spends thousands of hours trying out and researching golf equipment to help you take your game to the next level. Here's our product review process.
We can bring these reviews to you through the small commissions we earn if you buy through the links below.
5 Common Reasons Why You Shouldn't Get A Push Cart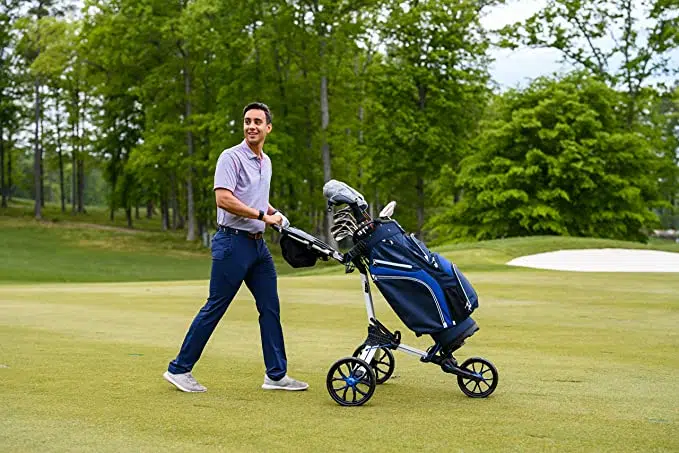 Here are 5 reasons why some golfers don't like using a push cart.
1. It's Hard to Manage a Pushcart
If you've ever owned a Pushcart, it's a little tricky to travel with it. It takes up a lot of space in your trunk or storage compartment, even after folding the cart. The airline might charge you a little extra if you're flying with it.
2. Push Carts Require Effort When It Comes to Opening and Closing Them
Push carts need to be folded and unfolded for traveling and playing. This procedure can take time and effort and can make a round of golf a little hectic before the round even starts.
3. Push Carts Are Heavy
Sometimes push carts are built too bulky, and working with them on the course can be a hassle. Push carts limit the movement of the kit as you can't take a kit-strapped-push cart with you to various places on the course (off the fairway).
4. Not Always of the Best Quality
The material used for assembly and manufacturing is either prone to fracture or too heavy. Your whole investment in a push cart is worth nothing if the pushcart breaks.
5. The Tires on a Push Cart Can Wear Out
Tires are the reason push carts find their utility. If you've bought a push cart with subpar tires, they will wear out sooner than others, and the push cart will be hard to push on the course.
Now let's see how Bag Boy Nitron Push cart combats all these shortcomings.
Bag Boy Nitron: Benefits & Features
I took the Bag Boy Nitron push cart with me on the course to test it out.
This specific push cart was, in fact, easy to roll around the course, set up, and proved handy.
Nitron Piston Technology
In my opinion, this is the best feature of this trolley. The Nitron Piston Technology makes opening the push cart from its folded position a one-step process.
As someone who has been using push carts for some time now, I can tell you that this part about most push carts is a hassle. When you're finally outside the course, you would be standing outside your car, breaking your back and trying to open your trolley.
But the Bag Boy Nitron uses Nitron Piston Technology and stores compressed air in tunnels of its construction during folding. When it's time to unfold the push cart, you just push a button, and the pushcart expands into position and locks itself. All on its own.
By far, this is the best feature of this cart.
Console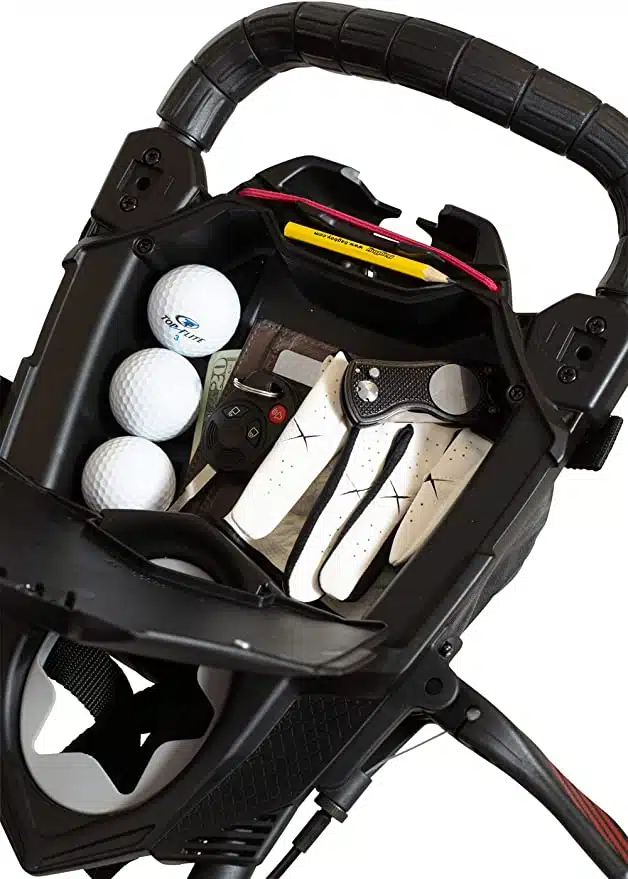 The console on top of the cart is not huge but big enough to hold all of your necessary items on the course.
There's a dedicated space for a scorecard, an umbrella holder, a dedicated stand for your mobile phone, and the best thing – it has a drink holder.
These features come in handy on the course and when traveling; everything you need is at your fingertips and can be accessed while strolling on the course without bending into the bag to get your phone or something.
Top Lok Technology
The Top Lok system locks your bags right into the top of the pushcart. This is not a pain point for you as a consumer because if you have another bag from another company, you can strap it in using the bungees provided, and you will not be bothered by the lock system.
Read more: Best Golf Bags for Push Carts
Compact Folding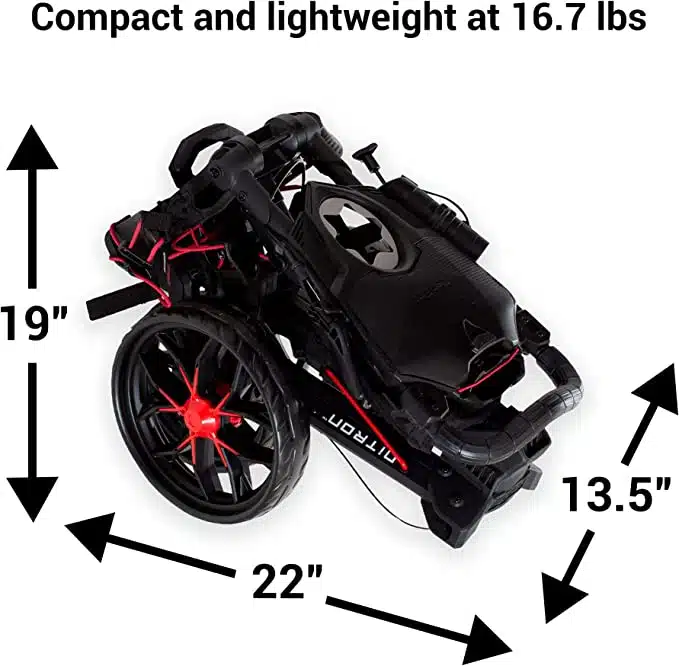 A lot of push carts have recently adopted this feature, so it's nice to see that the Bag Boy comes equipped with these compact folding features.
When folded into the storage position, the Bag Boy Nitron folds to roughly 19" x 13.5" x 22".
The compact folded position is great for traveling and storage and saves space compared to a bulky constructed trolley.
Construction
The Nitron push cart is lightweight and durable, a combination you rarely see. The construction is plastic.
It stands high and tall above the ground when it's in its unfolded position. The opening and closing of this push cart are effortless and provide great luxury for golfers in a hurry.
There is a handle-mounted parking brake to stop the cart from rolling down a hill on uneven terrain.
Compare Bag Boy Push Carts: Nitron vs Quad XL vs TriSwivel II
We know what the Nitron push cart has in store for us. Now we'll look at some other push cart models available in the market by Bag Boy.
The Quad XL pushcart by Nitron differs from the Ntron push cart as it offers a sturdier frame with superior construction. It's built around four wheels to provide extra support & leverage for bigger & heavier bags.
The Quad XL offers a compact folded position and advertises a simple two-step folding procedure. Like the Nitron push cart, it comes with Top-Lok technology but does not comprise the auto-open feature.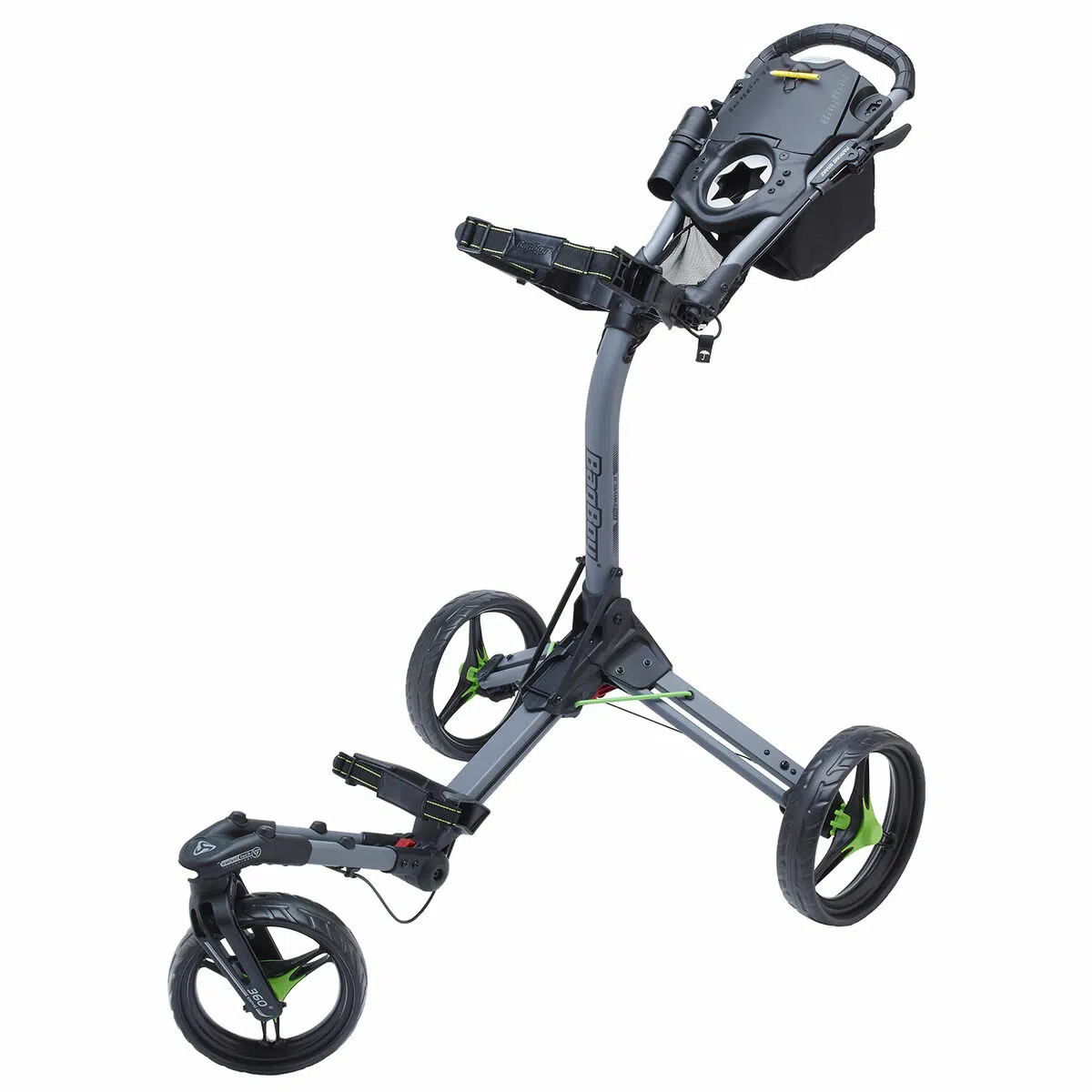 The TriSwivel II push cart is another variant in the Bag Boy push cart series. It's a three-wheel push cart with the main emphasis on the front wheel. The front wheel is allowed to rotate the entire 360° for easy maneuverability around the golf course.
It comes with a three-step closing mechanism.
Alternatives to the Bag Boy Golf Push Cart
If you decide not to go with the Bag Boy Nitron Pushcart, there are some other options you can choose from:
The SereneLife push cart offers a bit more sturdy frame as it is made from aluminum weldments. The push cart offers durability in all aspects, including its ball-bearing wheels and adjustable handle for people of different heights.
It also has a simple and quick braking system. It is almost the same size as Bag Boy Nitron Push cart when folded.
CaddyTek Push Cart – Most Features Packed In a Push Cart
This push cart offers easy folding and closing because of their patented two-step closing mechanism using push button.
The body is designed to be wide for easy pushing and pulling. It also has a patented built-in cooler basket and a console for your phone and rangefinder.
This lightweight push cart also offers a compact size folded position. The design is simple, with not a lot of fancy features, which makes it easy to be taken care of.
Its assembly requires putting together two wheels which doesn't take much time and helps save space when folded.
A push cart with an overall no non-sense design. This push cart is made of aviation-grade aluminum, which provides durability and makes pushing the cart relatively smooth.
It comes with a foot brake and an easy one-push folding mechanism making it a viable solution for your push cart needs on the market.
FAQs
Are BagBoy Push Carts Good?
BagBoy push carts provide good value for money. They are lightweight but sturdy in build. They are easy to store and transport and can be folded and unfolded easily. They also provide a spacious console for your scorecard, phone, and drinks.
Is BagBoy a Good Golf Brand?
BagBoy is a decent golf brand producing golf bags and push carts. They target the average golfer and deliver products with a mix of quality and durability. They have great reviews from their customers and have proved themselves to be a top retailer in the market.
Where Is Bag Boy Made?
BagBoy products are manufactured in the U.S. The first ever product made by BagBoy was in Portland, Oregon, in 1946. Later the company became a division of Ben Hogan Company and moved to Richmond, Virginia, United States.
Final Thoughts — Is Bag Boy Nitron Auto-Open Push Cart A Worthy Purchase?
I tested this product rigorously on the course. I took it to several courses with different conditions and terrains to test its performance.
The Bag Boy Nitron Push Cart is lightweight and easy to push around. Although the light weight is disadvantageous for a larger bag because it can cause the pushcart to tip over, this was not the case with the Nitron pushcart.
The quick open and close features will come in handy and save time for golfers of all categories.
When it comes to buying a push cart, your golf handicap is not a limitation. No matter what handicap you are, your reliance on a push cart will depend on your personal playing preferences.
An option for a push cart is available for anyone who enjoys walking on the course. However, I recommend pushcarts to regular golfers, college golfers, or other golfers who compete at tournament levels often and do not use a caddie. Because, let's face it, carrying your bag every tournament week in and week out can hurt your performance.
Using a push cart is easy on your legs – it's easier to manage and get into your golf bag and other necessities. Most importantly, it can remedy the added fatigue of carrying a bag throughout the round, and you perform your best golf to compete.