Tomberlin Golf Carts are more than your average golf carts. Renowned for their unique flair, uncompromising safety, and exceptional build quality, these premier golf carts provide a driving experience that aligns more with a vehicle than a traditional golf cart.
Unlike other Tomberlin golf cart reviews, we will explore the intricate details of Tomberlin's offerings, supplying all-encompassing insights into each model. I will also discuss reported issues and aspects that set them apart in the crowded marketplace.
Tomberlin Golf Carts Review: Overview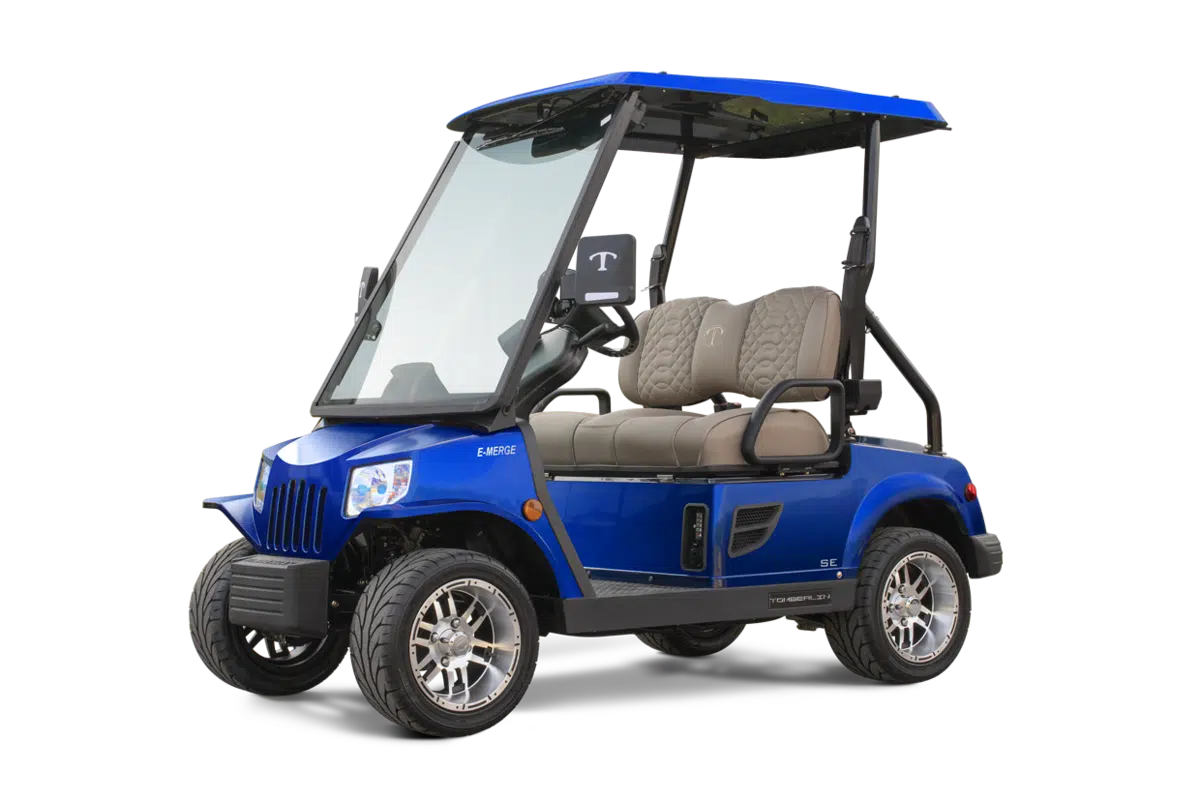 Pros
Designed for road users
Can be used on both roads and golf courses
Electric power steering
Eco-friendly
Good top speed
Classic look with various colors available
Lower noise and maintenance
Cons
Less power compared to some alternatives
May not function in case of power shortage
High upfront Tomberlin golf cart price due to premium features
Incepted in 2007, the Tomberlin Golf Cart Company, a key part of the Columbia Vehicle Group, operates under the vast umbrella of the Nordic Group of Companies. With their manufacturing unit located in Leesburg, Florida, Tomberlin carts have carved out a special place for themselves for their top-notch safety features, sumptuous amenities, and sterling performance.
I can feel the quality when riding in a Tomberlin golf cart. Some golf carts will rattle or sputter up hills, but Tomberlin carts are powerful. Electric golf carts especially can be unstable, but I know when I rent a Tomberlin that I have a smooth ride and I can focus on my game
Tomberlin's golf carts come packed with remarkable features such as 3-point seat belts, hydraulic brakes, side mirrors equipped with lights, a proprietary ignition key, a 7" LCD screen, and a robust AC drive motor. These superior features have catapulted Tomberlin to the zenith of the industry.
Why You Should Trust Us
Our team spends thousands of hours trying out and researching golf equipment to help you take your game to the next level. Here's our product review process.
We can bring these reviews to you through the small commissions we earn if you buy through the links below.
How We Reviewed These Products
Golfspan only shares equipment and brands we trust.
I'm a PGA-certified golfer and instructor, and I thoroughly researched and evaluated the Tomberlin golf carts. Then an editor reviewed and fact-checked the review. Finally, we conduct regular content audits to update and revise our reviews to ensure you receive the latest information.
When researching these golf carts, we considered these criteria:
Cost
Power
Steering
Speed
Looks
Noise
5 Tomberlin Golf Cart Models
E-Merge GT Review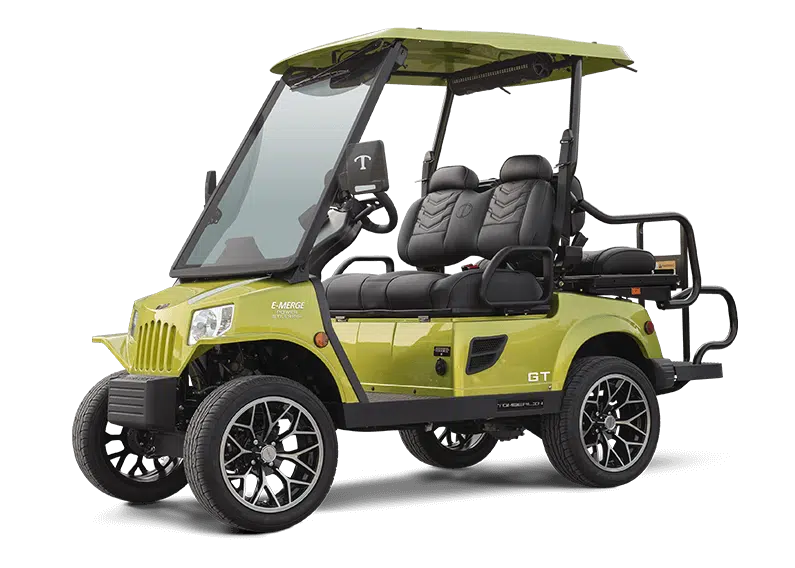 The E-Merge GT delivers a thrilling yet comfortable ride in 2, 4, or 6-passenger layouts. The model is available in a vibrant palette of four colors and flaunts 15" alloy wheels. Armed with a potent 5kW AC motor and a 450 Amp drivetrain, this model can sprint from 0-25 mph in just 6 seconds, making it a go-to choice for speed enthusiasts.
E-Merge SS Review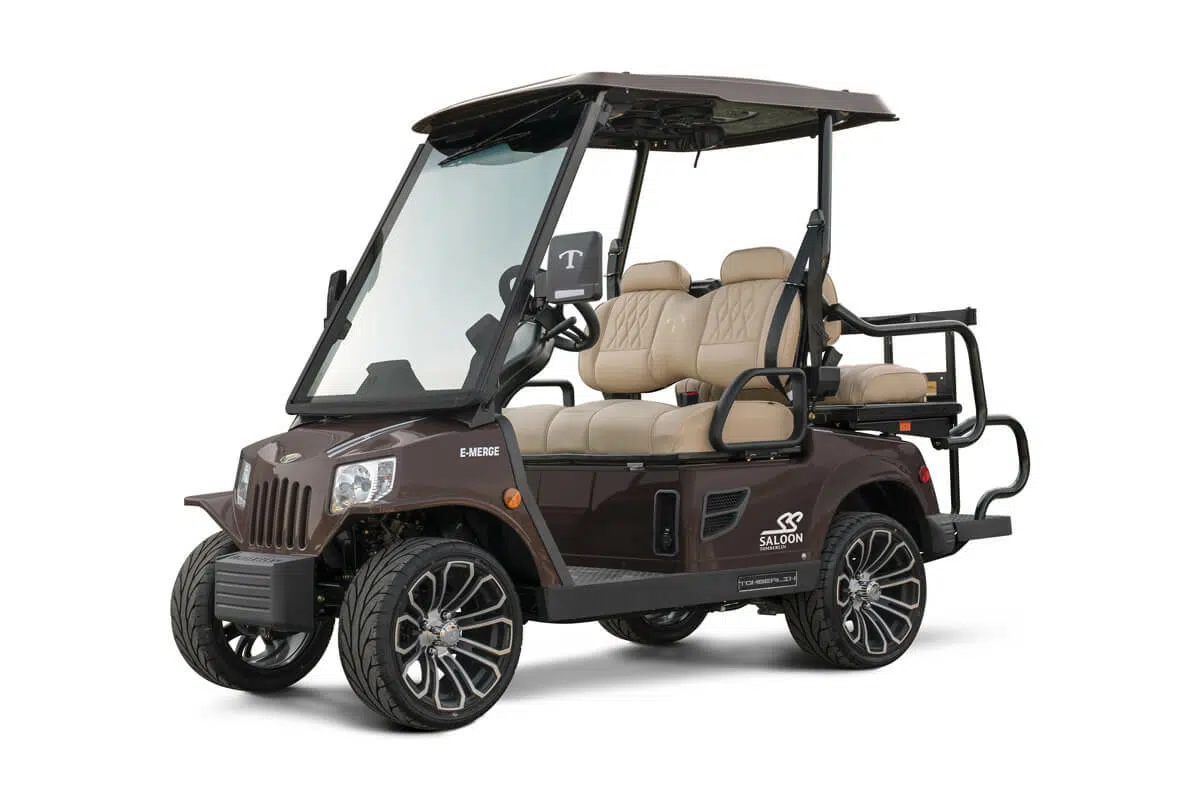 Constantly evolving, the E-Merge SS model is accessible in 2, 4, 6, and 8-passenger variants. It presents four new hues for 2023, along with an array of CoolTouch upholstery options for supreme comfort. The SS model stands out for its superior handling, courtesy of its power steering and 4-wheel hydraulic braking system.
Tomberlin Ghost Hawk Review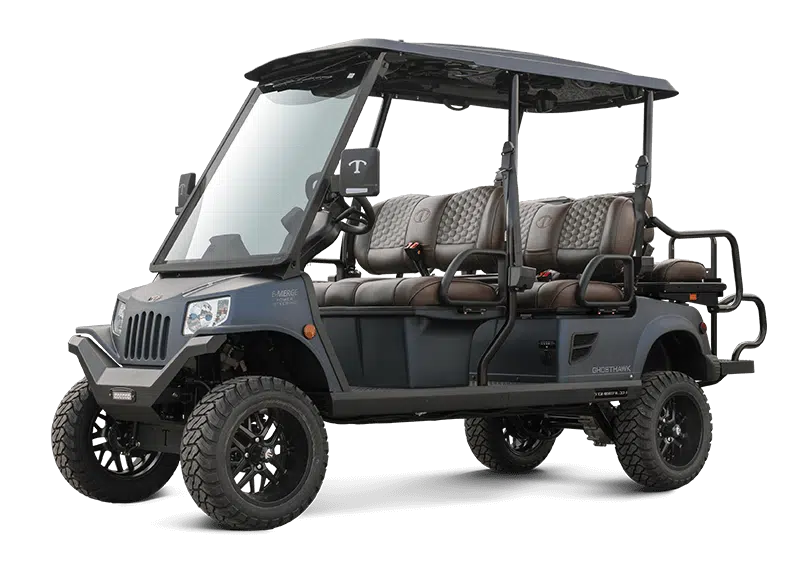 Touted as Tomberlin's crown jewel, the E-Merge Ghosthawk unfolds a wide array of options in sizes, color combinations, or enhancements in wheels and tires. This model prides itself on its LED front bumper, an optional feature for street radial tires, and an aesthetic design that's unique and captivating.
Known for its unwavering reliability, the Ghosthawk delivers: The E-Merge GT delivers a thrilling yet comfortable ride which is why it's often the first choice among golf cart lovers.
E-Merge LE Plus Review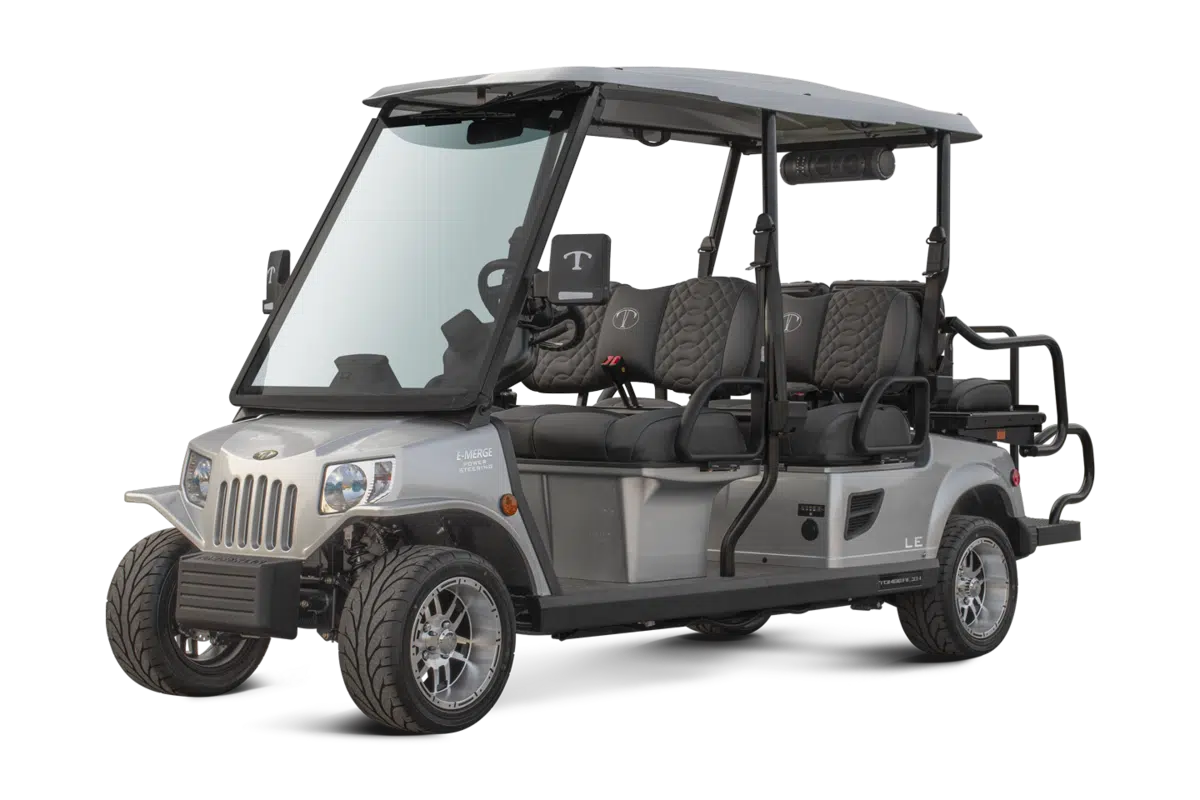 The E-Merge LE Plus is the epitome of style, comfort, and luxury all rolled into one. It has a cutting-edge Bluetooth soundbar, a palette of eight enticing color options, and a generous list of standard features that leave nothing to be desired.
Tailored for those seeking an opulent golf cart experience but refusing to compromise on performance or safety, the LE Plus model is a testament to Tomberlin's commitment to delivering nothing but the best.
E-Merge Revenge Review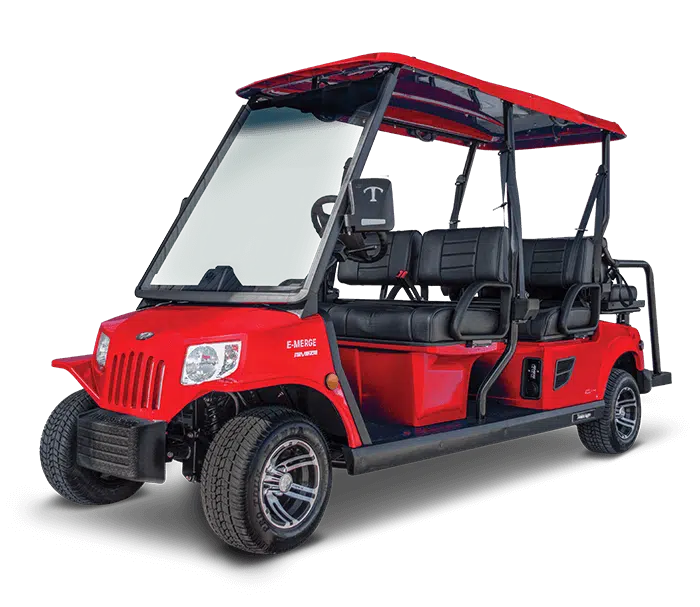 The E-Merge Revenge, a beginner-friendly golf cart, has impressive features such as 3-point seat belts, hydraulic brakes, illuminating side mirrors, and a potent AC drive motor. This model strikes an unmatched balance between affordability and quality, making it an attractive option for those venturing into the world of golf carts.
Each of these Tomberlin models brings its own set of unique features and advantages to the table, catering to a diverse array of preferences and requirements.
Tomberlin Golf Carts: What Sets Them Apart?
View this post on Instagram
Tomberlin Golf Carts are about safety, luxury, and aesthetics. The Emerge series, for instance, boasts a unique aesthetic that differentiates it from the competition. This often leads customers to choose Tomberlin over other golf cart brands.
Additionally, Tomberlin carts are designed for on-road use, far exceeding the Low-Speed Vehicle (LSV) safety requirements put forth by the National Highway Traffic Safety Administration. They can travel up to 40 miles with a Tomberlin golf cart top speed of 25 mph.
As a side note, if you're looking for more power, check out the difference between 48 vs 72v golf carts here at GolfSpan.
Tomberlin Electric Golf Carts: Power, Performance, Safety, & Security
View this post on Instagram
Tomberlin Golf Carts come with a 5kW AC motor with regenerative braking and a 450 Amp AC Controller. The top speed is 25 MPH, with a range of over 20 miles per trip.
It also features onboard smart charging, 3-point seat belts, 4-wheel hydraulic brakes, self-canceling turn signals, a fully integrated rearview camera, a unique key set, automotive steering column controls, and locking storage compartments.
Key features include:
5 kW AC drive 17HP peak regenerative braking motor
Eight 6-volt batteries (48V system)
14-inch aluminum wheels and steel-belted radial tires
450 amp Sevcon AC controller
E-coated and painted tubular steel frame for improved appearance
Anti-Roll sway bar with 12.25:1 ratio all aluminum transaxle
4-wheel hydraulic brake system with E-Brake parking
DPI GEN IV 48 volt 17 Amp Golf cart Charger with Crowfoot Connector
2 forward speed and reverse control switch
7-inch illuminated dash display with speedometer, odometer, and backup camera
Do Tomberlin Golf Carts Have Reported Problems?
Some users have reported issues related to the battery, brakes, lights, steering, motor, and some defective parts. Note, however, that these issues might vary from one unit to another, and many users have reported no problems at all.
What Is The Pricing and Availability Of Tomberlin Golf Carts?
Tomberlin doesn't openly disclose pricing information; negotiation occurs at the local dealer level. However, premium models can reach $25,000 or more. Tomberlin Golf Carts are sold through a network of educated and prepared dealers across the United States, offering buyers an extensive support system.
What Is The Warranty and Customer Support Of Tomberlin Golf Carts?
Tomberlin offers a limited 5-year warranty, though it's worth noting that the battery is not covered. Their customer support is known to be responsive and helpful, which is a significant advantage for buyers.
FAQs
Are Tomberlin Golf Carts Street Legal?
Yes, Tomberlin golf carts are among the best street-legal golf carts in the market. This is due to their adherence to the Low-Speed Vehicle (LSV) safety requirements set by the National Highway Traffic Safety Administration.
These requirements include seat belts, headlights, taillights, reflectors, rearview mirrors, parking brakes, windshields, and vehicle identification numbers (VINs). Tomberlin golf carts meet and often exceed these requirements.
They feature unique ignition keys, a Smart Park automatic parking brake, a 7" LCD screen that often serves as a digital dashboard, and a VIN number for proper registration. Moreover, these golf carts can reach speeds of up to 25 mph, making them suitable for local, low-speed traffic.
Where To Buy Used Tomberlin Golf Carts For Sale?
Purchasing a used Tomberlin golf cart can be a wise choice to save money while still securing a quality, high-performance vehicle. These can be purchased through various channels.
Official Tomberlin distribution partners often offer used or refurbished models. However, several online platforms also present viable options. Websites like Craigslist, eBay, and the Facebook marketplace often have listings for used Tomberlin golf carts.
It's important, however, to ensure that the seller is reputable and the cart is in good condition. Check for proper documentation and, if possible, take the cart for a test drive before completing the purchase.
What About Tomberlin Golf Cart Accessories?
Tomberlin takes customization and maintenance to the next level with an extensive array of parts and accessories. These options cater to individual preferences and requirements, ranging from distinctive seat covers and high-performance wheels to advanced sound systems and durable windshields.
You can source these components online through specialty golf cart stores or general e-commerce platforms. Alternatively, contact the dedicated Tomberlin customer service team to place direct orders.
Who Makes Tomberlin Golf Carts?
The Columbia Vehicle Group, a vital subsidiary of the Nordic Group of Companies, is the creator of Tomberlin Golf Carts. Based in America, this influential conglomerate has a long-standing history of crafting diverse specialized vehicles, with Tomberlin Golf Carts standing tall as a significant product line.
These golf carts embody the group's unwavering dedication to innovation, superior quality, and exceptional performance.
How Much Do Tomberlin Golf Carts Cost?
Pricing for Tomberlin Golf Carts fluctuates depending on the chosen model, included features, and the cart's overall condition. In 2023, the price bracket typically spans between $8,000 and $15,000 for brand-new models, with luxury variants reaching up to $25,000.
You can expect base models at the price range's lower end, while the upper end showcases advanced models adorned with additional features and enhancements.
What Are The Tomberlin Golf Cart Models?
As of 2023, Tomberlin presents a diverse portfolio of golf cart models, each meticulously designed to cater to varying needs and preferences. The principal models available include the Ghosthawk and various Tomberlin E-Merge golf cart variants, each with different golf cart titles:
* The E-Merge GT
* The E-Merge SS
* The E-Merge LE Plus
* The E-Merge Revenge
Every model unveils unique features and configurations, ensuring there's a perfect match for every golf cart enthusiast.
Conclusion
From our thorough Tomberlin Golf Cart reviews, it's clear these carts strike a delicate balance between value, customization opportunities, and speed. Despite some reported issues, these carts warrant consideration from potential buyers seeking a premium, high-performance low-speed electric vehicle for road use or a top-tier golf cart.
Tomberlin's unwavering commitment to safety, luxury, and style sets them apart in a crowded market.
With standout models like the Ghosthawk and E-Merge series, Tomberlin has redefined expectations of what golf carts can and should be. Whether you're passionate about golf or simply love the thrill of the ride, a Tomberlin Golf Cart could be your perfect companion.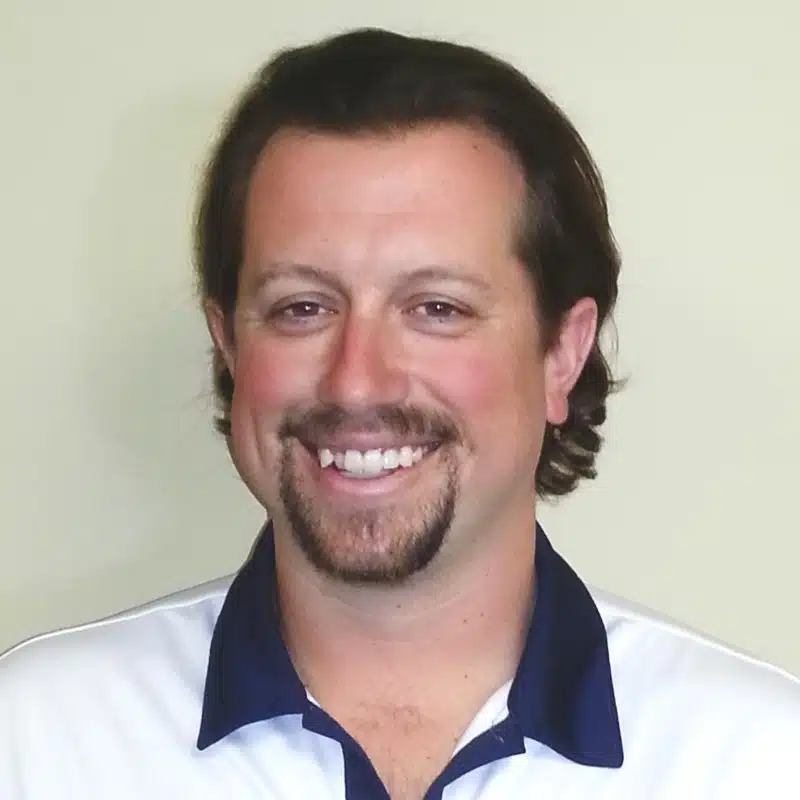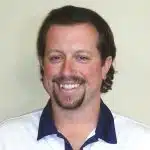 Clint became the Head Teaching Professional at one of Toronto's busiest golf academies and was featured on Canada's National Golf TV program, "Score Golf Canada," twice. He now tests and reviews golf equipment and gets to enjoy the game he loves whenever he wants while helping people lower their scores.