I've noticed a rising trend among golf enthusiasts – the integration of the best golf cart speakers to amplify their game experience. As a golf instructor, I hear the pros and cons of this from clients and friends.
While golf purists may raise an eyebrow at the thought of music on the greens, younger players are embracing this evolution, finding that their favorite melodies enhance their time on the course. To prep for this, I've tested 27 golf speakers and interview golfers in my community.
Here are the best golf cart speakers in 2023:
Golf carts have evolved beyond being mere vehicles to shuttle between holes. Today, they're equipped with top-notch accessories tailored for the modern golfer, and prime among them are high-quality speakers. In this guide, I've meticulously reviewed the best golf cart speakers on the market, ensuring they resonate with the unique ambiance of the golfing realm.
Below, you'll find my top 3 picks, and then I'll cover the pros, cons, and reviews from my personal experience testing the best golf cart speakers on the market.
Top 3 Golf Cart Speakers
Why You Should Trust Us
Our team spends thousands of hours trying out and researching golf equipment to help you take your game to the next level. Here's our product review process.
We can bring these reviews to you through the small commissions we earn if you buy through the links below.
How We Reviewed These Products
Golfspan only shares equipment and brands we trust.
I'm an avid golfer fascinated by golf technique and the equipment of our sport. For this post, I thoroughly researched and evaluated the speakers shared below. Then, an editor reviewed and fact-checked the list. Finally, we conduct regular content audits to update and revise our reviews to ensure you receive the latest information.
To select these speakers, we considered the following criteria:
Sound quality
Price
Battery life
Waterproofing
Connectivity
Attachment mechanisms
And much more!
Best Golf Cart Speakers: Our Top Picks
Our best Bluetooth speakers for golf carts are set out below.
1. Ultimate Ears Wonderboom 2 — Best Overall
Key Features
Size: 10.4 cm x 9.5 cm
Bluetooth: Yes
Battery life: 13 hours
Speakerphone: No
Voice assistant: No
Rating: 9.7
The Ultimate Ears Wonderboom 2 is a top-of-the-line golf speaker that provides amazing sound quality for your golf cart. We found it to be the most impressive of all the speakers we looked at.
In addition to the excellent sound quality, you can boost the sound even higher outdoors if you need that extra bit of projection. We found it wasn't needed, as it is loud enough already, but having both indoor and outdoor modes is certainly a plus.
The rechargeable battery lasts 13 hours which is fairly standard and more than sufficient to complete a couple of rounds and still have juice left over.
No need to hide the speaker away if there is a sudden bout of rain crashing down on you, as the unit is rated IP67 for dust and water resistance. This rating gives it superior protection to most other speakers.
There were only a few drawbacks we noticed, and all were minor. The first is it doesn't have a microphone so you can't take calls or connect to Alexa. And the second is that it has a Micro USB port rather than a USB-C port so charging is slower. And finally, there is no 3.5 mm port, so you can't use an aux cable — it's Bluetooth only.
2. JBL Charge 4 Waterproof Portable Bluetooth Speaker 
Key Features
Size: 8.9 cm x 21.6 cm x 8 cm
Bluetooth: Yes
Battery life: 20 hrs
Speakerphone: Yes
Voice assistant: No
Rating: 9.6
The JBL Charge 4 is the first of JBL's excellent line of speakers to be featured in this review.
The JBL Charge 4 allows you to connect two source devices simultaneously, alternating between phones to suit everyone's music taste, so no more arguments with this little speaker!
The unit is rated IPX7, so it handles the outdoors rather well, although not quite on the Ultimate Ears Wonderboom 2 level.
With the Charge 4, you can enjoy premium sound quality with its 360-degree omnidirectional sound and volume capabilities. The enjoyment also lasts for a damn long time thanks to the 20 hours of battery life (which is joint third on this list).
This sizeable battery life can also come in handy if your phone battery runs low. It features a USB-C port which you can use to quickly charge your phone.
The biggest drawback we noticed with the JBL Charge 4 is that there is no stereo option; hence the music has to be played in mono. However, we couldn't tell the difference on such a small speaker, so we're happy it took our second spot.
3. Bose SoundLink Flex Portable Speaker — Premium Pick
Key Features
Size: 20.1 cm x 9 cm x 5.2 cm
Bluetooth: Yes
Battery life: 12 hrs
Speakerphone: Yes
Voice assistant: Yes
Rating: 9.5
When you think of speakers, Bose is probably one of the first brands that comes to mind, therefore, it should come as no surprise that one of their speakers made our list.
We chose the Bose SoundLink Flex. It features Qtechnology and produces some of the crispest sound we have heard — exactly what we would expect from Bose.
It is also very robust, having an IP67 rating, meaning it not only tackles submersion in water for 30 minutes but is also dustproof. Only the Ultimate Ears Wonderboom 2 can match it in this regard.
Battery life is one of its weaker areas, lasting 12 hrs before the need for a recharge, yet this is plenty for a day out on the course. While doing so, you can connect to Siri or Google Assistant with just the touch of a button.
I really admire the form of this golf cart Bluetooth speaker. It may not be the smallest, but it has a very slick appearance. In addition, the convenient utility loop is a nice touch to secure it to your golf cart.
I'd have to say the weakest point is the cost. It's the most expensive by a long shot, so I expect it is out of budget for most golfers.
4. JBL Clip 3 Waterproof Portable Bluetooth Speaker
Key Features
Size: 9.7 cm x 13.7 cm x 4.6 cm
Bluetooth: Yes
Battery life: 10 hrs
Speakerphone: Yes
Voice assistant: No
Rating: 9.3
The second JBL speaker we looked at is the older version of the JBL Charge 4. This does not detract from the awesome features provided on the JBL Clip 3.
It is more affordable than the JBL Charge 4 without sacrificing speaker quality.
A built-in carabiner on the JBL Clip 3 makes hanging this ½-pound speaker to your golf bag or on the cart quite straightforward. However, the limited size of the Clip 3 results in a smaller battery life of only 10 hours, the least of all the speakers we looked at.
The JBL Clip 3 is IPX7 waterproof, so you can use it without the stress of worrying about water damage. And while it has a built-in microphone, there is no voice assistant compatibility which some golfers may miss, however, to us it's not a big issue.
As for availability, the JBL Clip 3 comes in a range of 12 colors which is the most on this list. The next highest color options come from OontZ which offers 8.
5. RokForm G-ROK Magnetic Wireless Golf Speaker — Best Attachment Mechanism
Key Features
Size: 16.5 cm x 7.8 cm x 4.4 cm
Bluetooth: Yes
Battery life: 24 hrs
Speakerphone: Yes
Voice assistant: No
Rating: 9.3
The RokForm is one of the most durable Bluetooth speaker options for a golf cart as it has both IPX7 protection and it's drop-proof from a height of 5 ft.
The latter is especially useful in case its attachment mechanism fails which isn't a carabiner or loop, no, it instead uses powerful magnets which is far more convenient. We found the magnets to be incredibly powerful, and they attached to our golf cart with ease. They're our favorite attachment mechanism by a country mile.
When it comes to sound, the speaker is capable of spitting out very loud music, our only gripe is that the low end left us wanting more, but for the price, the sound is exactly where we expected it to be.
The G-ROK speaker also shines when it comes to battery life, giving you 24 hours of uninterrupted listening, making it one of the best speakers for your golf cart if you prioritize battery power. This is the equivalent of 6 rounds of golf and is only matched by the Anker Soundcore.
The main trade-off between these two is while the G-ROK sounds better, is more robust, and features powerful magnets, the Anker Soundcore is way cheaper.
As a final point, this Bluetooth golf cart speaker has a Micro SD card slot that can support up to 5,0000 songs. We doubt you'll ever need to use it in the music streaming age, but it's reassuring to know you can use play music without a phone.
6. Ampcaddy Version 3 Golf Bluetooth Speaker
Key Features
Size: 10.2 cm x 10.2 cm x 5.1 cm
Bluetooth: Yes
Battery life: 20hrs
Speakerphone: Yes
Voice assistant: No
Rating: 9.2
We can thank PGA golfers for this Ampcaddy golf speaker that swivels up to 180 degrees.
You can direct the sound to other golfers ahead or to the side of your cart without removing the speaker. Even when the round is complete, you can continue to enjoy the quality sound for up to 20 hours without recharging, placing it narrowly behind the RokForm G-ROK's 24 hours.
The Ampcaddy's bass subwoofer projects the sound well, and we'd say the quality is a little above the others at its price point. Besides its IPX7 waterproof protection, it's also drop-resistant like the G-ROK and Soundcore, so it can tackle pretty much anything you throw at it.
Like the JBL Charge 4, you can connect two devices to the speaker to switch up music tastes often, and each can be staggering 100 ft away.
Finally, I think it's worth mentioning that the Ampcaddy comes with 2 years of warranty, which considering the price, is very respectable.
7. Anker Soundcore Bluetooth Speaker — Budget Choice
Key Features
Size: 16.5 cm x 4.6 cm x 5.3 cm
Bluetooth: Yes
Battery life: 24 hrs
Speakerphone: Yes
Rating: 9.1
For the penny pinchers who want the cheapest golf speaker we recommend, listen up because the Anker Soundcore punches well above its price. While the sound quality is far below the likes of the Wonderboom 2 or SoundFlex Link, it's much better than the OontZ speaker. We found its bass to be one of the main areas it underperformed.
Yet when we cranked up the volume to max, we were surprised by how clear the sound remained. We should note that Anker claims the speaker produces "Less than 1% harmonic distortion even at high volumes," and we have no reason to doubt this.
In addition to the lowest cost, the Anker Soundcore boasts the highest battery life at 24 hrs, matching the Rokform G-ROK. This is pretty remarkable when you consider that you can also buy four Soundcores for the price of one G-ROK.
Lastly, the range was another impressive feature. We could set our devices up to 66 ft away with no issues which was more than we needed.
8. OontZ Golf Edition Bluetooth Speaker
Key Features
Size: 10.2 cm x 10.2 cm x 5.1 cm
Bluetooth: Yes
Battery life: 14 hrs
Speakerphone: Yes
Voice assistant: No
Rating: 8.7
If you're after a speaker that screams golf, the OontZ Golf Edition speaker is the one for you. It sports a green triangular design with a minimalist golf course printed on the front. I just love how it looks. Of course, you can always purchase it in a different color — there are plenty to choose from.
The speaker features a 10+ watt booster amp, which projects much more volume than you'd expect. However, regarding quality, the OontZ speaker was a little lacking, we would say it was the worst of the speakers on this list. On the other hand, the audio didn't become too extorted when set it to max volume, which is a plus.
A unique feature of the OontZ speaker is the dual speaker mode which allows you to connect two speakers simultaneously. This enables you to set each speaker to either the left or right channel for better depth and overall projection. This feature is great for songs where parts of the track switch between the audio channels.
Besides the cost, which is astronomically low for what you get, we were also wowed by the Bluetooth technology of the unit. You can set your phone up to 100 ft away without losing connection. This easily beats out the likes of the Bose SoundLink Flex, which manages just 30 ft.
On the other hand, it has the poorest water protection of all the golf speakers we looked at. It can only handle light-projected water, not heavy projection, or submersion.
Golf Cart Speaker Buying Guide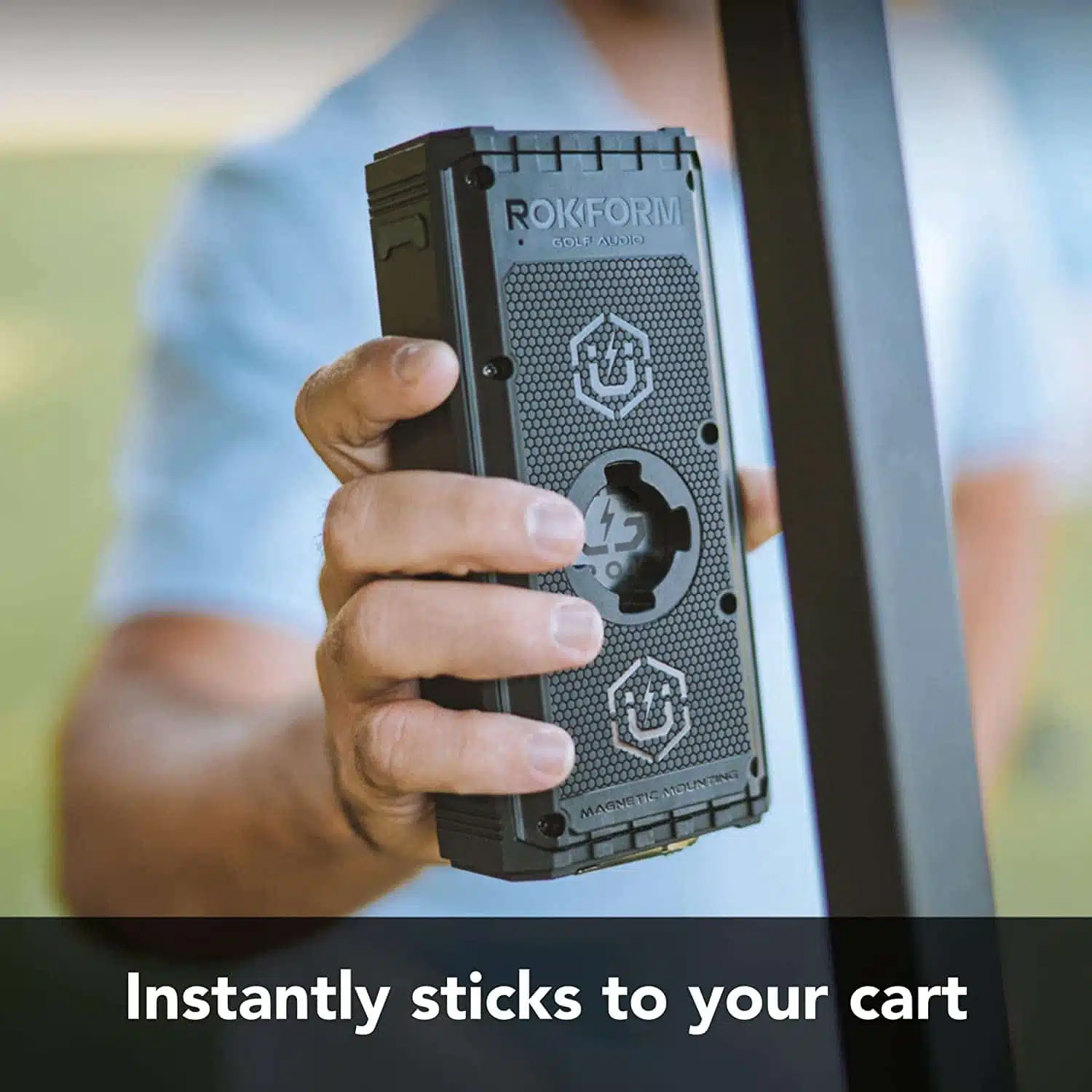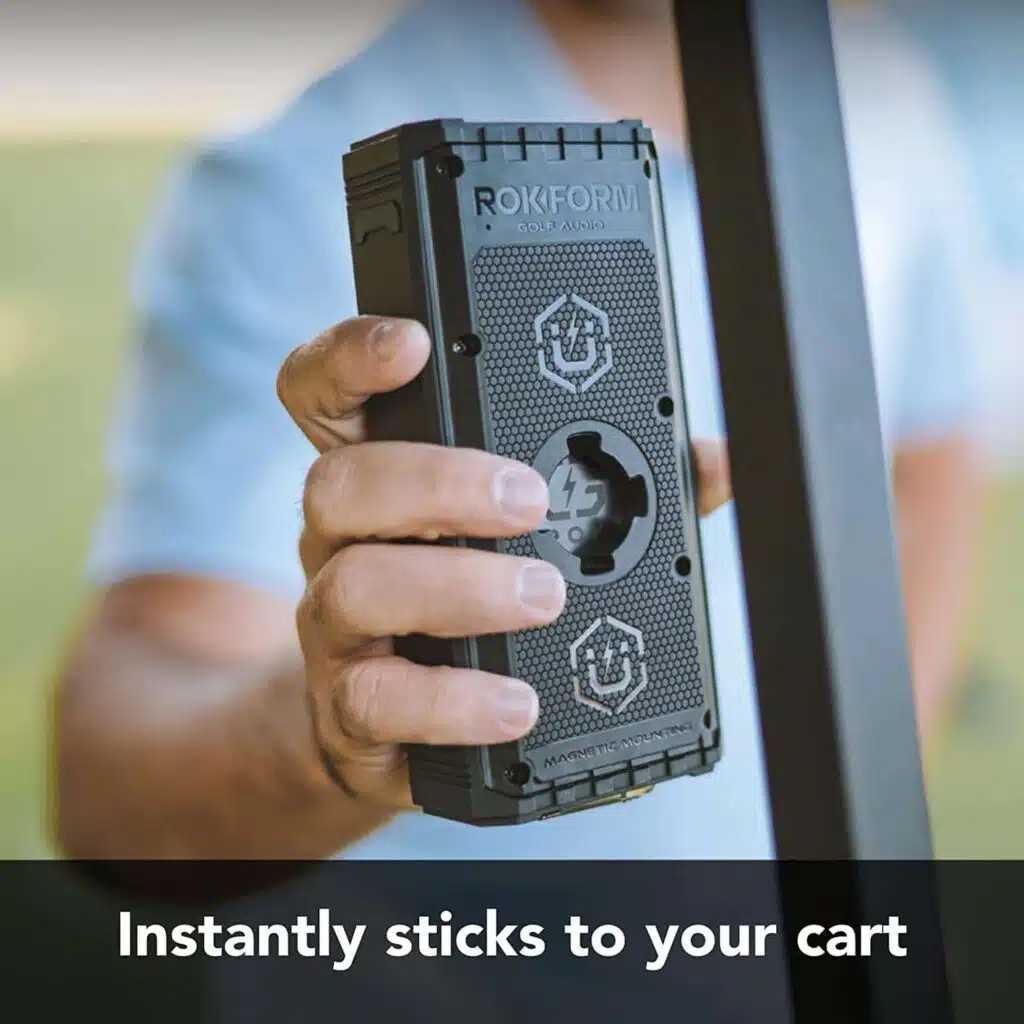 Sound Quality
Speakers require ample bass and sub-bass characteristics for the ultimate clarity of sound. When emitting sounds below 80 Hz, the lack of bass is hardly noticeable. But sounds in the 80 Hz and 200 Hz range will likely lose loudness on speakers with insufficient bass.
The golf cart speaker with the best sound quality is the Wonderboom 2.
Type of Mounting
Consider the mounting feature to ensure that you do not lose your speaker when traveling on a bumpy course at high speed.
Many speakers come with built-in magnets (RokForm G-ROK) that simply attach to the cart. We think these are the best golf speakers as they are the easiest to access because they can be attached in a few seconds and are simple to remove.
Others use strapping (HomeMount adjustable strap), allowing you to tie them to the cart.
Furthermore, you get standalone units (JBL Charge 4) that you need to carry. Others have clips (JBL Clip 3) or a loop (Ultimate Ears Wonderboom 2) which you could attach to your cart or bag.
Last;y, some have mounted features built specifically for golf carts (Ampcaddy Version 3).
Battery Life
Although you are likely to spend less than 5 hours on a round of 18 holes, the battery life can ensure that you get the most enjoyment possible from your golf cart speaker.
Generally, a speaker with a 10-hour battery life is sufficient for a single round and some listening away from the course. Just remember to charge this after every round.
Some of the best Bluetooth speakers for golf last 24 hours on a single charge, ensuring you have sufficient entertainment for up to 6 rounds of golf.
Waterproof
Getting caught in a rainstorm can spoil your fun, but if your speaker is waterproof, you can continue enjoying your music while waiting for the storm to pass.
The level of waterproofing is measured on an Ingress Protection System, indicating the time it can withstand water before damage occurs.
All the reviewed speakers are waterproof.
Size and Portability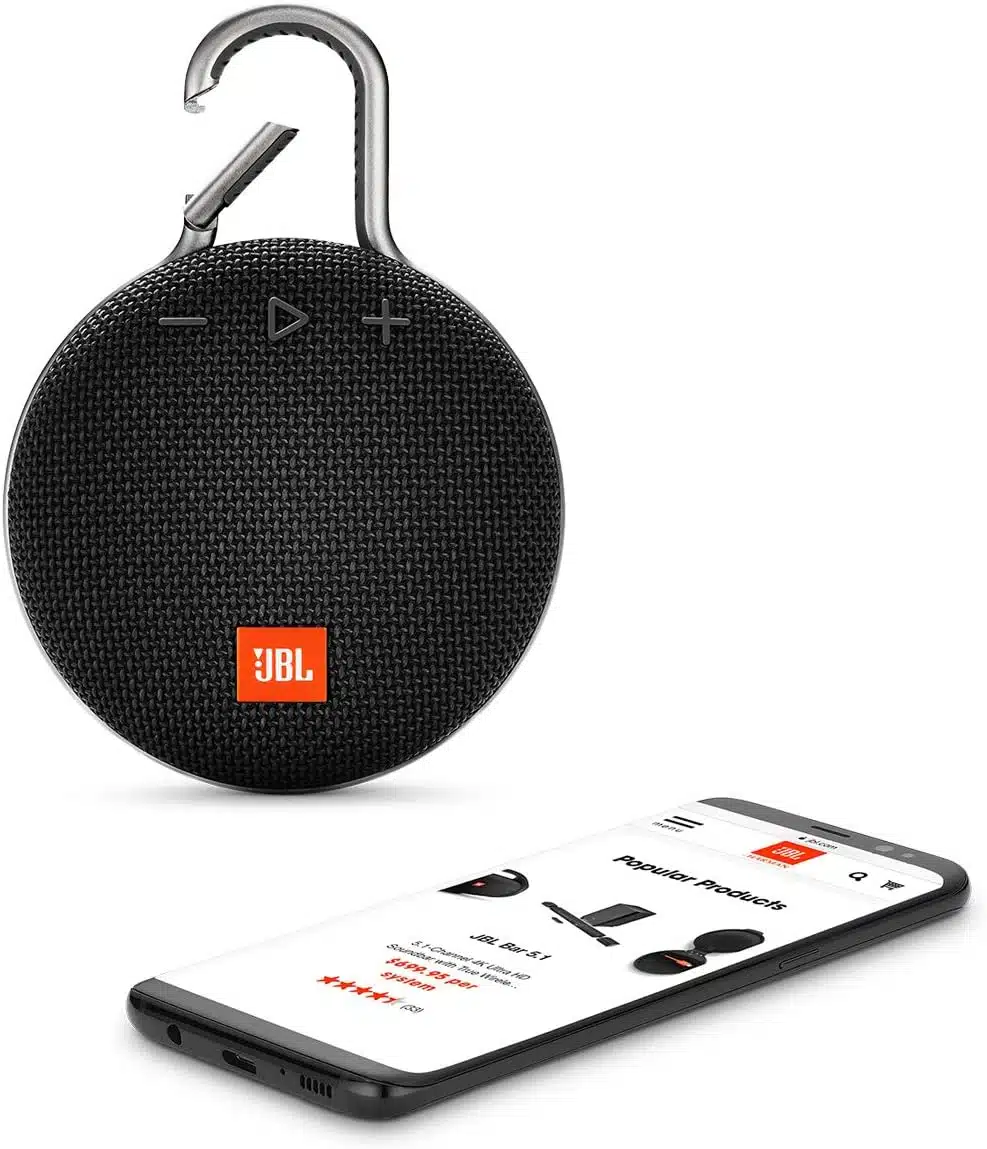 When using the Bluetooth speaker while driving a cart, size doesn't really matter.
However, when walking and carrying your bag, size will certainly have its impact. Although most speakers weigh less than a pound, it all adds up, and we all know too well how heavy golf bags can get.
Speakers that weigh less than a pound include the Ultimate Ears Wonderboom 2 (0.94 pounds), JBL Charge 4 (1 pound), and JBL Clip 3 (7.8 ounces).
There is no need to sacrifice sound quality for size as some smaller and lighter speakers can provide the same quality sound as larger models.
Connectivity
Maintaining a solid Bluetooth connection is crucial if you want to change the track to your favorite music when having to walk to the middle of the fairway.
Some of the best speakers for golf carts have a range of 40 to 50 yards, enabling you to control the volume and tracks being played from a good distance from the cart.
The best golf speakers with respect to Bluetooth range are the OontZ speaker and Ampcaddy Version 3 (100 feet).
Frequently Asked Questions
Do Golf Carts Have Speakers?
Golf carts are unlikely to come with fitted speakers as a standard. And there is no need to have it fitted. Portable Bluetooth speakers allow you to take your music in your cart or wherever you may go.
Are Golf Cart Speakers Waterproof?
Top-quality golf cart speakers are waterproof rated under the IP system that calculates the Ingress Protection of the device.
This provides various levels of sealing effectiveness to keep water and dust out.
Most top-quality speakers are waterproof, like the Ultimate Ears Wonderboom 2, while lesser quality speakers are water-resistant, keeping your device safe in only slight rain.
Having a waterproof speaker will enable you to continue enjoying your music even in the harshest rainstorm.
Which Mini Speaker Has the Best Sound Quality?
The reviewed speakers offer solid sound quality, but the Ultimate Ears Wonderboom 2 stands head and shoulders above the competition in the quality of sound that it produces.
How Do I Hook Up Speakers To My Golf Cart?
The 3 most common ways to hook your speaker up to the golf cart are:
1)   Built-in magnets that simply attach to any magnetic surface such as the art frame (Bushnell Wingman).
2)   Straps that attach the speaker to your cart Homemount (HomeMount Adjustable Strap).
3)   Clips used on speakers such as the JBL Clip 3 provide a built-in carabiner that can clip onto your belt, cart, or golf bag.
Are You Allowed to Use a Bluetooth Speaker On A Golf Cart?
The use of speakers is generally not objected to by golfers or golf clubs, provided that it does not disturb other golfers.
If you are abiding by the rules and etiquette of golf, it is unlikely that you will be requested to switch the music off or turn the volume down.
Are Golf Cart Speakers Rechargeable?
Golf cart speakers are mostly rechargeable using a USB port, while some of the older speakers still use lithium batteries that need replacement.
Conclusion
Using a speaker on your golf cart can enable you to relax and enjoy your favorite music, and they are one of our favorite golf cart accessories.
Most golf cart speakers use Bluetooth to connect one or multiple devices, allowing for a wide variety of music.
The JBL Charge 4 offers the best volume for a golf cart speaker, while the JBL CLIP 3 offers the best value for money with its affordability and lightweight construction.
As for the best golf speaker attachment mechanism, we favor the Rokform G-ROK because of its powerful magnets.
Yet the overall winner of the best golf cart speaker is the Ultimate Ears Wonderboom 2. Its sufficient battery life, exceptional audio quality, and superior waterproof and dustproof protection are what gave it the title. We were also impressed by the omnidirectional sound projection and its outdoor boost feature, which drowns out background noise. It's the perfect speaker for a relaxing day on the course.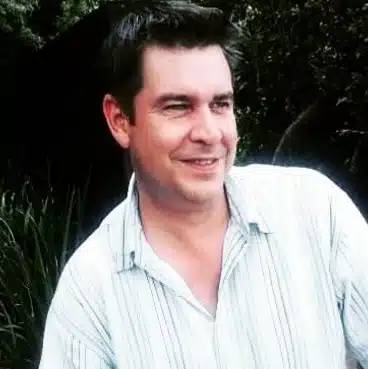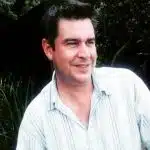 Charl is an avid golfer who studied marketing and advertising. He is fascinated by new technology in golf equipment and the mechanics of the perfect swing.