Tommy Fleetwood's bag has changed quite a bit over the years. From Nike to Titleist to Callaway and Srixon, the Southport golfer has used clubs from various brands.
However, he recently signed a contract with TaylorMade and replaced almost all the clubs in his bag with the company's most forgiving ones. So, what does Tommy Fleetwood's bag look like in 2023?
Tommy Fleetwood WITB for 2023 includes:
If you're looking to add the best clubs to your bag, you don't want to miss all of the clubs in Tommy's bag.
Fleetwood only uses the best TaylorMade clubs designed to be forgiving on the course. I've covered all the details about Tommy Fleetwood's WITB below, including his bio, total cost, and the pros and cons of each club.
Tommy Fleetwood's Background
Here's a table summarizing Tommy's bio.
Tommy Fleetwood Bio
Birthplace
Southport, England
Age
32 years
Year turned Pro
2010
Professional wins
Nine
Caddie
Ian Finnis (also his best friend)
Manager
Clare Craig (also his wife)
Born in Southport, Tommy Fleetwood is an Englishman who is currently 32 years old. He began his career as a professional golfer in 2010 when he joined the European Tour.
So far, Fleetwood has bagged six big championships on the European Tour, including the Abu Dhabi HSBC Championship 2017 and the Nedbank Golf Challenge 2022.
Tommy Fleetwood also plays on the PGA Tour and has participated in several major championships, including the Masters Tournament, PGA Championship, and the Open Championship.
Although he hasn't won a major yet, he was the runner-up at the 2018 U.S. Open and 2019 Open Championship.
Fleetwood's close friends and family also work with him professionally. His manager is his wife – Clare Craig.
His caddie is his childhood best friend, Ian Finnis, who also served as his Best Man at his marriage ceremony. Before Finnis, his father served as his caddie.
Fleetwood is particularly known for his unique playstyle, claw grip, and low shots. His spectacular short game has helped him become one of the most famous golfers globally and even achieve a career ranking of #9 in 2018!
He's also signed with Taylormade, so you'll be seeing plenty of their best clubs.
View this post on Instagram
Tommy Fleetwood's WITB for 2023 — Specs
Here are all the specs of Tommy Fleetwood clubs in 2023.
Read More: WITB of Dustin Johnson
I've reviewed all the golf clubs in Tommy Fleetwood's bag below. Keep reading to find more about them.
With the new generation of Taylormade drivers offering more forgiveness and similar highball speeds and distance, it's no surprise that Tommy Fleetwood quickly shifted from his original TaylorMade Stealth Plus driver to the second generation Stealth 2 Plus model.
The recently-launched driver features a carbon face that's two grams lighter than the original.
It utilizes the advanced 'Inverted Cone Technology.' These combined features have allowed designers to build an unbeatable driver that offers maximum forgiveness on off-center shots.
While reviewing the two drivers, I noticed that the original Stealth and Stealth 2 Plus drivers offered the same ball speeds, although the latter featured much higher ball speeds for off-center hits.
The designers have increased the surface area of the new model's sweet spot by 20%. So, unlike the original, which is slightly toe-biased, the new driver is excellent for heel strikers or any golfer who often misses the club's center.
The Stealth 2 Plus is also prevalent on the PGA tour, with golfers like Collin Morikawa using it in his bag.
Pros
Increased distance than previous models.
Great for golfers that need less spin on their drives.
Lots of adjustability options.
10% higher MOI offering considerably more forgiveness.
Cons
Some golfers find it too similar to older models like the SIM2 and the original Stealth Plus.
Costly driver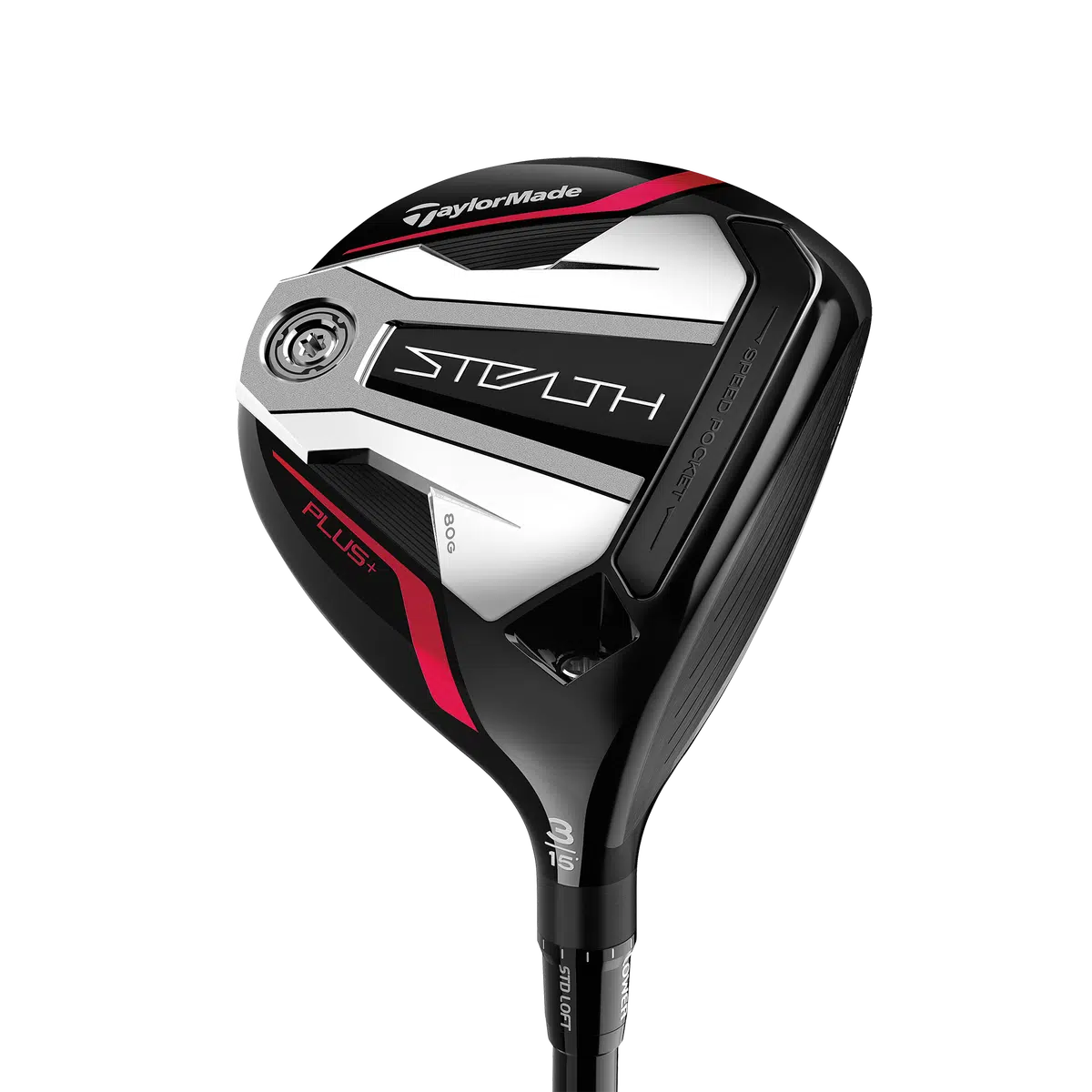 Until recently, Fleetwood's bag contained 3 SIM2 fairway woods, including a Rocket model featuring a 13.5º loft and two SIM2s with 21º and 18.5º loft.
However, he has replaced the SIM2 fairways with newer TaylorMade models, the Stealth Plus Fairway Wood and the Stealth Fairway, just like Adam Smith.
For a 3 & 5 wood, the Stealth Plus features an infinity-edge carbon crown with a 12% greater surface area than the titanium used in the SIM2 fairways.
The extra carbon in the crown allows the CG to move lower, providing a higher launch and decreased drag.
Personally, I was highly impressed by the feel of the club's face while reviewing it. However, it might produce inconsistent results due to the HZRDUS Smoke RDX shaft, which provides more kick than some golfers prefer on the downswing.
Its launch and spin may be too high for some swing speeds.
Fortunately, a quick custom fitting can easily fix this issue and make this club unbeatable.
Fleetwood also customized his Stealth Plus to have a Mitsubishi Chemical Kuro Kage Silver 80-TX shaft, allowing him to dial into the full potential of the great fairway.
Pros
Ultra-thin Zatech titanium used in the clubface maximizes ball speed.
Carbon crown lowers the CG, offering a higher launch with a lower spin.
An extremely forgiving fairway that provides straighter shots on mishits too.
Cons
Custom fitting is required to choose the best shaft and loft options for your optimum playing style.
The TaylorMade Stealth Fairway aims to rebrand fairway wood from being the most challenging club to hit to the most forgiving one.
The premium-looking club is one of the most fabulous creations of TaylorMade to date, and it features a lower CG with a higher launch.
While researching the club, I was surprised by its 1.45 smash factor and its ability to deliver high speeds even on poorly struck shots! It's amongst the most forgiving 2023 fairway woods.
Pros
Excellent feedback on each stroke.
Lower CG provides a higher launch.
Laser-etched alignment aid makes setting up a square to the target straightforward.
Twist Face corrects mishits to straighter shots.
Cons
The loft can not be adjusted.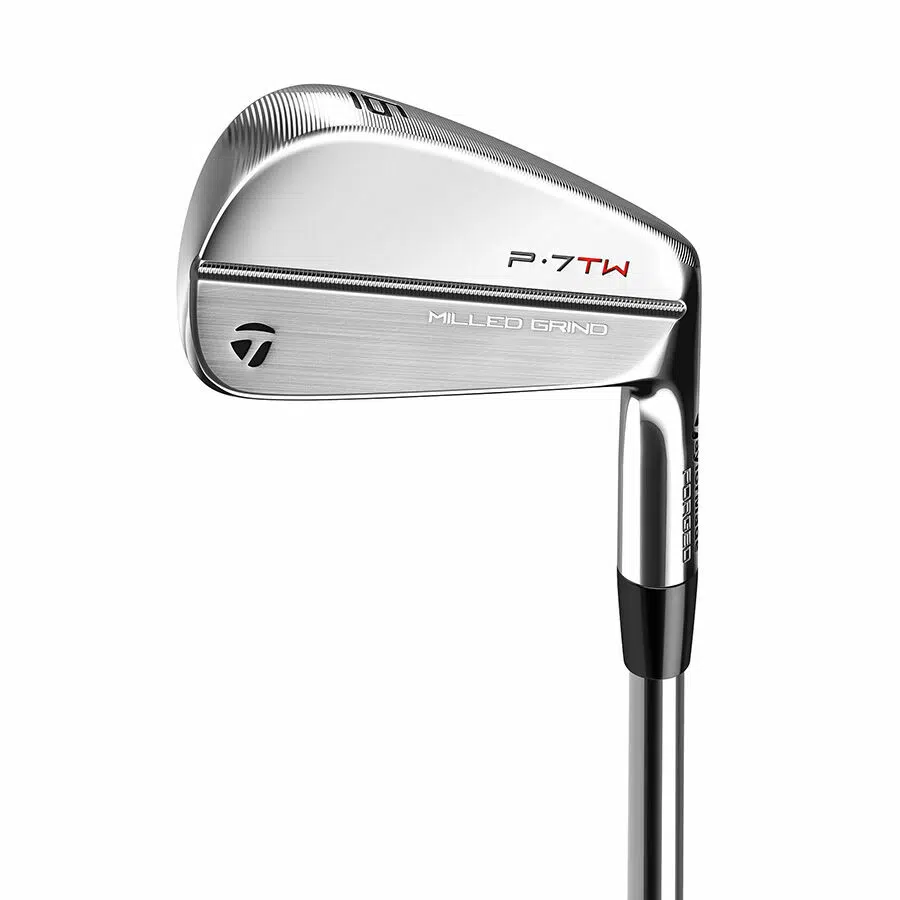 Fleetwood initially used the Nike VR Pro blades for several years before replacing them in 2018/2019 with the TaylorMade P7TW and P7TF. He regularly alternates between the two irons.
Currently, Fleetwood's using the P7TW in his bag, which are professional irons designed especially for Tiger Woods. Hence the TW.
This iron is designed for precise trajectory, control, and smooth turf interaction.
It's made with Tiger's playing style in mind; longer blade lengths, traditional lofts, and thinner toplines.
The CNC-milled soles remove differences in head manufacturing and ensure that each iron set is exactly the same. The tungsten slugs in the clubhead maximize feel, control, and flight.
Compared to the P730 (budget-friendly TaylorMade irons), the Tommy Fleetwood irons — P7TW has a lesser offset, making it slightly less forgiving.
While the P730 has a softer feel, especially on off-center shots, the P7TW has been designed especially for Woods's needs. So, it provides a firmer feel with maximum feedback and lesser forgiveness.
Overall, the P7TW isn't for a beginner golfer. It's designed for low handicappers so they get the most out of them.
Pros
Tungsten slugs maximize feel, flight, and control.
Firmer feel with maximum feedback.
Premium aesthetics with shiny chrome on the toe and heel.
Cons
Specially designed for Tiger Woods's requirements, making it slightly unforgiving for some golfers.
Taylormade Hi-Toe Raw is part of TaylorMade's successful wedge line with expanded toe areas and grooves with score lines to maximize spin and forgiveness.
The expanded toe area raises the CG, lowering launch and adding more spin.
The wedge is particularly great for chip shots requiring lower trajectories, as its long face makes you feel more confident.
Compared to traditional TaylorMade wedges like the MG3, the Hi-Toe Raw provides longer shots into the green. It's especially great for players who like flighted trajectories with high spins on their wedge shots!
Moreover, the Hi-Toe Raw stands out as its increased contact points give you more versatility around the green.
As a result of its versatile performance, a few pro golfers also use these wedges when the course setup is more challenging.
Whether it's fast greens or high roughs, the Hi-Toe Raw saves strokes while making different shots.
Pros
The tall face makes it easier to get perfect chip shots.
Maximum forgiveness and increases versatility.
Higher CG reduces launch and increases spin.
Cons
Grooves are hard to clean.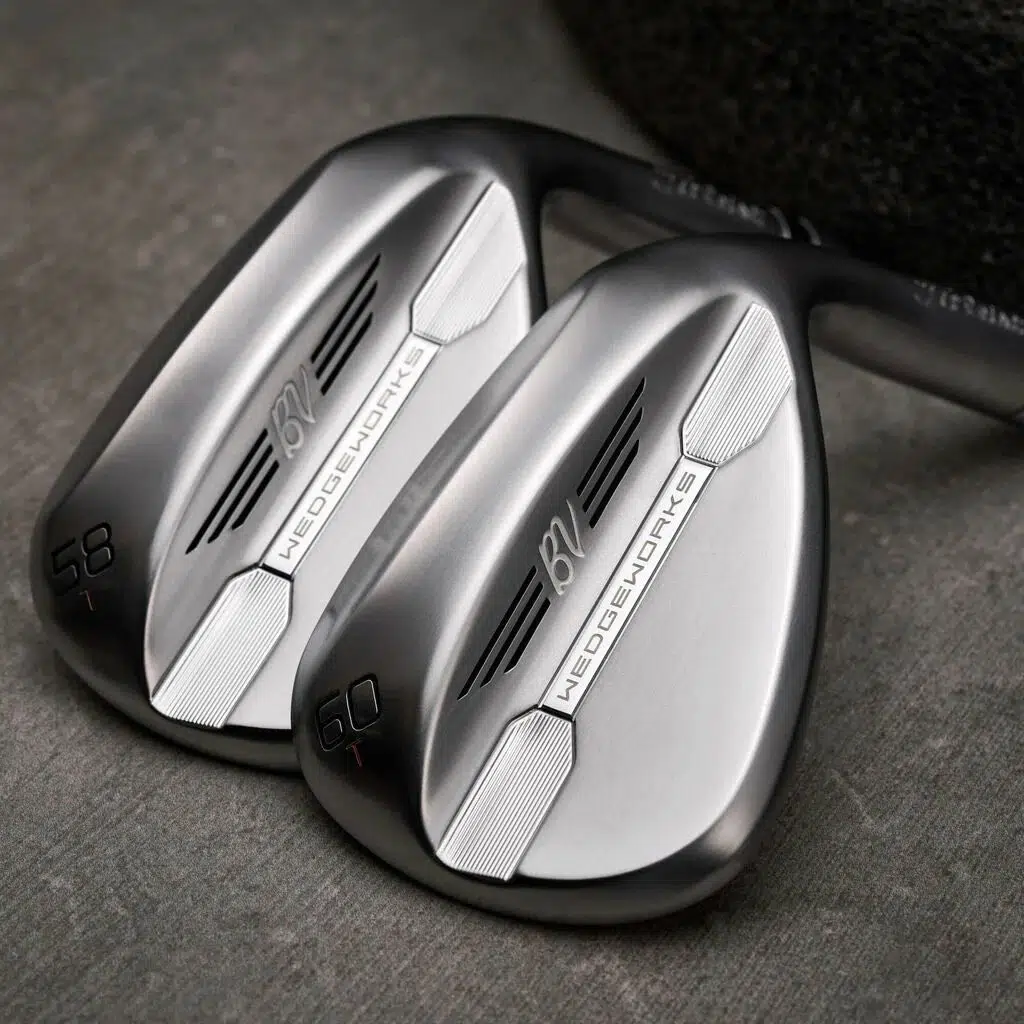 The Titleist Vokey Design Wedgeworks Proto T Grind stands out from all other wedges because of its four-degree low bounce grind and sole, which features a channel called Pro Groove.
The wedge is specially designed for golfers that require an extremely low bounce. It features a narrow forward bounce, making it hug the turf considerably more than other low-bounce options Vokey offers.
The Vokey Design WedgeWorks Proto T Grind provides better open-faced greenside shots and ball speeds than other wedges. It's similar to the SM9 line and includes a CG positioned in the club face's front, assisting players in squaring the head at impact.
All in all, it's a great wedge for golfers with sweeper swing styles that have shallower attack angles.
Pros
Low bounce wedge that is perfect for use on firm turf conditions.
Ideal for making versatile shots, from low-pitch shots to soft-control shots.
Premium-looking wedge.
Cons
Low bounce wedge is less forgiving than a high-bounce one.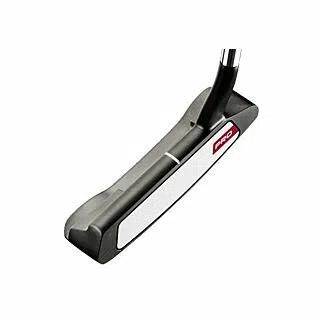 At the moment, he's using the classic Odyssey White Hot Pro 3. It's a pretty old putter, but I guess you can't complain if it's doing the right job.
Tommy has included this putter in his setup repeatedly. The phenomenal Tommy Fleetwood putter is specially designed to create uniform swings.
Its PVD finish gives it a gunmetal color that's dark enough to reduce glare. So you no longer have to worry about the sun glinting off the metal and reducing your visibility on the golf course.
Sun glare can distract golfers; many serious players prefer clubs that reduce glare.
The PVD finish also resists wear and tear and helps keep your putter in perfect condition over several years.
This versatile putter is a heel-toe weighted blade that features a half-shaft offset and provides more control than other traditional putters.
Its 343 grams head weight performs spectacularly on short putts and is one of the reasons behind Fleetwood's excellent short game.
Compared to putters with lower head weights, the Odyssey White Hot Pro 3 features lesser face rotation and more control and feel on shorter putts.
Pros
Clubhead resists twisting on off-center shots due to its heel-toe weighted putter.
PVD finish prevents glare produced by the sun.
Consistent rolls on each putt.
Softer feel on each putt due to the putter's improved White Hot insert.
Cons
A lot of newer models are available.
TP5x is TaylorMade's firmest ball, specially designed for those who enjoy a firmer feel on the golf course.
The ball's Tour Flight 322 dimple pattern offers shallower dimples with steep sides that provide lower launch and less drag.
Upon reviewing the ball, I found its lesser spin and steeper landing angles particularly remarkable. As someone who tends to have a lot of spin on my driver, this ball would resolve my issue and allow me to enjoy more of a rainbow flight.
Moreover, this TaylorMade golf ball features a urethane cover that provides excellent control.
Fleetwood combines this ball with his insert putter, the Odyssey White Hot Pro 3, to maximize the audible feedback of each putt and get a better idea of the speed of each putt.
Pros
The High-Flex material forming the four stiff layers under the ball's urethane cover increases speed and distance.
A perfect blend of performance and feel.
A low-spinning ball allows you to cover more distance.
Cons
The TP5 ball provides more greenside spin and better chip and bunker shots.
Tommy Fleetwood's Apparel – Nike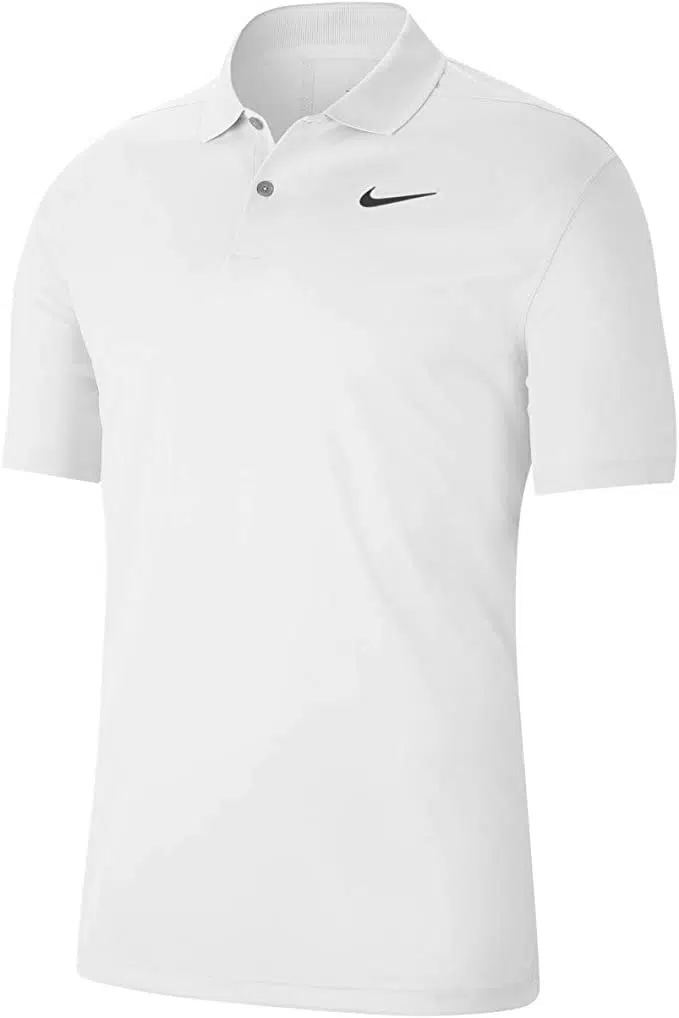 Although Nike stopped making clubs long ago, it still makes some of the best golf apparel. The company also sponsors Fleetwood, so you can see him wearing the comfiest Nike shirts and shoes on the course.
All Nike apparel features stretchy materials with comfortable and flexible fits. Nike golf clothes are breathable and use moisture-wicking fabrics to keep pro golfers like Fleetwood and Mcilroy cool and comfortable even on the sunniest days.
How Much Does Tommy Fleetwood Bag Cost?
I've broken down the cost of Tommy Fleetwood's bag below. So, if you want to build a similar bag, here's how much it would cost.
FAQs
Final Thoughts
Tommy Fleetwood WITB costs $3849.94 in total. His TaylorMade clubs are one of the most forgiving ones available on the market and clearly helped him gain this remarkable success on the golf course.
Fleetwood's playing style is unique, and his short game is spectacular. He has tried dozens of clubs before picking the best ones for his playing style. That's why I emphasize having the right golf clubs.
Experiment with different clubs to see which ones sit well with your swing and keep on golfing!