Searching for the right golf clubs for your game can be tedious, but no worries, we have you covered. If you're considering getting the TaylorMade Stealth irons, our TaylorMade Stealth irons review will provide you with some ease in making the decision.
TaylorMade Stealth Irons use a new Cap Back Design with toe-wrap construction to bring high-to-mid handicap golfers more distance, forgiveness, and accuracy. Their Thru-Slot Speed Pocket technology and a low CG also help forgiveness and accuracy. You get the feel of a forged club in these game improvement irons.
Changing golf clubs is no easy task for golfers of all categories. Trust me; I've been through this process many times. Hitting good irons is key to improving your scores. Not understanding what golf irons are right for you can be exhausting.
In this article, I cover the TaylorMade Stealth irons in detail. You will discover some of the technical details associated with this new innovative technology, how these details translate to "game improvement," and how the Stealth irons can help your game.
So, keep reading my detailed review of the TaylorMade Stealth irons to make an informed decision.
TaylorMade Stealth Irons 2023 Review: Overview
Pros
Highly forgiving.
Helps increase distance.
Feels like forged irons.
Higher launch angles.
Lower spin rates.
Exceptional accuracy on mishits.
Great value for money.
Cons
Looks a little bulky behind the ball.
Sweet spot impact feels less soft.
Not ideal for shot shaping.
Verdict
TaylorMade introduced the Stealth irons along with Stealth driver in 2022. In their promotional campaign, they excessively used the term "fargiveness" as a wordplay on "far" and "forgiveness."
By doing so, they translated the two most exclusive qualities of Stealth irons and woods:
Upon testing these clubs out and playing with them, I will give them the following rating.
TaylorMade Stealth Irons Ratings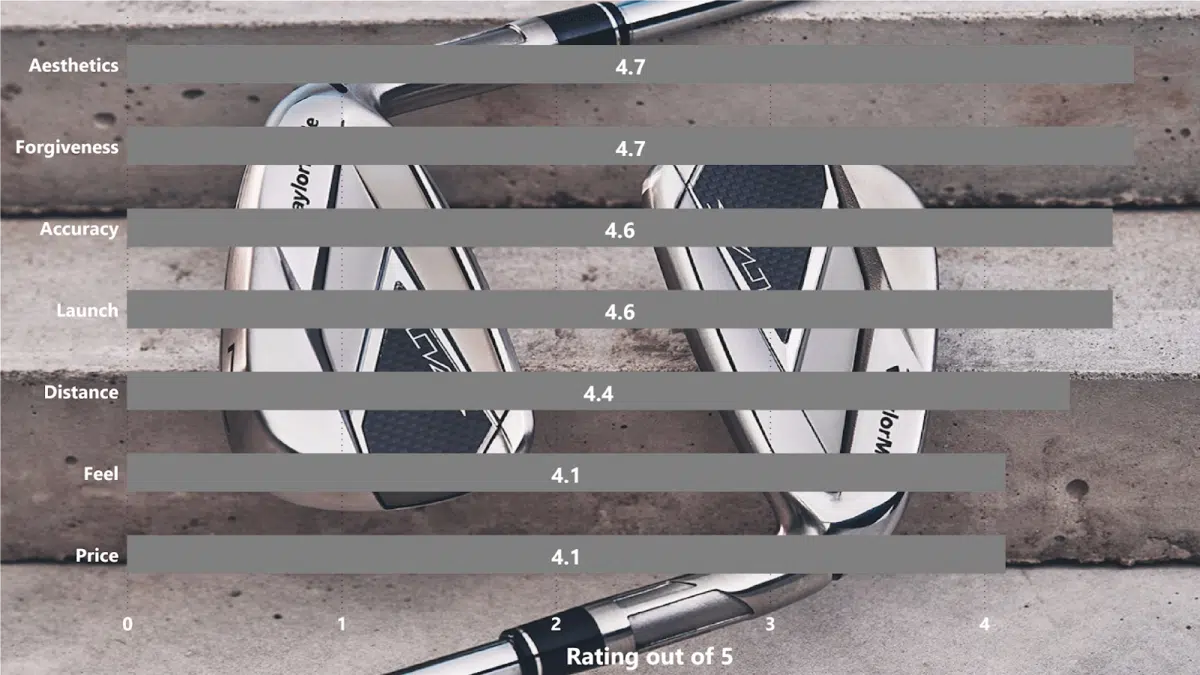 These irons felt really good when testing them out. It was difficult not to give them all the points. But at the end of the day, TaylorMade Stealth irons now have some competition in 2023.
These irons produce tons of speed through the ball and are definitely one of the most forgiving irons you will find in the market.
If you're looking for a set of irons that look good in the bag and bring accuracy and feel without sacrificing distance, Stealth irons are the clubs to consider.
Who They're Best For?
Stealth irons have something to offer to all handicap ranges. But you should consider purchasing these clubs if you have the following characteristics:
Hits long irons on short par 3's.
Struggles with center-face strikes.
You can afford to spend over $1000 on golf irons.
Likes to see a pair of good-looking irons in the golf bag.
If your golf game is at the above-mentioned stage, buying these clubs will help you improve your game and also help you with more confidence on the course.
Ideally, in my opinion, the Stealth irons handicap range is between twelve to eighteen handicapper golfers.
If you're somebody with faster swing speeds, what these clubs offer is not what you're looking for. Consider the following options:
Why You Should Trust Us
Our team spends thousands of hours trying out and researching golf equipment to help you take your game to the next level. Here's our product review process.
We can bring these reviews to you through the small commissions we earn if you buy through the links below.
How We Reviewed These Products
Golfspan only shares equipment and brands we trust.
As a full-time golfer and a part-time content writer, I thoroughly researched and evaluated the TaylorMade Stealth irons. Then an editor reviewed and fact-checked the list.
The information you get in this article is up-to-date because we conduct regular content audits to update and revise our reviews to ensure you receive the latest information.
To review these irons, I considered these criteria:
Cost: The TaylorMade Stealth irons are game improvement irons. Considering the prices of other game improvement irons in competition, I gave the Stealth irons my own value for money.
Distance & ball flight: An important aspect of good game improvement irons is allowing the golfer to hit the ball further and higher. While testing the irons, I particularly focused on the height, direction, and distance of my shots.
Forgiveness & feel: No iron review is complete without looking into it's forgiveness and feel. During my Stealth iron testing, I would intentionally hit the ball off center to see how the clubs perform. Spoiler alert: They're more forgiving than you'd expect.
TaylorMade Stealth Irons Benefits
Let's dive into some of the features and benefits in this TaylorMade Stealth Irons set review.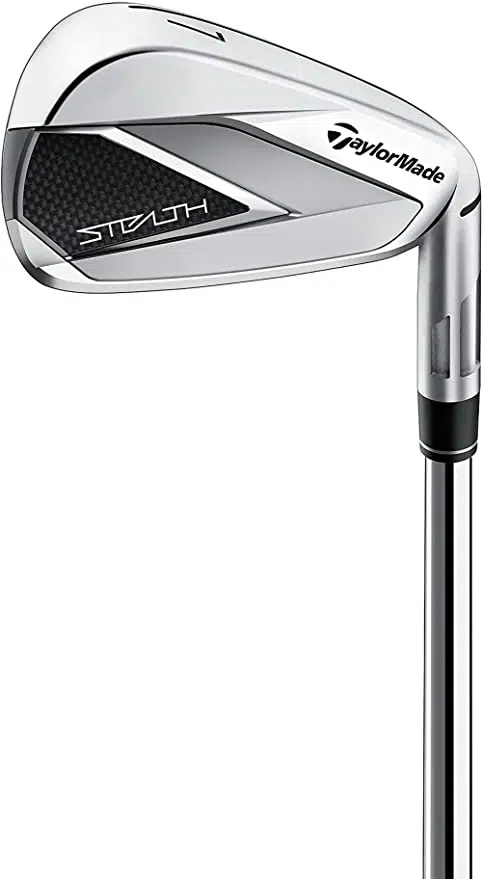 Overall
I think that, as someone who uses player irons for many reasons. I've found TaylorMade Stealth irons fairly decent, considering that they are not even made for low-handicap players with faster clubhead speed.
They provide decent maneuverability for the golf ball and a snappy feel of the club face, producing a nice whip at the golf ball. In the next sections, I'll discuss some important metrics you'd want to know as a golfer for the TaylorMade Stealth irons.
Distance
Luckily, my very first shot with the Stealth irons came right out of the center, and the first thing I noticed on the Trackman was tons of increase in distance.
My regular 7 iron would go around 180, but the Stealth iron went 206.7 which was a big surprise!
This could be because of the lower loft on the Stealth iron than you would generally see, but I think a lot of credit goes to the technology TaylorMade has employed in these game improvement irons.
Forgiveness
Upon hitting a few shots with the Stealth iron, I realized why TaylorMade wanted to sell forgiveness on these irons.
The worst shot I hit, and by worst, I mean way off the center, those shots still produced a fairly good result. I was a maximum of eight yards offline from the target. While even with my own irons, I tend to deviate more than 14 yards on mishits.
Another thing I noticed was how thin shots provided fairly adequate results, which directly correspond to the low center of gravity on the Stealth irons.
If you're looking for forgiveness in irons, here are our 8 most forgiving irons.
Accuracy:
Accuracy is based on a club's consistency regarding ball flight and deviation. If I hit five shots right out of the club's center, do they all behave similarly?
I found out with the Stealth irons that all of my good shots had minimum deviation in launch angle and spin rate numbers.
Although "game improvement" irons don't work around the concept of repeatability. The Stealth irons proved to perform fairly better than some of the extreme game improvement irons.
Launch
Since I don't naturally struggle with launching the ball high, the Stealth did not change much for me in that category. But the low center of gravity will definitely help you get the ball in the air.
A couple of things I did notice, though, was that my thin shots (normally do not get high) came out with an adequate amount of launch, which a player of any level would definitely appreciate.
I also noticed that even though game improvement irons are not meant for trajectory control, when I tried to flight my shots down, the stealth irons provided decent results.
Feel/Look
Let's talk about the feel of these irons first. While hitting balls, center strikes felt like I was hitting a forged club (I generally like a slightly soft feel on the clubface), which will get some points from me personally.
On my poorer shots, the new innovation showed its worth the buck. I barely felt bad contact. If you tend to miss the center of the clubface (I mean, no offense, you're not alone), this quality will help you.
So, I heard that Stealth irons seemed a little bulky behind the ball, and as someone who hates bulky clubheads. After using the Stealth irons, I realized they were not as bulky as my fellow golfers portrayed them.
TaylorMade Stealth Irons: Features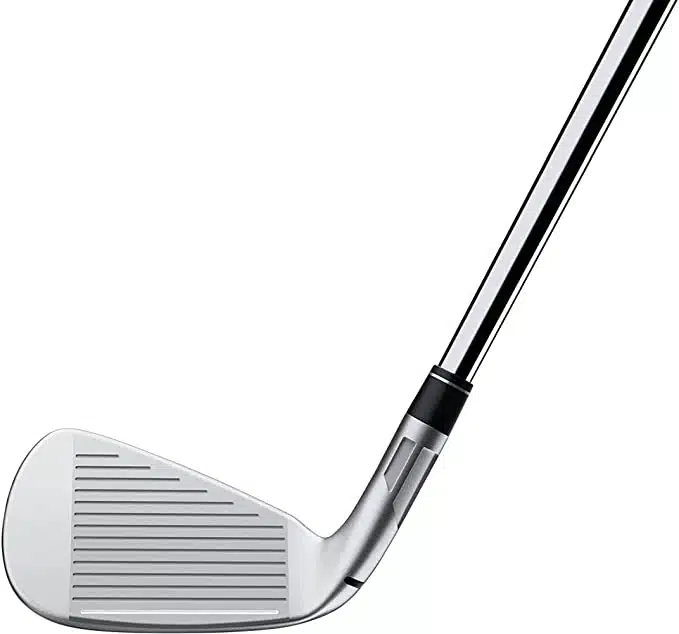 Let's look at some of the technical aspects of the new TaylorMade Stealth irons and how these specs can contribute to your game.
Before we begin discussing some of the most prominent features available in the TaylorMade Stealth irons, I would like to appreciate TaylorMade's effort on this set of golf clubs.
How these gentlemen have integrated all this technology in these irons with no excessive/useless weight is truly commendable. All these features complement each other so well and work entirely in unison for you to hit better and more consistent shots.
TaylorMade Stealth Irons Specs
Here's a table with the essential specs of the Stealth irons.
| | | | | | | |
| --- | --- | --- | --- | --- | --- | --- |
| Iron | Loft | Lie | Bounce | Offset | Length (Women) | Length (Men) |
| 4 Iron | 18.5° | 61.5° | 2.0° | 5.8mm | 38.125" | 39.125" |
| 5 Iron | 21° | 62° | 3.5° | 5mm | 37.5" | 38.5" |
| 6 Iron | 24° | 62.5° | 5.0° | 4.6mm | 36.88" | 37.88" |
| 7 Iron | 28° | 63° | 5.6° | 4.1mm | 36.25" | 37.25" |
| 8 Iron | 32° | 63.5° | 6.3° | 3.4mm | 35.75" | 36.75" |
| 9 Iron | 37° | 64° | 6.8° | 2.9mm | 35.25" | 36.25" |
| AW | 49° | 64.5° | 9.0° | 2mm | 34.5" | 35.5" |
| LW | 59° | 64.5° | 9.0° | 1.5mm | 34" | 35" |
| PW | 43° | 64.5° | 7.8° | 2.6mm | 34.75" | 35.75" |
| SW | 54° | 64.5° | 12.5° | 1.5mm | 34.25" | 35.25" |
TaylorMade Stealth irons come with two stock shafts.
The stock steel shaft is a KBS MAX MT 85
The stock graphite shaft is Fujikura Ventus Red.
The stock grip in the Stealth irons is Lamkin Crossline 360.
You will notice that with the Stealth Irons, lofts on irons 4—7 are generally stronger. This helps with stronger ball flights and longer distances.
Cap-Back Design with Toe Wrap Construction
With the Sim Max 2, TaylorMade has already released the cap-back design. The Cap Back Designs produced a hollow center behind the clubface. Additional support is given using a low-density polymer blend stretching out from the heel to the toe, covering the entire upper part behind the club face. This adds additional flexibility to the club's face.
This year the team at TaylorMade took it to new levels, and they did by realizing one very common thing golfers hit most of their shots from the center or below the center of the face.
Introducing the toe wrap construction. This feature redistributes the mass of the club from the high toe to the sole of the iron. This lowered the center of gravity by 0.8 millimeters producing a towering ball flight with long carries.
Echo Dampening System
The Echo dampening system trademarked by TaylorMade is an innovation induced to reduce unwanted vibrations throughout the iron.
The dampeners span over the entire face of the club, having specifically placed contact points with the face to reduce vibrations on mishits.
Each dampener has been designed uniquely according to each individual club. This also helps produce a snappy sound off the club face.
Inverted Cone Technology
This technology is situated from heel-to-toe on the 450 stainless steel face. This technology incorporates intelligently positioned sweet spots over the most common impact points on the club face and delivers excessive club head speeds.
Thru-slot Speed Pocket
This technology, also available in the Sim Max 2, completely disconnects the lower club face from the sole of the club. This gives the face room for flexibility and more explosive contact with the ball.
Other than these features, TaylorMade has also introduced a fluted hosel to complement a lower center of gravity for higher ball flights.
4-7 irons have the 360 Undercut Technology with stiffening topline to promote face flexibility while maintaining desirable sound and feel. And as previously introduced Hosel bending technology is still readily available, allowing golfers to consider lie and loft fitting ideal for them.
Alternate Options
The below-mentioned golf irons are clubs that, quite frankly, were released either as competitors or closely resemble stealth irons in terms of performance and feel.
Paradym X irons are the game improvement version of the Paradym irons.
Paradym X irons closely resemble the Stealth irons in terms of technology. Callaway's team opted for a hollow body speed frame induced with a urethane microsphere filling and an A.I. optimized forged face to maximize distance and forgiveness while dampening down vibrations.
Pros
Higher ball flight
Longer distances
Stable and powerful feel
Cons
A mirror chrome finish can be a touch off-putting
A thinner topline can decrease confidence in high-handicappers
This set of Srixon Irons has undergone a major makeover for 2023. They are by far the neatest clubs ever designed by the Srixon designers.
The irons look nice and tidy behind the ball, and the blade size will induce confidence in golfers when standing over the ball.
This iron also maintains a hollow construction but is overall much thinner in size to produce explosive strikes off the club face.
Pros
Highly consistent
Good sound/feel
Explosive off the face
Cons
Higher handicap golfers might consider it too thin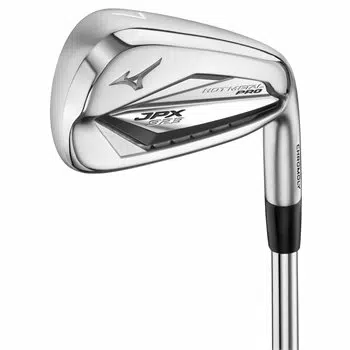 The 4335 nickel Chromoly in these irons gives it a very sleek look. These irons offer a dense forged iron feel which you don't often get from game improvement irons.
These clubs will help you get much shallower divots, producing a piercing contact. Mizuno irons are one of the best in the business, and these irons perform excellently, giving you high forgiveness, accuracy, and increased distances.
Pros
Feels fast
 Appealing
High stopping power
Increased forgiveness through the turf
Cons
Minimal improvements from the previous model
FAQs
What Handicap Are the TaylorMade Stealth Irons For?
Upon testing these clubs out and working with players of different skill levels over the years, I would limit the TaylorMade Stealth irons handicap range to mid to high handicappers. A thicker topline will induce confidence in a mid to high handicapper and will provide them with much-needed forgiveness.
Are Stealth Irons Cavity-Backs?
Even though the new cap-back design gives the irons a sleek look, the Stealth irons are not blades and fall in the cavity-backed irons category. TaylorMade claims, and I second it, these clubs produce a forged iron face feel.
Are TaylorMade Stealth Irons Good for Beginners?
TaylorMade Stealth Irons can help a beginner. But if you're a beginner, try not to drag these beautiful clubs through the mud for nothing. I would suggest you build your game up and then go for these clubs.
Are the new TaylorMade Stealth Irons forgiving?
The TaylorMade Stealth irons are one of the most forgiving clubs in the market. TaylorMade has displayed high craftsmanship when manufacturing these clubs to provide you with high forgiveness and maximum distance.
Final Thoughts
If you've read this TaylorMade Stealth Irons review till here, you now have a good idea of what these golf clubs offer. The big question is, what do you need?
Hopefully, reading through this, you were propelled to consider what your game lacks and how these irons can help you.
This review was written to cover the TaylorMade Stealth irons, but more importantly, it was written so you can figure out your needs in improving your game and feeling more confident on the course.
The Stealth irons will improve your distance, give you the forgiveness of off mishits, and look great in your bag. They give you great value for money and can help you achieve your next level in golf.
If this review has not convinced you about the Stealth irons, you can always consider other options which better suit your game.
The idea is always to get better. It doesn't matter how you do it. Sometimes your game will need a hundred more hours on the range, and sometimes it will just be a set of new clubs. Whatever it is, don't forget to have fun. Happy golfing!