I recently saw a Rick Shiels Ben Hogan Ptx Irons review that piqued my interest. The manufacturers have released a technologically advanced set, that will go a long way to keeping your shots long.
In the past, you needed to sacrifice forgiveness for distance and look and feel, but now you can find players irons that include all these characteristics.
Things To Consider Before Buying a Set of Irons
Shopping for a new set of irons can quickly become overwhelming, considering the number of options available to you. Create a budget for yourself, and then start looking for your desired features.
Budget
Golf is not the most affordable sport ever invented. Therefore, before buying a new set of irons, consider how much you will be able to play with your clubs. Save yourself money on irons if it means you will have more in your budget for playing.
There is no point in buying the best equipment on the market if you are only going to play once in a blue moon due to lack of funds. However, there are irons for every budget.
Clubheads
Iron clubheads are classified into three categories, oversized, mid-sized, and blades. Oversize heads are suited for mid to higher handicap players, who need a larger sweet spot and more forgiveness than the better players.
Midsize irons are better suited for the mid to lower handicappers, who prefer a slicker looking club and more control over the shape of their shots. A large proportion of game improvement irons have a mid-sized clubhead.
Blades have the smallest clubhead of them all and are best suited for low handicap players, confident in their ability to consistently strike the ball in the sweet spot. The weight of the clubhead is placed in the center, behind the sweet spot. Leaving you with no forgiveness on shots in the toe and heel of the club.
Mixed Brands
As an amateur golfer not tied down by any equipment sponsorship, we have the luxury of carrying different brands of irons in our bag. You can have one brand's long irons and another brand's short irons.
If you purchase an entire set from the same manufacturer, you may not get the most out of each iron. Bear in mind that mixing and matching can be costly. If you are on a budget, you will likely get a better deal if you buy an entire set from the same brand.
Shaft
Irons come in five variations of flexibility, extra stiff, stiff, regular, senior, and ladies. Golfers that have faster swing speeds and no problem with launch should consider stiff or extra-stiff shafts.
If you have an average swing speed, you may want to think about a regular shaft for your irons. For slower swingers out there, consider a senior or ladies flex shaft. The extra whip on impact will increase your ball speed and give better airtime and length.
Shape
Consider the desired shape of your shots before purchasing a set of irons. If you need help to hit the ball straight, you may consider irons with a higher degree of offset. This helps you hit the ball squarer upon impact and send the ball straight and high.
Mid to low handicap players may want less offset to control the shape and trajectory of their shots. Midsize and blade irons may be worth a look if this is your preference.
Feel
The feel of irons is more likely a concern that mid to lower handicap players have. When we hit a solid iron shot, we want the club to absorb the impact and give us a crisp sound and a smooth feeling.
Blades provide the sensation I am referring to. And, it is for this reason why better players are willing to sacrifice forgiveness for feel.
Ben Hogan PTx Irons Review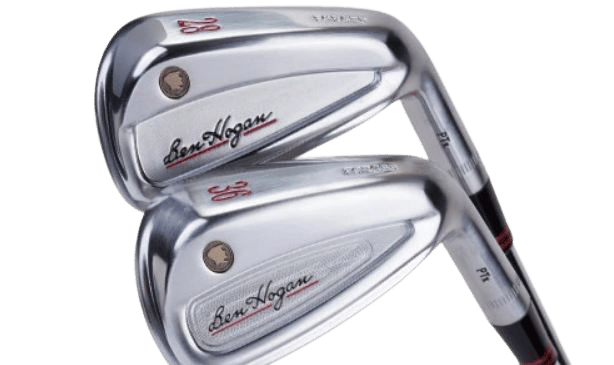 Pros
Individually tailored design for each clubhead
Forgiving irons
Higher flight with long irons, lower stable flight with short irons
The V-Sole design allows for easier movement through to turf
Consistent distance
Cons
Not suitable for beginners
You feel the vibration through the club on heel and toe mishits
The smallest sweet spot in the players distance irons category
Players distance irons are designed to give you the look and feel of a players iron and the forgiveness of a game improvement iron. The PTx Pro irons fall into this category and are designed for the mid to lower handicap golfer.
PTx irons are crafted to enhance the performance of each individual club. Longer irons are fitted with tungsten alloy to increase your ball speed and flight. While the shorter iron clubfaces contain titanium core to reduce your trajectory and control the spin.
Here are some of the core features of the PTx's for you to determine if it can benefit your game.
Features & Benefits
 V-Sole Design
Designed to generate a high leading edge bounce with a reduced trailing edge bounce on the sole. This enables your club to glide swiftly through any surface and make clean contact with the ball. Improving your ability to get loft from any lie.
Precise Loft System
Ben Hogan offers you the choice of four different loft options when purchasing a set of PTx irons. Depending on your natural game, you can select low launch, mid-launch, mid-high launch, and high launch loft.
The loft increases by 4 degrees as you move from long to short irons, starting with a 4 iron and capping the set off with a pitching wedge.
The faster swinging players want to look at the low launch loft option. Medium fast swingers who swing a driver between 80 mph and 90 mph may prefer the mid-launch loft option.
Players who are swinging on the low end of the spectrum should think about the mid-high and high launch loft options. The design of the higher lofted irons will help you get the ball in the air with ease.
Centre of Gravity (CG)
The CG is consistently set across the clubfaces of all the PTx irons. The height of the PTx irons is linear, compared to the CG angle of most cavity back irons. This reduces the chance of skying your short irons or hitting your long irons low and in the teeth.
Tungsten Alloy
Tungsten alloy can withstand high levels of pressure without becoming damaged. When it is fitted to a golf club it adds weight to the clubhead and enables easy maneuverability.
Ben Hogan added 17g of tungsten weight to the toe of the PTx long and mid irons. This has expanded the center mass of the face, which helps to increase ball speed and give you consistent distance, even on mishits.
Titanium Core
The short irons in the PTx set are fitted with a titanium core, which increases the center of weight in short irons. The titanium core is pressed between the clubface and the cavity, allowing you to shape your shots and have more control over the trajectory. It further reduces the risk of ballooning your short irons strikes.
Alternatives
1. Cobra King Forged Tec Irons
Forged Tec are irons built for distance. They are equipped with Cobra's PWRShell face that hangs the clubface freely, providing you with more flex on your backswing and follow-through, which increases your ball speed. The faster ball speeds will result in consistent distance, even on heel and toe connections.
Foam microspheres are sandwiched between the hollow cavities and the clubface, giving you a smooth feel and sweet sound. As is the case with many long irons in the players distance category, the toe of the Forged Tec's are fitted with tungsten alloy.
The tungsten helps to evenly distribute the weight across the face of the club. Resulting in, consistent distance, even when you don't hit it out of the middle.
The Cobra King Forged Tec irons are best suited for the mid to lower handicap players who need help generating more ball speed.
2. Titleist AP3 718 Irons
Sticking with players distance irons, the Titleist AP3 718's are another alternative option in the category. These are designed to improve your distance while not sacrificing forgiveness.
Tungsten alloy is placed in the toe of the club to spread weight evenly across the face, giving you increased ball speed, even on misfires. This changes the status quo of hollow body construction, which typically have a smaller sweet spot and are unforgiving.
Another ideal set of irons for the mid to lower handicap player needing help to get the ball airborne.
3. Wilson Staff D7 Forged Irons
The D7 forged irons use Wilson's patented Power Hole Technology, which increases the length of contact between the clubface and ball. This enhances the level of energy transferred onto the ball at impact, resulting in faster ball speeds and consistently long shots.
Power Chamber Technology reduces the vibrations felt at impact, giving you a smooth feeling and crisp sound on shots out of the sweet spot. The clubhead is compact and has the look and feel of a traditional forged iron, with game improving distance capabilities.
These irons are best suited for mid to lower handicap players with slower swing speeds.
Final Thoughts
The PTx irons are an option for mid to lower handicap players that want distance but do not want to sacrifice forgiveness. You should also consider this set if you want players irons but are not ready to bag to take up blades.
More specifically, these clubs were made for golfers with slower swings that struggle to get the ball in the air.
If you are looking for additional ball speed, consistent distance, forgiveness, and players irons, take a look at Ben Hogan PTx irons here.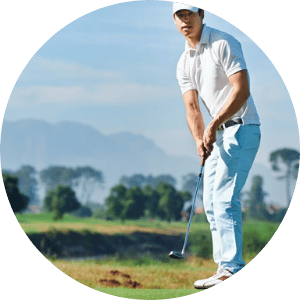 Nick Lomas is the founder of GolfSpan, an avid golfer, not quite a pro but has over 15-years of experience playing and coaching golfers from all over the world. His mission is to bring the golfing community a better experience then it comes to choosing the right golf gear, and finding the right set up for your game.