Sam Burns is in red-hot form recently, so you may wonder what clubs he plays with. Maybe some of his success can rub off on you.
Sam Burns' sponsors have included the likes of Callaway and TaylorMade who have staff golfers like Rory McIlroy.
And his recent success is by no means a one-off. He won back-to-back titles at the 2021 and 2022 Valspar Championship too.
So, let's cover Sam Burns' WITB in 2023, including what clubs he uses, how much they cost, and whether you should add them to your bag.
Let's dive in!
Sam Burns WITB — At a Glance
Here is a full list of all of what's in Sam Burns' golf bag:
Sam Burns' Driver: Callaway Paradym Triple Diamond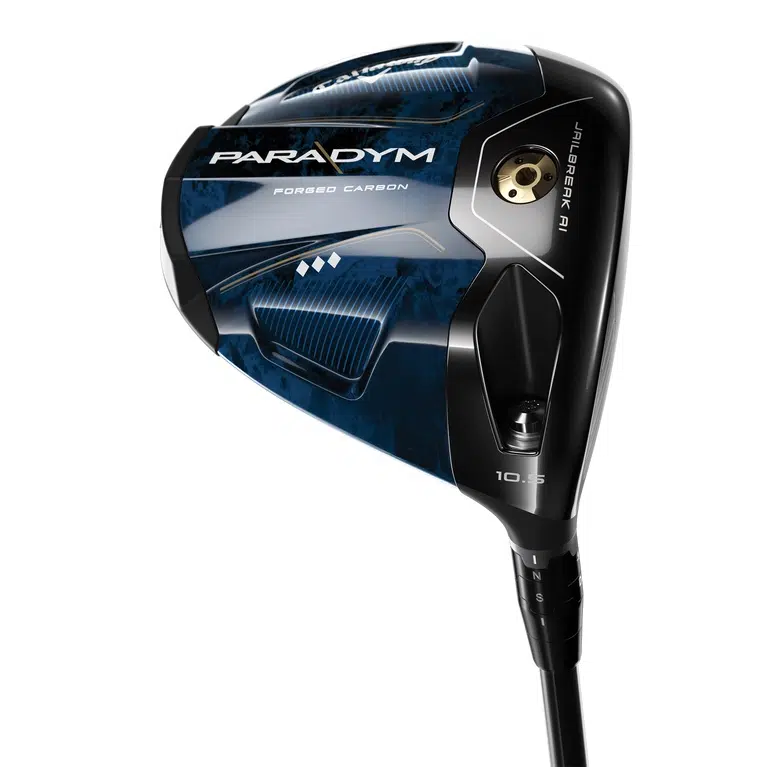 Pros
Low spin
Low launching
Great for better golfers
Adjustable front and rear weights
Cons
Burns' driver is the Callaway Paradym Triple Diamond with 9 degrees of loft. It features a Fujikura Ventus Blue 7TX shaft. Sam Burns' driver shaft length is 45.75 inches. The driver features a 450cc shape for better players who want to work the ball.
It is the lowest spinning and lowest launching Paradym model with a neutral ball flight.
Burns hasn't always had this driver though. When he won the 2022 Valspar Championship, he was using the Callaway Rogue ST Triple Diamond. In the 2022 U.S. Open, Sam Burns also used the same driver.
However, he is now using the Callaway Paradym Triple Diamond. It doesn't have an alignment aid and its 450cc club head means it is meant for the better players around.
It also features a Carbon Chassis enabling weight distribution for maximized distance on the club too. In fact, The Triaxial Carbon crown and Forged Carbon sole is 44% lighter than a titanium chassis too. The weight saving makes it easier to move and it is lighter than the Rogue ST.
Sam Burns' Fairway Wood: Callaway Paradym Triple Diamond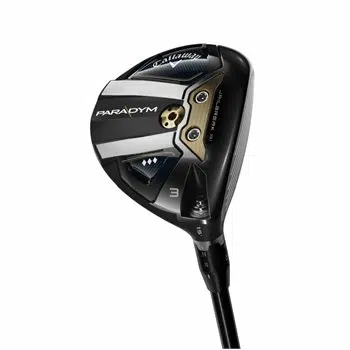 Pros
Low spin
Deeper face
Low and forward CG – caters for better golfers
Cons
Expensive
No alignment aids
Burns' fairway wood is the 3-wood which comes with 16 degrees of loft. It has a compact shape with a deep face at address. This caters to golfers who are looking for a penetrative shot with less spin.
The 3-wood also features a Triaxial Carbon crown, creating a low and forward CG.
Thanks to the Jailbreak Batwing structure, there is still technology on show which stiffens the body and enables the club face to flex to create faster ball speeds.
As it is aimed at the better player, there are, once again, no alignment aids. It does create a slick look, though.
Sam Burns' Irons: Callaway Apex TCB Irons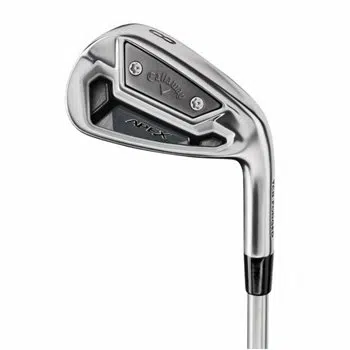 Pros
Very soft feel
Ideal for those wanting lots of control
Tour shaping and design
Cons
Doesn't suit those wanting more forgiveness
Burns uses the Callaway Apex TCB irons with Project X 6.5 shafts. The irons are designed for control and feature a Tour-inspired forged 1025 players cavity back. The precision-engineered clubs are suited to the best players around, hence why Burns uses them.
John Rahm used them to use the 2021 U.S. Open Championship – they inspire good golfers.
The irons come with Tour shaping and design and have a very soft feel. They are engineered to promote ball flight and distance control.
They also go from four-iron down to A-wedge.
Simply put, these beautiful irons are made for the best golfers. The thin topline and lack of forgiveness means they don't suit high handicappers.
Sam Burns' Hybrid: Callaway Apex UW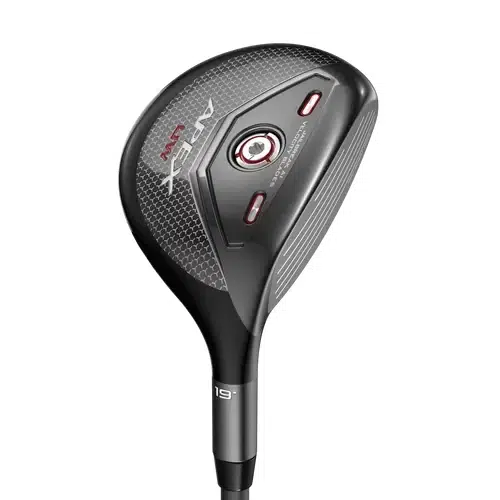 Pros
Effectively two clubs in one
Very versatile
Cons
Not the most glamorous club
Burns' hybrid is the Callaway Apex UW. The utility wood produces shots that move like a fairway wood but have the precision found in a hybrid. It does two jobs in one, which is probably why Burns finds it so appealing.
It isn't the most glamorous or flamboyant club on the market, but if you are confident in your abilities as Burns is, the looks can only get you so far. It's what you do with the club that really matters.
The versatile club features a compact head as it isn't a forgiveness-focused club. If you fancy the best of both worlds, it is certainly one to look at.
Finally, the hybrid is also used by none other than Phil Mickelson.
Sam Burns' Wedges: Callaway Apex TCB and Callaway Jaws Raw
Callaway Apex TCB Wedges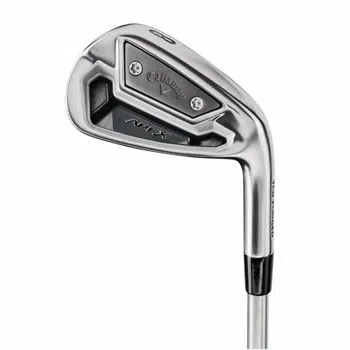 Callaway Jaws Raw
Pros
Great turf interaction – Apex TCB
Ideal for control and those wanting lots of spin – Jaws Raw
Superb feel – Jaws Raw
Cons
Not for those keen on low spin levels – Jaws Raw
Burns operates with two wedges – the Callaway Apex TCB and Callaway Jaws Raw. The former comes with a True Temper Dynamic Gold Tour Issue X100 shaft and the latter uses a True Temper Dynamic Gold Tour Issue S400 shaft.
Starting with the TCB, it is an attack wedge that Burns opts for. Burns told GolfWRX, "One of the main reasons I switched to this is because it's an easier transition from an iron into a pitching wedge and also into this.
"It's just better through the turf for me. The turf interaction is huge when you start getting down in the wedges."
The other is the Callaway Jaws Raw. It focuses on spin and control with a raw face – hence the name. That exposes the groove edge for maximum friction and spin. The wedge is also the first Callaway wedge with tungsten – on the sand and lob wedges. This centers the CG to aid control and feel.
The club is further supported in control thanks to the variable hosel lengths and weighted toe pads.
Sam Burns' Putter: Odyssey O-Works 7S Black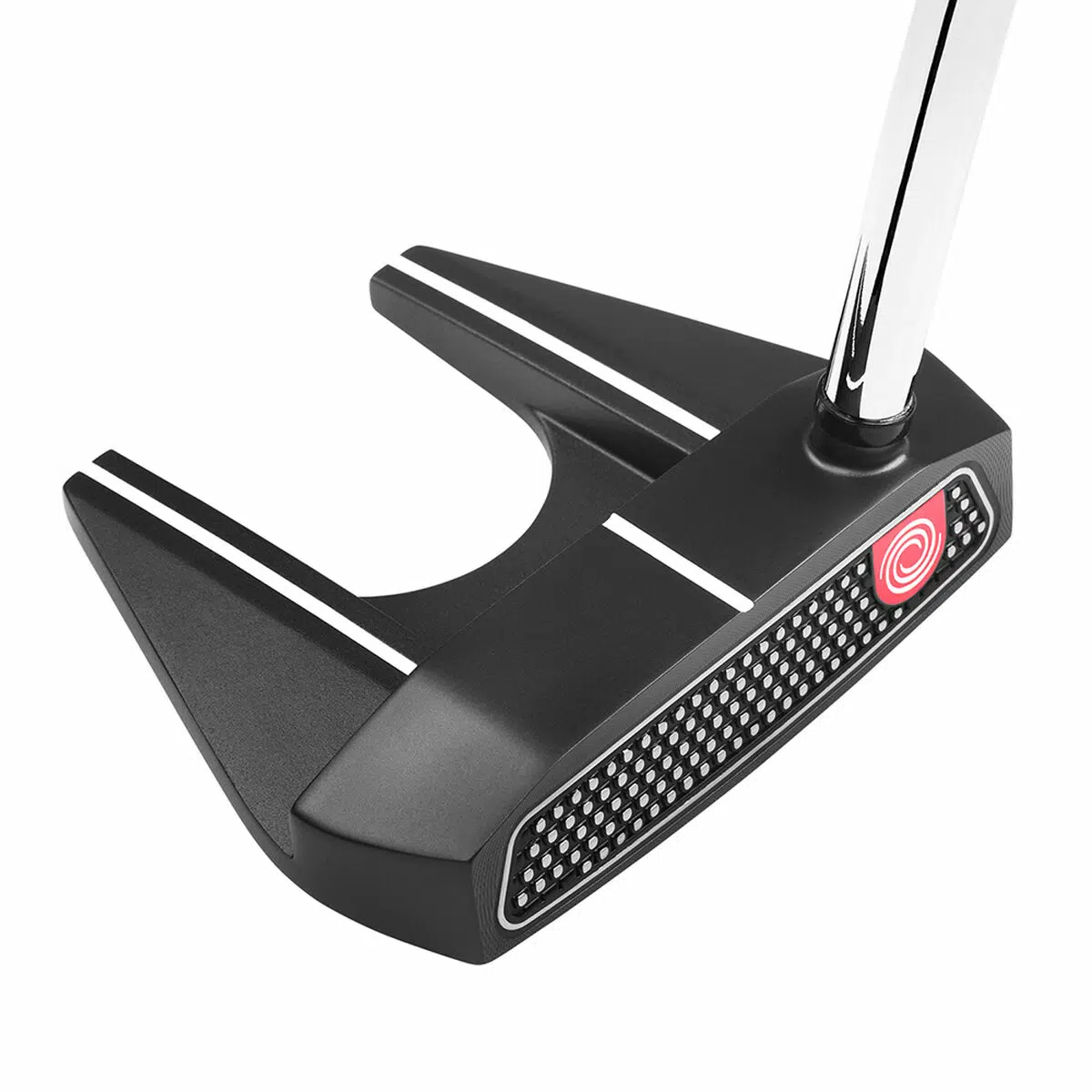 Pros
Very consistent roll
Easy alignment
Beautiful finish
Cons
Burns' putter of choice is the Odyssey O-Works 7S Black. It is designed for a truer roll to support more consistent putting. It features Microhinge Technology for more topspin and consistency in the roll. The black finish, which Burns also has, lets your eyes focus on the proper face angle from address for alignment.
Sam Burns' putter has length options of 33, 34, and 35 inches.
The putter is consistent in Burns' bag and it's easy to see why. At $158, if you wanted one for your bag, it is fairly priced for the quality it provides. Enjoy easy alignment and a lovely roll.
Sam Burns' Golf Ball – Callaway Chrome Soft X
Pros
Reduces drag
Lower spinning full shots
Faster and longer shots
Cons
The Chrome Soft X is dubbed the modern Tour ball which can deliver maximum distance. It is tailored towards the better golfer.
It features a high-speed SoftFast Core design which is now larger. This advances ball speeds and distances.
The new mantle system further enhances the ball speed. The soft inner and resilient outer combine to increase ball speed and create lower-spinning full shots.
The ball also reduces drag to increase the overall distance with optimal trajectory. The balls may be expensive, but they are worth it if you are the better player.
Two slightly cheaper alternatives are the Titleist Pro V1X used by players like Justin Thomas and the Titleist Pro V1 used by the likes of Viktor Hovland.
Final Thoughts
Now you have a full description of Sam Burns WITB from head to toe. All his clubs and equipment are listed so you know where to find them if you want to use the winning set.
Burns is only on the way up so we can imagine his golfing equipment will continue to be analyzed for some time. That is while golfing fans work out how they can play more like Burns himself.
FAQs
What Grips Does Sam Burns Use?
During his latest win at the WGC-Dell Technologies Match Play at Austin Country Club, Sam Burns sported Golf Pride Tour Velvet Align grips on his victorious clubs. The grips can be found for as cheap as $13.
What Clubs Does Sam Burns Use?
Sam Burns golf bag includes the Callaway Paradym Triple Diamond driver, a Callaway Paradym Triple Diamond fairway wood, Callaway Apex UW hybrid, Callaway Apex TCB irons, Callaway Apex TCB and Callaway Jaws Raw wedges, and an Odyssey O-Works 7S Black putter.
What Clubs Sam Burns Used to Win the 2022 Valspar Championship?
For Sam Burns' win at the 2022 Valspar Championship, his driver was the Callaway Rogue ST Triple Diamond. He used a Callaway Mavrik Sub Zero 5-wood, his hybrid was the Callaway Apex UW, his irons were Callaway Apex TCB, the wedges were Callaway Jaws MD5 raw and his putter was the Odyssey O-Works Black #7S.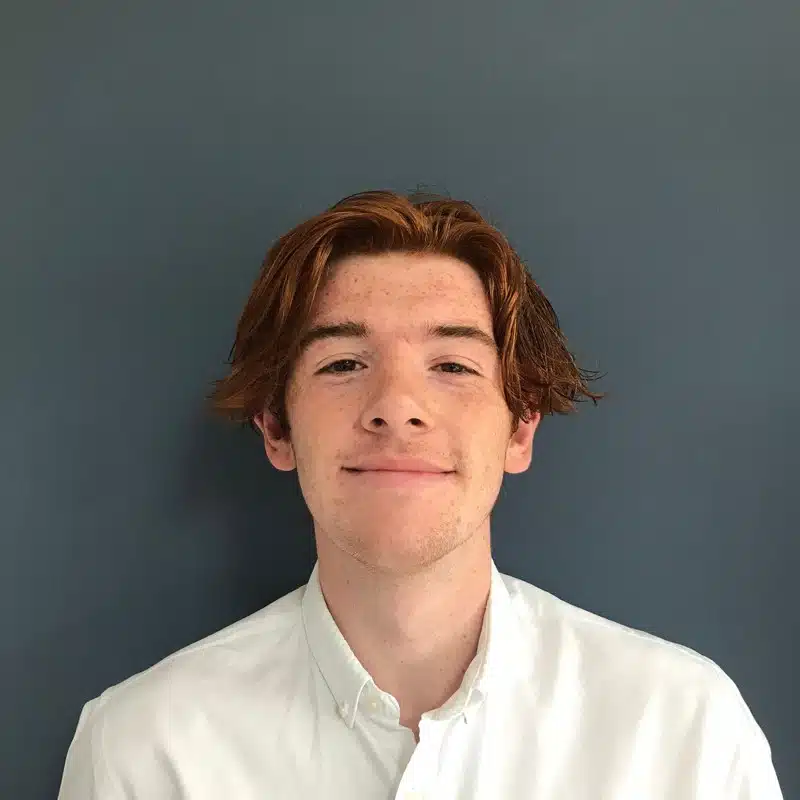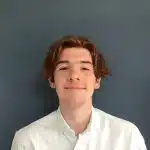 Jack was inspired by his Grandad Ron's golfing and grew up playing this great game. Now, he enjoys both playing and writing about it. He is also a big sports fan too. Jack is always looking for ways to find the edge on the course to share with readers.