Sitting at a world ranking of 2 at just 24, Nelly Korda's career could prove legendary. To date, she has secured 12 professional wins, one of which was a major win at the Women's PGA Championship, which came in 2021.
As such, we thought it was about time we covered the gear she carries around on the course. We'll clearly break down all of Nelly Korda's WITB, including golf clubs and the balls she uses, and briefly describe each.
Hopefully, this will help you decide whether any of her equipment suits you. So without any further ado, here is Nelly Korda's WITB for 2023.
Nelly Korda WITB — At a Glance
Nelly Korda's Driver — TaylorMade Stealth 2 HD
Pros
Super forgiving
Simple to launch
Corrects slices
Attractive design
Cons
Not suitable for players who draw the ball
Kicking off Nelly Korda's golf bag components, we have her driver, the Stealth 2 HD. It shaves off 2 g of weight from the previous model and features an all-new 60X Carbon Twist Face. But not only does this aid with forgiveness but also ball speed. The thru slot speed pocket delivers exceptional pace and elevated forgiveness on low-contact strikes.
TaylorMade prevents the head from twisting on off-center hits by placing 30 g of weight on the rear. They were able to do this by utilizing double the amount of carbon compared with the prior model.
You should know that this model may make or break it for you because it has a strong draw bias. For players with a natural slice, this is very helpful. However, for those of you who frequently draw the ball, this driver will likely be a bit of a nightmare to get the hang of.
I also quickly want to touch on the look of this driver. Clearly, it's a thing of beauty. The Stealth 2 HD sports a fairly active black and red design with some silver components. However, at address, it appears rather minimal, with a glossy black crown with a thin red border along the rear.
All in all, it's an exceptional driver that we would recommend. In fact, we were so impressed that we featured it on our list of the best drivers that revolutionized golf.
Nelly Korda's Woods — TaylorMade Stealth 2
Pros
Highly forgiving
Improved distance
Easy to launch
Attractive design
Cons
No adjustability like the Stealth 2 Plus
Sticking with the Stealth series, Nelly Korda uses two Stealth 2s for her woods, one at 15 degrees of loft and the other at 21 degrees. The Stealth 2 succeeds the original Stealth wood, one of the most prevalent woods at the PGA Tour in 2022.
TaylorMade's main change with this new club is to position the CG lower. The club features a 3D carbon crown subtracting the usual mass from the high-toe position. As a result, engineers could allocate additional weight to the club's rear. This noticeably improves forgiveness and makes the ball easier to launch.
Compared with the Stealth 2 Plus, it doesn't have adjustable weight, which is a bit of a negative, but it does have a larger head size at 185CC vs 170CC, so you get plenty of confidence at address. It also has more forgiveness, slightly more spin, and a higher launch than its fellow club from the same range.
Nelly Korda's 5-6 Irons — TaylorMade P770
Pros
Surprisingly forgiving
Popular with the pros
Good feeling
Beautiful design
Shapes shots with ease
Cons
Not worth an upgrade if you have the old model
Originally released back in 2021, the P770 has been re-released. New and improved, or so TaylorMade claims. This set aims to find common ground between the P790 and P7MC, and at the top level, it has proved very popular, with many pros picking up the set.
It seems Nelly Korda is a little torn here! She uses only the 5 and 6 irons from the P770 range, with the rest coming from the P7MC series. The P770s feature a more compact head and a thinner topline than the previous model. The faces are forged from 4140 steel, and the carbon steel bodies include up to 46 g of tungsten that is carefully positioned to optimize forgiveness and distance.
You'll find that the CG is lower in the long irons and gradually rises throughout the short irons. This means you get a simple launch with the long irons and more freedom to generate spin in the short irons. As a result, the set produces predictable distance gaps which you can depend on.
To learn more about the differences between the P770 and P790 irons, take a gander at our guide.
Nelly Korda's 7-PW Irons — TaylorMade P7MC
Pros
Slightly better feeling
Popular with the pros
Excellent control
Great feedback
Beautiful design
Cons
Not worth an upgrade if you have the old model
Like the look of blades but a little intimated to make the leap? The P7MCs could be a good choice. They are similar to a blade but sport a cavity back for extra forgiveness for transitioning golfers.
These clubs were developed primarily for tour players and those with low handicaps so they are not very easy to use. Some of the pros even helped with their development.
Like the P770 irons, these have been re-released following advancements. One such advancement is TaylorMade's new compact grain forging process. It enables them to apply 2000 tonnes of pressure to the 1025 carbon steel head, which is double that of other brands.
While it's true that you don't get that extra bit of pace due to irons lacking SpeedFoam and tungsten weighting, you do get advancements in control. Therefore, the P7MC irons are a better choice for versatile players who like to be able to shape the ball. On the other hand, the P770 irons triumph when it comes to distance.
Nelly Korda's Wedges — TaylorMade Milled Grind 3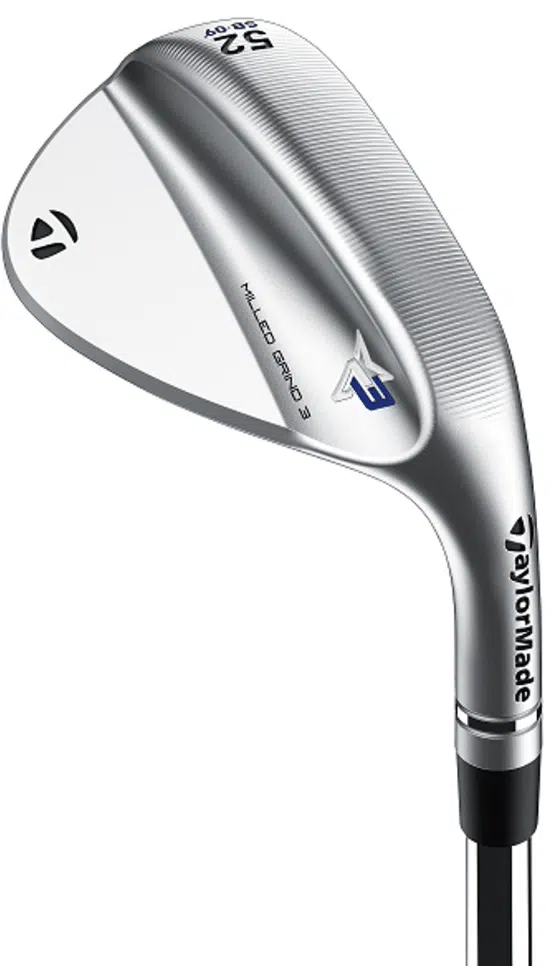 Pros
Lots of spin
Consistent flight
Good feedback
Attractive design
Cons
The milled grind 3 wedges sport a muscle-back design. While the toplines remain thin throughout, the high toe section becomes thicker the further up the lofts you go. This means the CG is optimally located for each loft giving you precision and superb feeling.
There's no doubt that spin is the area these wedges shine as they are packed full of tech to enhance this quality. Beginning with Raw Face Technology, the clubfaces feature laser-etched grooves that are sharper and deeper than before.
They are also intended to rust naturally over time to maintain spin. But don't worry, only the face will rust, the rest of the club keeps its attractive finish. In between the grooves you'll also find micro ribs present as well. These provide further precision and grip, allowing you to produce more spin.
You can pick up the Milled Grind 3 wedges in a variety of lofts and bounces. From soft to high bounce and 46 degrees to 60 degrees, there is plenty of customization on offer. Nelly Korda opted for 50 and 54 degrees of loft for her wedges.
Nelly Korda's Putter — Scotty Cameron Special Select Squareback 2 Prototype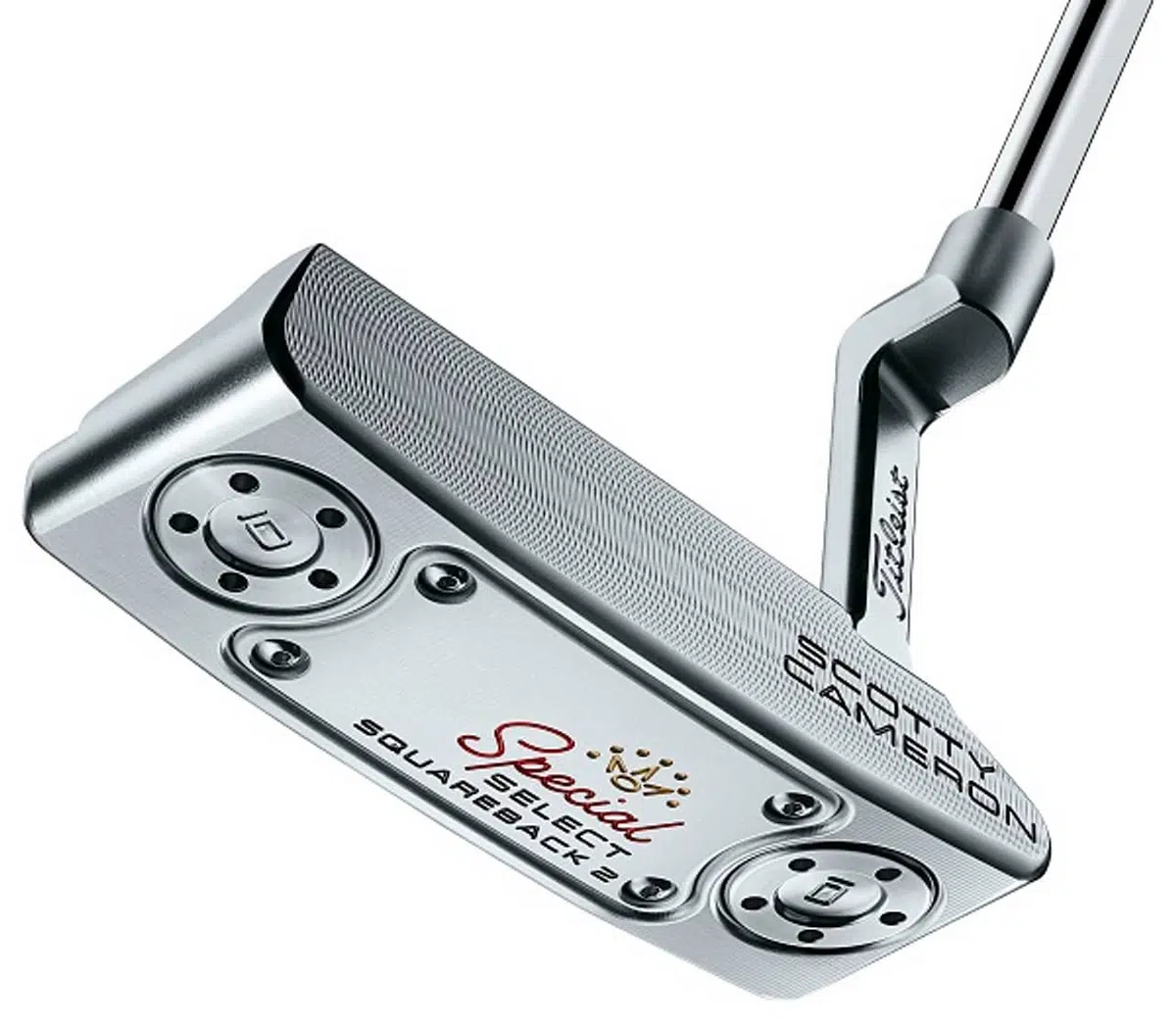 Pros
Adjustable weighting
Forgiving
Good feedback
Attractive design
Cons
As with all Scotty Cameron putters, the Special Select Squareback 2 is a fine-looking putter. It's a blade-like mallet and the largest of the Special Select Newport putters from the range. With a full shaft of offset and a plumbing neck positioned behind the leading edge, confidence at address is very high.
The strongest qualities of this putter are its forgiveness and feel. While it is constructed from a block of 303 stainless steel like all Scotty Cameron putters, it features a 6061 aluminum sole plate which increases MOI. It also gives the putter a soft feel and has plenty of feedback.
To some, the Special Select Squareback 2 may be a little on the heavy side. This is a result of the integrated aluminum sole plate. However, the putter has customizable weights so you can do some tinkering to get the correct weight for you. Unlike blades that typically have 30 g, 35 g, and 40 g weights, this putter instead uses lighter 10 g, 15 g, and 20 g weights.
We should note that Nelly Korda uses a prototype of this putter, so it will be slightly different from the commercial version.
Nelly Korda What's in the Bag: Balls — TP5
Pros
Great feeling
Lots of spin
A good choice for players who max out at 100 yards
Cons
Not so great for players who go beyond 100 yards
Lastly, on Nelly Korda's WITB, we come to her golf balls of choice, the TP5s. They sport a five-layer build, three of which make up the core and two of which are the outer layers. The core is larger than previously and has more recoil potential, explaining why the TP5s travel distance has improved.
As for the outer layers, these are made up of a firm inner cover and a soft cast urethane cover. The exterior also sports a new dimple pattern with improved aerodynamics, once again assisting with carry distance.
If you're choosing between the TP5 and TP5X, you must ask yourself what type of player you are. The TP5 offers maximum effectiveness for players who can't break the 100-yard mark. The TP5X, on the other hand, is the opposite. If you're a big hitter, the TP5X is the ball for you.
The TP5 also excels in spin as it is TaylorMade's softest and highest spinning ball. So if feeling is high on your list of priorities and you like to be able to shape the ball, the TP5 could well be a good option for you.
If you're still torn between the TP5 and TP5X don't stress! Our comparison guide gives you all of the info you need.
FAQs
What Brand of Golf Shoes Does Nelly Korda Wear?
As a Nike-sponsored athlete, Nelly Korda wears Nike shoes.
What Driver Is Nelly Korda Using?
Nelly Korda is currently using the Stealth 2 HD. it's an easy launching and forgiving driver with a strong draw bias.
What Is Nelly Korda's Driver Shaft Length?
While we know that Nelly Korda uses a Graphite Design Tour AD IZ 6 shaft, we do not know the length. Given that she is 5 ft 8", she should use a 43.5" or 44" shaft.
Closing Thoughts
We hope you enjoyed reading our Nelly Korda WITB — we certainly enjoyed writing it! As you can see, she is a TaylorMade loyalist. Nelly Korda's clubs are all from TaylorMade except for her putter. This is hardly surprising given she penciled in a multi-year sponsorship deal with TaylorMade in January of this year.
Moving past clubs and balls, Nelly Korda's other gear is by Nike — this is in the form of her shoes and apparel. She also signed a similar deal with the brand in January, cutting ties with her former sponsor J. Lindeberg.