Ranked 3rd in the world, Spanish golfer Jon Rahm sits behind only Scottie Sheffler and Rory McIlroy in the rankings. At just the age of 28, he has 20 tour wins to his name and one Major PGA Tour win (U.S. Open 2021).
To see what clubs helped him secure such success at the top level, we'll take a peak into his gear to bring you Jon Rahm's WITB for March 2023.
John Rahm WITB 2023 — At a Glance
WITB for Jon Rahm? Callaway mostly. He became sponsored in 2021.
Jon Rahm's Driver — Callaway Paradym Triple Diamond
Pros
Low spin
Great distance
Highly workable
Premium look
Cons
Forgiveness is not particularly good
No alignment aid
Formerly having used the TaylorMade Sim and the Callaway Epic Seed, Jon Rahm now sports a stylish Callaway Paradym Triple Diamond driver. It has a lower launch than the other drivers from the Paradym range and is available in 8, 9, and 10.5 degrees of loft — Rahm uses the latter. It also has a marginally smaller head than the others at 450CC compared to 460CC.
Featuring 360-degree Carbon Chassis technology, the driver uses a triaxial carbon crown with a forged carbon sole making it 45% lighter than those with a titanium chassis. These savings in weight allow for mass allocation elsewhere to improve MOI and forgiveness. However, while this driver is somewhat forgiving, this is only by tour standards.
Jailbreak A.I. technology further helps to make savings in weight. The frame is 33% lighter than previously and more stable, which results in an increased pace. The face is also A.I. optimized. According to Callaway, spin, launch, and speed have all improved.
An interesting quality of this driver is the two adjustable weights that were not seen on the earlier Rogue ST Triple Diamond LS model. One weight spot is near the face with the other on the back. You get two weights, one 14 g and the other just 2 g. We recommend experimenting to see what works best for you.
More weight on the front will reduce spin and punish you more for mishits. However, shifting most of the weight to the back instead improves forgiveness of mishits.
Jon Rahm's Woods — Callaway Paradym Triple Diamond
Pros
Great distance
Premium look
Good off the tee
Cons
Forgiveness could be better
Rahm sticks with the Paradym Triple Diamond range both for his 3-wood and 5-wood. Like his driver, it uses A.I. face optimization. The pattern is also unique to each model. The A.I. tech continues with the Jailbreak Batwing body. It makes the body of these clubs stiffer while permitting the face to flex, resulting in greater ball speed.
The Paradym Triple Diamond woods also feature carbon soles. This weight saving allows for additional mass placement elsewhere. This partially takes the form of the integrated 23 g of high-density tungsten, which shifts the center of gravity lower and toward the face. The result is a lower flight path.
While clean strikes produce superb distance, getting the ball airborne can sometimes be difficult. This is one of the reasons the Paradym Triple Diamond Woods do so well from the tee.
Jon Rahm's 4-PW Irons — Callaway Apex TCB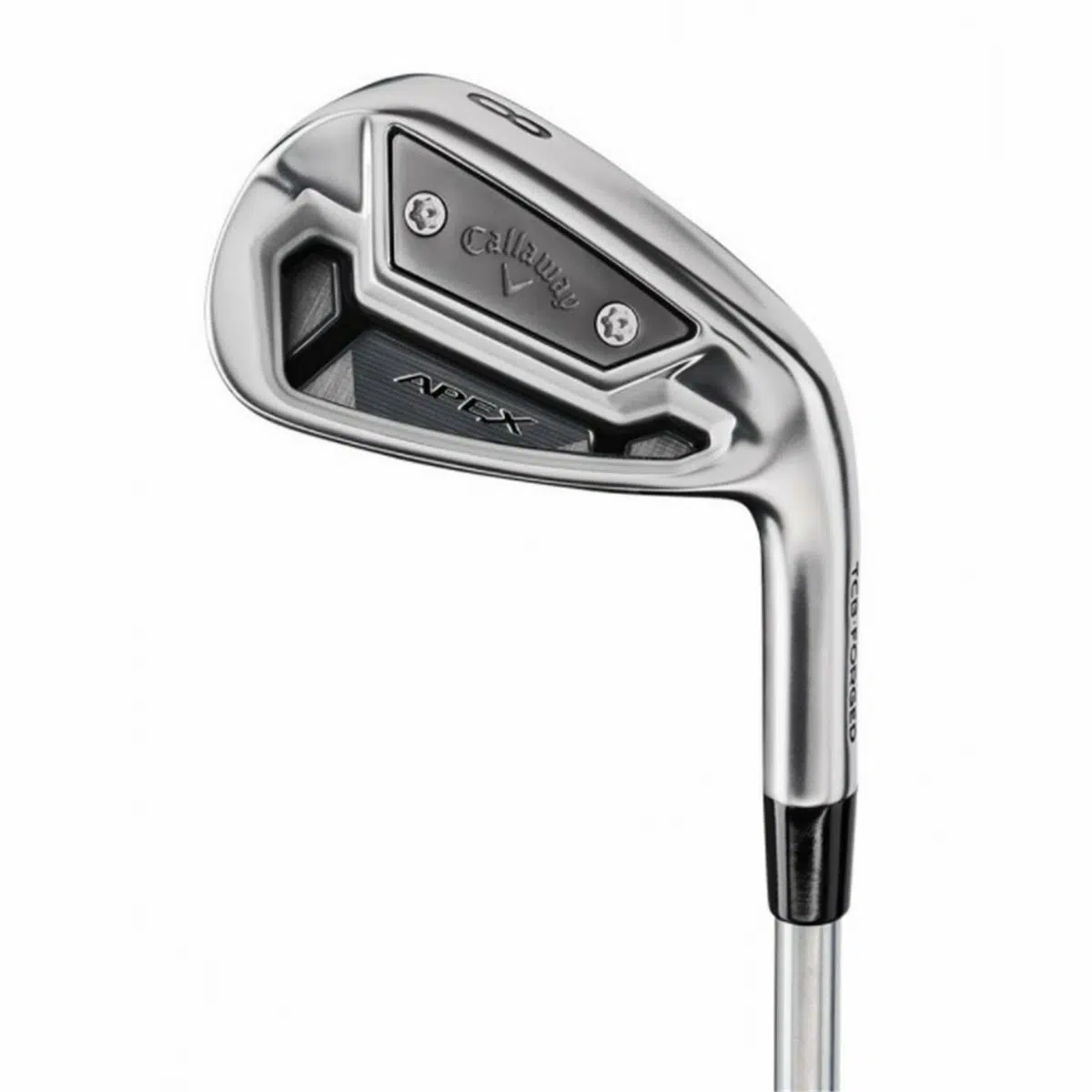 Pros
Easy to shape
More forgiving than blades
Soft feel
Good weight optimization
Cons
Requires fast swing speed
Not very forgiving
Expensive
For Rahm's iron set, he uses the Callaway Apex TCB range. This set of irons reside between the MB and X Forged CB Series. They sport a cavity-backed form, but they're not a forged cavity back. Instead, they are tour cavity-backed, so they play much like blades with a bit of additional assistance. They are also more compact than the X Forged CB irons with reduced offset.
The classic design sporting a thin top line with a straight leading edge. Attention to weight was at the forefront when designing these irons. They utilize both internal and external tungsten weighting to optimize CG and allow you to refine the balance as you see fit.
As for the face, the Apex TCBs use a tour-tuned face plate which gives them a somewhat soft feel and muted sound on impact. While shaping the ball is simple, they are not forgiving if you mis-hit it. Similarly, they are not loaded full of tech to increase distance — you must instead rely on your swing speed. As such, these irons suit tour players and low handicappers.
Jon Rahm's 2-Iron — Callaway Apex UT
Pros
More forgiving than standard 2-iron
High launch
Cons
Feel is partially sacrificed
As Rahm's set of irons only goes as low as the 4-iron, he elected an additional club to make up the difference. As we all know, long irons are mightily difficult to hit consistently, which is no different for the pros (even though many can). For that reason, Rahm chose the Apex UT, which is a hybrid utility iron.
Released back in 2014, this set of irons features forged 360-face cups, increasing ball speed across the entire face. They are also forged from 1020 carbon steel which gives good feel.
The fact that they are hollow body improves forgiveness over long irons and gives you the confidence to really drive through the ball — just expect a higher launch than usual. This is partly due to the 6 g of sole weight, which reduces CG.
The main drawback of choosing a hybrid utility iron over a long iron is that you sacrifice forgiveness for feeling. For most people, this is a worthwhile trade-off, but for others, it is not.
Jon Rahm's Wedges — Callaway Jaws Raw
Pros
Very high spin
Easy to launch
Cons
Firm feel
The rusty face is not very aesthetic
All three of Jon Rahm's wedges come from the Callaway Jaws Raw series. He has these clubs in 52, 56, and 60 degrees of loft. They are available for purchase in 2-degree increments spanning from 48 to 60 degrees.
Alongside many loft offerings, there are four grind options: Z-Grind, S-Grind, X-Grind, and W-Grind. This gives you plenty of customization to choose the correct wedge for you.
Compared with older versions, the tungsten weighting and face are the main changes. This is the first series of wedges by Callaway to feature tungsten weighting. They are only present on the sand and lob wedges and help to center CG for enhanced control.
Concerning the face, we see many improvements. Namely, the all-new raw face. The plating is now gone, allowing the face to rust naturally over time which should preserve spin. Talking of spin, the Jaws Raw wedges excel in this department. The grooves are super sharp, and they are now angled at 20 degrees which Callaway claims improve spin on lobs, pitches, and chip shots.
Jon Rahm's Putter — Odyssey White Hot OG Rossie S
Pros
Soft but firm feel
Features one of the top inserts of all time
Forgiving
Cons
More attractive putters are available.
For his putter, Rahm used the Odyssey White Hot OG Rossie S. To many, the name White Hot OG will ring a bell as it's probably the most popular insert ever. Developed some 20 years ago, Callaway has never managed to one-up it. And after years of players asking for it to make a return, Callaway obliged.
It came back alongside six new heads, with Rossie S being one of them. Along with the standard Rossie head, this head has the most alignment aids out of the bunch. It features three lines on the front and two on the rear, meaning Callaway can't do anything more to help you have a straight and central stroke.
However, if you don't hit the ball centrally the putter won't punish you all that much. The face resists rotation and you almost always get a good amount of topspin with the iconic soft but firm feel of the White Hot OG insert.
If you want to explore more Odyssey putters, check out our guide.
Jon Rahm's WITB: Balls — Callaway Chrome Soft X 2022
Pros
Awesome speed
All around performer
Most prevalent Callaway ball on tour
Triple Tack ball to help with alignment
Cons
As the most popular Callaway ball on the tour, it's no surprise that Jon Rahm has Chrome Soft X balls in his bag. They are highly consistent, fast traveling, and produce exceptional spin. The consistency is attributable to Callaway's superior engineering process. They can refine components up to 1/1000th of an inch.
Callaway claims that they have improved every aspect of the ball compared to its predecessors. While we can't say for sure whether this is true, what we can say is that their popularity suggests the claim is more than likely.
One of the main improvements is the Hyper-Elastic SoftFast Core which improves driver speed while optimizing a soft feel for the green.
To learn more about Callaway balls, consider reading our comparative review
Bonus: WITB Jon Rahm US Open 2021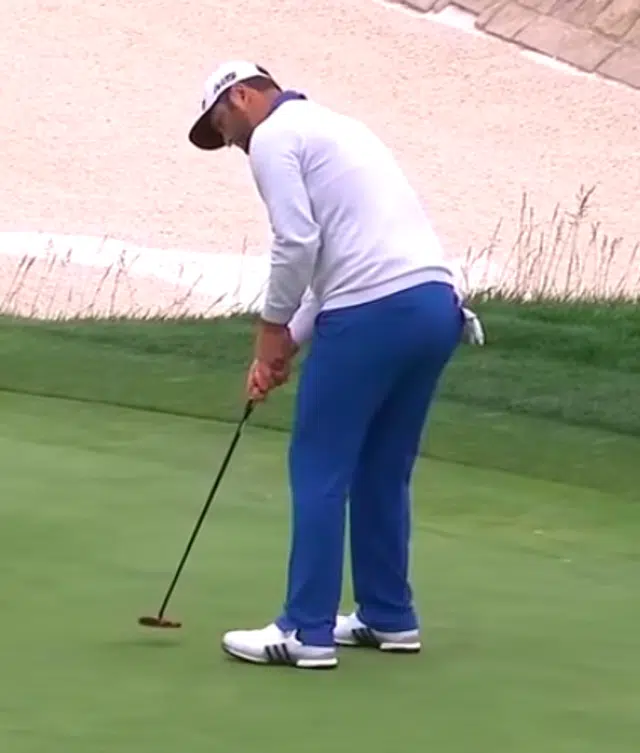 Driver: Callaway Epic Speed Triple Diamond LS
Fairway Woods: Callaway Epic Speed Sub Zero Triple Diamond T
Irons: Callaway Apex TCB
Wedges: Callaway Jaws Forged
Putter: Odyssey White Hot OG Rossie S
Ball: Callaway Chrome Soft X
Clothing: Travis Mathew
Shoes: Cuater 'The Ringer'
FAQs
Who Won the Sentry Golf Tournament in Hawaii?
Jon Rahm's Sentry win in Hawaii was monumental. He came back from a seven-shot deficit to overcome Collin Morikawa. He finished two shots over the American, with 27 under 265. This meant Morikawa tied the record for losing the greatest 54-hole lead with six shots.
When Did Jon Rahm Leave TaylorMade?
Jon Rahm left TaylorMade at the beginning of 2021, opting to join Callaway instead of extending his TaylorMade deal.
Does Jon Rahm Use Golf Pride MCC Grips?
Jon Rahm is one of many Tour pros that uses Golf Pride MCC golf grips. Other pros like Rory McIlroy and Viktor Hovland use them as well. Golf Pride makes other types of grips that more than 80 Tour pros use, so they're a trusted brand if you want to pick up some great golf grips.
Closing Thoughts
All good things must come to an end, and so must this Jon Rahm's WITB post. We hope you found it insightful and picked up some ideas for new clubs you might want to purchase.
It's clear that Jon Rahm's switch from TaylorMade to Callaway only helped him improve as a player. The very year he made the change, he won numerous events and awards, including his U.S. Open win. He also narrowly missed out on the Open Championship, placing third.
Similar Read